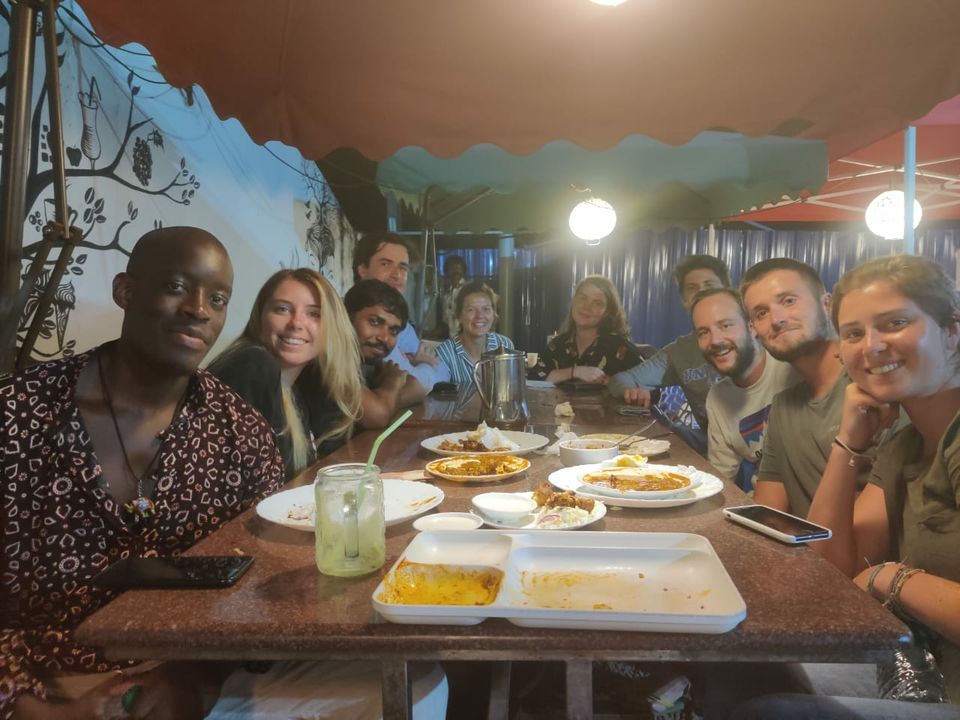 The sun was still up and burning my skin while I was riding towards the backwaters of Allapuzha which was my next destination. The bike ride was enjoyable as riding through God's own country is always pleasing to the eyes. It was the Christmas week so the streets were flooded with people shopping and walking around with their families. Literally there was no place to walk, let alone ride a bike. I had all the eyes staring at me looking at that crazy guy on a bike trying to get through the ocean of people. After few hours I managed to get past the crowd and check in at the bucketlist hostel Alleppey.
From the second I looked at the hostel I realised I am definitely going to have a great time here. The location of the hostel was right by the backwaters which itself was a different thing as all the other hostels are located on the beach road.
The hostel walls are decorated with artistic paintings and the place has been uplifted with great gardening interest. It also has a huge recreational space on the top floor which can be used for yoga and other fitness activities.
The hostel was full with people borne foreigners and Indians and we had a great time playing card games, truth or dare and other fun stuff which helped us bond with each other, share our stories and experiences with one another.
The following day we all went wanted to explore the backwater villages of Alleppey. It was a great experience we had as we had to take a 20 minute ferry ride to a nearby village from where we got onto a canoe and started our backwater cruise. After an hour of canoeing we reached at another village where lunch was served to us. The lunch included fish, rice and vegetables. After lunch we continued to go along the backwaters to visit the other villages where we spent the rest of the evening walking around and talking to people and getting to know the place. Apparently the only way to reach these village's would be through these waters. Their hospitals, schools, and other public buildings were all floating on water. It was a very different experience to see and understand how life is for these people living on the backwaters of Alleppey. We came back pretty late in the night and all of us were too tired to stay up any longer so we called it a day went to sleep.
Fish and toddy
After a good nights sleep I was all ready for a new experience and I wanted it to be something to do with food. So I asked around for a good eatery for lunch to the people running the place and I am eternally grateful to them for introducing me to this small hotel called Subhash hotel. The owner Subhash was such a nice welcoming person who took me inside the kitchen showed me the fishes he had and then served me the best fish meals and toddy I had in my life. I liked the place so much that I contuined to take more travel buddies there for lunch the following days for which they are still grateful to me. After the best meal of my life I just kept walking around for a bit along the beach road and then headed back to the hostel where the rest of my evening I spent lazing around talking and playing games.
As the people of Alleppey were preparing for Christmas and new year the entire town was lighted up in colors and festive mood was in the air. There was also a carnival happening at a temple there so we all took a walk around the carnival place and finally ended up inside the temple where we spent the day observing the architecture and beauty of the place. As the day turned into night their were music concerts happening on the streets where large crowds of people were dancing and enjoying themselves. It was a very good experience watching a temple carnival happening in person. The celebrations were going on untill midnight after which we all got back to the hostel were sitting around talking for sometime before heading to bed.
The next day my routine was quite simple I walked around the canals of Allapuzha starting early morning and went back to Subash hotel for food and toddy with more people. I was so full I had to walk around to ease my stomach so started walking around making videos for my vlog and then went back to the hostel where all the travellers decided we go out for dinner together and have some local food. The hostel helped us hire a Tuk tuk and took us to a restaurant where we had good authentic Kerala Food. It was a great time we had sharing stories and having fun over dinner after which we headed back to the hostel. We all stayed up very late playing card games and talking horror stories untill our eyes gave up and we started falling asleep one by one.
It was Christmas and the hostel owner was preparing a homemade christmas dinner for all the guest. It was one of the best christmas dinners we ever had. We all played music, danced together and had a great christmas together. The whole day we all spent together decorating the place and help preparing dinner for the evening. The guests included Indians, Colombians , Germans, New Zealanders ,Brazilans, French and Britain people. It was a very good feel to have been present there seeing people from different parts of the world come together, dancing, singing, hugging and pouring wishes into each other ears. This is the world we all want for all of us to be together in peace and harmony.
The next day we all woke up late and it was time for me to leave bucketlist and head to Kochi for the new year carnival. It was one of the the most difficult things to do. I made sure I hugged and said goodbye to each and everyone who was there with the promise that I will meet them all someday. I am happy to say that all of the travellers I met at bucketlist hostel are still my friends and we are in constant touch. And with bucketlist hostel my journey did not end there. It went onto give me a different experience few months later which I would be sharing as a separate entry under a new title.