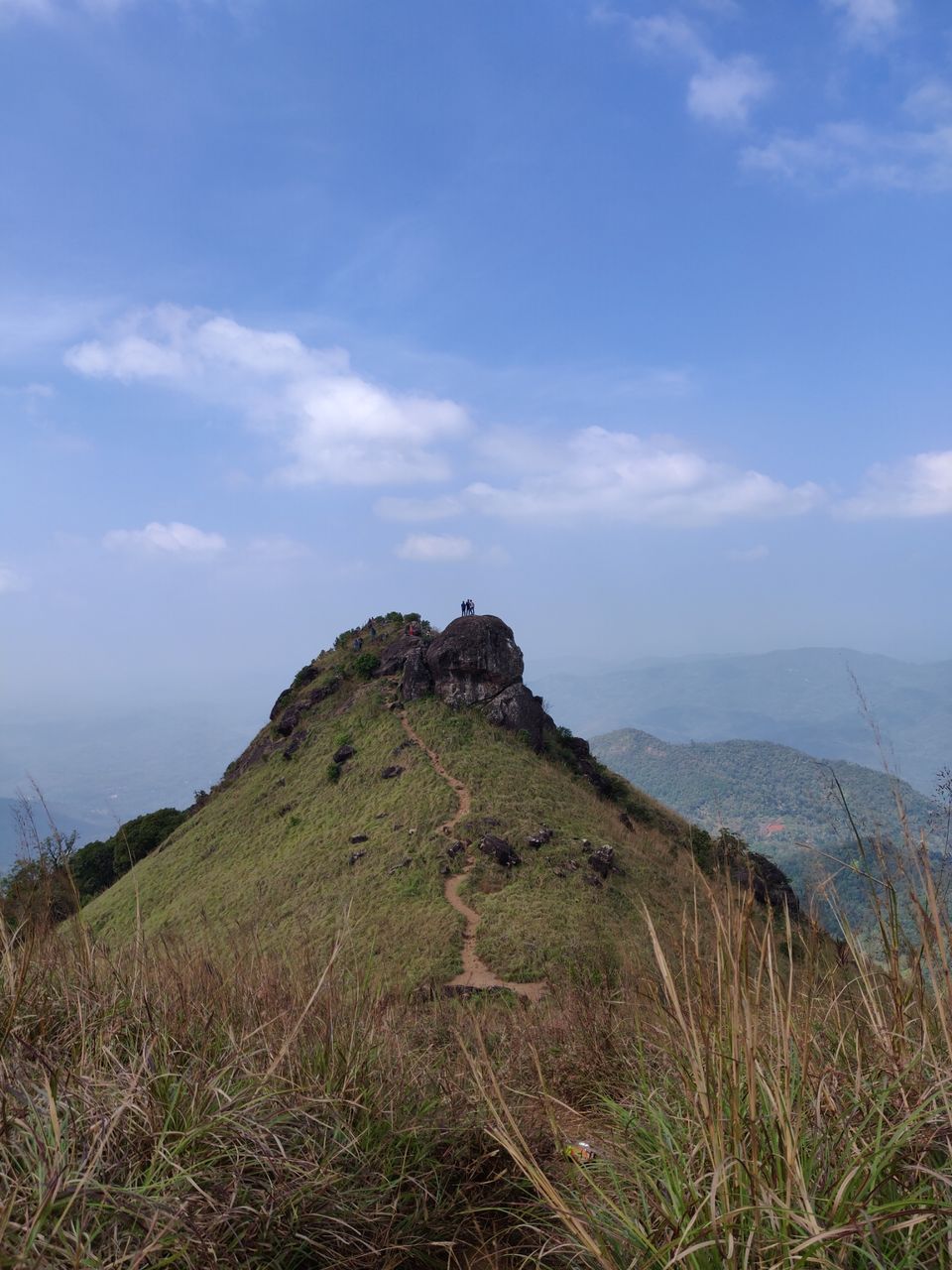 At sharp 5:30am , I and my 6 friends set out for the trip to Ranipuram . Around 6:30 we parked for having tea in Kaladka , which is very famous for Kaladka tea/ coffee !! After having tea we set out towards Kerala via Suliya . On the way we stopped in a road side restaurant and had breakfast . After having our full , we reached trekking spot around 10am . It was very hot , so we made sure to carry 2bottles of water and a cap /umbrella . had to pay a minimal amount to enter inside the forest area to start the treak . After walking for 10 mins we reach the meadow and from then on we again have to travel through a small forest in between . This is something which made it unique from my other trekking experience !! We could see elephant poopings all over the place . We walked on the meadow for about 1.5 hours with the already emptied bottles in our bag !! Tired and exhausted we took rest in a small cottage that was made of hay for a while and then again began our journey .
We climbed 2 hills later on to realise that there was an easier route to it . But we dint regret climbing the hill because we got amazing picture of the famous Ranipuram hill from that location .
After taking rest for a while we again climbed the 3rd hill and the climb was worth it as the scenic view was amazing !!
After spending 10_15mins clicking pictures of the place and enjoying the scenary we set out for return journey .
It was much easier than the climb and we were at the base ticket counter around 1 pm. After getting fresh we had cold juice from the shop nearby we set out back home to manglore .
PS : do carry lot of water , a cap and food to eat as there is just 2 small shops present nearby .
We reached manglore around 6pm .Had icecream in the famous ideal cafe and went to respective homes.