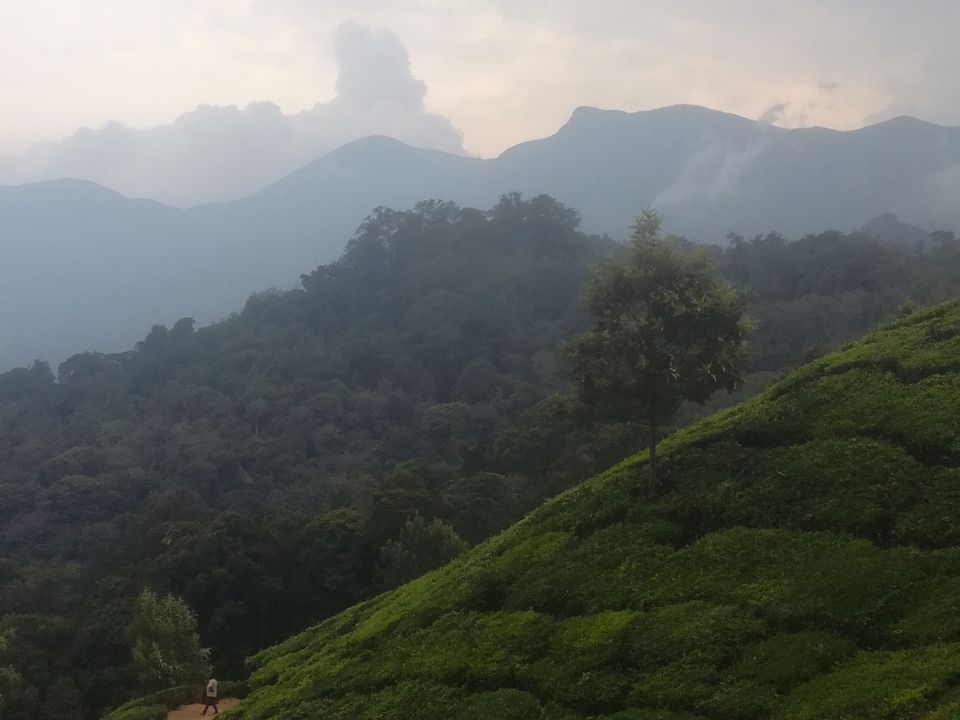 This is the most awaited trip since I shifted to Bangalore.And now am happy to write that I have finally
Been to these places, woh be khud drive karke ;)
I was having very hectic schedule in my office an finally got some compoff what best than to visit these places to relive your stress and feel alive.
These places are around 510km from Bangalore via drive .I went to this trip with my mother and sister. We started at around 4am from Bangalore 2nd May 2018 and reached munnar by 2 pm.
I had booked a hotel blue mountain in Munnar, took the route via Salem ,Dharamgiri, dindigal.WE stopped for breakfast in saravana bhavan near a toll after salem, had idly vada and Dosa .
Then on the way we had coconut water. Ample restrooms on the way near toll and the restaurants and petrol bunks .The road to munnar I had heard that there is ghat section was waiting to see and finally it come to your last 60 km .There are petrol bunks on the way also, as a prerequisite before starting your ghat journey make sure you have ample petrol to suffice your journey.
Ghat journey is too beautiful and risky as there are 4-5 hairpin bends you can see it in map also .
Go slow and keep honking when the road ahead is not visible.Be on your side as its a two way road
You tend to change your sides but vehicles are busy in both lanes careful.I missed one just banging a car .
Then I need to mention most important thing, is download your maps for offline usage.In the ghat sections you wont receive the tower signal ,except for bsnl. Also note down your hotel address and nearby area address so that you can ask the locals and proceed.I had lost maps as well as dint know the hotel address correctly , so had to take locals help to find it. Even they cant help much when you don't know the address.
Then I reached the munnar tea estates on both sides of my road , the view from here on is mesmerizing
On each and every turn .
Also make sure in the ups you use gear 1 ,since in one place I was in gear2 stopped my car in between was not able to gear it up, luckily some Police who happened to pass by helped us, Singham moment. Told you people in Munnar were helpful. Finally reached blue mountain hotel, its having the lake view.The weather was cloudy you can see the beautiful view of clouds and lake .Some of the pics are as below: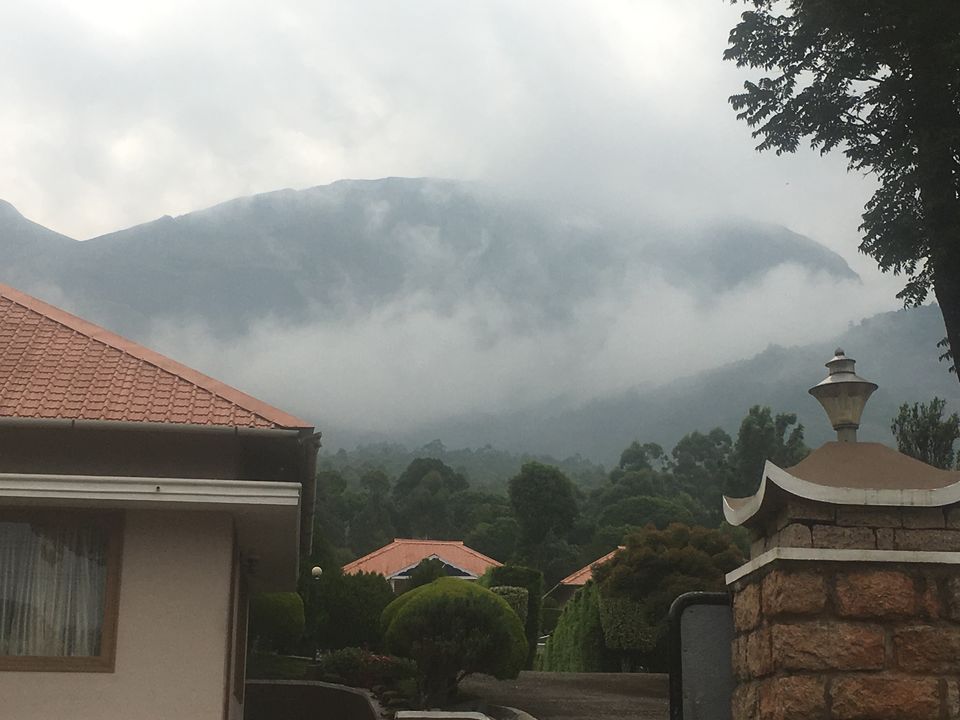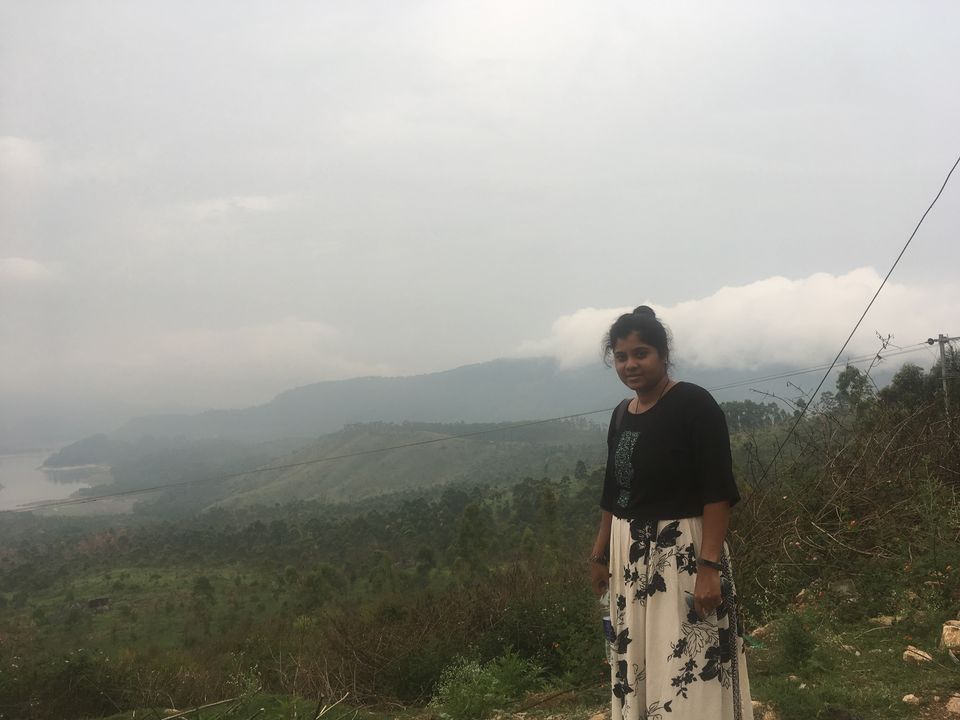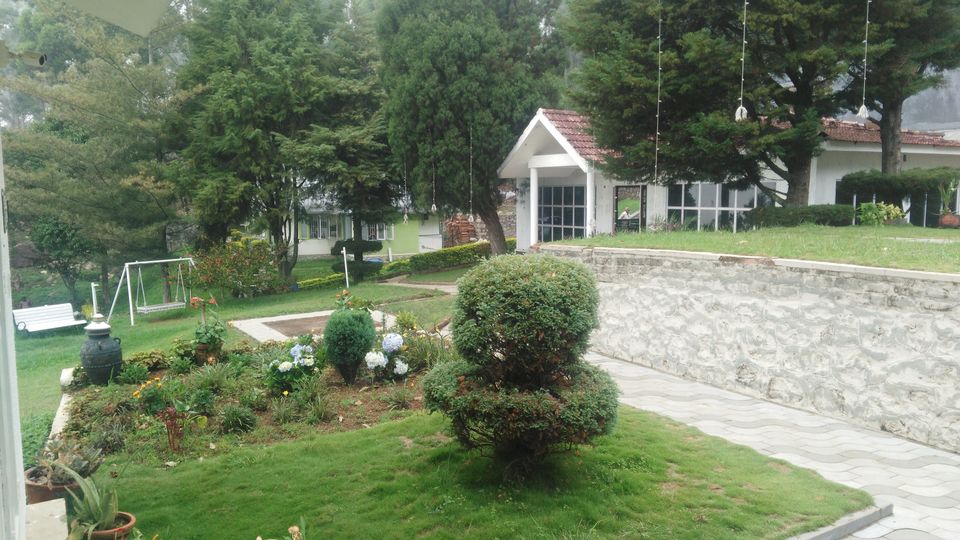 We settled down as we were tired and hungry asked the hotel person if any restaurants nearby , he mentioned salt and pepper some restaurant nearby.We had biryani and a starter.Then in the evening we discussed with the hotel people if we can manage to get a sight seeing tour and told them the places we want to visit.
They told us that the cost is around 2500.Pickup and drop to hotel morning 7.30am the person will be near the hotel for pickup .
Next day morning we wokeup early and went out to see the view , it was totally a wow moment no words .See the pics .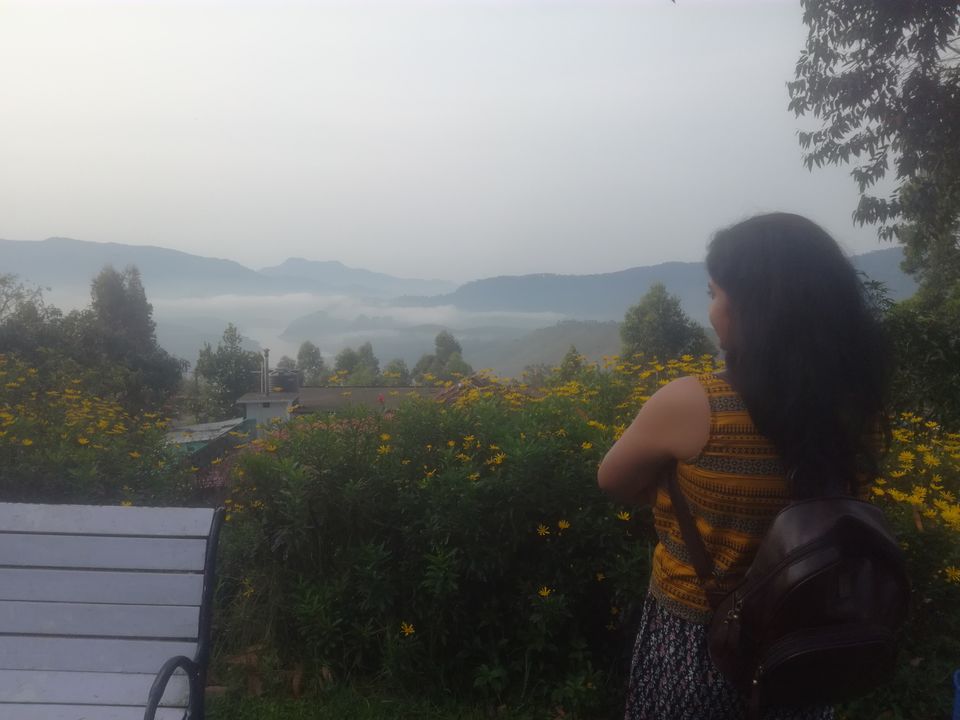 Then we had tea in the hotel and we started before that I got the driver and other person to be clear with whatever discussed ,As many people say they don't know later.
Yeah we started our journey in the midst of the beautiful munnar estates , every place is selfie place or cam place.We stopped by a tea estate since the road was blocked due to some construction , all fought and reopened the gate .On the way two three places due to construction we were blocked for some 10-15 mins .We stopped near a rock cave .Small place can just stop by to see.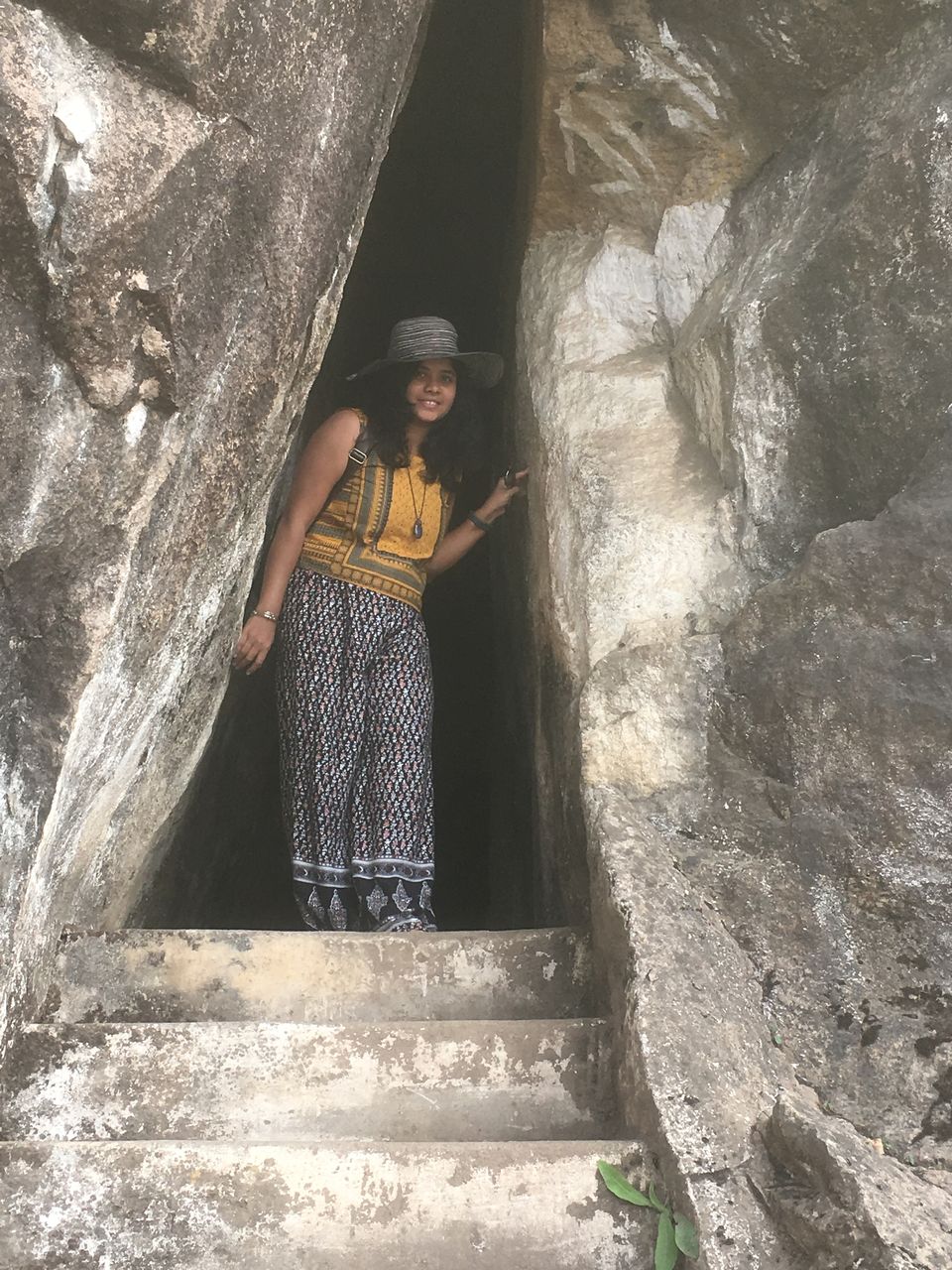 Some falls which was dried out though.Then we headed towards the Lokart tea Factory.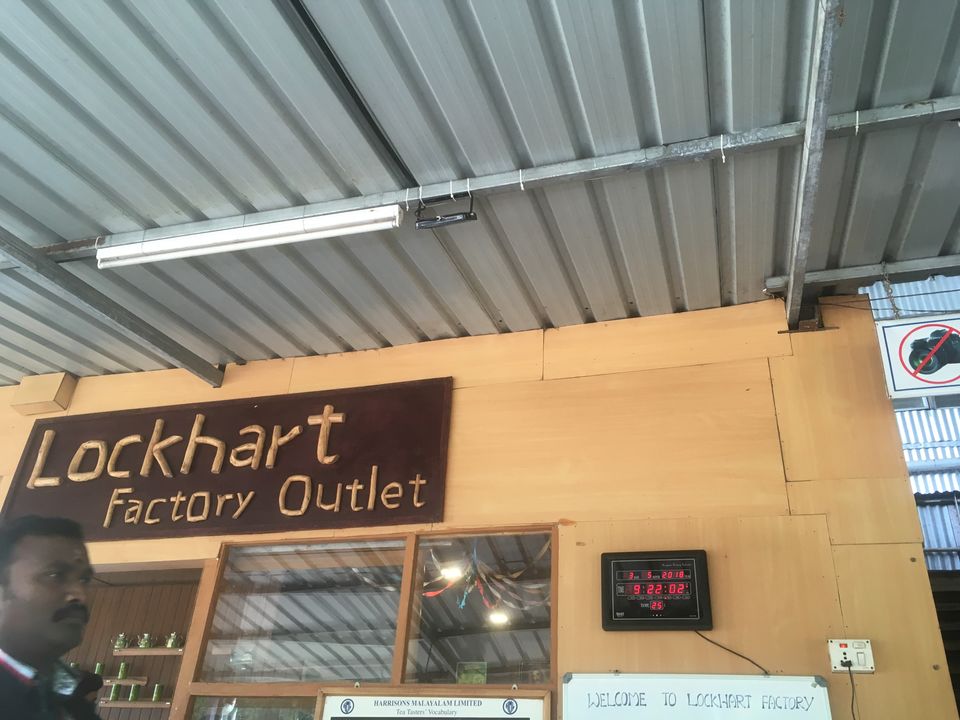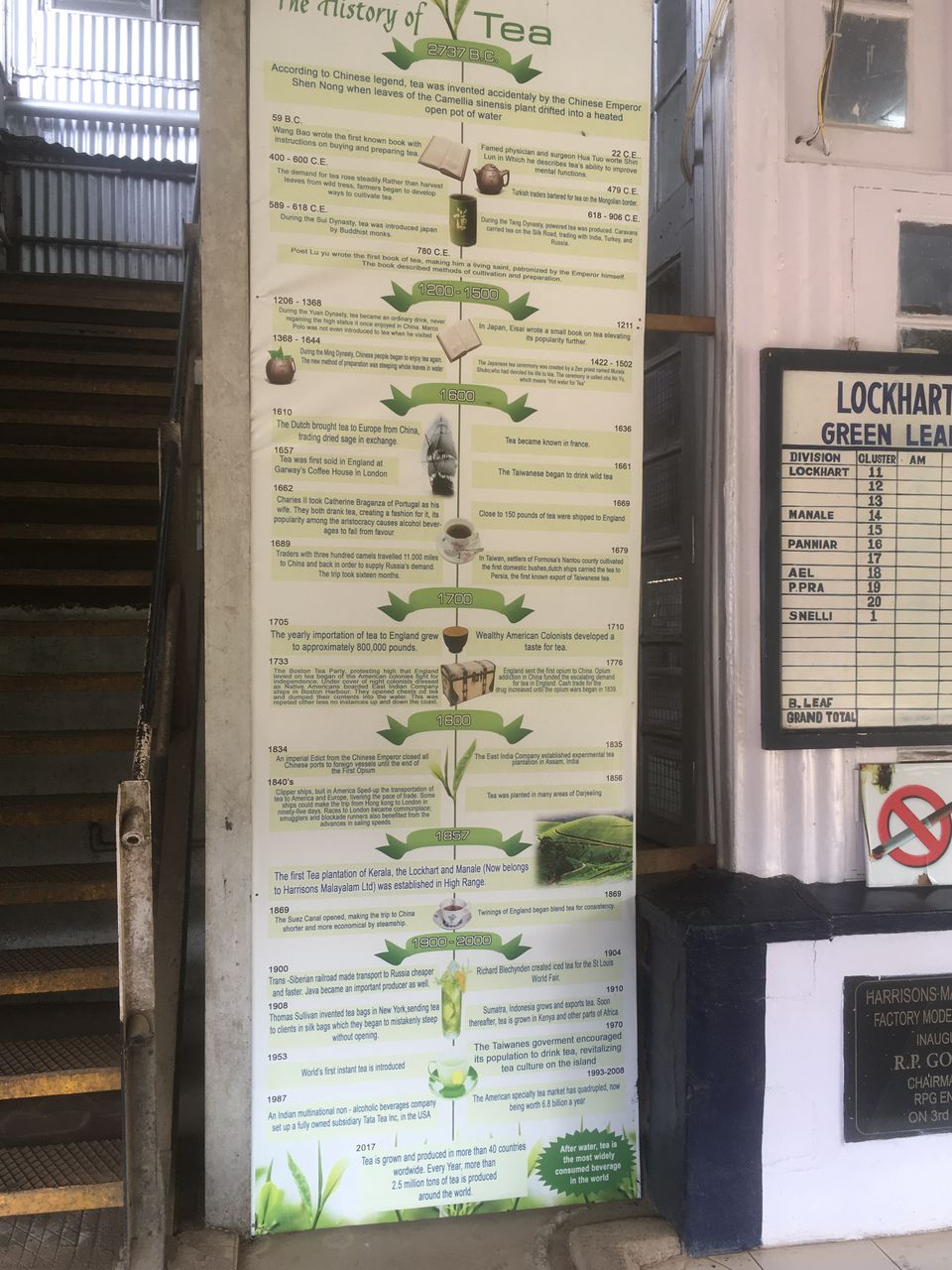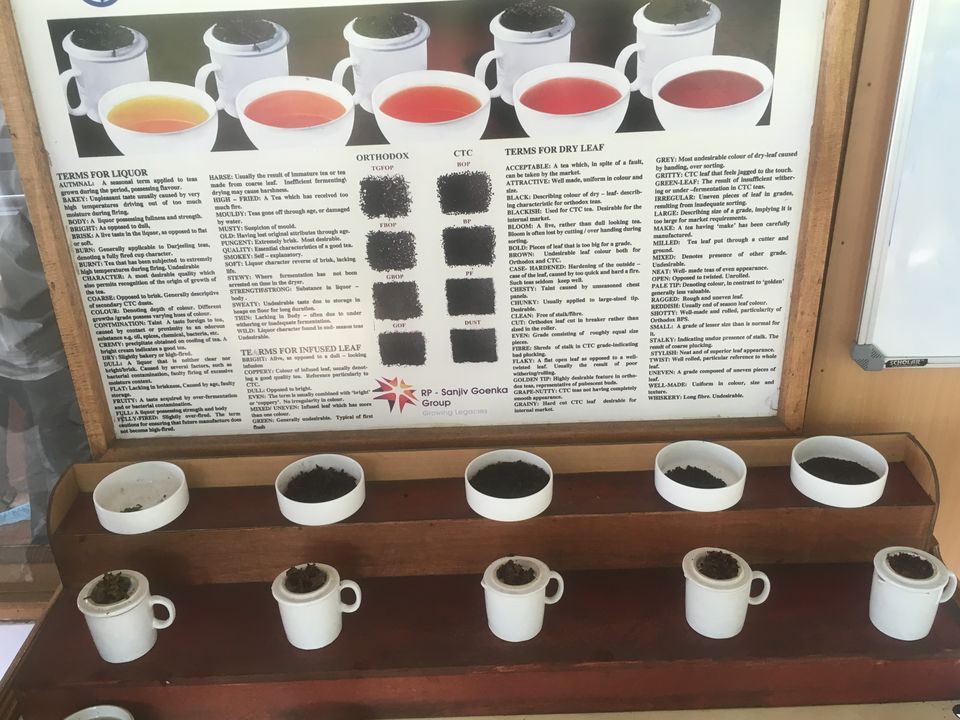 Here you get different kinds of tour , we choose to take just 45mins tour of showing us how the tea is prepared costs around 200rs per person.A guide joins the tour and explains each and every things about tea black tea, green tea, white tea, dust tea, oxidized tea.He told us whatever we are drinking till now is a dust tea , and all good tea is only exported to other countries.I am regular tea gal, hearing this bahut bura laga .I also bought one oxidized tea.There are some tours here where it is full daytrip,
It starts from you plucking the tea leaves and preparing your own tea all by yourself[ around rs 2000 for the tour].
Then by this time we were damn hungry I had enquired with a friend in hotel , he had mentioned me to go to Guru Bhavan. I wanted to eat puttu and Kadla curry.All the hotels you need to go to munnar town .We went there and went to Guru bhavan.One of the best places for breakfast .We found one person from Karnataka so we told him what we wanted to try he suggested us to take one puttu, one appam, one idi appam and one Kadla curry .Each of us took the same menu.It was yum believe me you should try and don't miss your tea , yeah toh miss karna hi nai hai .
Then we headed towards the flower garden [ name of the place] nice to spend 30mins , you see variety of flowers .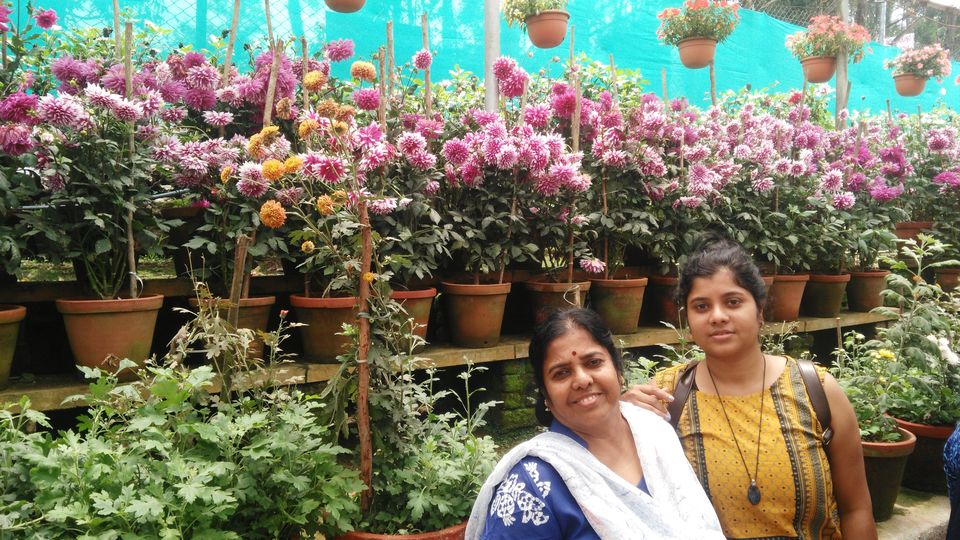 Then our next destination was a viewpoint where we get to take pic with the basket which locals use to put the leaf they have cut.The people working in the estate use it.We took one each [30 for each pic]you get a hard copy. Like the one below :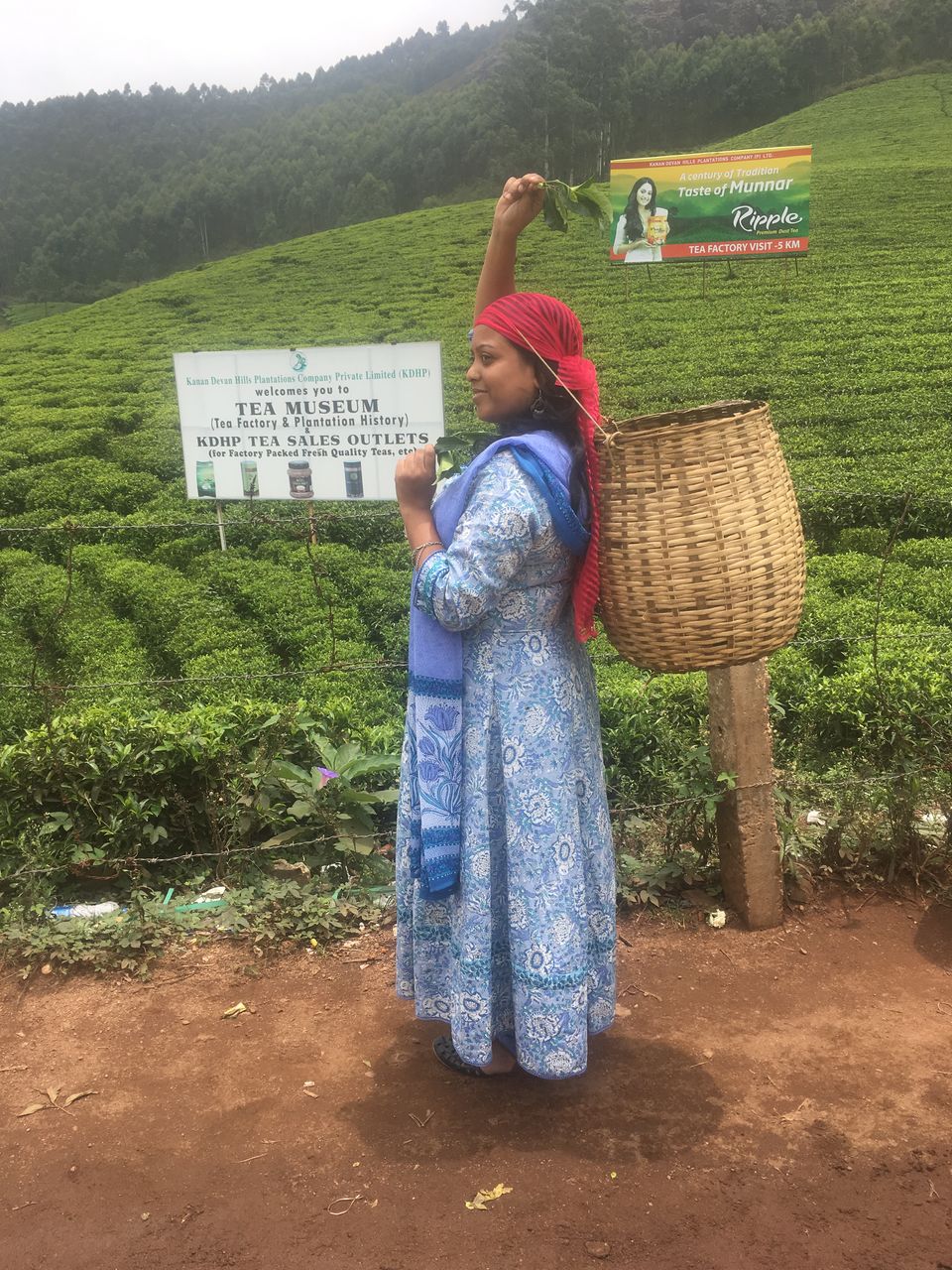 There is one more place where he stopped by is honeybee tree.Nothing much here only that there are many honeycombs in one tree.
Next destination was Elephant safari.Here you get elephant ride for 400 rs per person +100 for pineapple which you get to give the elephant in the end.250 Rs extra if you want professional photographer to take your pic and gives soft copy in a CD. We just took elephant ride and the pineapple basket. Waiting time here is around 45 mins .Elephant ride is nice,our elephant name was Lakshmi. The elephant starts it journey uphill to a distance, then elephant turns and starts coming down hill .This turn and downhill is very thrilling.you feel like you will fall down. I was holding the elephant tightly.Once the elephant reaches down a pineapple basket it given, elephant gets its trunk up and I need to put the pineapple in its trunk .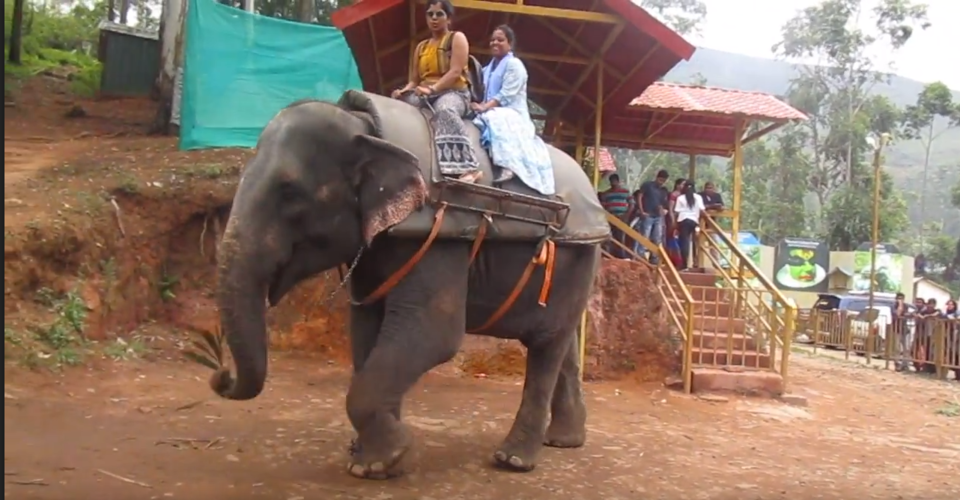 Then we got down and started to next destination Mettupatty dam.
On way we took the pic near the mesmerizing green estates.Chennai express movie song Kashmir mein , tu Kanyakumari is shot here .In the Munnar roads , its very beautiful place to go by drive .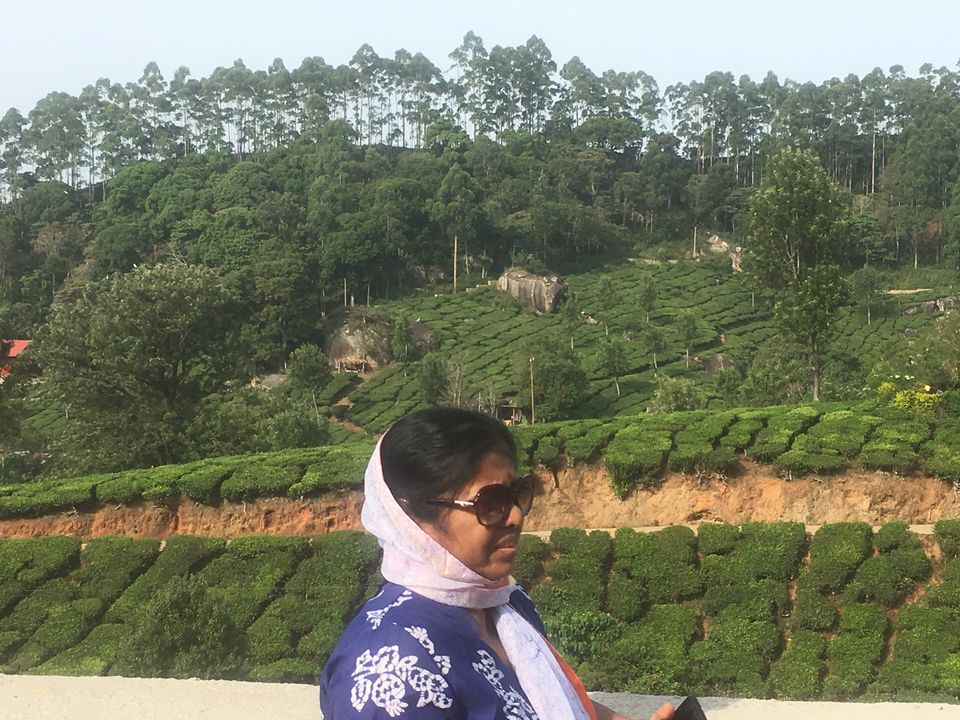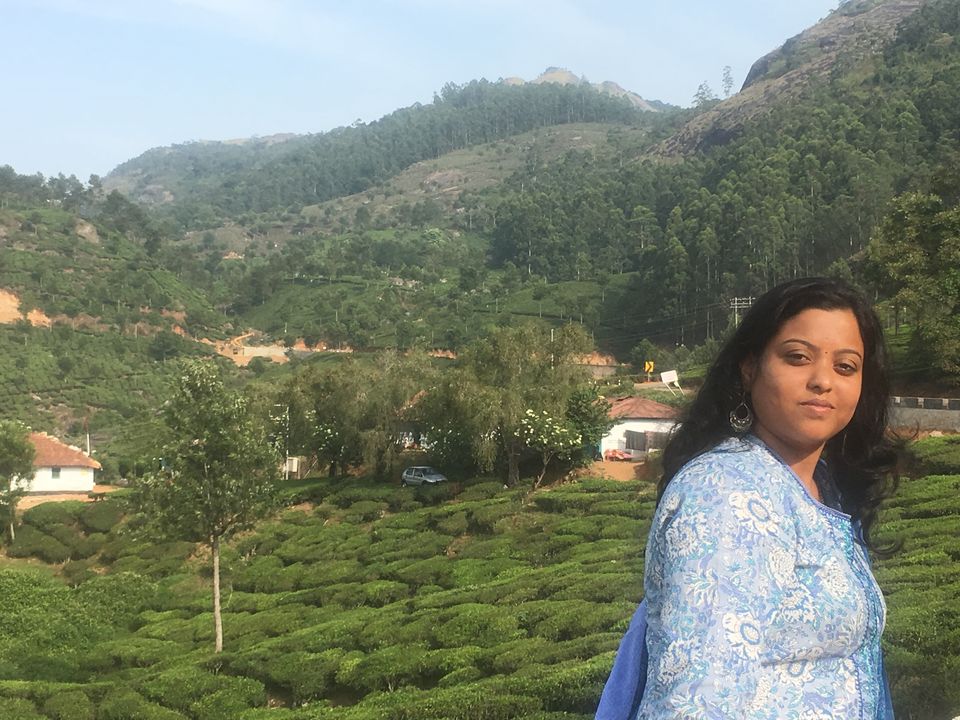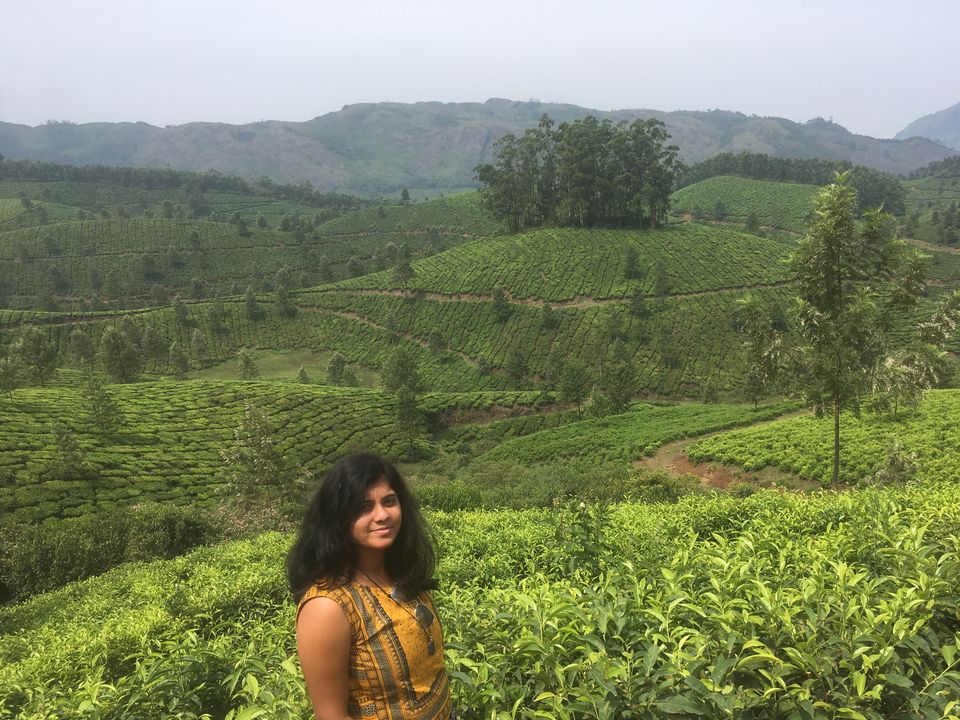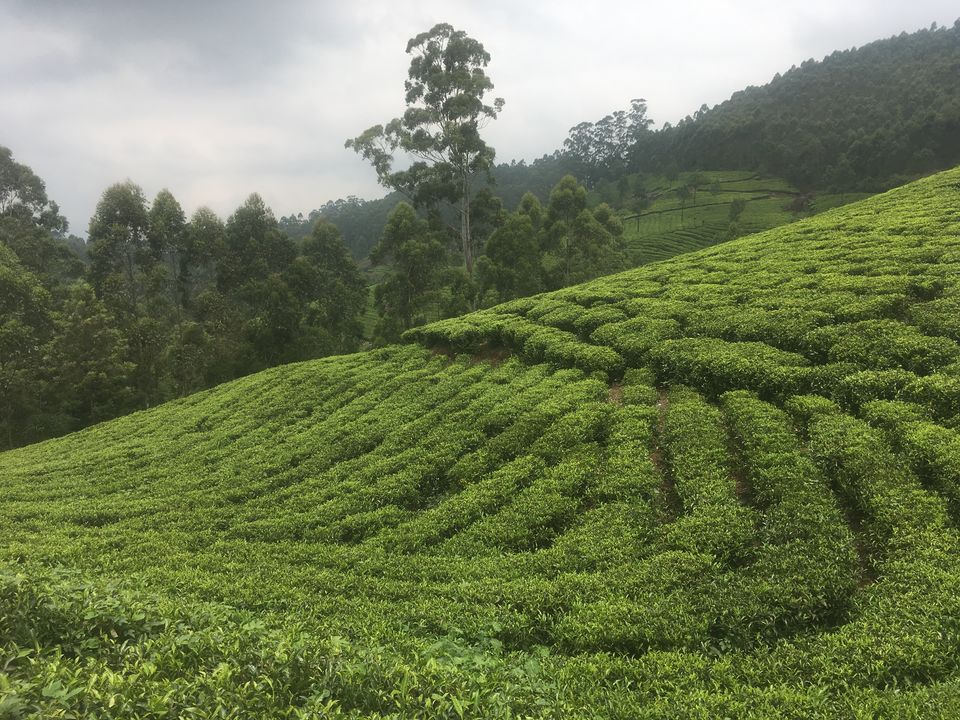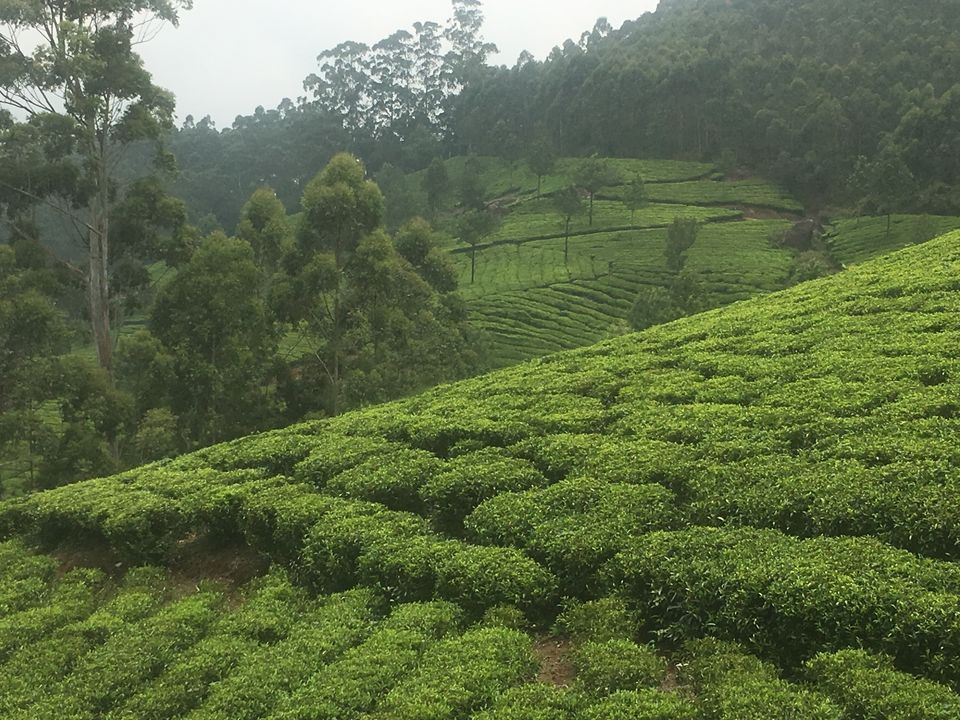 Mattupetty damn looked too crowed we though will get down on the way back .Then headed towards
Echo point.This is nice place we took some hard copy pics .We did peddle boating here 300 rs for two.
I did try to echo my voice , nai huwa .I think earlier it used to echo now its not echoing though.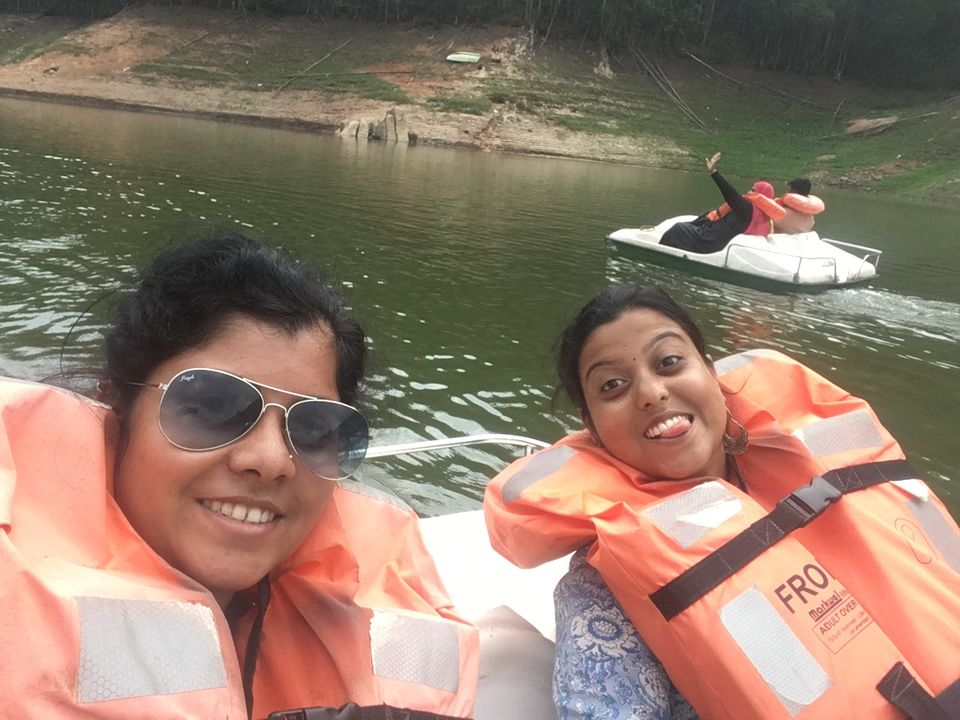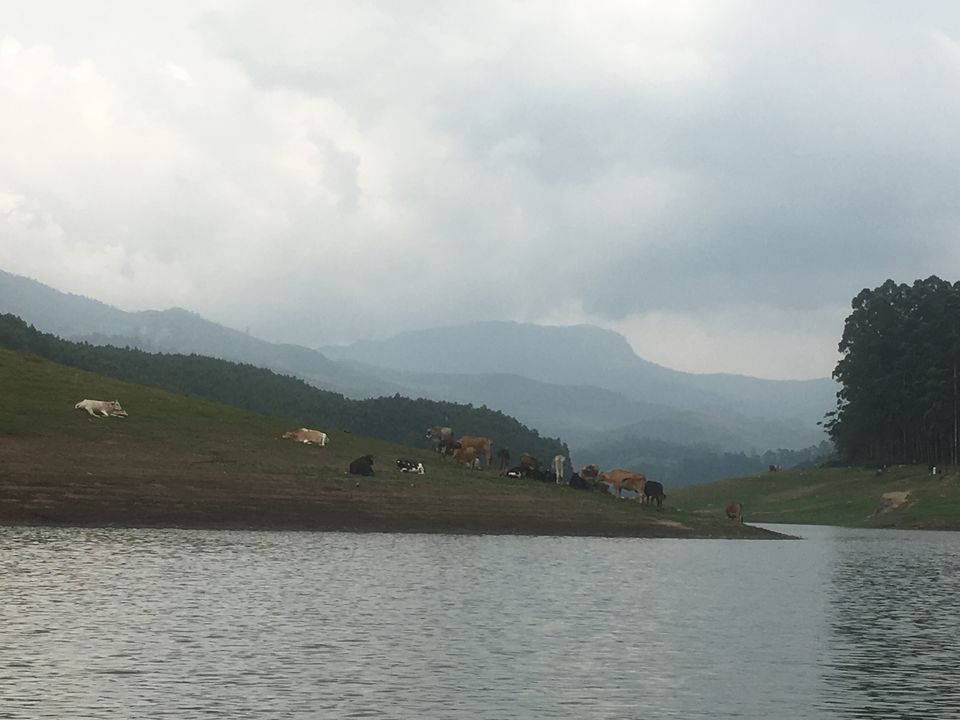 Then spent some time here and headed to lunch. Some hotel we stopped by and had mini meals.
Then our must visit last place Top station. On the way we dropped by some more estates as we could not stop ourselves from getting down and taking some pics.
Some of them are as below :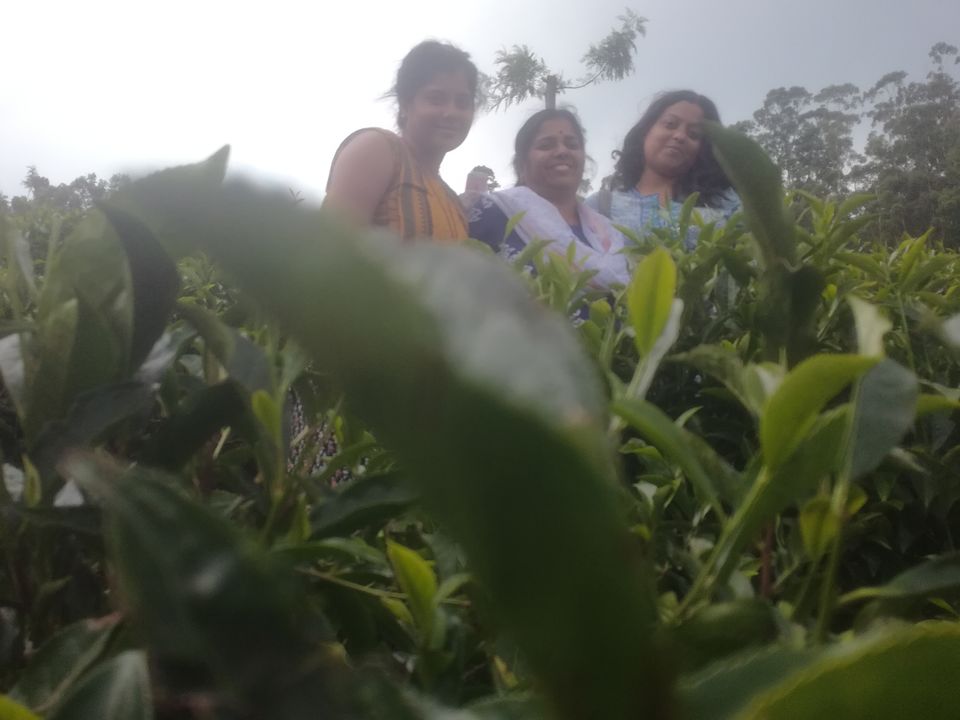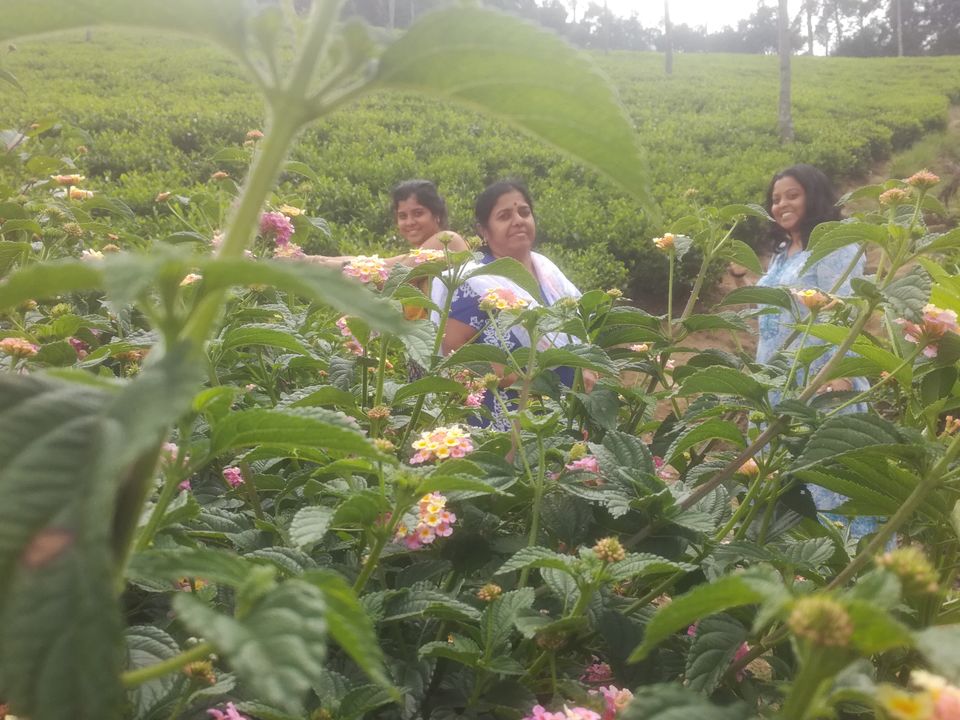 Top station If I describe it will be like exaggeration. Its awesome ++ .You see estate surrounded by mountains .mountain ke peeche kuch aur mountains. You feel like you should stay there only if possible.
Wow wow moment. Some pics: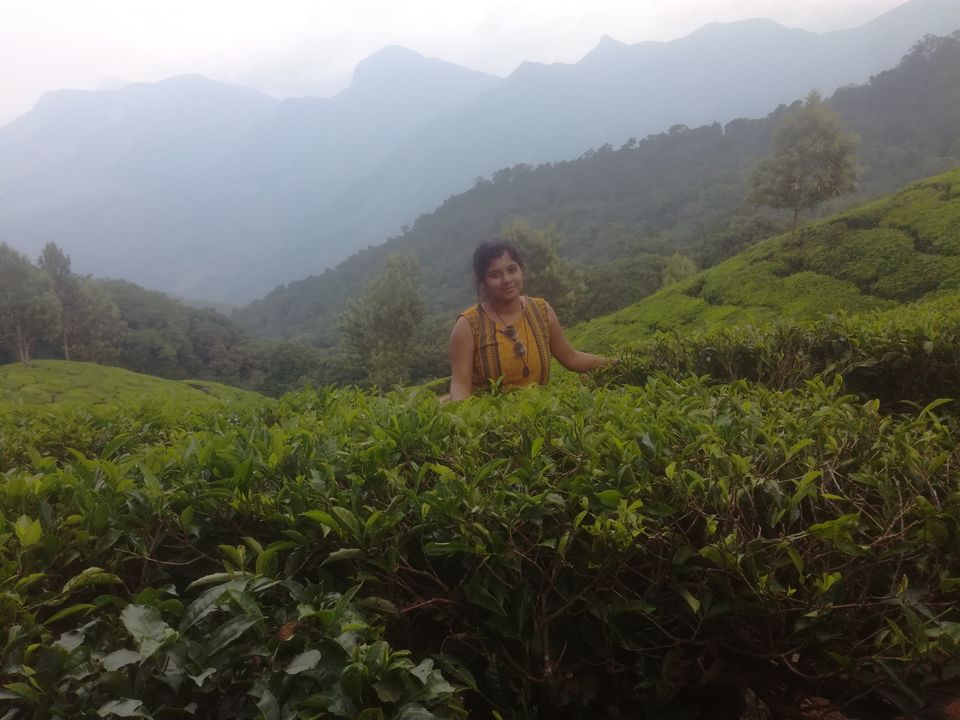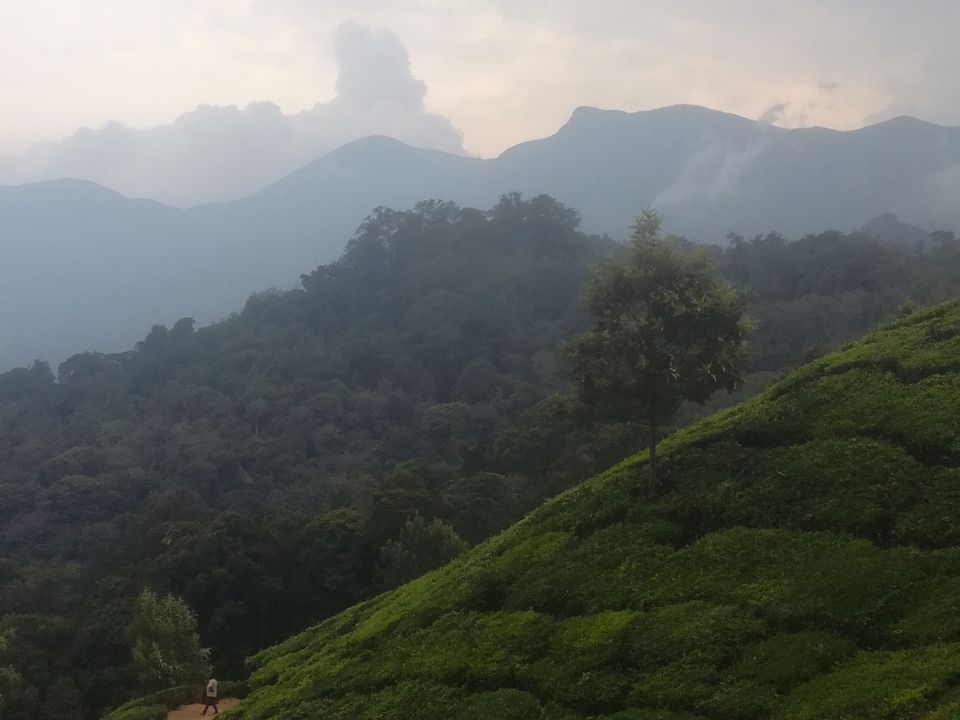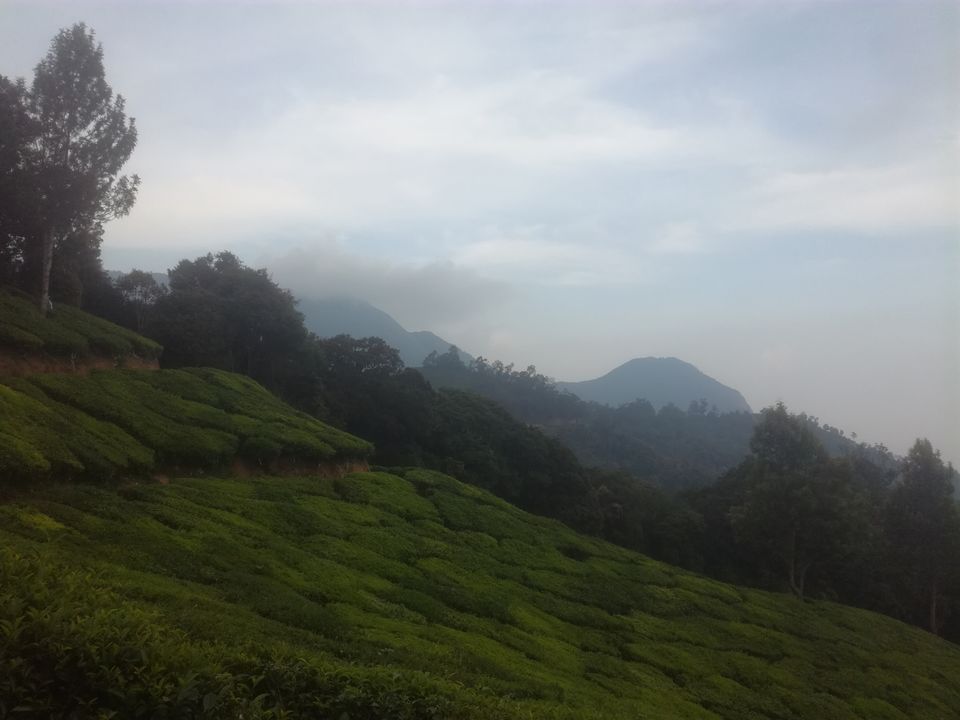 On the way back we could spot some Elephants at crossing .Mummy elephant with two baby elephants grazing. Spent some time viewing them and then spent some time at the mattupetty dam.We got down and walked over the bridge.
Then headed back to hotel .On the way we spotted one botanical garden , stopped here did some shopping sandal soap, banana chips and halwa and fragrance incense sticks are good to buy.We also stopped by again to Guru bhavan for taking parcel for our night dinner. It was yummy .
Finally reached hotel and weather was cool and drive on the way was nice. People don't honk in the night use the lights to notify. Follow this when you drive in ghat section.
We had dinner and night it rained heavily .Morning was cool and light .We had to start early as the driver told that the road will get closed by 7.30 am .I really wanted to stay there for some more days,
But I had to start back .Some pics on the way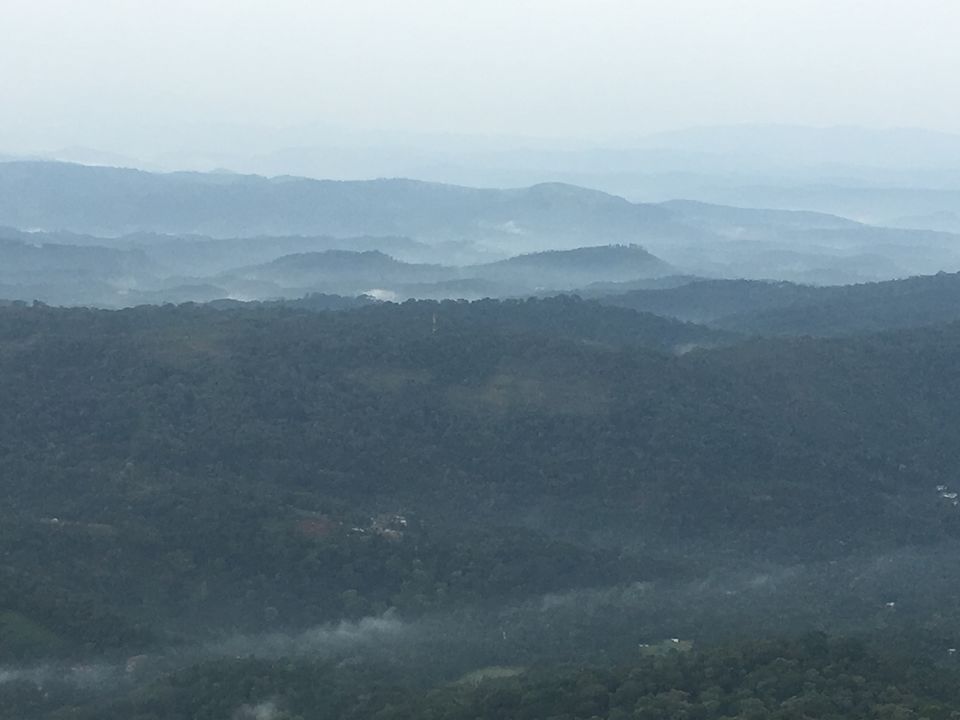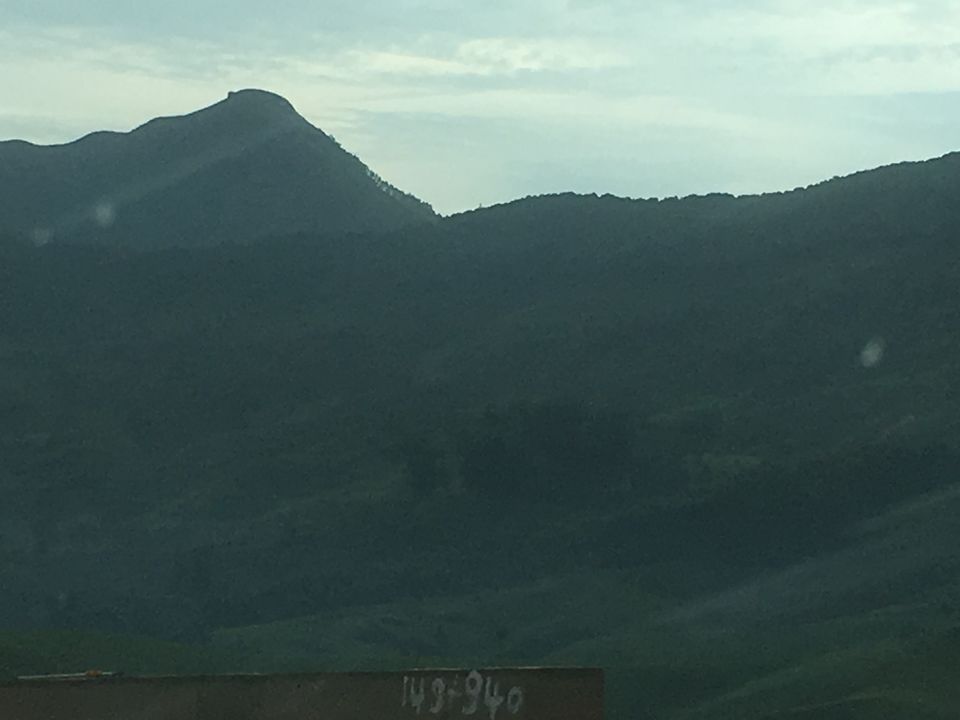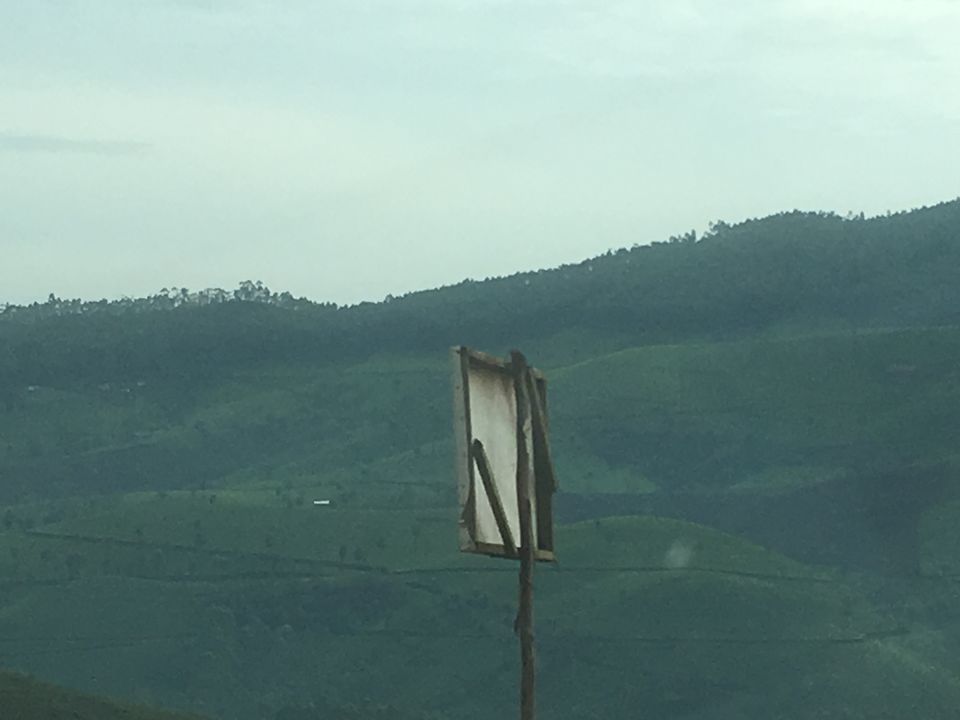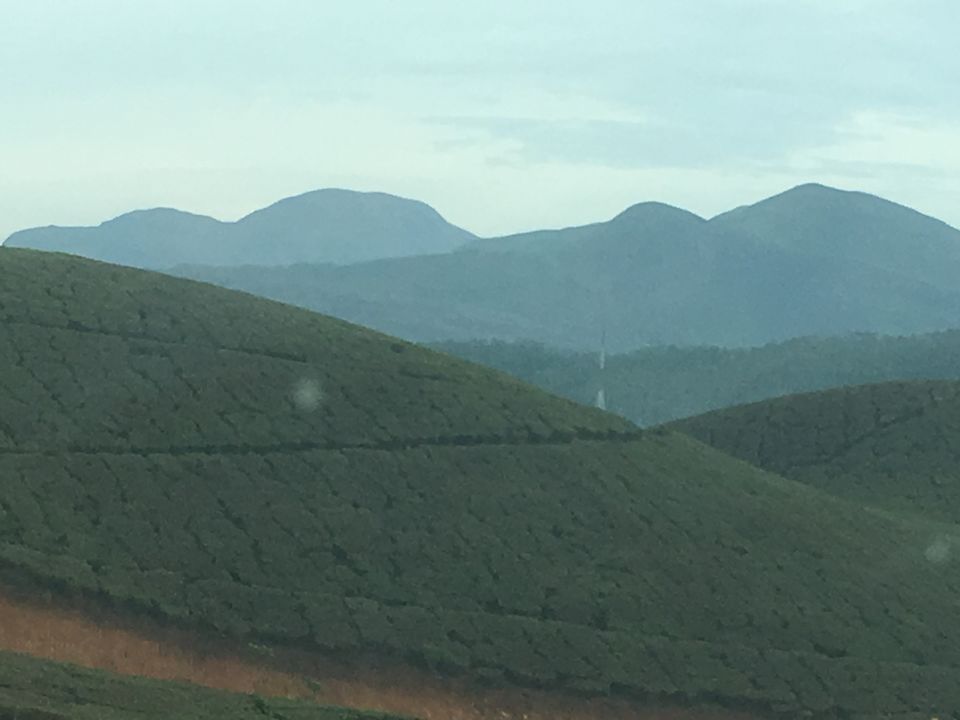 Next day we started early from Munnar drived back to Allepy besides the beautiful tea estates and awesome viewpoints .Its around 200km from Munnar.I had already booked oyo room near the allepy beach.We reached allepy by 2.30pm.There are no good hotels nearby and the holiday beach resort hotel also dint give restaurant .We ordered pizza , it was the worst pizza i had ever.
At a distance of 1km there are many hotels or restaurants for food with good options.
Next day we had plan to go to Allepy boat Jetty pickup point and hire a Shikara boat.Out hotel had a good beach view and nealry 10steps to beach.Though the beach is not that beautiful a bit of algae near the shores.We could see some crabs and a good sunset view :).The sunset pic I was telling that was like a fish is trying to drag the sun , see the pic.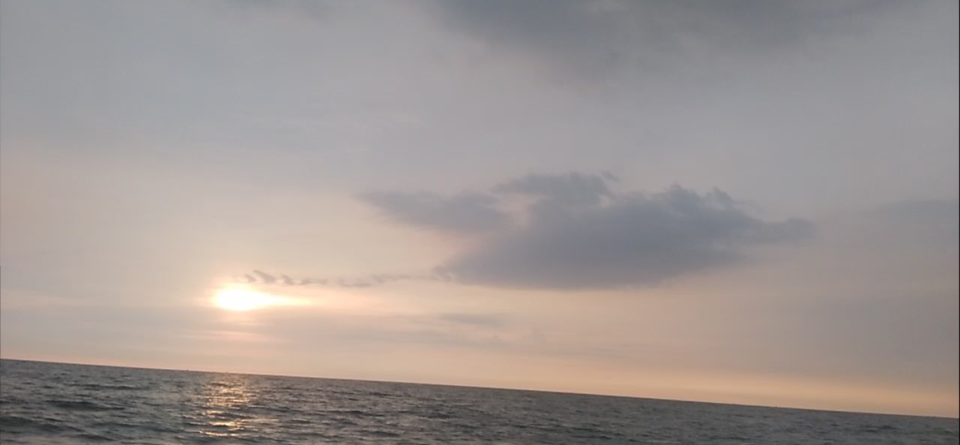 We had some snacks and slept.Next day by 9 we were ready and started after having upma which was provided in the hotel.As soon as we reached boat Jetty we were still thinking and an agent approached us and offered a deal of 500 per hour for Shikara boat .He would cover one canal, visit to reatuarant and visit to the biggest lake .We were fine with it we parked our car near to Jetty place and boarded our boat for 3hrs[1500Rs].We were super excited to start our backwater journey.
Our Shikara was big enough for 6-8 people but they charge per boat and not per person.I really felt awesome my mother and sister were also excited about our journey.On the way we could see boat house and other Shikara.Our boat driver was a cool person was informing us about the places and various significance etc.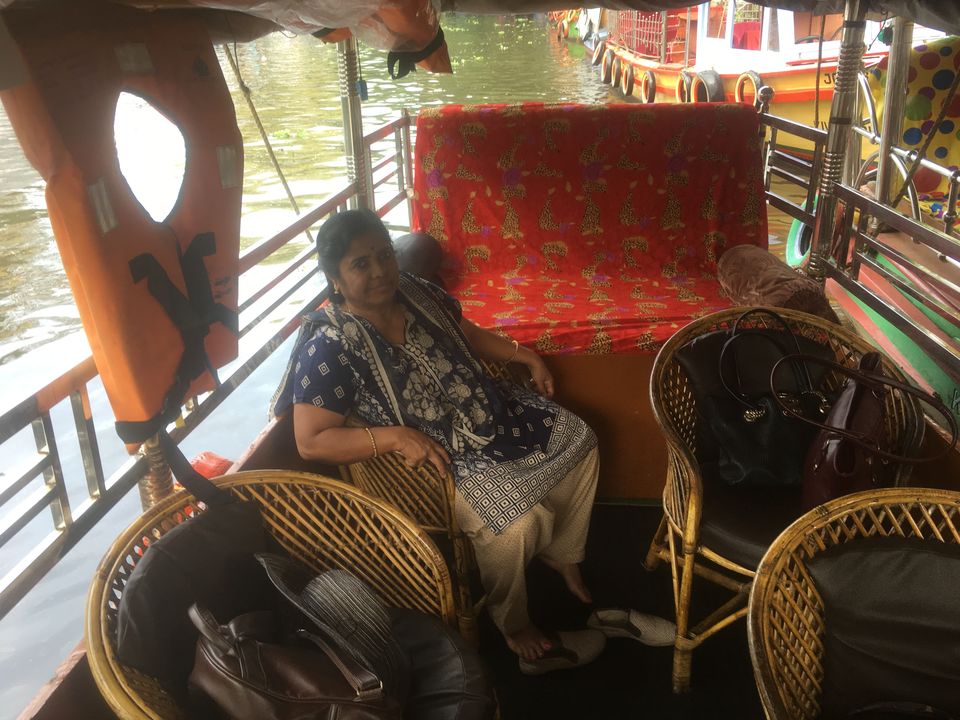 First Place we saw was the snakeboat race spot .This is usually during august now there were no snakeboats though.100 people in each boat will be participating in the snake boat race.
Also many movies like Dilse and tigger shroff movie weer shot here .You see Jawaharlal Nehru Statue.
Many resorts are lined to the edge of backwaters .When you want to spend time here can plan booking such resorts.We also saw some Govt boats for the locals to travel daily as the only transport is boat to reach these island homes.Also Many people we could see on the way going to school, wait for boat like we wait for bus etc.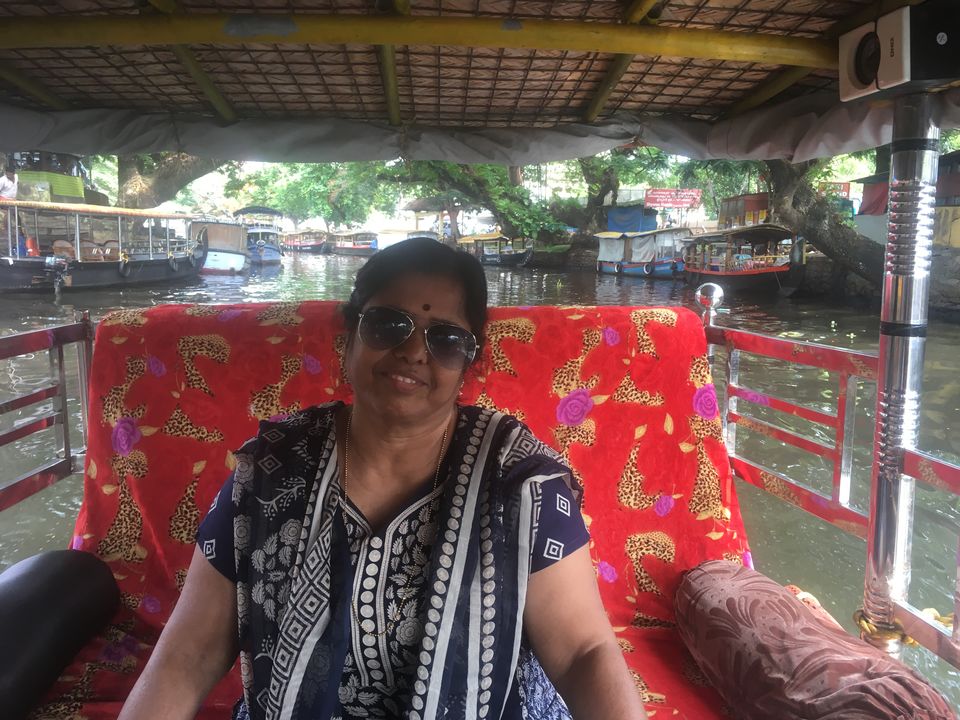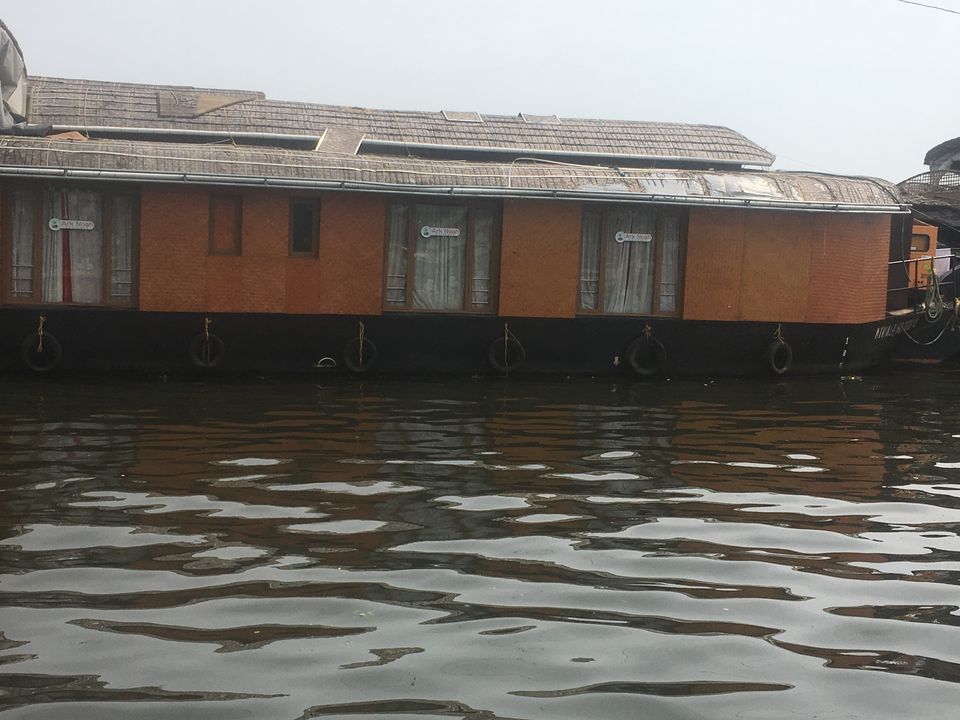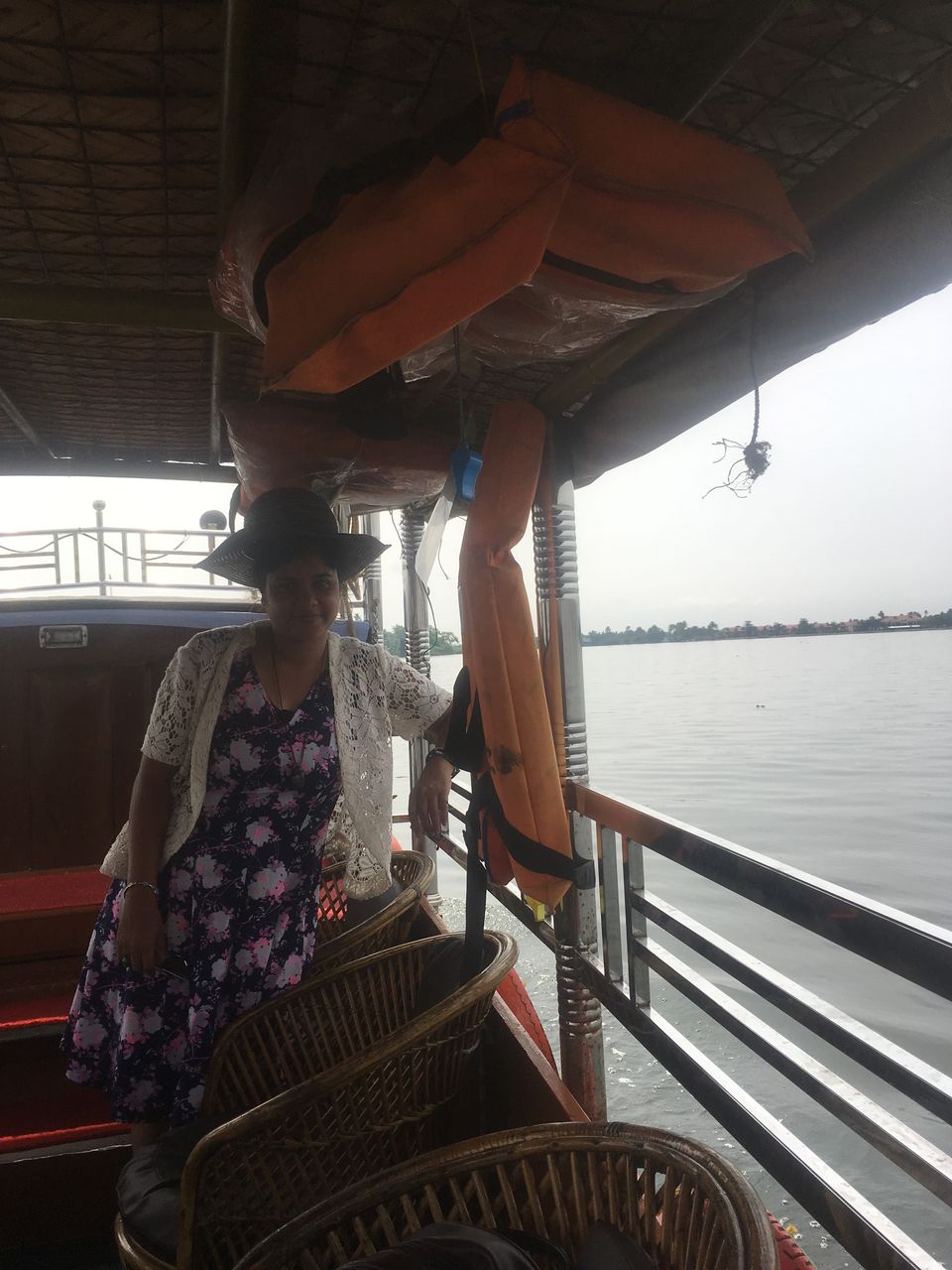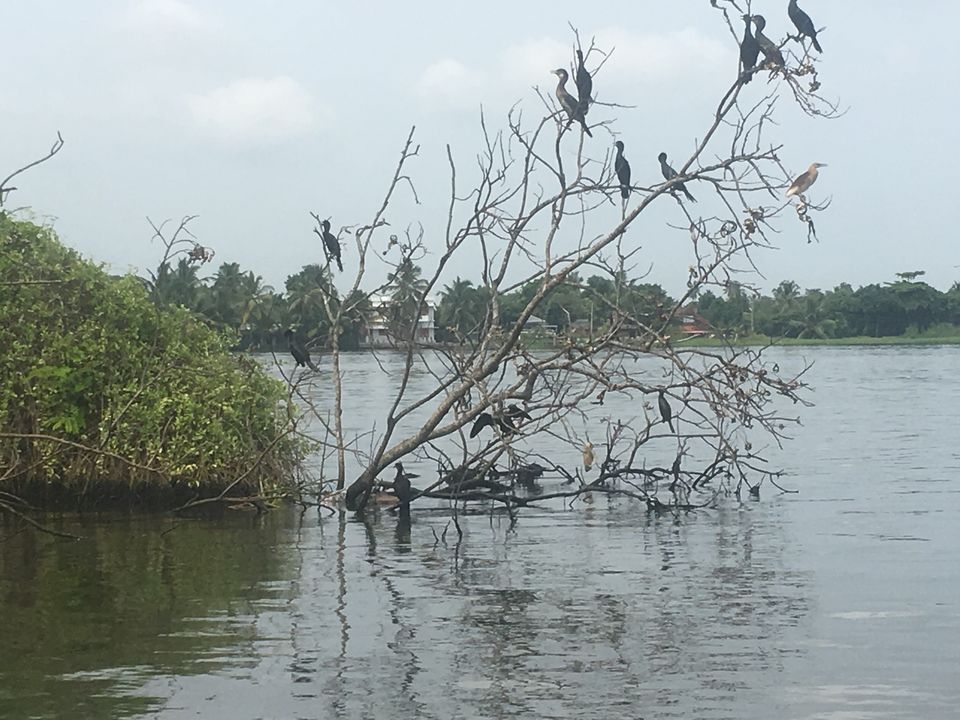 Then our first stop was for cofee where I met my friend see :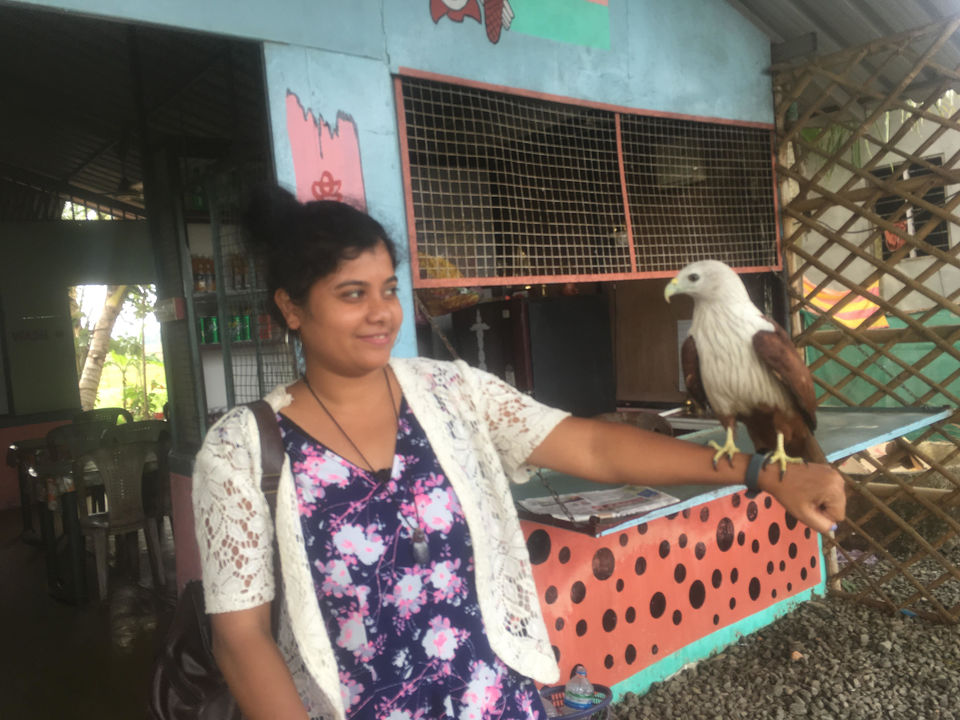 We also ordered food for lunch as we supposed to come back here to have lunch.
We ordered lobsters and meals for lunch .
Next we started our journey again in the serene backwaters of Allepy.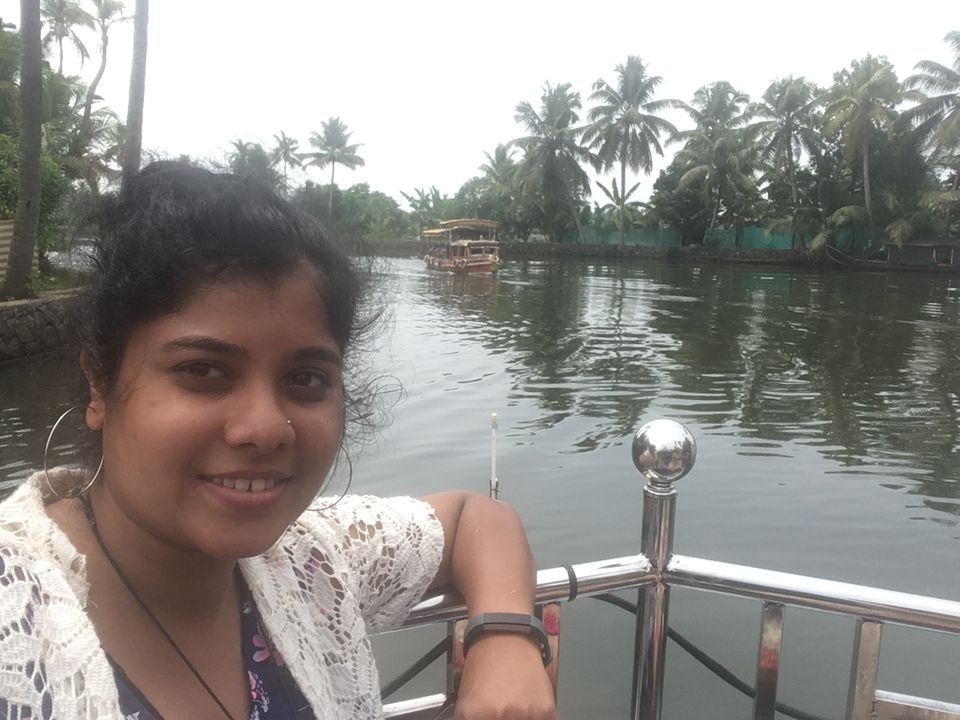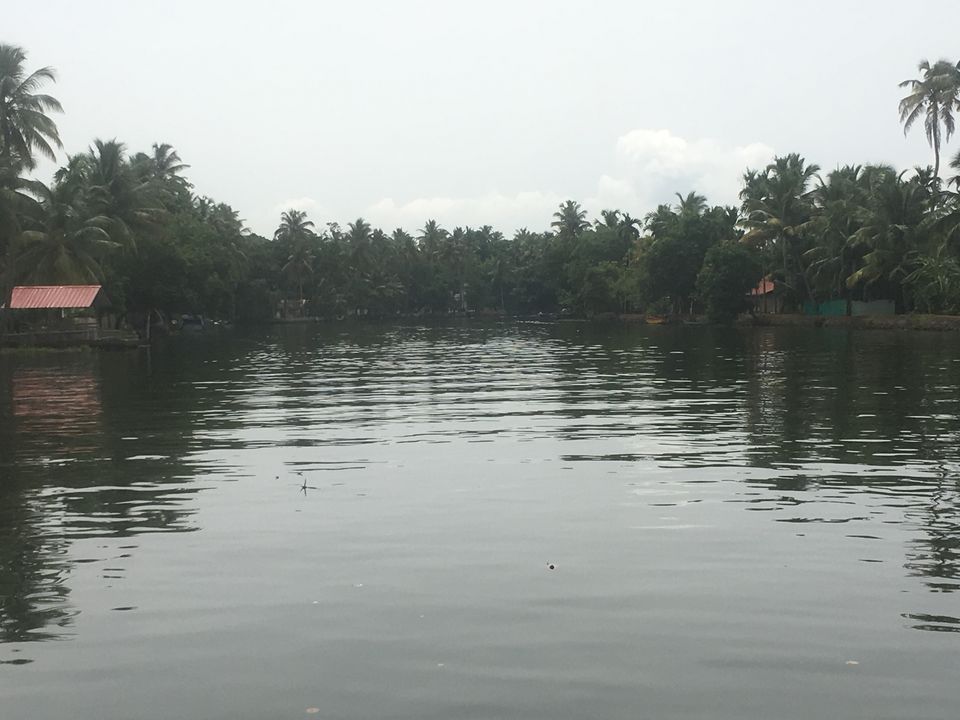 We headed through a canal enjoyed the awesome view .Me and my sister climbed to the top of Shikara. This is the best place to view .[we got tanned though]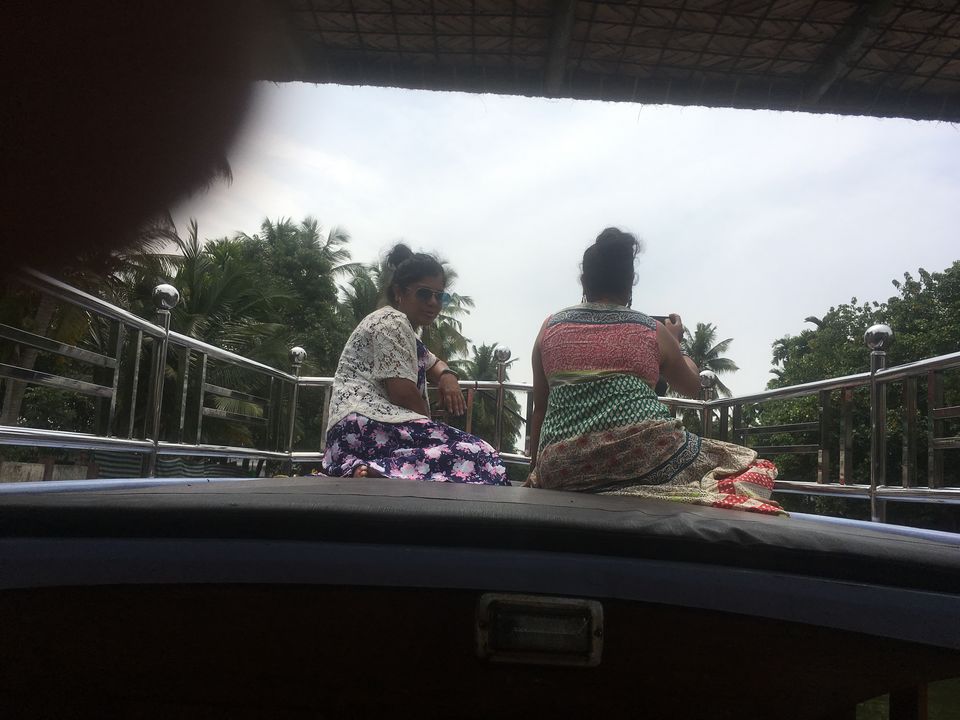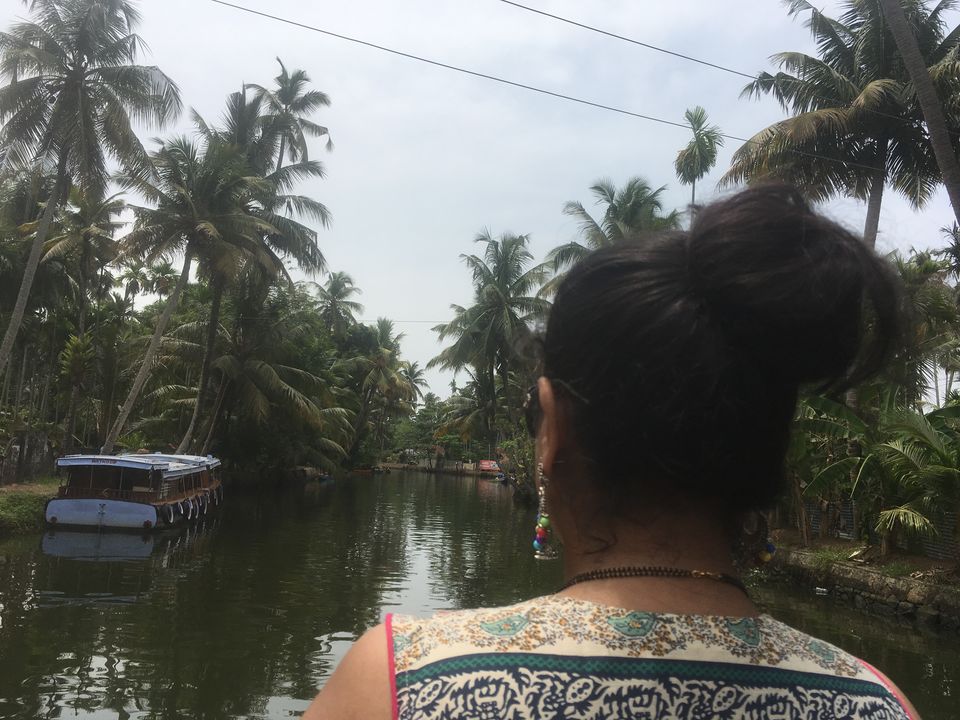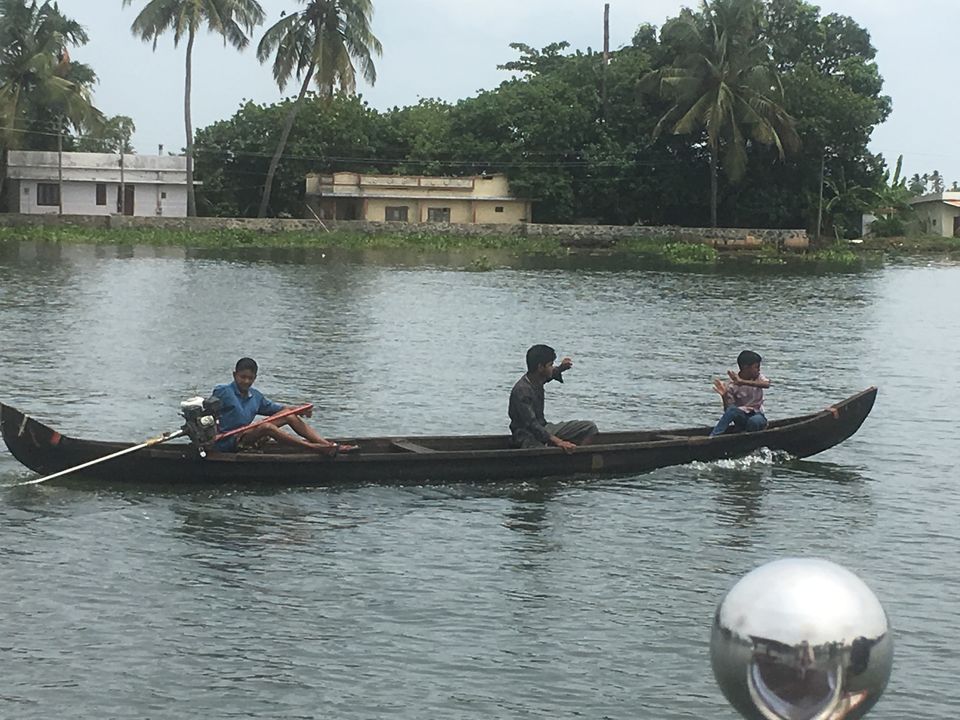 Boat driver was cool and let us drive the boat till some extent only steering , the speed was set already :) .Me as the boat driver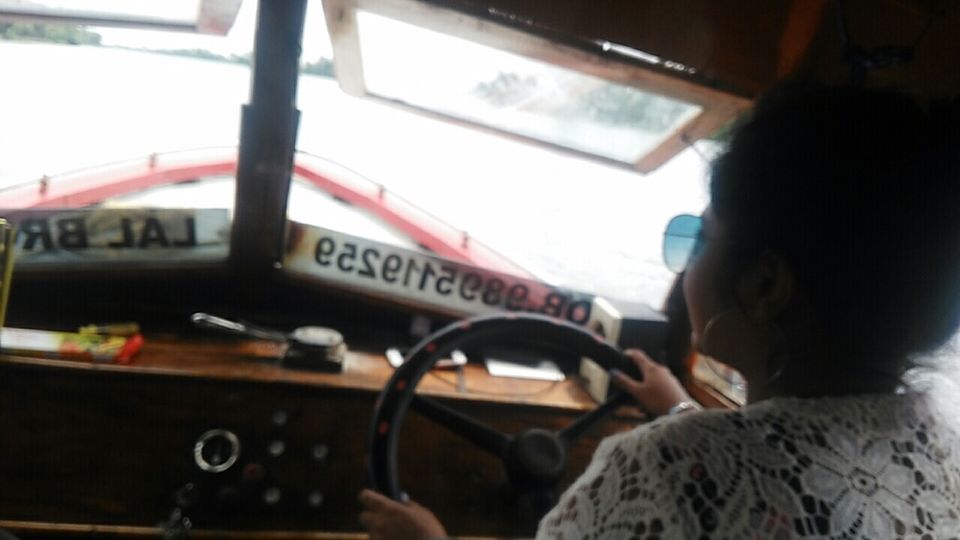 We enetered the Indias biggest lake Vembanadu Lake. In this lake borders of three districts of kerla meet is what the person told us.Its total beauty to watch it .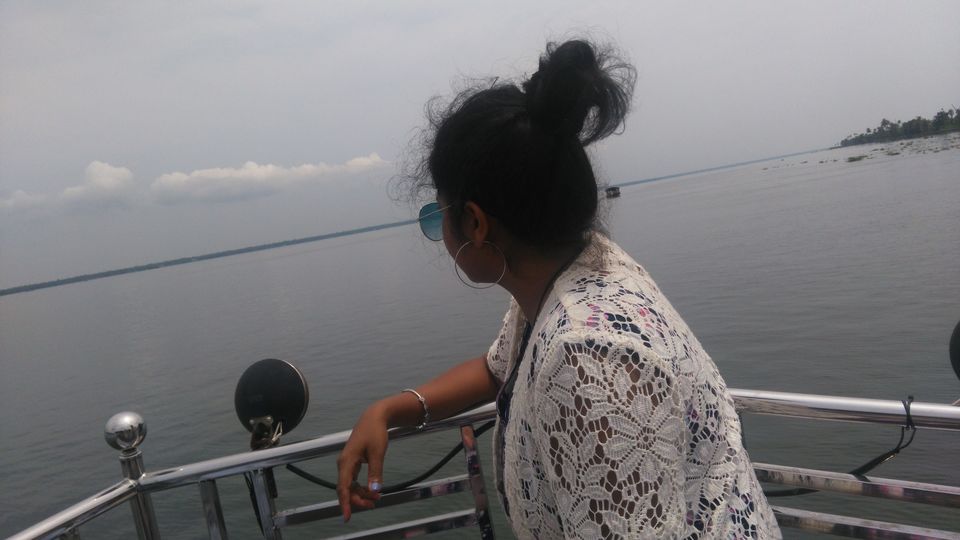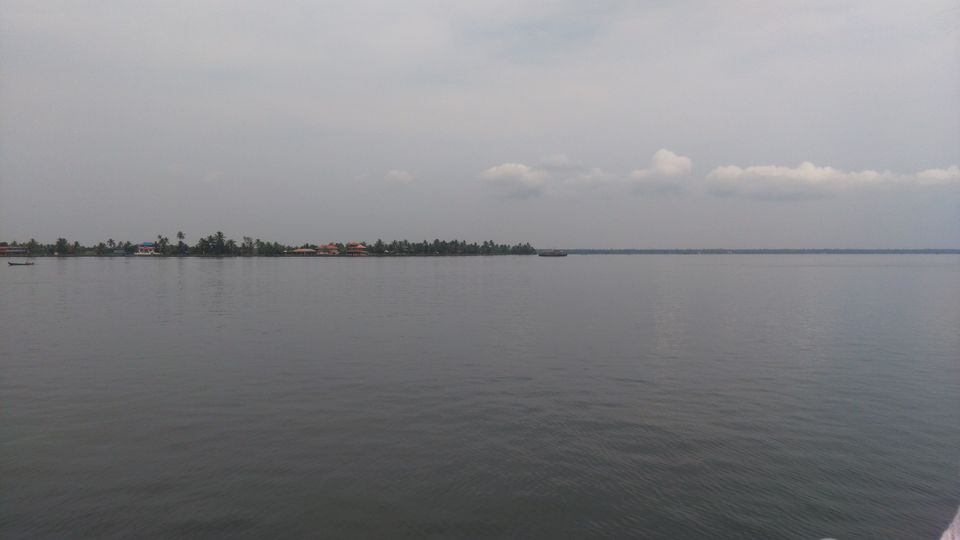 Then we completed our drive and reached our restaurant and had and the yummy lobsters and Kerala meals.[Lobsters costed us around 500 and meals 100 rs each].
Then we headed back and on the way visited the light house near allepy beach .View from here is beautiful.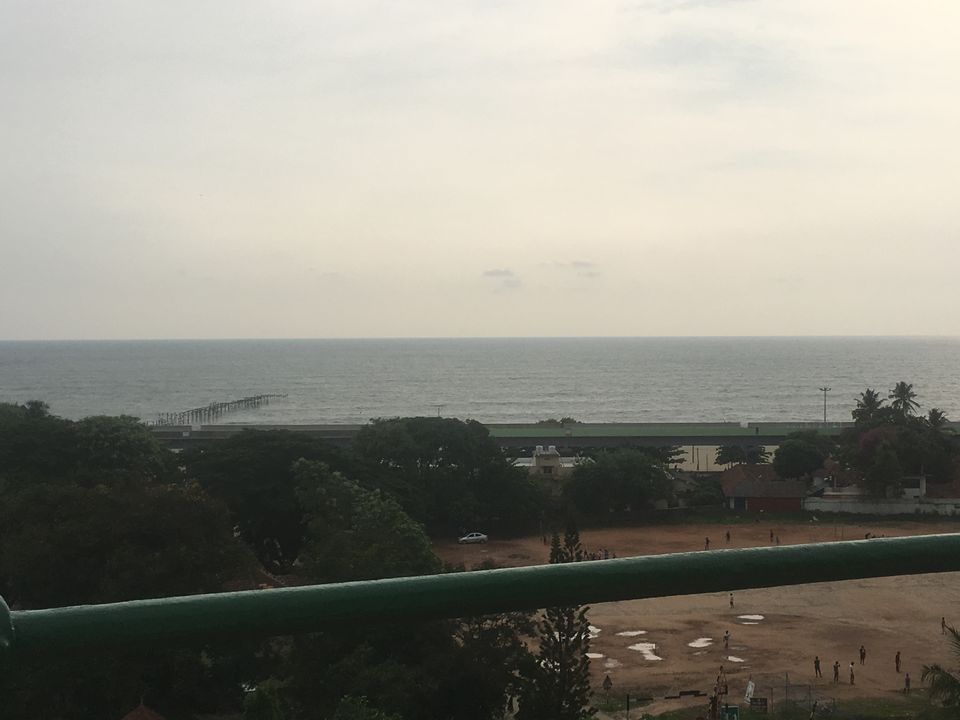 Finally went home fully tires had good nap and evening headed to a good restaurant to have dinner.We had ordered biryani and some chicken started .The biryani here looks and tastes different. Ok Closing my travel story with cool memories again with my travel buddies mom and my sister .We missed Yogesaa though who could not make to this trip due to his busy schedule. Munnar and Allepy are the places which you like to frequently visit, given a chance :)