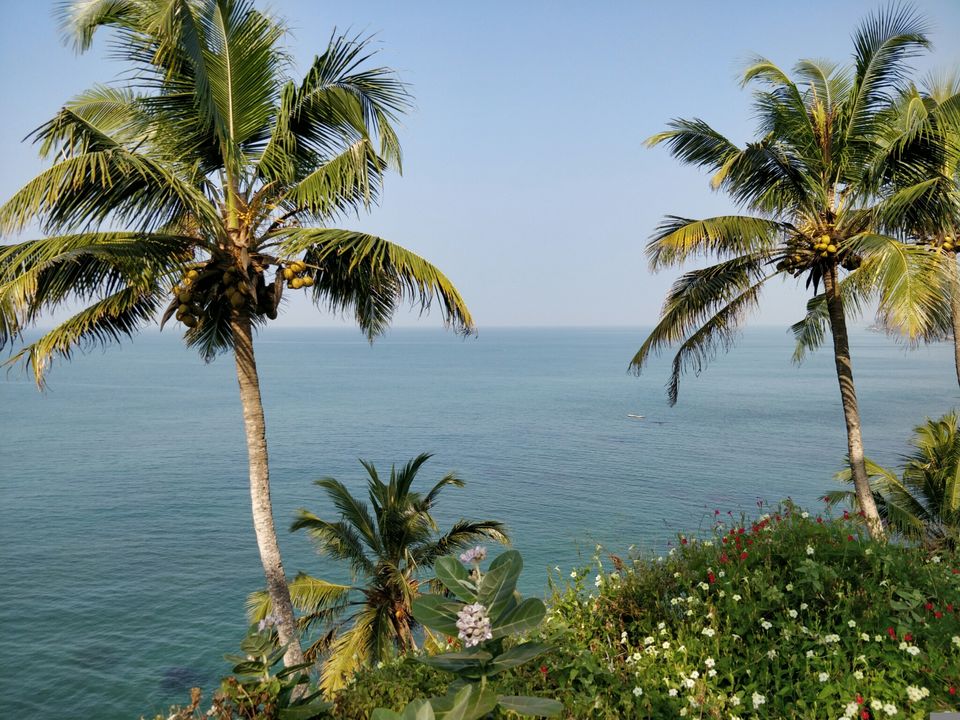 A perfect and an awe-inspiring hideout for peace lovers, is this place, Varkala!!
I could not have thought of more worthy place than this to start with. Despite being close to the largest city (Trivandrum) of the Indian state Kerala, Varkala isn't the kind of place where you will find much commercialization and people. Immediately, you are attracted towards the charisma that it possess. It also sets a high bar, what your ideal beach holiday should be like. This post is intended to make you aware of one of the "must-have in your check-list" destination and how you can make your stay exciting yet relaxing.
If you have a hard luck in getting a room with a view, don't worry, the resorts and home stays with no view, won't disappoint you either. The Kerala culture imbibed within them won't let you leave without feeling Kerala vibes!! The resorts behind the North cliff are just 0.5 to 1 km away from it. So both, cliff and beach are easily accessible.
2) Morning Walk at North Cliff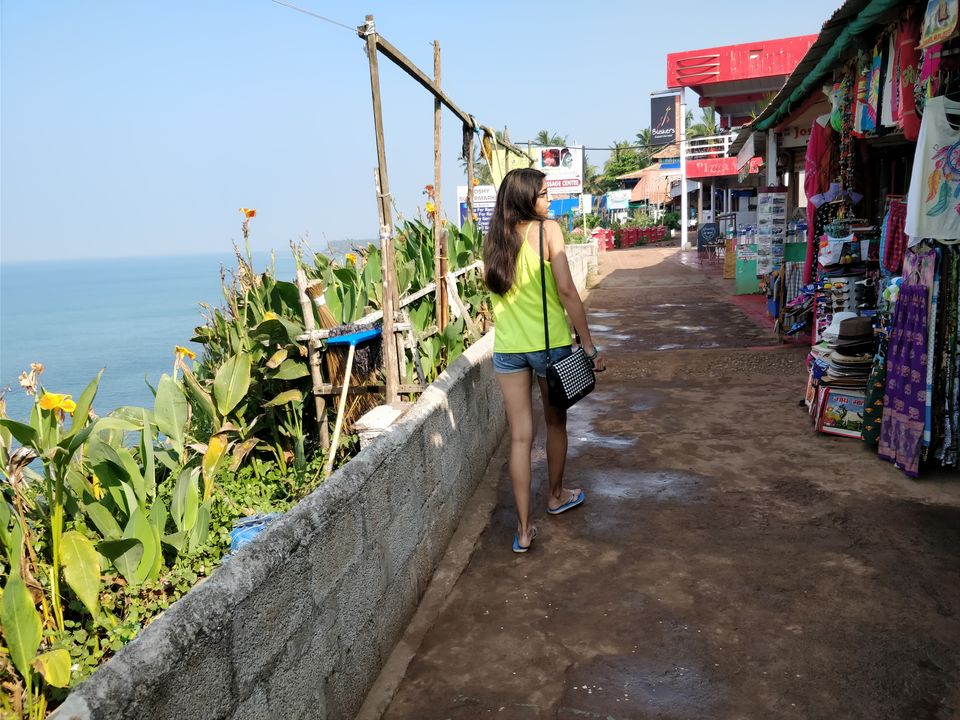 A perfect start to the morning is what Varkala offers. Varkala is backed by palm-covered red-cliffs. The setting of the cliff is striking enough to take your breath away. Just put on your shoes, go for a walk or a jog or a run, whichever way you would like to explore the cliff, with the vast Arabian Sea waking up beside. A paved footpath runs along the length of the cliff , bordered by coconut trees on the cliff edge and some shops(selling T-shirts, baggy trousers and jewellery), beach shacks ,resorts and cafes(playing soothing music) on the other side.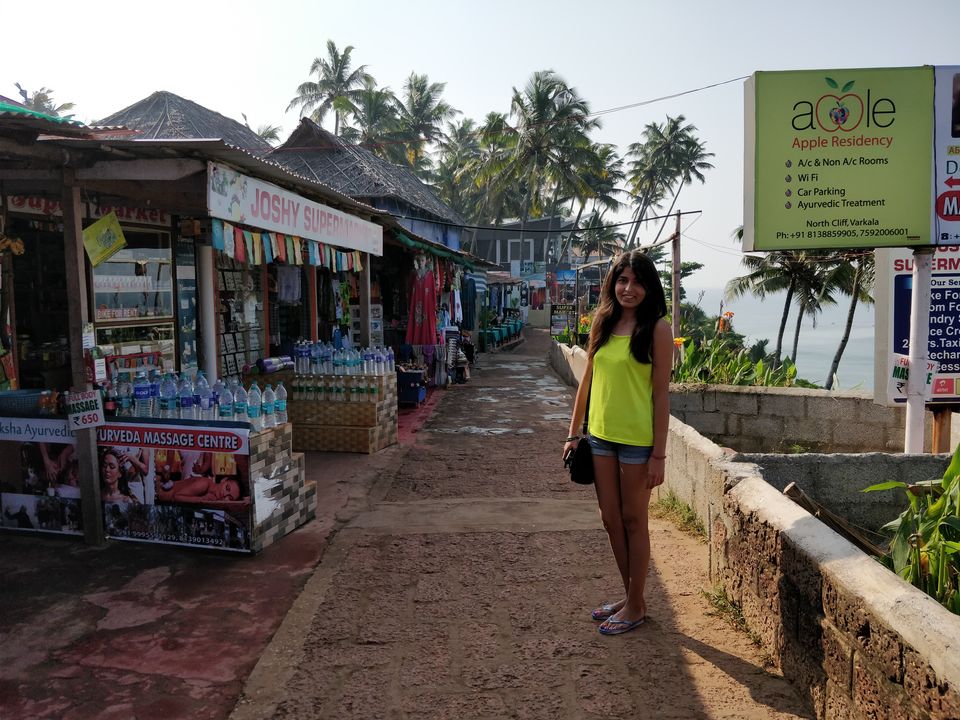 Having first meal of the day at a place so calm yet vibrant, breeze whispering in ears and ocean rhythmically dancing for you is as exhilarating as doing an adventurous or thrilling activity. Have a light continental breakfast at a decent, calm cafe and relish the beauty around you. North Indian food is also available in some of the cafes. Food in Varkala is not too bad, not too good and the pleasure of having it at such a serene place overcomes what tastebuds have to say!!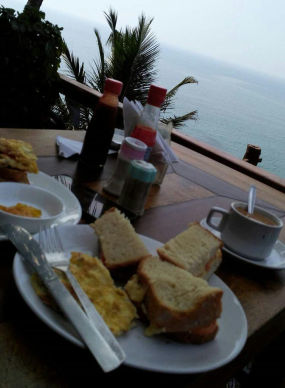 Here are some of the best cafes on North cliff : Cafe Italiano, Rock & Roll cafe ,Abba Restaurant & Everest German Bakery, Darjelling Cafe, Little Tibet and Clafouti. And don't forget to try Abba's Watermelon-Strawberry smoothie!!!
3) A Dip into the sea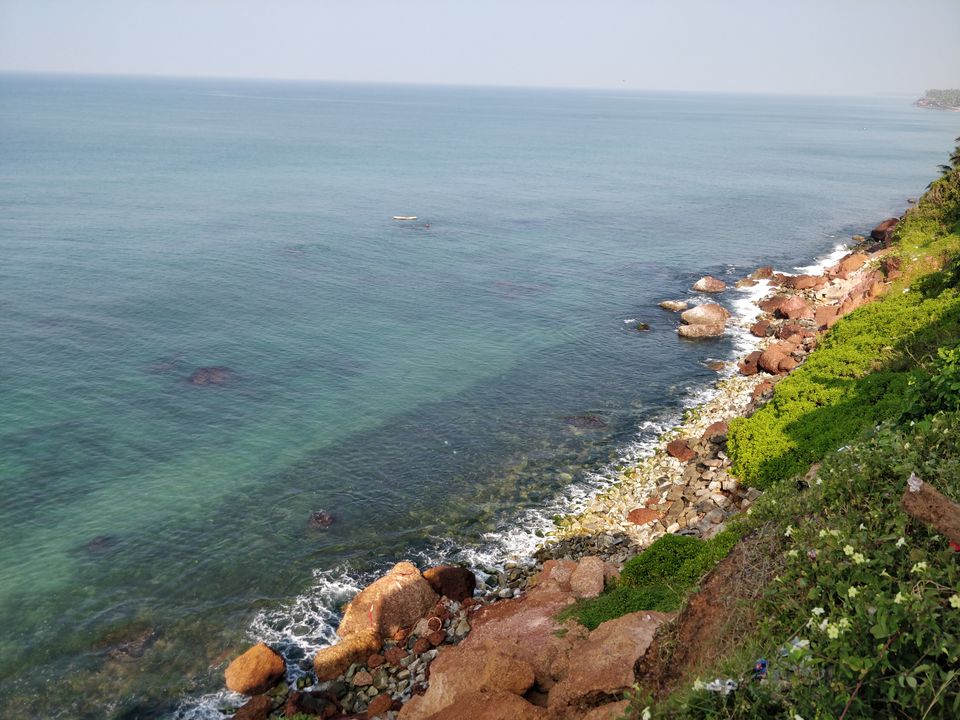 The less crowded and less commercialized places tends to be more clean. Same is the case with Varkala beach. Water is clear enough to get you see the bedrock right from the cliff. And how can someone not dive in (Wait!! not from the cliff). There are steps leading down from cliff top to long stretch of sparkling beach. Now, you can dive in.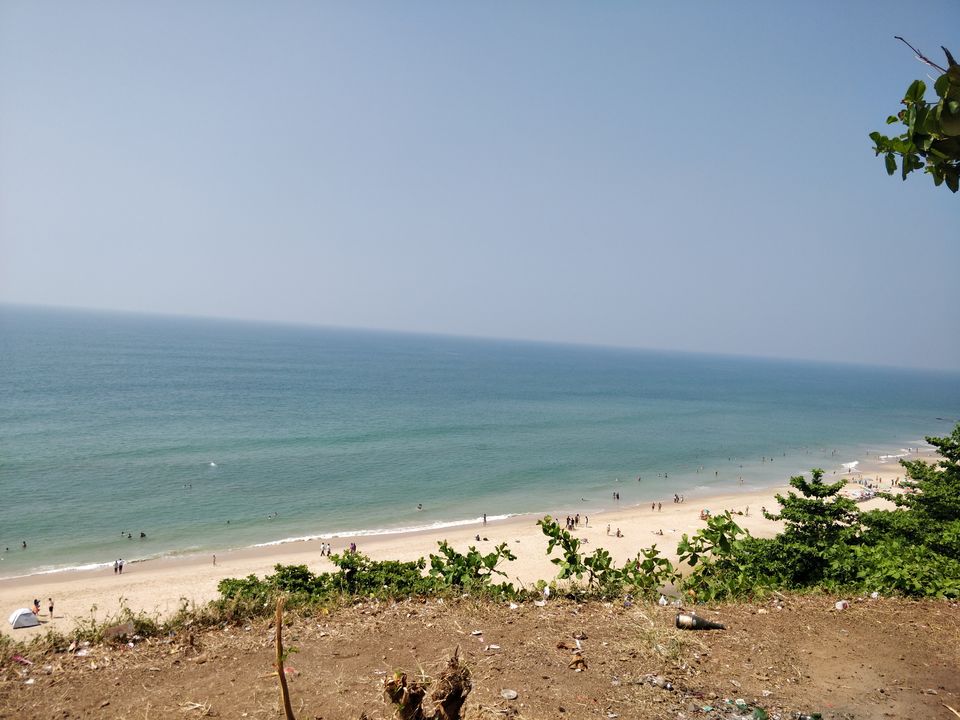 You can also rent umbrella sunbed at the beach and relax (read a novel, listen to music or simply have a power nap). Varkala is known for quite high tides. Go with the tides till they tire you.
4) Ayurvedic Therapies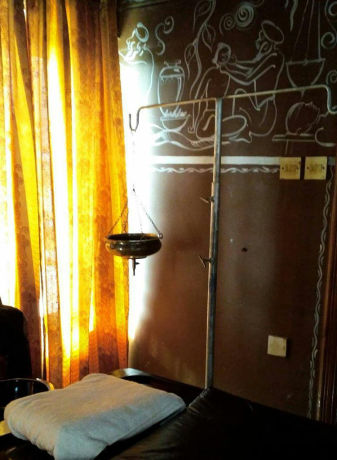 Massage can ease tiredness. This is a must recommended activity to go for. If you leave Varkala without having one or more therapies, believe me you will miss the essence of Kerala. The ayurvedic centers have variety of therapies, enquire about each therapy and choose the one best-suited for you. It not only revives you but every single minute after it will make you feel so light and free. And what waits ahead is far more relaxing and satisfying. The best is yet to come.
5) The day sets with a view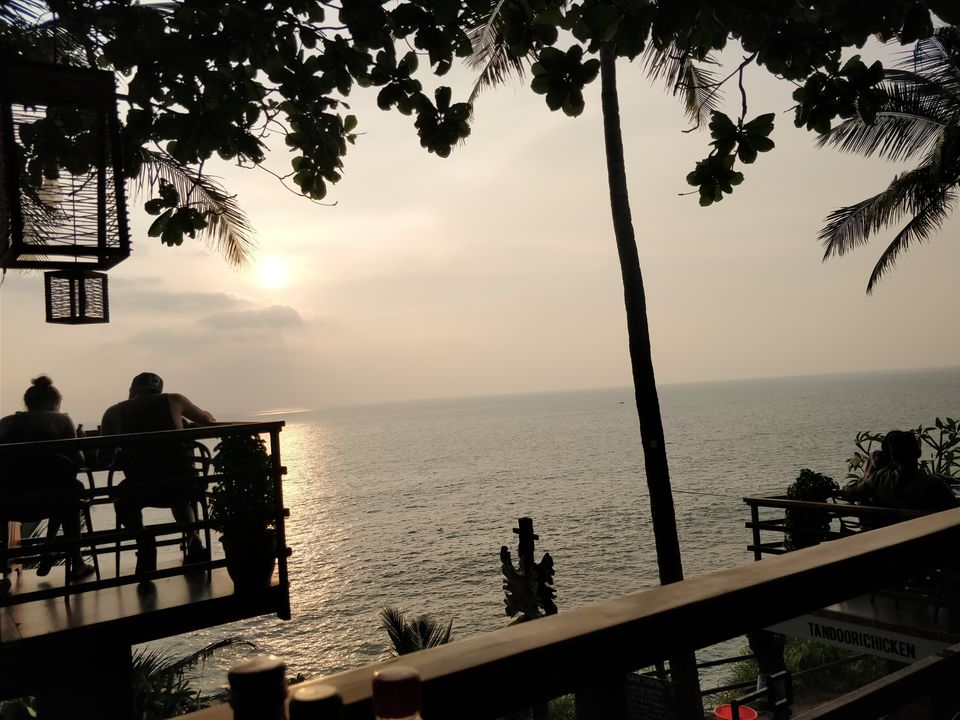 At first, I could not decide how to put the most stunning experience of this trip into words. But, whatever imprint it has left upon me, says it all loud, that it was the "best of the sunsets" I have ever seen.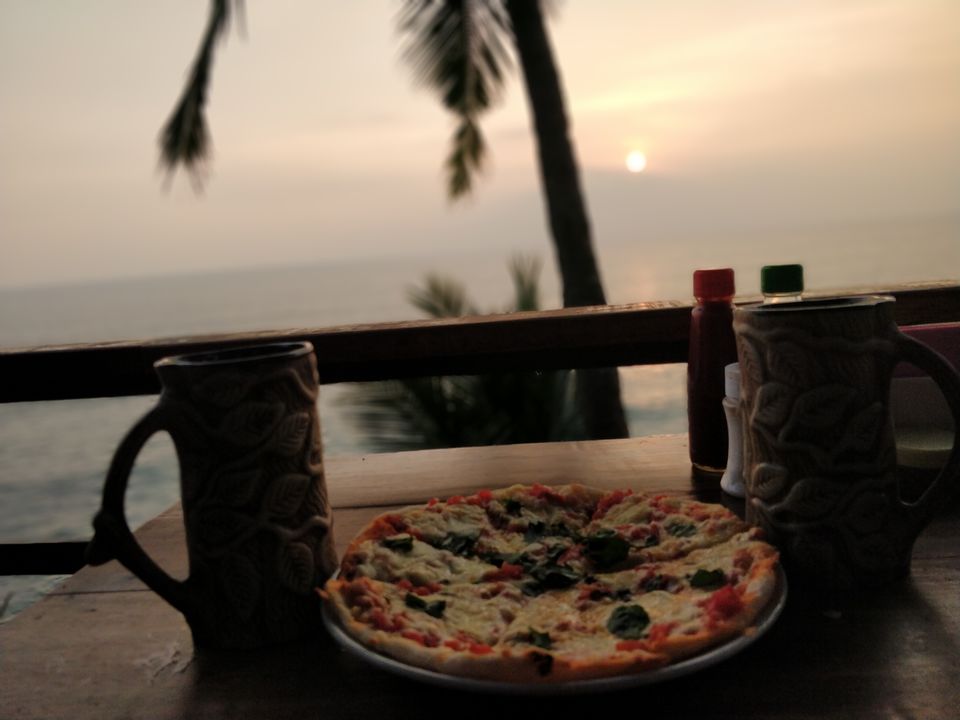 Yes, the sunset was done right. Sitting on an elevated balcony of Caffe Italiano, refreshing the already massaged body with a booze, having the cafe's special pizza and watching the nature perform the magical show called "Sunset" is what I remember. And I also remember the feeling of satisfaction, that occurred to me and it can only be felt, no best of adjectives put together can describe it.
But I can surely tell you something, DON'T MISS IT.
6) Night is ours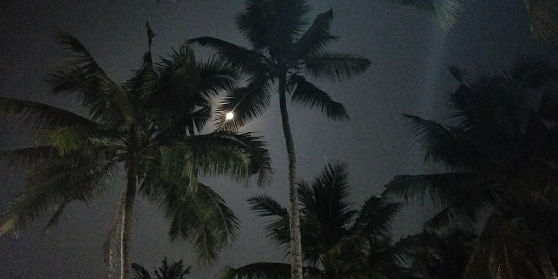 The cliff is so offering that you don't feel like leaving it. Only cliff, can keep you occupied for a day just strolling, eating and shopping. The sun sets and the cliff gets more lively. Its time again that you go for a walk as now the look and feel of the cliff has a different aura. Cafes with the perfect lighting and miraculous live music does nothing more than to lure you, tempt you, captivate you. And don't be surprised if you find yourself immediately settling for one. The cliff gets loaded with fresh seafood stalls.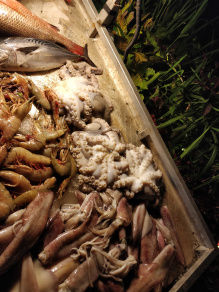 If you are a seafood fan, you can select a kind from the stall and ask a cafe or restaurant to serve you freshly prepared luscious dish. The cliff starts to sleep at 10:00 pm, but we, no chance!! So, we got our leftovers packed, just to have them in an abandoned old boat on the beach under the moonlight.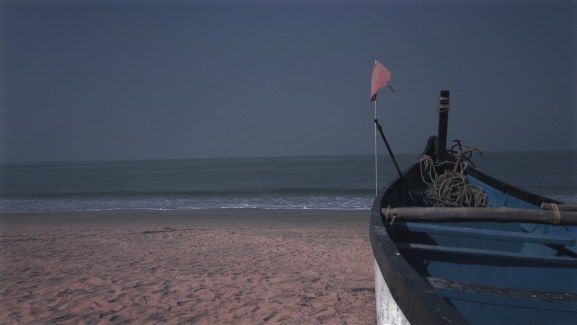 7) Its Not over yet
Save the next day for exploring the town and nearby places like Kappil Beach, Kollam and Munroe Islands. The resorts or hotels at Varkala also provide bike rental services at a genuine price. So, take one and just travel. Travelling on a long stretch of road, bordered by coconut trees on both the sides, Kappil beach at one end and backwaters at the other, felt so blue. Kappil beach feature a rocky barrier offering just another beautiful place to stop by.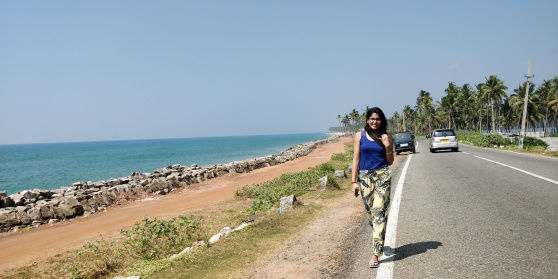 1) Start your day with a NICE place to stay.
Varkala is a small town spreaded across over the area of approximately 15 square kilometers. Varkala's main beach is called Papanasam Beach also famously known as Varkala Beach.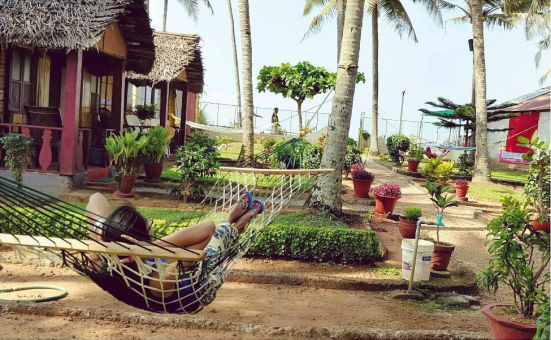 It offers most exotic stays right on the cliff that runs parallel to the Arabian Sea. What more you could wish for? A cottage, shack or resort with a sea view. Its all there. Just pick any of the resort from booking sites or apps, keeping into consideration your budget and enjoy your stay. I would suggest you to try different places each day during your stay at Varkala to make every day count. The resorts are pretty close to one another, so checking out and in won't be a hectic process.