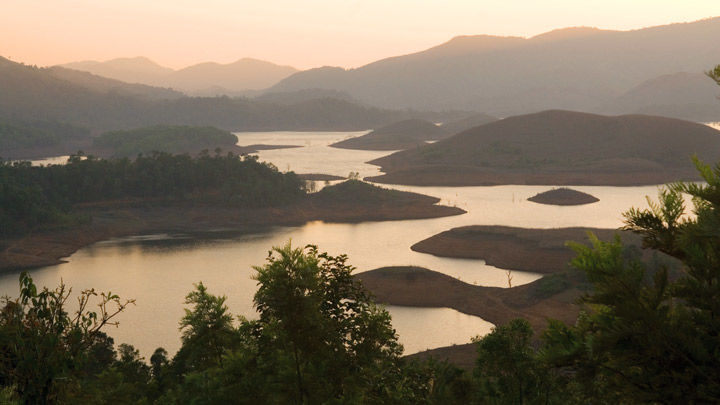 Wayanad…Kerala's least populous district. Complete with misty mountains, splendid forests, pristine rivers and cascading waterfalls, Wayanad is 'the' hill station of choice in South India. Not particularly touristy, the district is famed for its wildlife parks and unspoiled nature. Interestingly, Wayanad's recorded history dates back to as early as 10th century A.D. Pictorial carvings, on the walls of the Edakkal caves, however, show that forests here have probably been inhabited since the Neolithic Age. Ancient temples enclosed by mountains and forests bring reverence and mysticism to the region.
Been there twice in last 4 years. I will write down about my experiences below. Enjoy the read.
How I reached there?
The first time was with my colleagues. We started from Bangalore in in a Scorpio.
Where I stayed there?
We stayed in Wyldwater Resort. Wyldwater is a boutique resort with spacious and luxurious rooms in a beautiful cottage beside a natural private waterfall, where a natural bath can be enjoyed with the waterfall's cold water. This boutique resort is a world of its own that appeals to the adventurous in you. The resort would reassure your love for nature and to bring out the best in you with its tranquility, beauty and comfort. The resort offers services like nature walks, room service, wake-up services and parking on site. The resort offers boutique rooms in a single category of Premium executive suites. The resort has a multi-cuisine restaurant on site.
The nature is preserved well and that's what I love the best about this place. We had camp fire and barbecue for dinner. This place will take you back to your good old childhood days with it's earthy feel and look.
Go the through their very own gallery. http://wyldwater.com/gallery.html
Premium Executive Suites can be either lived in individually or the whole bungalow can be chosen for a larger family stay. These suites offer an incomparable stay that is literally mind-blowing. These suites are largely modern in their design with large double beds, luggage rack, wardrobe, writing desk and sofa. The whole bungalow is like a world of its own witch balconies, suites and ample space to live a limitless existence. The amenities offered are cable T.V and telephone. The attached bathroom is spacious and fitted with modern fittings and supplied with running hot/cold water.
Here is a group photo we took at the resort.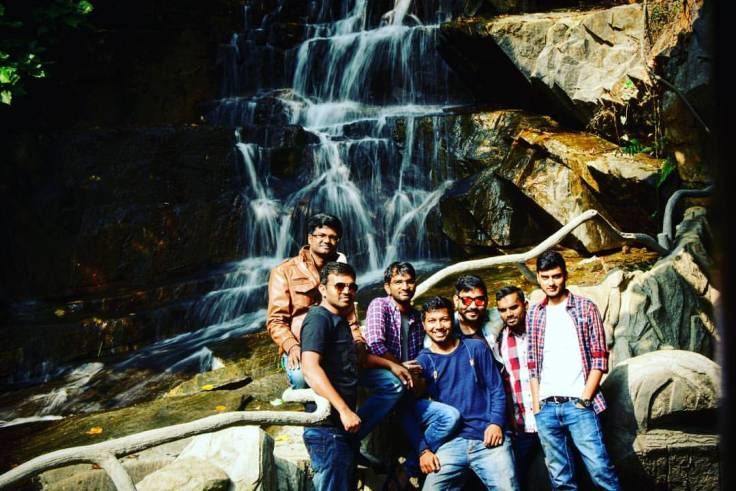 The Stay!
On the way to the resort we stopped by Eddakal Caves, which is in Kalpetta. These are two caves which showcases nature's skill and philosophy on architecture. These caves are located 1,200 m above the sea level on Ambukutty Mala. The name 'Edakkal' literally means 'a stone in between'. Here you can see a cave formed by a heavy boulder straddling a fissure in the rock. Google a bit more to get more information if you are interested.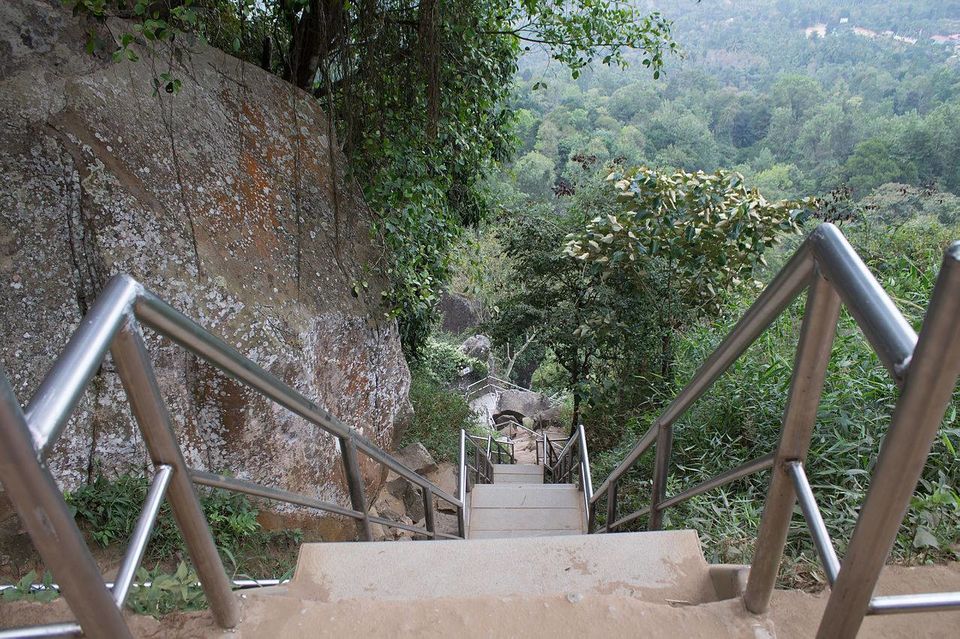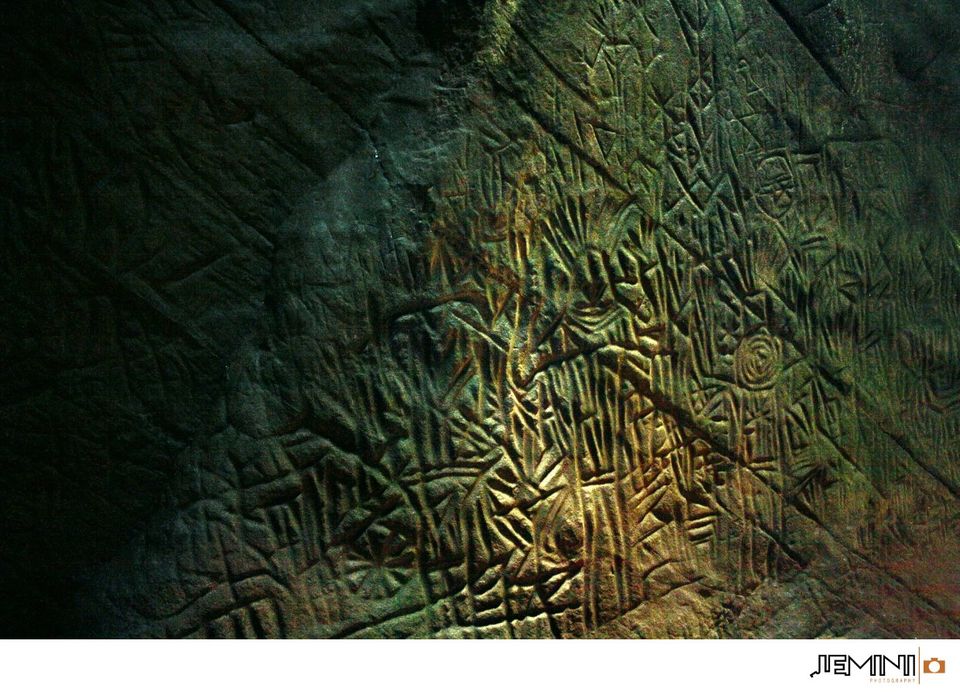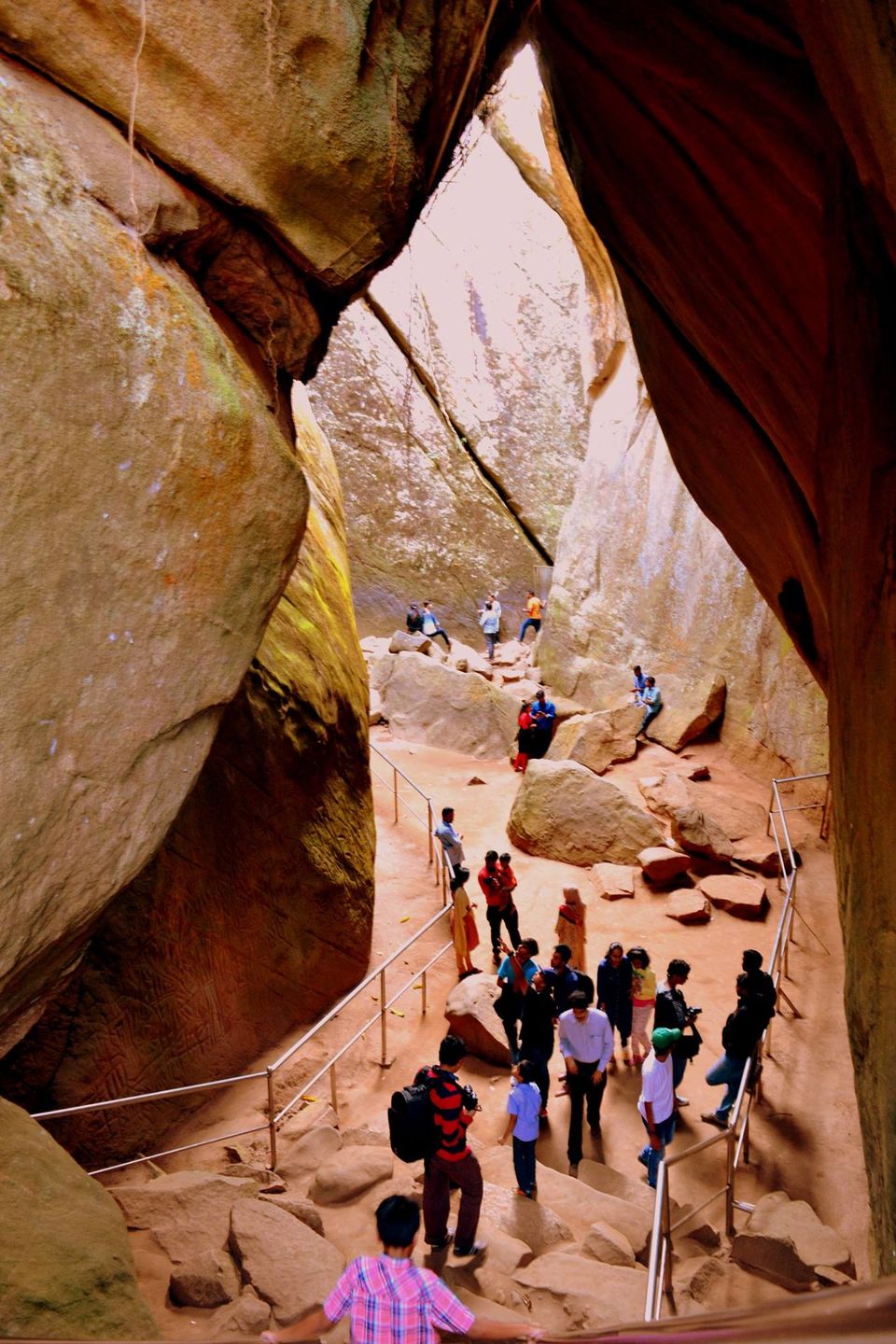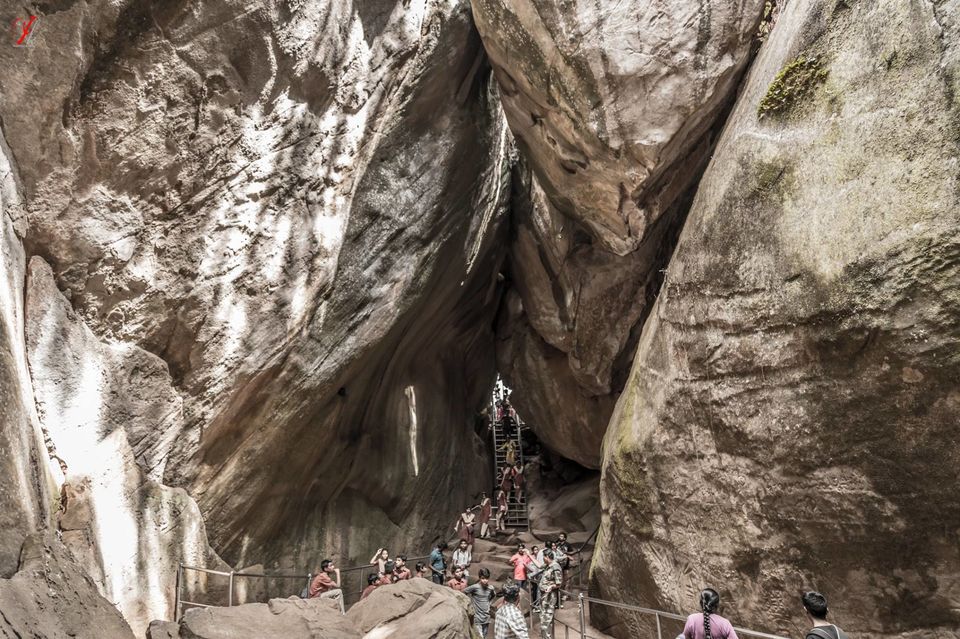 The resort was about 40kms from Eddakal caves. Hence by the time we reached we were very tired. We stopped by at a restaurant for lunch and then reached our resort.
Everyone of us were very excited to see the waterfall which the resort had. It had made the resort an ideal place for a weekend getaway. We all took bath in the cold water of the waterfall. The rocks were slippery and one of us got hurt by slipping and falling.
As we all were very tired, we all dozed off. We had booked the entire bunglow. It had two huge rooms, each having 2 king sized cozy beds.
We woke up and saw the bonfire got ready with the live barbeque counter. We had brought some drinks with us, since there aren't any liquor shops. We had a fantastic evening.
Places to Visit!
With Kalpetta as the center point, you can visit Meenmuthy Falls, Soochipara Falls & Kanthapara Falls – each one of them unique in their own way. Note that these are not close to each other and are quite spread out. Hence covering all of them in one single outing may not be a great idea.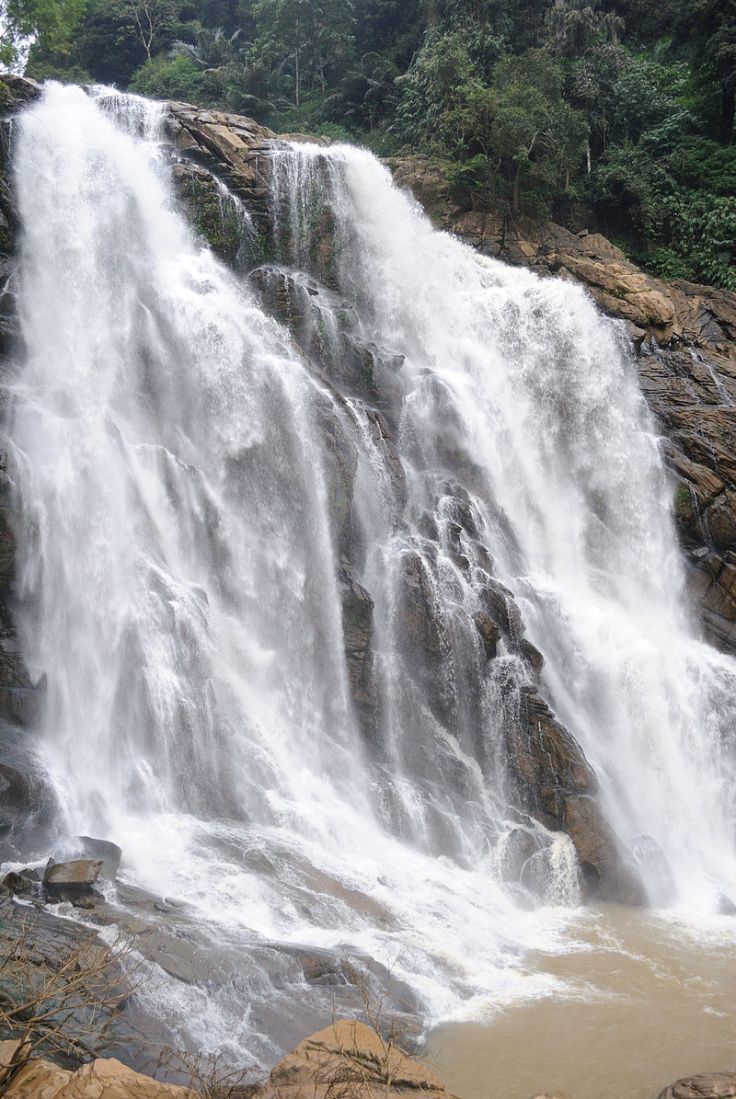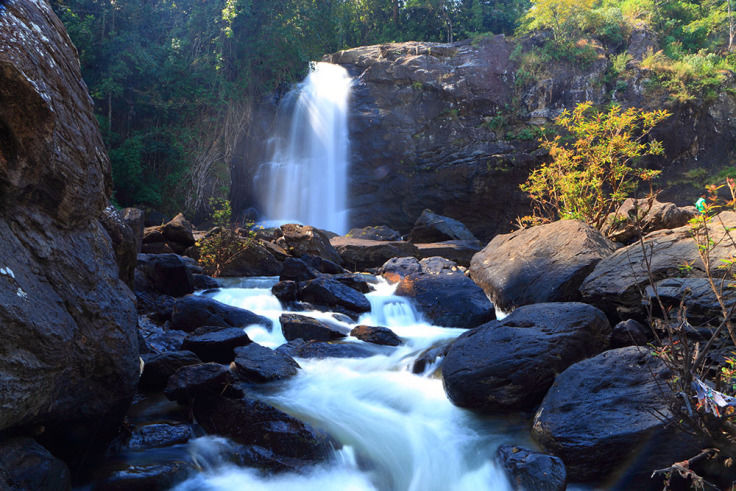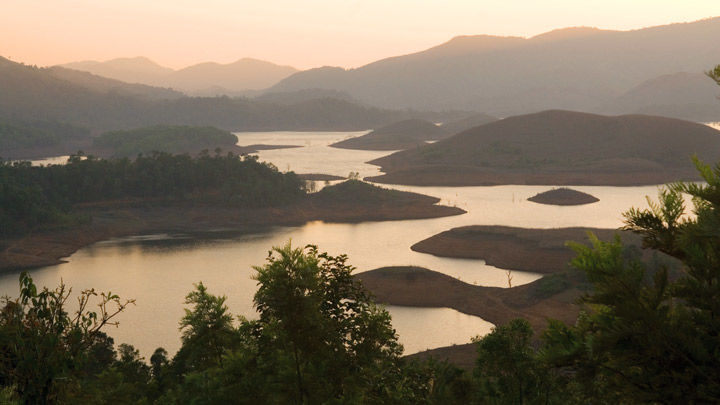 Another major attraction is the Banasura Sagar Dam. It is a beautiful waterfront with little green islands and hills overlooking it.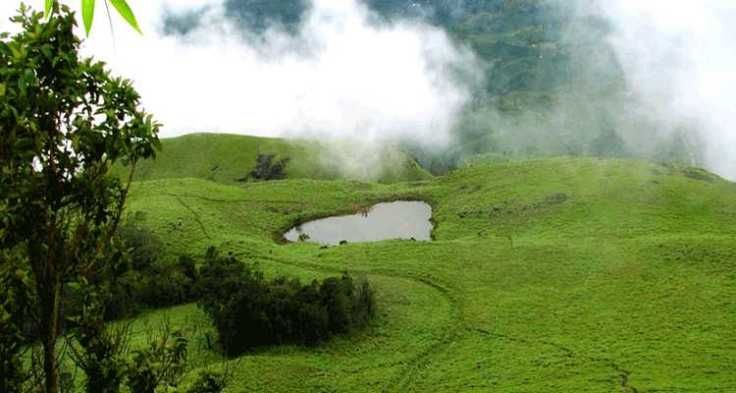 Chembra Peak at 2100m is one of the key attractions of Wayanad. It is great spot for trekking – and the trek, is not too difficult and long. It is around 5kms from the start point and for the same, you have to take permissions from the forest officials. there is a small entry fee and a deposit for every plastic bottle that you carry. The trek is allowed only between 7am to 2pm and one has to return back by 5pm. Overnight camping is not allowed there. Watch out for the beautiful heart shaped lake on the way to the peak. From the top you will get a glimpse of Wayanad and Kodaikanal if the sky is clear.
You can also spend a lazy evening by the Pookot lake – a fresh water lake surrounded by lovely green trees. There are boating facilities available and you will also get some refreshment stalls around.

We started from Wayanad on the 3rd day at around 12 PM in the afternoon and reached home by night.
So that was my trip. Anyone looking for a perfect weekend gateway, guys make sure to go to this place and stay at this resort. Do get in touch with me if you are traveling and make sure to call me too!!
Frequent searches leading to this page:-
wayanad tree house tour package, wayanad kerala tourism resorts, wayanad chembra Peak trek package, wayanad meenmuthy Falls