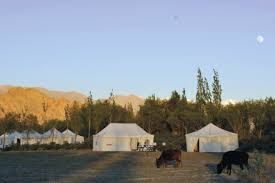 If a camping holiday were a thing, Tsermang Eco Camp would be a pair of flannel pyjamas. The camp itself is anything but prickly though, with downy beds and easy chairs, seagrass mats and soft monogrammed bathrobes. Decorated sparingly with furniture and furnishings collected from India, France and Ikea, my tent smells as leafy as the Nirvana aloe vera soap in the en suite bathroom.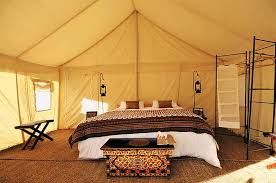 The blue and gold Ladakhi chest at the foot of my bed doesn't quarrel wrought iron coat rack, nor the Ikea closet organiser with the Sanganeri block printed quilt. It's all surprisingly harmonious.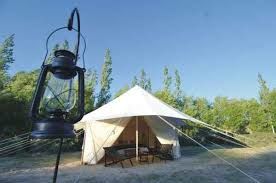 Tented camps are by no means rare in the Ladakhi countryside. You can itch your tent by Tso Moriri or Pangong Tso, in the Nubra valley, Ulytokpo, Sarchu or Keylong. But there are none so close to touristy Leh as Tsermang, which is perhaps why it offers a keener study in contrast.

Downtown Leh, where the smell of burnt fuel from hulking cars and generators hangs heavy,is also grappling with waste management issues and apathy o hotels that offer running hot water in bone dry, power starved Ladakh. The camp, though, prides itself on its clean conscience.
The only sources of light on the site are the solar powered mashaals and old world lanterns. Towels and bathrobes are not changed unless you request it ! Fresh produce is all sourced from a farm next door and cooked from scratch.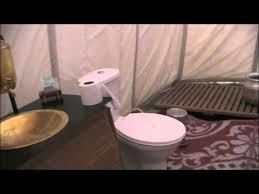 Yet, for all its virtousness, Tsermang is hardly scruffy. Far from it. What it offers instead is the luxury of guilt free comfort in overstretched Ladakh.