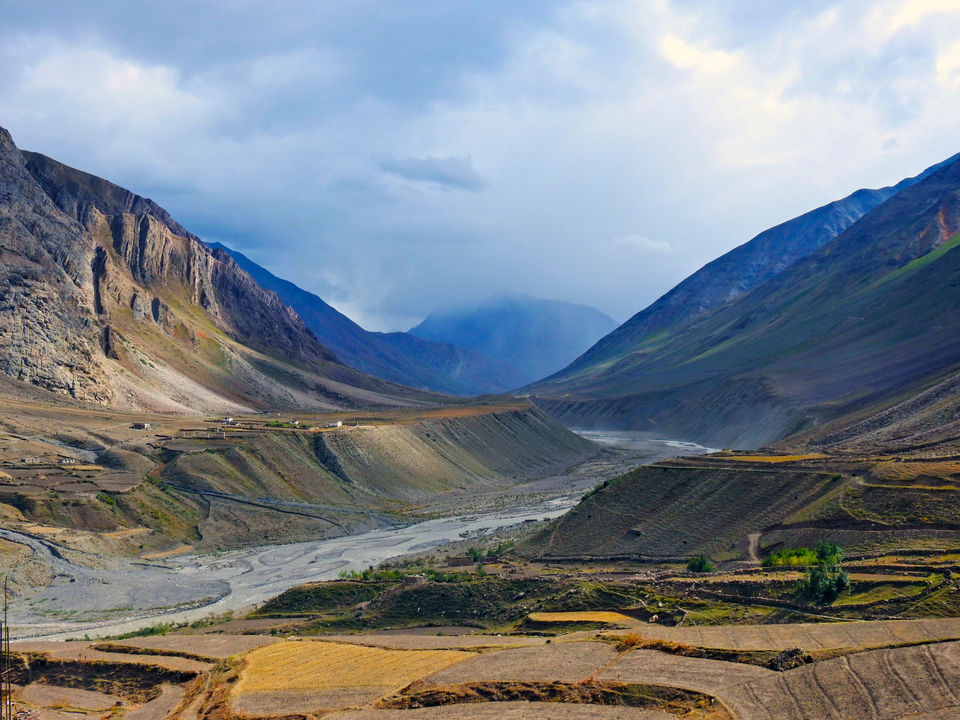 In September 2017, I took off for a few days to complete one of my bucket list wishes – travel to Spiti and Lahaul. Once back, friends have been asking me about my trip plan.
Since I had already covered a bit of Kinnaur in the previous years, we only made night halts here this time. However, I would really love to cover this circuit one more time and that would take atleast 14 days. For friends who want to do the circuit at one go may take help from the itinerary:
Day 1- Chandigarh/Kalka- Shimla
Day 2- Shimla- Hatu Peak and Temple – Rampur (Reach and explore the Palace)
Day 3- Rampur- Sarahan (Famous for its Bhimakali Temple)
Day 4- Sarahan- Sangla-Chitkul (Last inhabited village on this side of the Indo-Tibet border. On the way, definitely making a stop at Rakcham. )
Day 5- Chitkul-Kamru Fort- Recong Peo-Kothi -Kalpa (Enjoy the sunset)
Day 6- Kalpa (An extra day- to rest and relax before the tough roads start. And to revisit the Suicide Point, the monastery and the temple. Try and visit Sapni Fort.Most importantly witness the colour change of the Shivling on the Kailash Mountain, which happens throughout the day )
Day 7- Kalpa- Nako (Because I want to see the mountain reflection in the lake which is best viewed early morning)
Day 8- Nako-Gue-Tabo (To not only visit the Gue monastery to see the mummy of the monk but also catch the sight of the stream that flows nearby where the colour of the water is black)
Day 9- Tabo-Dhankar-Pin Valley (To go to Mudh Village and just sit back and have a chat with the locals and hear to their stories)
Day 10- Pin- Kaza-Kye-Kibber-Kaza (Kibber is known as the highest motorable village in the world. Maybe go father till Gette and Tashigong this time. And if we can make it a bit early go to Demul.)
Day 11- Kaza-Langza-Komic-Hikkim-Losar ((So that i can reach Chandratal a bit earlier and spend another extra hour by the lake.)
Day 12- Losar-Chandratal (Nothing but the lake, more so the journey towards the lake!)
Day 13- Chandratal-Manali (Make a breakfast stop at Chacha-Chachi Dhaba at Batal.)
Day 14 – Manali (Just sit back and enjoy the beauty of Beas.)
There have often been questions as to why one should enter through Shimla and exit via Manali. I am no expert but yes, have read a lot on this. I have reached to the conclusion that via this route, one gets acclimatized better with the altitude. Also my philosophy is that there are no rules while you are travelling, there are always better choices.
Accommodation options: Each place have homestays and hotels galore. Also most of the places have HPTDC properties. The only reason why I book HPTDC properties are because of their location. After having traveled to HP for three times , i have realized that this place is filled with genuine honest good people, so there is no fear of getting cheated.
Now for places where there was no HPTDC, we had opted for local homestays and camp (Chandratal). And both these people need special mentions.
I had interacted with Ramesh Lotey of Spiti Holiday Adventure in 2015. That year we had made booking with him for Tabo and Kaza. However, due to bad weather conditions our plans got cancelled. We had already transferred our entire booking amount. Ramesh Ji at that time promised us that whenever we travel there, no matter how many years later, he would adjust the amount then. True to his words, he adjusted the amount this time, though one of the destinations was changed. And he did it happily. We had to make one phone call. His number is +91 94186 38071.
Bishan Thakur of Parasol camps is already a celebrity to us travelers. He kept on calling us at every point of the trip to enquire about our health and well –being. He made us go for an evening walk at Kaza so that we could be fit for the Chandratal Trek next day. He is not one of those phony guys who will give you an advice for the sake of it. Let me share the story- We had put up at HPTDC Kaza, and that day we had just got back after exploring Langza-Komic –Hikim. The plan was to just lie down and read a book. Bishan Bhaiya called us up and after having just chatted for a few minutes, asked us to go for a walk till his hotel which is at a considerable distance. Now, we told him we would surely do it a bit later. He called us back in 15 minutes to re-check. Then he said that his staff is waiting for us at the hotel, and that we should now go for the walk. Left with no other choice, we went for the walk. His staff was there waiting for us with tea! And after serving us the tea , for which they charged us zero, they called Bishan Bhaiya and informed him that we have followed his advice.  His numbers are 09418845817 and 09459910098.
Driver details: Three times I have gone with three different drivers. All three of them have been extremely good at what they do. Driving through those roads in not an easy job and they did it exceedingly well. I have unfortunately lost the contact number of the first driver. Sharing the details of the rest two:
Ram Chander – 09418027528 , Raju Bhaiya – 09418181090
But for those of you who are adventurous or on a tight budget, do not worry. HRTC buses ply all over HP. So all you need to do is adjust your plan in accordance with the bus timings. And that is another bucket list wish of mine – to explore HP on a HRCT bus!