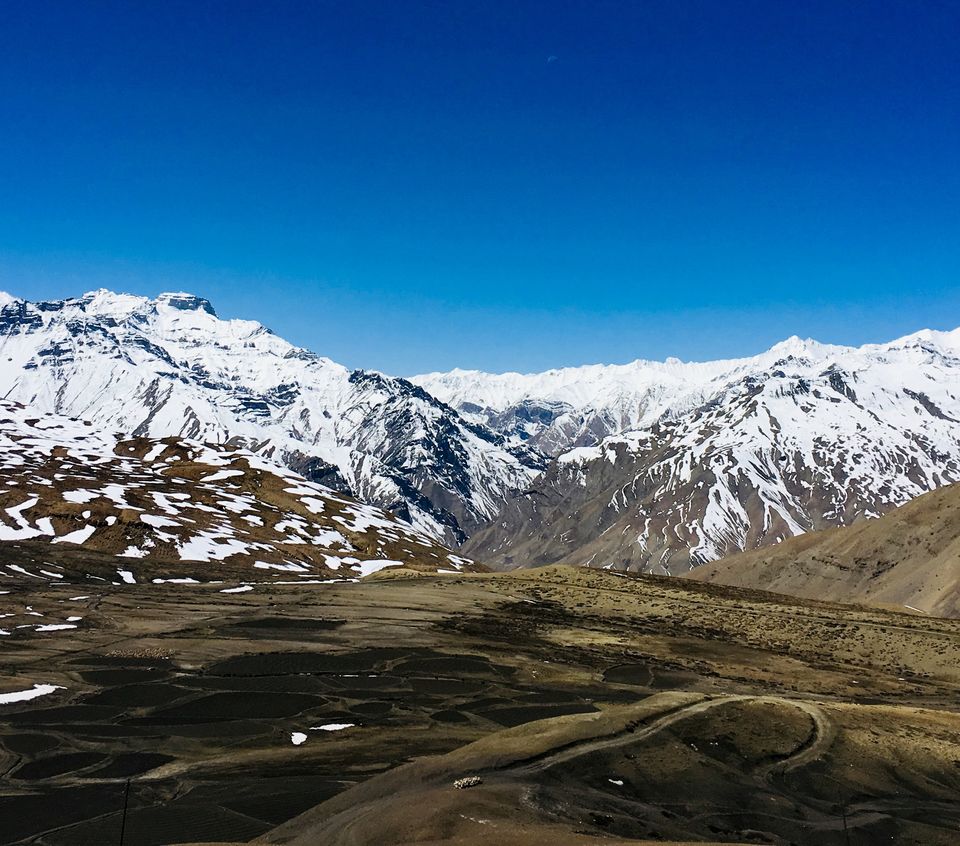 After casting my precious vote for the Nation, I left for the most awaited trip for which I had been planning for over a year but could not do so because of either money or time (or both) but this time, I managed both the things somehow, packed my bag and just left…
I caught the train Paschim Express from Surat on 23rd April, 4:20 PM and reached Chandigarh at 4:30 PM next day.
From a fellow passenger, I got to know that buses for Himachal depart from ISBT sector 43 from. Although frequent buses are available between Chandigarh railway station and ISBT sector 43, I took an auto-rickshaw because I was already running late. First Autowala asked 150, I negotiated and He agreed for 100. It was almost 11 km from the railway station so Rs. 100 is reasonable. I arrived at ISBT around 5 o'clock. There are three buses from Chandigarh to Reckong peo and can be booked online. I booked the ticket in HRTC deluxe non-ac from ixigo. It costs around INR 700. (I paid through Paypal and got 200 cash back *wink*). That bus departs from Chandigarh at 5:50 PM. It makes a stop at a Dhaba around 9 o'clock for dinner.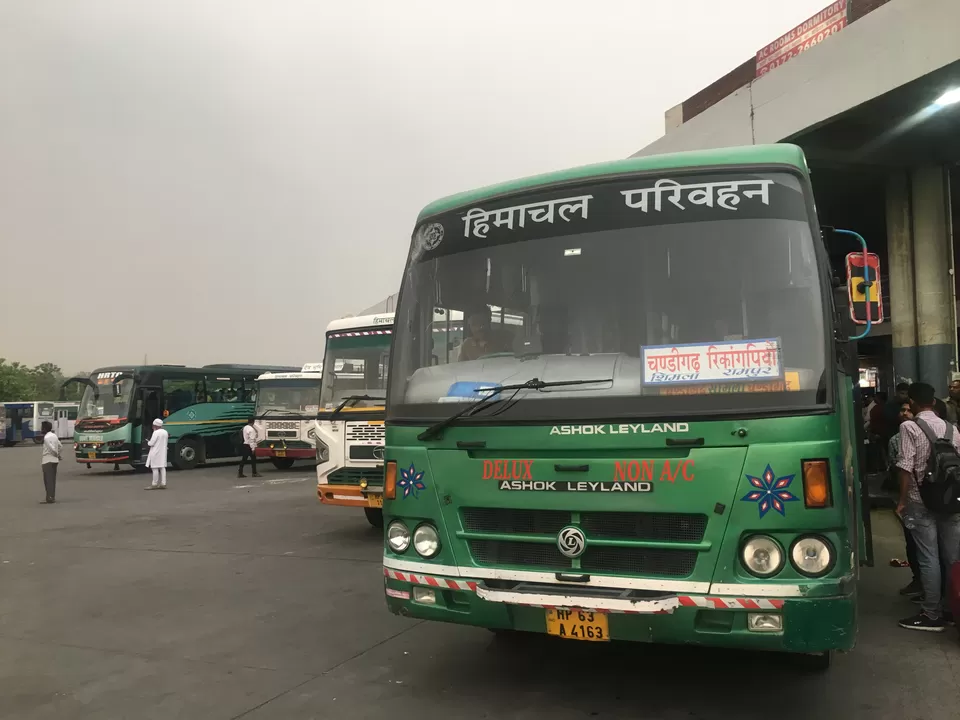 I reached Reckong peo at 7 o'clock in the morning. First I went to the ticket booking counter and asked about the bus for Kaza. There is only one bus for Kaza which departs from Peo at 5:30 AM. It can be booked only half an hour prior to the departure. I decided to spend the day in Peo and explore nearby villages.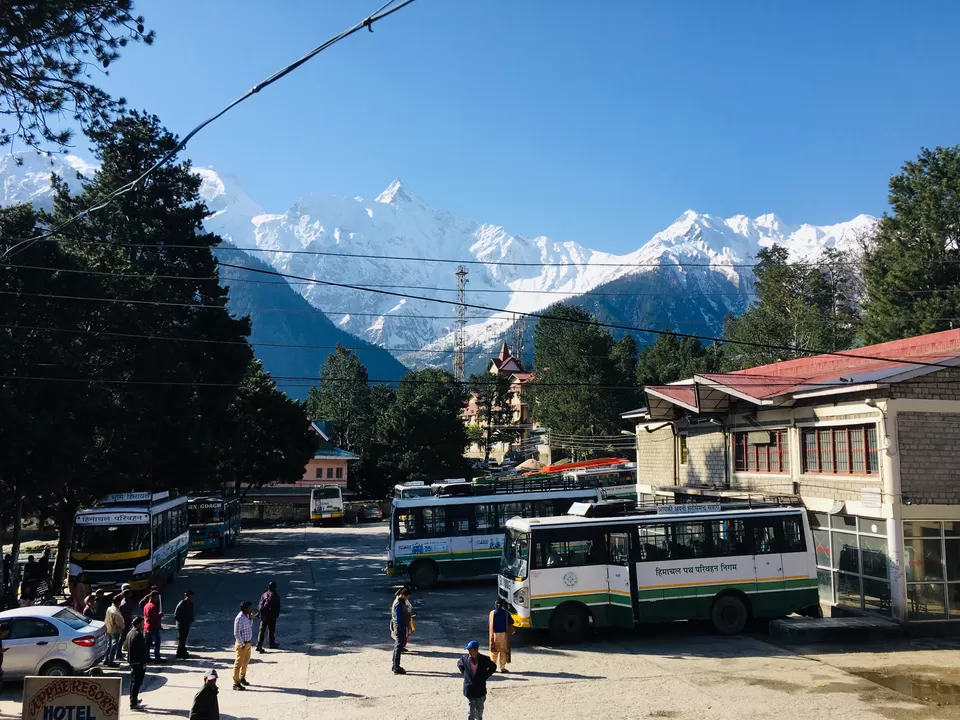 I wanted to stay near the bus stand so headed towards a guest house just in front of the bus stand but the rooms were available there. The manager said they had another hotel at just 200 m far from the bus stand. He came with me and showed two rooms, one for Rs.520 and another one for Rs.400. Both the rooms were below average but I just needed to freshen up and spend a night so I took the cheaper one. I freshened up and came back to the bus stand to catch the bus for Kalpa. In day time, there are plenty of buses from Peo to Kalpa. The journey from Peo to Kalpa takes place through breath-taking mountain scenery. It takes about half an hour to reach Kalpa, but the mountains will never let you out of sight and no mountain-lover can look away either, even for a second, from its heavenly beauty.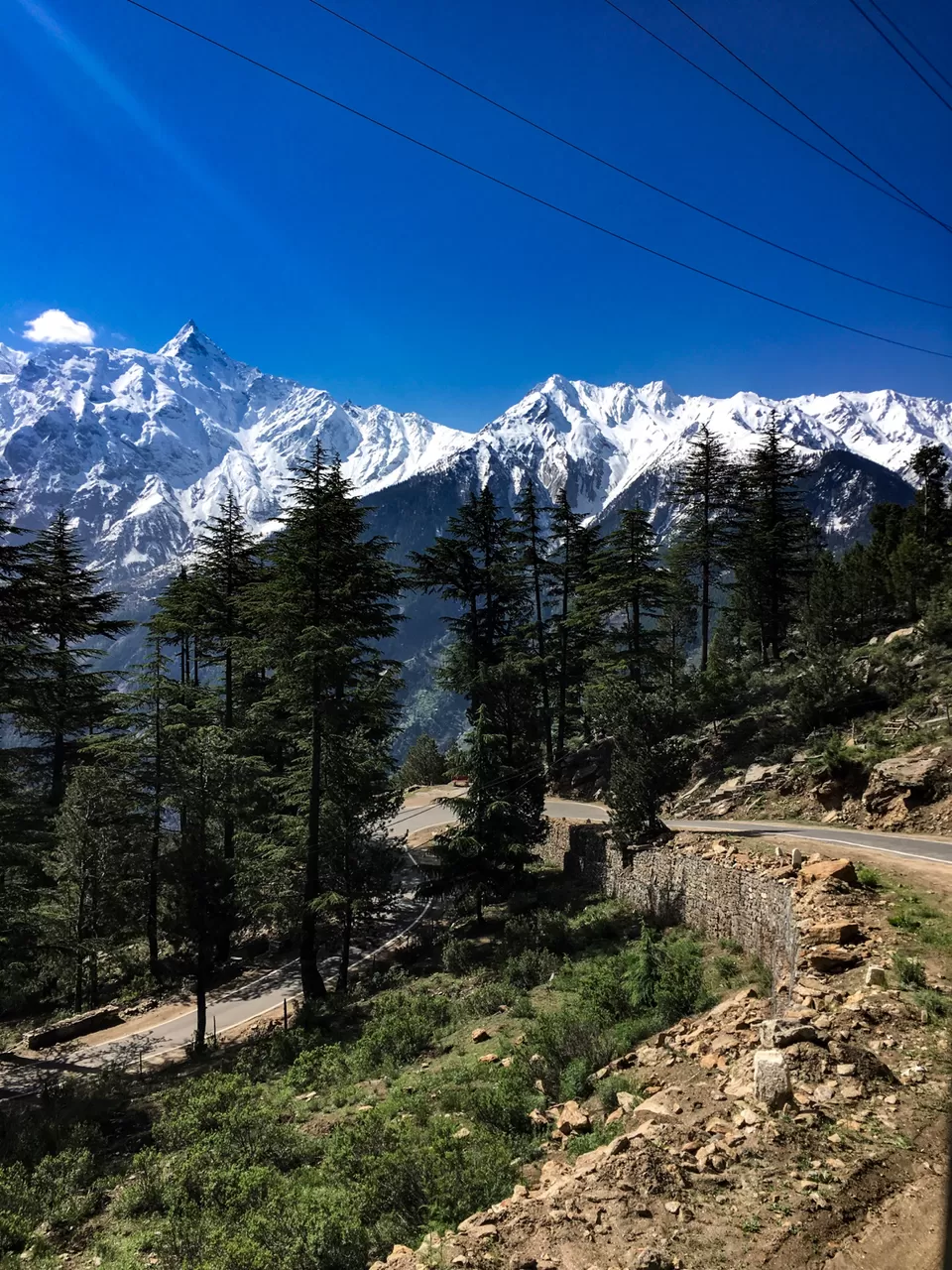 I asked the conductor about the nearby sight-seeing places. He suggested visiting suicide point which is around 3 km from Kalpa and located on the road connecting Kalpa and Roghi. He told that he would stop the bus at suicide point and the same bus would come back over there after 20 minutes from Roghi and drop me to Kalpa. I got down at the suicide point. The view was stunning. The valley is almost 90 degree steep. It's worth looking down off the edge if not scared of height. Be careful while taking selfies around here. After 20 minutes, the same bus came and dropped me to Kalpa.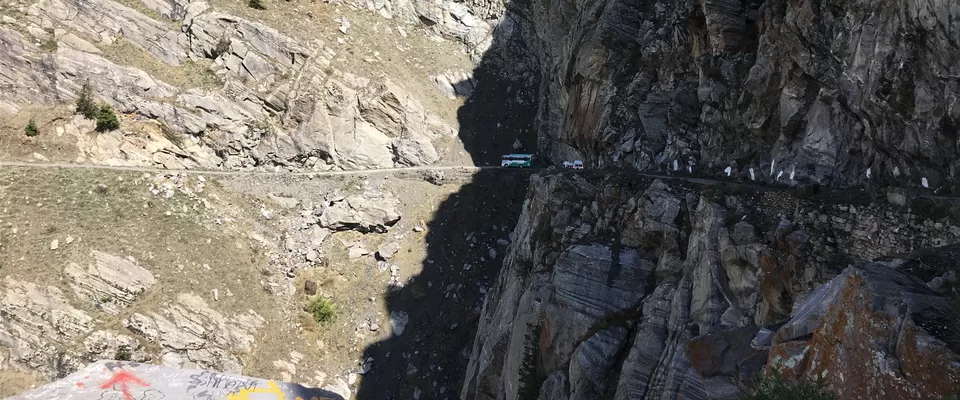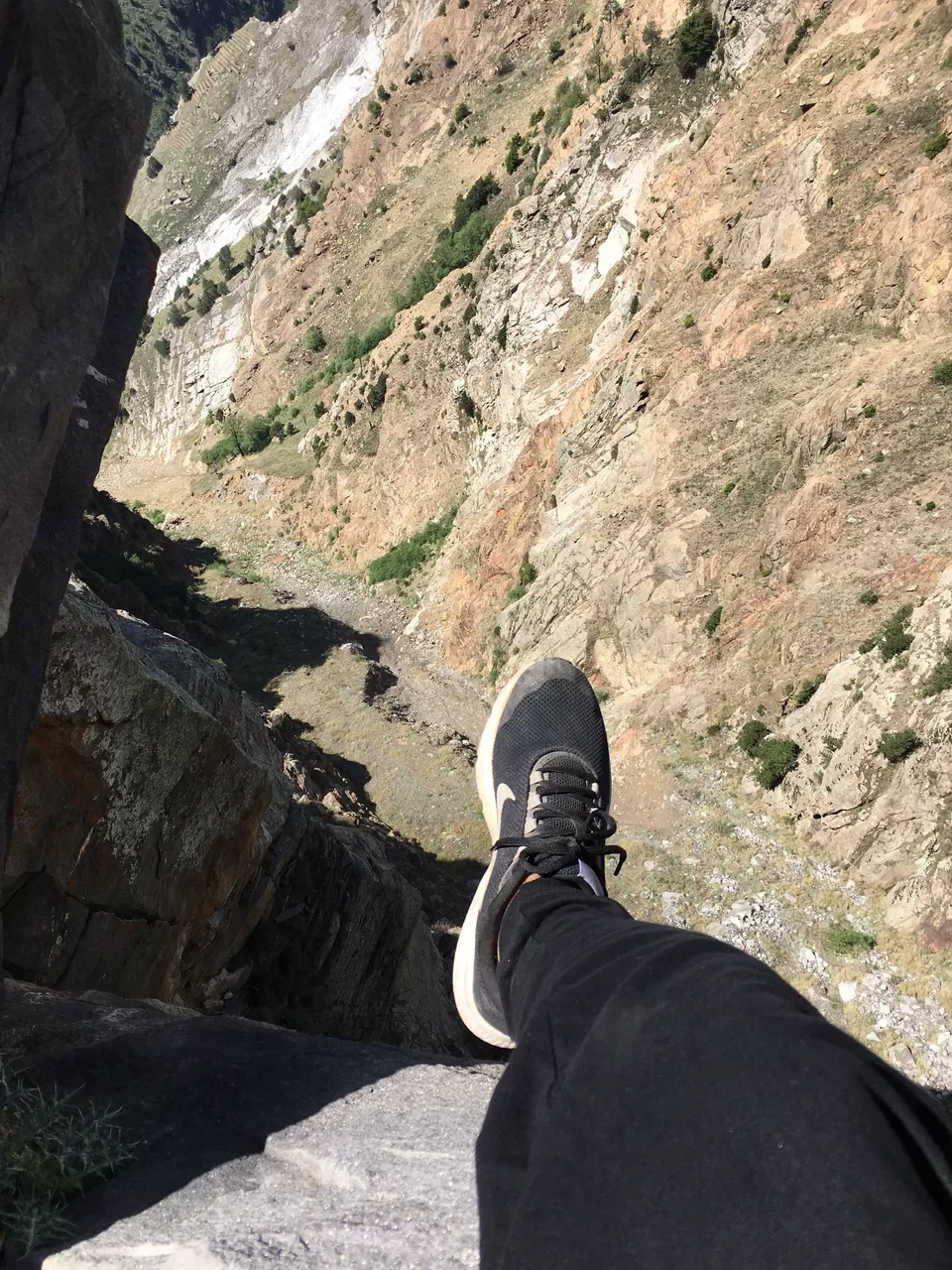 Kalpa is home to lots of resorts and homestay with the magnificent view of entire Kinnaur Kailash range. It is perfect if you just want to relax in the lap of nature. Kalpa claims to produce the world's best apples and most people earn their livelihood from apple farming.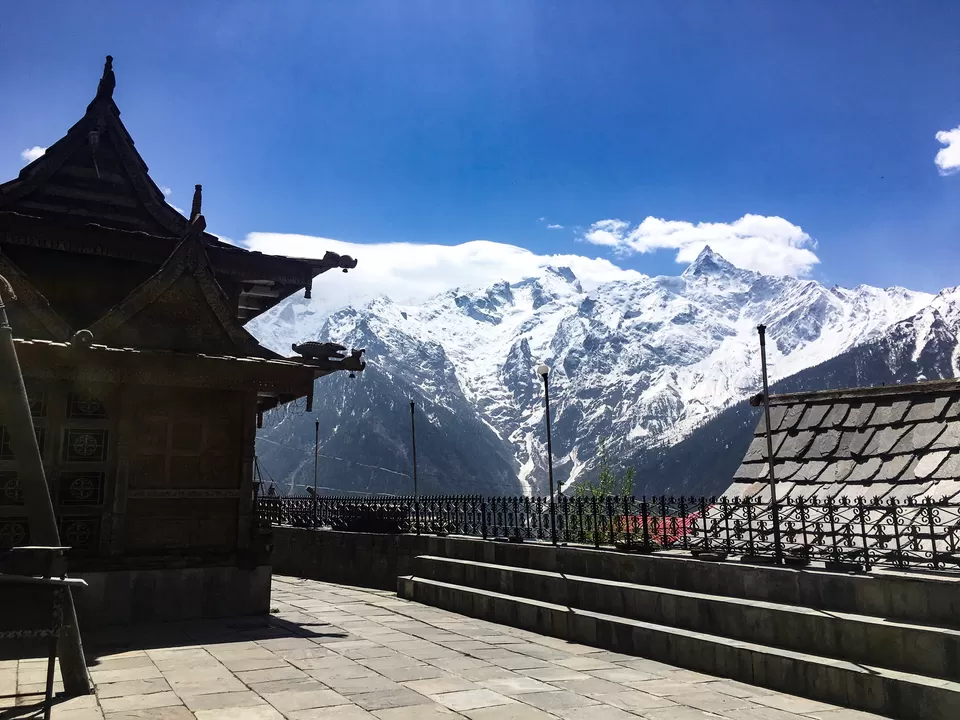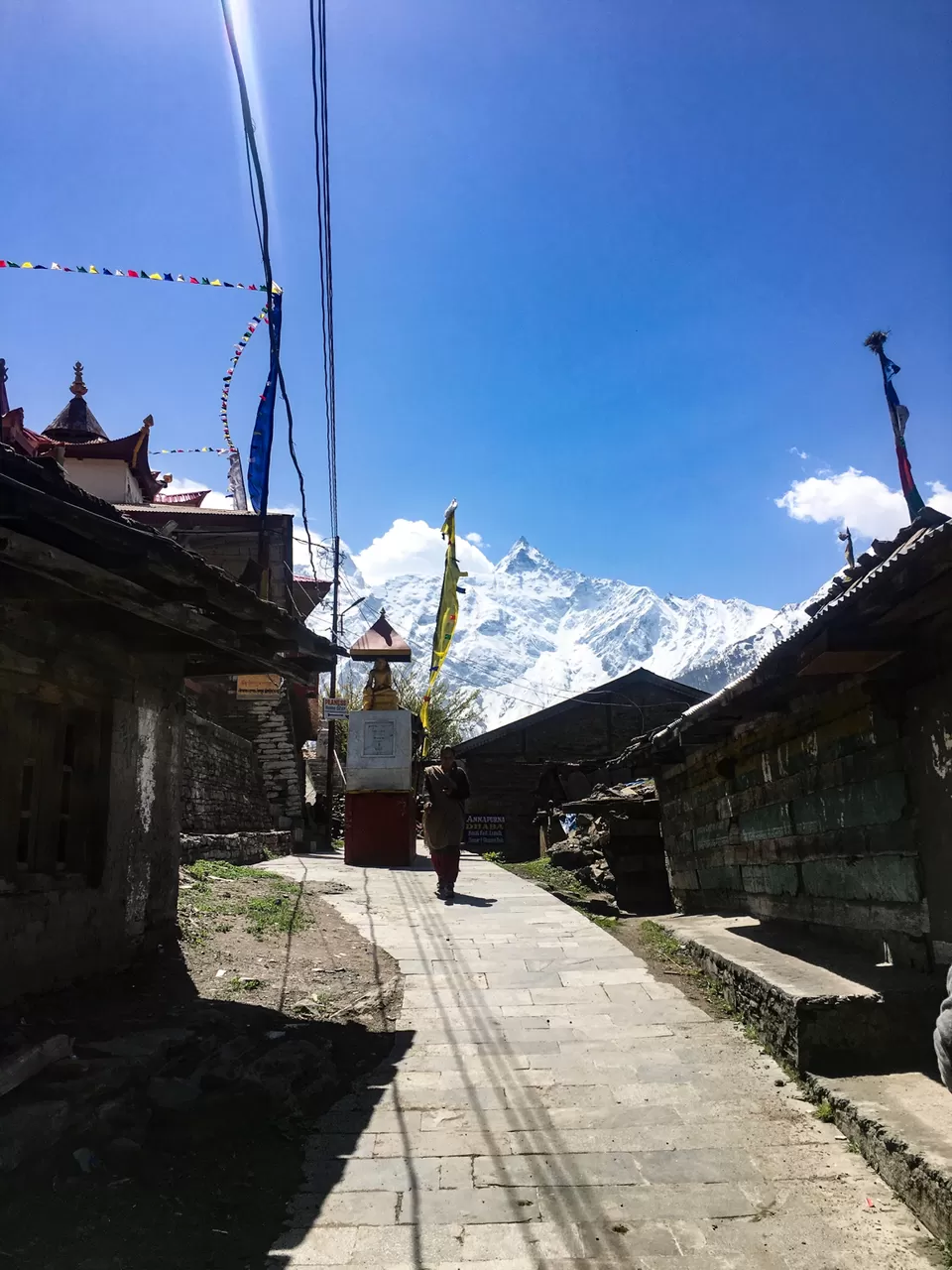 While following the splendid view of snow-clad mountains through narrow walking trails, I turned up at a primary school. The kids studying in that school are so lucky. Just look at the view. I wish I had studied in this school, I would have never thought to bunk the school.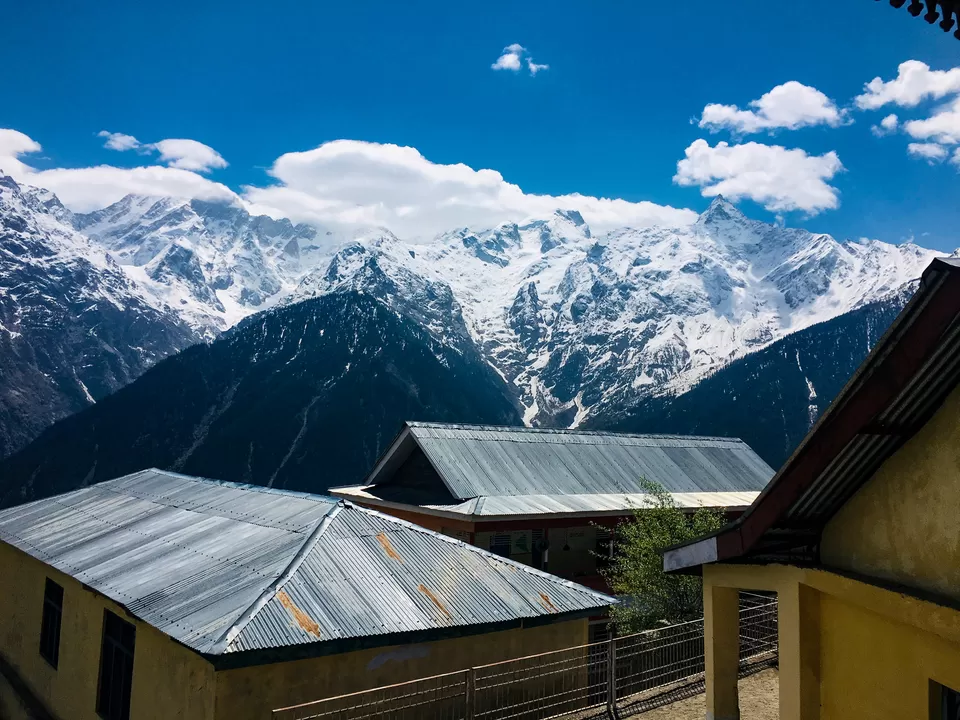 There is an ancient Hindu temple just behind the school. The architecture has both Hindu and Buddhist touch to it. I spent the entire afternoon enjoying the magnanimity of the Kinnaur Kailash. At 4 o'clock, I headed back to Peo. While interacting with a localite, I got to know that there is a way to reach the holy Kinnaur Kailash Shivling. The trek can be done in the span of 2-3 days.
This day was really tough. I reached Reckong Peo bus stand at 5 AM. From the ticket counter, I came to know that Peo is the connecting point for Shimla to Kaza bus. Passengers coming from Shimla change the bus at Peo on the way to Kaza and bus conductor issues the seat numbers to them for onward travel.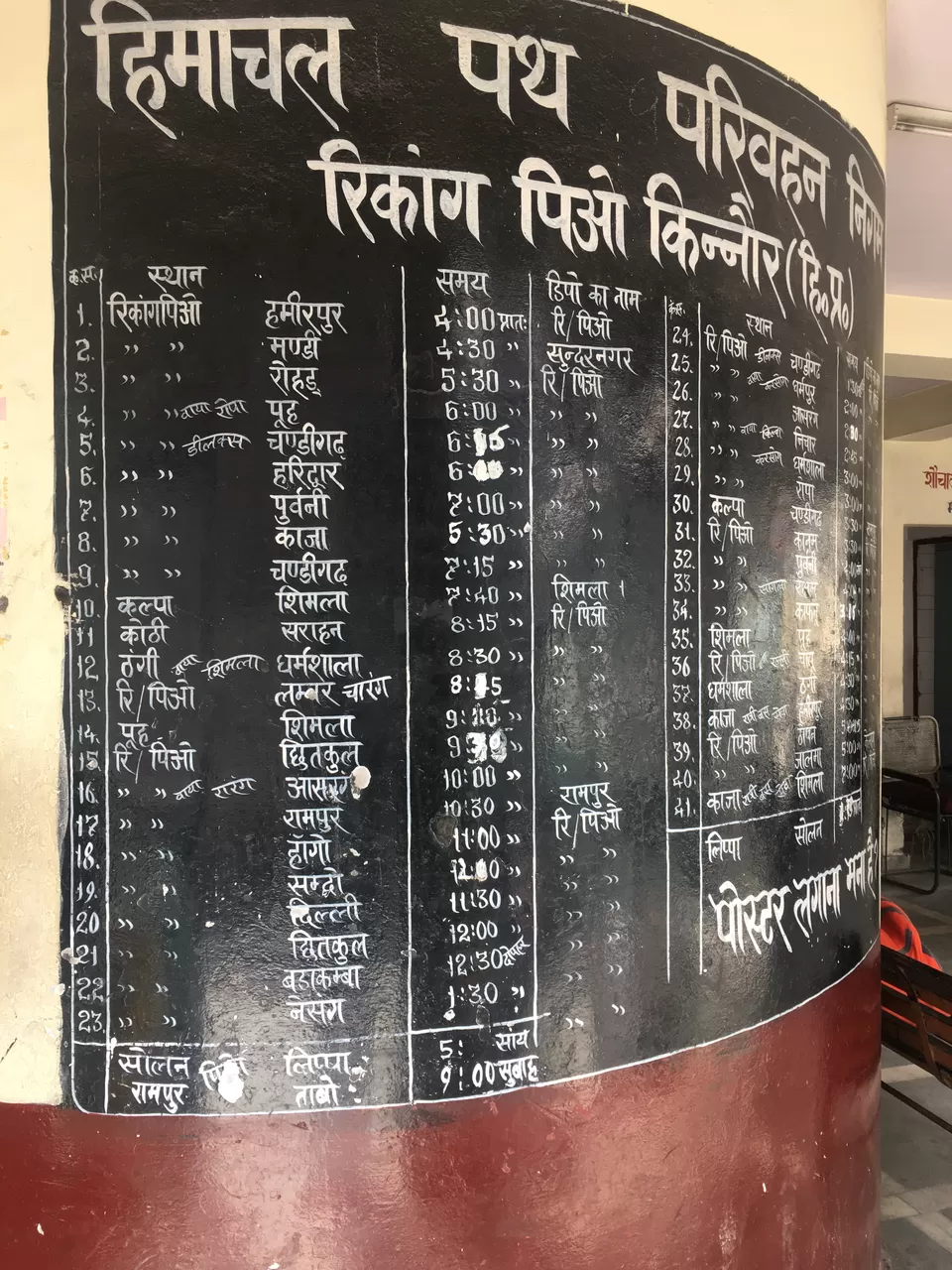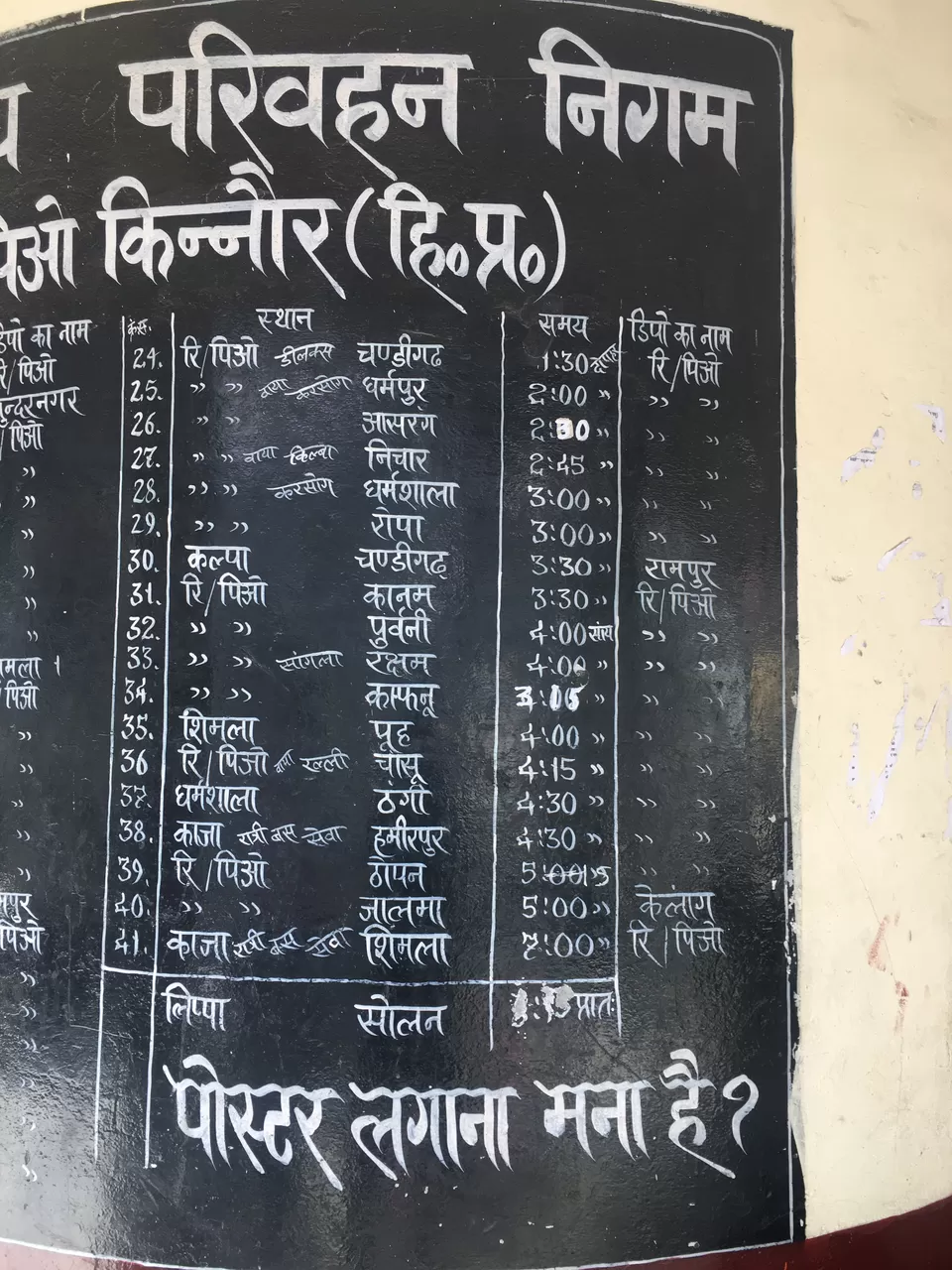 Unfortunately, the bus was already full of passengers coming from Shimla. There is another bus for Tabo at 9:30 AM which comes from Rampur. I thought of giving my luck one more chance and waited for that bus. Meanwhile, I had my breakfast. The bus was delayed because of road blockage during blasting of the rocks on its way. Finally, the bus showed up at 11:30 AM. It was almost vacant. I got a window seat. The fare was Rs.320. I suggest you ask for seat no. 2 or 3 when buying tickets from the ticket window. The seat no 2 (window) and 3 (aisle) are front seats on the other side of the driver. You will really feel the thrill of the roads of Himachal which are one of the most treacherous roads of India. This is also the best seat if you want to pretend that you are driving. On the journey from Peo to Tabo, the transformation of the landscape from lush green mountains to barren mountains is magical.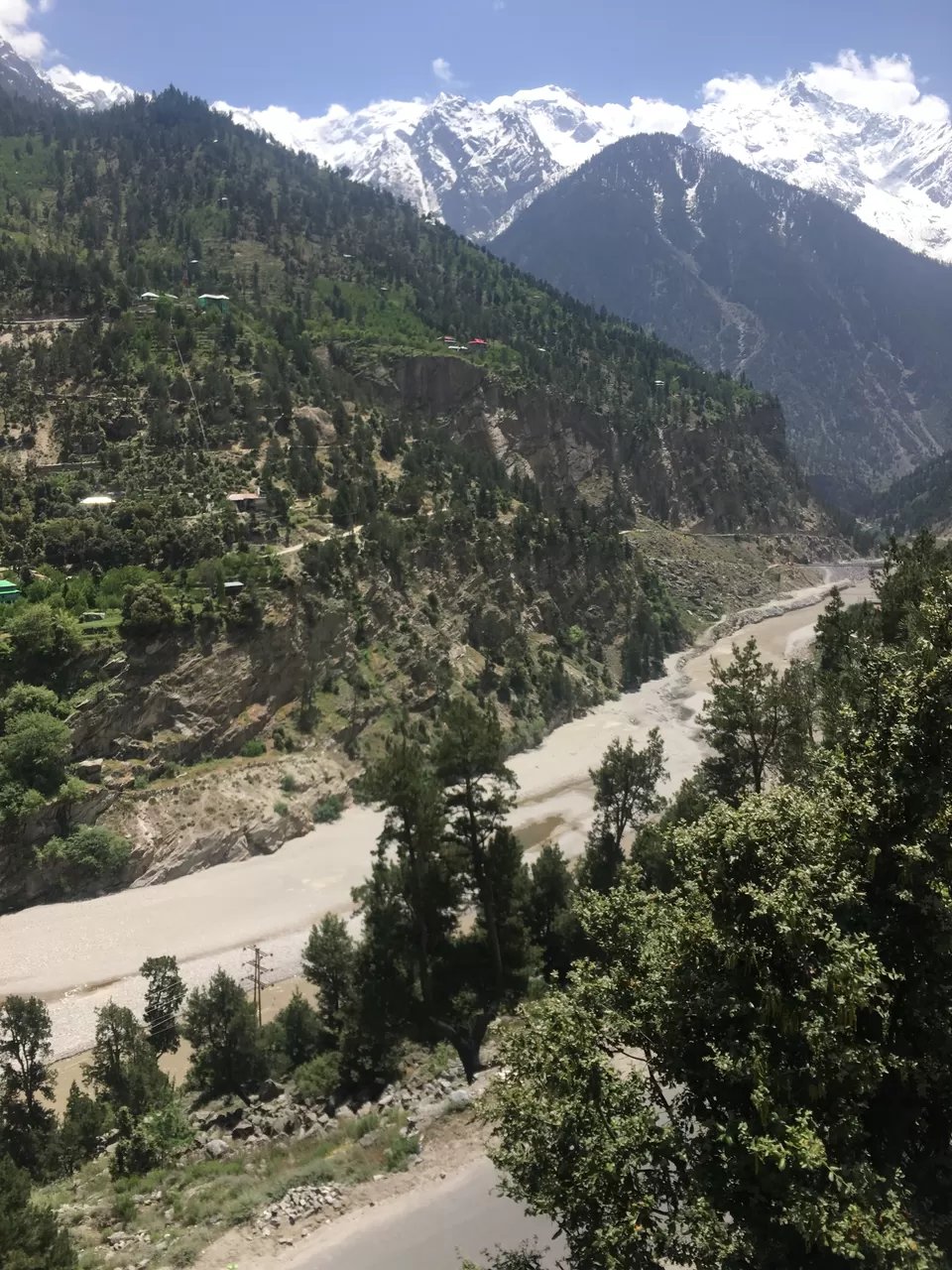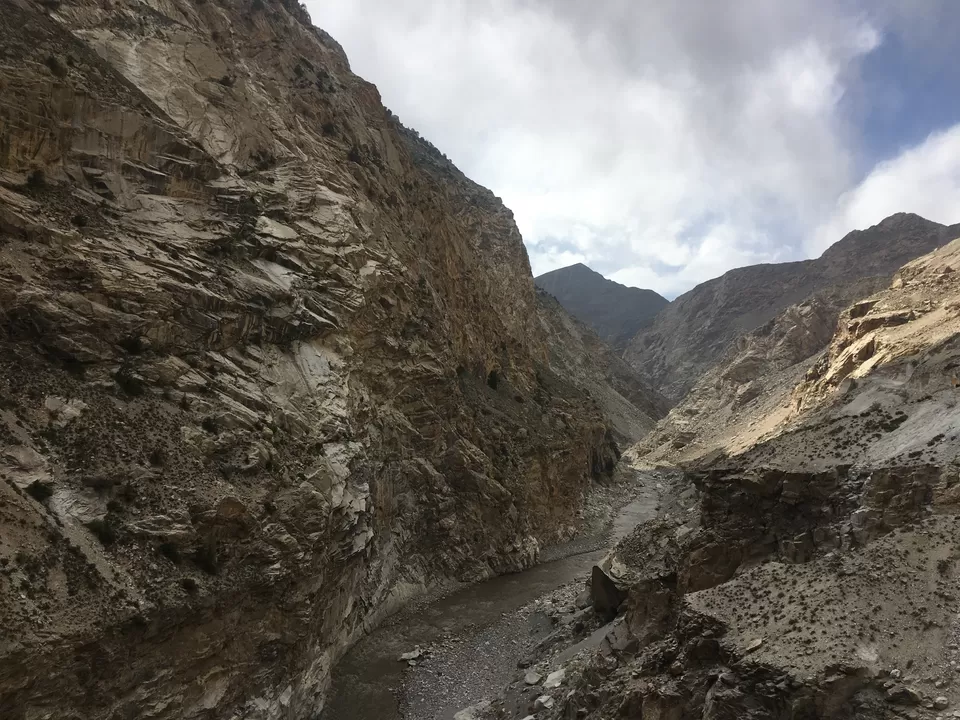 The bus makes two stops, the first one is at Pooh for 20 minutes and the next one is at Nako for 10 minutes. Nako is a beautiful village about 3800 meters above sea level. The view of snow-capped barren mountains is so captivating that it was too difficult to resist myself to spend a few more hours in Nako. But if I would leave the bus in Nako, the next bus will be available only on the next day so I dropped the plan to stay in Nako and finally reached Tabo at 7 PM.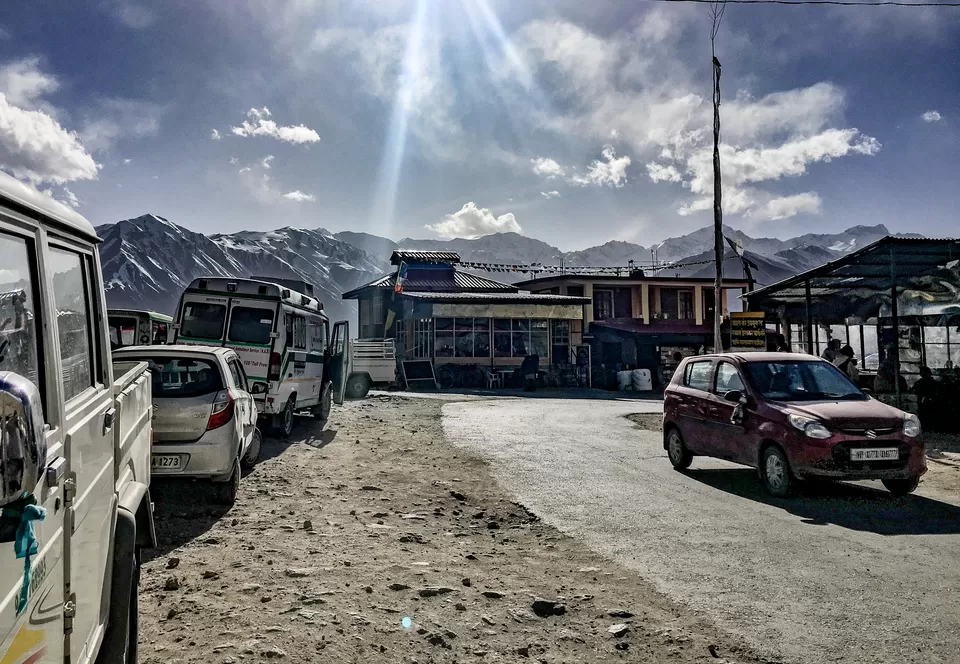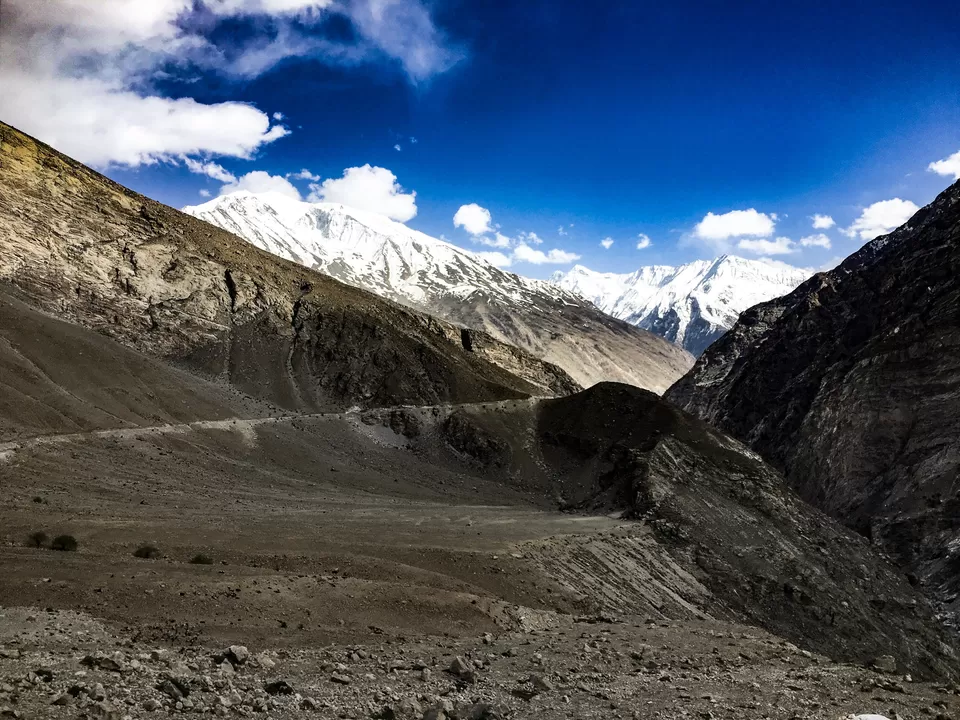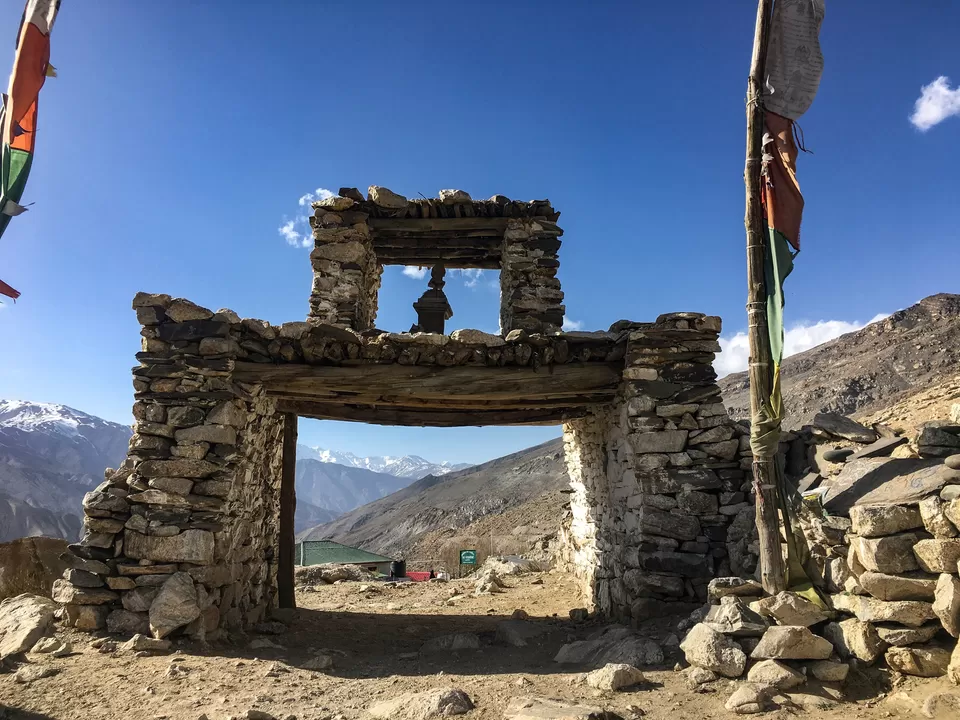 It was about to get dark and I was hungry as hell so first I had dinner at Punjabi Dhaba near the bus stand and headed towards Tabo monastery for night stay but monk said monastery accommodation opens after mid-May during peak season and directed me towards a homestay of a middle-aged couple. They greeted me very happily and eagerly and brought me a cup of tea. We introduced ourselves to each other. They charged Rs.250 for a night with breakfast. The room was so clean and warm. It's cheap and you get to experience the culture up close as well. They have two daughters and both run Homestays in Kaza. The old lady gave me her elder daughter's number for accommodation in Kaza which was my next destination. (Only BSNL network works in Spiti, so get a BSNL prepaid or postpaid sim card before going to this place)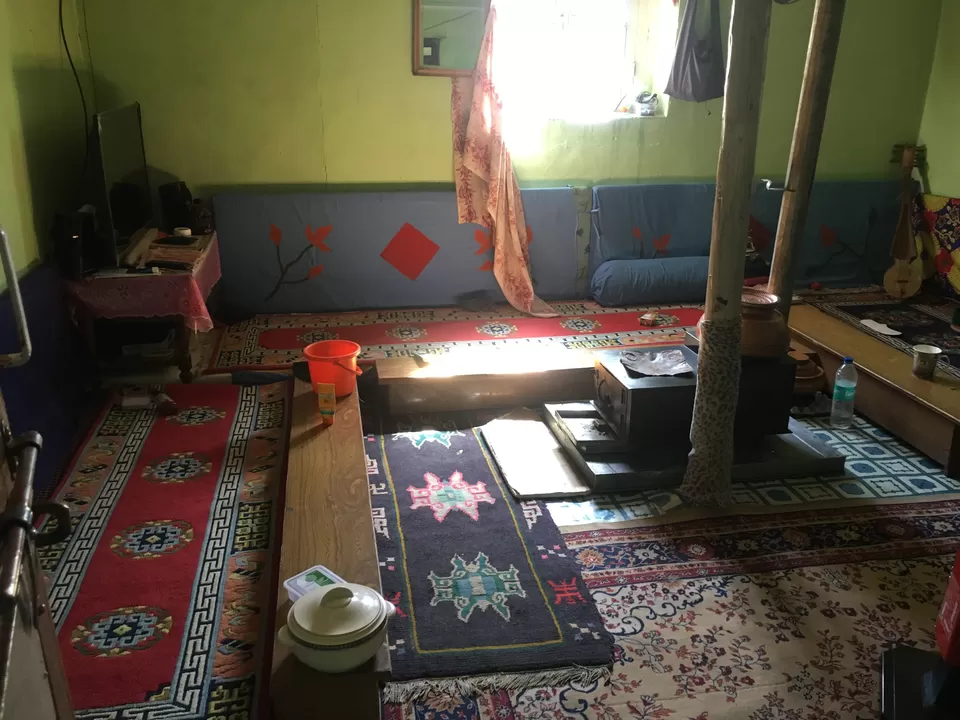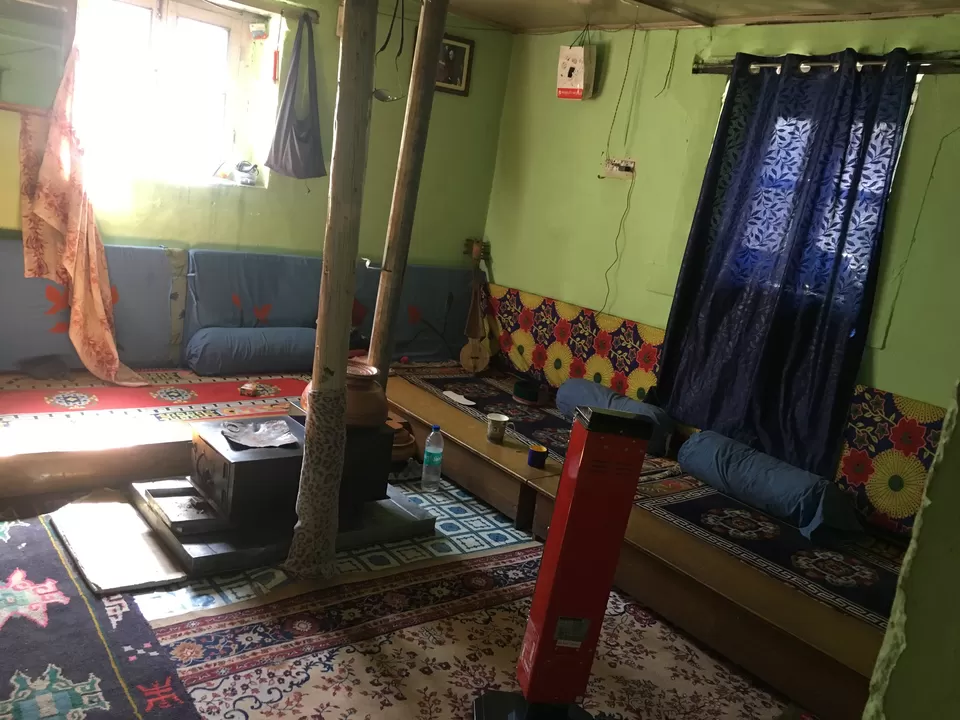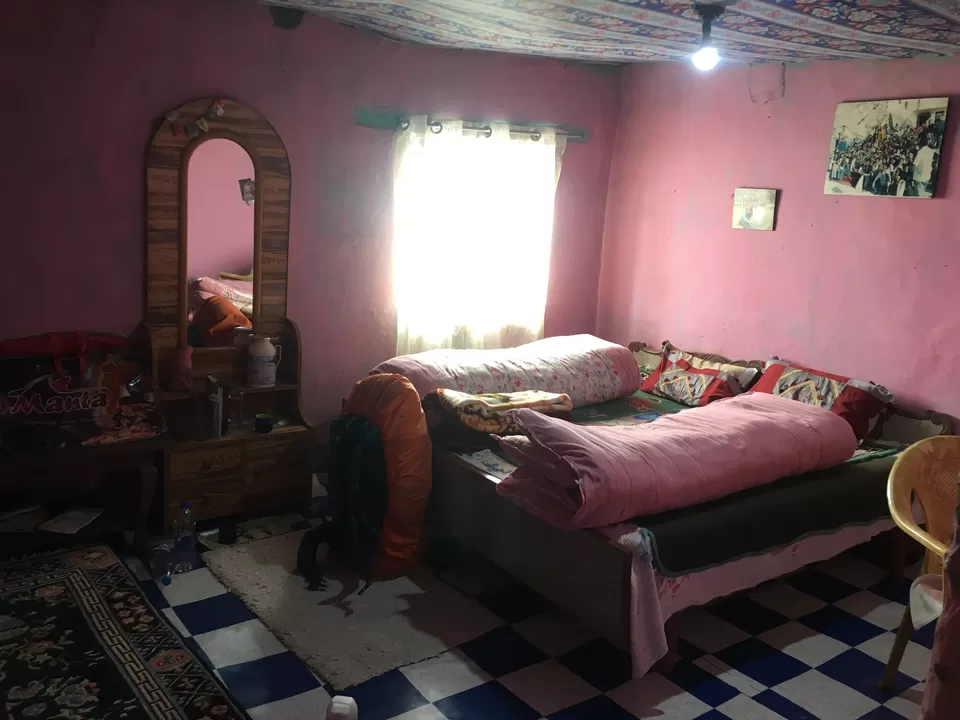 There is only one bus from Tabo to Kaza which comes around 2 PM from Peo, so I decided to hitchhike to Kaza. I arrived on the main road at 9 AM. After an hour of waiting, I got a shared taxi that charged Rs.150.
Kaza is the biggest town of Lahaul and Spiti. I reached Kaza around 1 PM and had lunch at a restaurant near Himalayan café. After interacting with few people I decided to visit Key monastery, Kibber village and Chichim Bridge on that day.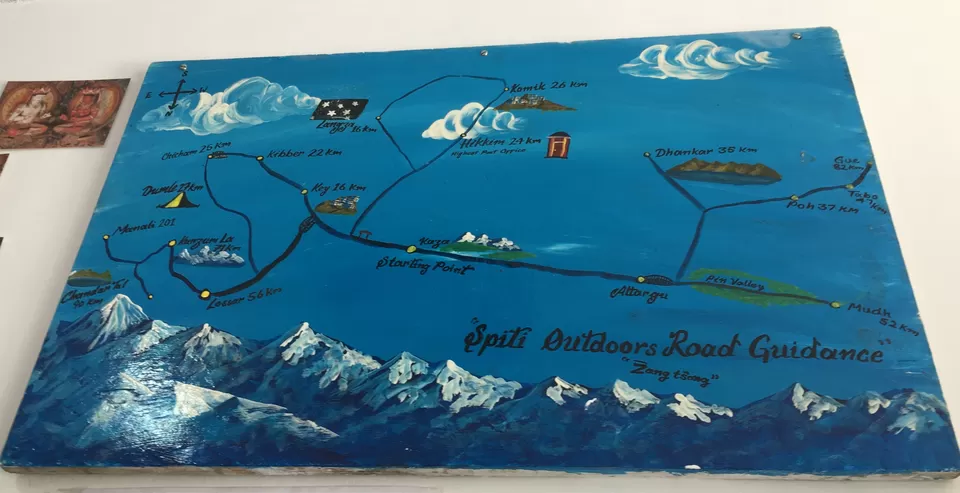 There is a shop beside that restaurant which provides bikes for rent. The shop owner had Suzuki Access (Rs.800 per day) and Royal Enfield classic 500 (Rs.1200 per day). It was already 2 o'clock so I took Suzuki access for half day and paid Rs.400. Usually, they don't provide bikes for half day, you have to negotiate with them. I filled 2 litres of petrol at the world's highest petrol pump and rode towards Key monastery.
Key monastery is around 16 km far from Kaza towards Kibber. Built in 11th century Key Monastery is the biggest monastery in Spiti. The monastery offers a stunning view of the whole valley, the roads, the farms, the Spiti river, and snow-capped barren mountains. At the same time, a team of professors arrived, a monk took them inside the main prayer room and explained about the Buddhist culture and monastery. Photography is not allowed inside the prayer room. I went upstairs and found a small prayer room, I sat there, closed my eyes and lost myself in the serenity of that place. After around half an hour when I opened my eyes, a monk was there in that room. He took me on a tour of the monastery and told me that I could stay in the monastery if I wanted to. They have made special rooms for meditation as well. He made me sit inside a room and brought tea and biscuits.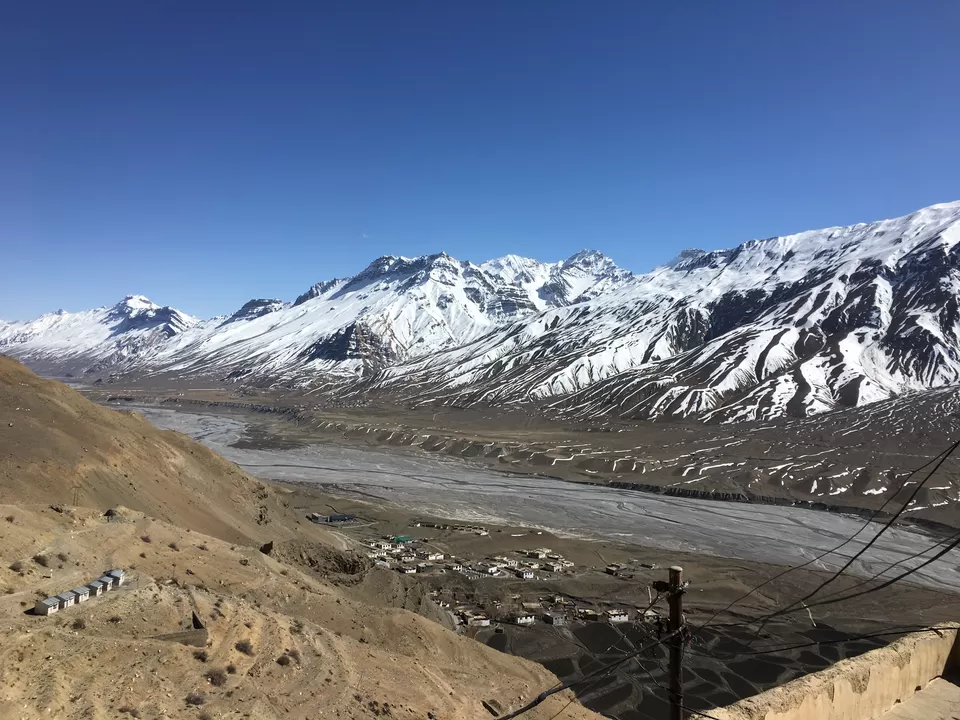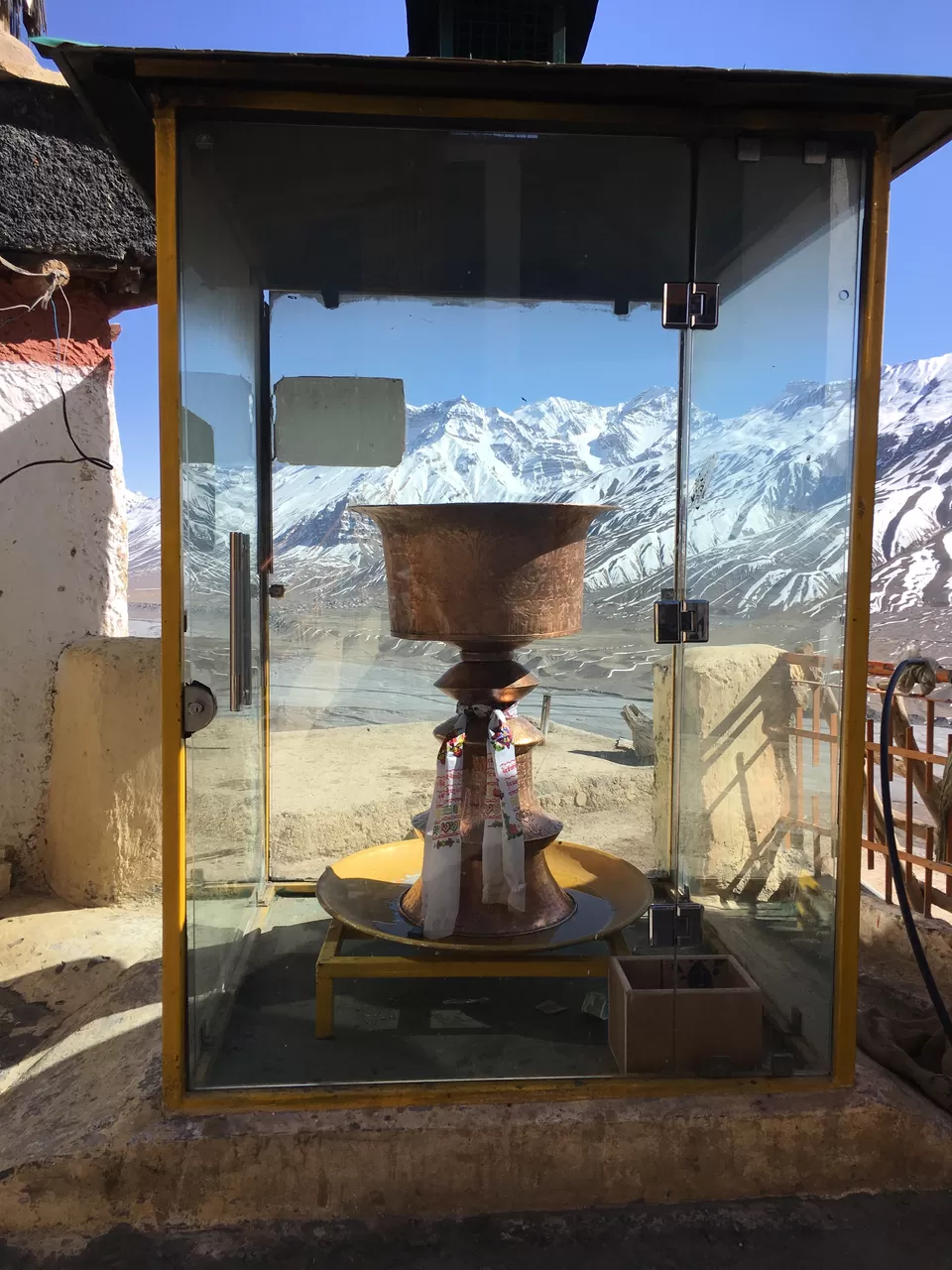 After spending a few more minutes with young monks outside the monastery, I rode towards Kibber. There was snow on the roadside near Kibber. I parked my vehicle and started playing with snow. (This was the first time I was touching the snow). The village is located at the height of 4200 m. I was feeling the altitude, a little dizzy in the head (There is a medicine called Diamox which helps to prevent and reduce the symptoms of altitude sickness. Start taking it 1 to 2 days before you go on high altitude, usually 1 or 2 times daily). My fingers became too chilled after playing with snow. It was difficult to ride even with gloves.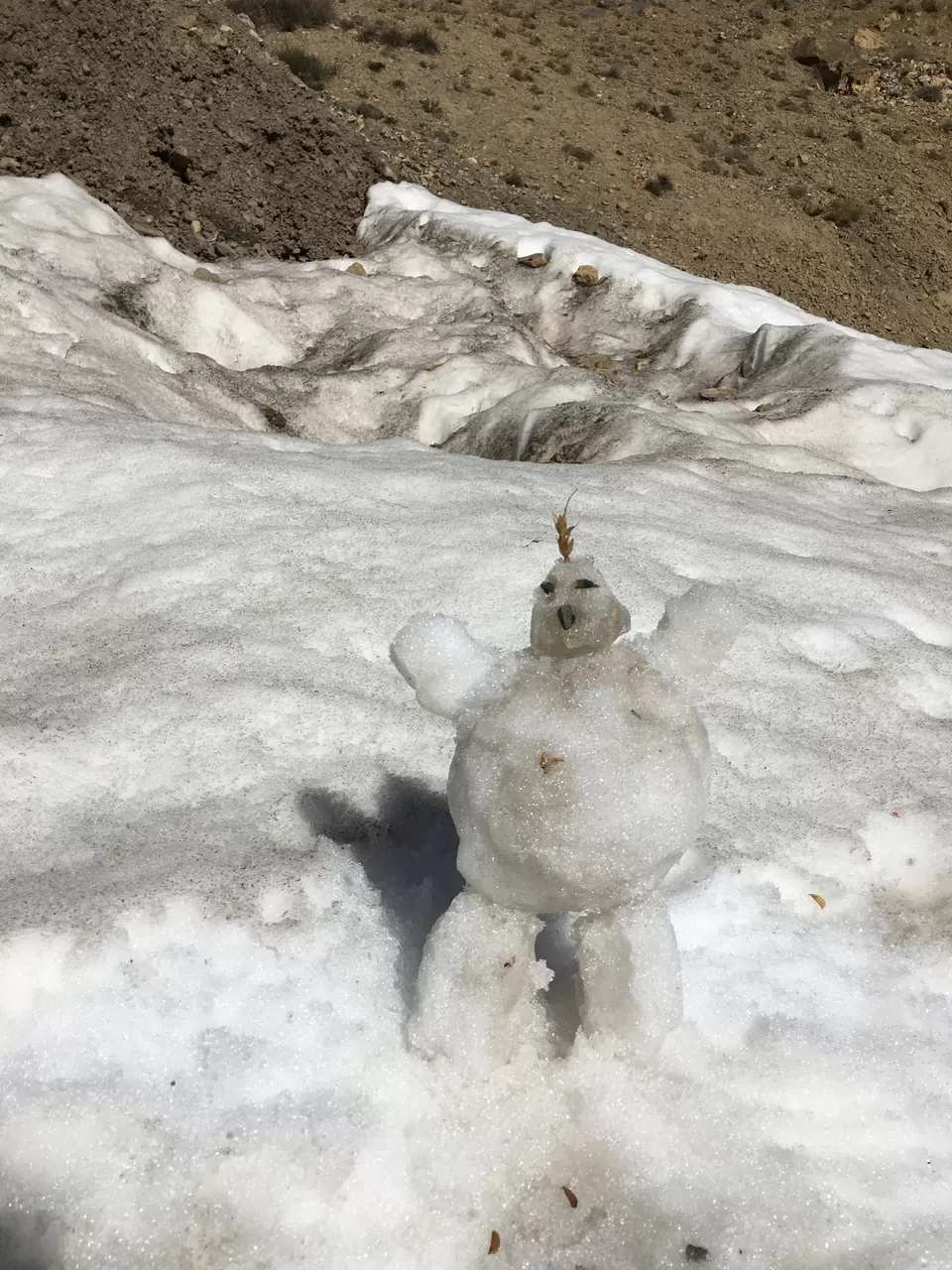 My next destination was Chichim Bridge which is Asia's highest bridge at 4145 meters above sea level. The entire ride from Kaza to Chichim is so heavenly. It's like you are riding in a dream. While coming back to Kaza, some ladies working in a farm stopped me and offered Momos. That was so random. The people of Spiti valley are so kind and hospitable.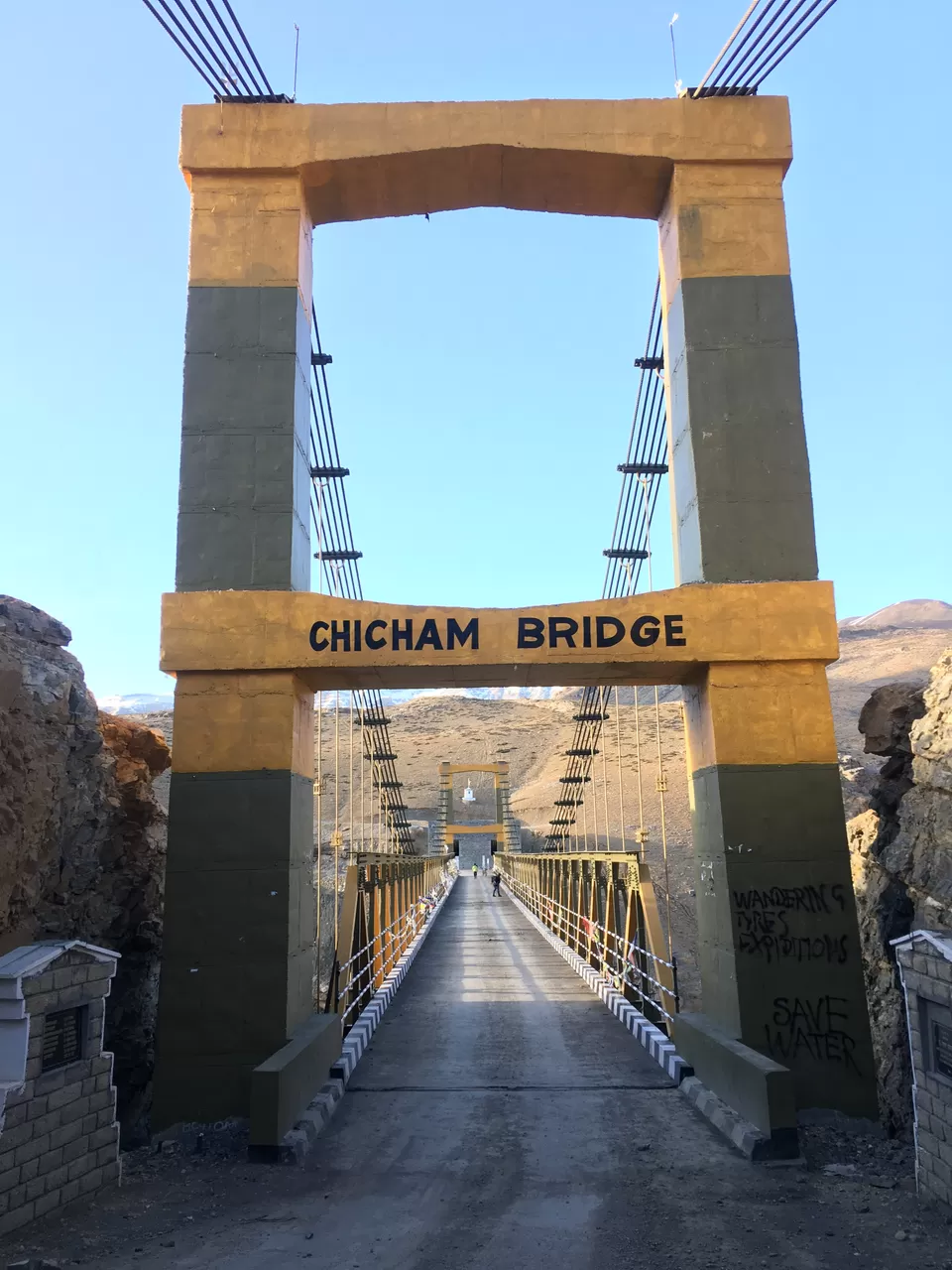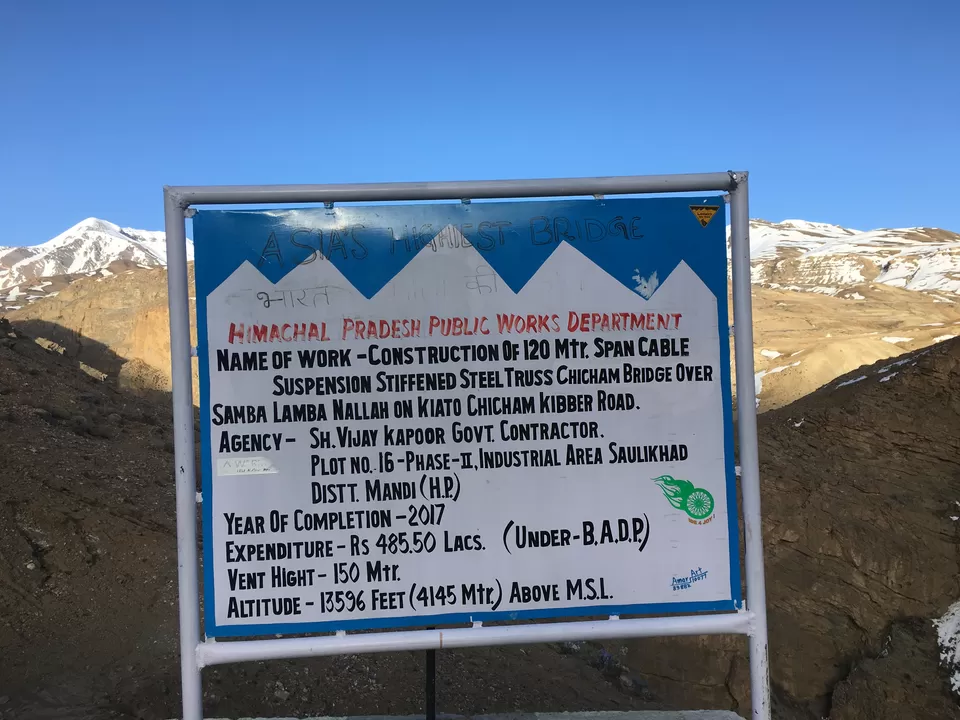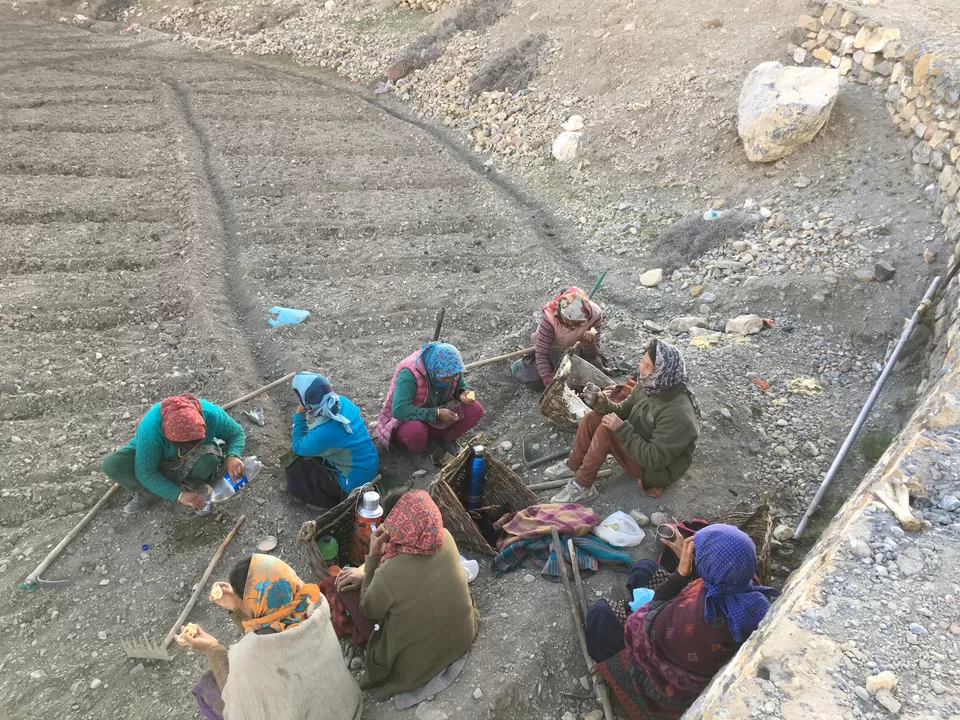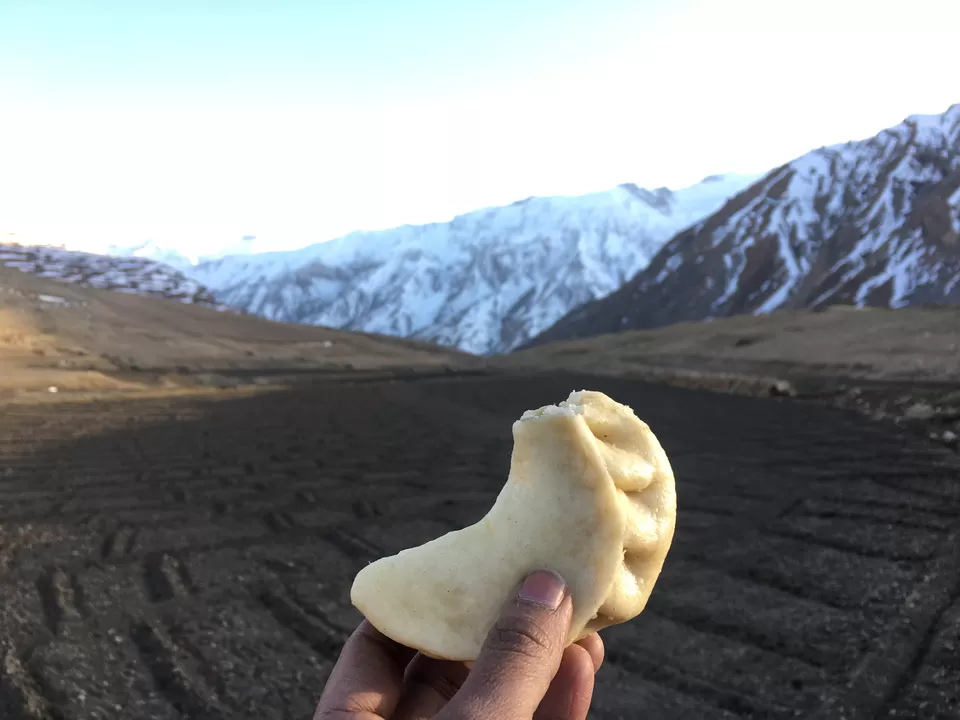 I got back to Kaza. It was dark already. I returned the vehicle and called the old lady's daughter, she came to pick me up at the petrol pump in car with her husband. Their place was beautiful. I was shivering in the cold so she told me to sit in the kitchen which was warmer. She has two cute kids, Karma and Palzum. I played with them and had delicious dinner with the entire family.
I got up around 9 in the morning and freshened up. She made Bhaturi (Tibetian bread) in breakfast which can be eaten with butter, jam or onion chutney. Moreover, she helped me to arrange a Royal Enfield classic 350 in Rs. 800 for that day. I filled 4.5 litres of petrol at the same petrol pump. There is only one petrol pump in the entire Spiti valley.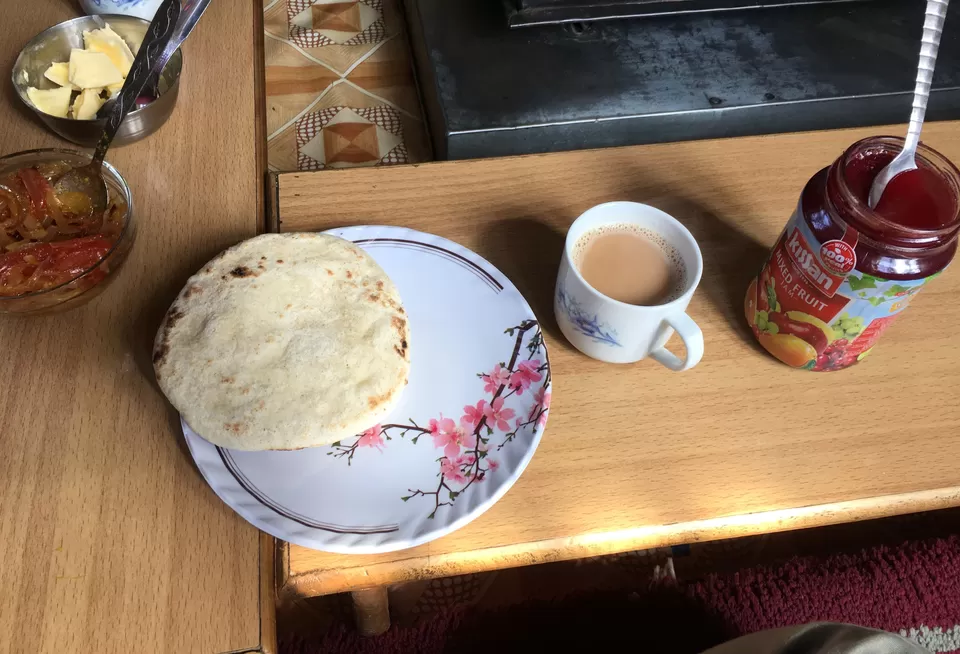 My first destination of the day was Langza village. After riding about 16 km on bumpy and muddy roads I reached Langaza. It is one of the most picturesque destinations in Spiti valley. I was stunned by the view of a large Buddha statue. I was wondering how this huge statue was built at such high altitude where usually people get out of breath after walking only a few hundreds of meters.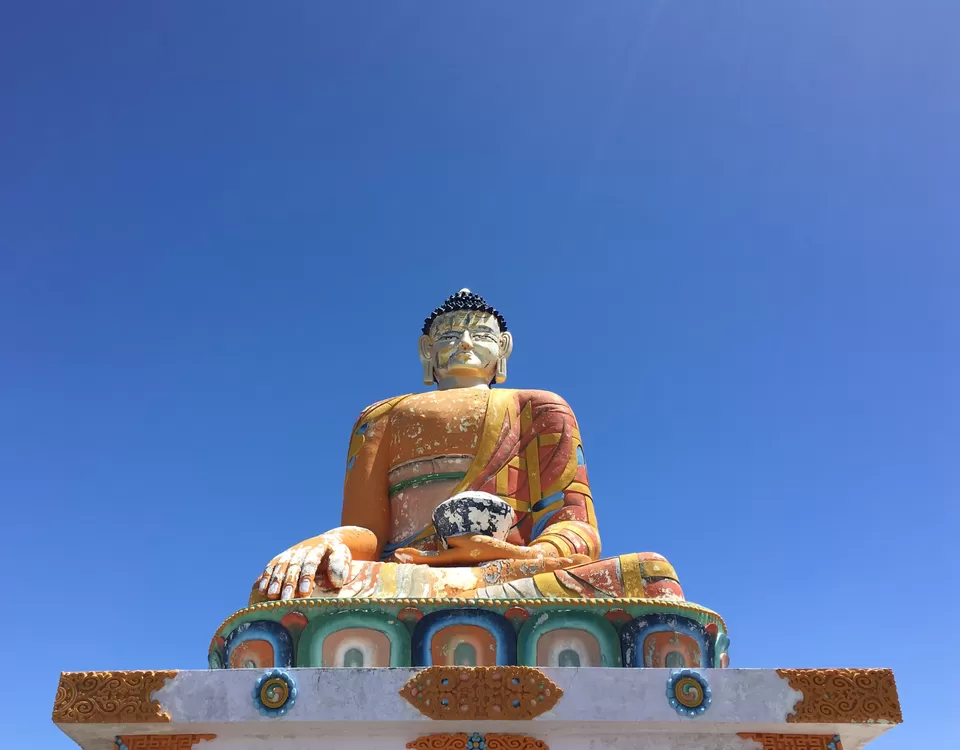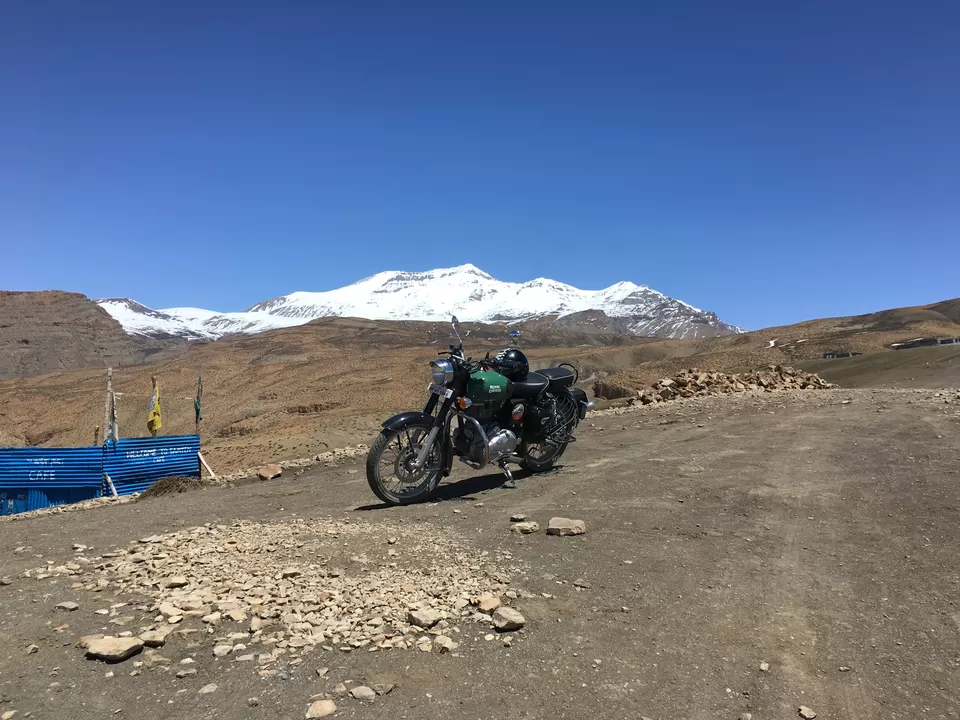 I headed towards Komik village which was 8-9 km far from Langza. Komik is the highest village in the world connected with motorable roads at an altitude of 4587 meters. The cold was unbearable. It was around 1 PM and the temperature was -2 degree. There is an old monastery and view of the mountains from the monastery was breath-taking. I climbed on the roof of a small room and sat there and listened to the mountains for a few minutes.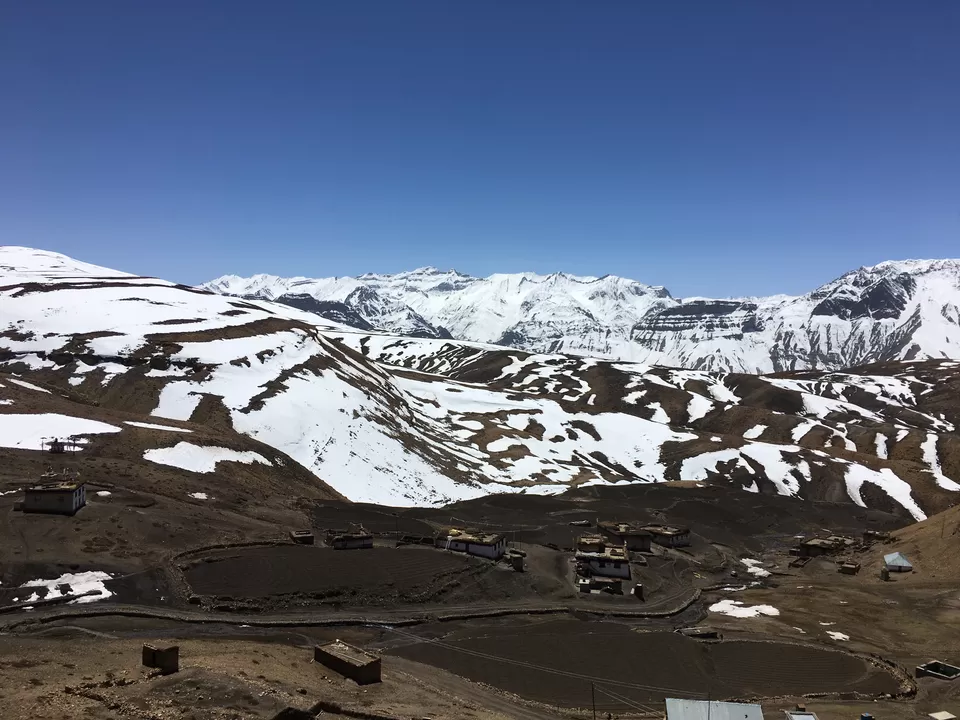 The Komik monastery is one of the highest monasteries in the world. The monk took me on the tour of monastery and gave me red holy thread. There was a skin of snow leopard filled with dried grass hanging at the gate of monastery.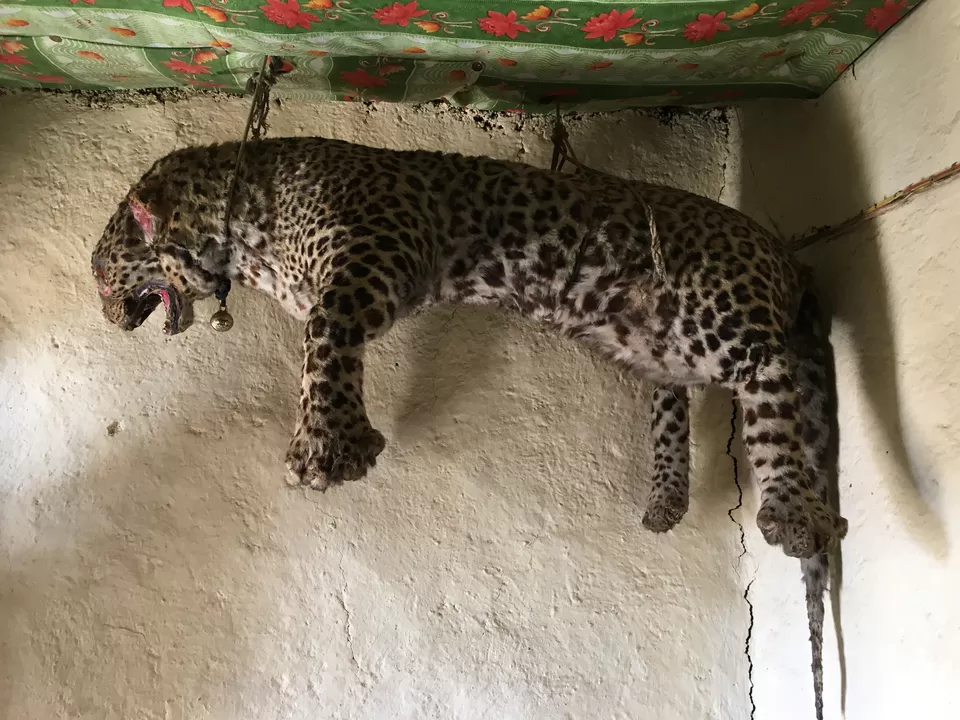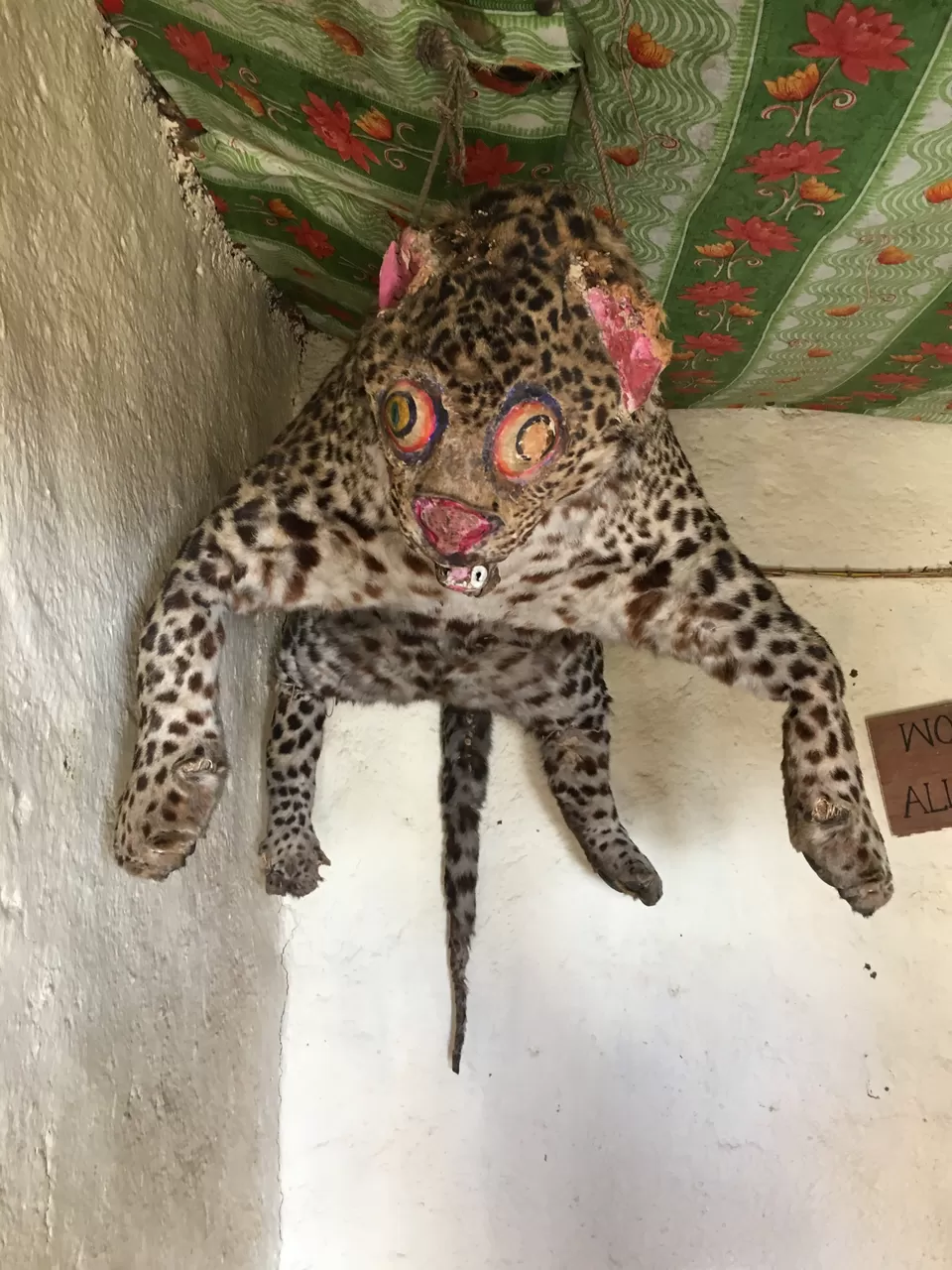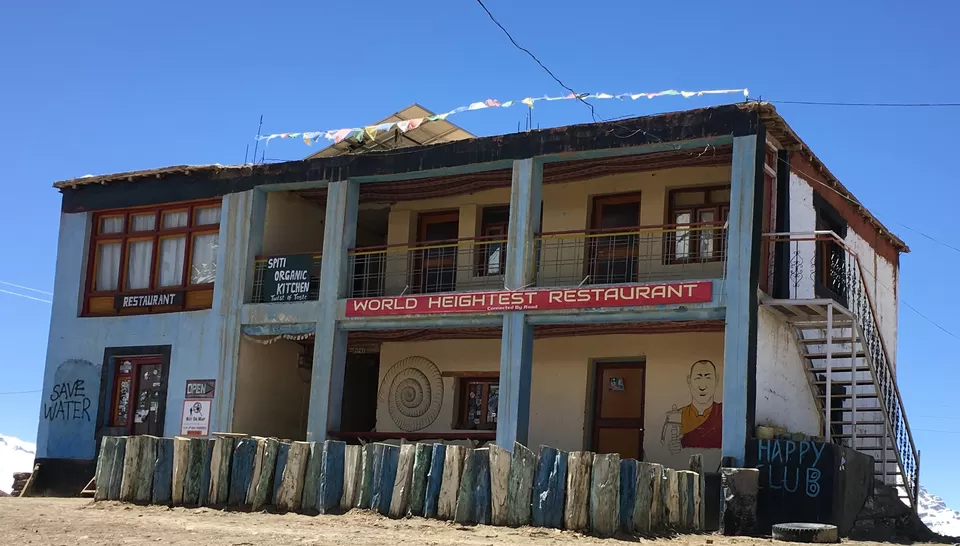 After spending half an hour with monk, I headed towards Hikkim. The world's highest post office is situated in Hikkim. You can send photo postcards to your beloved from the world's highest post office for Rs.25 only. I sent a postcard to my parents.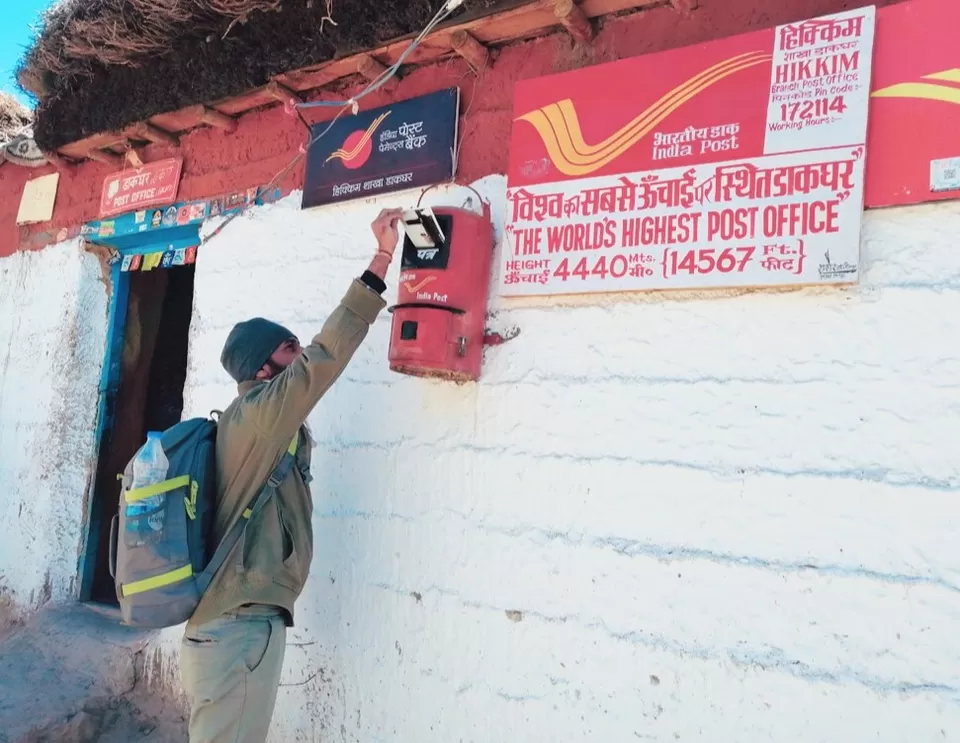 My next destination was Dhankar Monastery. I had heard a lot about this place while planning for Spiti. It's about 36 km far from Kaza but the roads are well maintained by Border road organization (BRO). There are two monasteries in Dhankar, the new one which you can see as soon as you enter in village and the second one is the older and the famous one. The old monastery is made of mud and has so many small prayer rooms and narrow stairs. You can have the magnificent view of small houses of Dhankar village from top.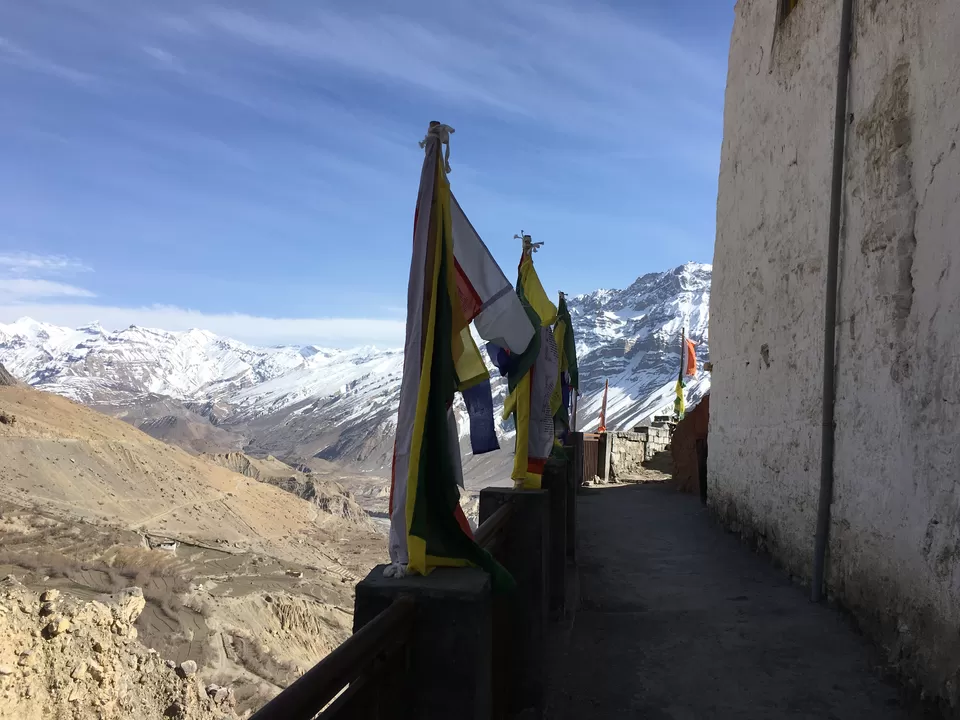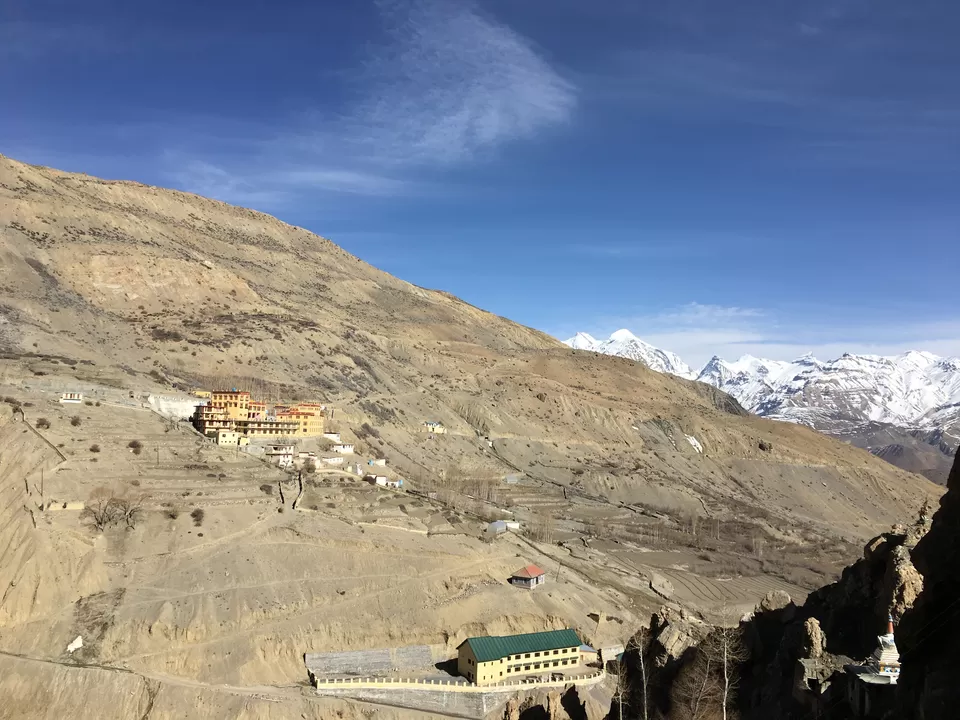 I returned to Kaza at 5 o'clock. There is a bus from Kaza to Shimla at 7:30 AM which reach Shimla at 4 AM next day. The alternate way if you intended to reach Delhi early in morning next day, is to catch the bus from Tabo at morning 5 o'clock which goes upto Rampur Bhushahr via Reckong peo. From Rampur there is a bus for Delhi at 5 o'clock which arrives Delhi at 7 AM. I wanted to reach Delhi early morning so I decided to go Tabo. I paid the Rs.400 for the last night accommodation including dinner and breakfast and promised to come back soon to those cute kids and left for Tabo.
After an hour of waiting at bus station of Kaza, I got lift in a goods car for Tabo. I reached Tabo at 9 PM. It was so dark and silent. I headed towards the same homestay. They were so happy to see me again. I showed the photos of Karma and Pulzam to them. We had dinner together. We talked for more than an hour. They told about their entire family, their culture, their routine life, etc. This is one of the best parts about the solo trip that you can indulge yourself in a completely different culture, forget all the things which makes you sad and live a completely different life with everything fresh for a few days.
They told to me to pay any amount which I feel reasonable. I was paying 400 for dinner and accommodation but they said that's too much. I have never seen such sweet and humble people ever. Well, I insisted them to keep Rs.400.
I arrived at the bus stand around 5 AM and got my favorite seat, yes seat no 2. The bus departs at 5:15 AM. I paid Rs.320 for the journey upto Peo and Rs.180 for Peo to Rampur. You have to change the bus at Peo. I was passing through the same roads second time still could not keep those beautiful mountains out of my sight, even for a second.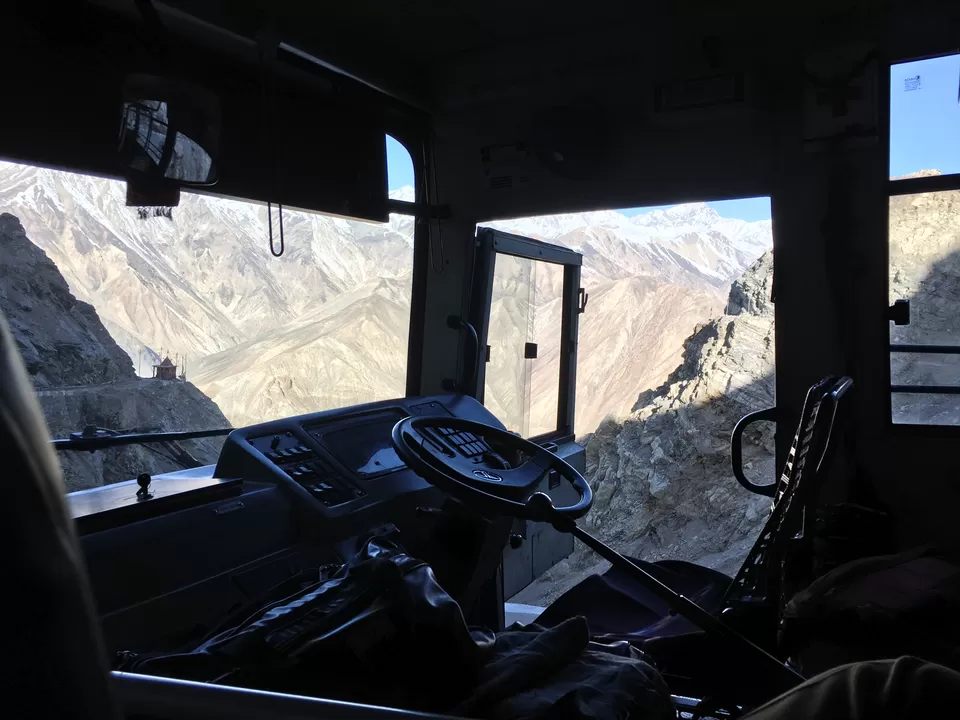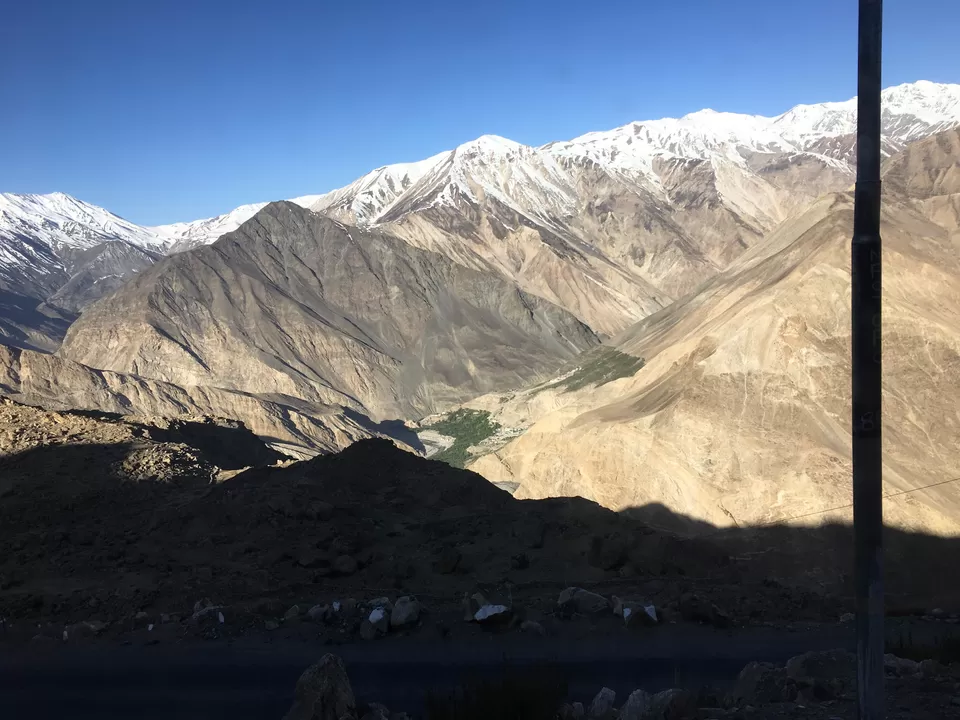 I reached Rampur at 4 PM. The last bus for Delhi departs at 5 PM. I bought the bus ticket from the ticket counter which costs Rs.1000 (It was an AC bus of HRTC). I took the window seat and rewound the entire trip from beginning in my mind while gazing at the beautiful lush green mountains. That part was the most difficult part of the journey. The grief of leaving such beautiful places is like leaving the person we truly love. I wish I could stay there for a few more days.
If you are planning a trip to this heavenly Spiti Valley, I suggest spend at least 8-10 days, especially if you are a solo traveller. Stay with the most humble and hospitable people on the earth, get to know about their lives, spend pleasant time in the small beautiful serene villages, forget everything and inundate yourself into an entirely new world and back in touch with the real you.