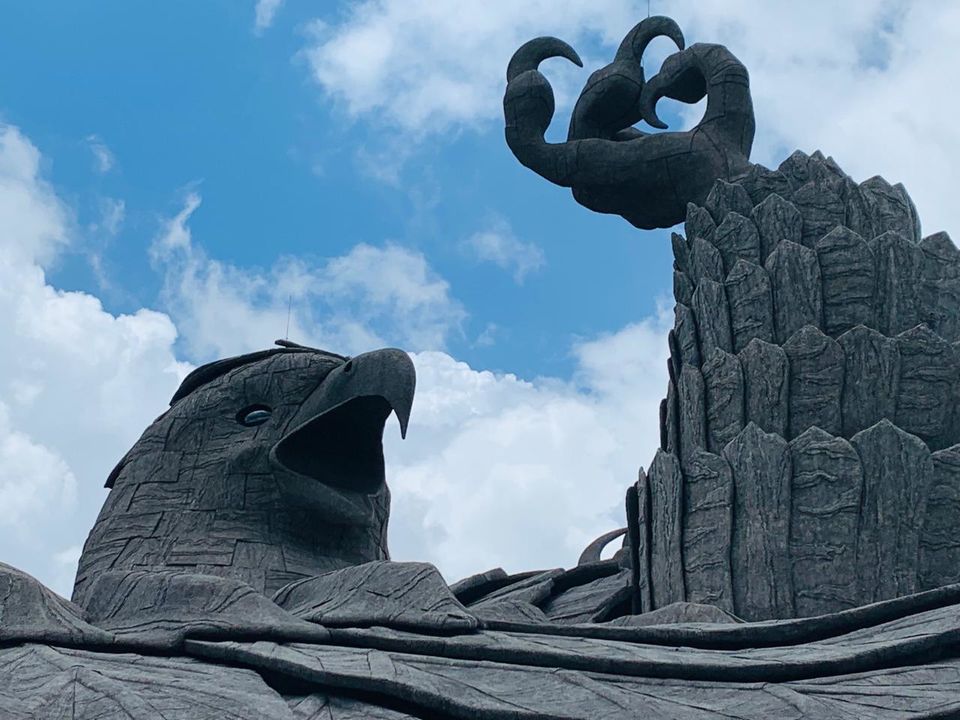 "The one who is a protector, the one who opposed violenece against women, and the one who gave his life to save her...!!
Jatayau... the hero in the epic Ramayana..!!
One day visit from Trivandrum to Jatayu's Earth Centre
We stayed in Trivandrum for our visit to "The world's largest bird sculpture: Jatayu's Earth Centre". The centre is located 46km west of Trivandrum city and we planned to cover the centre by car which took us approximately one and half hours to reach.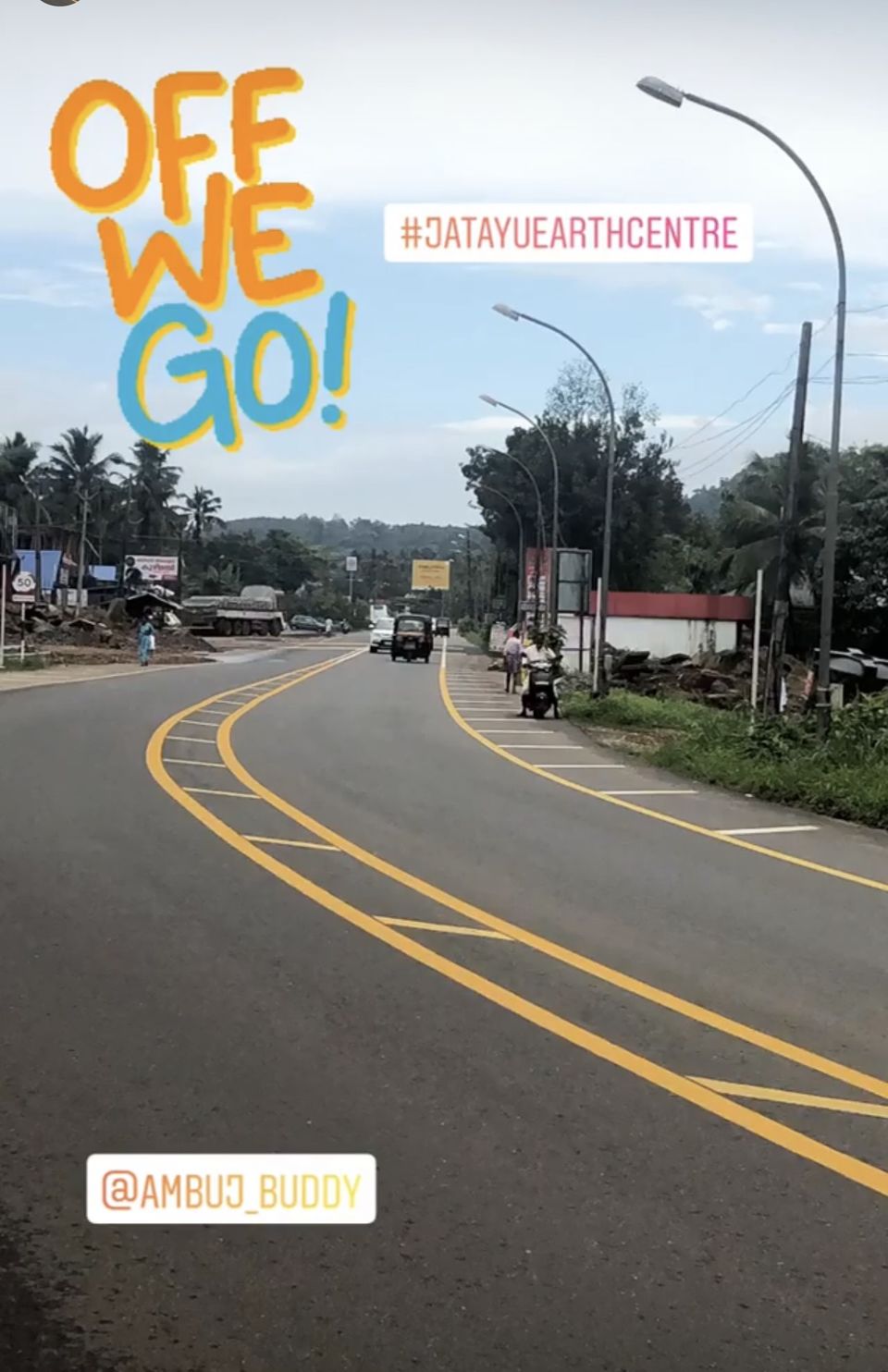 We reached Jatyaus Earth centre at around 11:00 in the morning. As soon as we reached, we hopped to a place from where we can buy tickets to visit this giant bird scluoture. We bought the tickets costing Rs 475/- including taxes, one can even book tickets online (http://www.jatayuearthscenter.com/index.html).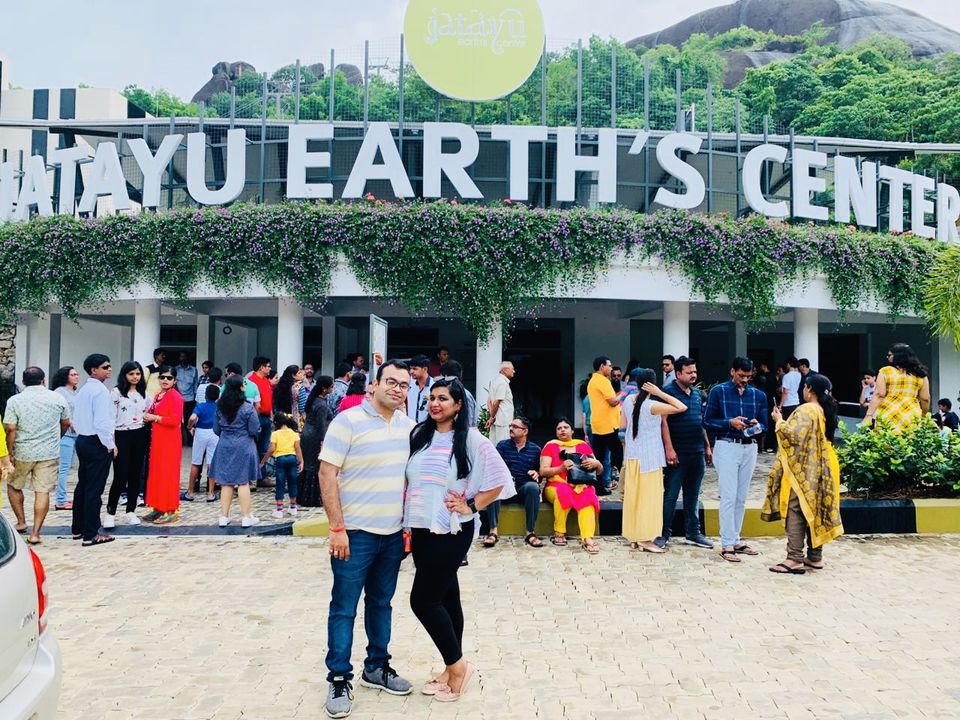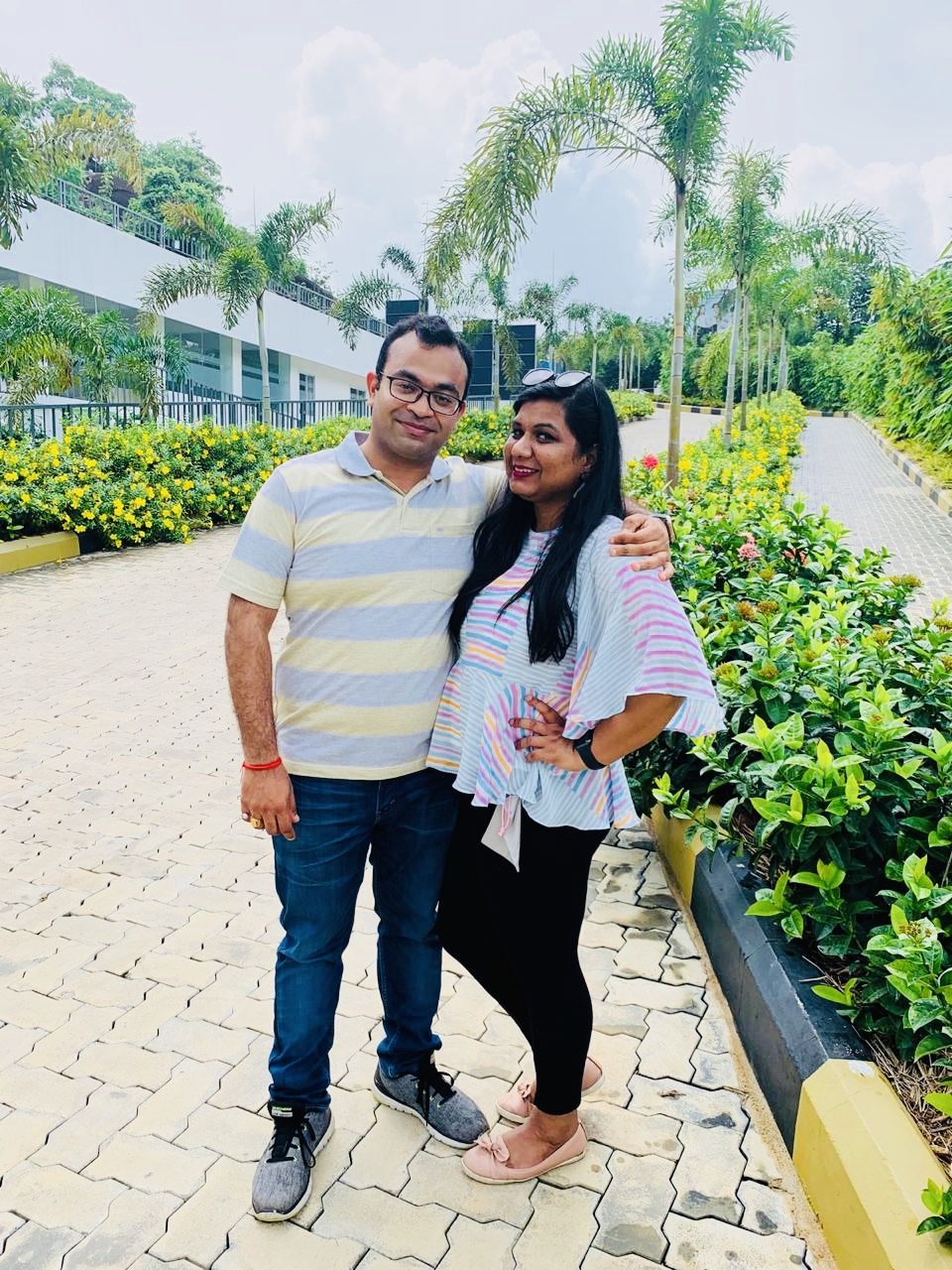 After buying the tickets we waited on the qeueue for our turn. Everyone of us were provided with different colors of bands: red, black, yellow, and blue denoting us as a customer in the campus. Once we got these bands we were directed to the place from where we can take the cable car ride.
We started the tour by getting into a cable car and riding 1000 feet above the sea level. We witnessed breathtaking views of the hills and surrounding landscapes while sitting in a secure glass-walled cabin. We reached Jatayus' park after the cable car ride of approximately 10 min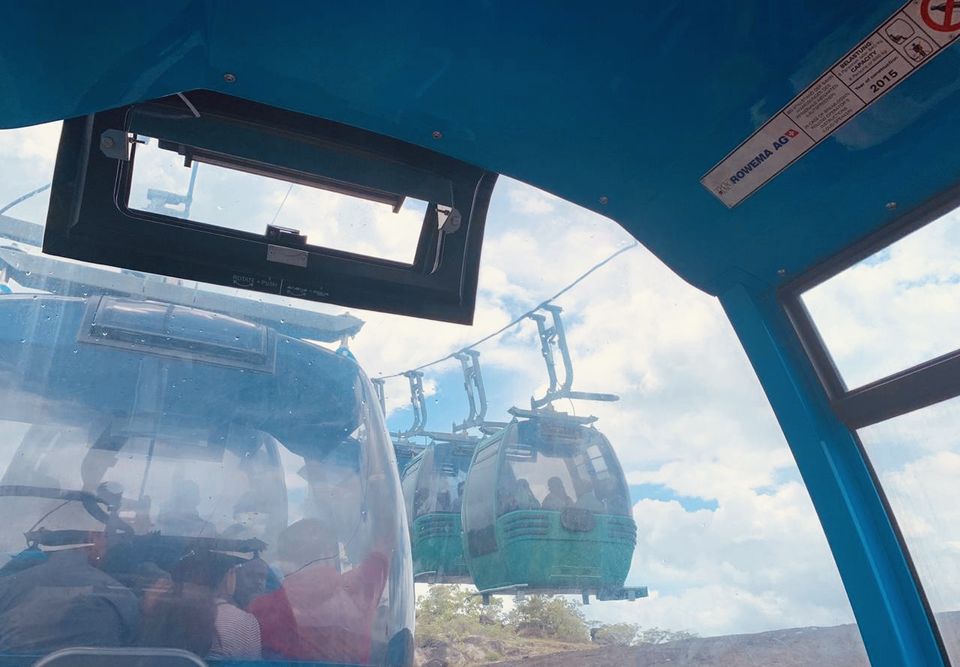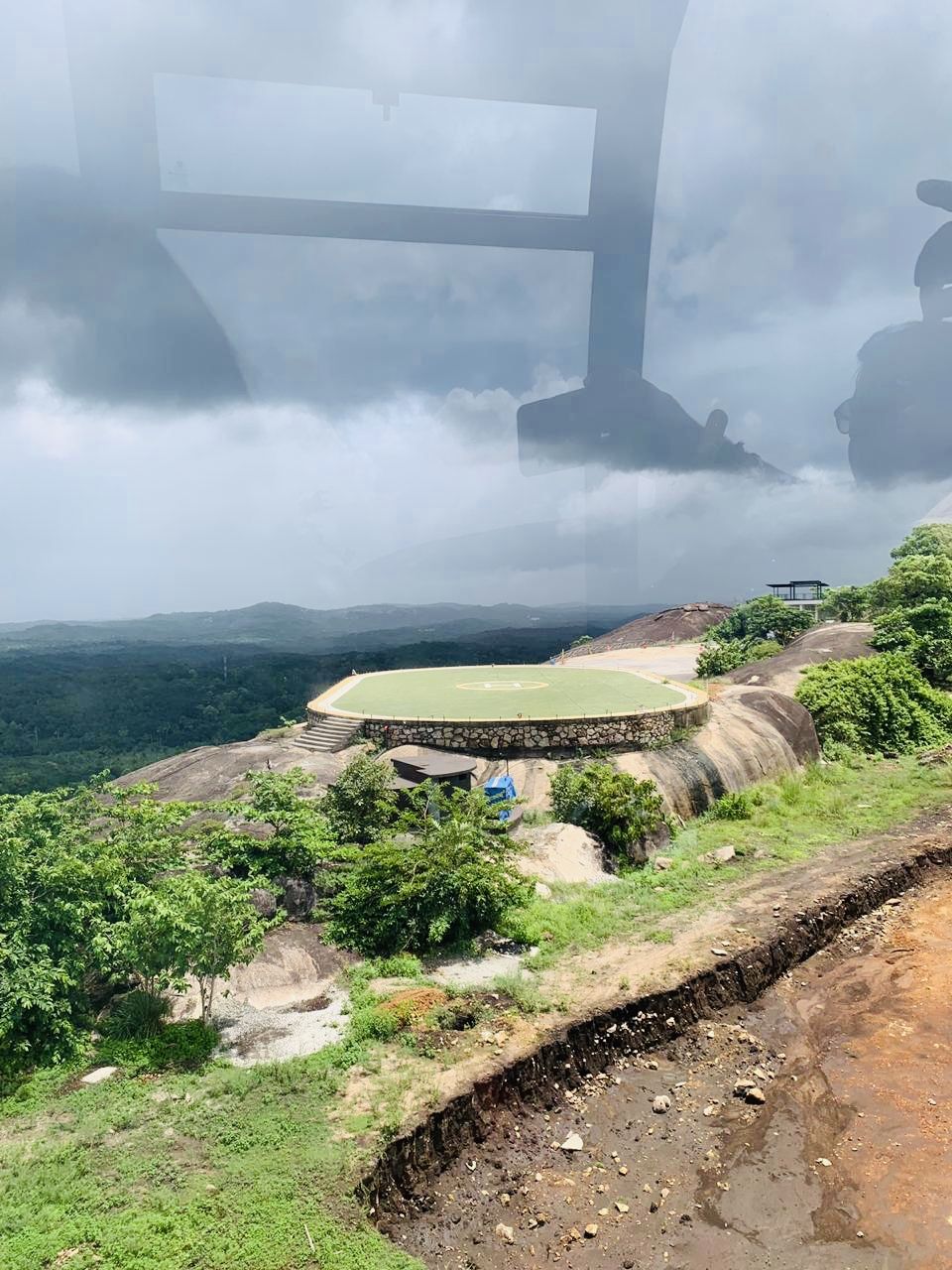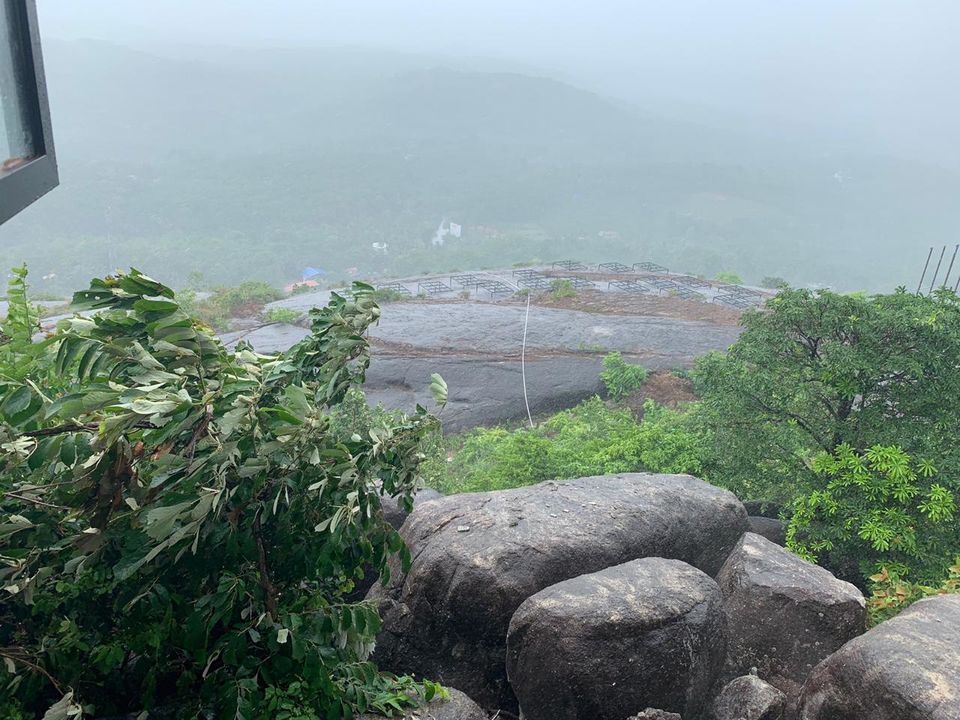 Things to know about Jatayupara
Jatayu's Earth Centre located in Chadayamanglam in the Kollam disctrict is one of the newly added feather to Kerala's Tourism sector. It is the first joint effort by Kerala Tourism Department and Mr Rajiv Anchal (renowned film director, art director, and sculptor) to create a destination which has a unique combination of all aspects of toruism. The soul aim was to offer a complete Kerala, God's own country experience to individuals.
The giant concrete statue of Jatayu is built on a mighty rock named Jatayupara (para means rock in Malayalam). he bird is recreated in concrete at the Center is 200 feet long, 150 feet wide, and 70 feet tall, with stylized feathers and enormous curled claws. Its prone body is sprawled on a mountaintop with a 65 acre tourist destination campus.
Jatayu's Earth Centre is based on the epic story of Ramayana. Jatayau is the noble bird of divine origin. He risked his life, he tried his best to save Sitha from her abductor " Ravana". But while protecting her, he lost his wing and fell on this particluar rock. Hence, the Jatayau Sculpture stands as a towering tribute to women safety and honour. Jatayu also represents the era when humans, animals, birds, and other living forms cared for each other and lived peacefully on this earth.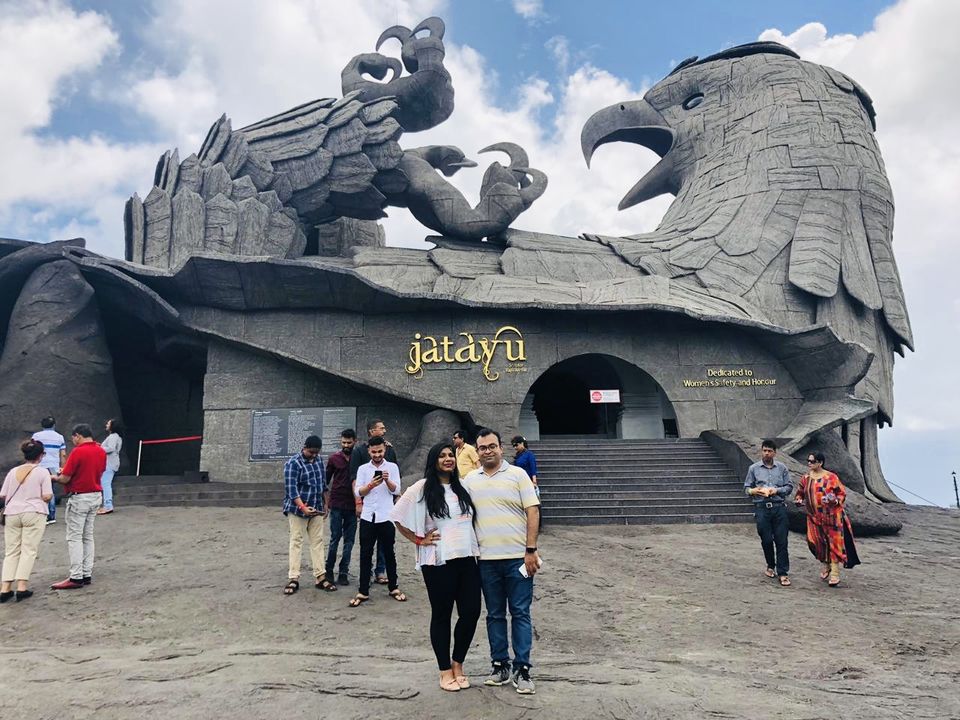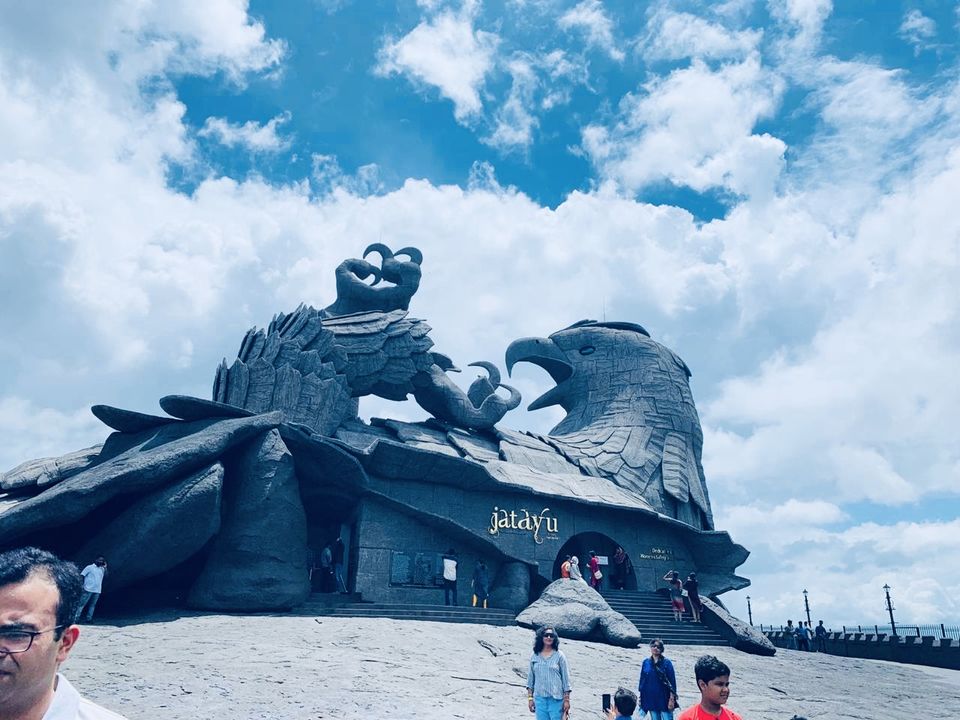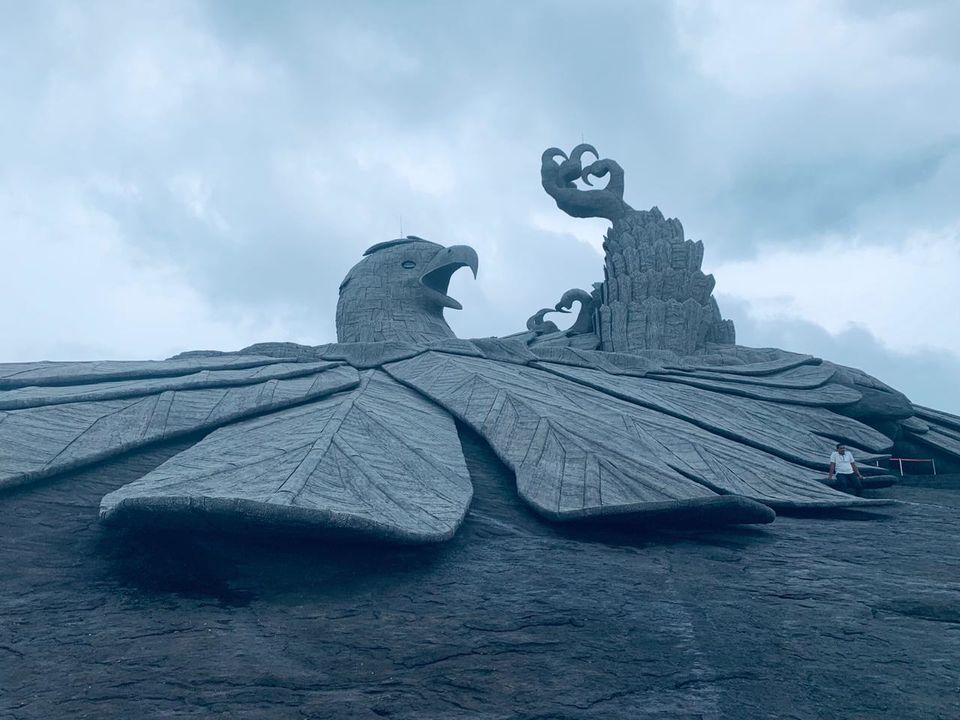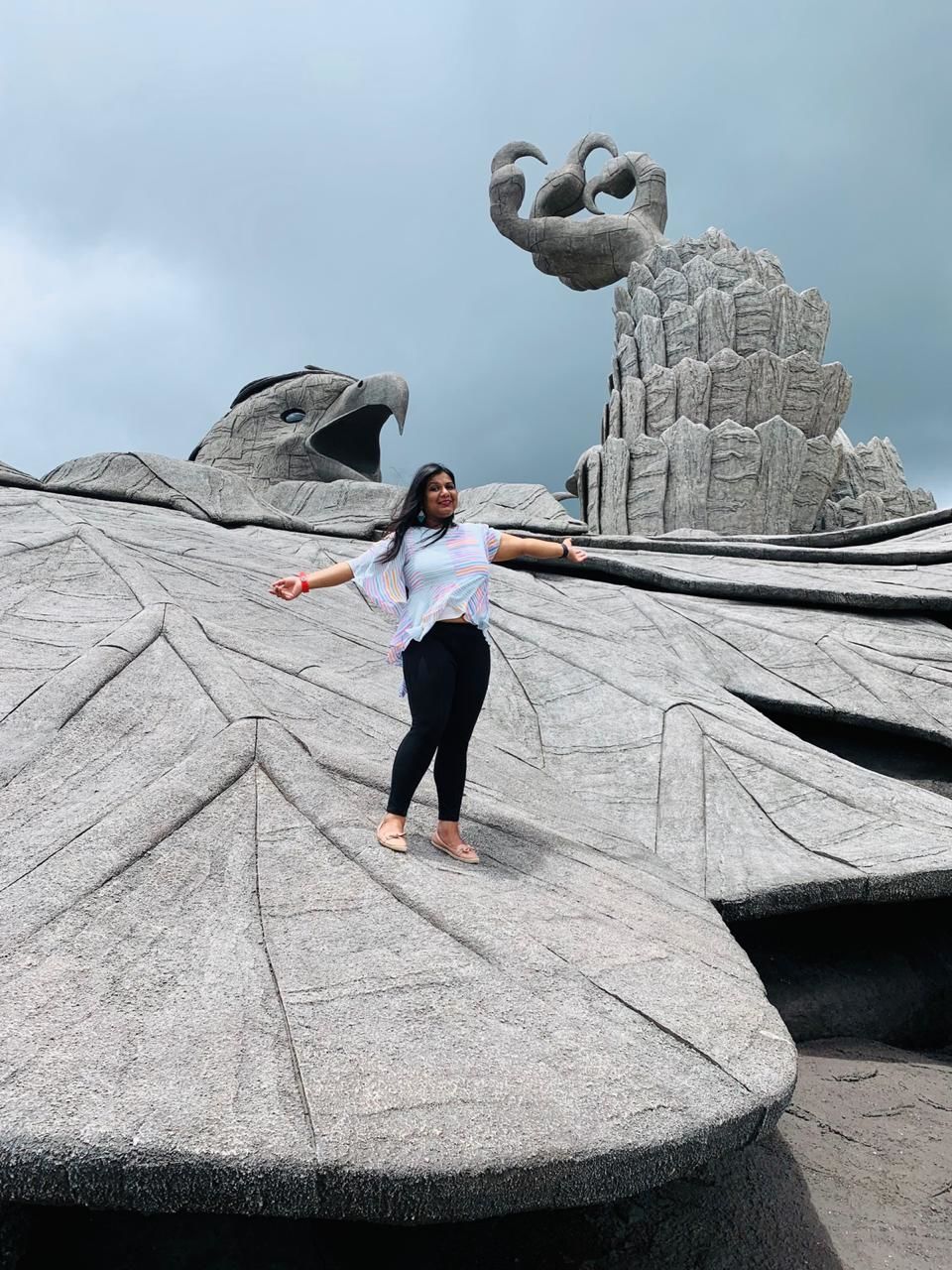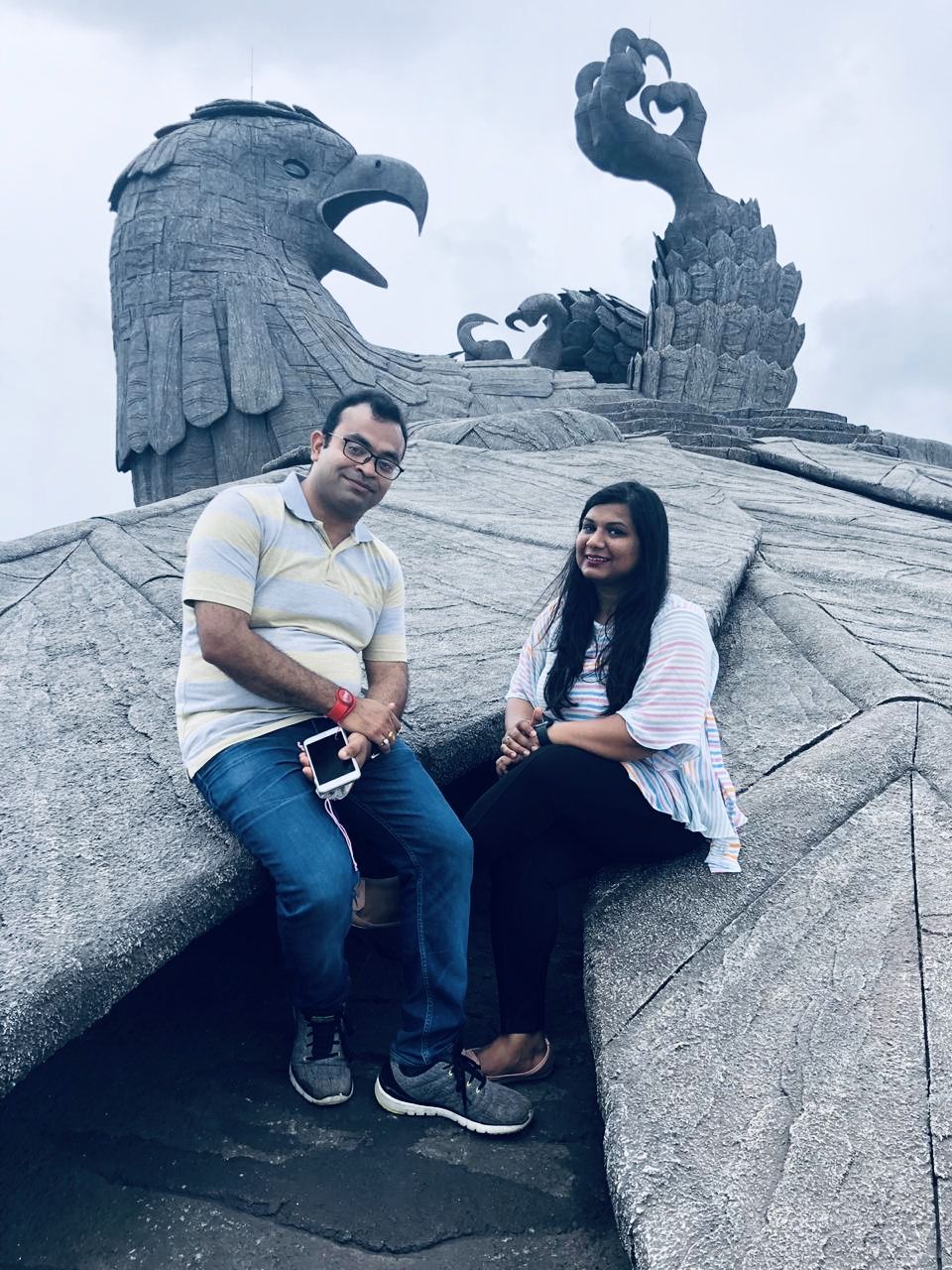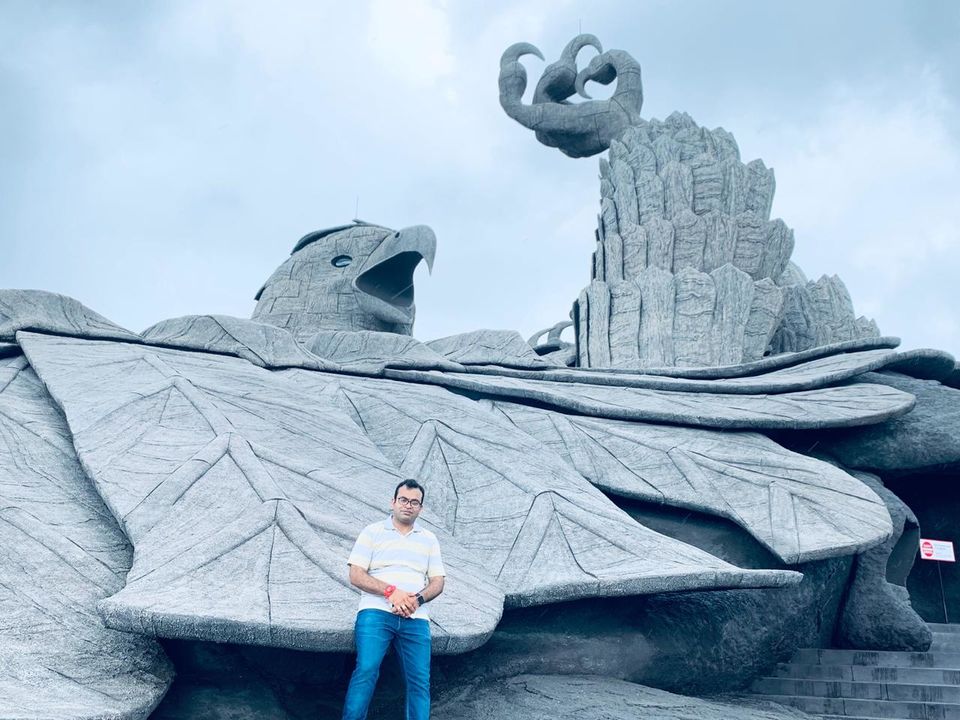 Insights for Visitor:
A) Jatayu Earth's Centre tickets can be bought from the ticket office on arrival or you can purchase tickets online in advance.
Ticket Prices: Entry Fee to Jatayu Nature Park (including cable car ride): 400 INR.
Activity prices are Jatayu's Earth Centre are as follows:
1. Trekking and Paintball (3:00 PM - 6:30 PM_ : 1300 INR
2. 15 Adventure Activities (10:00 AM - 4:00 PM): 1000 INR
3. Trekking + Adventure Activities (10:00 AM - 6:30 PM) : 1500 INR
4. Paintball +Adventure Activities (10:00 AM - 4:00 PM) : 1800 INR
5. Paintball + Trekking + All Adventure Activities (10:00 AM - 6:30 PM) : 2300 INR
6. Full Day Activities (10 AM - 6 30 PM) : 3500 INR
Tips for Visitors:
1. For the tickets booked online no printouts are required, E-Vouchers will do
2. There may be the waiting time for cable car ride
3. For safety reasons, dangerous articles and goods l are not allowed
4. The mentioned activities are subjected to clearence from all authorities and weather conditions
5. Also, when the weather conditions are not good or there are chances for thunderstorm then the cable car rides are put on halt
6. Travellers please do not forget to carry cameras, sunglasses, water, and binoculars
7. One important thing to keep in mind is: The cable car which is used to carry people to Jadayu hill never stops even at entry point and exit points. People are forced to go in and come out of the car while it is moving at both the points. While doing this, there is high probability of accidents, so request everyone to be very careful with it.
8. There is a small cafe on the top of hill which serves awesome snacks at good to go prices