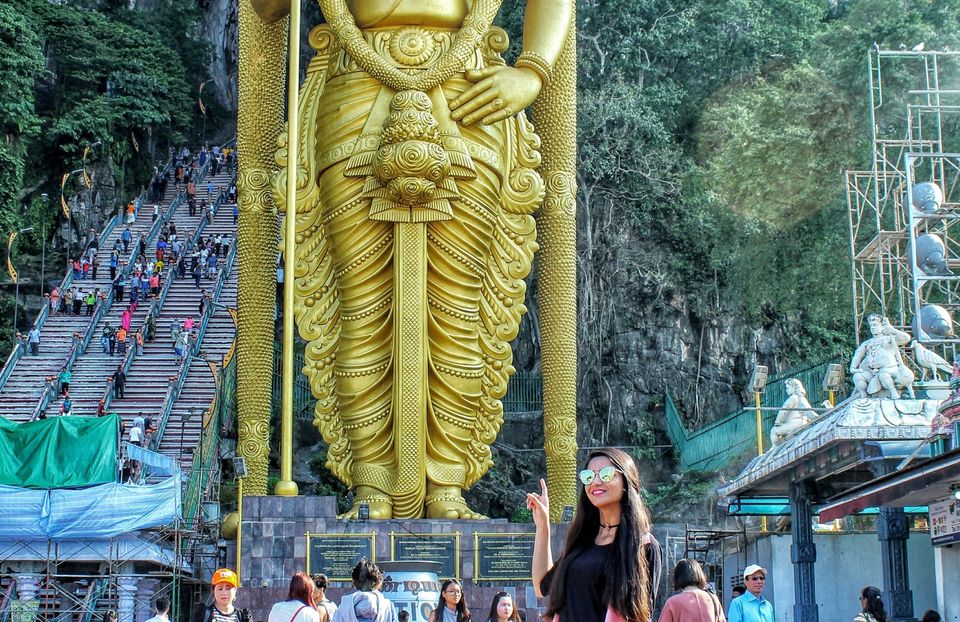 Kuala Lumpur is a big travel hub in Southeast Asia. It's the door for tourists that come to discover Malaysia or have connecting flights to other countries. What to see in Kuala Lumpur depends on your time there. Even though the transport system is okay here, many of the sights are scattered around in the city. So some places literally take a lot of time to reach (around an hour or so). Before traveling to any place, I do all my research about where and how to go. I find it really useful to know things in advance & not depend on others for direction. However, bad luck can prevail anytime and your planning may not seem to work at all, that's what happened to me in Kuala Lumpur. People may like this place as much as they want but I didn't like the place at all due to my personal experiences. The only reason I would return to this city will be to explore the famous Pink Mosque and the National palace along with Merdeka square. These are some places that I missed this time as I was short on time. But taking a guide from my trip, you can manage your time if you have a day or two in KL.
1. PETRONAS TWIN TOWER
I am pretty sure that the first thing that comes to anybody's mind while thinking about Malaysia trip is the Petronas Twin Tower. Almost every one of us has gone through the pictures of these amazing twin towers and let me confirm you that these towers do look magnificent, not only at night but in the daytime as well. The architecture of these towers is amazing. They are not solely glass and you can actually see a lot of steel which makes the architecture stands out and different. This 88 storey building has a huge shopping mall inside which contains some exceptionally luxurious high-end brands (what else one can ask for). I took a tour of Petronas twin tower, where you can go to its 41st floor that has a sky bridge and have a privileged view of KL skyline. The 86th-floor observatory deck tells about the history of the towers and you can have a close look at the city through binoculars. To be honest, you can totally skip this tour if you are tight on schedule and budget too as it's not very cheap. You can get to have a view of KL from Menara Towers. So my suggestion would be to skip the tour and have some good clicks from outside.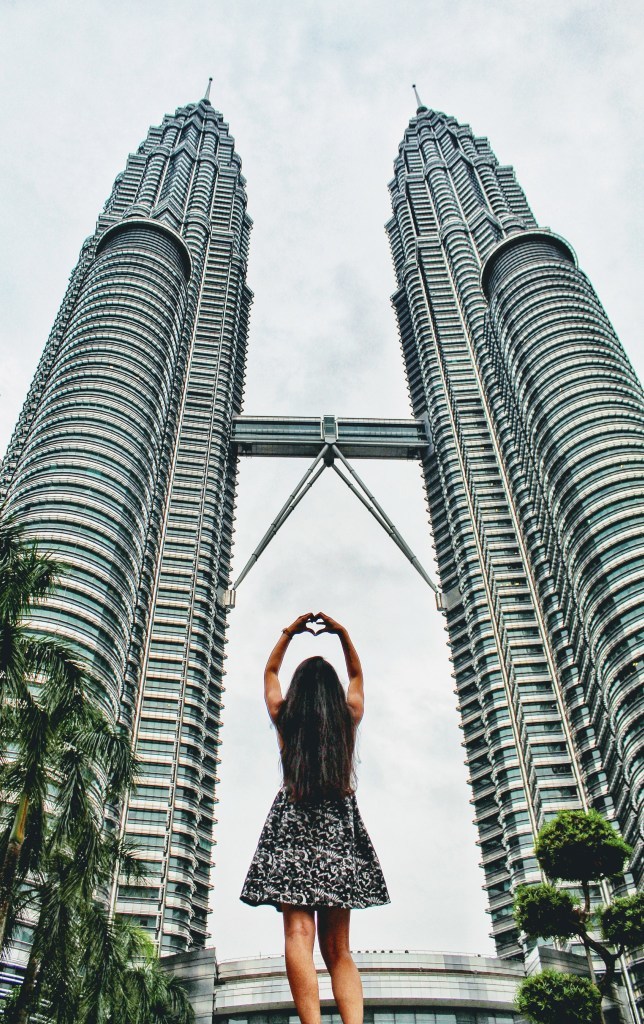 2. MENARA TOWER
This is the 421m high telecommunications tower located in the city. By looking at the tower, you wouldn't be able to identify it as a telecommunications tower. It looks beautiful and at night you can see it in different colors. What I literally admired about KL was the architecture of the buildings. Every other building you see will have a different architecture & will look amazing. Anyways, coming back to the KL tower, It has a lot of cool stuff to do. You can buy a ticket online from their website to visit the tower which also gives you an option to buy combo ticket where you get to choose the things you want to see from different combo options. Otherwise, you can buy tickets when you reach there. The first attraction they will be taking you to is Sky deck. Upon reaching this height, almost whole of KL is visible and even Petronas Tower looks small from here. Click some pictures and stroll around for a panoramic view.

Next up is Sky Box which is a truly amazing experience and it extends out from the Sky Deck. Stand in the queue at the Sky Deck and wait for your chance. As this box is made of glass, you will have to remove your footwear before entering. If you are someone who is scared of heights, your first step in the box can literally skip your heartbeat. It was so wonderful to look at the view from this box. Of course looking down through the glass was a bit scary but after some seconds I was comfortable. A photographer is there to click your pictures. You can ask him to click some from your camera or phone too. The picture taken by the photographer from his camera is available for you to buy when you leave the sky deck. After this, you will be taken to the observatory deck of this tower & here you can know the history of the tower.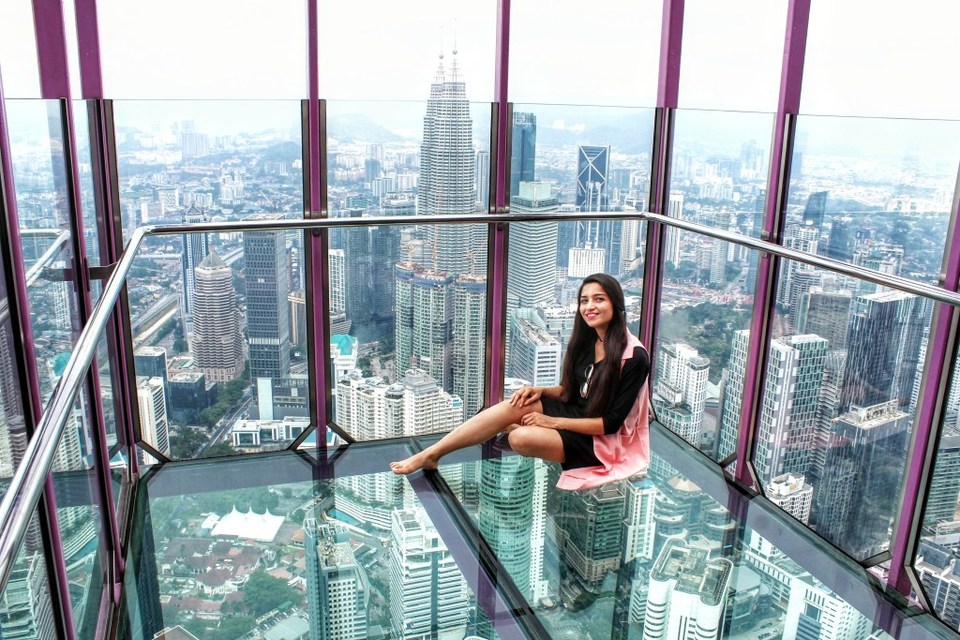 The last spot that I chose from the combo was to see the upside down house. I have always seen so many fun pictures of upside-down houses that's why I wanted to see this place myself. The house is designed with real size and has everything inverted to make you feel that you are on the ceiling when taking photos. I am sure everybody knows what an upside down house is.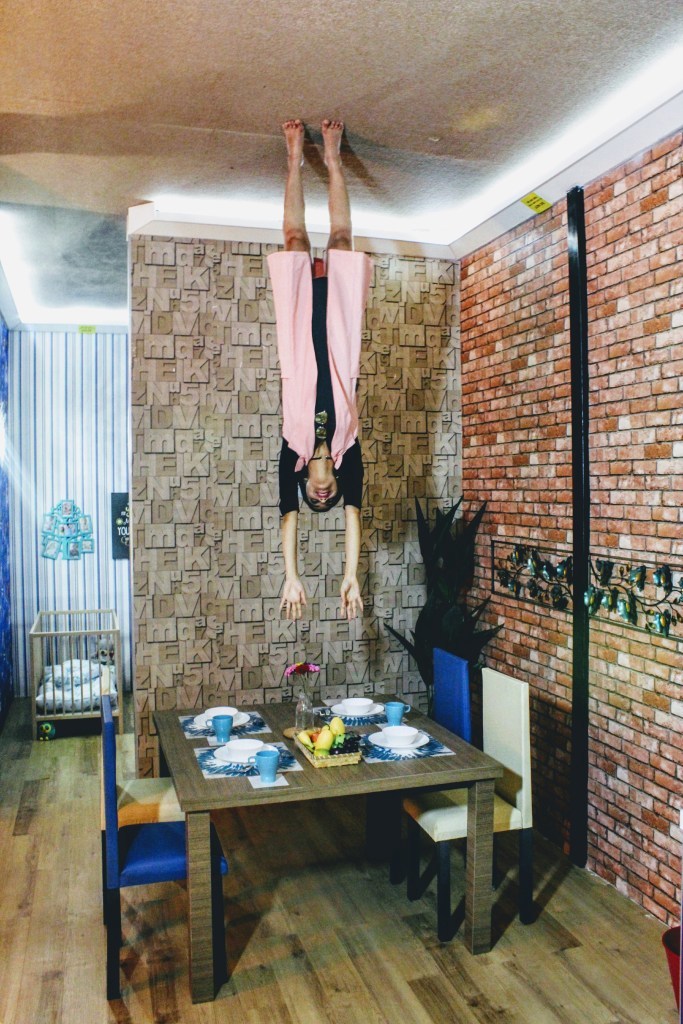 3. BATU CAVES
Batu Caves is one of the most famous attractions in KL. I recommend going early in the morning to avoid major crowd. These over 400 million years old limestone caves look beautiful from outside. The world's tallest statue of Murugan is located outside the cave. The steps up to the cave were a nice little workout. Beware of the monkeys here. Don't forget to dress respectfully or else they will cover you up with sarong with a minimum fee. Upon reaching the main cave area you will numerous shrines. This is a decent spot to visit once. There were guided dark cave tours too but unfortunately, they weren't open when I reached.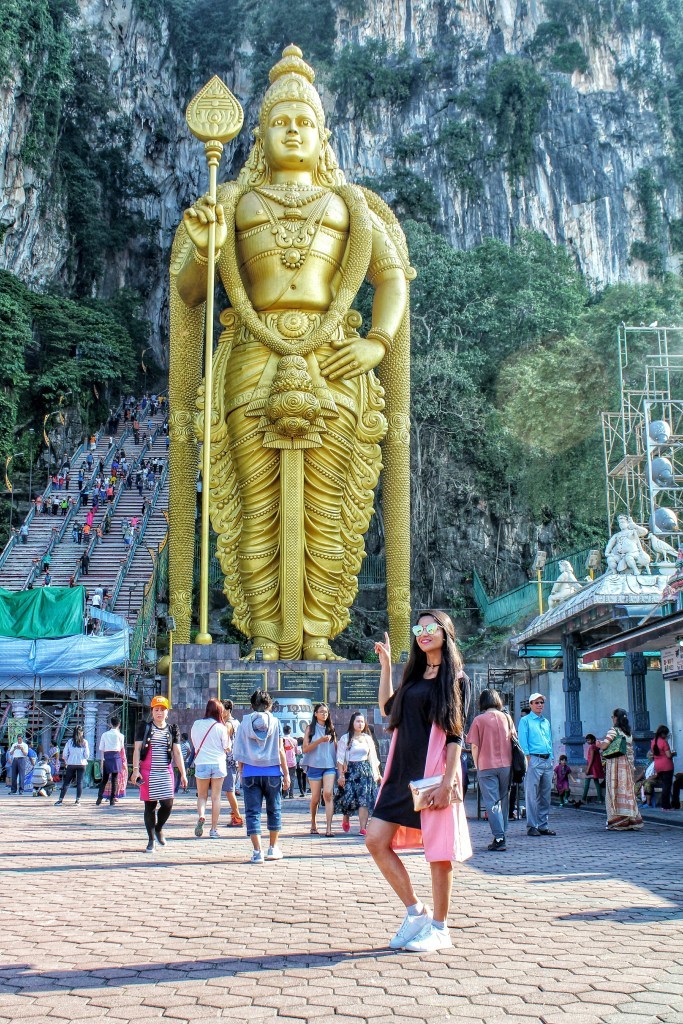 4. BRICKFIELDS
Brickfield also known as little India was given its title after almost 95% of the population in the area was deemed Indian descent. There isn't much to do here apart from food. I was fully aware that this place has nothing to do but I still went there to see one or two things. If you are from India, you can totally skip the place and if you are not from India, please don't judge India by this place. India is truly amazing.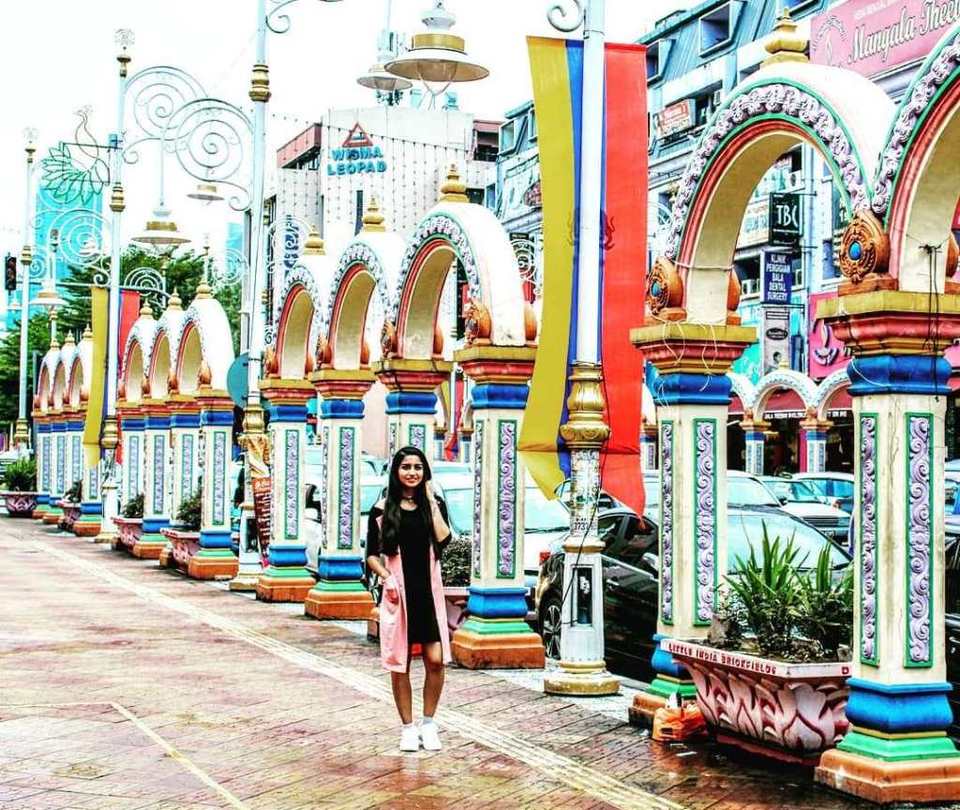 5. CENTRAL MARKET

This is one of KL's most familiar landmark and a popular tourist attraction to shop for handicrafts, batik, souveniers, antiques & much more. You can enjoy fish spa here too.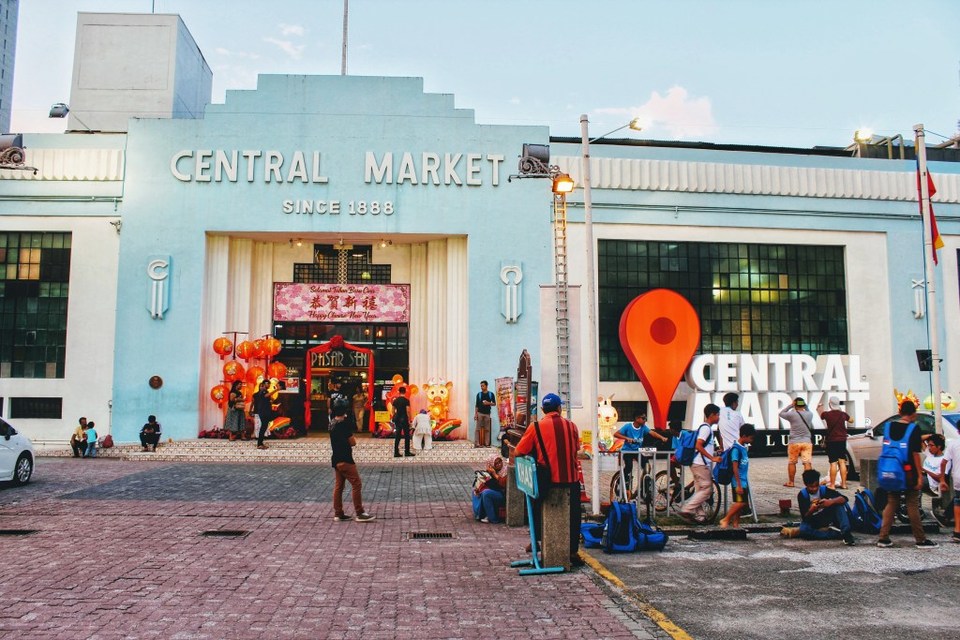 6. PETALING MARKET
A trip to KL won't be complete if you don't stop at the busy Petaling market in Chinatown. The reasons are simple: good Chinese food, shopping, and fun atmosphere. You can just stroll around the streets and have fun. Truly a Chinese feel in the market. Find first copies of many luxury brands for bags, shoes, and watch.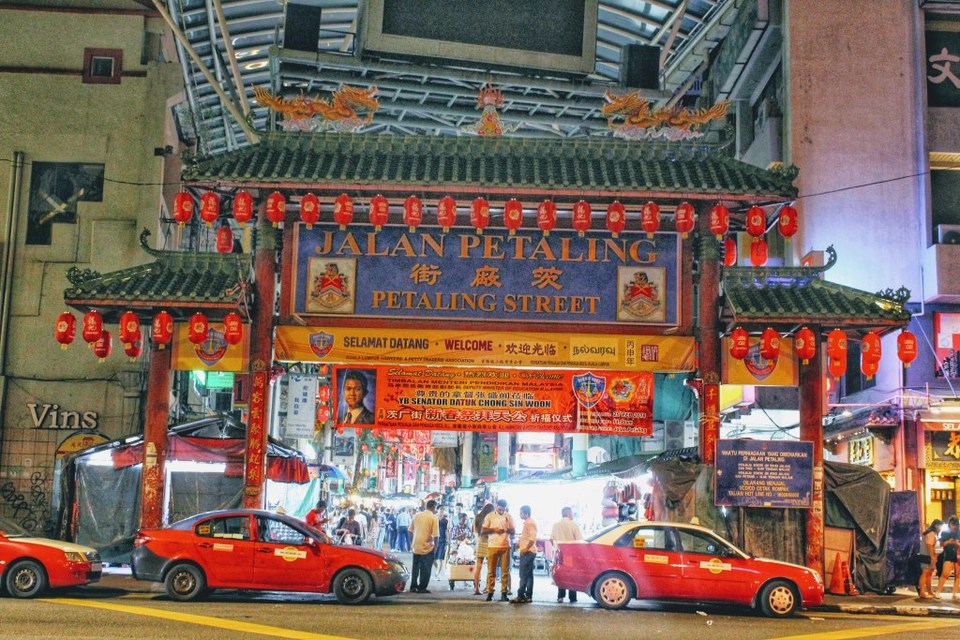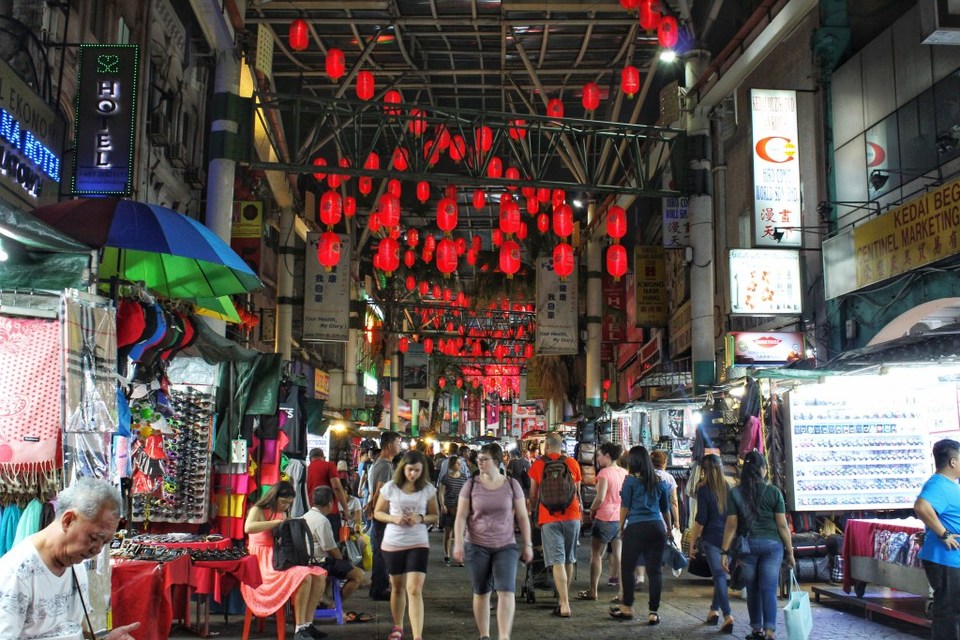 Hope you find this useful if you planning to visit KL. Let me know in the comments below if you have seen any of these places or if you can recommend any other place that I missed.
Until the next post. C Ya!! XOXO!!
This blog was originally posted on Suvarna Arora.
Follow Suvarna on Instagram for more!