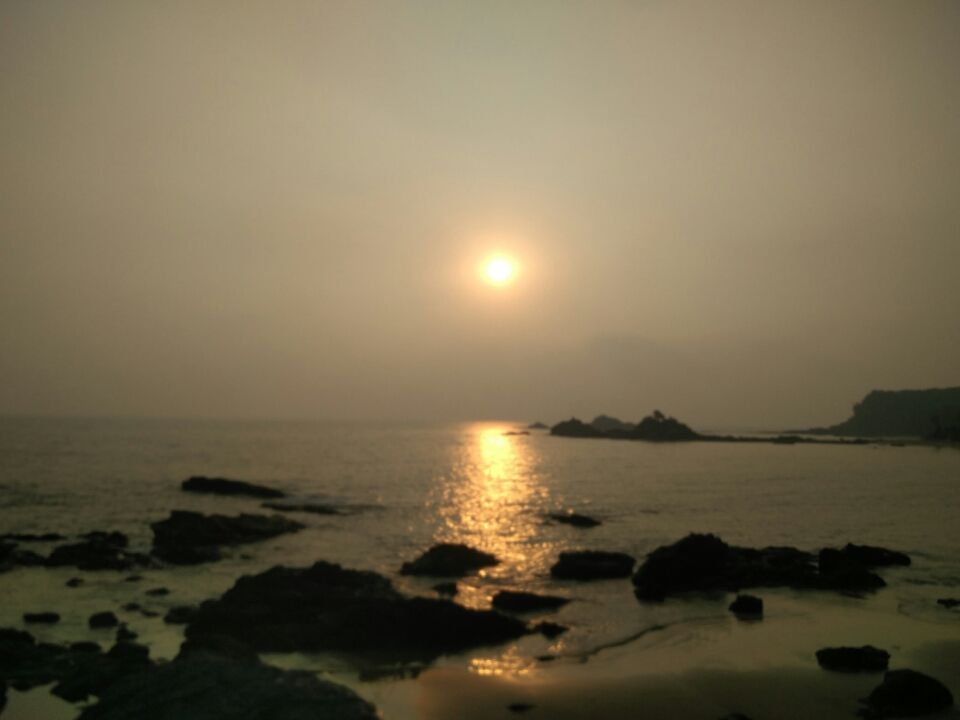 It was since few days that I have been thinking about going solo for a trip. I was in Pune and searching an apt place for solo travel nearby and then I chanced upon this place which is not very much far. Yes I decided to go to Gokarna for my first full-fledged solo trip.
I took a semi-sleeper bus from Pune on Oct 20 at 22.00 hours and reached Gokarna Cross the next day at 08.00 hours. Since this was my first time there so I didn't know what to do next. After getting down at Gokarna cross I asked a few localites about the location of the town and the famous Kudle and Om beaches. I was advised to take a local bus to Gokarna bus stand since it was a good 10 kms away from that place. Avoid the autowallahs there as they charge you exorbitant fares.
After reaching Gokarna bus stand, I took an auto to the world-famous Om beach since it is a good 8 kms away. I reached at the beach around 1000 hours and after enjoying the light breeze there went to the famous Namaste Cafe for some paet-pooja. After killing my hunger I walked on the beach for sometime and enquired about the beachfront shacks. Sadly, the shacks were not there and are to come up after Diwali. I could also see people of foreign origin coming with their own stuff to setup camps.
After that I went to Kudle Beach to check whether shacks are available there. It was a 20 minute trek and after reaching there I heard the same after-Diwali shack story. Nevertheless, l checked rooms in 2-3 lodges and finally settled for one. It was around 1130 hours and I was feeling tired like anything. So I jumped onto the bed and slept for 2 hours.
I was at a cafe for lunch at 1500 hours, had Chinese cuisine with beer.
At 1600 hours, I left for Om beach as I wanted to capture its shape. It is so named as it is in the form of Om. I walked through the Om beach from one end to the other. A lot of foreigners were relaxing, playing Frisbee, etc. I trekked for a short while to reach an elevated place from where I could take the photo of the beach. I finally could take a few. Next I got down and enjoyed playing Kabaddi with the waves (This line taken from the teaser of the movie Dear Zindagi). Finally enjoyed the sun set from the famous Dolphin Cafe. Trekked back to Kudle Beach and had dinner there with ale.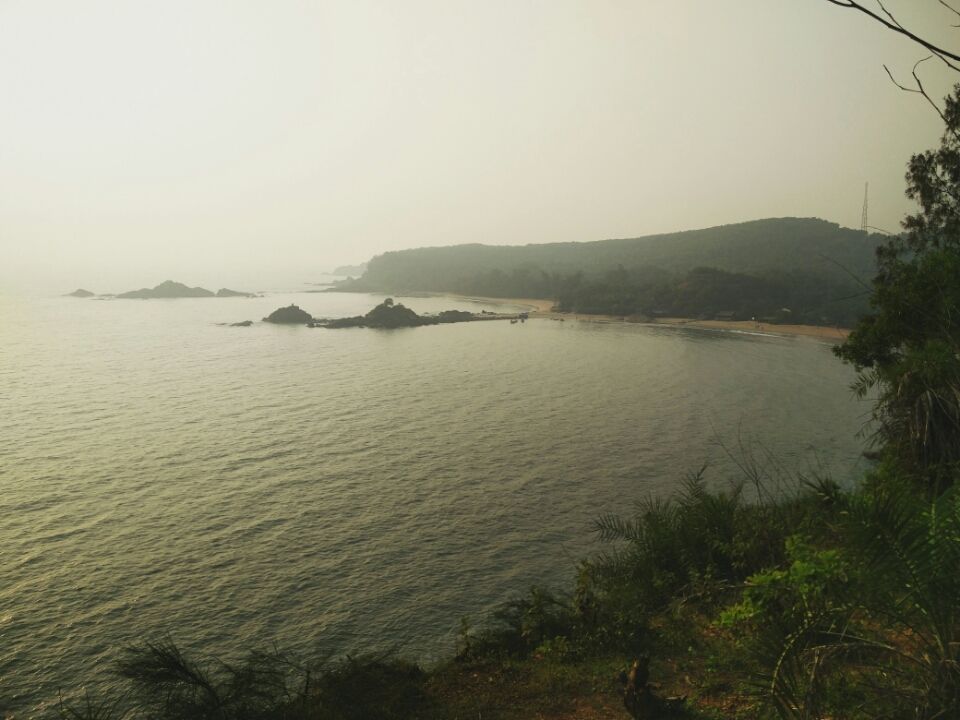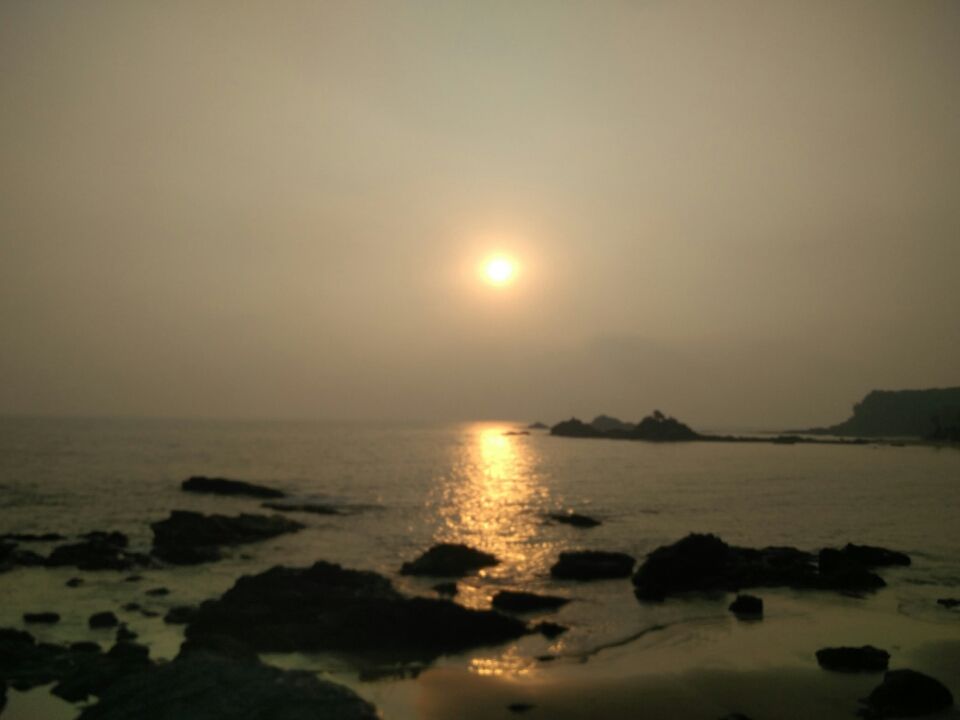 Woke up at 0500 hours and went to Kudle Beach. Not a single human was there along the entire stretch of the beach. But to walk through the waves and playing kabaddi with them was all I wanted. I went back to sleep at 0630 hours after enjoying my time with the beach. Again woke up at 0900 hours, got ready, had breakfast and was off to see a large Shiva statue in Murudeshwara. I don't go to temples but just didn't want to miss the glimpse of Shivaay.
Walked till the Gokarna bus stand from Kudle Beach. Then took a bus till Kumta as direct bus to Murudeshwara was not available at that time. From Kumta, I took another bus which dropped me at Murudeshwara Cross. At the cross while waiting for another local bus, an unexpected companion came from nowhere. His name was Ibrahim and he was a truck driver. He said that he passed through the highway many times but never went to see the statue of Shivaay. I asked him to Hop on the bus. We went only to the statue and I asked him to click a few photos of me with Shivaay. A shooting of a Kannada movie was going on there and Ibrahim got busy at watching the shooting. So I left him to enjoy what he wanted. Came back the same way via Kumta. By the time I reached back it was 1730 hours. The entire remaining day I spent playing Kabaddi with the sea.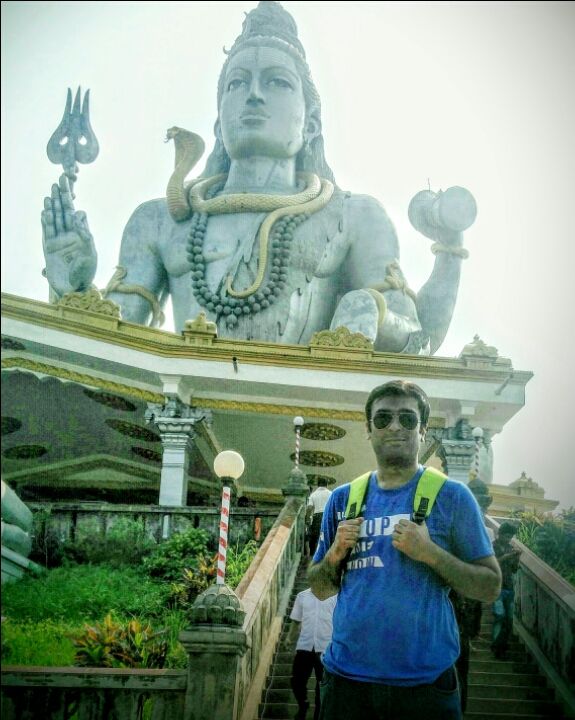 Today I had to do beach trekking for which Gokarna is famous for. There are two more beaches to which beach trekking is possible - Half Moon beach and Paradise beach.
After having breakfast I checked out of the lodge and with 5 kg bag on my back I started my trek to Half Moon beach. I walked for 3 kms on the road till the place from where the trek trail to Half Moon beach starts. The beach was still 2 kms away but as I started the trek the path kept on getting narrower and narrower and narrower. There was no one on the trek trail apart from me. People prefer going by boat to the beach. Only one auto wallah I encountered during trek and I asked the directions as it was through the the jungles and no one else was there to guide. After a long and gruelling trek, which initially seemed a cakewalk, I reached the famous Half Moon beach. A small shop was being run by the localites and around 8-10 tourists, half of them foreigners, were splurging on the food which was available. On asking a localite, I came to know that the beach was so named as it is in the shape of a half moon.
After Half Moon beach, I took a boat to the Paradise beach as I could not find a way through the jungle. The boatwallah was happy to take me along a family he brought as he was getting some extra bucks. The Paradise beach was a very small beach and I was one of the three Indians there, the other two being the boatwallahs. The foreigners were taking tan, swimming in the sea or sitting under the tree shade. I relaxed there for an hour and a half. After that I took a boat to the Om beach. I was at Om Beach around 1630 hours and I ended my trip with some ale at the Dolphin Cafe as I had to catch bus at Gokarna cross at 1900 hours. After doing some paet-pooja at Dolphin cafe, I went to the Gokarna town market, did some window shopping and took the local bus till the highway form where I could catch me Semi sleeper bus back to Pune.
All in all, it was an enjoyable solo trip. A lot of things I could have done I know but for a beginner I think I made the trip as enjoyable as I could. Moreover I again wanted to visit Gokarna and I have decided to go to a new place every weekend because I have realised that traveling is life.
Thank you.