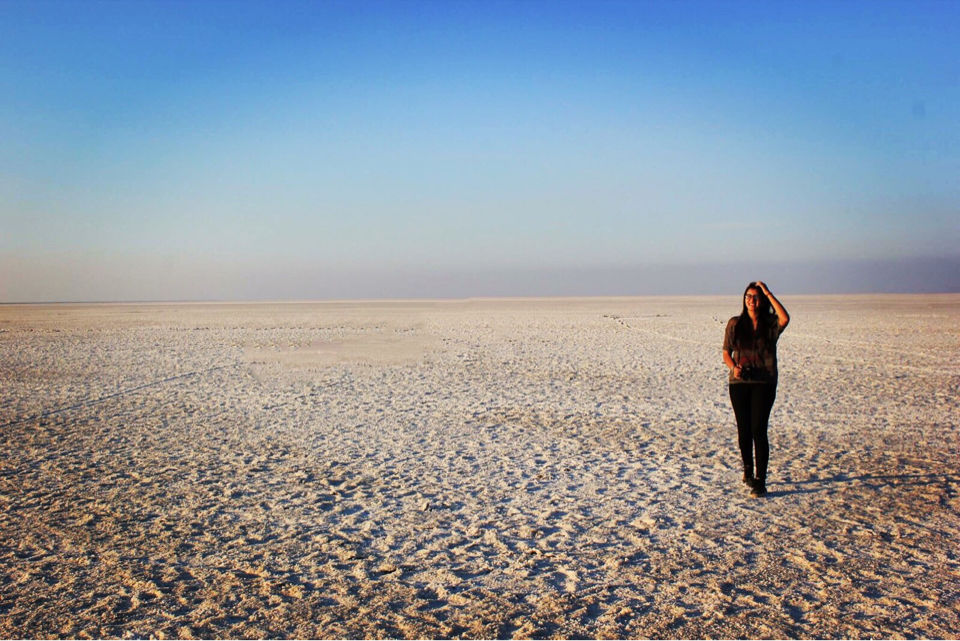 The Great Rann of Kutch is a seasonal salt marsh located in the Thar Desert in the Kutch District of Gujarat, India and the Sindh province of Pakistan. It is about 7,505.22 square kilometres (2,897.78 sq mi) in size and is reputed to be one of the largest salt desert in the world.
My trip to Kutch was instantly planned and is best one till date.This trip was special for two reasons. One, I had a thing for white desert even before I saw Mr Amitabh Bachhan promoting this in GUJRAT tourism. Second, this was the first time I dropped the idea of solo trip and planned this trip with someone. And I was going there with a friend whom I never met before. Travelers are connected through their souls and so were we.
DAY 1. 30 Dec ,2015 After a delayed train we reached bhuj station by 2pm and missed the bus right in front of our eyes which we were supposed to board for Rann Utsav. Fortunately, proper arrangement of waiting hall and washrooms was made where we were to wait until the next bus came. We till then went to a nearby dhaba in bhuj had our lunch and came back to the waiting hall. After waiting there for almost 3 hours we left for dhordho tent city which took us an hour to reach there. We checked into tent city. When we found the tent( J-56) it exceeded our expectations. Our first activity was White Desert visit. We used as much time as it is required for dumping the bags in the room. Then we headed towards the main gate to get into camel carts which were provided on first come first serve basis and we didn't want to miss the chance. After reaching at the main gate of dhordho tent city we saw 7-8 camel carts which were yet to be filled. We both relaxed and smiled looking at each other. We got into camel cart,passed the Dhordo tent city on our way to the white desert. Right after crossing the BSF check post, you haven't leave the road (check for tyre tracks on the left side) and drive through the desert. Yeah you heard it right - Off-roading!!! So SUVs are highly recommended. OurCamel cart ran through the vast expanse effortlessly, making its own road and leaving a cloud of sand behind it. (In case you don't get off the road and continue straight, the road leads to India bridge and the Indo-Pak border.) Cars are permitted only till the point. After that there is the White Desert and there are your two feet - as far as they can take you.
We had reached there at the perfect time - an hour before the sunset. The sun was still blazing, but we couldn't spot much whiteness around. This was so different from all the snow white pictures of Rann that I have seen. There were people around though, a little too much to spoil the mood and all the photography attempts. We had to leave the group and walked further inside. The more we walked inside the more white the land became. We walked more than a mile or so, till the salt layer was almost 3 inches deep. The sun has set by then. But there was still daylight. And it was snow white all around, just that it wasn't snow. We stood there for a while, clicked few pictures and walked back towards the group. Got back into the camel carts and headed toward the tent city. After a day long journey in train we were tired. We relaxed for sometime in the tent and headed to the dining hall. Post dinner, we took a walk through tent city.It was 2 days past full moon. Wishing that I could see a waning moon I looked up. I couldn't see a moon, but what I saw was jaw-dropping. An infinite black sky with more stars and constellations than I had seen in my entire life was spread out above me. Wasn't it the same sky that I see in Mumbai or Delhi or Jaipur.Wonder how I never saw so many stars in those cities or at my hometown? Or was it a desert thing? The starry sky seemed to merge with the unending dark horizon. We sat there silently for sometime looking up at the sky.It was getting colder but somehow it didn't matter. The entire universe was staring down back at us-twinkling. And there was absolute silence and a perfect company. 'The silence that is in the starry sky' in the words of William Wordsworth. Then phone broke us out of our reverie and shattered that silence too.
But those moments of silence away from people were peaceful. We got up and walked back to our tents as it was late already.But "That place made me dream. Dream beyond infinity." And trust me you would feel every bit of it when you'll visit the Great Rann of Kutch.The Land of the White Salt Desert and exquisite art and craft, KUTCH is a quite HEAVEN.If you are looking for lots of colour, peace,flaming flamingos, flying cranes and different migratory birds, then KUTCH, GUJRAT is the IDEAL Place for you.
The white desert comes alive under the moonlight and the unending horizon merges into the moonlight. Rann Utsav is held every year from Nov-March. I would suggest everyone to must visit Great Rann of Kutch once. And It'll attract you again & again everytime you'll plan a trip. PS:- This article is solely dedicated to a evening Rann of Kutch. The rest of the journey will be documented in a separate post.
So what are you waiting for?
HURRY! You can suggest your loved ones and everyone you know has wanderlust in her/his veins a visit to white desert.
Will update more in my next story of Rannutsav.
For further details:- anjalisahrawat21@gmail.com