Ladakh has always fascinated me. As part of the Indian army family, I have grown up on stories of this area. My dad also has a few anecdotes from the time he was in Leh and how he and his mates managed to have fun even through the harsh climate and the hardships. The stories get more entertaining with time.
But what kept me from planning a Leh trip was that I wanted to spend a couple of weeks to cover everything I had on my bucket-list. So when the stars aligned, August had enough holidays for a longer trip. Two of our good friends also agreed to join us for this epic journey.
After a pit stop in Delhi to meet up with friends' families, we took a direct flight to Leh. Ladakh is also connected by road with Manali and Srinagar and a road trip by either route is a memorable experience.
As I stepped out of the plane, I was speechless. I have seen my share of mountains, but the grand snow capped mountains of Ladakh tell a story and I was hooked on.
Leh, the capital city was founded in 14th century and was pronounced as Sle or Gle but with time started being called "Leh" by Moravian missionaries. I recommend spending atleast two days in Leh city to acclimatise well before journeying further inside to the beautiful lakes and valleys.
Shanti Stupa
A symbol of peace offering beautiful panoramic views of Leh city surrounded by mountains. Sunrises and sunsets provide the best views.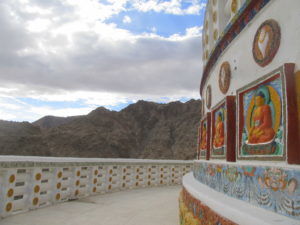 The stupa is lit up after dark and is the perfect place to find your inner peace.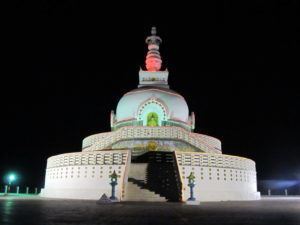 Spituk Gompa
Ladakh has many beautiful monasteries and in most of them you need to sweat a bit to reach the top. But all the exercise is worth it as without exception, the panoramic views from the top are fabulous and vouch for great photography.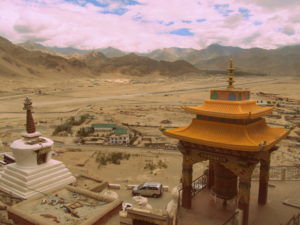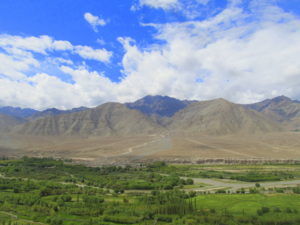 Do ensure you visit as many monasteries possible as they give you an insight into the Buddhist culture and way of life of the monks and people living in the monasteries.
Hall of Fame
This is a military museum which documents various operations in the region and the superhuman courage of the Indian army. It is a tribute to our fallen heroes and includes a war memorial. The museum also displays the history and culture of ladakhis and their relationship with the army.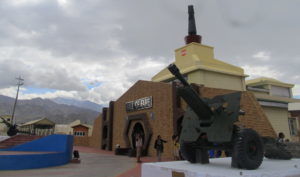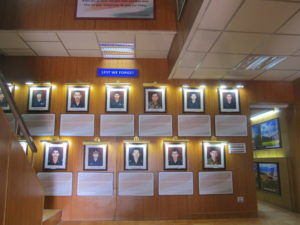 I was inspired, nostalgic and proud of our forces who sacrifice so much protecting us. There is "Beating Retreat Ceremony" by the army while lowering the flag and a very moving light and sound show is screened every evening.
Leh Royal Palace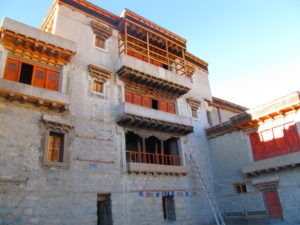 The Leh palace is a distinct nine storeyed fortress that is easily accessible through the bazaar road. It was built in 16th century and was vacated by the royal family when they had to move to Stok palace on being attacked by Dogra forces. The palace architecture is influenced by Tibetan architecture and is made up of mud, sand, wood and stones. The Victory tower above the palace commemorates the brave Ladakhi soldiers who fought invaders in 16th century.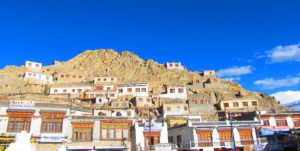 Gurudwara Pathar Sahib
This Gurudwara is located at 25 kms from Leh on Leh Kargil road and has a folktale associated with it. Guru Nanak, the founder of Sikhism, is very well respected in Ladakh and Tibetan Buddhist consider him a saint. Guru Nanak had stopped here to rest on his way back from Tibet, Nepal and Sikkim in 1517.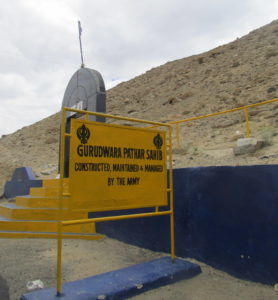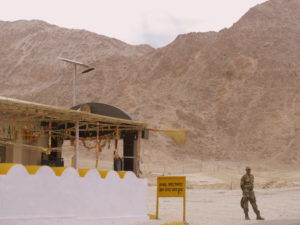 According to local belief, there lived a demon on the mountain opposite to the gurudwara and he used to trouble the locals. He saw the Guru meditating and hurled a huge boulder at him to kill him. When the boulder touched Guru Nanak's body it transformed into soft was and his body got imprinted in it. Having believed that the Guru is dead, the demon climbed down the mountain. But on seeing the Guru unharmed and still meditating, he realised Guru's divine powers and pledged his obedience to him.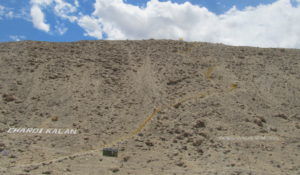 The boulder with Guru Nanak's imprint and the demon's footprint is sheltered by the Gurudwara. A trek up the mountain is a must for a great view of the barren mountains and panoramic beauty.
Magnetic Hill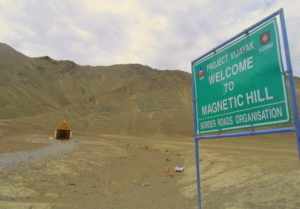 I was fascinated by the phenomenon at Magnetic Hill and the legends tied to it. This small stretch on Leh-Srinagar highway appears to be going uphill however if you put your vehicle in neutral in the box marked on the road by BRO it moves ahead instead of going back downhill.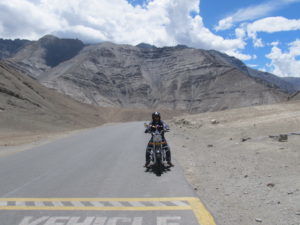 The locals believe that the mountains have so much of magnetic force that they can pull the vehicles uphill. Some also believe that the road is a path to heaven and only the deserving ones get pulled uphill. I was intrigued to find the right answer and once I had network, Mr Google answered - Optical illusion.
Sangam Point
A few kms ahead of Magnetic Hill is the meeting point of Indus and Zanskar river and the world's highest rafting point. There are many options for the rafting routes depending on difficulty level and time. Cost ranges from Rs 1500 to Rs 3000 (under $50)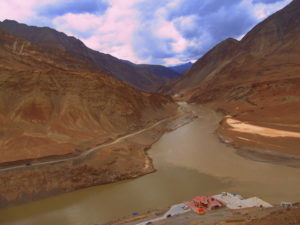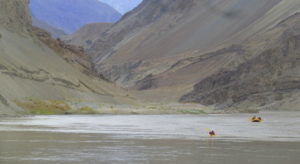 The beauty of Leh is in it's magnanimity, it's ruggedness and it's honest to god people. The Ladakhis are very friendly and will happily share a tale or two with you. We made many friends on the way and their contentment and simple way of living humbled us.
Read more such travel stories of popular or less explored destinations at MySoulTravels and get inspired.