During our recent ride to Ladakh during The Himalayan Sojourn 2.0, there was this one absolutely amazing incident that happened which made that day one of the most memorable days of our lives :)
After reaching Pangong Tso, we decided to avoid the usual road back to Leh over Chang La and instead rode further along the lake to take an alternate route to reach the other beautiful lake- Tso Moriri.
It was a 20 km ride to Merak, a small village with probably less than 10 houses! This 20 km ride was on just a dirt track alongside the mesmerising lake. We only got to see 4-5 cars on this entire stretch that took us over 2.5 hours to cover! But none of us complained about the condition of the track, for it gave us the most spectacular views we had seen all our lives, wild horses running alongside us, umpteen water crossings, green pastures & mountains in every shade imaginable!
Lost in this beauty, our group got split into two! While a few of us had reached Merak village by 10 am, till about 4 pm the other group was not to be seen! One of the bikes had gotten stuck in waist-deep water and it took hours to dry out the water from the bike! Finally all chaos was sorted and together we started towards the little village of Chushul. Our initial plan was to reach Tso Moriri, but now that was not going to happen.
Chushul was 25 kms from Merak, and Tso Moriri was 170 kms further from there! We decided to just ride on till sunset and figure out a place to stay!
We reached Chushul during twilight and the temperature had started to dip already. We inquired about places to stay there, but there wasn't even a single home stay, hotel or dhaba that could accommodate 11 of us. As we were beginning to realise that we were pretty badly screwed, two gentlemen walked up to us and asked what we were doing there at such an odd hour. They turned out to be the CO and Captain of the ITBP in Chushul. They offered their campsite for us to stay the night, and we happily agreed!
Upon reaching the campsite, we were greeted with hot tea and biscuits, and the CO showed is a mountain standing tall in front of us, and went on to tell us the story of the legendary Rezang La battle. (I won't get into that story of bravery of our men at this point, but you could read it in details here). After tea, they showed us to our place of sleep, an old bunker (which, if I correctly remember was used by the Force much before our Independence!!). Still overwhelmed that we were even present in this camp, seeing the bunker gave us all goosebumps! We knew this was a once-in-a-lifetime experience! And that, it was!
We were offered dinner, and after strict instructions asking us not to get out of the bunker for any reason during the night (as we were being watched by the Chinese) they said good night and left us. We slept in sleeping bags that are the ones they send up to Siachen Glacier for their men!!! :D
The next morning, we had tea with them and left early, paying our respect at the Rezang La memorial enroute :)
They had saved our lives the previous day, and we couldn't thank them enough for that! And we cannot thank them enough for saving our lives everyday, standing there safeguarding us, so millions of us can sleep in peace! Respect!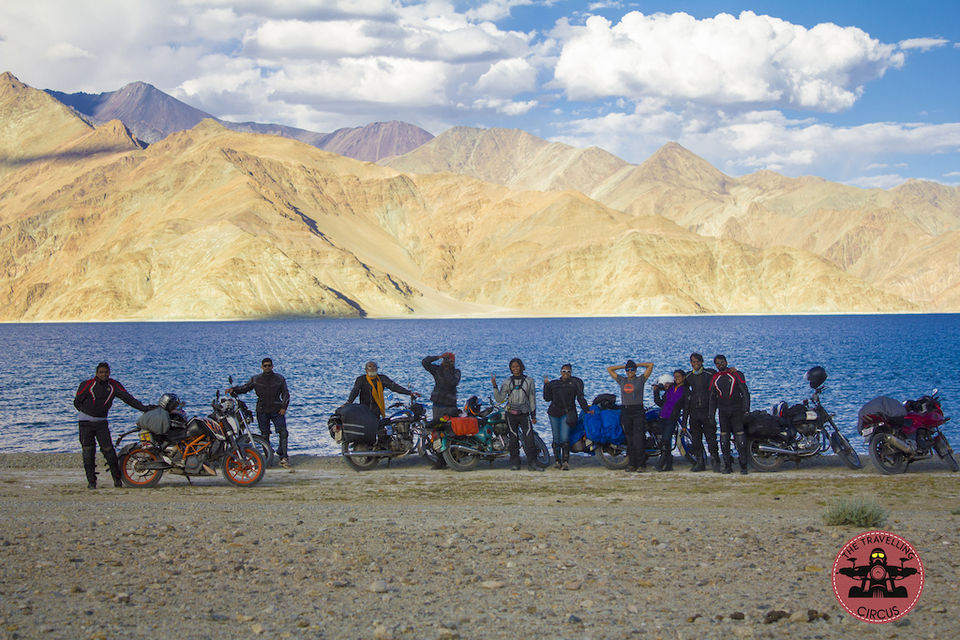 I hope you enjoyed reading this story! Do let me know what you think about it!
PS: If you are planning on doing this route & need any help, I am just an email or call away :)