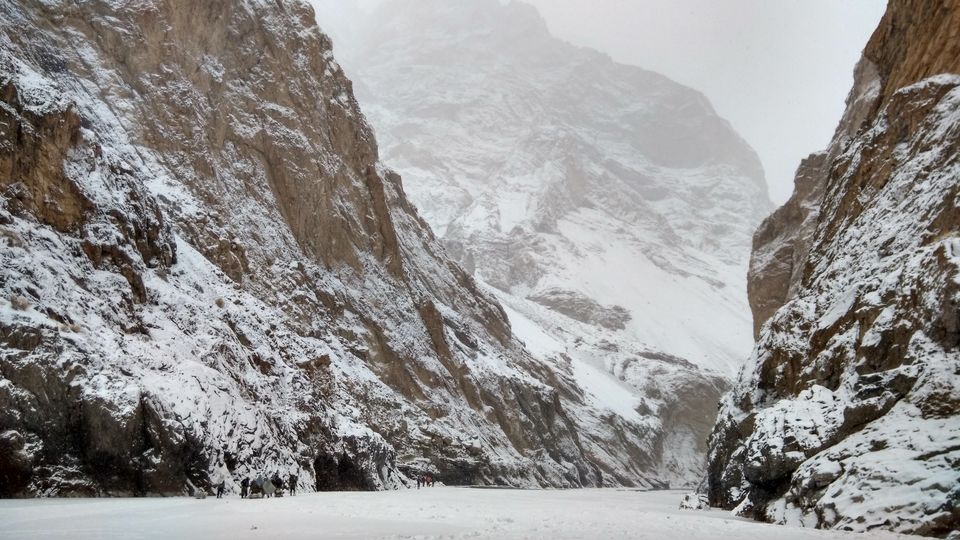 Chadar is a popular trek not just among Indian trekkers but it has become popular with international adventure tourists as well. Its a winter trek, when the temperature during Jan-Feb drops to -30 to -35, trekkers walk on frozen Zanskar River. It is undoubtedly one of the most glorious trek in India. As exciting it sounds it is really challenging at the same time.
While talking about the winter snow trek, I never understood the seriousness of big terms like high altitude sicknesses or hypothermia till the time I heard about the deaths at Chadar caused by hypothermia. So I thought of mentioning few lessons learnt at Chadar and things you should consider before going there.
A Big No for First time trekkers:
If you think, you have done few local treks or you like trekking or your friend has done it, these reasons are not enough to do Chadar trek. It's a high altitude trek, having altitude of 11,400 ft and it has its own set of challenges. This was my third Himalayan trek and I have been trekking since 10 years now but I still can't compare it with any of treks I have done. Surviving this temperature is a real challenge, person needs to be not just physically but mentally fit and prepared.
After Reaching Airport:
Keep your gloves, jacket, cap handy before you get out of plane, as it would be the first time you will be exposed to that temperature. As this was my lesson learnt, I kept my jacket in main luggage as it was heavy and when I got out of plain I was in sweatshirt in that freaking cold. Don't do that mistake, it may cause hypothermia.
Acclimatization is must:
Trekkers are supposed to have 48 hours of acclimatization before they go on the trek. Even if you are not going for Chadar and landing in Leh in winters, it is recommended to stay inside hotel for 12 hours, as your body takes time to adapt the drastically changed temperature. Some of you might experience headache and may feel sick on first day, but take rest, have food and lots of water, it gets fine next day.
Orientation:
Choose the organizer who has good experience with treks like this and having expert people with them (You can also cross check with people traveled with them). Pay attention to every instruction at orientation. We had a guy named Gatso with us who is localide from Leh, he had volunteered for Indian Army in Siachen Glacier and has huge experience in surviving extreme weather. He briefed us about every small and big thing about Chadar, instructed us throughout trek and we listened to him no matter what. But despite experienced people, danger of high altitude trek does not go away, ultimately you need to help and take care of yourself.

Don't carry a load:
As you are not going to take bath while on Chadar, so you don't have to carry much weight. Important stuff you can carry with you is eatables (dryfruits, glusoce, energy bar), warm cloths, your gears, water bottle.
Gears:
Most of the gears needed for Chadar can be brought from Leh market.
The image shown below are the Gum boots, which are recommended to use on Chadar. You can easily get it in Leh market just for 400-600 Rs. so you don't have to carry it all the way from home.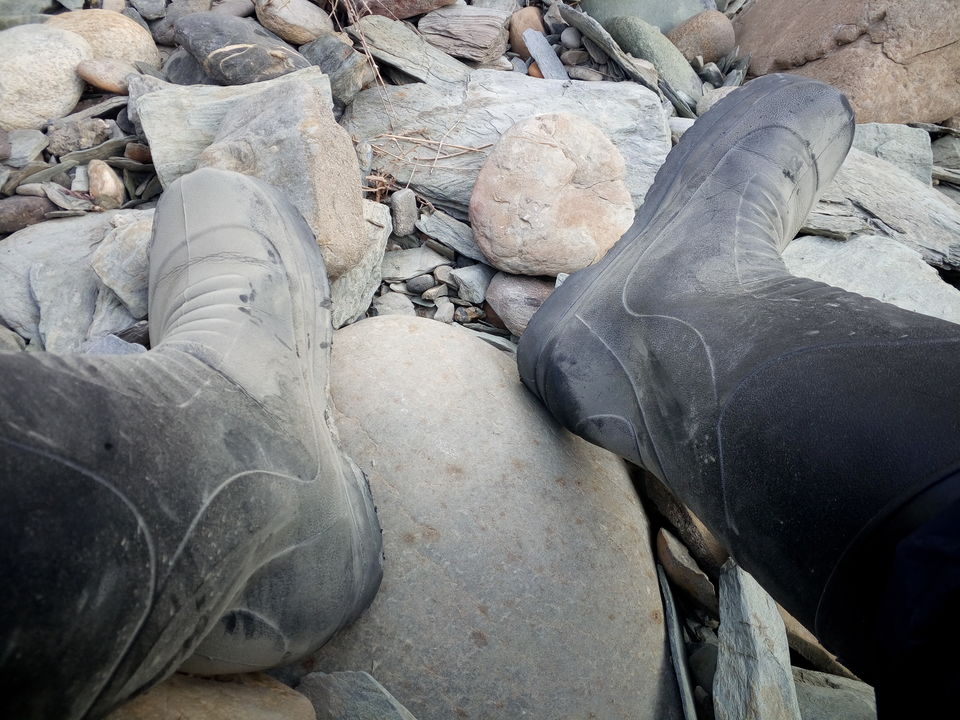 Other required gears are :
Jacket: As this would be the outermost layer on your body, it should be windproof and waterproof.
Hand glows & liner: Its better if you buy waterproof hand glows and liner is inner layer of hand glows.
Warmer or thermal: This will be the innermost layer you should wear, between thermal and jacket you can wear 3-4 layer of warm cloths.
Water resistant: You can get these pants in Leh they are water resistant outside and having fur inside.
Sunglasses: While trekking in snow you need to have good sunglasses to prevent snow blindness. snow is highly reflective of ultraviolet radiation. In fact, snow can reflect more than 80 percent of the UV rays that fall upon it. At high altitudes, where the sun's UV rays are stronger it may cause snow blindness.
Balaclava and cap: balaclava is a form of cloth headgear designed to expose only part of the face usually the eyes and nose.
Socks: Most of us brought socks from Leh market.
Sports shoes / any shoes: While you are in Leh it is recommended to wear sports shoes with warm socks. Floaters and slippers are not recommended here.
Stay Hydrated:
In winter we find it difficult to keep ourselves hydrated, but trekking in high altitude can be physically more challenging. Have soup, tea, coffee, glucose, flavored electral whatever makes you consume more water. One more important thing, for water you need to carry insulated container, ie thermos.
Skin care:
Carry wet wipes, cold cream and sun screen with good SPF. Yes you have to use cold cream and sunscreen at the same time. For lipcare "Boroline" is tested and verified in Leh all the other lip care failed.
Leave no traces:
Chadar is a very rare phenomena, we travel or trek so far so witness natures wonders like this, it is our responsibility to keep the surroundings neat and clean. Carry your litter with yourself.
If you have any doubt or suggestion, feel free to comment below.
Stay Safe and Travel responsibly. Happy Trekking. :)