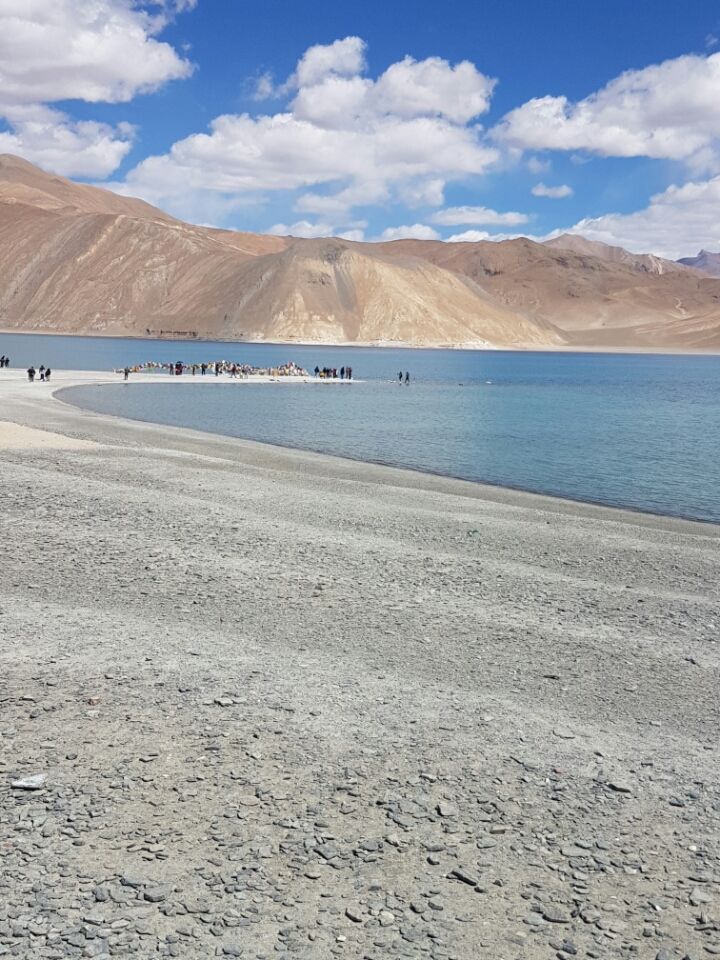 28th Septemeber

0600 hrs I was up. After a quick loo call, stepped out to the balcony with a cup of coffee. The air was crisp and cold, tempting me to spike my drink with something headier. Had it not been for the journey, I would have. Post checking emails and messages, posting the previous day pictures on social media sites, did a final bag check based on my cross examination of Arjun.

Image result for leh to pangong lake road mapNo good loos on the way, so pack a roll of toilet paper, bacterial sanitizer, soap, anti-diarrheal medicines, motion sickness medicines, dry snacks including chocolate bars. I knew that 30 km of the road from Leh to Karu was great. Rest of the 120 km was "not bad" or at least not as bad as the Khardungla - Nubra road. I must confess that I hadn't done my homework as well as I usually do to be confident. My belly was sending out mixed signals, worrisome actually.

By 0730 hrs we were both ready for the trip and breakfast. Had to stay light, so picked up whatever appeared to conform. Fruits and juice and a bit of cheese. After consuming it, I thought... just thought that it was possibly a big mistake. The waiting staff having discovered that we were off to Pangong, packed up a hamper from the breakfast buffet as we had hardly touched anything at all. The thoughtfulness more than the hospitality at this hotel really touched my heart. At 5 minutes to 8, I got a call, it was Arjun, he was outside. Now, that worry was ticked off from my list.

"All good?" I asked. He nodded and said I should speak to "Haqqa" as Haq was addressed locally. Haq inquired if we slept well and well rested, and if there was anything that needed to be done while we were on the trip. I told him we should have dinner together and he was happy to accept. On our way, the first 30 minutes was a repeat of last evening, so I went into a light doze mode. We had to stop at Karu for submitting the permit. Arjun said that it  was the last stop where one could find a decent loo. What I assumed was a 5 minute procedural stop, turned out to be a wait of 20 minutes. Arjun was nowhere to be seen. When he showed up, I asked why the wait and he said something about the road ahead being blocked for traffic until 0900 hrs. I called his bluff as I saw other vehicles proceeding and he too got in, though a bit reluctantly. Haq would hear of this, I don't like being lied to.

The road condition was getting progressively worse, as was my mood. I could see road works being carried out, but that many patches of diversion and lots of mud and dust in the air. Normally, one would roll up the windows and turn on the air-con or heater as the case maybe, but in this vehicle, it was busted. Moreover, the sun rays had become strong enough to sting through the clothes. Some 10km and 20 minutes later we reached the village of Sakti. At this rate, I thought it would take longer than 5 hours to get to our destination. At Sakti, right enough, the road to Pangong was shut and the traffic was diverted to an alternate route. I say route because it was nothing but a dirt track going up hill. Windows had to be kept shut. If there was a meter to measure my angst, trust me, it would have been hovering around the danger mark. Fortunately, we were climbing and the temperature inside soon became bearable. 10 km and 30 minutes later, we were joined back to the Pangong Rd. This stretch looked well tarred and full of hope. I asked Arjun if the road from here on would resemble this surface? He responded saying mountain roads are quite unpredictable. Unlike the two days earlier, he wasn't in much of a talking mood. Maybe, bored of us, just as I was of the scenery outside. Nothing that was so exceptional for me to take pains to shoot.

22 km and 45 minutes later, we reached the military camp of Zingral. Arjun stopped the vehicle and ran to the loo. 15 minutes later he reappeared looking sick. Bad stomach he said. His disappearance at Karu could now be explained too. I gave him a tablet and asked if I should drive. He said, once we start the down hill track, he would let me drive. I discovered why soon enough. A km away, it was Khardungla all over again for the next 45 minutes covering the 12 km to Chang La (Altitude 17,500 ft 5,360 m), the supposed second highest motorable pass in India, if not the world. The climb is steep and the area an avalanche zone. That explains Mr. Arjun's "mountain roads are unpredictable" statement. Already behind time (it was 1130 hrs now), and still at half way mark (75km from Leh)I egged Arjun to drive on. There were patches of snow slush on the road, remnants the ice and snow that had slid down from a bit higher up.

Arjun drove another 35 km to Durbuk, from there, I took over. There was some 45 Km of driving left, with me at the wheel 1 hr 15 min max. The road was narrow, bad in parts, but that's exactly what an SUV is born to tackle. The test of the pudding was Arjun falling asleep on the rear seat. My wife would have failed me in a driving test. She kept yelling at me to be careful, reminding us we have kids at home. I told her to focus on the scenery ahead and take some pictures. The landscape had changed and we were in what resembled a cross a cross between the Grand Canyon and Mars. We passed through a 100 mt stretch that had just been bulldozed after being shut by an avalanche a day or two earlier.

At 1300 hrs, it was visible. Pangong Tso. My foot became heavier on the pedal and no amount of jumps and bumps could wake the baby called Arjun slumbering behind.

Finally, we made it. Spectacular is all what I could say. One has to be an idiot to this journey, but then it's worth it. Now we had to psyche ourselves to endure the 5 hours back.

A billion pictures, pee in an open to sky lav, maggi noodles and ginger lemon tea later, we hit the road. One could pitch a tent and explore the entirety of the lake. But that is for the serious adventurer. I could only set my clock backwards to take me back to Leh. Fortunately, the medicine and sleep had revived Arjun and he was back to his jovial self.

The way back was just the same, except that I switched places with Arjun in the sick bay. The altitude at Chang la got me and I puked the morning fruit juice and tea that had been the cause of it. Besides that adventure, and stopping for 15 minutes on the road to act as good Samaritans to a car suffering a flat wheel, the journey was uneventful. We made it back in 4 1/2 hours. Yippee! And, Arjun was rewarded for the same.

An early dinner with Haq recounting our adventure completed,  we were tired and wanted to just sleep. Next morning was a flight to Srinagar, and the situation there, was reported to be too far from normal. But the hotel had called and informed us that a car would be waiting to pick us up. So it could not be as bad as being talked about - right?