I had visited Leh last year on a brilliant 10 day trip and it was a trip like no other. There were many things that took my breath away but nothing was as inspiring and moving as visiting the Kargil war memorial. This post, written by my friend Srinidhi (fondly referred to as Bunny) and I, is a tribute to our ever courageous Indian Army.
26th July is celebrated as Vijay Diwas day across our country. Vijay Diwas literally translates to 'the day victory was won' and on this day, we would like to share our experience on visiting Drass war Memorial dedicated to the Kargil war. The significance of 26th July is that the Kargil war was officially won in 1999 and the Indian Army announced complete eviction of the Pakistani intruders.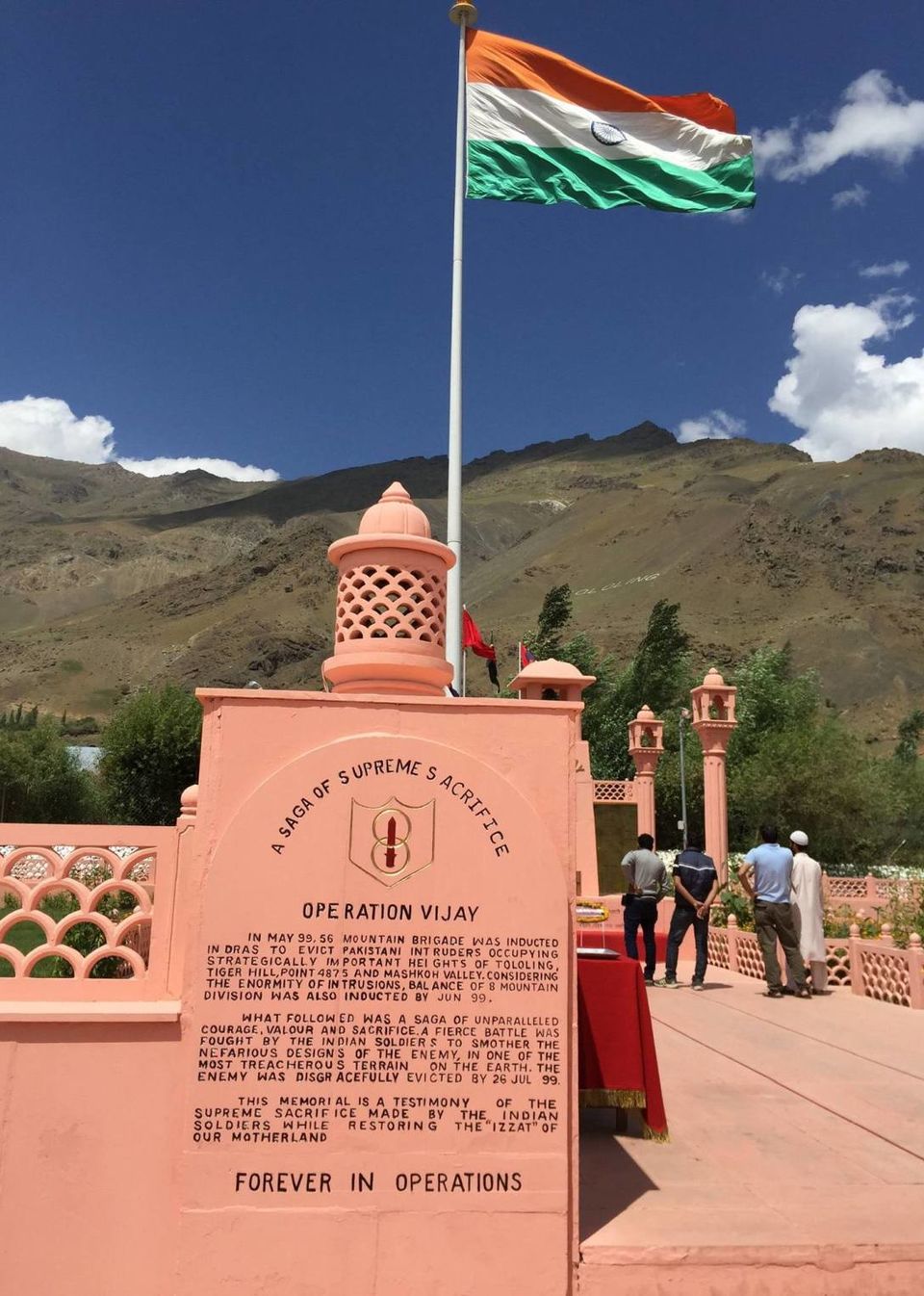 A brief on operation Vijay

16/8/2015 : After spending 15th August in Srinagar, under full security and bundh, we already had a slight awareness on the importance of border security. By lunch, we had reached Drass, and we were told that our next stop was at the Vijaypath (Path of Victory) war memorial. On the way to this memorial, we crossed the epicenters of the Kargil War : 1) The Tololing hill where the battle of Tololing was fought and 2) The Tiger Hill. Today, the Indian tricolor Flag proudly flutters on both these hills.
Our very sociable chauffeur showed us several shops with bullet holes in them and narrated how they've retained this, as a friendly reminder of the past. Whether or not his story was real, we still had goosebumps.
Each story we heard, each view we saw, left us bewildered. It was beyond our capacity to understand or imagine the adversities that our dear Army faced during this war. We were also told that during the battle, the weather was very uncooperative making things twice as difficult.
At the memorial, we saw letters exchanged between Lieutenants during the war narrating some terrifying and awe inspiring experiences. An excerpt from a letter written by Lt Praveen "But going into battle was a terrible and frightening experience. To motivate men to give their best and even their lives while you fight your own inner fears."
There were also, hundreds of tombstones, weapons that survived the war and names of the brave warriors under their respective regiments.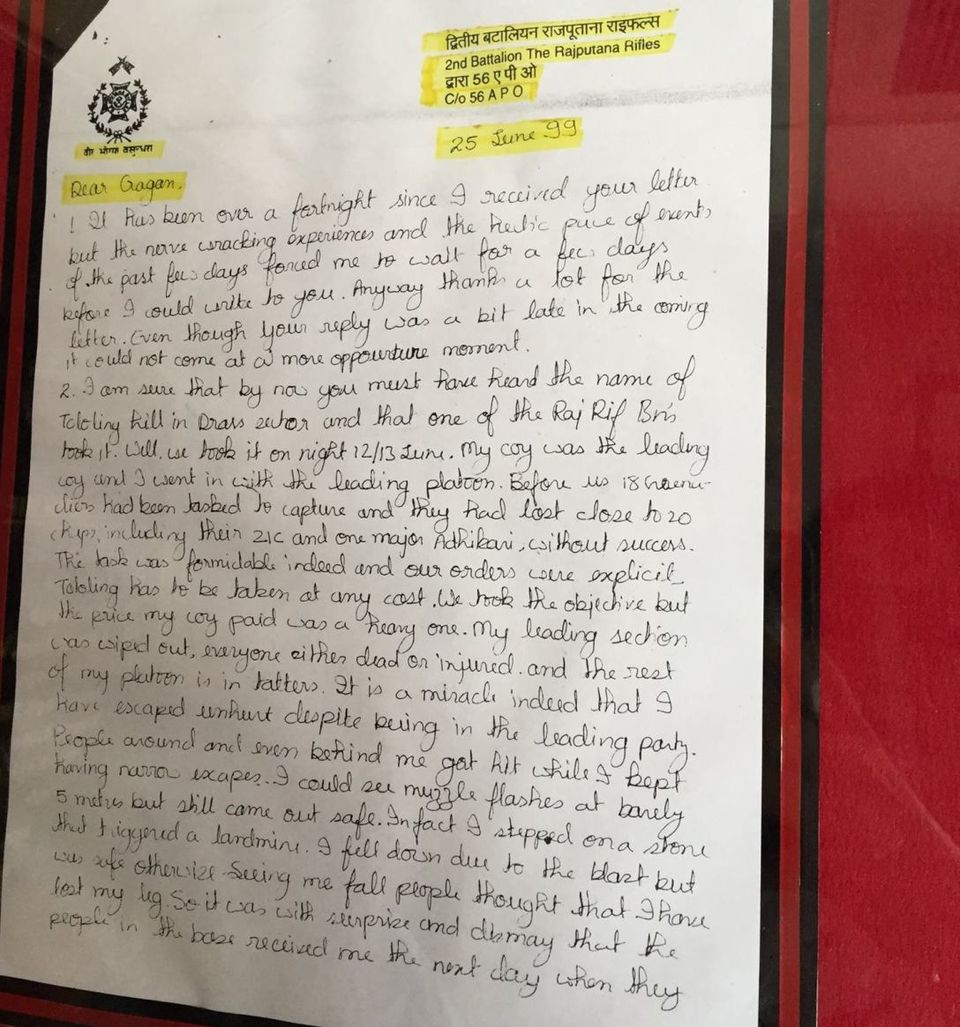 First part of an emotional letter written by Lt. Praveen
There was also a helipad dedicated to Late Captain Vijyant Thapar. During this Battle Vijyant captured a Pakistani position called Barbad Bunker Pt. 4590. Tololing was the first victory for Indian army on 13th June 1999 and it was the turning point in the Kargil War. This helipad dedicated to Capt Vijyant was inaugurated by this dear father. Please do take a moment and visit http://www.captainvijyantthapar.com/lastletter.html
After the successful capture of Tololing he spoke to his mother on V Sat telephone and proudly said "Mama we have captured Tololing".
The Helipad, the write up, the story of Capt.Vijyant and every other detail of the memorial gave us a million thoughts to think about in silence for a long time
As they always say, for our tomorrow they gave their today. Jai Hind.
Here is a small recap of the events in the year 1999 : Source : Wiki
1 June Pakistan bombs NH 1A that connects Kashmir valley to Leh and the rest of India
11 June India releases intercepts of conversation between Pakistani Army Chief Gen Pervez Musharraf, as proof of Pakistani Army's involvement
13 June Indian Army secures To Tololing in Drass and changes the course of the war. It was a decisive Indian victory.
15 June U.S. President Bill Clinton, in a telephonic conversation, asks Pakistani Prime Minister Nawaz Sharif to pull out from Kargil.
29 June Indian Army captures two vital posts: Point 5060 and Point 5100 near Tiger Hill
2 July Indian Army launches three-pronged attack (attack from three different sides against an enemy )in Kargil
4 July Indian Army recaptures Tiger Hill after an 11-hour battle
5 July Indian Army takes control of Dras.
14 July Indian Prime Minister Atal Bihari Vajpayee declares Operation Vijay a success. Government sets condition for talks with Pakistan
26 July Kargil conflict officially comes to an end. Indian Army announces complete eviction of Pakistani intruders
This blog was originally published on 'Dimpu's Travels'