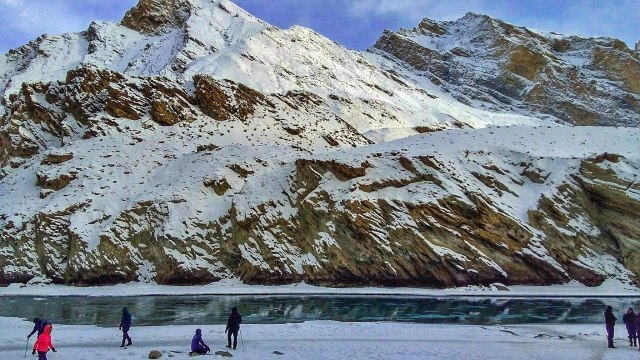 It was a radiant day. Sparkling sun was kissing the reckless stream of water, trying to flirt with her. Every time he kissed, it made my eyes blink several times. By now, I've realised that this fireball is in the romantic mood today and so is this wildly flowing river. I would rather care about my almost benumbed butt than gazing at their flirt game. I slowly got up and started walking carefully, like a penguin. Yes, that's what we were told, "you must walk like a penguin, when you are walking on glassy, doughty and solidified Chadar!"
Chadar trek is not about scaling the height, it is about the journey. Journey that may have started physically, but ends mentally.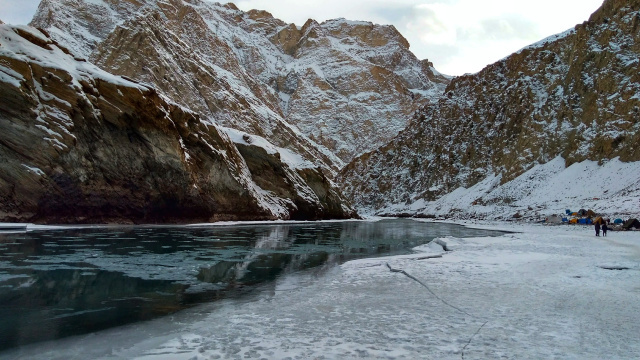 Why Chadar trek?
Chadar means a blanket or a sheet of an ice that forms over the Zanskar river, during winters. This fierceful water body plunges through some virgin valleys and untouched canyons of Ladakh, during the summer months. In winters, it tames down, freezes, allowing locals to walk over her, for trade and transportation purpose. In the recent years, this route has gained a popularity amongst trek enthusiasts, thanks to social media! I was one of those, who dreamt of walking on Chadar most of her nights! The idea of walking on the glossy sheet of ice, with the wild river still gushing underneath, a route that open to vistas which are painted in the shades of blue, white and brown, a trail that takes you through the mystic valleys and humongous snow capped mountains or a thrill of walking on the volatile sheet of ice which can break anytime, and can suck a person in the brimming streams of Zanskar was enough for me to get the adrenaline rushing and pack my bags for this trek.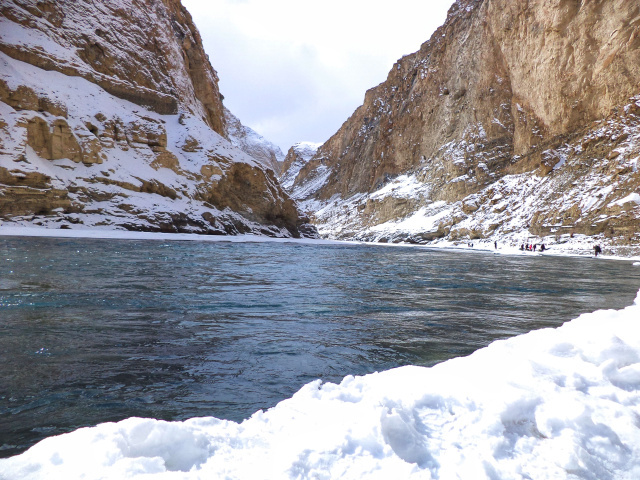 Preparation - Be trek ready
If you already are amazed by the adventure that Chadar has to offer, do some homework before you step on it. Trust me, no matter how intriguing it looks, surviving sub zero temperature ranging from -10⁰C to -30⁰C is no picnic. Monks here in Leh says, "Cold is just a state of mind" and I ain't denying but extra layering won't cause a harm either. I was tucked in the 4 layers of jackets and bottoms, with my head, ears, hands and feet scrambled in the woollen apparels, I still was shaking like a wet dog after a bath! Make sure you carry, extra layers of warm clothes, rainproof jacket and bottom, pair of woollen gloves and socks and a warm and stylish cap! (You would want to look good in the pictures after all!) If you think, layering may not be enough to keep you warm, get your hands on, hands and feet warmers. You can easily slide these small packets, in your socks, gloves or jacket and they will do the job of keeping you amazingly warm.
Chadar is more about walking than climbing and your knee length gumboots are going to be your saviour, buddy, hero for next 7 arduous days. Give a rest to your trustworthy, expensive hiking shoes this time, and count on this sturdy beauty as they prevent feet from frostbite, don't get wet easily, has a good grip that lets you walk comfortably on Chadar. And hey, they are cheap too! One can find them at the local shops in Leh ranging between 350-400 Rs. (Yes! You heard it right, now you can walk happily!)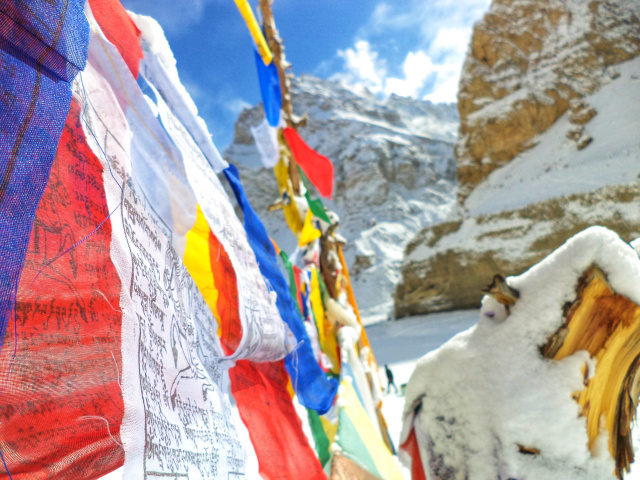 On Chadar, days are cold and nights are colder. In the night, even the thickest layers won't withstand the cold and hence don't forget to carry two sleeping bags with you, or be sure that your trek agency is providing you two sleeping bags, as you don't want to wake up frozen and anesthetized. Your electronic gadgets catch a cold easily and hence, tuck your phone, camera, extra pair of batteries in the sleeping bag along with extra pair of gloves, socks, water bottle or whatever you want to keep it warm till next morning.
Last but not the least - Fitness. Do not underestimate this trek as it involves walking more than climbing. It is a walk, one is doing at the height of more than 10,000ft and you don't want your body to curse you at that height with harsh weather around. Make sure you are preparing for this trek with regular walk and some strengthening exercises, minimum a month prior.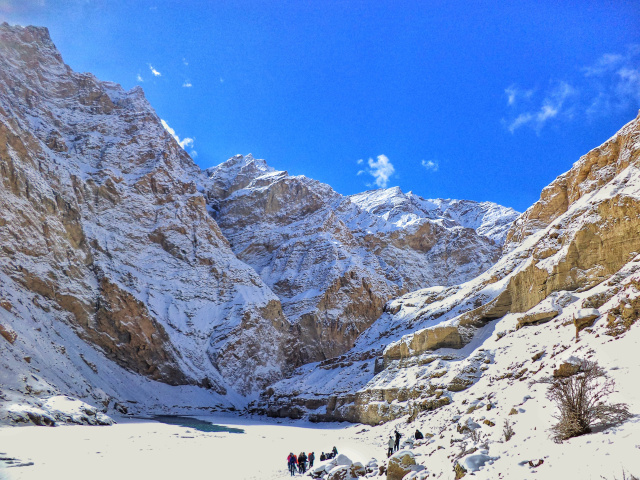 Finally - "The Walk"
Once you made a peace with the cold temperature, you now have another challenge awaiting! Walking on the slippery, frozen and unsteady sheet of ice is easier said than done. Well, there's no way, you'll escape the fall and it is OK to fall (I did, twice!). When you fall down, just get up slowly, shake off the nervousness and start walking like a penguin, with the thought on your mind, that you are going to laugh at this moments once they become memories.
Listen and observe the locals and you'll save your ass getting hit by the ice little lesser times! Don't get too adventurous and trust the locals. They know their business and believe me! They are best at it!
Maintain the rhythm and the zeal, throughout. Like I said, Chadar trek is not about reaching the destination, but the journey! It is fun to head to some unknown kingdom with some unknown like minded people. From playing dumb charades with the group of then strangers and now friends, to having philosophical debate with serious looking but otherwise a goofy trekker, from having a hearty laugh over a warm Maggie to a heart to heart conversation under the roof of cosy tent... journey has it all! Don't forget to enjoy it!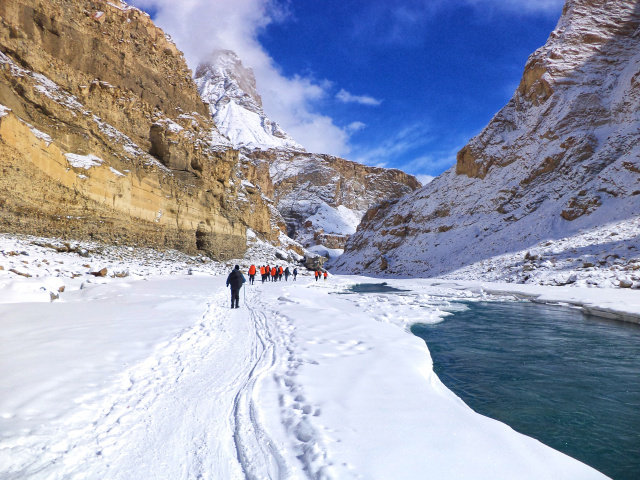 Be a responsible trekker and a civilian
Leave your high end Bluetooth speakers at home and for once listen to the nature. This roaring and raving beauty has lot to say, but to those who wants to listen.
Candies and chocolates find their way in your stomach and their wrappers should find their way in the trash bag and not on the trail. It is heart wrenching to see, how irresponsibly people behave and don't think even once before ruining this pristine beauty. We have picked up so many wrappers from the trail and you should too, if you notice. Nature will thank you later!
At the end, show your gratitude and be thankful to that ferocious yet tranquillising beauty, for letting you walk on it, safely!