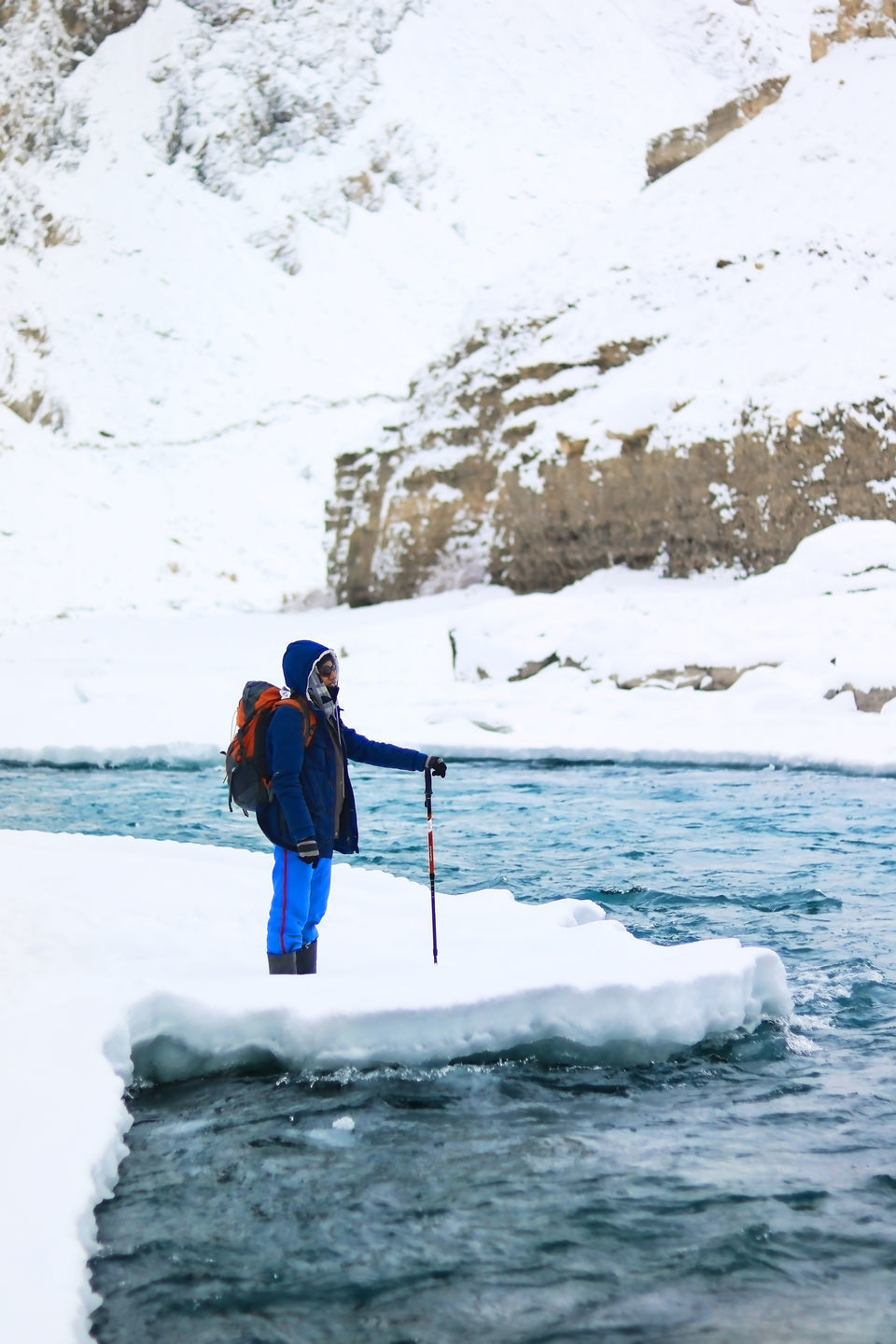 If you are a Game of Thrones follower, you would have often wondered about the fabled place that lies 'beyond the Wall'. What does it look like? How cold must it be?
I have travelled to many winter destinations around India, but this particular trek truly made me feel like a 'wildling'. The experience of trekking one of the toughest trails in the world seemed straight out of a George R. R. Martin fable.
From sleeping on snow, walking on sheets of ice, cooking inside caves to surviving up to -30 degree Celsius with layers and layers of Jockey thermals and fleece jackets, the Chadar trek taught me more about the mountain life than any other trip I've taken before.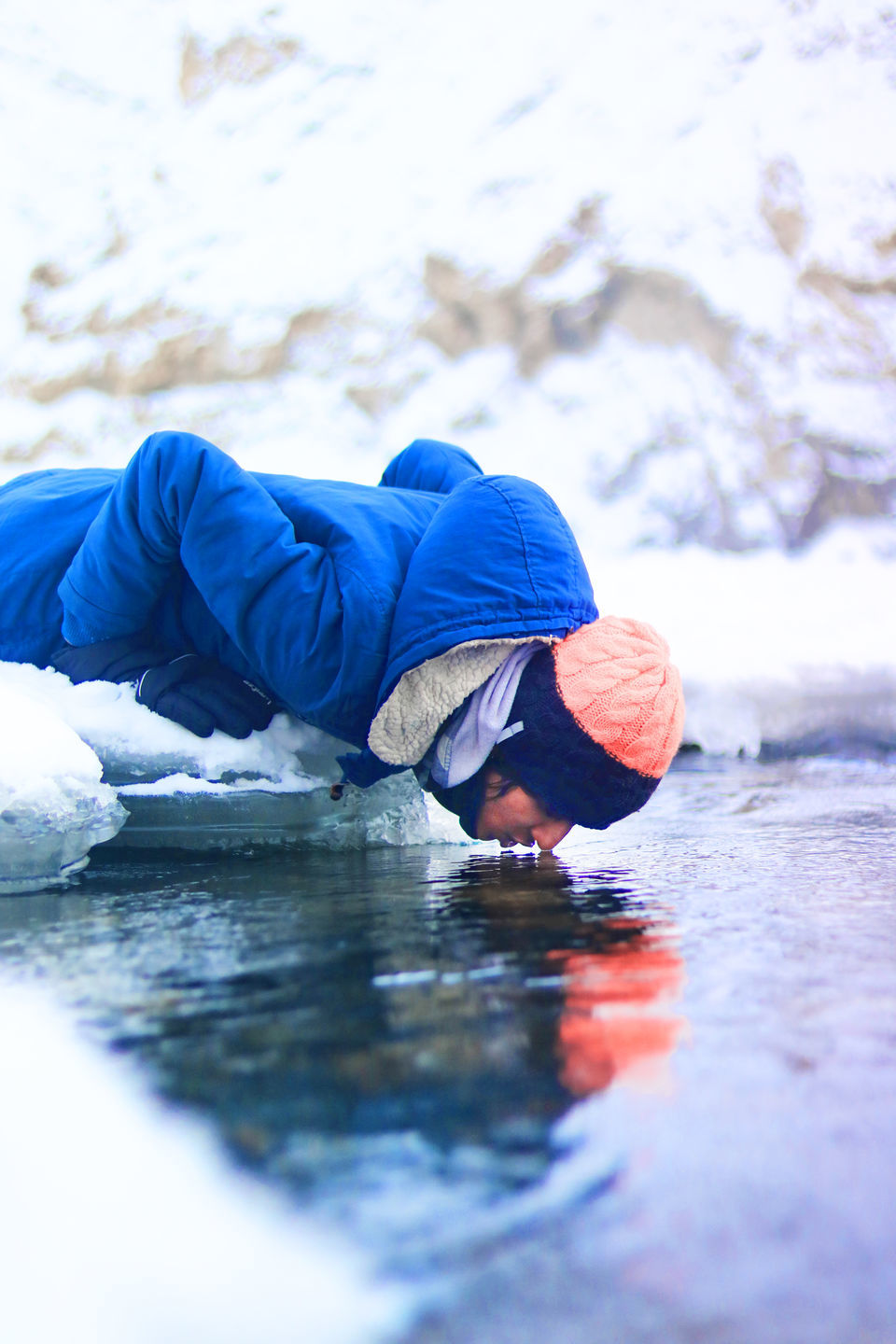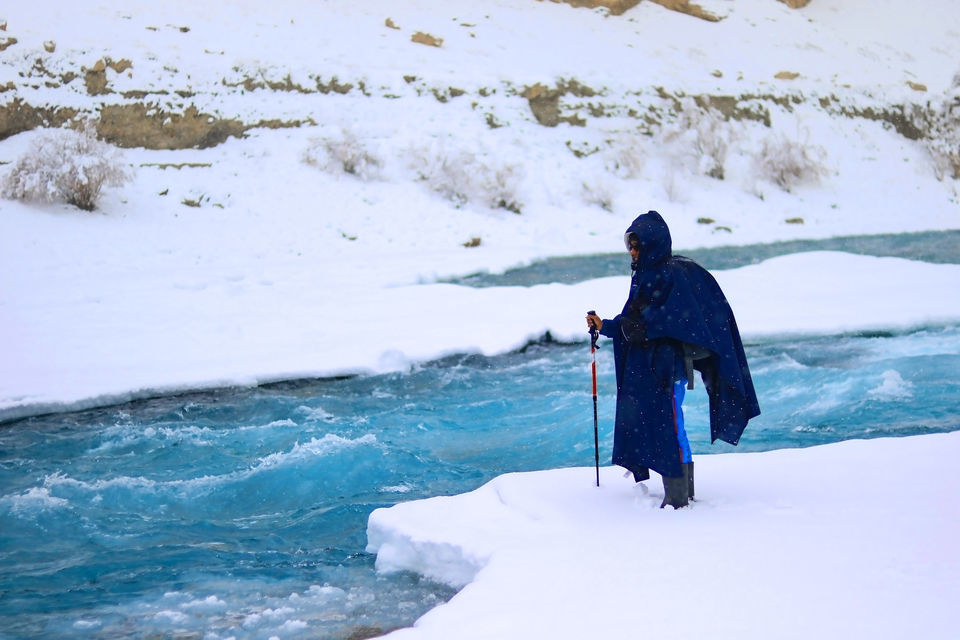 What is the Chadar Trek?
The Zanskar river in Ladakh freezes from mid January to mid February - the coldest months in the region. The trek is essentially a way for locals to commute daily, having been completely cut-off from the public roads during this period. For people in remote villages, it takes them many days during winters to even reach the nearest transport service.
Mountaineers and trekkers are lured to this trail by its treacherous nature to test their survival skills. Not everyone can walk on the 'chadar' (frozen blanket of ice) in -30 degree Celsius. It requires a carefully curated inventory of proper clothing, high-quality thermals (I personally prefer Jockey), good waterproof shoes (gumboots for this trek), reflective sunglasses (since the sun at high-altitude is exceptionally harsh) and a trekking stick with a strong grip.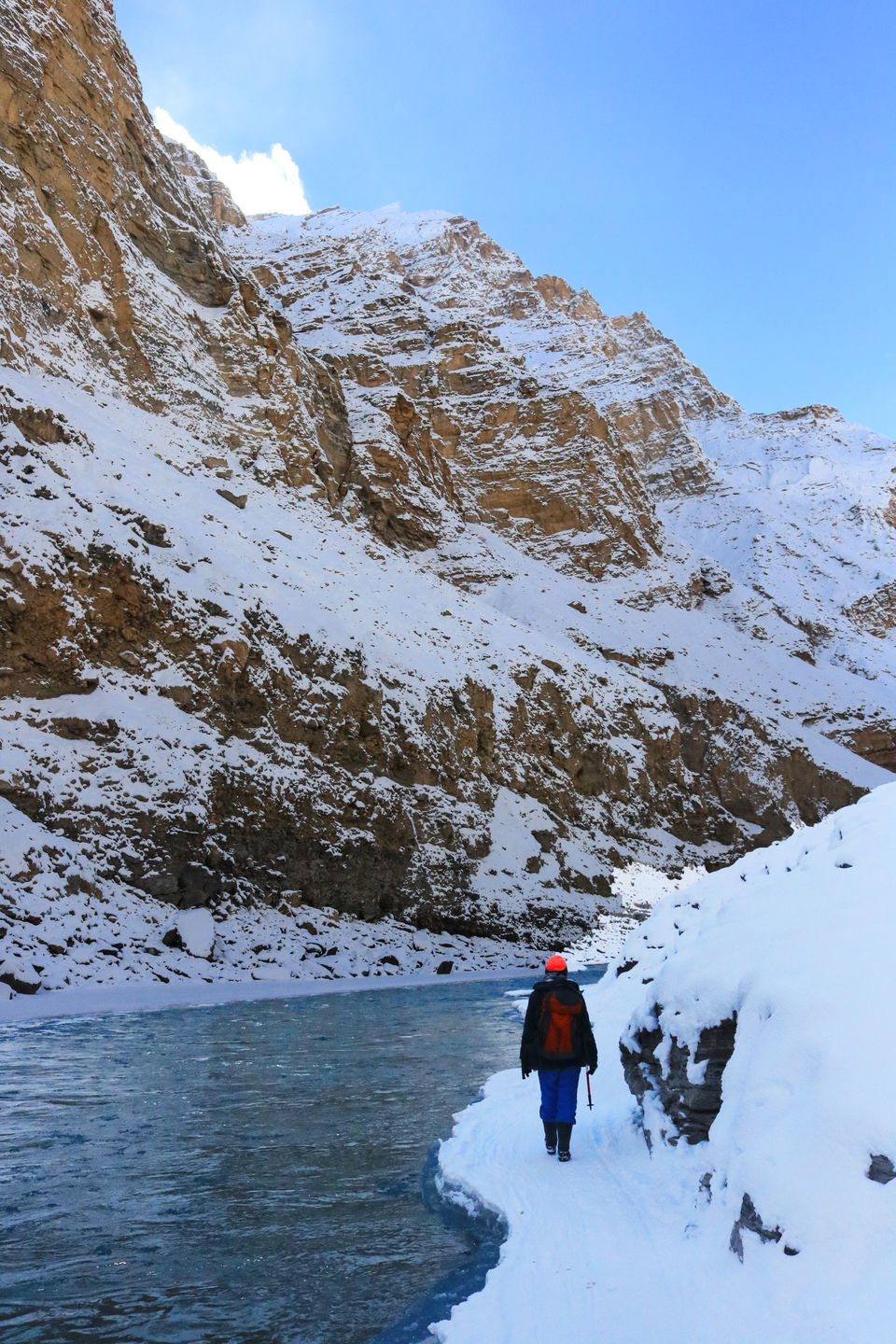 My story of doing the Chadar Trek
Walking on the frozen river had been on my bucket-list ever since I started trekking. With many adventure organisations in the market, it is difficult to pick the one you can trust. So, I got in touch with an organisation I had trekked with once before. With 5 layers of warm clothes on - a sweat-absorbent layer, Jockey thermal, fleece jumper and a down jacket - and a backpack full of excitement, I boarded my flight to Leh from Bangalore.
We witnessed the magnificent beauty of the snow-covered Himalayan ranges at 30,000 ft as we flew over Ladakh. It was a sight to behold. The temperature was -9 degrees when we landed at the airport. The cold stung through my skin and re-instated its presence. The weather was a battle I had to endure manifold in the days to come.
Everything about AMS
A very prominent thing you will notice in Leh are the multiple tips and warnings for acclimatisation. More than 50 percent of the tourists fall prey to AMS (Acute Mountain Sickness). The first thing to do is rest for 24 hours as sleeping and resting is the best way to get used to the low-oxygen climate. So, always keep a buffer of 2-4 days before the trek.
To acclimatise properly, walk around the local street markets in the city which are at an even higher altitude than Chadar. Drink lots of water and rest until the trek commences. Most importantly don't forget to pack multiple layers since the negative temperatures can get to the most experienced trekkers. I took extra care of all the above points and packed multiple sets of Jockey thermals, which proved to be the best decision later.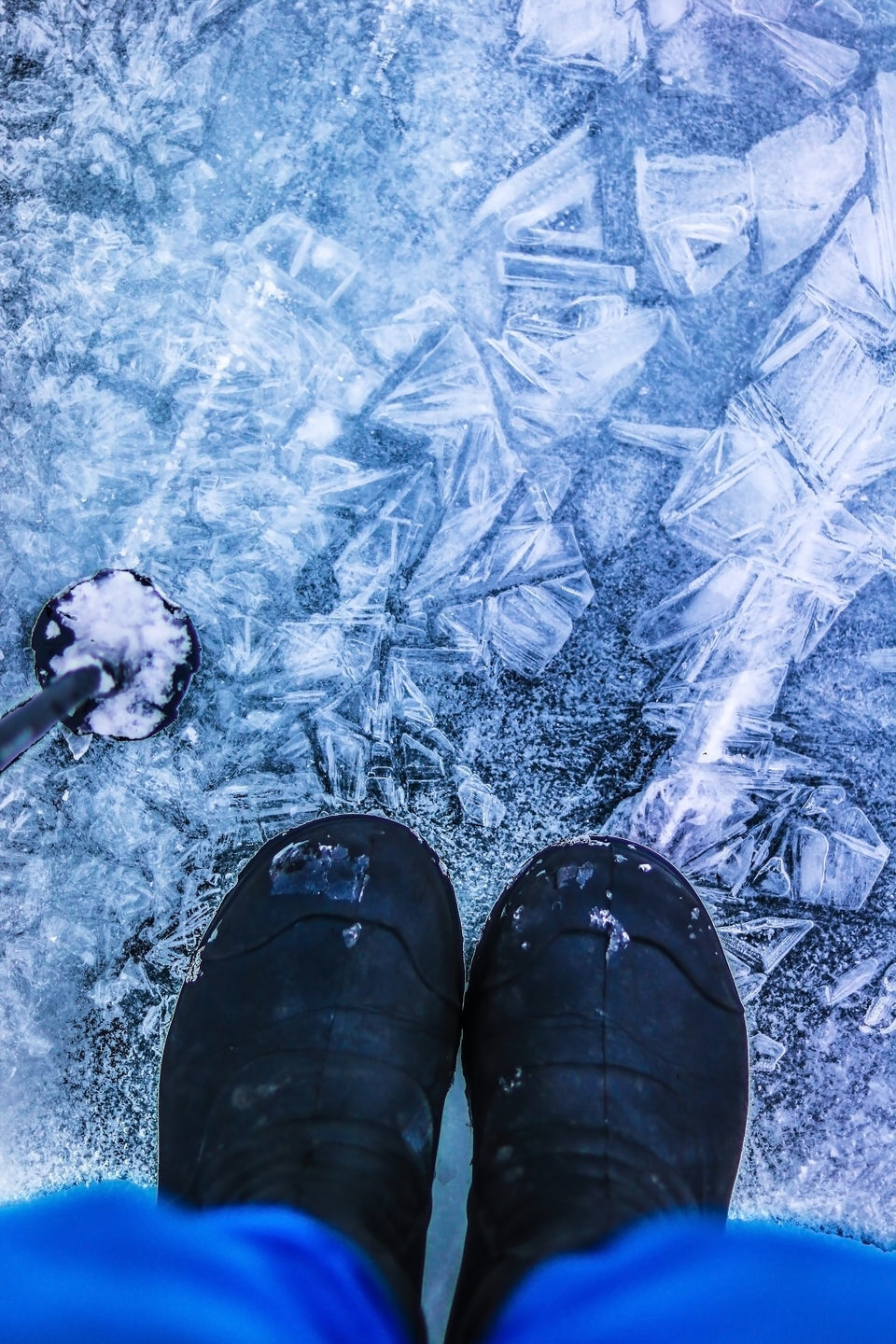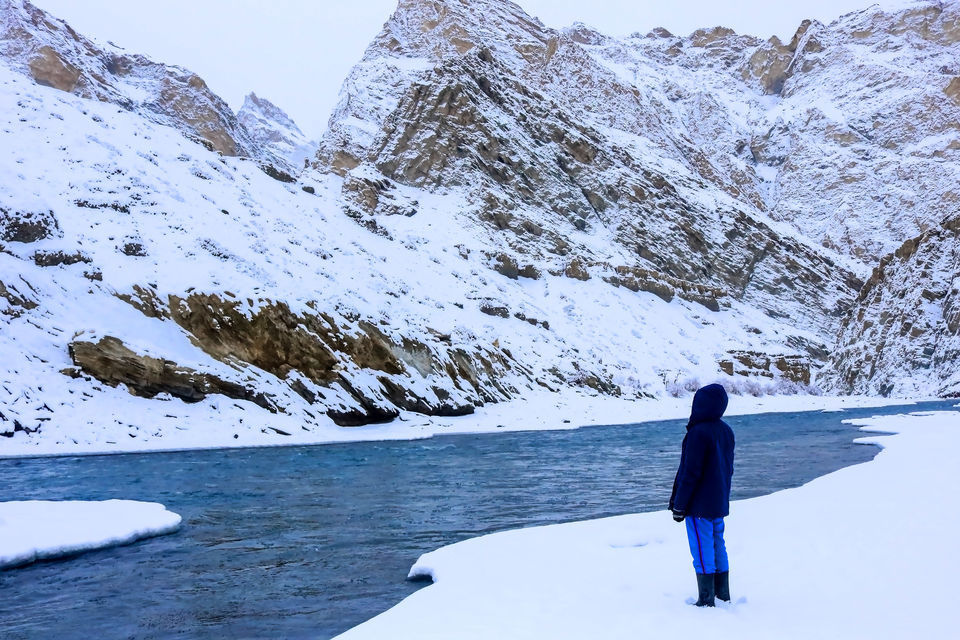 Before the trek begins, it is essential to get an approval of good health by a certified doctor. So, we visited a local doctor for consultation. As it turned out, my friend who was accompanying me for the trek had a low Oximeter reading which means the oxygen level in his blood was dangerously low.
The doctor immediately asked us to shift to the Government hospital and get him checked soon after which he was hospitalised and had to opt out of the expedition. At the hospital's tourist wing, we met many trekkers who had returned from Chadar due to AMS. It is a very real syndrome that can hit anybody no matter how fit and strong. Take necessary precautions and follow your organiser's advice seriously, since this trek can take a serious toll on your health.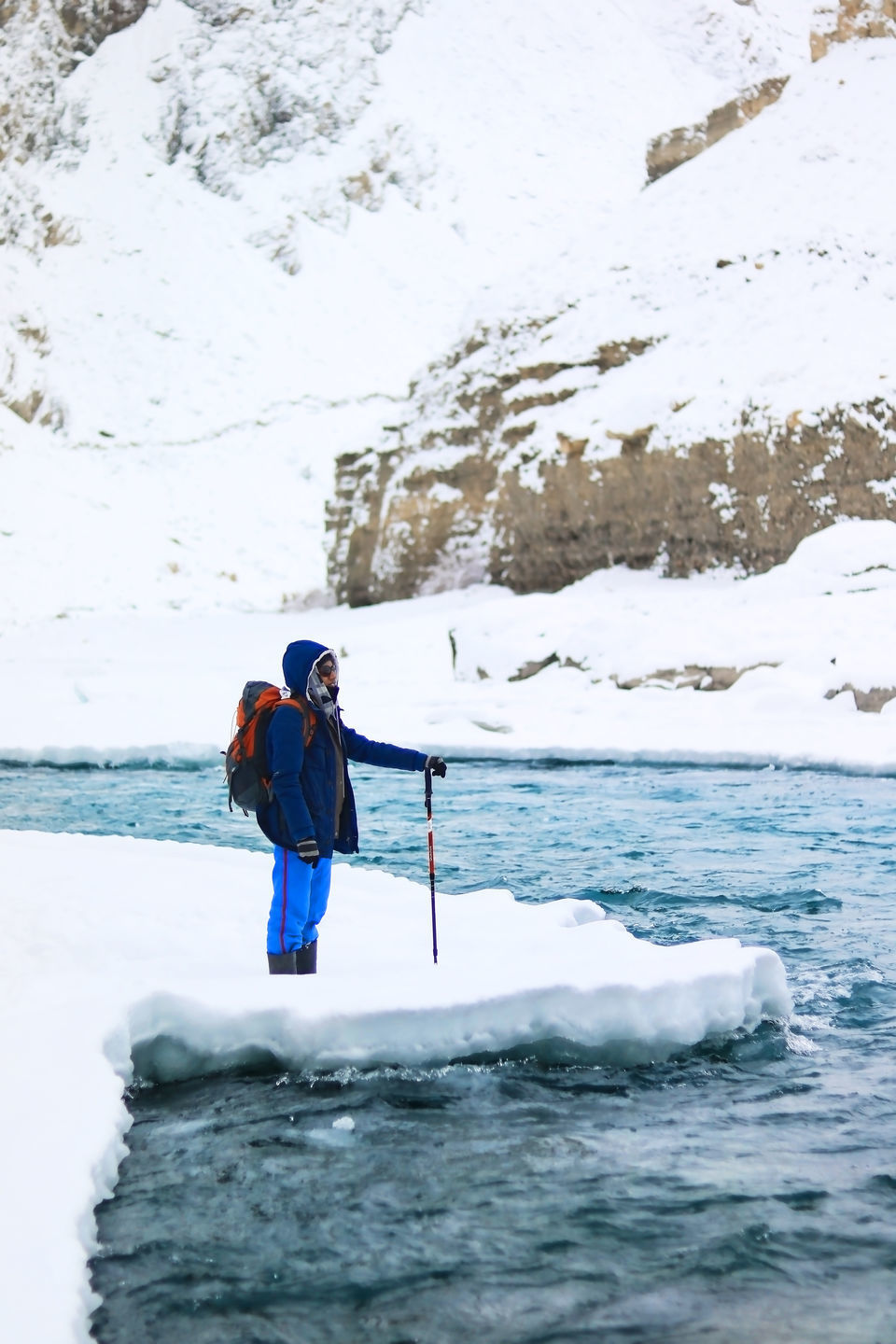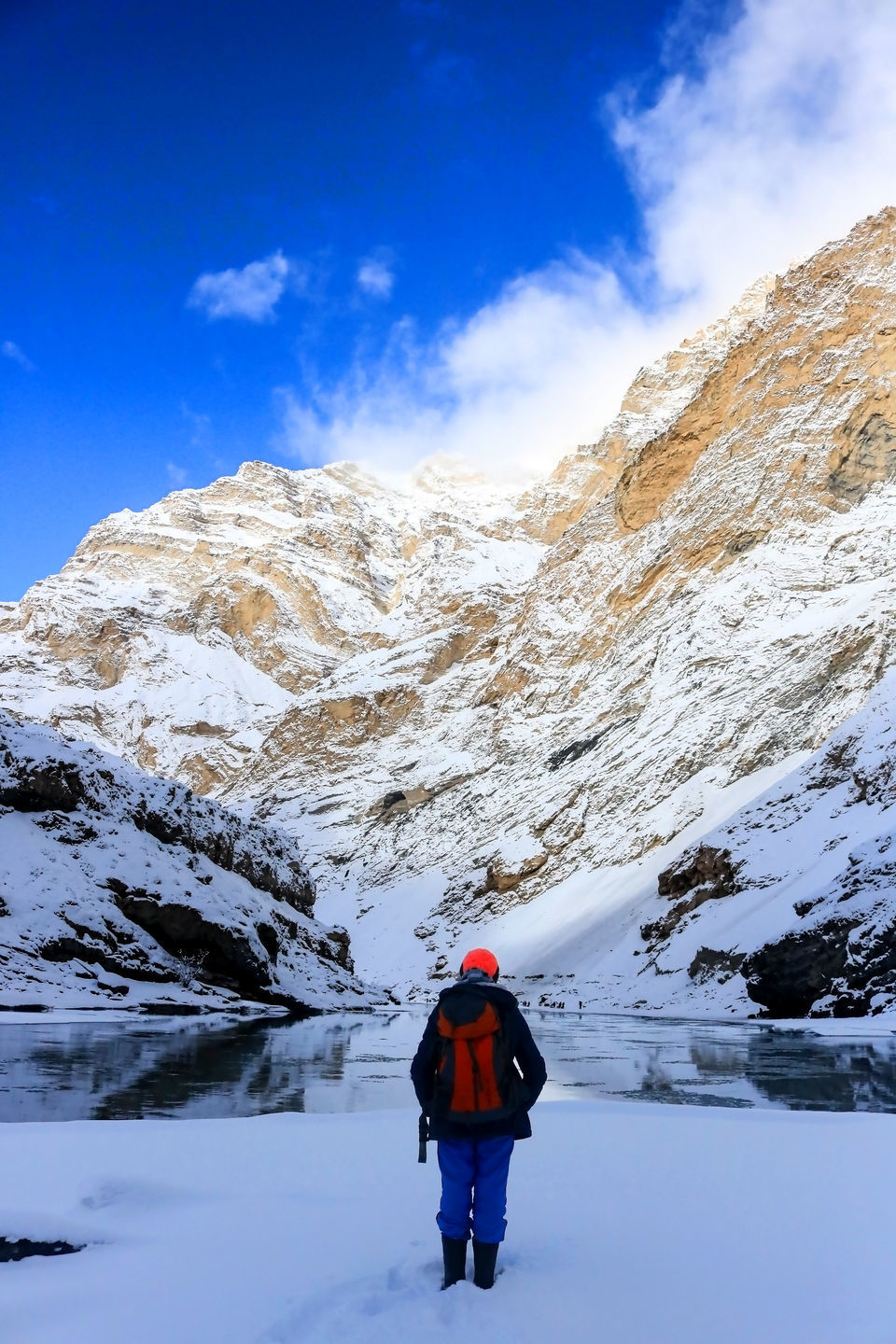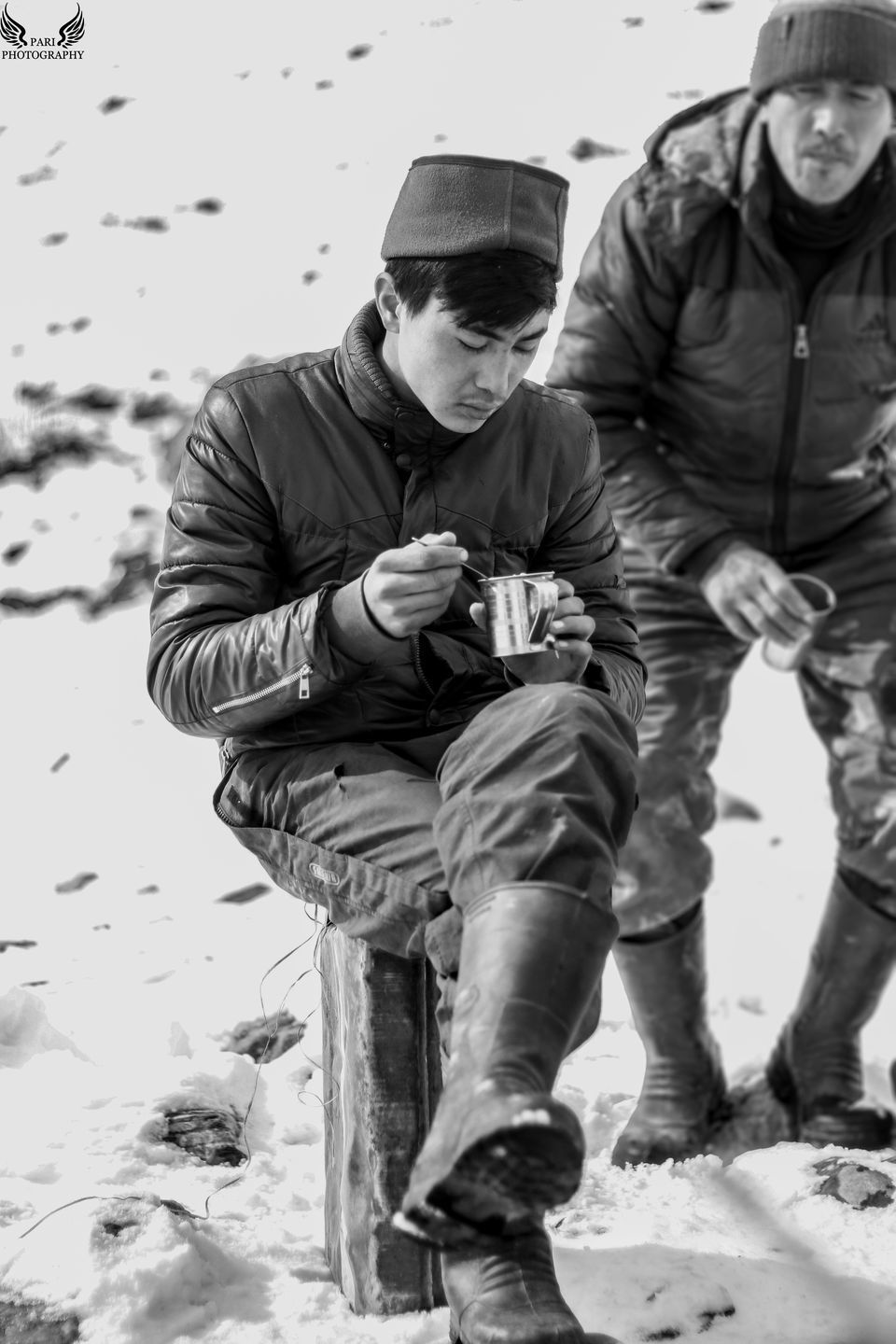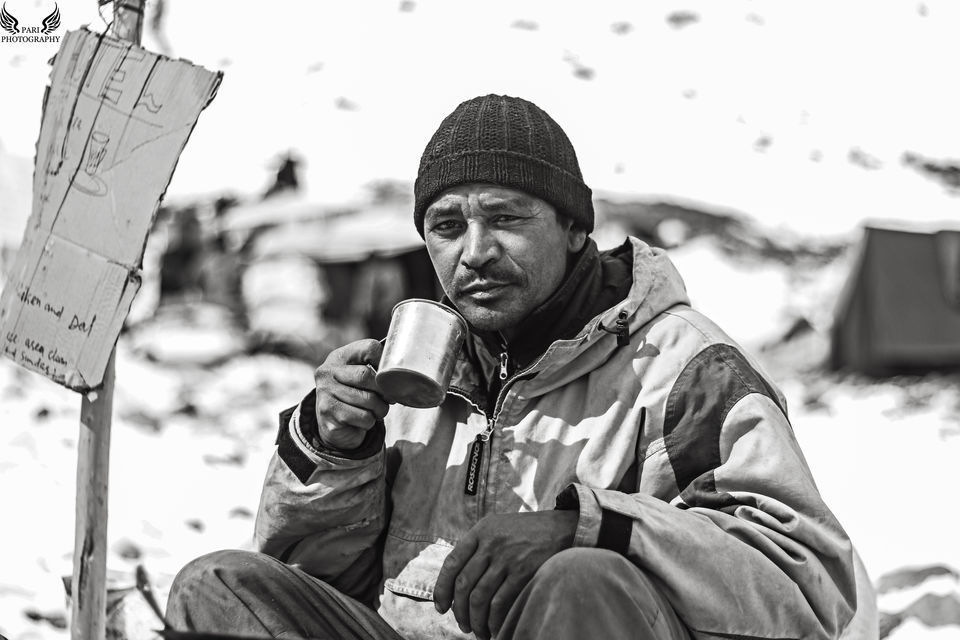 We started from Leh at 10 in the morning to reach the base camp which in itself was a task. We were told that the route was going to consist of a four-hour drive, followed by an hour-long hike. After sitting inside the van and heater for three hours we felt that this trek was going to be a piece of cake. But we were soon jolted since there was a landslide on the way, because of which we had to now cover the remaining distance on foot. So, for the next four hours we carried our backpacks and walked along the mighty Zanskar river.
The day was thoroughly preplanned by the organiser and we had an itinerary in hand to follow, but nature seemed to have its own objective. The weather which was bright and shiny for last two weeks suddenly turned rogue. Snow started pouring mercilessly and due to the heavy snowfall, the Chadar below the blanket of snow started melting. This resulted in multiple cracks and breaks in the path, which can be extremely dangerous since trekkers can fall straight into the river if the ice sheet isn't thick enough.
Many groups even turned around as they felt it was too dangerous to continue. Nevertheless we went ahead and proceeded in knee-deep snow for two hours of human traffic and trekking around the route where Chadar was broken. The continuous snow fall kept us warm and the walk was pretty easy but the challenge was the occasional wind which was cold as death.
It was a bright sunny day. After 48 hours of snowfall and heavenly whiteness it was a relief to see the blue sky. We walked for 8 hours but we never reached our camp as the ice sheet over Zanskar started breaking and we were forced to retreat. We found a cave where we camped for the night as there was no place to pitch a tent anywhere else.
The trek had gotten more beautiful and filled me with a sense of accomplishment, but the nights were exceptionally chilly. I had dealt with the previous few nights quite smoothly but the unexpected snowfall had brought an extra chill.
As I struggled inside my sleeping bag, I realised I had forgotten to wear my Jockey thermals after changing out of trekking clothes. I wiggled out of my sleeping bag and put on the extra layer which felt like a warm cup of hot-chocolate in the chilly night.
I opened my eyes to see the sunlight shine through my tent as I could hear the Zanskar, and my trekking group sharing morning pleasantries with each other.
Just as the little birds got out of their nests singing, I changed into my day socks and got out rubbing my stiff fingers.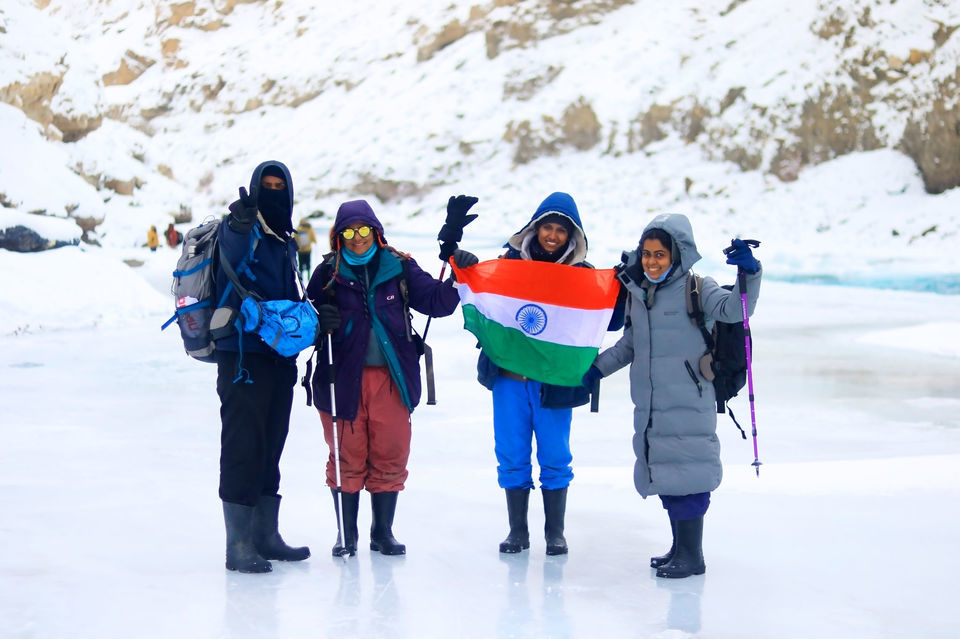 Wild winds had blown the snow off the ground, allowing the ice below to see what a bright day it was. As we completed our trek, experiencing landslide, knee-deep snow, monstrous chill, slanting night camps, swollen fingers, frozen nose and a content heart, we pulled out our tri-colour flag and held our head high in pride.
Altitude: 11,123 Ft.
Temperature: -30 degrees
Distance: 65kms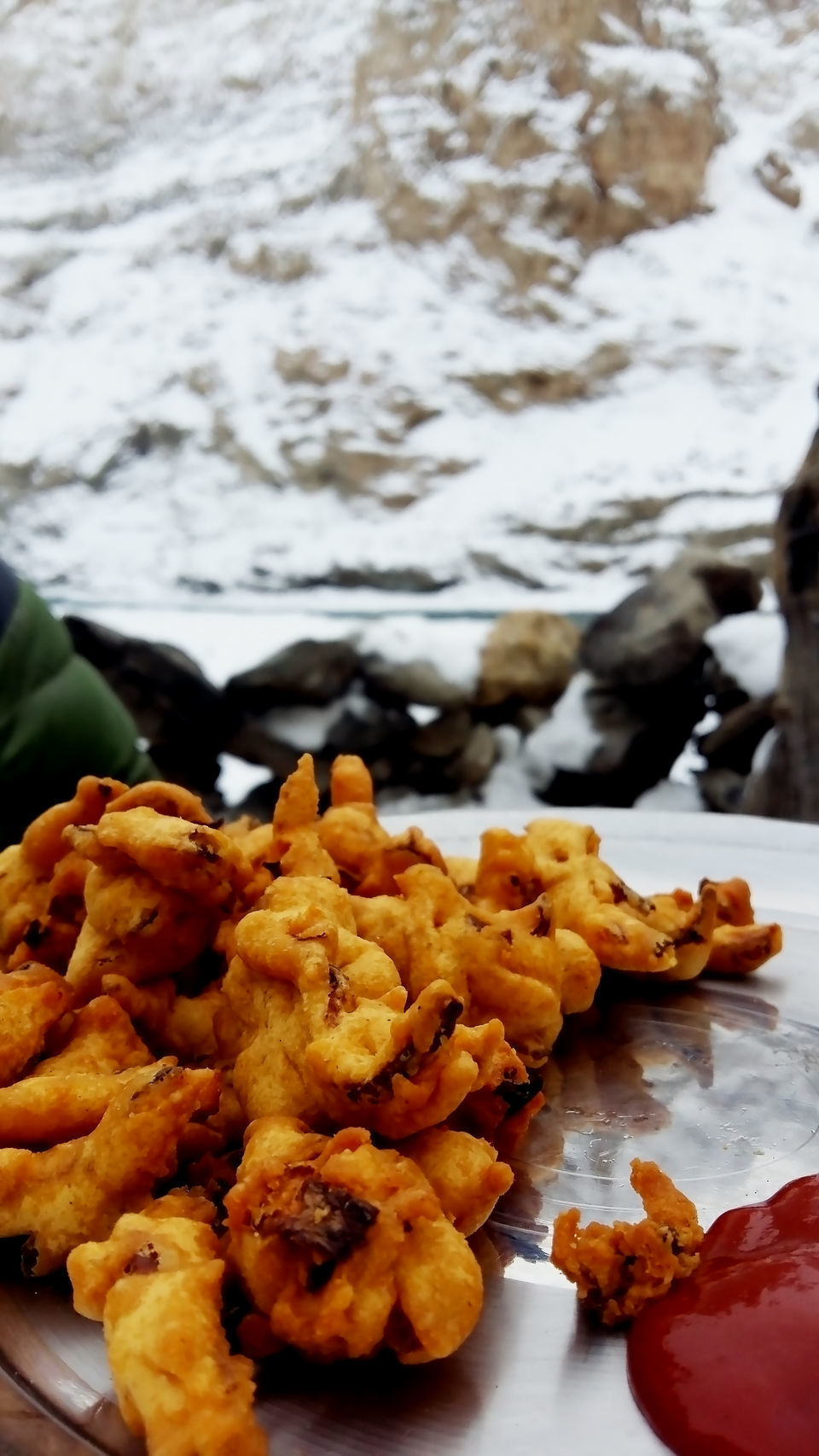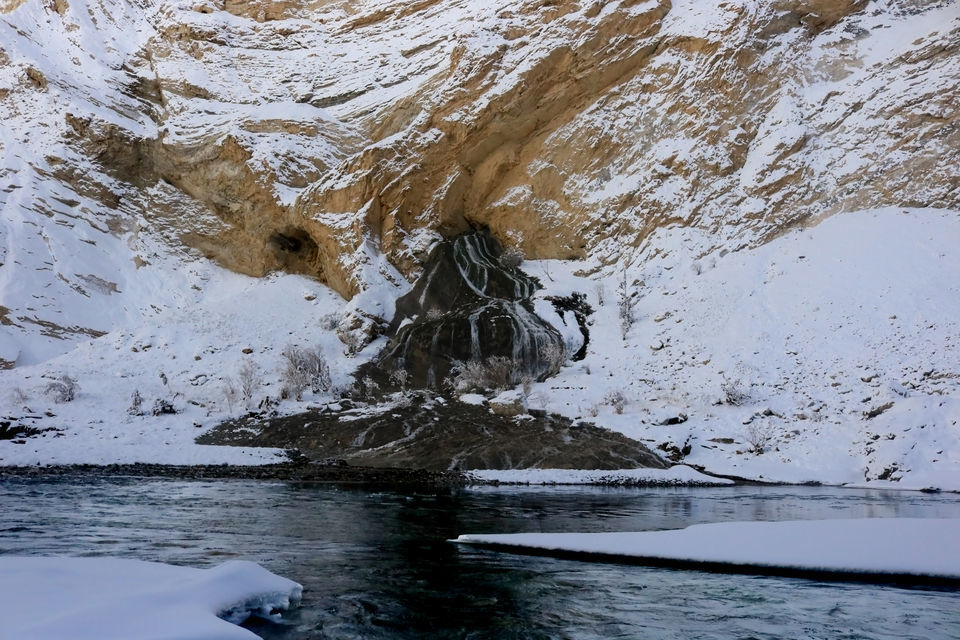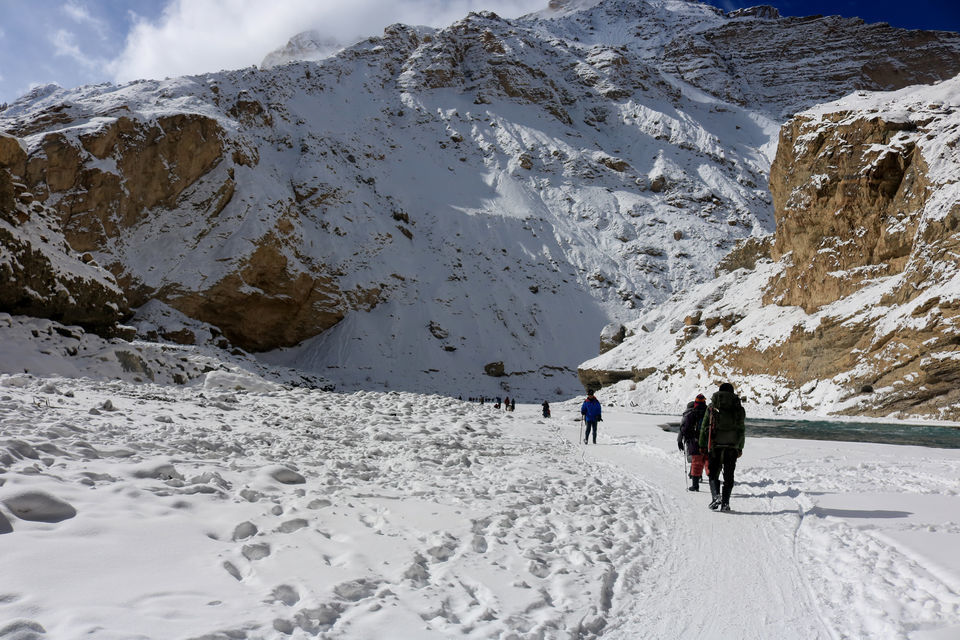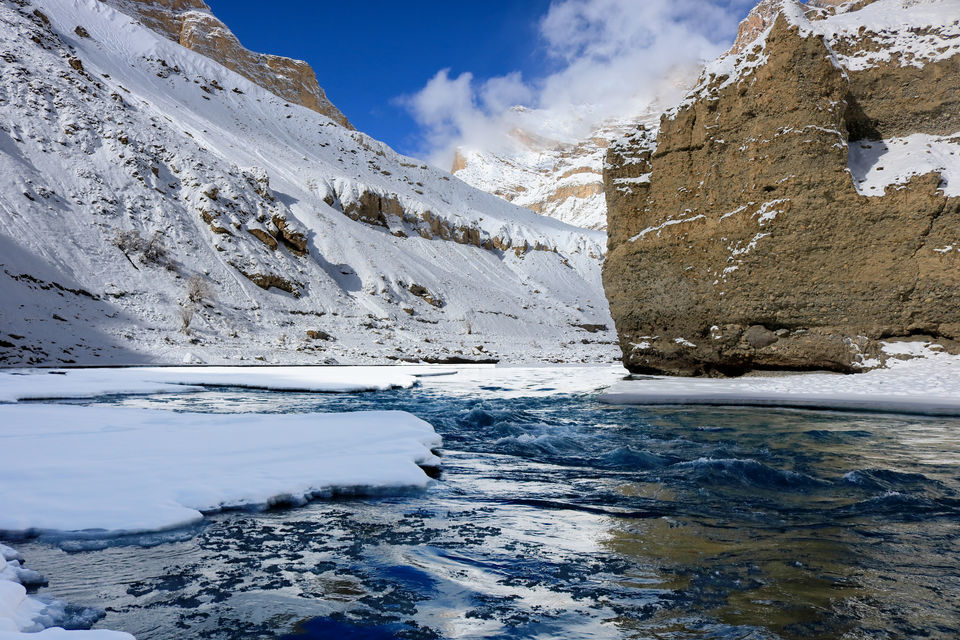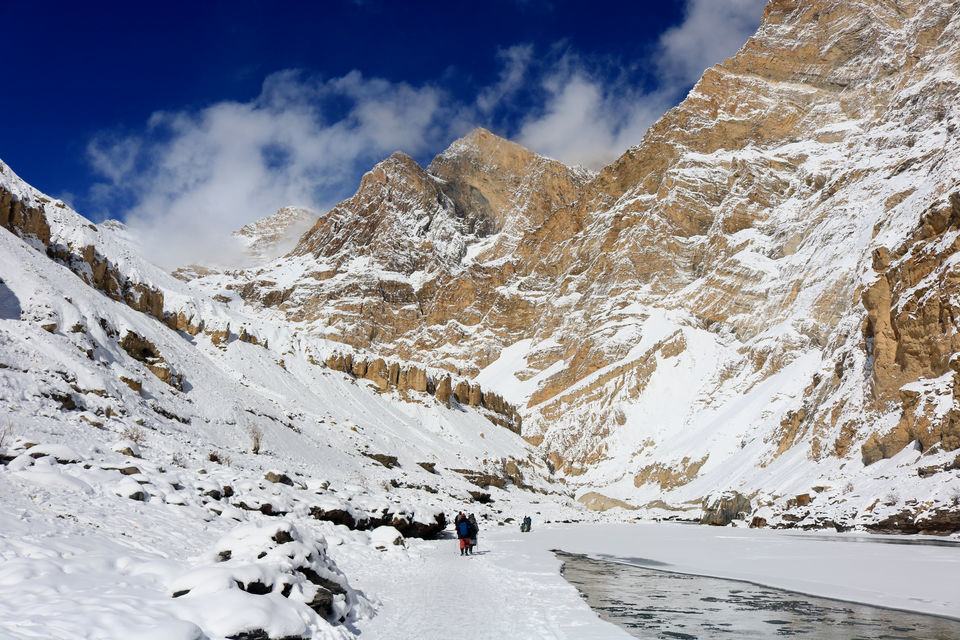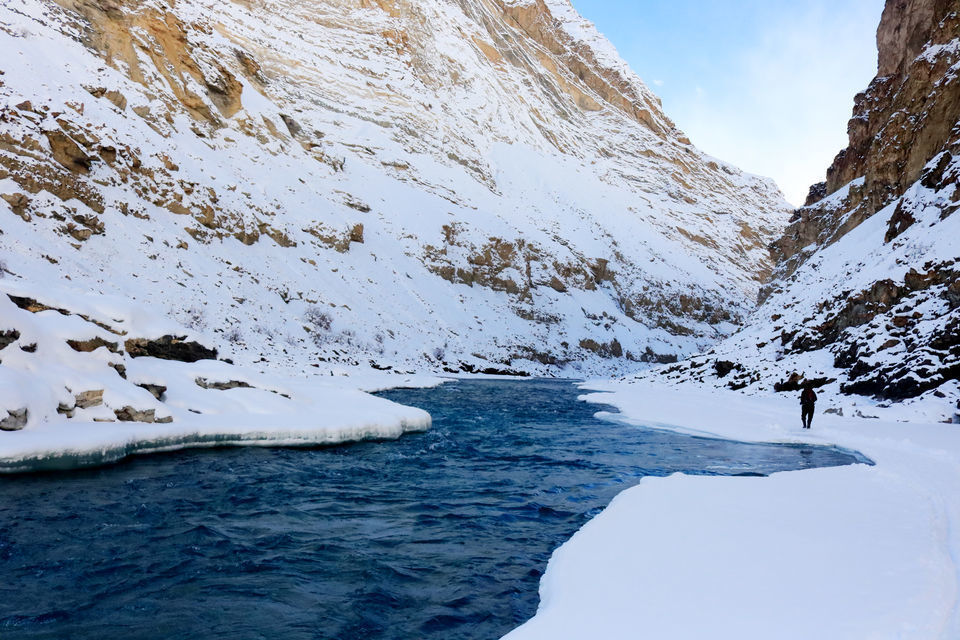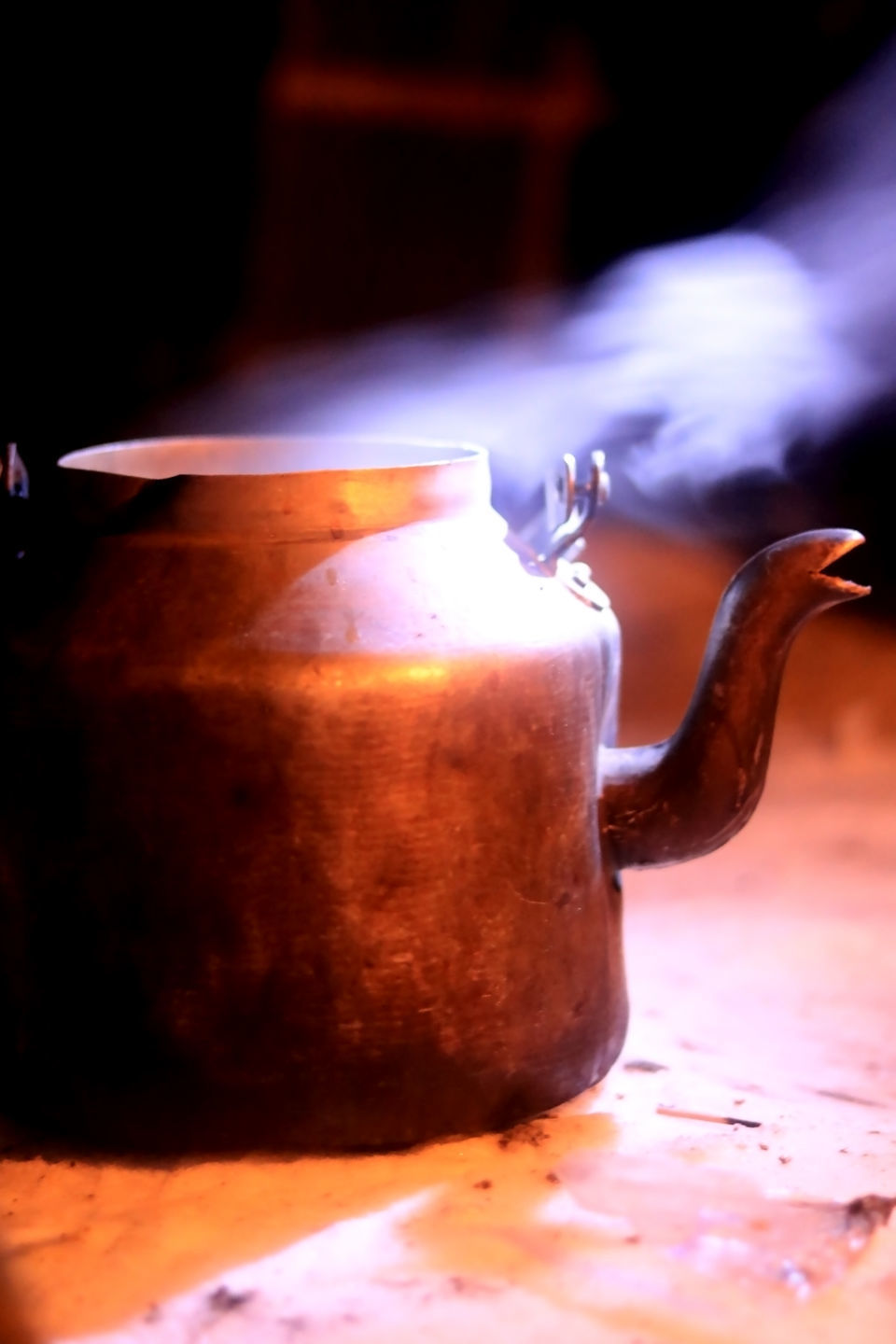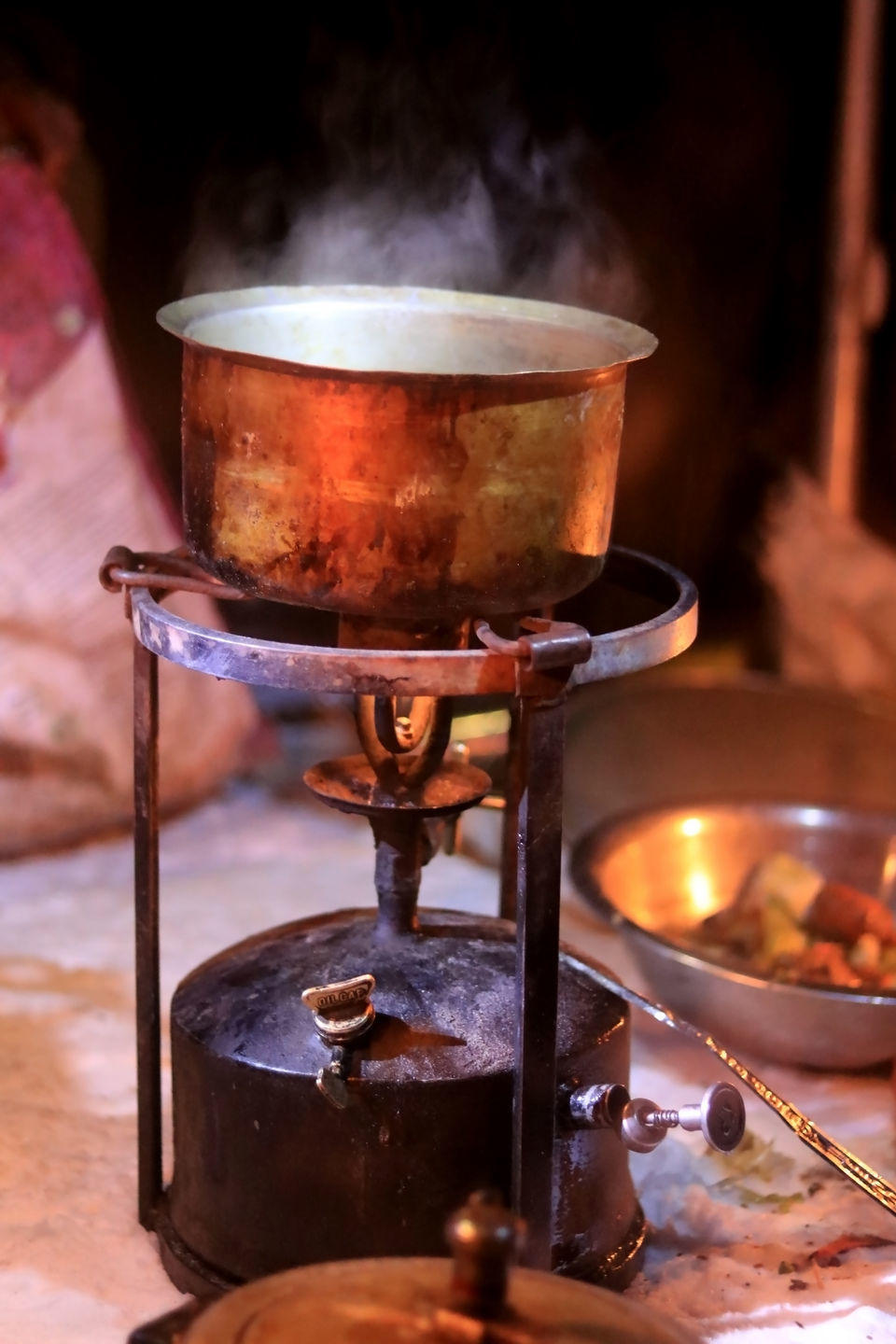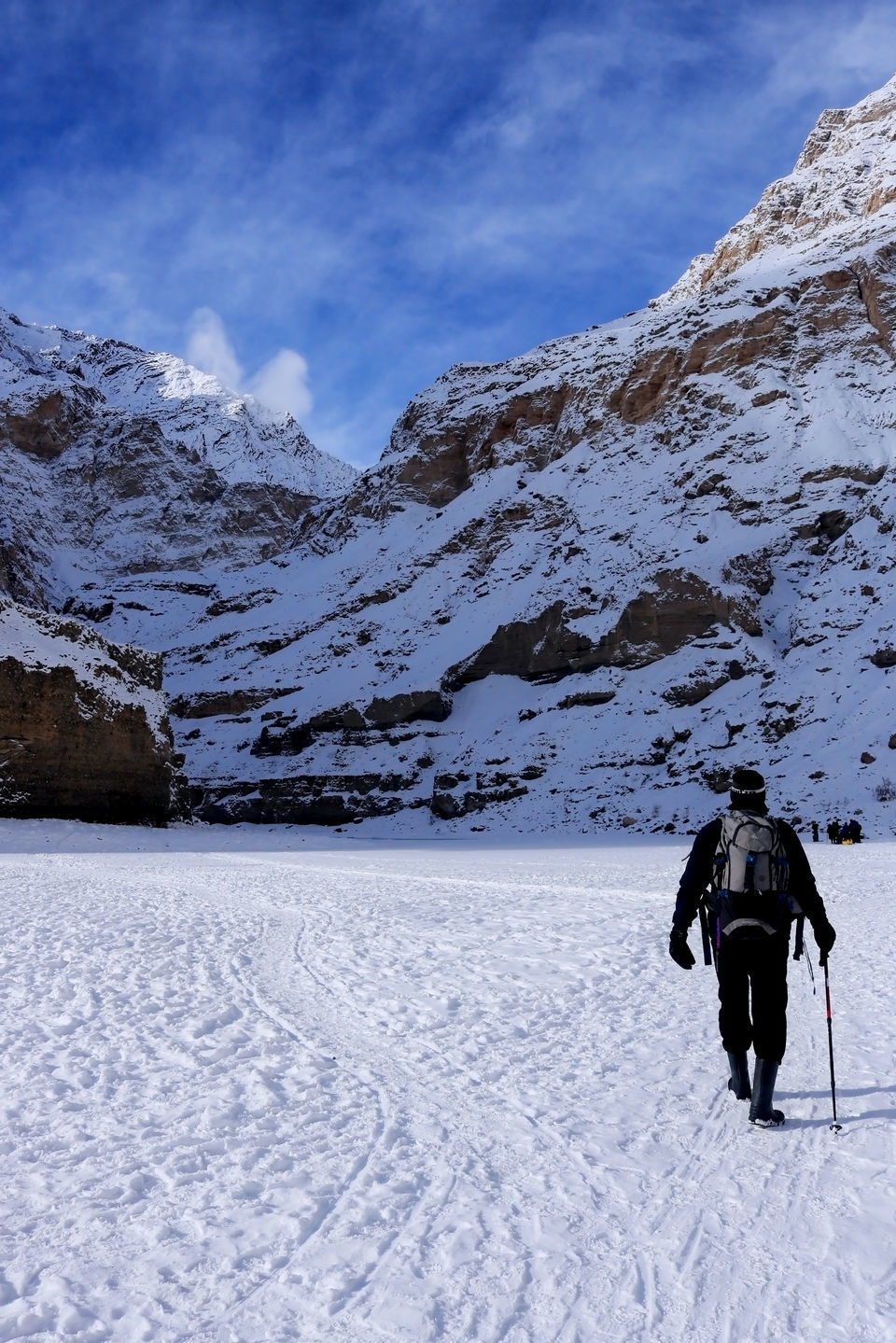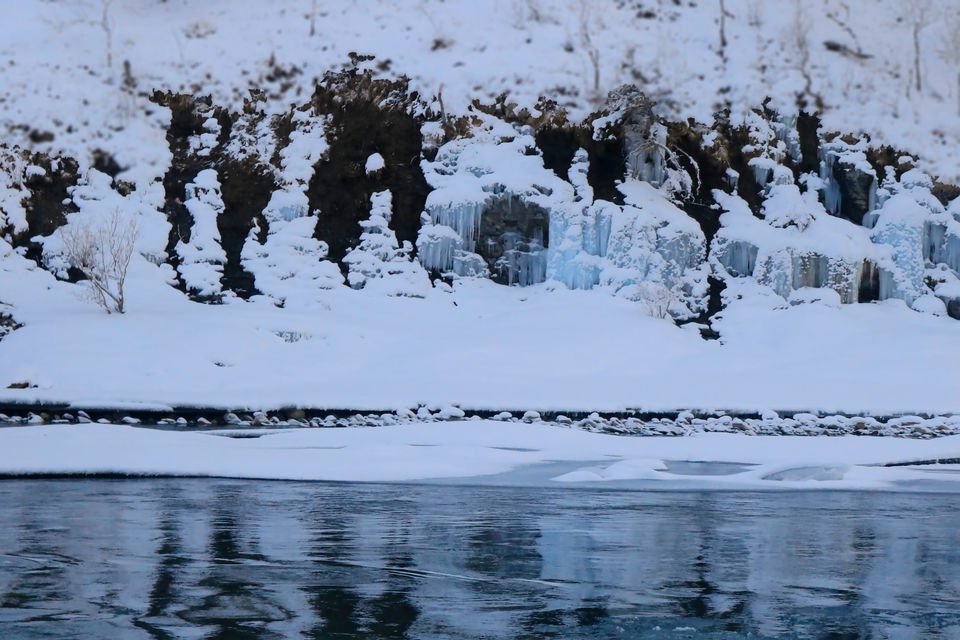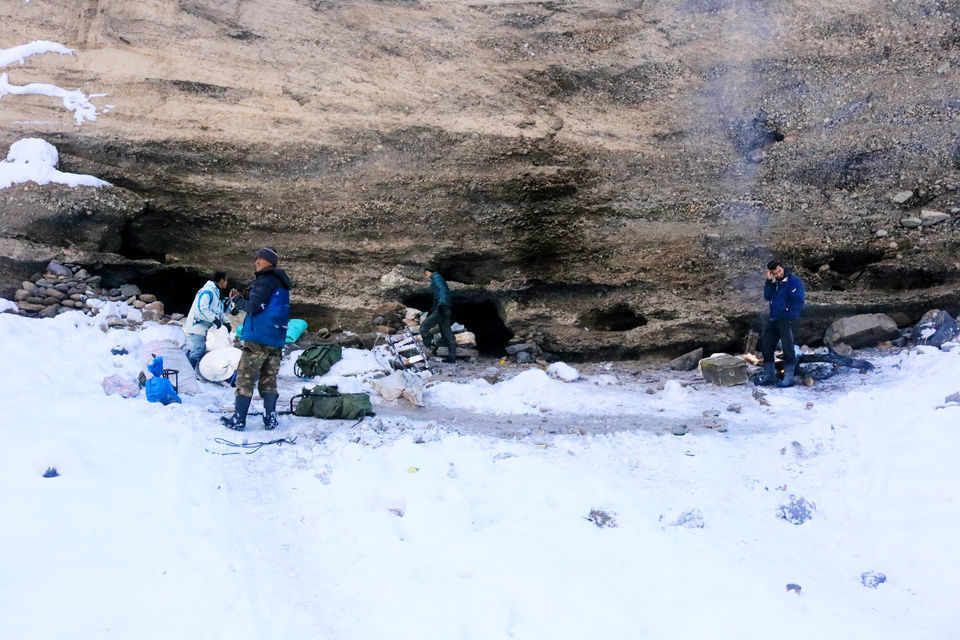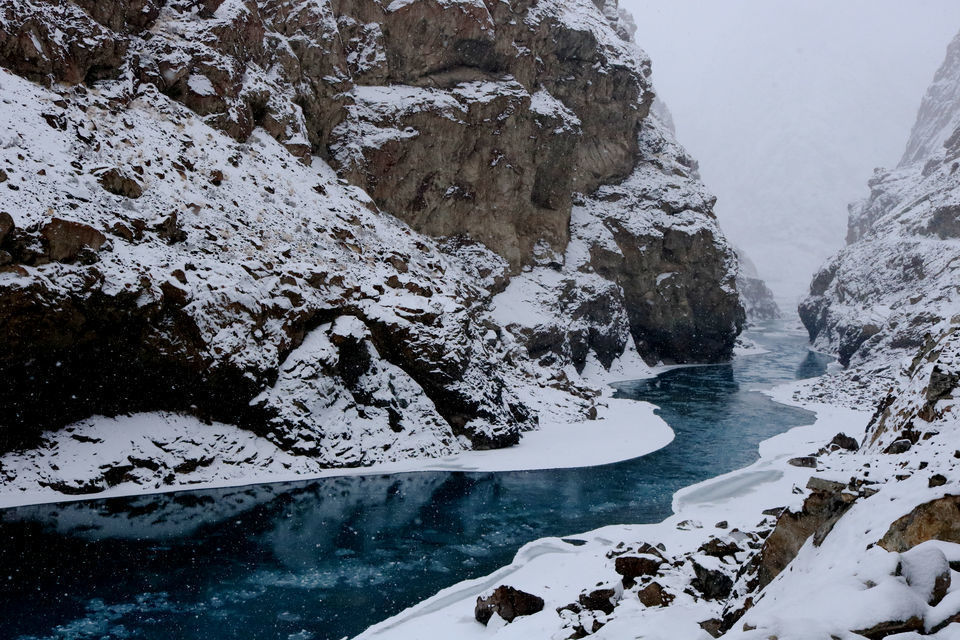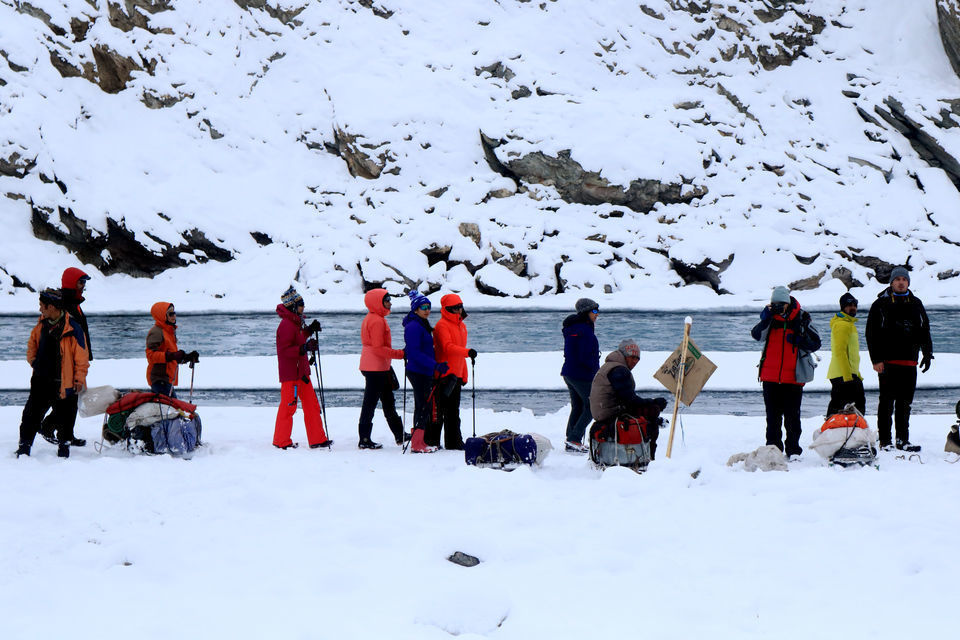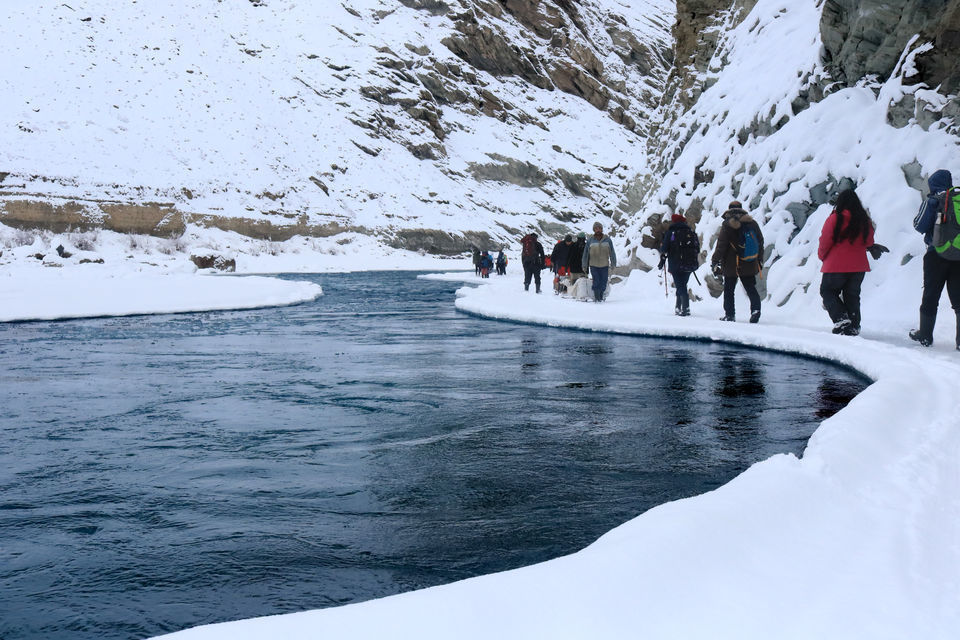 Amidst the hustle-bustle of the cities and our day to day lives, we often get lost. Lost in a way we feel stressed by mere issues, things that need not be given importance to. We can sometimes feel lonely in a crowd, but when we travel, either alone or in a group, we feel complete and content. Even just sitting on a rock overlooking nothing can give you a sense of accomplishment. I sometimes wonder if travel is overrated, but as soon as I am on the road or on the way to my next destination, I feel a wave of happiness that remains unmatched.
But along with the profound feeling of testing my survival skills and life-threatening circumstances, I made sure to indulge in a little fun by taking a dip in the mighty freezing Zanskar river before finishing the trek!
Bon Voyage!
Signing off - rucksackdiaries.