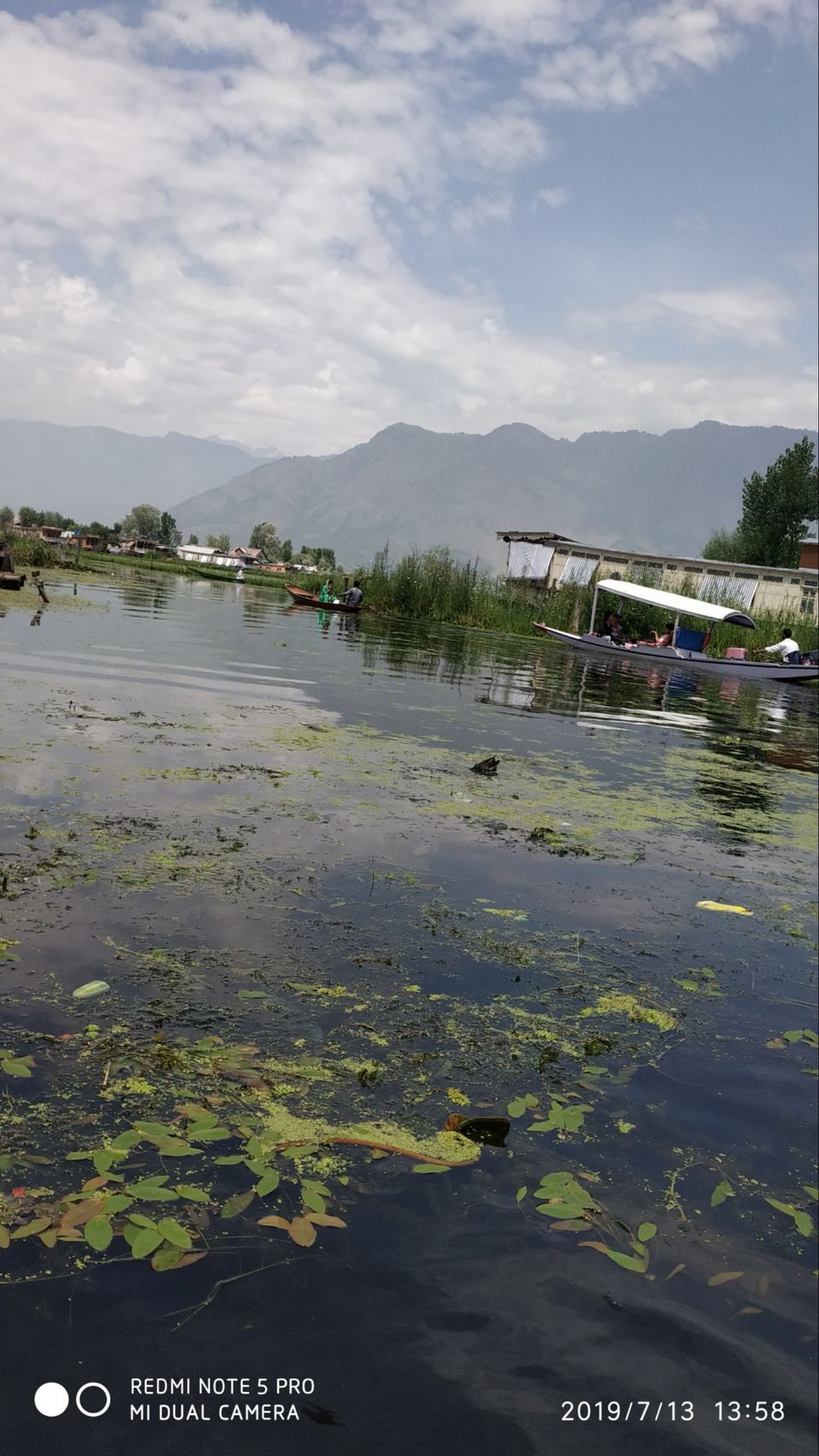 It is my first ever Trip to the Himalayas that too to Ladakh through NH1 and that too Solo 😄, so On 13th July early morning I took flight from Mumbai to Srinagar, reached Srinagar at around 7.30 am, we were asked to close the windows due security concerns so I couldn't see the aerial view of the city, well Exploring Srinagar is not in my Iternary at least in this Trip, so I anyhow wanted to spend this day in Srinagar and next day I will catch a government bus from TRC office,,, well well it's not that easy, as soon as I came out of the Airport just like any other city Taxi walas started talking whether I wanted a cab for Srinagar, they were charging 800 I felt it was quite higher as compared to Mumbai so I decided to go by a shared taxi which made me wait for almost 2 hrs then we 3 passenger decided to give 200 each and finally left for the City up to TRC office only, so if you have enough patience go for shared Taxis or cabs or public transport well that depends you are a traveller or a Tourist, well I am a hardcore traveller, I prefer Government provided services if available or shared cabs, and the Hostels for Solo travellers like me 😉.
After reaching TRC office I enquired about the government buses operating from Srinagar to Leh via NH1, it wasn't enough occupied, these are unpredictable, if you are lucky enough you will get them else go for shared Taxis, standing outside the TRC office, calling Jammu jammu, or Kargil, Leh etc.. Usually taxis for Kargil and Leh leave early morning by 8 or 9 am, I pre booked the Taxi for next day to Kargil, the driver asked me to arrive TRC by 5.45am 🙄.
I was done with planning for next day's exciting journey through NH1.. Yayyi.
The next thing I wanted is to explore The Dal lake, I went to Dal lake ghat no 1, booked a House boat for the night, well I'm not fascinated by these House boats, staying in Hotels or hostels are always better than staying in House boats, they are unnecessarily over priced.
Then I booked a Shikara with the help of the house boat owner, help not needed, you can book it on your own, I bargained with the Shikara driver and finalized in 1000rs. Initially it felt to be costly but the Driver rode me to most part of the Dal lake while reciting the stories of how Kashmir valley has been these many years, and let me tell you it is absolutely ok to talk about the situation going on in the valley, they are very much aware of everything and they , it's not a sensitive issue for them, they want to talk about it and want the rest of country to know what they are going through and they want it to be resolved ASAP so that more tourists from all part of India and the World can travel here while feeling safe and secure. It was amazing taking Shikara ride on Dal lake, take look in the pics 😄.
Unluckily it happened to be a Strike day, all the public transports were on strike as they told me, so once I was done with that Picturesque Shikara ride, I got down at ghat no 11 and booked an auto to Shankaraachaary Temple a must visit for any Lord Shiva Bhakt, the Temple also offers a beautiful Panoramic view of the City since it is on the Hills, the Army won't allow Mobile n camera inside the temple so you can click pics on the way while ascending to the temple, now climb approximately 100 150 stares and reach the Lord Shiva Temple, take darshan do worship, there is a Huge Lord Shiva Shiva linga in the Grabhgrah, it is said to be the oldest Temple.
After descending from Shankaraachaary Temple, the Auto wala took me to Chashme shahi and Pari Mahal while talking about the history and politics of Jammu n kashmir he also wanted me to be heard and conveyed his message that they are and will always be integral part of India and will always support Government of India's decision will be taken towards maintaining the peace in the Valley, on the way he showed my Raja Karan Singh's Mahal, Abdulla Family's government quarters, and Pandit Nehru's vacation homes 🙄.
Well coming back to ascended to pari mahal n chashme shahi.. these are also a must visit in Srinagar, Pari Mahal also provides a beautiful panoramic view of the city and the other side of Dal lake, a must must visit.
Next day Early morning sharp at 5.45 I reached TRC Kargil Leh Taxi stand, the taxi was empty, I had to for almost 3 hrs until the taxi got full and we started on NH1... Expecting to travel through the most picturesque High way on earth,
have patience that's what I would suggest else take a private taxi but it would be heavy on your pocket.
I'm gonna visit Srinagar in winters also so that I can see the same Dal lake but frozen, and those same mountains but this time in snow cladded, this was summer season in Srinagar, I want to explore a snow cladded freezing Srinagar, Dal lake, Shankaraachaary temple, Pari Mahal, and many other places I left unexplored.