"Don't Live the same year 75 times & call it a life"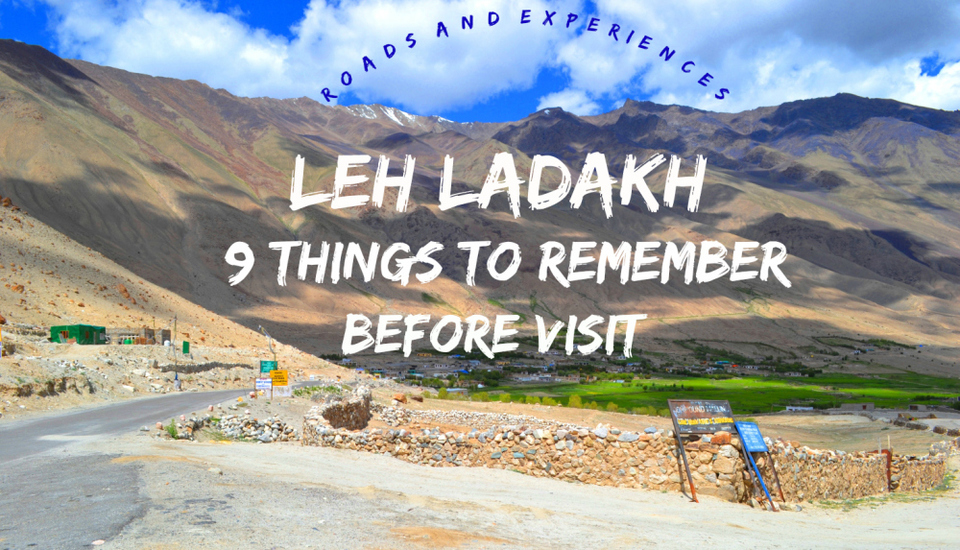 Leh Ladakh is beautiful but we should remember that its a offbeat holiday destination. we should be fully prepared to explore the infertile & high altitude region of Ladakh. There are few things that we should remember before visiting Ladakh.
1. Expect the unexpected : Unpredictable Weather, frequent landslides, High altitude sickness are the major challenges one can face in Ladakh.
2. Weather in Ladakh region is a mystery. It is difficult to predict , it can be chilling cold in morning, scorching hot in afternoon & drizzles in evening. You should be prepared for every situation- Heat, low temperatures, Heavy rains, landslides & snowfall. It's always better to wear clothes in layers while in Ladakh. Always carry a woolen set, a jacket, Sports shoes, cap & Sunglasses.
3. Landslides are common in Hilly areas & off course Ladakh is no exception. Keep couple of spare days in your plan if such situation occurs. Passes remain closed until roads are cleared.
4. High altitude sickness is a major thing one should consider while visiting Ladakh. Irrespective of your fitness level, mode of transportation you cant avoid certain symptoms of high altitude sickness. Mild breathlessness, headache, dizziness & weakness are common symptoms of high altitude sickness. Remedy is give your body some time to acclimatize properly. Spend at least a night or two in Leh in order to acclimatize properly.
Heart or lung disease patients consult your family doctor before planning your Ladakh Trip.
There are few precautions one can take while planning or on a trip to Ladakh.
Relax at your Leh hotel for first 2 days in order to acclimatize properly. Keep yourself hydrated all the time. Keep preventive medication handy. Diamox is preferred by Mountain travellers, but it has some side effects.However, it is advisable to have your doctor prescribe the AMS medication. Camphor can be used as a aid to breathe properly. Physical exercise such as running or brisk walking can be avoided at least the first 2-3 days. Avoid heavy meal. Have light meals at frequent breaks. Avoid alcohol for the first 2 days. Keep yourself warm and cozy and dress up in layers. In case of uneasiness, visit a doctor or an army base for treatment and medications. Army bases and medical centers are available even at Chang-la Pass & Khardung-la Pass. Carry small oxygen cylinder, easily available at a chemist in Leh at 500-600 bucks (optional/ as required), few shop owners take cylinder back at 20-30% less price if it is unused. Don't rush or over-exert at high mountain passes like Khardung La or Chang La. At that altitude oxygen level is extremely low. Running around in excitement may cause serious health issues and you may faint. It's important not to lose breath and remain calm. Stay at high passes for maximum 20-30 minutes. Have a look, roam around, sip your tea and move on. Don't stop too long at the top of mountain passes. Descend immediately if detect signs of AMS and visit a doctor or an army base for treatment and medications.
a. Always carry a water bottle, a light snack packet & Energy drink while roaming in Ladakh, same will be useful in case of traffic Jams.
b. Keep Torch with exra batteries
b. Don't Litter in Ladakh, Keep it clean. Ladakhi drivers always keep a dust bean in their vehicles. Please do use them.
C. Always keep camera, spare batteries & memory card with you. In few monasteries Photography is not allowed, Kindly read all the instructions before clicking.
6. Permits needed in Ladakh: You need not to worry if you booked your trip via tour agent, inner line permit will be taken care of. Inner line permits can be obtained at Leh DC office by filling application form. You can even download application form online and submit the same at Leh.
Always carry Self attested photocopies of your nationality & ID proofs. For Indian Nationals Inner permit validity is 3 weeks & for foreign national is is one week.
Foreign nationals have to fill registration form on arrival on airport.
Always carry atleast 3 or more copies of Permits with you.
7.Culture in Ladakh : Majority of people follow Buddhist religion, these people are loyal, cheerful & happy. They have a very rich cultures and their festivals are major tourist attraction. Ejnoy the great hospitality by Ladakhi People,which provides the actual beauty to this region.
8.Food culture in Ladakh : Thupka, Qawha, momos, butter tea & Yak milk cheese are major delicasies in Ladakh. being a foodie I will dedicate a separate post for food culture in Ladakh.
9. Cost & Budget : Cost of the tour depends on your mode of transportation, choice for stay, number of days. If you follow the itinerary in this blog with decent basic hotels the cost would be around 60-70 k per person.
Decent homestays & Basic resorts are easily availaible in Ladakh. Don't miss a tent stay in Pangong & Nubra. High end Luxury hotels are not available in Ladakh.