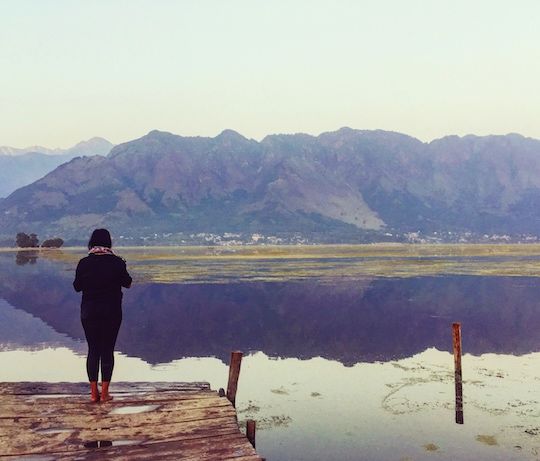 Kashmir, they say, is a "troubled paradise." We hear stories, dangerous ones, the ones that gives it a bad name. Tourists flinch and travellers worry about their safety. I am one of those many travellers who had her doubts. Solo travel in Kashmir when the state is erupting with violence, it is a death wish they warned me. A part of me, however, was set on visiting this mysterious land. I told myself that if push came to shove, I'll take the next flight out or hole myself into the home of my CouchSurfing host. But nothing I did prepared me for the experience I had in Kashmir.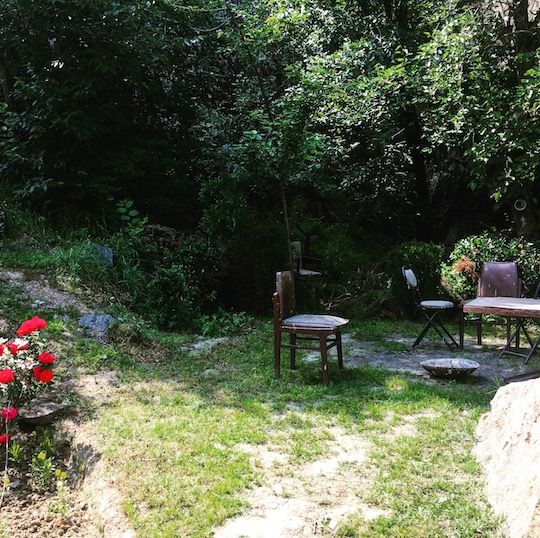 My arrival in Srinagar was completely uneventful. I saw more roses in full bloom than I saw military vehicles, I met helpful locals right outside the airport and not the angry stone pelting mob that I was warned about. I have to admit that I was a little disappointed. Not that I want to throw myself in harm's way, but what is adventure minus the risk? and so far, it looked pretty mundane to me.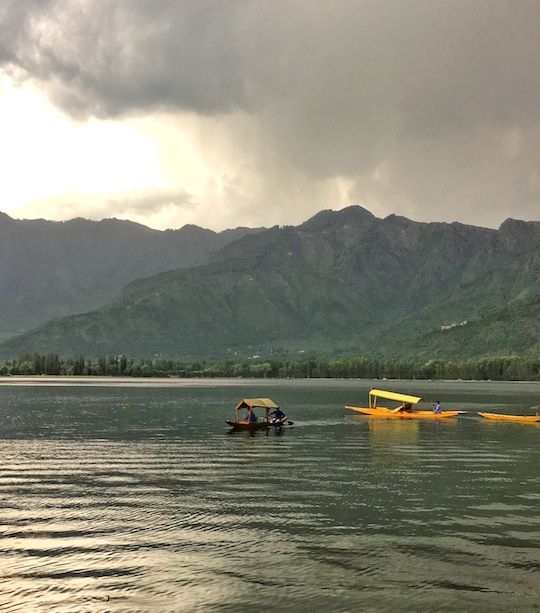 I reached my host's hotel, Mount Inn, at Dal Lake by 8.30 AM where he was already there to greet me. I crossed the first barrier without any instance and was feeling more confident about my supposed "rash" decision.
And Then Sabzar Bhat Happened
Srinagar is pleasant with the makings of urban facilities and countryside values. I arrived on 24th, just 3 days before Ramzan and the city was buzzing with raw energy. There were tourists every where and Kashmir was ready to receive its guests after Burhan Wani upheaval. The locals seemed to have moved on and there is no reason for us to stay hung up.
This city has served as a gateway for Leh for far too long but there is so much more to it than Dal Lake and Srinagar-Leh highway. There are old shrines, heritage walks, humdrum of downtown, beautiful mosques, the ever unpredictable Lal Chowk, the delicious local cuisine and what not. I did the quintessential thing of cruising Dal Lake but did so differently. I met two awesome solo traveling women and we together went boating in the lake at night. We caught some fresh fish, cooked it on board, enjoyed a hearty meal and drank our load of beer while we were at it!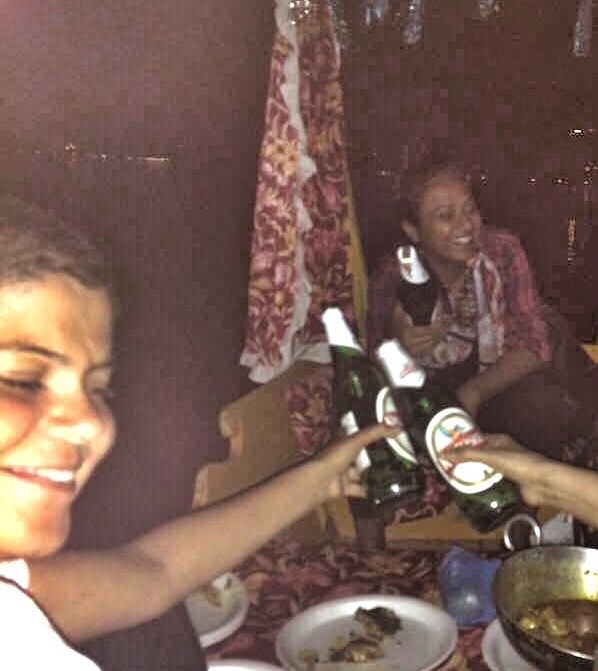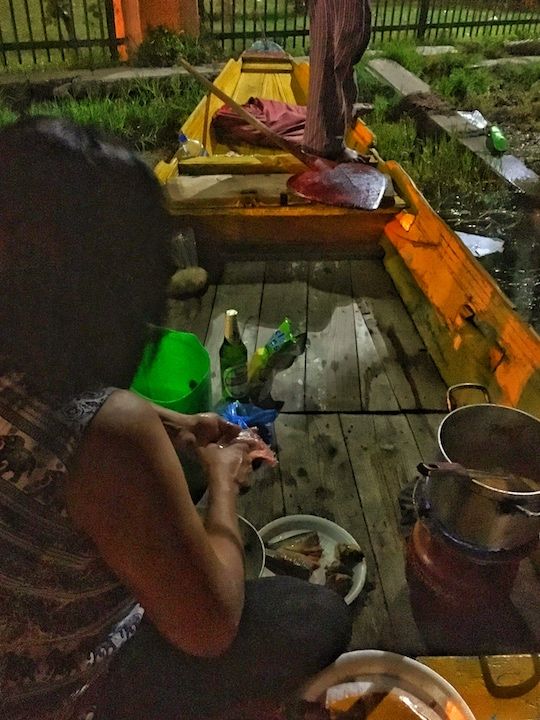 Who would have thought that three women could walk fearlessly on the streets of Srinagar way past midnight?
My purpose of solo traveling in Kashmir was to bust the myth about safety issues. Media hype has pretty much destroyed tourism in Kashmir. It is hard to say if it is entirely safe or unsafe, but believe me when I say this, it is no riskier than any other part of the country! In fact, the locals of Kashmir overcompensate for media's reckless reporting by being helpful, welcoming and courteous. If by some misfortune, you do find yourself stuck somewhere, you can almost always count on some help from the locals. Not that this is an ideal vacation situation, but should shit happen, you will get the support you need to reach safely back into your haven.
As a blogger, it is my duty to acquaint you with the treasures of a land and also its risks. Consider yourself warned! ????
By this time I had gained more confidence about traveling alone and going deeper into the valley without fear. One woman I met had done it already while I was busy calculating my risks! Day 1 was rather exciting and I started Day 2 with planning a trek. The logistics are underway and we are all set to go to Gangabal lake the coming Sunday. I cant stop posting about Srinagar on social media about how much fun I am having and how incredibly safe it is. The other solo traveler and I are gearing up for our trek when my host at the hotel came running to us with some bad news. Burhan Wani successor, Sabzar Bhat, has been gunned down in Tral.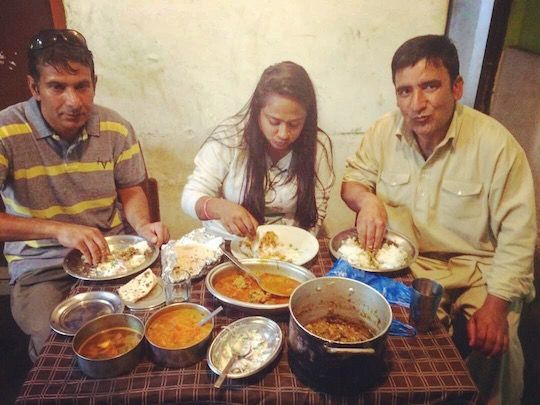 This news is a game changer. I became nervous about the prospects of my trip being affected by this sudden change of events. Srinagar that seemed peaceful just 2 days ago now became unstable. We were asked to avoid the downtown and Lal Chowk area and minutes later the internet services were suspended. The next time I heard the news update, Hurriyat imposed a statewide strike and military imposed a curfew. The city's pulsating energy came to a screeching halt. Just like that, the businesses that barely started picking up after months of ordeal hit rock bottom, right at the beginning of the season.
Ramazan and a Visit to Hazratbal amid Curfew
It has now been 7 days that we are stuck in Srinagar, thanks to the curfew. Luckily the people at our hotel were fun kind. With no where to go and nothing to do, we bonded with the locals fairly well. It is so endearing to see them accept this disturbance as a way of life and find optimism within uncertainty. It almost makes you feel guilty about your secure life back home.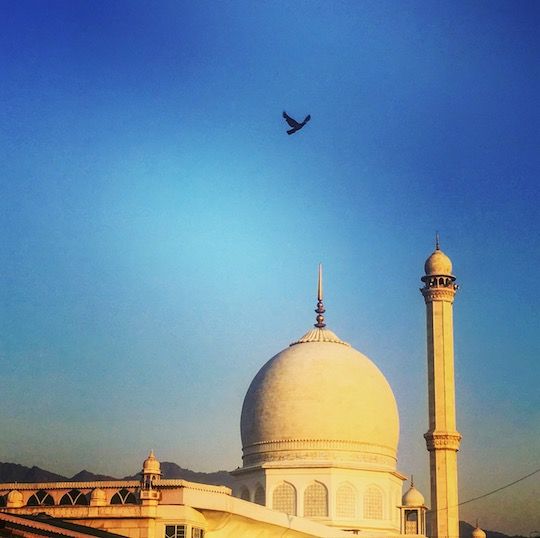 Me and the other travellers too bonded really well by this time. We joked about the whole mess and spent an inordinate amount of time in the kitchen, cooking and laughing at just about everything. We pretty much claimed the hotel that I was CouchSurfing in. Since we were the only guests, we had the place to ourselves, open for exploitation.
No matter how comfortable and homely the stay was, how long can you sit around? So me and Charu (the traveler from Mumbai) decided to go inside the city. Ramzan was in full swing and the city was steeped in spirituality. It was a good time to go to Hazratbal. The mosque is beautiful, nestled amongst the mountains right on the lake. It was amazing to see how faith drives people who risk the curfew to be at its gates. We took a walk around the complex, marvelling at the structure.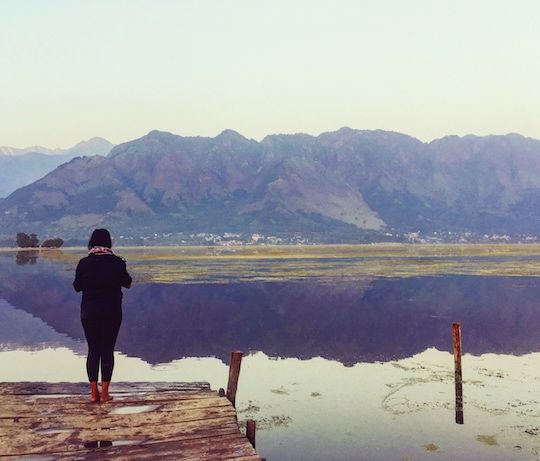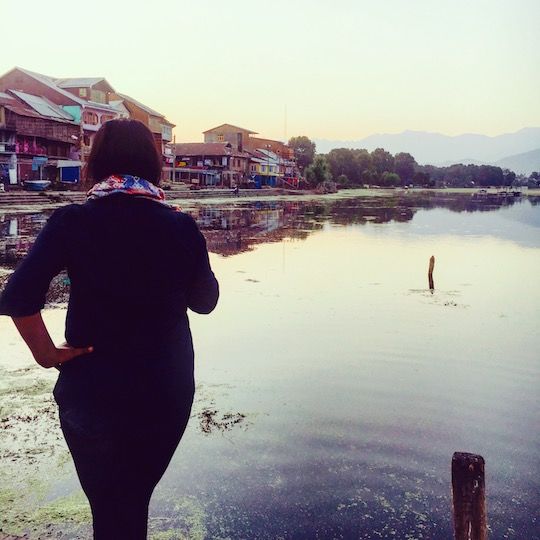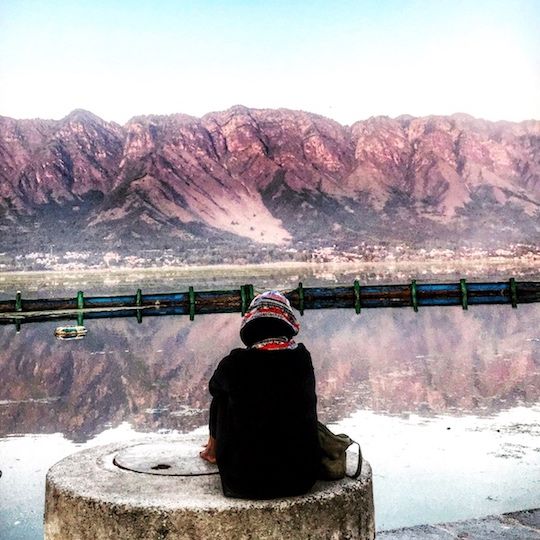 I especially enjoyed my conversations with the little boys, aged between 10 and 14, who were also fasting in full fervour. They were holding on to their glasses like dear life, waiting patiently for the loudspeakers to announce the hour of Iftiyari.
I was curious about how these young boys were able to stay hungry and thirsty all day and if it was by choice. Their collective nods and enthusiasm about the whole process of cleansing their minds, body and soul through fasting dispelled all doubts. Just then the announcement came and within seconds the contents of the glass were finished.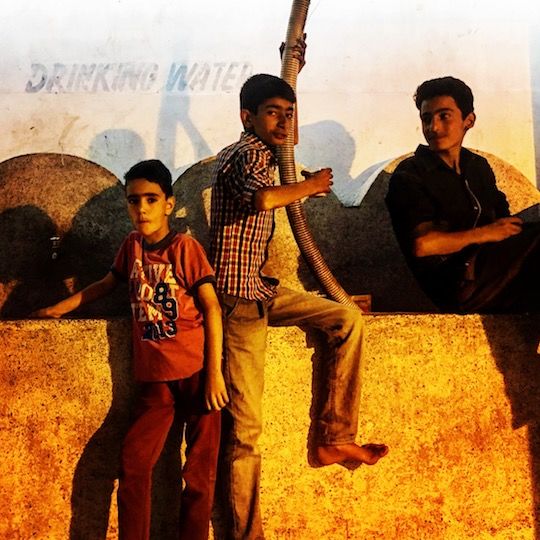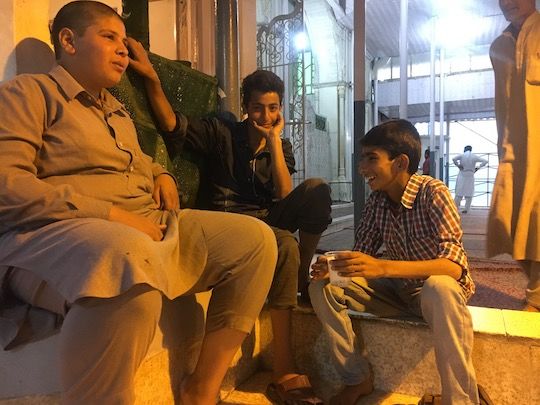 That was also when we realized it was time to head back. As we exited the mosque, it hit us that the city is still under curfew and that we are in a volatile area. We walked out on the main road to find it absolutely empty with not a soul around. It was getting dark and I was getting nervous.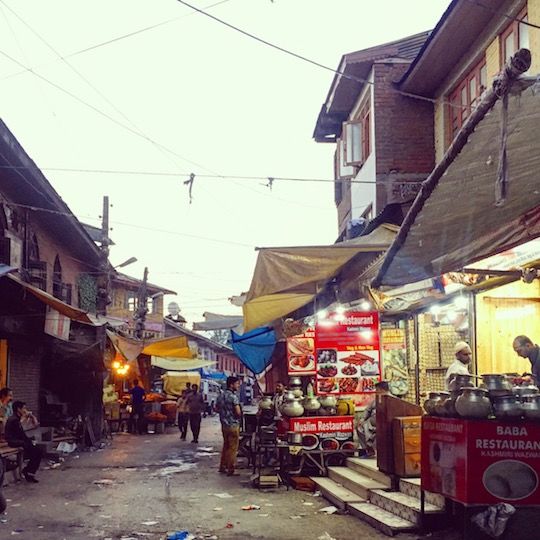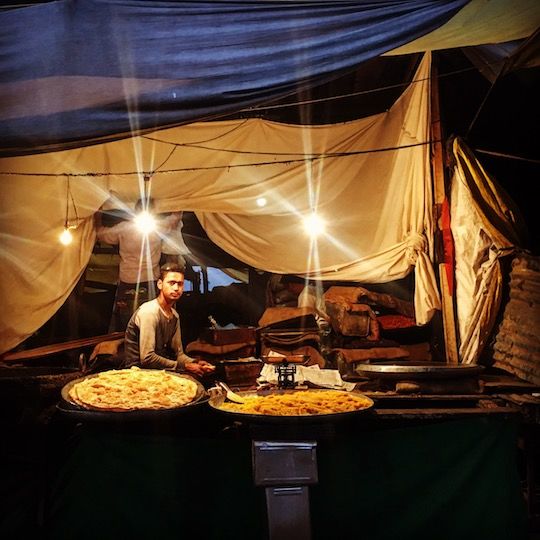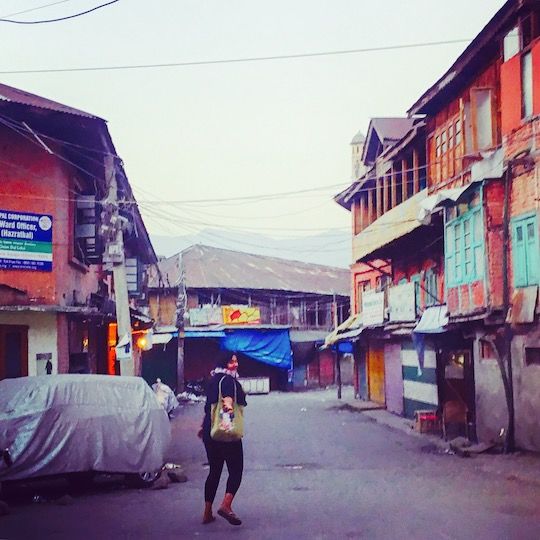 Just then a local came cycling by, angry at us for being stupid enough to come here. He first scolded us for 10 minutes and then started looking around for someone to take us back. We were lucky to find an auto at that time that drove us to Dal Lake. The auto guy wasnt happy about our decision either. He warned us to be more careful in the future because the things in downtown can get real heated, real quick. As we safely reached the lake area, we realized our stupidity and walked back in silence, thinking about what ifs.
Gulshan Coffee Shop and Kahwa by the Lake
This one came recommended to me by someone on my Instagram account. He insisted that I visit Gulshan Coffee shop if I love books, which I do. What makes it interesting is not just jaw-dropping views from its outside seating, but the thick cover of books on its shelves and the warm smell of coffee. Located right in the middle of the lake, you can actually sit here for hours and look at the mountains change color as the sun goes down. Me and Shanthi (the other traveller from Chennai) made a coffee date at this place, and we were glad we did.
To gain access to the coffee shop, you need to look for a shikara at Nehru Park. While there are many boatwallahs, search for the one that says Gulshan. This one is owned by the coffee shop for its customers and will ferry you to the other side for free. As we stood there looking for a shikara, we saw an old man with a simple boat offering to take us there and bring us back for Rs. 20. We chose him instantly.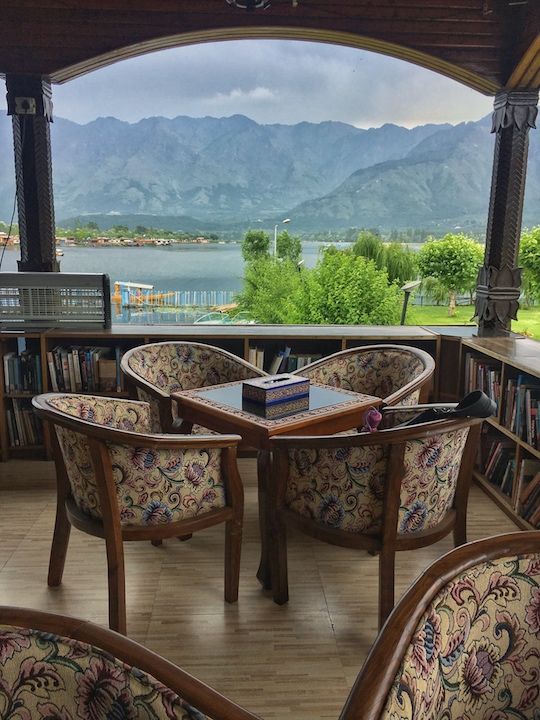 As I entered the book shop, i gasped in disbelief and went camera crazy on it. I was excited like a little girl to see all those books. This is where I belong, every single day, I thought! As we settled in, me and Shanthi entered a discussion about feminism and choices women make. Just then a lady walks towards us and says that we need more women like us in this world who can stand up for what they believe in. Her nonchalance, gracefulness, eloquence and beauty caught our attention and we invited her to join us for coffee.
She turned out to be the only woman in the world of Golf Courses in Kashmir, holding a position of power in the office. She had the airs and graces of someone who slogged her way to the top and be proud of it. She had self-deprecating humor that only self-assured people can have and she had the aura of a strong woman who knows what she is talking about. She could stand tall in a room full of men and make them nervous. She became my idol in that very instant. In 15-years, this is what I would like to grow up to be.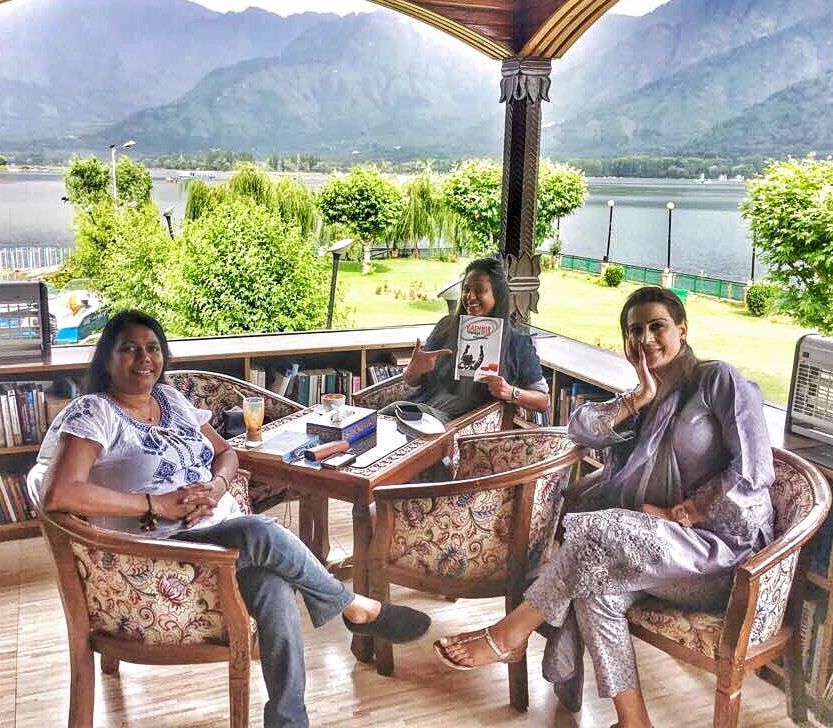 Our coffee date became so much more enjoyable, thanks to her company. Just then it was time to leave, Chacha (the old man) must be waiting at the lake side, and sure enough he was. We came across and helped ourselves to a generous glass of Kahwa that we enjoyed by the lake as sun was setting, befitting end to our day.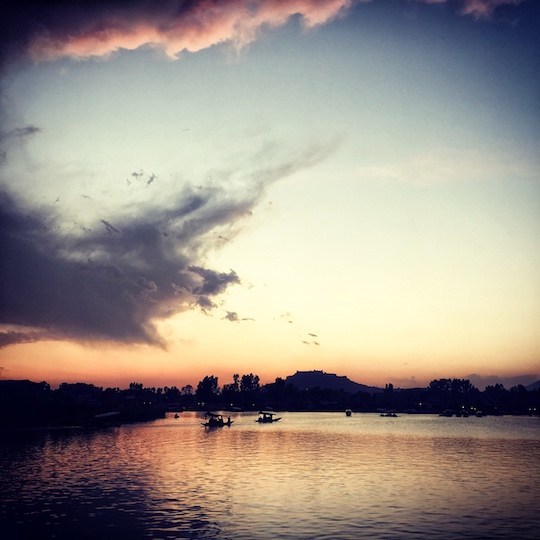 It is ironical how I found peace in a place that is supposedly torn due to ongoing battle between the locals and the Indian administration. The sound of Azaan wafting through the air, locals sharing their meals selflessly at iftiyari even though they have been fasting all day, the way they treat their guests and staying happy in the face of unpleasant political situations are just some of the things that make Kashmir what it is. Its natural beauty is not just of its lands but also of its people. Being largely Islamic, they were more secular than rest of the country combined. Their Kashmiriyat is what makes them so special for me and the reason why I left a part of me behind!