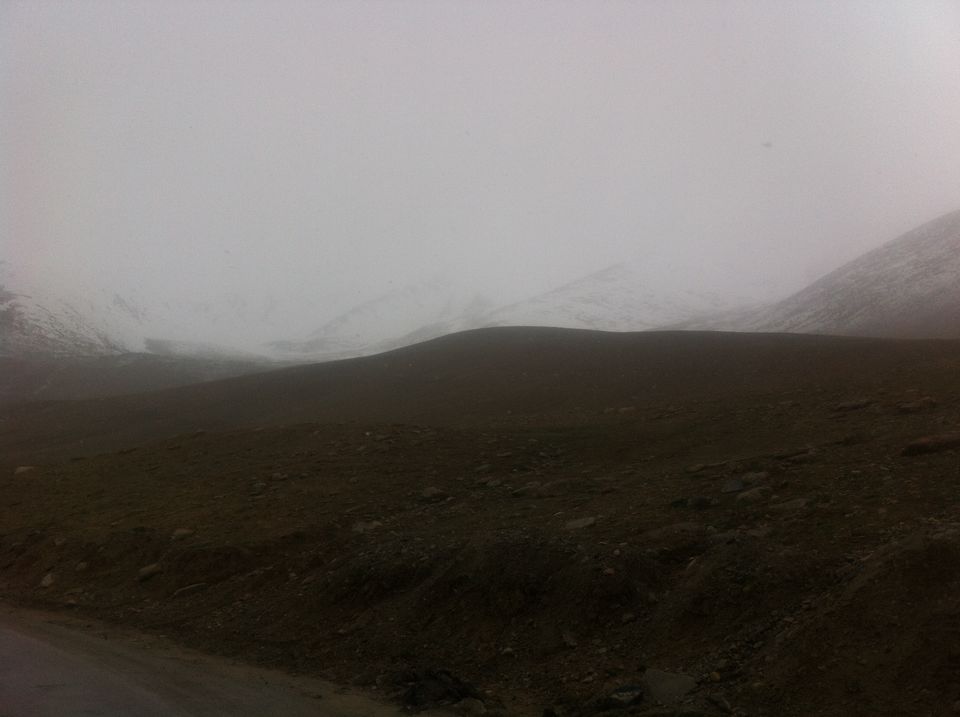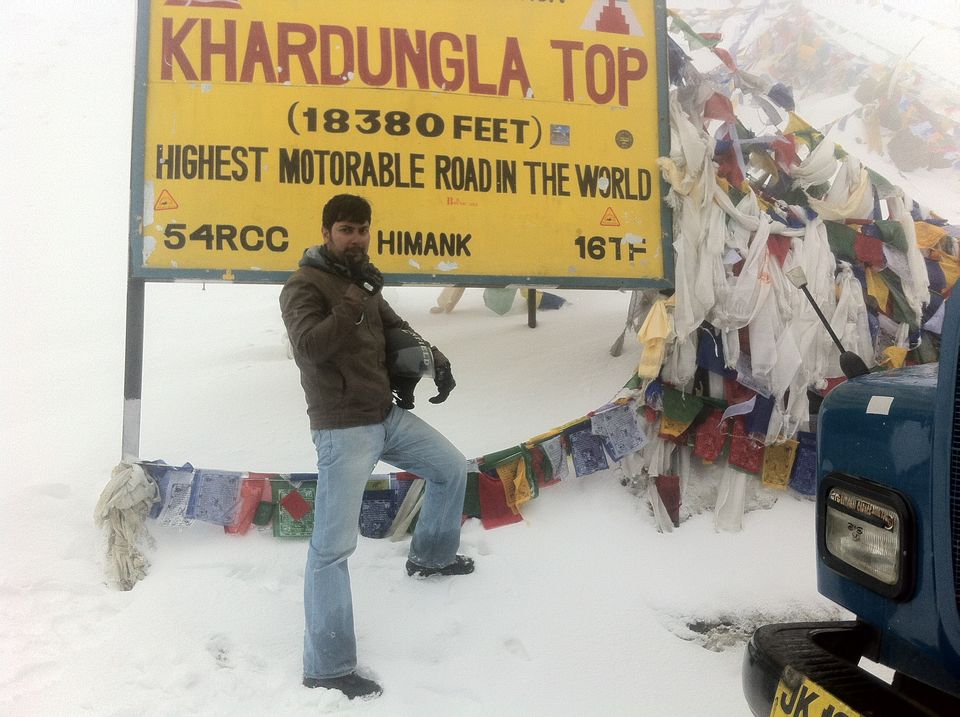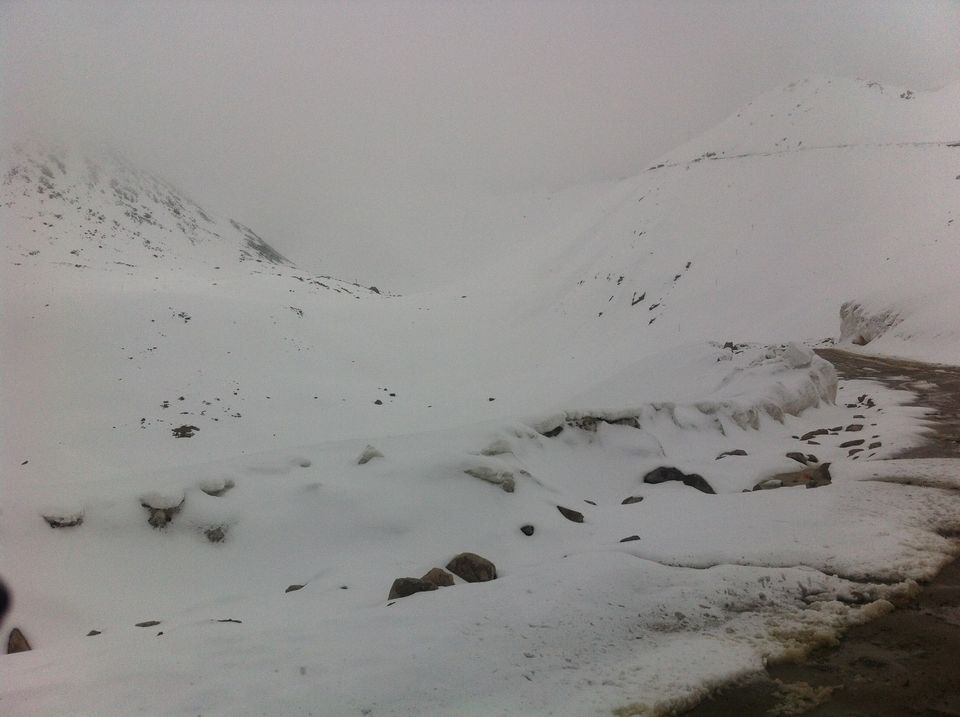 I only knew Khardung La (La means pass in Tibetan) as a fad Mecca for bikers where they pose in front of the signage calling Khardung La as the world's highest motorable road – a claim that appeared highly questionable. Such is my aversion towards fads that I decided to take the route less taken and drive to Nubra via Pangong. A route from Pangong via Durbuk leads to Agham followed by Khalasar and then Nubra valley. While there were loud concerns about no support on this route and one is pretty much left to nature's will, few  tried to scare us by claiming that we will need to search for road. I smiled at my friends Lt Cmdr Rakesh Anna, Lt Cmdr Amarnath Subbu and my civilian IT engineer friend Rajesh Anna as we all wondered if it could get any worse than the mighty passes of Talangala, Changala, Baralachala and even Rohtang in freezing cold.
We took on the route with two royal enfields and kept waiting for the road to disappear. We were not surprised as the road proved to be better than crossing Changala pass again or riding through Khardung La or K-Top as it is locally called. A few hurdles on the road actually came as amusement and the twenty kilometers stretch without the tar on road could on only do little to dampen our spirits. What was scary did not appear so scary and what was promising did not impress much till we reached Nubra valley. The double humped camels and the sand dunes at Hunder, Nubra valley were picturesque. Learning that the springs at Panamik, Nubra are not literally hot springs but more like a pond and the hot water gets funnelled into a steam bath room, we decided to skip the part. Who would have wanted to take a steam bath and ride back 20 kilometers to stay the night. We instantly decided to get closer to Khardung La at Khalasar and leave at next dawn.
We started our ascend at 6 in the morning determined to cross the highest motorable road asap and I personally did not want a picture next to the K-Top signage. We did click some pictures in the beginning which showed K-Top completely hidden among clouds. There was no sign of sun but our excitement was intact. Only fifteen kilometers before the K Top, we came across a small check post called North Pullu. The name appeared funny as we crossed under the check post barrier. As we kept ascending, the snow fall amplified. Something about snow that gets me all excited, it was time for photographs again. The view just kept getting better till we were about 3 kilometers before the K Top. Suddenly the road vanished as the potholes were replaced by snow everywhere. There was no road but snow everywhere. The visibility in the snow fall was limited to less than hundred meters. As we tried to ride through the snow, the snow blanket kept getting thicker and the tyres could not find any friction. The motorcycle slipped a few times as we spotted an army jeep driver tying chains around its tyres to support movement and we decided to follow it. The snow fall got so intense that the Tyre marks would vanish as soon as the jeep moved ahead. Our strategy had failed and then came a point of realisation that we just cannot mover any further. One look down the hill sent a chill down everyone's spine and suddenly everyone's red face looked scared.
It was decision time and we opted to drive back all the way to the connection between Nubra and Pangong as there was no point losing our lives in this wild goose chase. We quickly and safely descended downhill, crossed North Pullu. The army jawans gave us curious looks perplexed on what we possibly were trying to achieve uphill. One army officer stopped us and enquired on what made us think that we could cross the pass in that weather. I suddenly dawned on me that the barrier was down and the road was shut for vehicles when we had passed underneath over an hour ago. It took us twenty more kilometers and a look at the bright sun light shining at another hill to stop and introspect. What do we have and what do we need. We had only limited petrol as it was only 45 kilometers till Leh from K Top. The other route would have sent us back by another 150 kilometers and had its own risks of no support. We decided to reach North Pullu again and wait at the army camp, the idea was to put our motorcycles on a truck and cross the pass.
Lieutenant Commander Rakesh Anna and Lt Cdr Amarnath Subbu spoke to the army jawans at North Pullu check post and we were offered a warm cabin to wait inside. Our shoes were wet, clothes were wet and the snow outside had caused actual pain. Now, it had started to snow heavily till North Pullu and it was clear that there will not be movement anytime soon. The army commander suggested that we wait till afternoon and leave along with the civilian vehicles that were getting restless with each passing minute. A couple of hours passed and we still could not decide our next move, i could not even decide if I could take off my wet shoes and dry them a bit.
In a moment of impulse, Lt Cmdr Rakesh Anna asked a young army officer what he would have down if he was in our situation. He joked that he would have left and that very moment we all got up to leave. Waiting for a couple of hours had made us restless enough to not worry about the cold, the snow or the skidding from the K Top. Since our motorcycles were parked ahead of the check post, we did not have a problem and we left in front of the restless civilians. We were the only ones aware of the risks at the top, others weren't. To our pleasant surprise the snow had stared melting and there were patches on the road to ride our motorcycles through. When the road disappeared again, we followed the military vehicles getting across the K Top to drop a senior officer. The army helped us through the two hour struggle to cross 2 kilometers and reach the top. None of us spoke during the strenuous climb as we struggled to fight the snow, pulled the heavy motorcycles, breathed hard for oxygen while -15 degrees and wet clothes took backstage.  Finally we reached the top and I saw the same signage, only with respect this time. I parked my motorcycle a little ahead, walked back to the signage and waited for my friend to come and click a picture.
Important points:
Khardung La serves as gateway to Shyok and Nubra valleys in Ladakh
North Pullu and South Pullu are army check posts on either end of the pass
The road from Pangong to Nubra via Durbuk is not that bad and should be explored with proper precautions and spare parts
Always carry extra petrol and basic spare parts
Nothing can save you from nature's fury, but caution
This trip was first published on https://ssjamwal.wordpress.com/.
world's highest motorable road