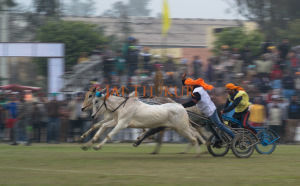 For so many years I have been reading about the famous Bullock Cart Race and, I was in a dilemma shall I cover it or not as Supreme Court of India was at time planning to ban the same. Finally, I got a chance to witness this thrilling sporting event in 2014 at 78th Rural Olympics.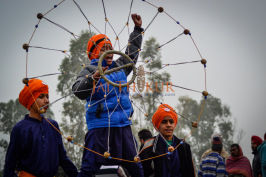 Well! Kila Raipur Sports Festival, popularly known as the Rural Olympics, is held annually (February) in Kila Raipur (near Ludhiana), in Punjab, India. It was in 1933 when, Philanthropist Inder Singh Grewal visualized an annual recreational meet where farmers from areas surrounding Kila Raipur could get together and test their corporal endurance. The three-day festival is witnessed by more than a million people, every year. So many eyeballs witness the numerous set of games like Bullock Cart race, Athletics, Tug of War, Horse Race, Tractor Race, Cycle race, Dog Race etc.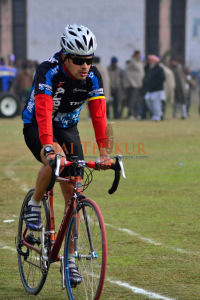 For me it was my first sporting event in terms of Photography. I was excited, thrilled and confused at what to do now. On the very first evening, I was a little apprehensive of the fact that I should be clicking the event from a safe distance or else try my luck at the finishing point. The locals were way too loud and the atmosphere was electrifying. As the blue hour approached I found myself at the finishing line of the race which is considered to be the most dangerous spot for the onlookers. But, I decided to frame that moment, despite of the loud surroundings, and luckily got few. But the feeling of achievement and to be at that spot was much higher than the fear of getting hurt.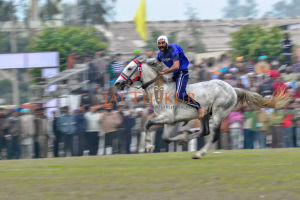 Next morning, I reached the spot before it started. Had a chit chat with locals, took out time to taste some local delicacies like sugarcane drink and Pakoras. Organizers were cooperative enough to issue me a press card for the stadium. Since, I had press card so I was able to go near the participants on the ground. It was more of a dream for me that I am between these jockeys and beautifully dressed Nihangs.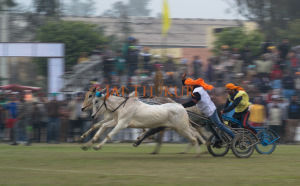 To summarize, you will definitely feel the real spirit of Punjab and the Rural Olympics which often demonstrate the physical strength and valor of the Punjabi men and women.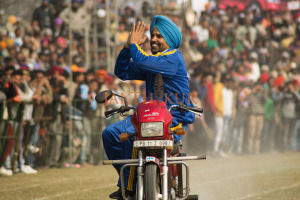 The festival has become an international hit for its more unusual sports categories. Spectators travel from all over the world to the village of Kila Raipur to attend the games which attracts more than 4,000 sportsmen and women, and N number of travelers, photographers, and tourists.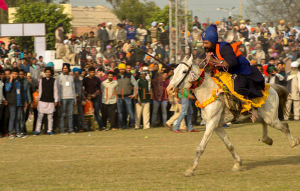 If you are planning to visit that then remember this mantra - first BE SAFE and then Enjoy !
How to reach: Delhi to Ludhiyana trains are available
Where to Stay: You have lots of options for hotels in Ludhiyana within the range of 1000-3000+ (varies season to season). But get your bookings done to avoid last minute rush. I stayed in Pukhraj Hotel which was not good at all and so as the services
What to eat: Yummm! this is the real thing. All hotels and dhabas serves traditional and mouth watering traditional Punjabi dishes. You have the option of exploring local western food joints as well
What to see: Other then the sporting event you can visit local villages which are surrounded by mustard field and are treat to the eyes. Nihangs and their tradition attire, farms and tractors, Guru Dwaras and the overall culture of Punjab will take your heart away
References: Punjab Tourism, Rural Olympics.net
This post was originally published on Ghumantra