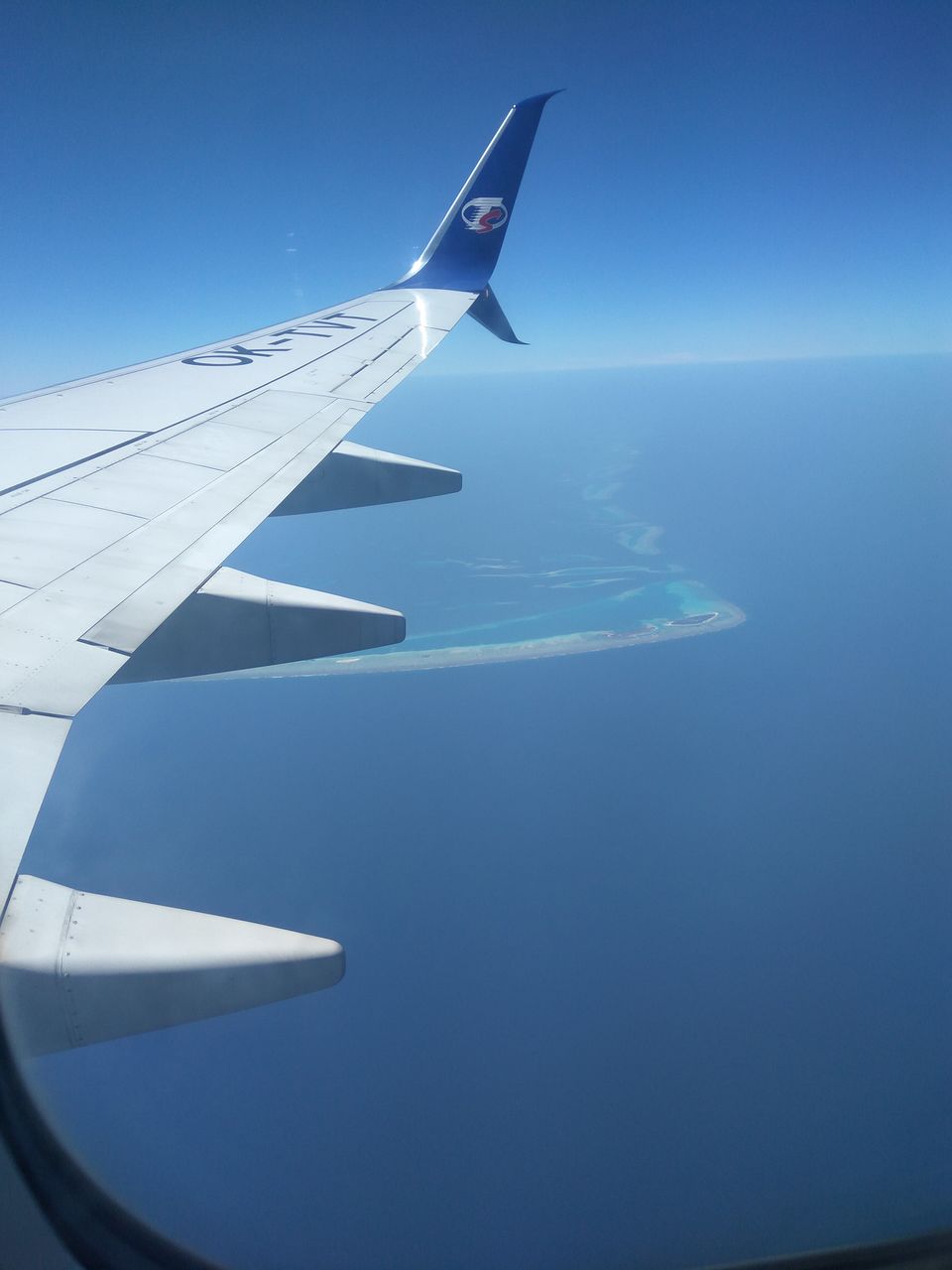 My wife and I had got our tickets booked for some 55k return (two ppl) from New Dehli through Yatra.com – Srilankan Airlines in September for a new year vacay in Maldives. We booked 3 star hotel Kaani Beach Village through Booking.com (free cancellation till a particular date. But we cancelled our tickets ( the refund came after 6 months – yatra sucks) and hotel reservations due to some confusion. I was still adamant to go to Maldives. The thought of clear blue water, white sand and global warming couldn't but made me want to go even more. We decided to not wait further and book our tickets for February – My wife's birthday. We booked these tickets a month before through airlines called – Mega Maldives and got the tickets for 45k – 2 ppl. This airline is still not listed on travel websites. Mega Maldives is a budget airline. Still less popular, which made it all the more comfortable with empty seats to sleep on. Check out for yourself -
http://megamaldivesair.com/en
We reached Maldives in 4.5 hours. Immigration was a piece of cake. But my wife had taken extra precaution and booked us a hotel at Male, to save on the money for ferry to Maafushi. Maafushi was where we were planning to stay after our overnight stay at Male. The internet has very less about information about Maafushi, except for a few travel blogs.
Well one such lack of information was the transportation between Male and Maafushi. The only reason we chose to stay at Male was because we didn't want to spend exorbitant 150$ on a speed boat ride instead of a 2$ ferry ride. My wife thought that we would miss the public ferry because of the immigration and hence should not book any accommodation in Maaafushi.. She was proven wrong. Nonetheless, she was gracious to accept it :p
From the airport, we took the one dollar ferry which goes every ten minutes to the capital of Maldives – Male. Male was crowded but didn't seem a waste of day until we went to Maafushi. After reaching Male, we got fooled by a taxi driver who asked for 3$ for 1 minute walking distance, well we realised it later. Unima Grand is very close to the artificial beach with nice restaurants alongside. But just opposite to the hotel is a Mosque. And it became difficult to enjoy the vacation with very loud prayers. We had our lunch at one of the restaurants at the artificial beach. A decent meal for two without liquor in Maldives costs 34$ on an average. We spend the day walking around the city, saw a local football match. We walked to Villingili ferry and asked for the ferry timings for Maafushi. One ferry was leaving at 7.30 am and another @ 3.30 pm. We were disappointed with our limited options. But good for us, our Hotel @ Maafushi – Kuredhi Beach Inn (new hotel) emailed us and informed us about a icombrown speedboat which left Male @ 1 pm and takes 35 mins to reach Maafushi for 10$ per person. This was perfect for us, because we wanted to drink at the Hulhule airport Hotel that night. Alcohol is only available in Maldives in some hotels and resorts. It was not available in Male and we took a ferry to the airport where a hotel had a bar.
After our night at Male, we boarded the speedboard from the jetty confirmed by our hotel. What a fun ride it was. The sun, breeze, water – it was beyond my imagination. When we reached Maafushi – I understood what the megamaldives plane said – the sunny side of life. Oh it was, it was sunny and full of life. It was so peaceful with incomparable beauty.
Coming back to Day 1 @ Maafushi, we were greeted by our hotel staff who helped us with our luggage. Tiger, this person needs a special mention. He works at Kuredhi Inn and is one of the most efficient and friendly people I have met. On our 2 minute walk to the hotel, Tiger gave us a small brief about the small island and added a few jokes here and there. We were greeted with cold scented face towels and orange juice on arrival. That felt good. Tiger introduced us to the activies like sandback picnic, snorkeling, dolphin watching, resort visit. Our room was located on the first floor (lucky for us, maximum hotels don't have lifts in Maafushi). It had a balcony with the view of the bikini beach. Oh did I forget to say that there is a bikini beach in Maafushi, right where most of the 3 star hotels our located. Our hotel was a 30 second walk from the bikini beach.
Day 1 was about chilling on the beach, swimming in the ocean and enjoying the crystal clear waters. We also visited Princess Kaani, the small ship/big yatcht if I may say, on the waters, which served alcohol where we enjoyed the beautiful view of the Sunset. Princess Kaani offers free ferry services (3 mins ride) from Maafushi Island. We had a lovely dinner buffet for 12$ per person at Arena Grand. The food here is the best in Maafushi. Offers soup, main course, desserts and variety of live food stalls.
Day 2 was the dday, my wife's 25th birthday. We booked 5 point snorkeling a day before with the help of Tiger. That experience of actually seeing marine life so clearly is unexplainable. One starts to adore life's beauty and mysteries. We saw Nemo, turtles, live reef, dead reef, dolphins and so many more beautiful creations of nature. We also had lunch at the sand bank in the middle of the water (the meal was included in the package). Yet that day had another interesting thing to offer, Mango Hash oil. Yes, you heard it right. My wife does a lot of research before travelling and she knew that hash oil was easily available in Maldives, so she was adamant to try some in a foreign state (crazy streak :P) . Well, she used the code - punk alert, whenever she would suspect someone to be a potential seller,as a good husband I would ask the suspected man, and was refused twice in Male. My wife was a little scared after that. But she is an incorrigible optimist. So she tried again, looking at the instructors. And this time, she was right. The people were super happy to share some and a bought a little less than a joint later. She said I really made it her Happy Birthday. But the actual surprise comes in the evening. We enjoyed watching the sunset at Princess Kaani, and alcohol of course. My wife loves suprises and loves cakes but Maafushi didn't have any bakeries and I had already informed her that in an apologetic fashion (SLY :D). I told Tiger I wanted to surprise my wife and he was more than happy to help me. He arranged a private 5 course dinner on the beach, right next to the water. The place was beautifully lit. My wife was super excited to see the place. She was not expecting anything. And I could see happiness on her face when she saw the cake (hotel had sent a staff to Male to get the cake). We completed the evening by smoking half of the left joint. It was really another level of happiness :P
Day 3 was just meant to relax at the Bikini beach, sipping coconut water and snorkeling using the equipment provided by the hotel for free. After sleeping in for a little while, we went for our mandatory session at Princess Kaani. After 8 vodkas and a decent lunch, we went back to the beach. That night we had dinner at the Arena Beach Hotel. The place also has a live band, which had made our last evening in Maafushi really special.
Day 4 – Time to say bye… Both my wife and I were feeling nostalgic, the day we had to catch our flight back to New Delhi. We spent the early morning at the beach and had our breakfast at the hotel (which was included in our stay). We packed though we were really not in the mood to say good bye to the beautiful island. Tiger and another staff member escorted us to the ferry and even waited with us after the ferry was late. After saying our goodbyes, we boarded the ferry back to Male Airport. It was a 10$ ferry and can be booked from Maafushi itself.
Both my wife and I were quiet during the ferry ride and I feel though we didn't speak for good 40 mins, we were both busy in absorbing the beauty of Maldives, the sun, the water, the breeze, the freshness in the air.