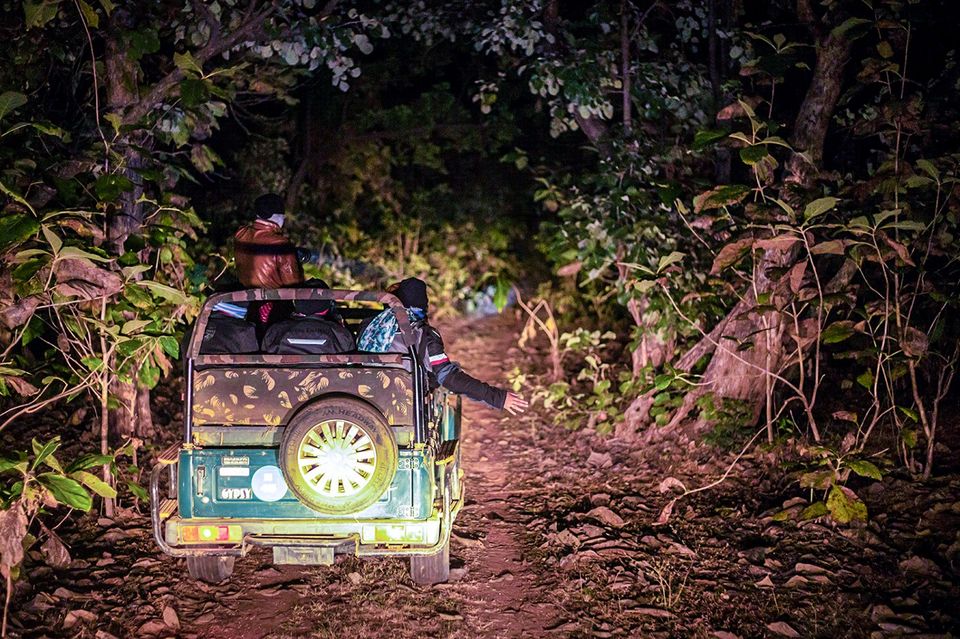 For the hardcore wildlife enthusiasts, nightlife has a different meaning altogether. They better know that in order to spot the nocturnal animals, they have to go out there in the wild when the sun goes down. On a night safari in Madhya Pradesh, nothing beats the thrill of exploring the jungles when there is pin-drop silence all around and you wait to explore the nightlife of the animal kingdom.
The moment you board the gypsy, your heart starts racing as fast as Usain Bolt and you wonder which animal might show up suddenly to give you an experience of a lifetime. Well, that's the thrill when you enter an altogether different world of wildlife. You never know what all experiences you will come across.
Now, let's go through the National Parks in Madhya Pradesh where you can experience the jungle life in the dark.
Night safari in the Buffer zone
Time- 6.30- 9.30pm
A night jungle safari in Bandhavgarh National Park offers a heart-throbbing experience and you can go on to explore the stunning landscapes here in the splendid color of the setting sun. As the night becomes intense, the sound of the crickets fill the air, fireflies sparkle thereby creating a fascinating sight and there are chances to capture the bizarre aspects of wildlife in the night safari here. If you are lucky, you might even come across spotted deers hopping on from one place to another or hiding in the bush. Once you are done with the safari get back to your resort, enjoy sumptuous meals sourced from organic ingredients, and go off to sleep in a peaceful jungle environment.
NIght Safari in the buffer zone
Time- 7.30-10.30 pm
If you cannot get enough of Kanha National Park during the day, then there is certainly the most thrilling option to explore after the sun sets and that is a night safari. This National Park is noted for its rich ecosystem with an impressive variety of flora and fauna and is home to Barasingha. If luck favors you might come across this beautiful species roaming out freely in the wild. You may also hear occasional calls of owls, eagles, peacocks which is an experience in itself since the entire jungle environment at night is covered in pin-drop silence.
Night Safari in Buffer zone
Time- 5.30-8.30 pm
Eager to catch a glimpse of some rare species/ Head to Pench National Park. Animals such as Jackals, deer, wild boar, some nocturnal birds live here and are frequently spotted. Come, up close to them as they frolic, graze and sometimes even hunt. With an exciting gypsy ride that takes you through the dense jungle of Pench National Park, enjoy spotting the nocturnal animals roaming freely in the wild.
Source URL- https://www.mptourism.com/night-safari-at-these-national-parks-in-madhya-pradesh.html