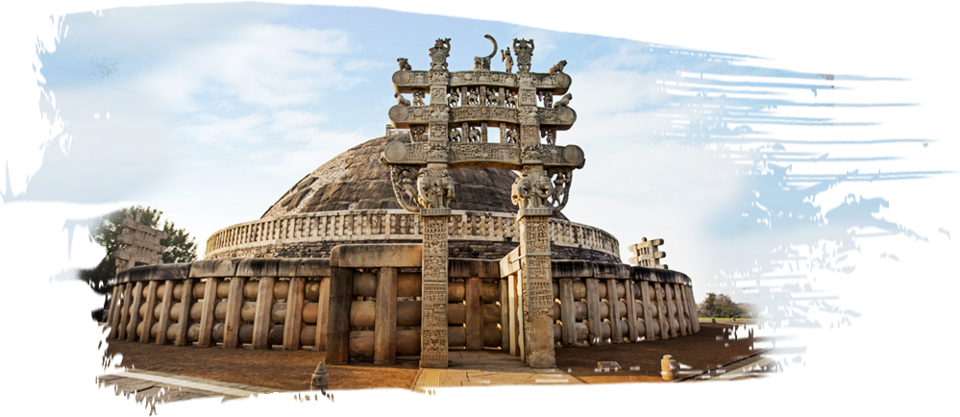 If you are an explorer who travels in search of peace and exploring Buddhism, you must have heard the name of the great Stupa of Sanchi. It's one enchanted site that takes you to a magical journey to experience the life of Buddha and his disciples. The rich history of these spherical structures dating back to the Mauryan period never fails to amaze the history lover and ardent spiritual travellers. Besides these phenomenal wonders, there are more places to explore within a radius of 10 to 12 km. Here are the top tourist attractions that you would want to see on your excursion to Sanchi.
Jambudweep
Situated in the same town as the UNESCO World Heritage Site of Sanchi Stupas, Buddha Jambudweep is a 17-acre theme park. It is built on the life and preaching of Gautam Buddha and Emperor Ashoka. The site is aligned with lush green gardens with various recreational activities like story boards, mazes, and jigsaw puzzles to give you wisdom on Buddhism. There is a museum that has digital puzzle games and different paintings that throws light on how stupas were erected from start. You can also attend the spellbinding sound & light show that will traverse you to the glorious journey of Gautam Buddha in Sanchi.
ASI Museum
Established by Sir John Marshall, Archaeological Museum in Sanchi exhibits various ancient objects belonging to Mauryan, Sunga, Satvahana, Kushana, Gupta and late Gupta periods in the main hall, galleries and a few in open courtyards. It is a treasure trove of history that will transport back to old times and awe-struck you with the thought that how finely these things were made with so limited resources.
Vidisha's heliodorus Pillar
Vidisha is a district located approx. 10 km from Sanchi and 4 km from Udaigiri site. After exploring the spellbinding stupas and temples if you still have spare time, then visit city's Heliodorus Pillar. It's a stone column built in 113 BCE. A dedication written in Brahmi script was inscribed on the pillar, revering Vasudeva, the "God of Gods" and the Supreme Deity. The stambha symbolises joining earth, space and heaven. It's a small site and would hardly take 15 minutes to explore.
Udaigiri Caves
Just 10 km away from Sanchi stupas, there are ancient Udaigiri caves and shall not take more than half an hour to discover. The area is surrounded by forest and offers really beautiful and worthy views of greenery! Caves that rings 20 Gupta-era temples and monasteries were carved out of a rocky hill, one of which is dedicated to Jainism and the rest to Hindu Gods & Goddesses. The trip will be a mix of historical and nature sightings and the best time to visit is during the monsoon.
So, when you plan a trip to Sanchi stupas, weave your travel around these beautiful sites and call it a day with sound and light show at Stupas or Jambudweep followed by delicious dinner at MPT Gateway Retreat, Sanchi or Udaigiri Resort.
Source URL - https://www.mptourism.com/sanchi-stupa-with-other-tourist-destinations.html