It is a fact universally acknowledged that India is lagging behind in terms of cleanliness. Albeit an embarrassing one, it is a fact that cannot escape notice. Take a plunge into the past and you'll understand the reasons behind this sorry state.
Indians' attitude towards cleanliness is related to the concepts of class and caste. In a country where manual labour has traditionally been associated with the "lower" social strata, who would want to take the ownership of cleaning public spaces?
The concept of taking responsibility for cleaning public spaces has long been absent in most Indians and it's only now, after decades that we're trying to break free from this destructive cycle. The government-led campaign, Swachh Bharat Abhiyan has been quite instrumental, if not hundred per cent successful in bringing about a change in the mindsets and attitudes of the country's citizens. Ever since Swachh Bharat Abhiyan came into force, the government has been carrying out an annual survey scoring cities and towns to determine which is the cleanest city in India. Indore has been winning the award for the cleanest city in India from the past two years. So, how did a city that ranked 149 and 25 on the cleanliness scale in the years 2014 and 2016, jump to the top in a span of just one year to become the cleanest city in India?
Hard work, co-operation, and a system of rewards and punishments; this is the recipe for Indore's success in becoming the cleanest city in India.
Prior to 2015, residents of Indore would not acknowledge the colour-coded garbage bins and the concept of waste segregation. To overcome this situation, Indore Municipal Corporation adopted a bin-less city model and laid emphasis on door-to-door collection of waste. Once people started appreciating the facilities of door-to-door garbage collection, residents were asked to segregate their waste and the garbage collection vans became equipped with partitions, separating organic and inorganic wastes.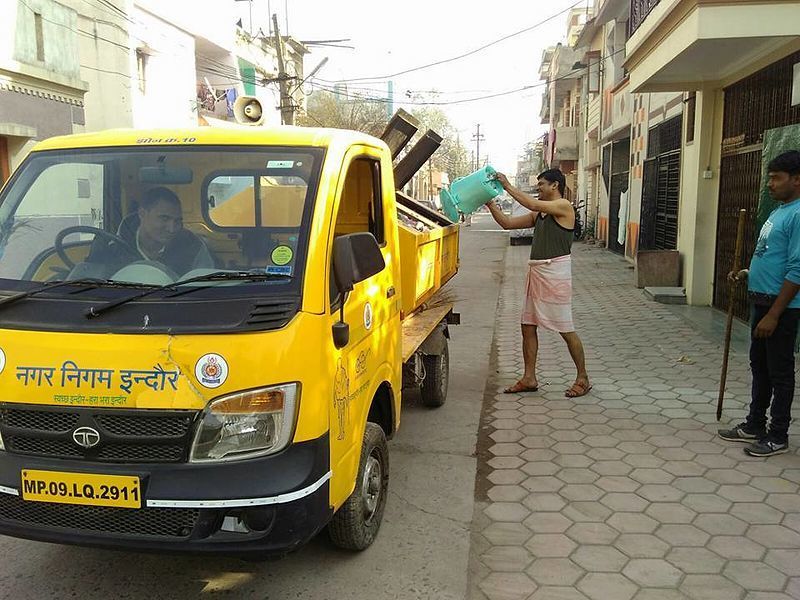 In order to put a stop on littering by vehicle owners, Malini Gaur, Indore's mayor, personally distributed around 1,200 car-dustbins.
Concurrently, IMC imposed a system of punishments and rewards; those who littered public spaces would be condemned and those who managed their wastes in an efficient manner, lauded. This instilled a sense of fear and shame among the litterbugs and motivated people to keep their surroundings clean.
Every now and then, competitions are held among institutions, hospitals, restaurants and wards, and the group that handles their waste in the most efficient and innovative manner is rewarded.
It is interesting to note that Bhopal, the capital city of Madhya Pradesh has been ranking 2nd in India from the past two years. In fact, the state of Madhya Pradesh has the maximum number of top-ranking clean cities.
Becoming the cleanest city in India wasn't the easiest task to accomplish for Indore. But by diligently following some simple steps and enforcing some necessary rules, it was able to win the title of the cleanest city in India.
The story of how Indore morphed into the cleanest city in India should motivate us to contribute towards making India a cleaner place. Here's what you can do to make your own hometown the cleanest city in India:
- Remember to throw biodegradable waste in green bins and non-biodegradable in blue bins
- Treat public spaces like your home and take the ownership of cleaning it
- Charity begins at home. If you see a friend or family member littering, stop and educate them
- While travelling long distances, keep a paper bag with yourself to accumulate waste and dispose it later in a dustbin
- Understand that dirtying a public space would backfire and ultimately harm you in the long run
Every citizen of Indore is proud today for living in the cleanest city in India. It takes effort to completely change your lifestyle and make your home the cleanest city in India but it is possible. By keeping these simple things in mind, you can ensure that one day, where you live can become the cleanest city in India too.
What are you doing to save your town or city? Create awareness by writing it here on Tripoto.
Frequent searches leading to this page:-
cleanest city in India