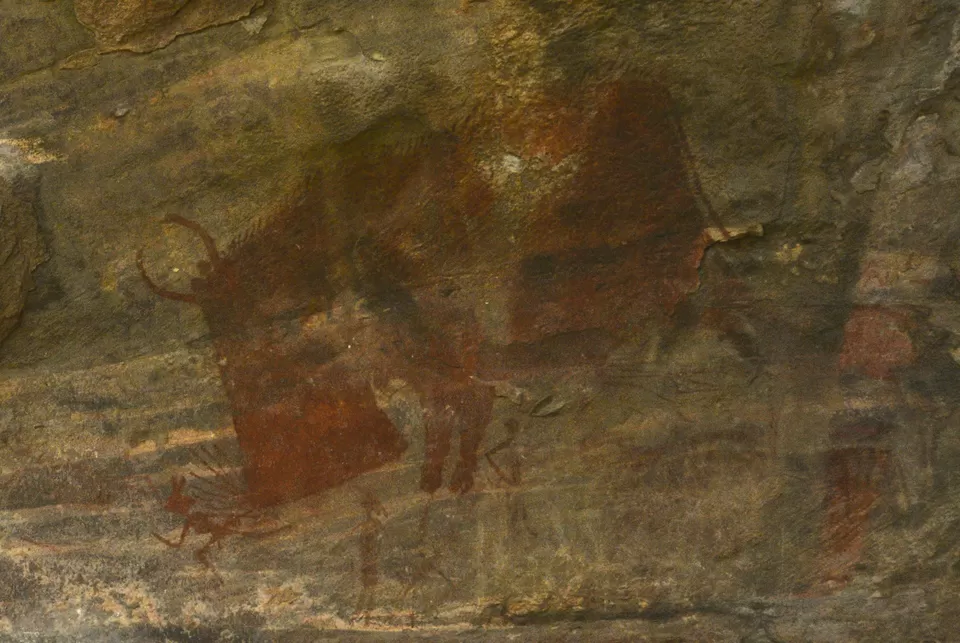 When I squeezed in a trip to Bhopal while visiting Indore for a friend's wedding, little did I know that I would be exposed to a site that has witnessed the test of time in the truest sense possible!
Located 45 kms south from the capital of Madhya Pradesh, at the foothills of the Vindhya Range, lies a complex of 700 shelters, that were discovered in 1957.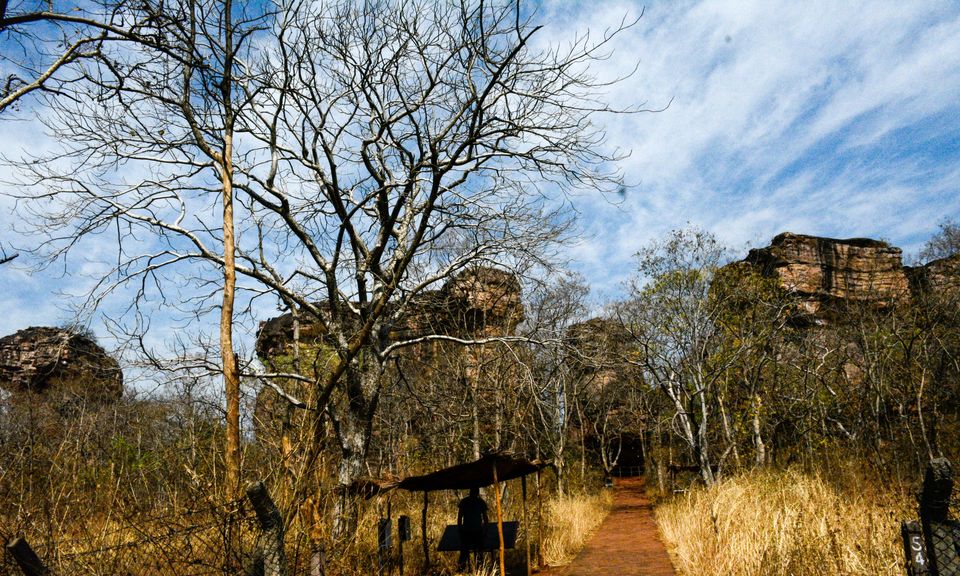 These natural rock shelters, that are surrounded by the Ratapani Wildlife Sanctuary, were designated a UNESCO World Heritage Site in 2003.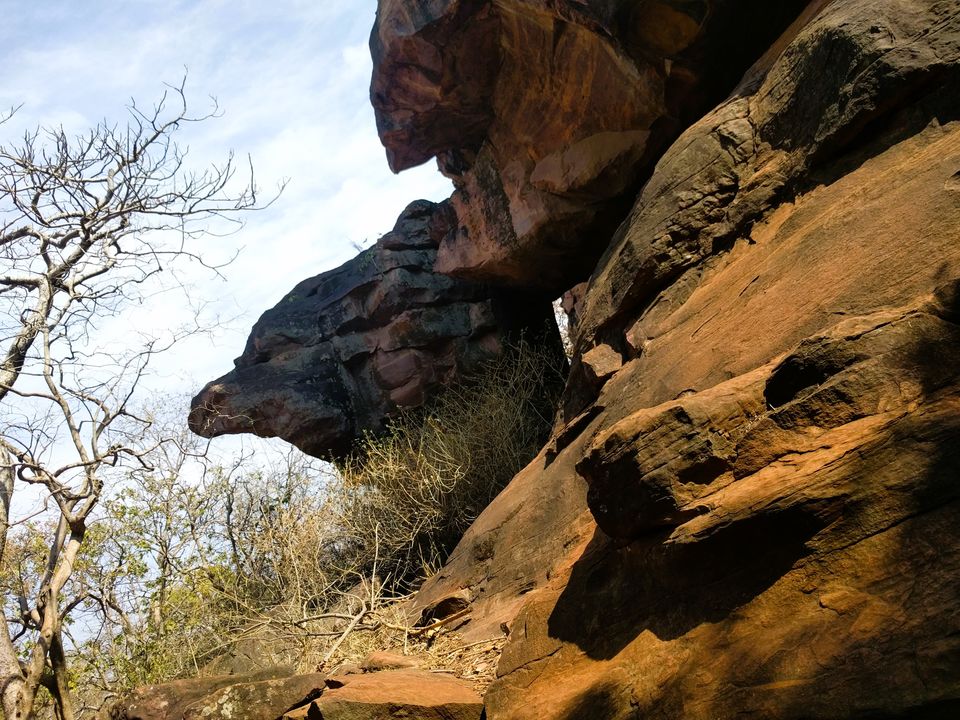 The Legend:
Derived from the term 'Bhimbaithaka' meaning 'the seat of Bhima', who was one of the five Pandava brothers in the epic Mahabharata, Bhimbhetka, according to legend was the resting place for Bhima and his Pandava brothers during their exile. Outside the caves, on the hilltops Bhima would meet the local people from that area.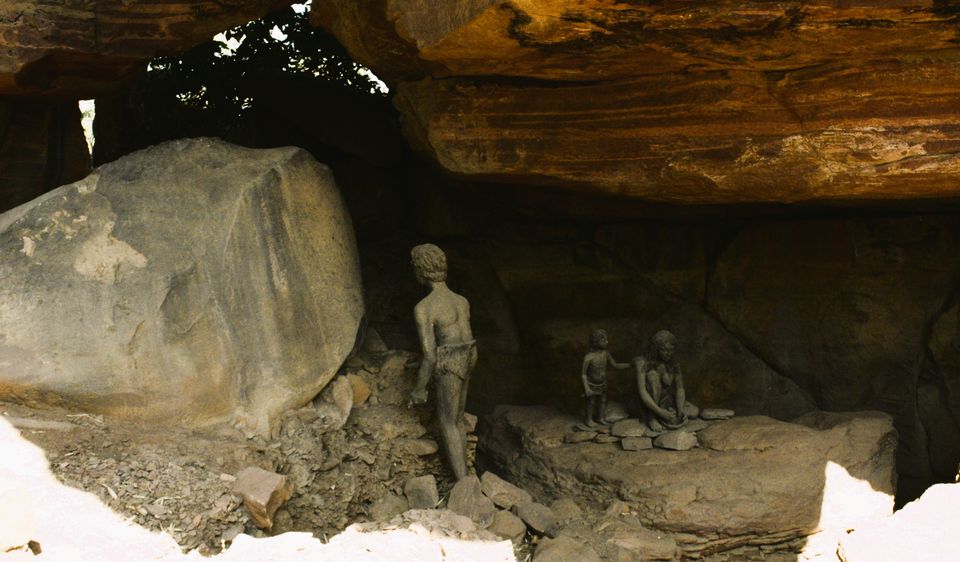 The Discovery
It all started when a train stopped in the middle of nowhere due to engine issue right in the heartland of India. A man peeped out of the window out of curiosity and the unusual rock formations at a distance captivated his attention. His impulse kicked in and he disembarked to walked towards the rocks to investigate further with the help of a local. Up close, what he discovered altered the world's comprehension of the cognitive evolution of man that pushed back its dating by thousands of years. The site that he found in 1957 - the unique-looking naturally sculpted rocks formed through wind erosion, is currently known as Bhimbetka Rock Shelters and the man responsible for the "epoch-making" discovery was V S Wakankar - a noted archaeologist of India.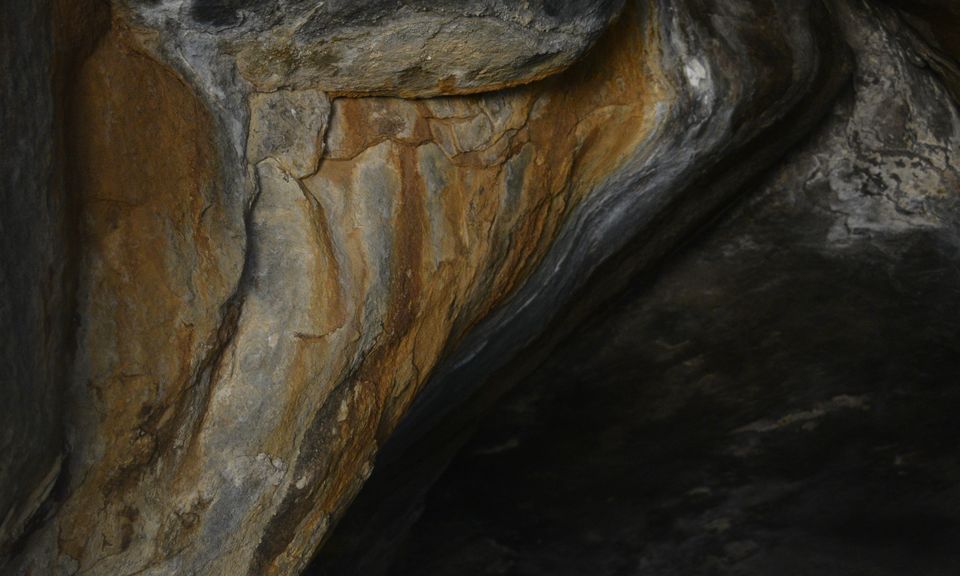 According to another renowned archaeologist, Padmashri K K Muhammed "In Europe, the cognitive development of man started about 40,000 years ago while here in Bhimbetka it started 100,000 years ago, we are walking now not only in the footsteps of Wakankar but also the ancient man who shaped human history,".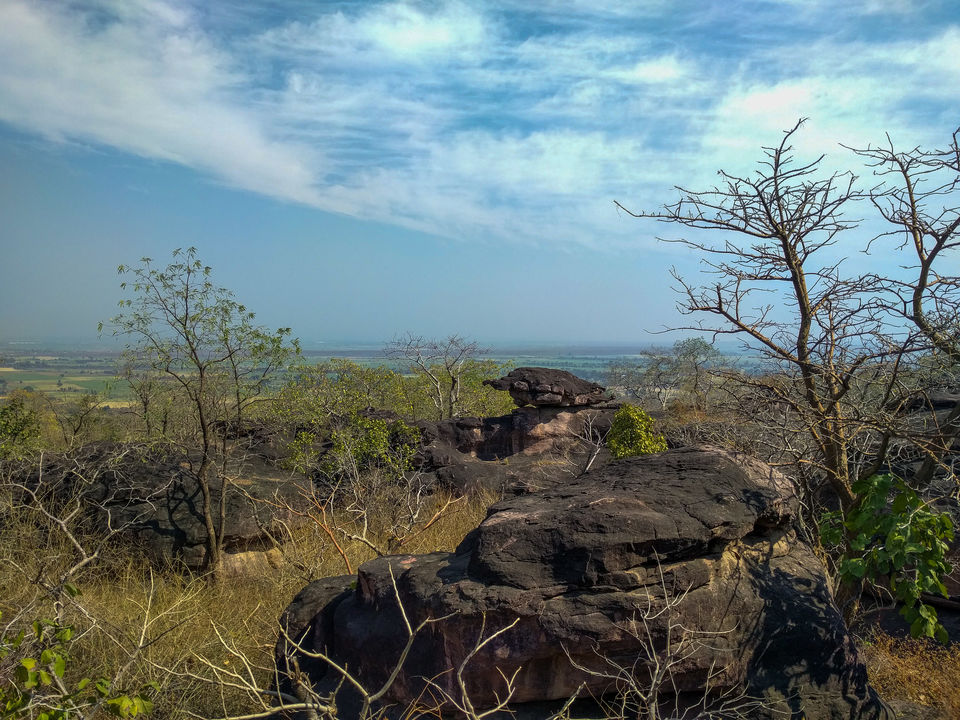 The Cave Complex
A complex that is spread over seven hills of Bineka, namely Bhonrawali, Bhimbetka, Lakha Juar (East), Lakha Juar (West), Muni Baba ki Pahari and Jaora, this site is a magnificent repository of rock paintings and rock shelters that has witnessed ancient history spanning from Paleolithic and Mesolithic periods through the Chalcolithic to the Mediaeval period and has remained undisturbed providing continuous sequence of history of stone age cultures. On Bhimbhetka Hills alone, 243 shelters have been investigated till now out of which 133 have rock paintings and 15 caves are open to visitors.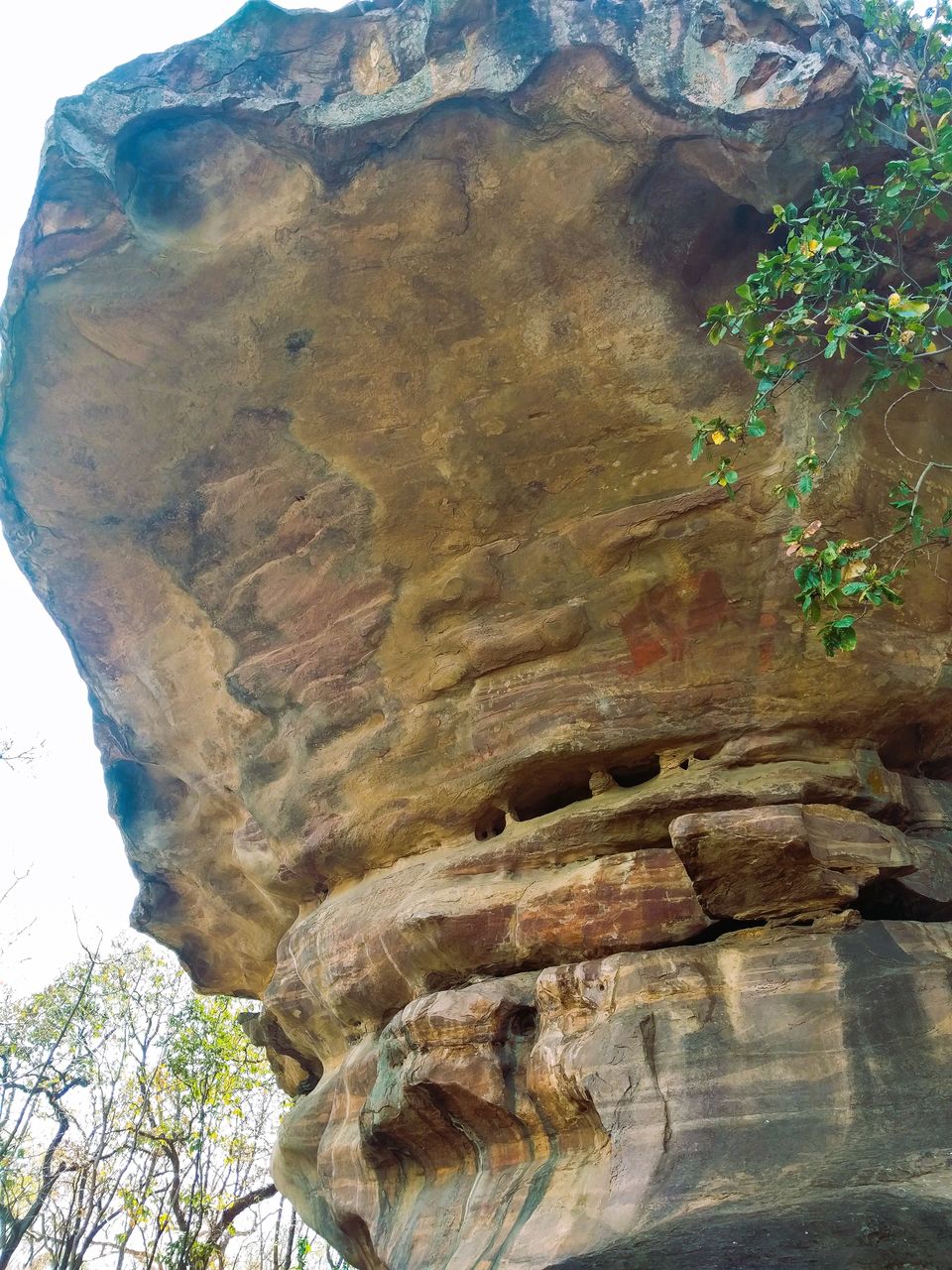 Sporting some of the world's oldest walls and floors, this complex of rock shelters in fact outnumbers the prehistoric caves of Dordogne in southwest France which is known to be the largest in the world!
The paintings on the rocks establish co-relation between various periods through the different styles of superimpositions figures in the paintings.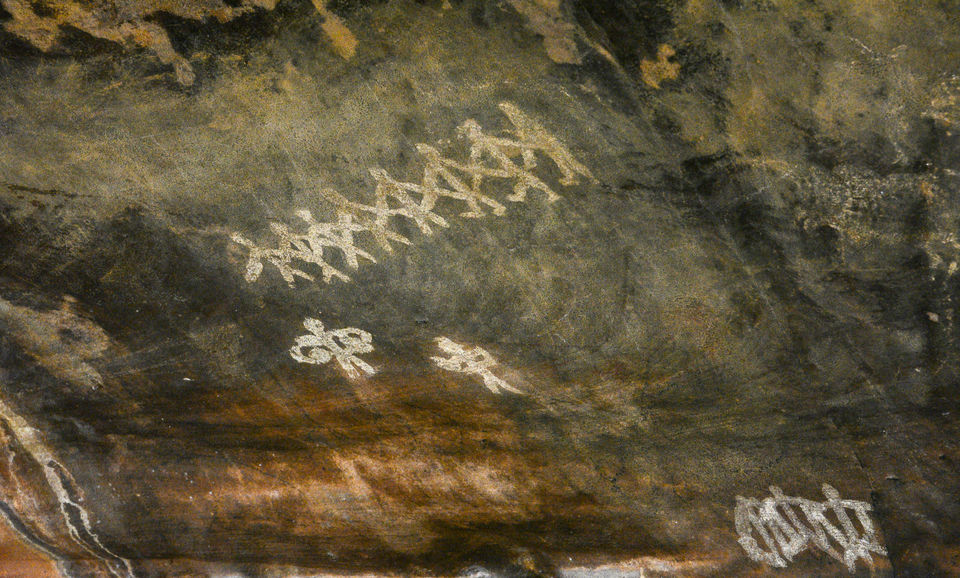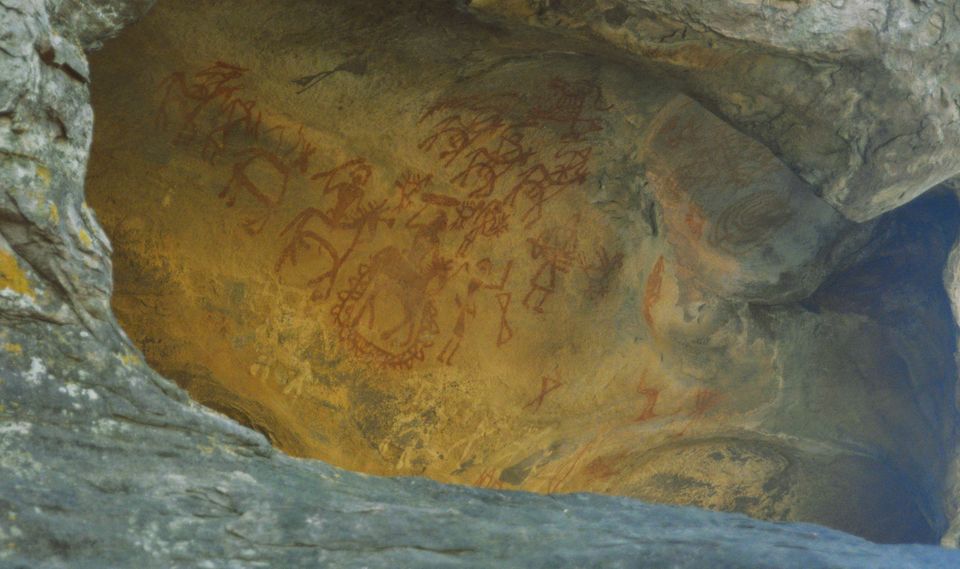 Geological Age & The Art It Hosts:
• The oldest dated age is Late Paleolithic Period i.e., the Old Stone Age that consists of large linear representations of rhinoceroses and bears.
• Middle Stone Age or Mesolithic Age is presented by paintings are smaller and portray human activities in addition to animals.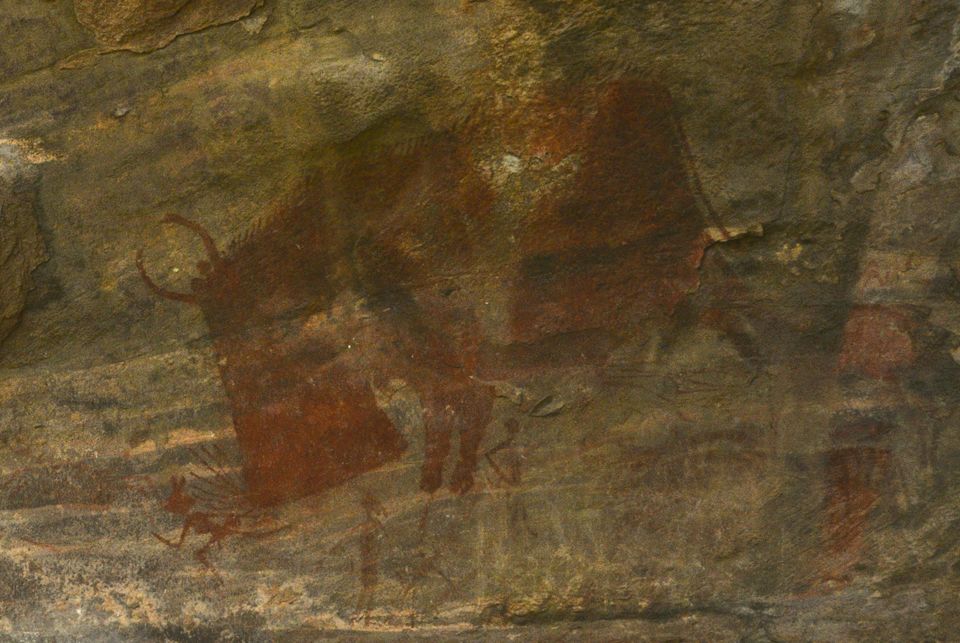 • Drawings from the Early Bronze or Chalcolithic Period depict the early humans' concept of agriculture.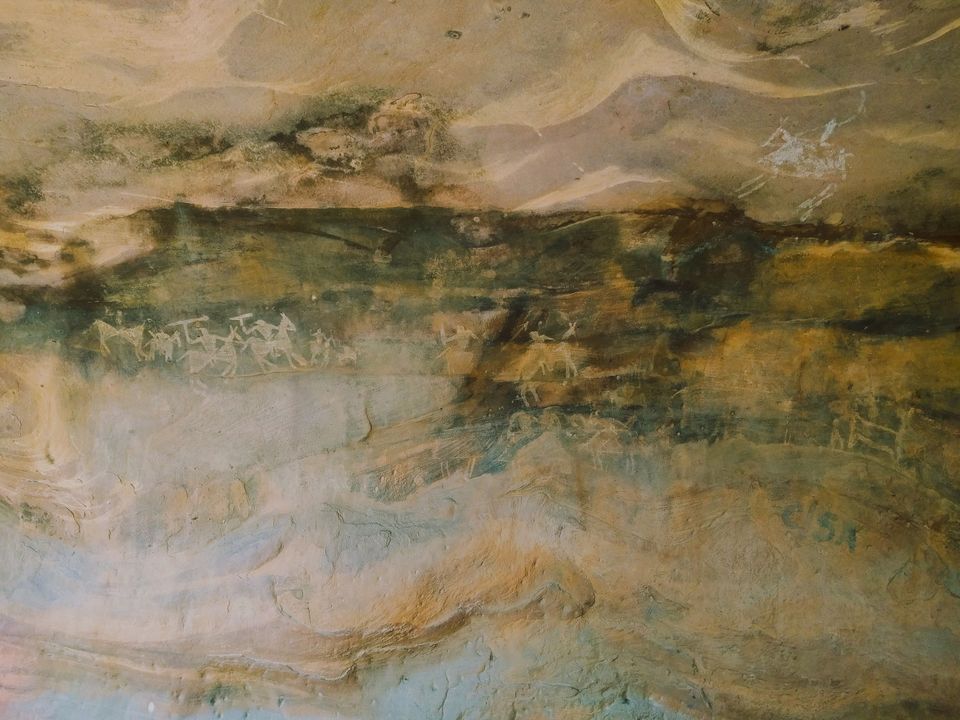 • Superimpositions of Mesolithic/Chalcolithic/Historical/Mediaeval.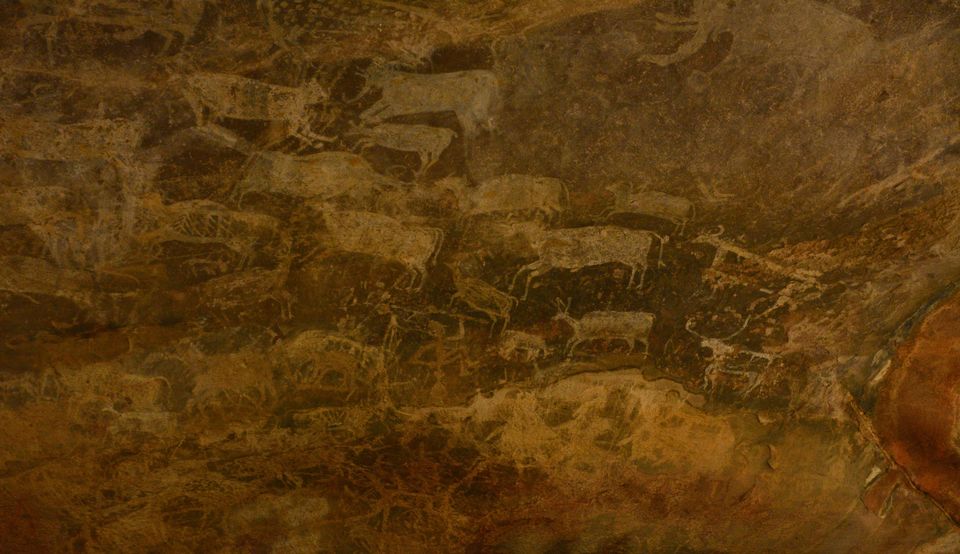 The paintings on the rocks display linear drawings of human figures and animals that depict daily activities indulges by early humans like dancing, hunting, scenes of battles, portrayal of his fears, joys, and happiness signify the early evolution of man. Some of the caves also showcase figures of animals including deer, antelopes, tigers, elephants, deer, lizards and boars.
The early cave dwellers used various naturally occurring elements to colour the paintings. Pigments from a mixture of manganese, hematite, soft red stone, and charcoal were used with the occasional use of vegetable extracts as well as animal fat to act as a binding agent. The colours were usually obtained from different types of flowers, fruits and vegetables. When the mixture of pigments is exposed to water and other solvents, the minerals are oxidized leaving behind residue colour on the rock surface. Due to this chemical reaction, colours from the surface of the rock have not faded or spoiled for centuries.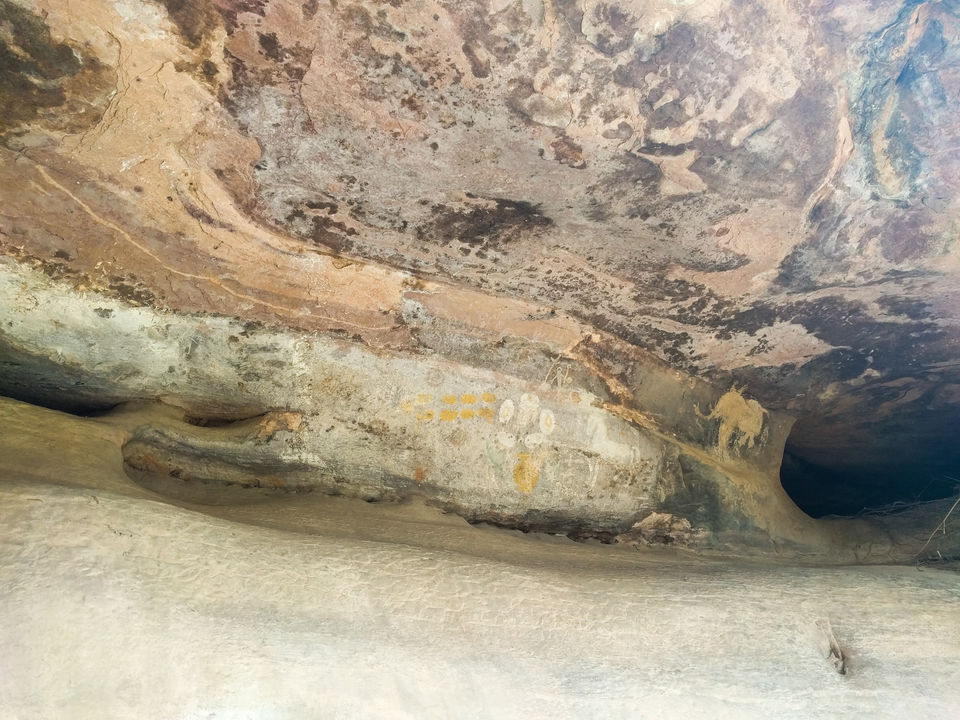 Although the paintings and the colours on some of the paintings remain well protected from direct sunlight, surface run-off of water, and wind erosion, there are some paintings that have been faded due to the above factors and have even damaged/or covered due to algal growth.
The Latest Discovery
Geologists have come across some new mind-boggling revelation, more than 60 years after the detection of the Bhimbetka Rock Shelters. One of the rarest fossils in the world called the Dickinsonia that has been discovered here where the fossil of an animal that lived during the Ediacaran period dating back an astonishing 570 million years was found on the roof of the part known as the Auditorium Cave in Bhimbetka that is 39 metres long, 4 metres wide, and 17 metres high.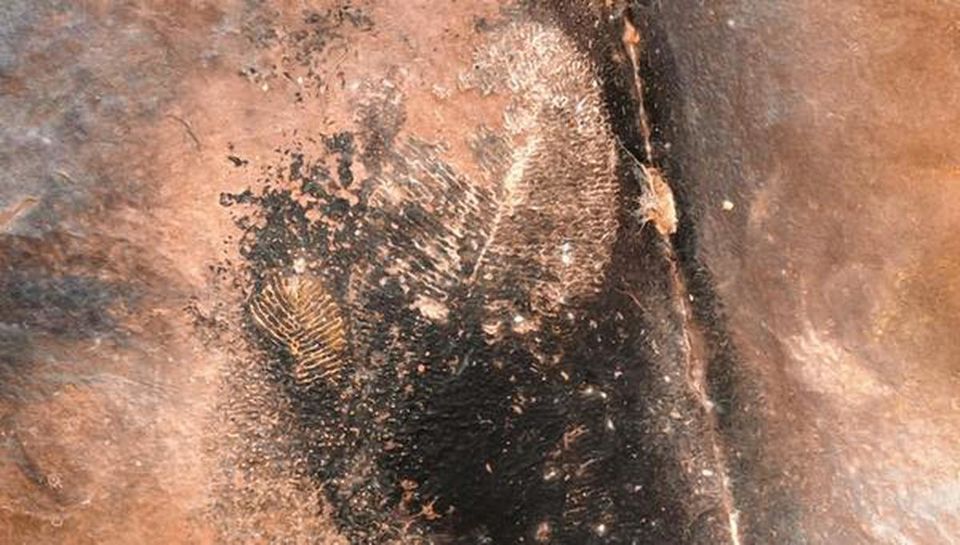 How to Reach Bhimbhetka Caves?
By Flight
Well connected to all the major cities. Fly to Bhopal Airport or Raja Bhoj Airport and then take a cab to Bhimbhetka, which usually takes an hour and a half to reach.
By Train
Well connected across the country you can reach Bhopal Junction (BPL) and from there board a cab to Bhimbhetka, which is at a distance of 47.1 kms.
Entry Timings:
7 am – 6 pm
Entry Fees:
• INR 10/person for Indians
• INR 100/ person for foreign tourists
• INR 50/ Light Motor Vehicle for Indians
• INR 20/ Light Motor Vehicle for Foreign tourists
• INR 100/ Minibus for Indians
• INR 400/ Minibus for foreign tourists
Contact details:
0755 2746827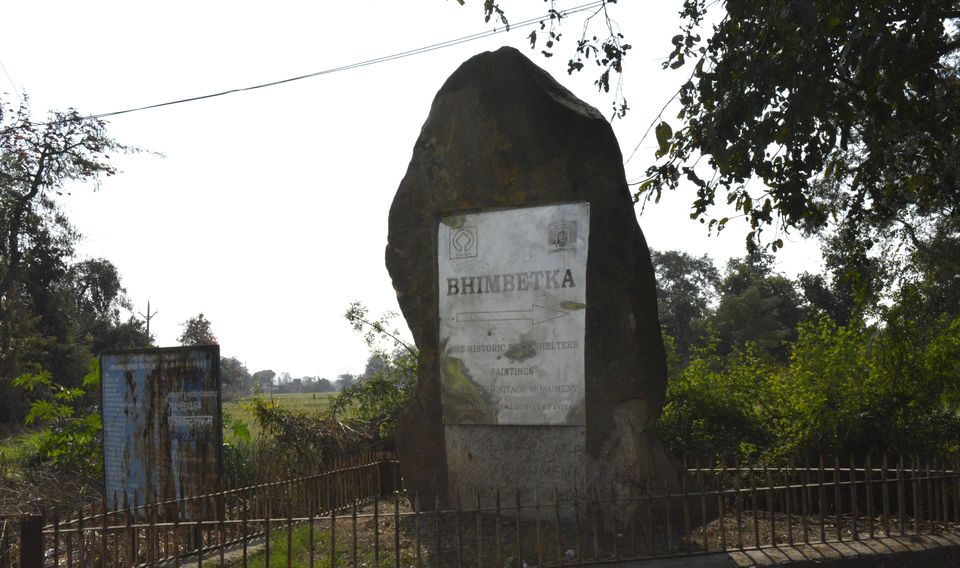 Things To Remember:
• This area is dry and hot, so it is better to carry a water bottle, wear a cap and apply sunscreen (the heat can burn your skin).
• Visitors are also advised to carry food as there are no restaurants nearby.
• It is advisable to hire a guide who is registered under ASI (Archeological Survey of India) since the caves are spread across and without a guide it is impossible to understand the significance of this place.
• Wear comfortable shoes since walking is involved.
• It takes a good 1.5 to 2 hours to cover the entire place (the caves that are open for tourists).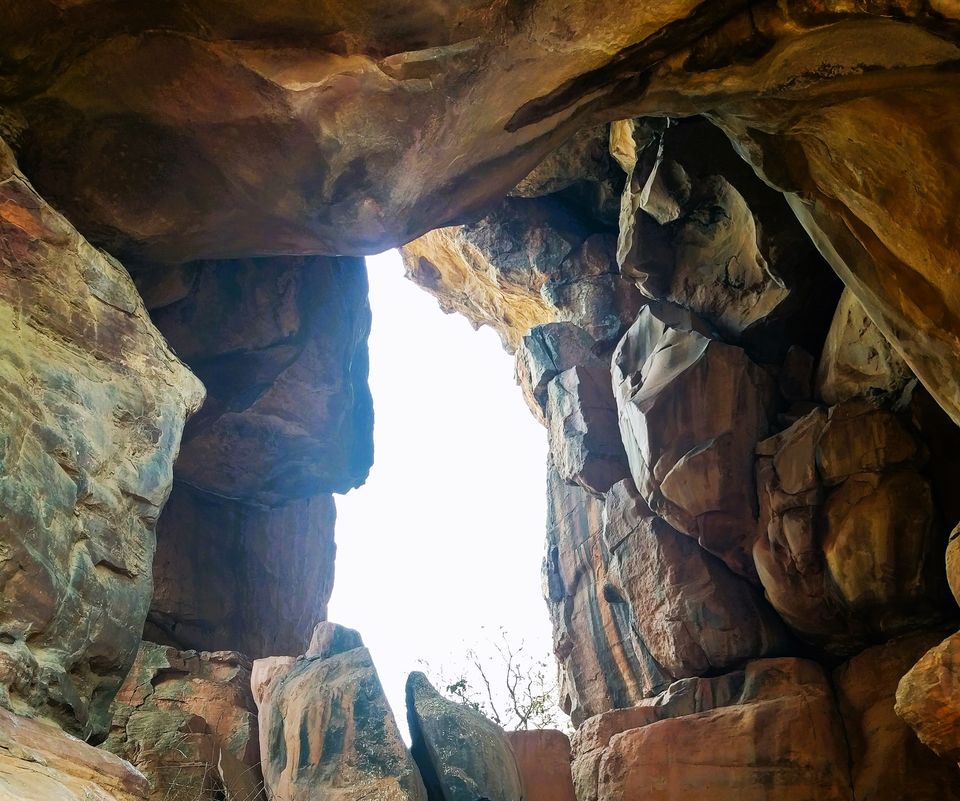 While for many this might just be a site with quirky looking rocks, for me it was like the cave of "Ali Baba and Chaalis Chor" – a hidden treasure trove of archived records of human evolution!! Having always been fascinated with ancient history (especially the Paleolithic Age), I stood mesmerized under the rock ripples formed due to wind erosion, stunned at how these rocks have stood the test of time and yet persevered and how insignificant our existence is, compared to them.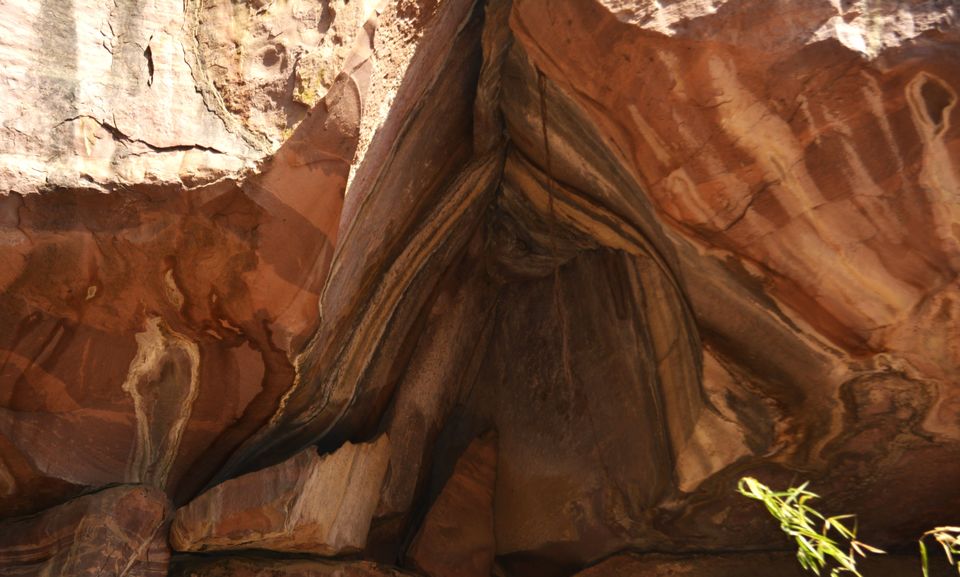 Although this is lesser known that the other historical places of significance, it's time to render its due credit. Isn't it?
Think we missed out on something? Tell us about it in the comments below. Or write about it here on Tripoto and earn Tripoto Credits! And be a part of the largest online community of travellers on Tripoto's Facebook page!