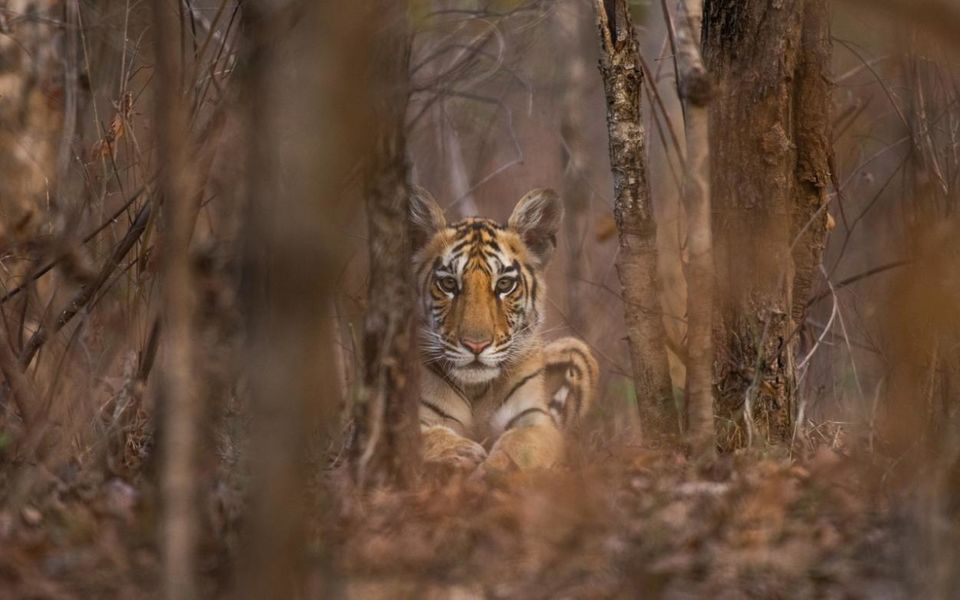 The land of tigers and leopards. The home of Mowgli and the region with some of India's densest forests. That's the green heart of India - Madhya Pradesh.
A forest-rich state, Madhya Pradesh is a haven for wildlife spotting and has been adding to its green cover. A survey by the Forest Survey of India says that the forest cover in Madhya Pradesh increased to 77482.49 sq km! During winter (October to February), Madhya Pradesh resuscitates its natural beauty, dotted with evergreen forests. Here are some wild trips you can make!
Jeep safaris are the best option to explore this beautiful reserve and it is recommended to plan a safari in two different time slots. The sun-kissed terrains in the morning allow you to explore through different plants and sight interesting birds, while during the night wild comes to life.
Being an apt place for sightings of Asian paradise flycatcher, long-billed vulture, red wattled Lapwing, and several other migratory birds, the Bandhavgarh tiger reserve is an ecstasy for bird watchers.
Another attraction of this reserve is the Sheesh Shaiya Idol of Lord Vishnu. Located on the Bandhavgarh hill, Lord Vishnu can be seen in a sleeping position
Nearest Airport: Jabalpur (190 km)
Nearest Railway Station: Jabalpur (190 km), Katni (102 km), Satna (120 km), and Umaria (35 km)
The Pench Tiger Reserve gets its name from the Pench River that flows through the reserve. It has the highest density of herbivorous animals. The legendary backdrop of Rudyard Kipling's Jungle Book and its lead character Mowgli, Pench is the wild heart of India. The national park is also famous for its huge population of gaur (Indian bison) and around 300 species of resident and migratory birds. During winters, thousands of migratory birds flock to this park. In these forests, the rare black leopard was recently spotted!
Nearest Airport: Nagpur (92 km)
Nearest Railway Station: Nagpur Junction (78 km), Jabalpur
Stretched over 940 sq km, the sal and bamboo forests of Kanha Tiger Reserve provide a dramatic natural grandeur. The core of the Kanha Tiger Reserve was created in 1974 under Project Tiger. Being the first tiger reserve of Madhya Pradesh, it has established grounds for a series of a stringent conservation programme for the protection of the area's flora and fauna. It has given Kanha its deserved reputation for being one of the finest and best administered National Parks in India.
It is home to around 22 species of mammals and 200 species of birds, including the ecologically significant red-headed vulture. Kanha Tiger Reserve is also the first tiger reserve in India to officially introduce a mascot, named Bhoorsingh the Barasingha.
Visit this park between October and June, and plan a trip of three nights to have a good chance of spotting elusive animals.
Nearest Airport: Jabalpur (160 km)
Nearest Railway Station: Jabalpur (129 km)
Panna, or emerald in Hindi, aptly describes this national park - a green haven for all! Panna Tiger Reserve is a prominent attraction in this town as it is situated at a point where the continuity of Cape Comorin is broken and the great Gangetic plains begin. Tiger, leopard, wild dog, wolf, hyena, sloth bear, and caracal are some of the prominent animals found in this area. The avifauna comprises 200 species, including a host of migratory birds. Apart from the regular animal sightings, you can also spot mugger crocodiles and the long snout gharial on the banks of Ken.
In 2009, Panna Tiger Reserve was nearly devoid of tiger population. To cope with this problem, several tiger resettlement programme were launched and in a short time, tigers once again populated Panna's forests.
Tourists of Panna Tiger Reserve can also participate in the walk with the Pardhis, a nomadic community that has been hired to help in hunting since Mughal Emperors.
Pardhis - A nomadic community that since the time of Mughal emperors, has been hired to help in shikar or hunting. They are expert trackers and they can also mimic the voices of different animals with perfection. To provide an alternative source of livelihood to this community and to encourage their reformation, 'Walk with the Pardhis' was initiated by the Last Wilderness Foundation and Forest Department, Panna Tiger Reserve. For more information, visit
Nearest airport: Khajuraho (42 km)
Nearest Railway Station: Khajuraho (46 km), Satna (74 km)For more information, visit - https://www.mptourism.com/panna-national-park.html
This biodiversity hotspot is a habitat of 52 species of mammals, 31 reptiles, and 300 species of birds, out of which 14 are endangered. Located in the Hoshangabad district of Madhya Pradesh, the Satpura Tiger Reserve is also a habitat for arboreal mammals such as flying squirrels, giant squirrels, leaf-nosed bats, and many more. Tourists can also enjoy an array of pollution-free activities like cycling, canoeing, and trekking. Moreover, the ranges of the Pachmarhi plateau are enriched with Sal forests and teak forests, due to which the Satpura Tiger Reserve is also known as the Northern Extremity of Western Ghats.
Source URL- https://www.mptourism.com/wildlife-in-madhya-pradesh-india.html