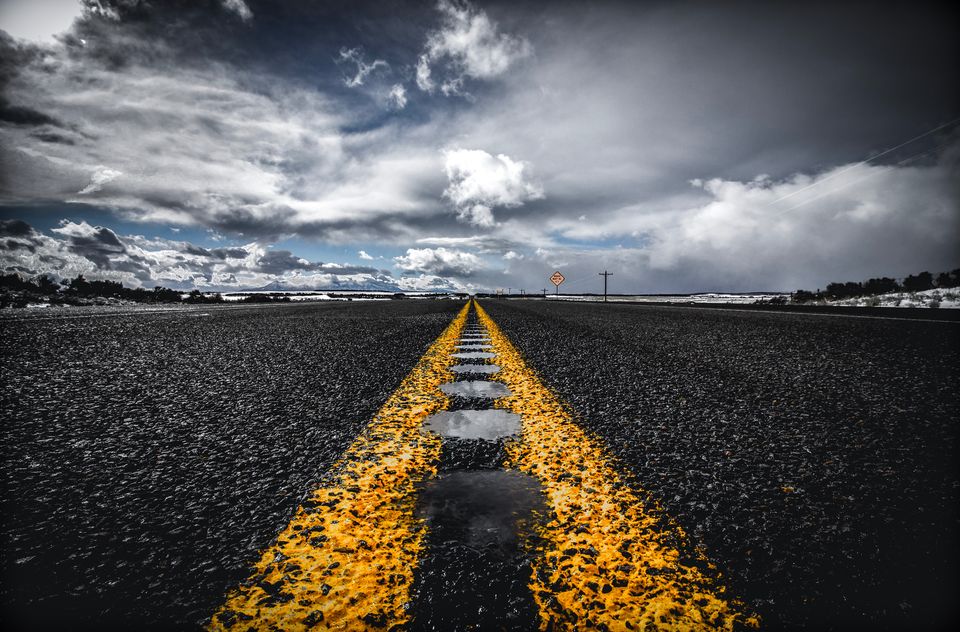 A small town thirty-two kilometres off the Gwalior city known as Tekanpur not heard by many even people living in Gwalior. The only thing famous in this town is that it is the training centre of World's largest defense force i.e. Border Security Force. Yes, it is the training center of all commanding officers of first line of defense.
Amidst the fog on the road at freezing cold hour of early morning few people were marching. No doubt these were soldiers having daily routine but today was something special for us and even for them, as today was the 54th raising day of Border Security Force and everyone was busy preparing for the ceremonial parade to be held in the morning. It was such a patriotic flavor that came around when twelve hundred soldiers are marching in front of you. Clean shaved, well behaved and sophisticated officers were heading the march with one hand saluting the flag.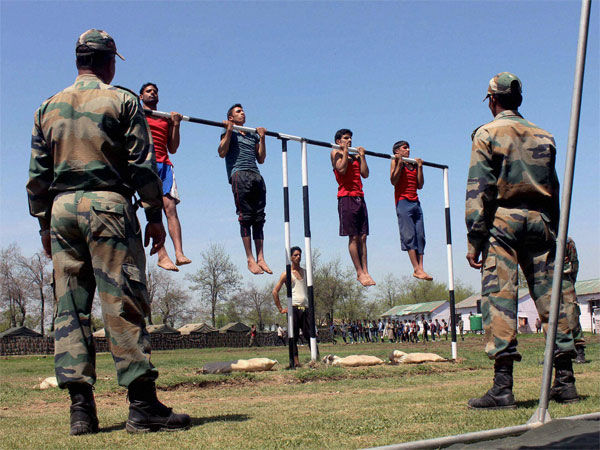 The daily chores of the town revolve around the hustle and bustle of the force. People can always be seen in uniform. But People had forgotten to appreciate the beauty of surroundings, one can always feel the nature's beauty with serene view of a lake. The lake is quite beautiful and icing the cake, there is boating facility which can be used to unseen small patches of land where one can find beautiful admixture of flora and fauna and best part is that one can spot crocodiles who had come out for sun bathing in winters. The only thing we need to do is keep our cameras ready for a perfect shot, you don't know what may come next.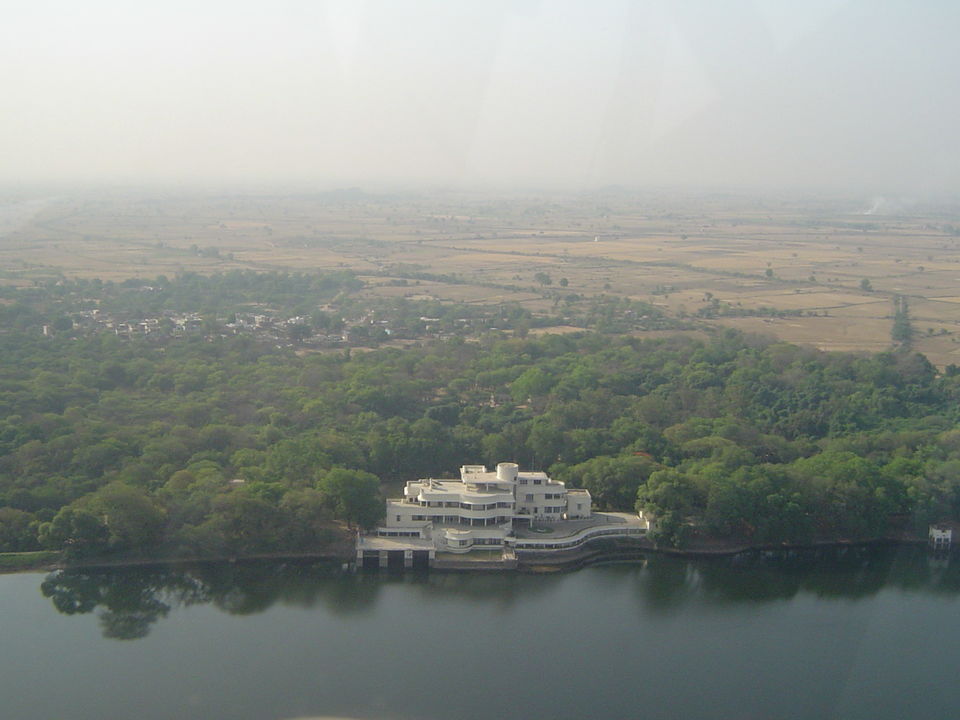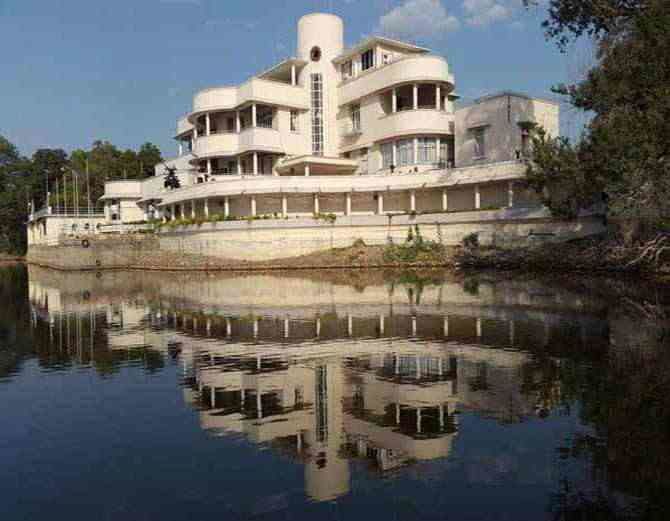 On the other side of the lake is a huge ship shaped building which is now owned by BSF and is known as Suraksha Bhawan. it resembles the shape of anchored ship with unmatched glory, grandeur and aura it have. It stands still and never forget to astonish the visitors. As a historical reference, this building was previously a leisure place for erstwhile King of Gwalior. But now is owned by government and is used for any official ceremony. The Bhawan is so Grandeur that one may feel that he is in labyrinth. I personally took 5-6 visits to understand the map of palace in my mind. It includes a lake side club and bar which no doubt offers best drinks in the town, but the more bliss is drinking along with waves of wind coming from lake. The club also includes a snooker table which can be used as a place for a jibe with friends.
At the backyard of the Bhawan has a huge garden with a cascading waterfall and a row of fountains which had lustre to the beauty. The lighting decoration in the night adds value to its worth and more importantly today they had an official party for 54th raising day of BSF which was just immeasurable glee to the eyes. All Officers had come there to celebrate, and it was much pleasure to see these people who always had discipline in there fits coming their dancing, singing and having a cheerful time. It was indeed a solace for me talking to them and about their life and had an experience which they will never let me forget.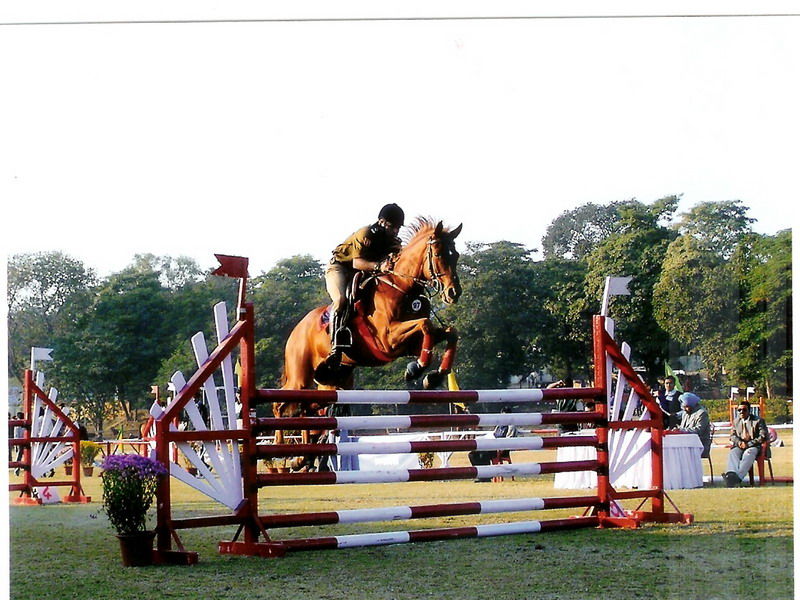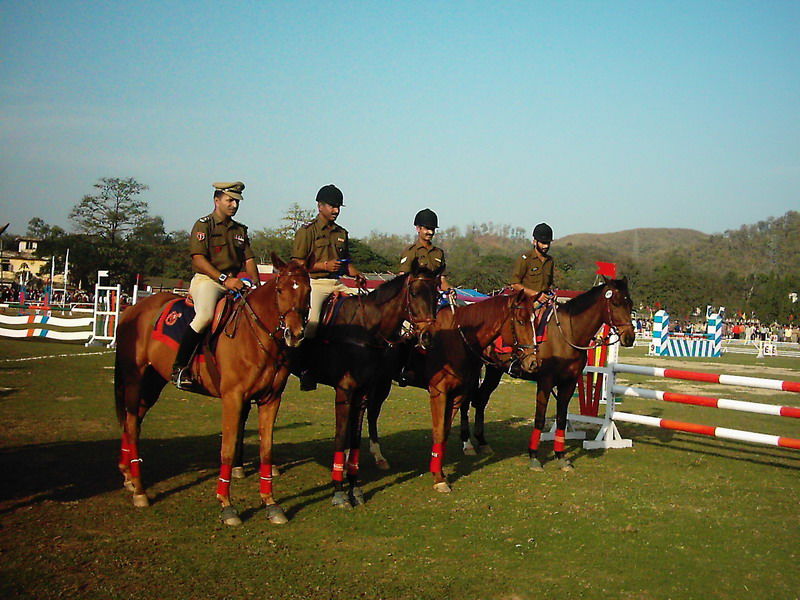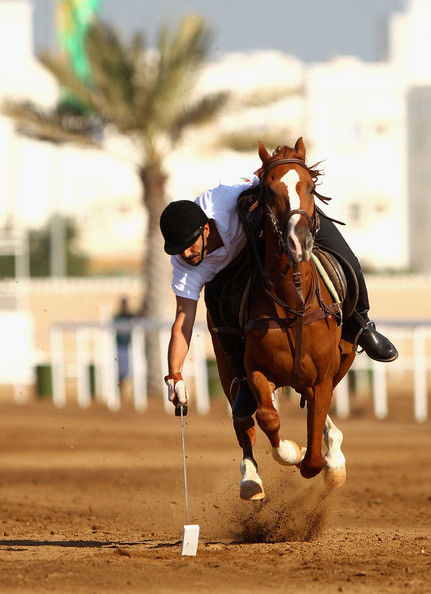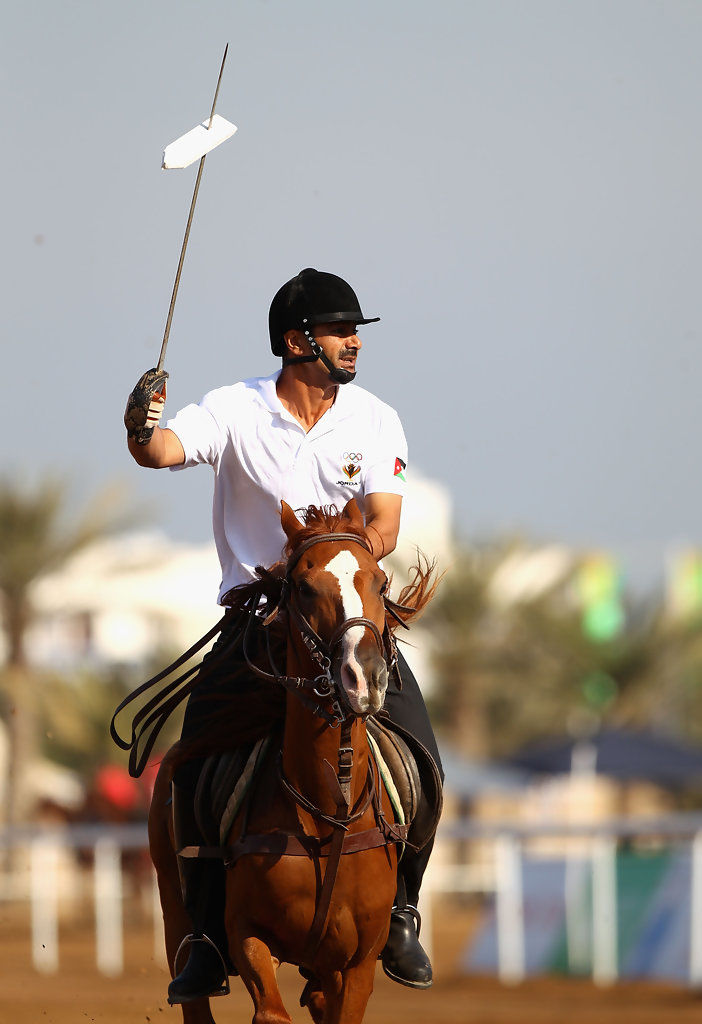 Our excitement was on another heaven, when we visited equestrian wing. The number of well-trained horses were having different competitions. The most eventful of all these is Tent-Pegging. Various riders from across the India had come to participate in this competition. Tent-Pegging is an event mostly participated by military persons because it is much related to their historical traditions. In this a performer riding on a horse had a lance in his one hand and controls the horse with another and came galloping near a small piece of cardboard on the ground and he has to pick that piece from the galloping horse with the help of lance. It was amusement to see great performance by some eminent riders.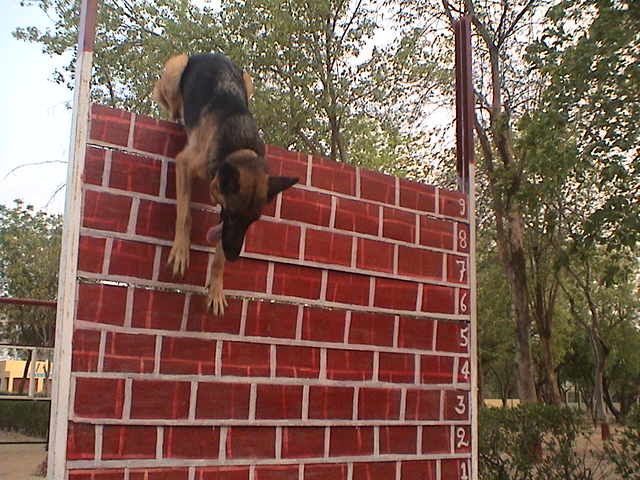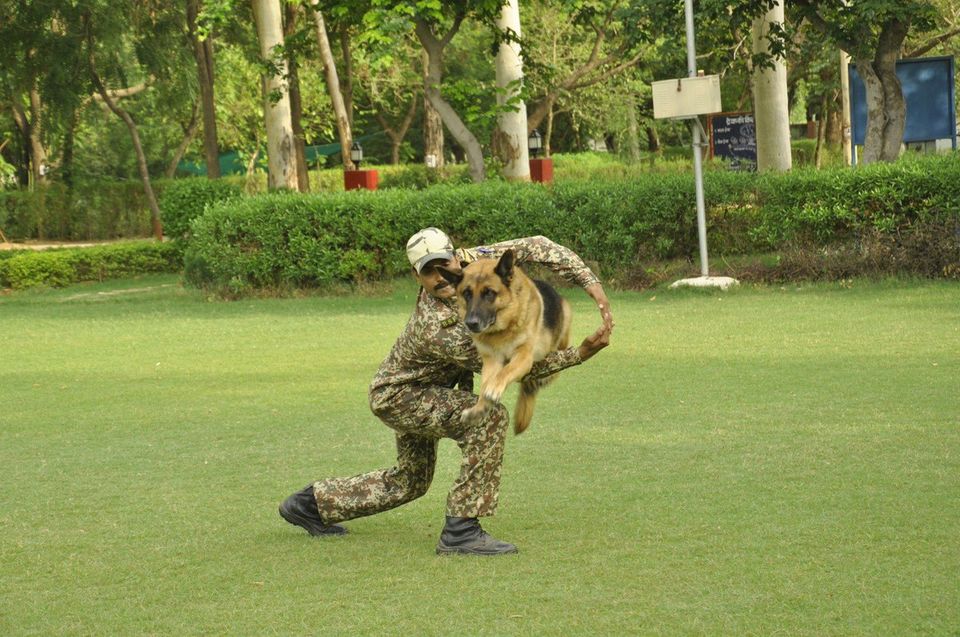 Now it was the turn of dogs to perform, BSF had a different wing for dogs training. The dogs with their instructor start their show with a greeting to the guest, they submissively acknowledge our presence, personally I feel deep respect for them that they don't have ego problem with anyone. Yup! that's amazing. They are trained for special purpose like to detect bombs and narcotic substance. The qualities of them are immeasurable, they are loyal, helpful, protective and most important they share emotions with us.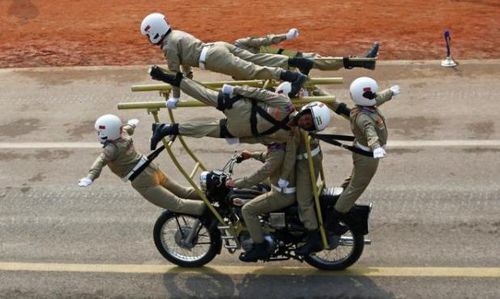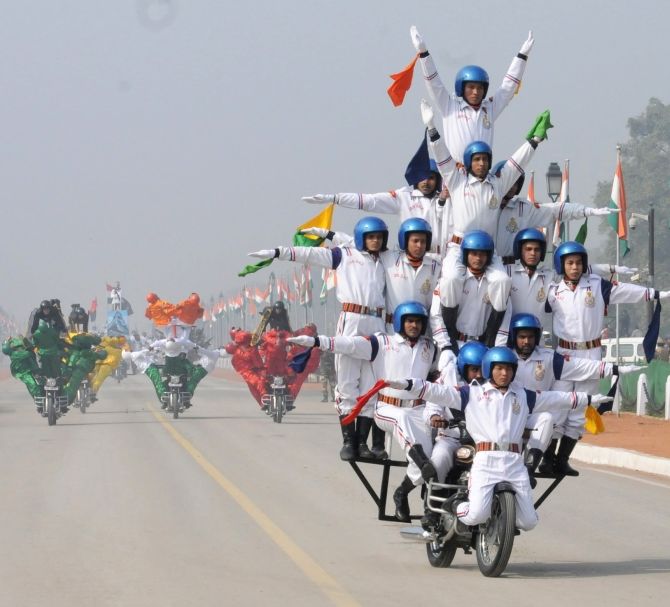 If you are lucky you can get to see BSF bikes performing a bike show, the stunts we used to see on Independence Day on Janpath road. Yes, this is the same team that performs on independence day.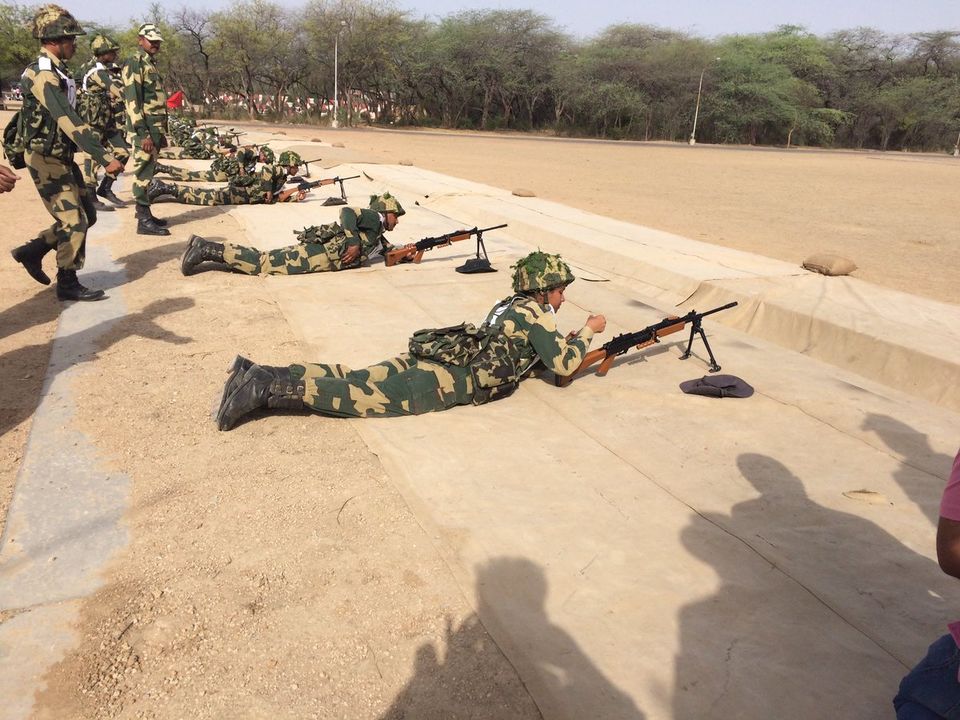 There is firing range for training of commandos where one can try his hands on hi-tech sophisticated guns and the most beautiful is night fire, where a small parachute like which when asked they called illu was fired and it create a illumination in which they fire on their target. It creates a illumination so beautiful can't be described.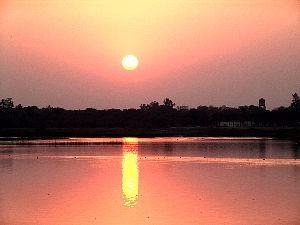 The town is surrounded by a hill where one can go for trekking and it was perfect place for picnic where people after a long trekking have fun time with their friends and family.
Besides this there is museum to visit which has an old plane, a real life tiger skin and of course all tech equipment and weapons of warfare. It had collections of important memorials of all long journey of 54 glorious years of BSF.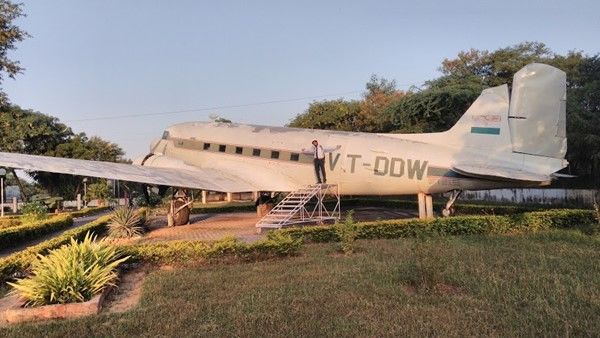 Oof! I forgot to mention to mention that they even have their own golf ground opposite to lake where we can have opulent people game though it is not commercialized you need some lobying to have that privilege.
While leaving the town I found a board stating "when going gets tough, tough gets going" it was indeed for soldiers who are training their but it left remark on our heart.
There are few points to remember before visiting:
1. Tekanpur is not so well-known location but you can take a bus from Gwalior with minimal fair of 20 bucks.
2. I would say that it is mainland location of commando training, there may be instance where you are forbidden to move further, please accord with them.
3. The main earning of localites is small road side shops, I would request to purchase some items to contribute to their earning.
With hills on one side and lake on the other and a ship shaped place in between with other benefit of sports of horse riding and golf ground, it can be termed as a prime place to spend a vacation. As grass is greener always on the other side or it may seem, there is certain drawback like it is not as tourist friendly as it need to be. Further localites are not that apt with tourists but it is not only must visit place but should be the first visit place on your list.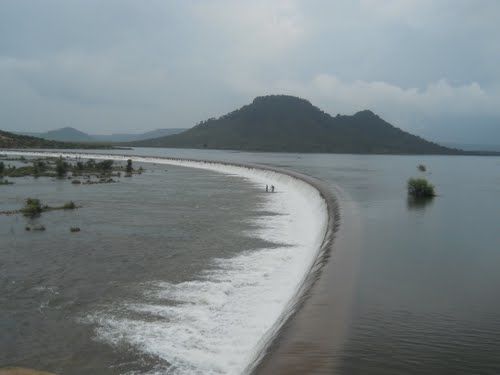 Feel free to drop me any message or query about Tekanpur as I know inch and bit of it. So far, there is no other place that is as close to my heart as Tekanpur is.