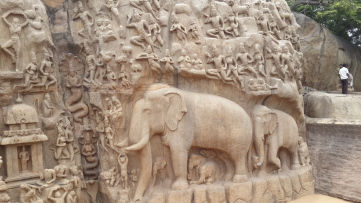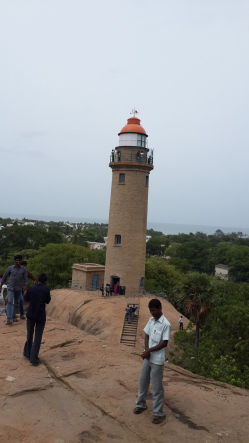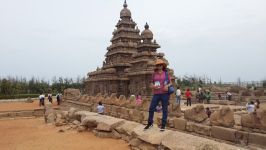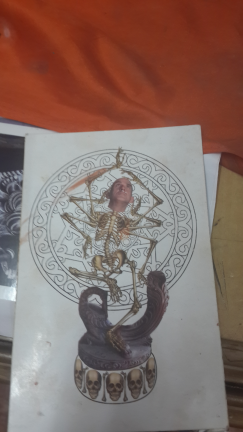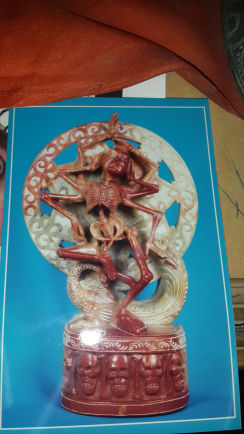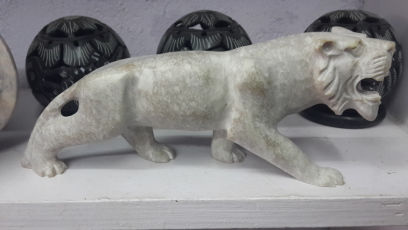 During the second week of July 2013, I was in Chennai for a two-week work related training. I had exactly one Sunday in between, and I didn't want to spend it in Chennai when I had other options to travel to. I initially planned to see Pondicherry, but as I mentioned this plan to a local friend, he recommended I go somewhere closer and suggested Mahabalipuram. He said I could catch a bus at Thiruvanmiyur that would go straight to Mahabalipuram. "But don't go alone" was his only advice to me. Saturday evening, I met another friend of mine in Chennai, and she took me out for dinner to Raintree Hotel. I asked her if she'd be interested in coming along with me but she had already made other plans and asked me to stay back next weekend after my training. But I had to be back at work the next Monday and preferred to leave to Bangalore soon after the training. So I somehow wanted to squeeze in Mahabs on my first Sunday in Chennai.
This was when I decided I would rather go alone than wait for company. Mahabs was my first solo trip outside of a metro city in India and I am glad I did it.
I took an auto from my friend's place to Thiruvanmiyur bus stand. Getting the right bus to go to Mahabs wasn't very hard. I had to ask around a bit, but not many people on Chennai streets seem to speak any other language than Tamil. Thankfully, the people I asked understood 'Mahabalipuram' and I found the right spot to wait for the right bus.
The route to Mahabs from Chennai is scenic, and we passed plain open fields on one side and sprawling resorts and Theme parks on the other. It took about an hour and a half to get to Mahabs, and the bus stopped at Mahabalipuram bus stop at about 12.45 pm.
Armed with the Mahabalipuram Wikipedia page, as soon as I alighted, I asked a little store keeper, where I could find 'these monuments', as listed on my phone screen. He pointed right up ahead and managed to communicate to me to 'start there and walk; you 'll find everything you want to see."
So I set off towards the first monument I could see. It was 'Arjuna's Penance'. It being Sunday, there were lots of families on an outing that day. Vendors seemed to sell little trinkets and stone carved statuettes all around. One such vendor, a young chap, walked up to me and tried to get me to buy something from him. He had some very beautifully carved stone statuettes of Ganesha, Vishnu and other Hindu Gods and Goddesses. As he showed me his wares, I suddenly spotted the one I wanted. It was a set of ten 'murthys' – one for each avatar of Vishnu. I knew right away that it would be the souvenir I would leave Mahabs with. But I didn't want to lug it around with me on a hot sunny day, as I explored the little town. So I told him I'd be back around 4 pm, and I'd buy it from him then. Then he made me an offer I couldn't refuse. In his pidgin English, he told me he'd show me around Mahabs and that he wasn't a tour guide, but that he'd like to show me around. Since I had no company anyway, and it would be nice to hear a little about each monument, I agreed.
We walked on to the rest of the monuments. We walked to some large rocks where monkeys were bold enough to mingle with people, and the sides of the paths had vendors selling pretty pebbles and lockets carved of stone. When we got to the old lighthouse, my guide helped me get a ticket to enter the old lighthouse (Not that I couldn't have gotten it myself, but it was nice to have a sort of private tour guide who doubled up as a nice company too). People are let in batches to climb. He waited all the while as I got to climb the really narrow, steep cast iron stairs of the old tower. From atop, one gets a 360-degree view of Mahabs, and even a glimpse of the Pancharathas, which are about a twenty minute walk away. The closest monument visible from atop is the Bagiratha's penance.
By the time I got down from the lighthouse, it was 2.30 pm, and I was hungry. But I still had Shore Temple to see. As we walked towards Shore Temple, we passed several sculpting workshops, and I came across a huge crocodile. The guy whose shop it was parked at said he would sell it for Rs. Seventy-five thousand! I politely requested him if I could take a pic of the stone crocodile as I couldn't afford to buy it. Perma-vacationers  are generally friendly, and he didn't have a problem if I took a pic of the croc without buying it.
I was starving by the time we left Shore Temple. I asked him where the shacks were so I could grab a bite of some seafood. He said he'd take me there too. As we walked towards the shacks, he couldn't help admiring me saying something along the lines of "you're an Indian woman, and you're travelling alone. I've never seen this before, and you're really brave".
As we left the part of the town with sculptures, we approached guesthouses and just past the guesthouses are restaurants with lively music straining out from them. I spotted Moonraker's, but I wanted to go closer to the sea and watch the waves as I ate. Once he dropped me to my food destination, I paid him for not only the statuette set but also for his warm hospitality and he went on his way back to the town.
The shack I picked had some delicious calamari with finger chips. After relishing it, I chilled by myself with a chocolate shake. Now, I tend to make friends wherever I travel to, and today wasn't any different. There were a bunch of young people from Chennai with their kids in tow, in Mahabs for the weekend and they soon had me over at their table. After a few drinks, they planned to move to another shack and asked me to tag along. As I had to get back to Chennai that same day, I wanted to leave to catch the last bus back to Chennai. But they said they had cars and were happy to drop me back to my hotel in Chennai if I decided to hang out with them a little longer. They were driving back in a few hours as their kids had school and they had to go to work the next day. So I skipped taking the last bus to Chennai, and we moved to the next shack a little while later.
This shack had something awesome about it. The bright green colored steps leading up to it on the first floor had yummy foods painted on it starting with the letter A. It was all about ice creams and shakes and pizza. If I had my way with the stairway to heaven, it would be painted exactly like this!
As the kids of my new friends were cleaning up from surfing and playing on the beach, I had some time for myself to check out some sculpture shops along the lane. As I was looking at identical marble elephants and candle stands, the guy in the shop invited me in to look at some more of his works. He had 3 foot high Ganapathi idol that he said would go for rupees three lakhs. His works were really impressive, and my fascination with his artistry was evident on my face. He brought out some albums with his works and exhibitions. It was incredible to see such raw talent. He said he had been learning to sculpt since eight years. The one work of his that is still fresh in my mind is the facial sculpt of a guy with a skeleton in a Nataraj-like pose and skulls carved on the base. He said the guy had it made to order. I only have pics of the sculpture. This artist told me the guy who ordered it had tears in his eyes when he saw it. I don't know how far the truth is stretched on that one, but I have no doubt I'd be in tears if I got something like that made to order from him. I am glad I stayed back to hang out with the families I met in the shacks for I got to see this! I couldn't afford to buy anything big from him back then, but I wanted to buy something handmade from him, unlike the identical pieces which are factory manufactured. I browsed for a long time through his store and found a hand carved lion that fit my budget and in my bag. The lion and the Vishnu Avatars still adorn my showcase at home in Bangalore and my day in Mahabs remains fresh in my memory as I see them every time I go home.
I am glad I didn't listen to my friends who asked me not to go alone for I would have missed out on the exhilarating feeling solo travel brings with it. This one day visit to Mahabalipuram fortuitously became my first solo trip. Because of the wonderful experience that it was, I never faltered to travel alone again, and that has led to several liberating solo trips around South India.
This trip was originally published on PATHIKRITHI