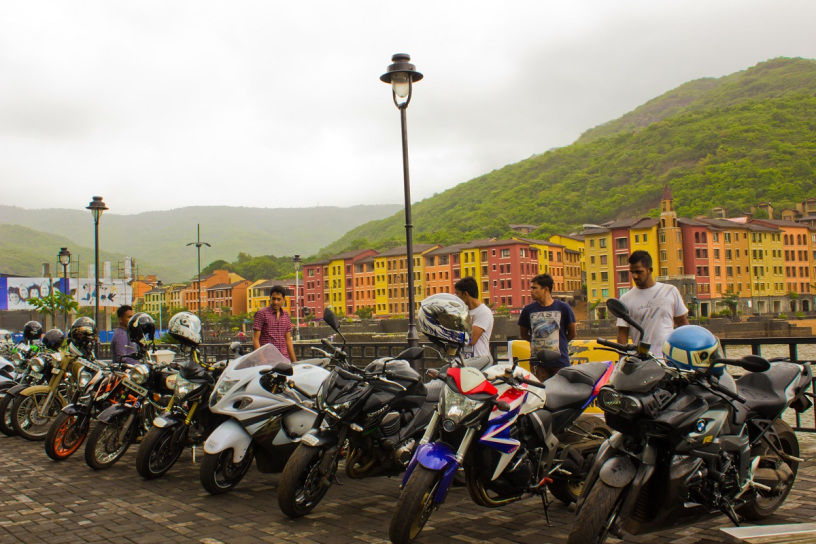 There is something blissful about the unplanned trips which instill a sense of exploration and freedom in the journey. I felt it when I decided to go on a one day road trip to Lavasa - a beautiful township near Mumbai. Although I had been to Lavasa before, this time it felt completely different. While we were driving from Pune to Lavasa, I saw many bikers driving towards the beautiful township. Later we found out that there was MotoDay 2016 celebration and bikers across India were driving to Lavasa to be a part of this event. Before I tell you more about the event, I must introduce you to Lavasa.
.
About Lavasa
Lavasa is a picturesque township situated in the western mountain ranges. It is inspired by the Italian fishing village Portofino. This city is close to Pune and Mumbai and is a weekend getaway - an escape from the crowded city life. The eco-friendly ambiance of the city makes the stay comfortable. You can go for a trek, enjoy water sports, take a walk and indulge in street food or simply stay in a resort and watch the sunset. You can also relax by getting an ayurvedic or therapeutic massage. This is a perfect family getaway place.
MotoDay
We decided to go to Lavasa on 19 th June and had no clue that there was an event going on. On our way we were amazed to see more than 20 Harley Davidson bikers riding in a group. The closer we went to Lavasa, the more number of bikes we saw on road - Ducati, DSK Benelli, Mahindra, Royal Enfield, Triumph, Pulsar 220, Harley Davidson, Kawasaki, Honda, KTM and any other super bike you can think of.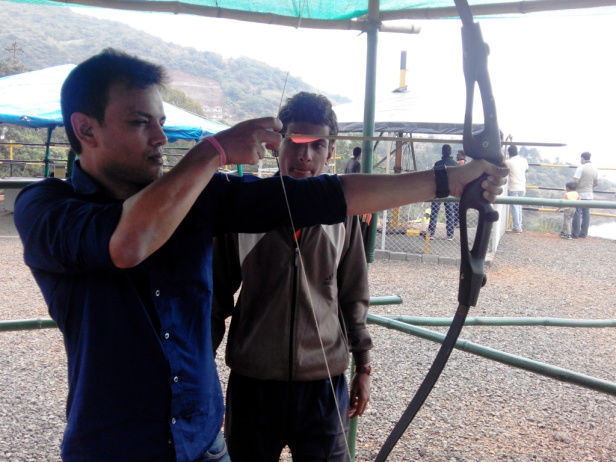 We stopped near Temghar Dam to eat a roasted sweet corn. A guy wearing a typical black leather biker uniform was having a cup of tea. I casually asked him what this bike noise is all about and he stared at me in disbelief for a second and then replied very enthusiastically - 'Everyone is coming to Lavasa to celebrate the world's motorcycling day. I am planning to buy a new bike and want to see some of the new bike models and talk to fellow biker.' After discussing about the highlights of the event we parted ways.
Every year June 21 is celebrated as a world motorcycling day. A group of biking enthusiast organizes MotoDay at Lavasa on a weekend close to 21 st June. 2016 marked the third edition of MotoDay event. Superbike manufactures had set up their stalls for the bikers and the latest bike models were on display. Biking merchandise, spare parts and accessories were on sale. There was also an R&D session in which experts talked about the latest motorcycle technology. We enjoyed talking to some of the bikers. They treated their bikes like their babies and were very enthusiastic discussing about anything related to their bikes -Engine, accessories or even the exhaust pipe. It was a fantastic experience to meet the motorcycling community.
Few things to know before you plan your trip to Lavasa
How to reach Lavasa - Lavasa is approximately 60 km from Pune and 190 km from Mumbai. The drive to Lavasa is through the villages which is pretty scenic. You can use take a train/bus up to Lonavala (Approx. 30 km from Lavasa) and then take a taxi/auto to reach Lavasa. The best way to reach Lavasa is by car or bike. You can enjoy the scenic landscape while driving. The roads are also in good condition, making the journey an excellent driving experience.
Best time to visit -The weather is pleasant throughout the year but the best time to visit Lavasa is from September to March. The city experiences monsoon from June to August and you can see the blooming flowers and the lush green vegetation during this period.
Food Options -On your way to Lavasa city, you can enjoy roasted sweet corns near Temghar Dam. The sweet corn tastes delicious. At lavasa, there are many food options from Chaat to chicken biryani, wraps, parathas, sandwich and dosas. The taste of food is not that great in most of the restaurants near the Warasgaon Lake.
Stay at Lavasa -Accommodation here is expensive. I doubt you will find a decent place at a cheaper price. Even though I have not stayed in Lavasa, Ekaant - a hotel at the highest point of the hill looks like a nice place to stay with a good view. If you are looking for relaxation and a tranquil experience then just book an expensive resort and enjoy the scenic beauty.
The MotoDay at Lavasa was an incredible experience. People from different age groups, professions, religion and regions had gathered to celebrate the free spirit and the passion for motorcycling.
This blog was originally published on ''