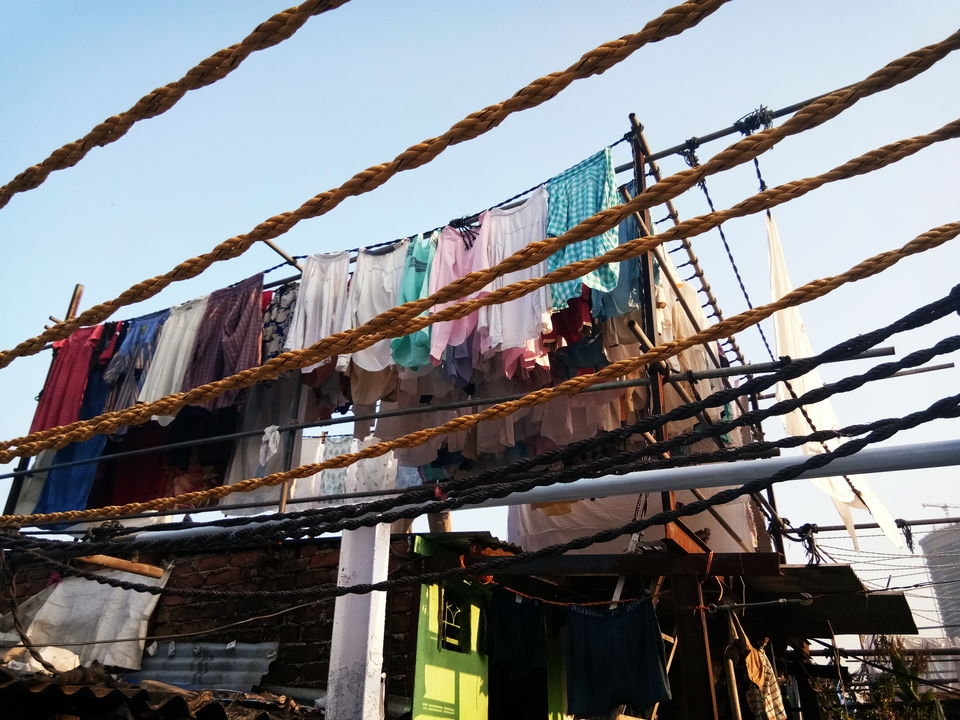 Moving to a new city or place for me is an opportunity to explore the culture an dpeople of the place, beyond just visiting the obvious places and eateries. Similar was the case when I moved to Mumbai for a 6 month internship period. I wanted to experience trekking over the Shayadris over the weekends, also exploring the yet another face of Mumbai which is wrapped in streets, slums, old Architecture, Dhobighat( the world's biggest open air Laundromat still existing.) Facts say that the washers, known as dhobis, work in the open to clean clothes and linens from Mumbai's hotels and hospitals which was constructed in 1890.
You plan to do so much when you start living in a new place, and often start taking it granted that you have time. But only realise when you are soon to be leaving. Same happened with me, after spending already 3-4 months, with few treks over the weekend I wanted to visit other places. One fine morning plan was made to be at Dhobighat ( honestly morning plans are the most difficult to execute), because I wanted to see how people started the day, their change of activities during different hours of the day etc. Somehow, we(me with a friend) managed to reach dhobighat by 5 AM, saw a glimpse from Mahalaxmi Bridge, as it was dark we thought to treat our empty stomachs when we saw a shop which served Upma and Poha, what better can you ask North Indian for breakfast.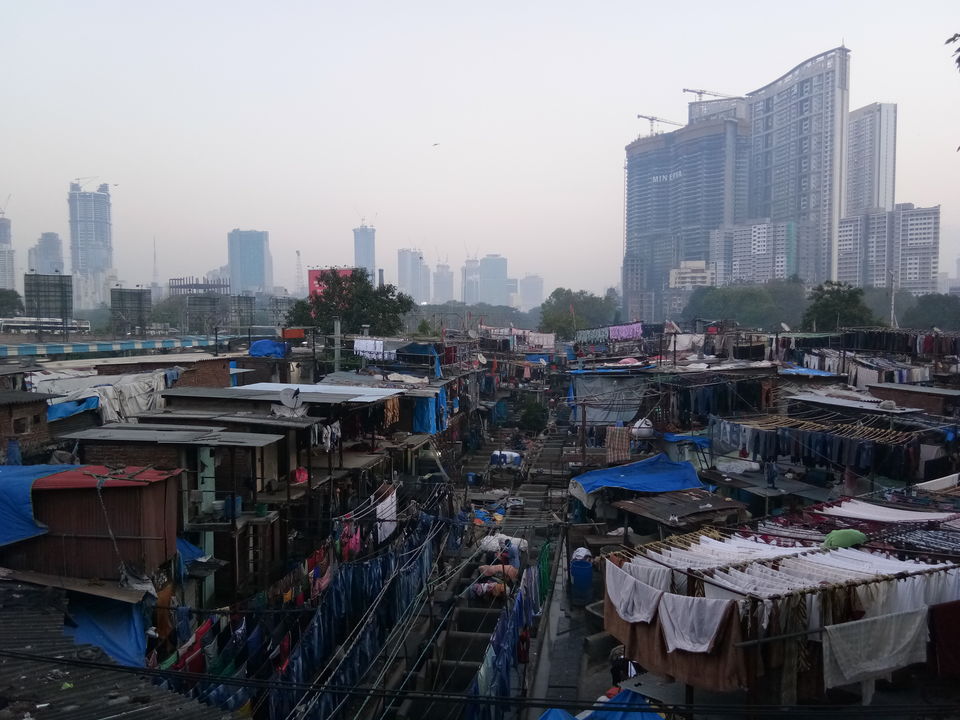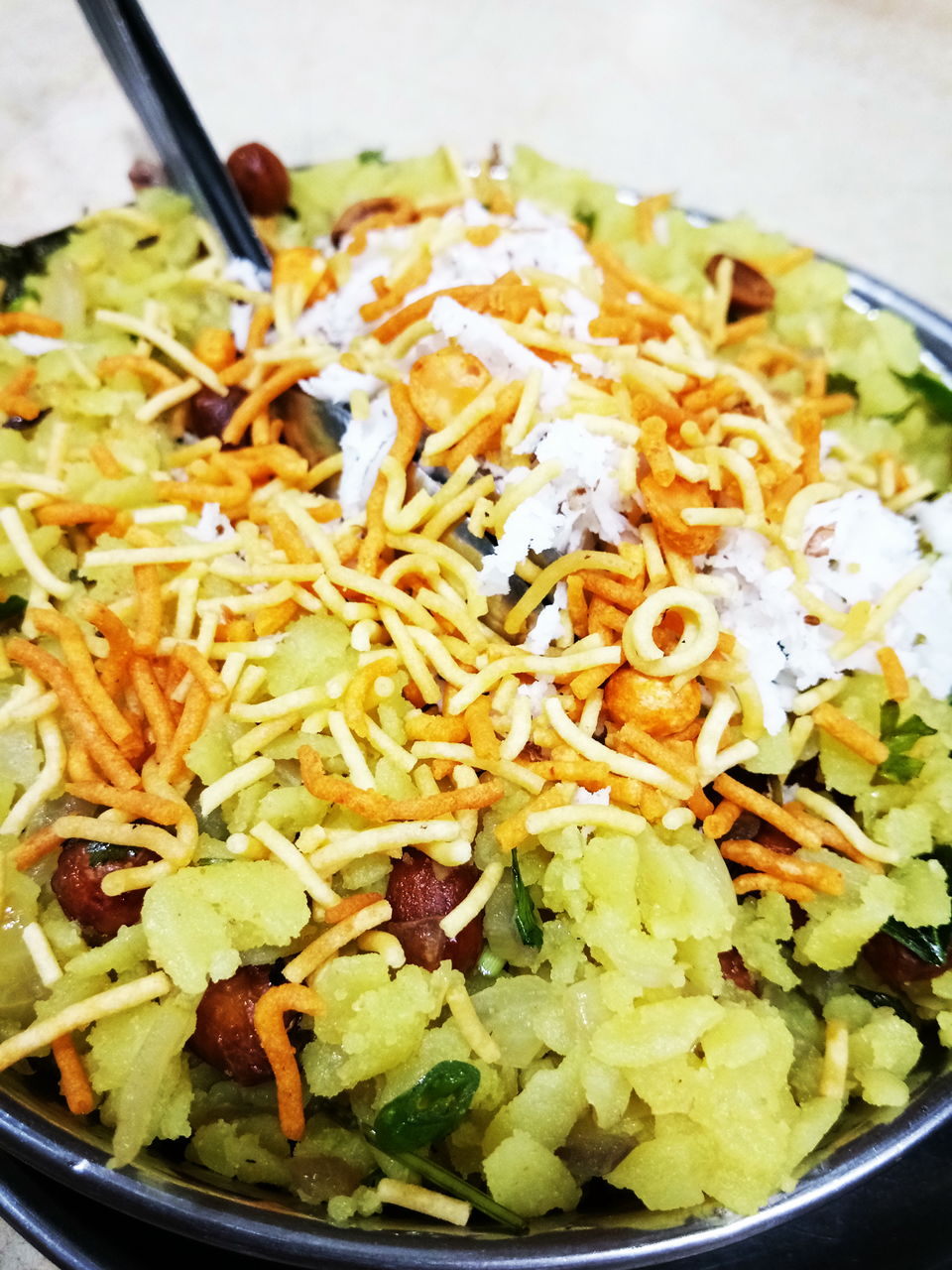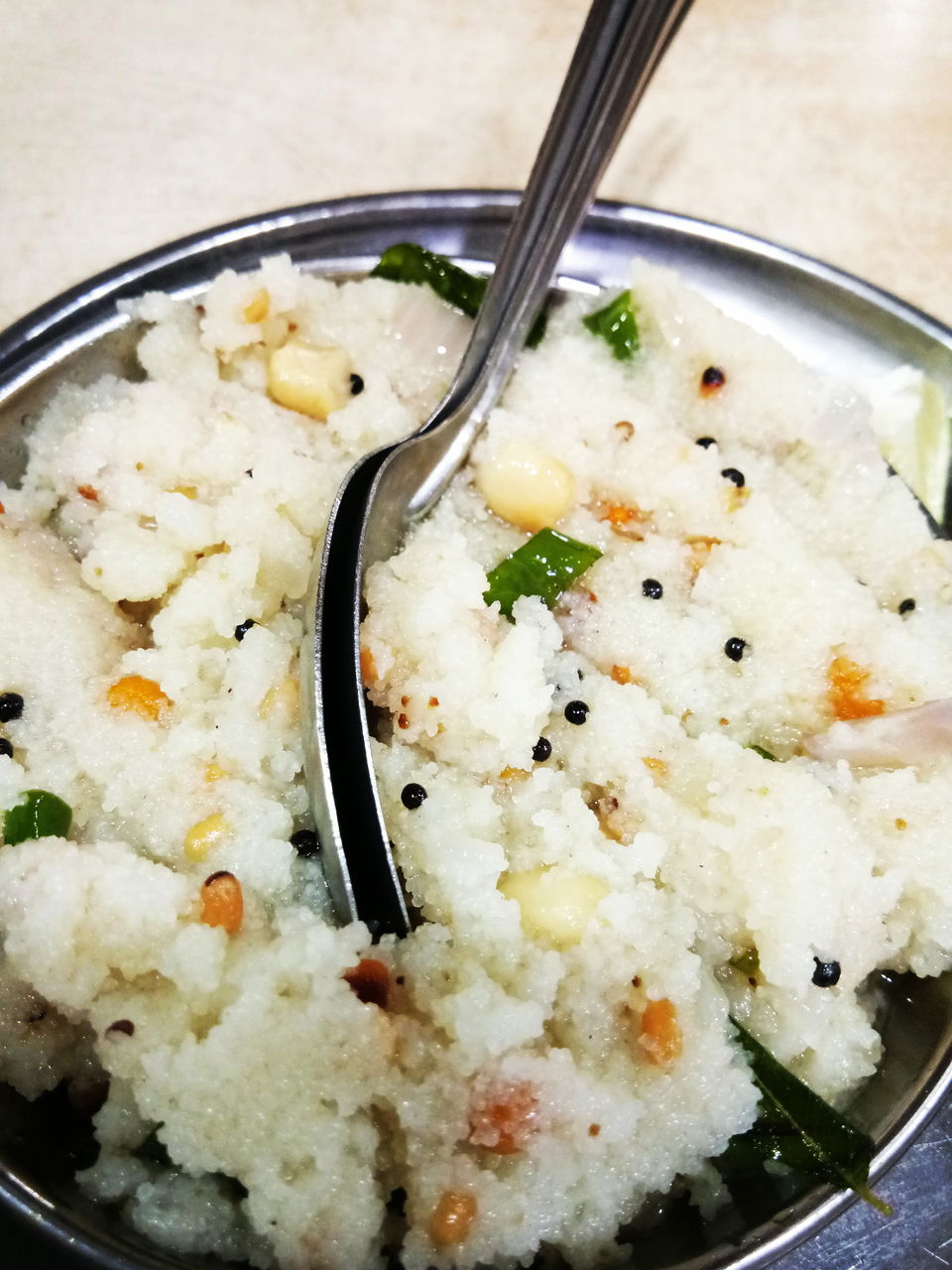 It was lit by morning sunshine till the time we were done, we went to the Bridge again which offered a totally different view now but with numerous questions and chaos in mind about how does this place work, and exist still in today's era or how it has been evolved in past 140 years.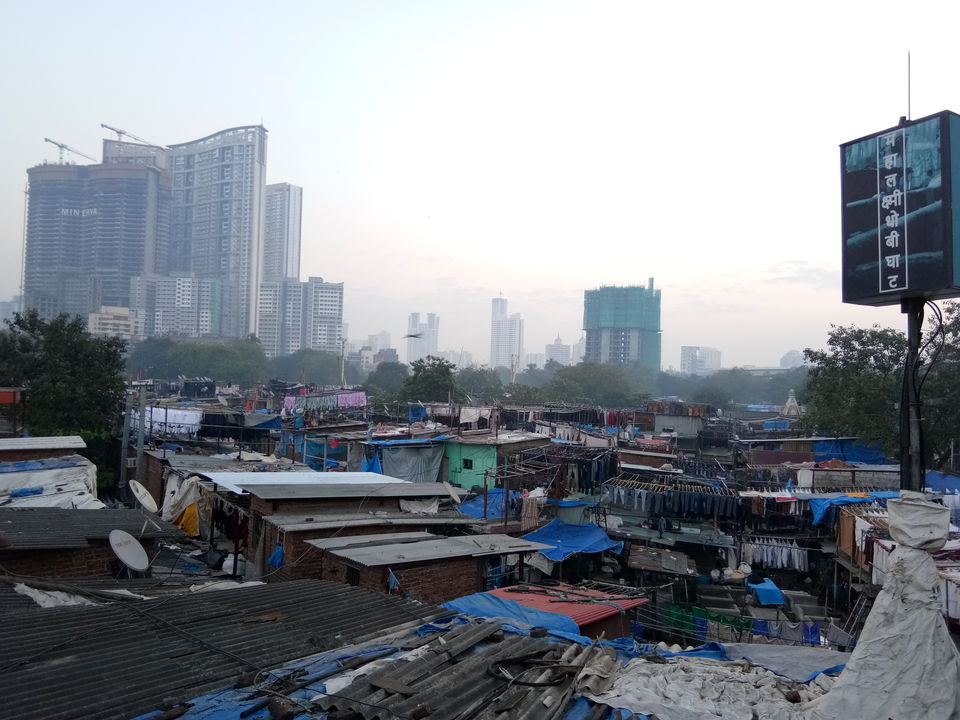 To find more about the place, we just rushed inside by climbing down the stairs over the bridge. We were passing through little shady, narrow streets with weird odour. We could see people coming out and engaged in morning chores, ropes of drying clothes, rows of open-air concrete wash pens, each fitted with its own flogging stone. It seemed like we were surrounded by clothes hanged on the intricately woven ropes like spider nets which could accommodate maximum clothes. Those ropes were connected to bamboo sticks floating in air to slide up and down further forming the storeys of clothes.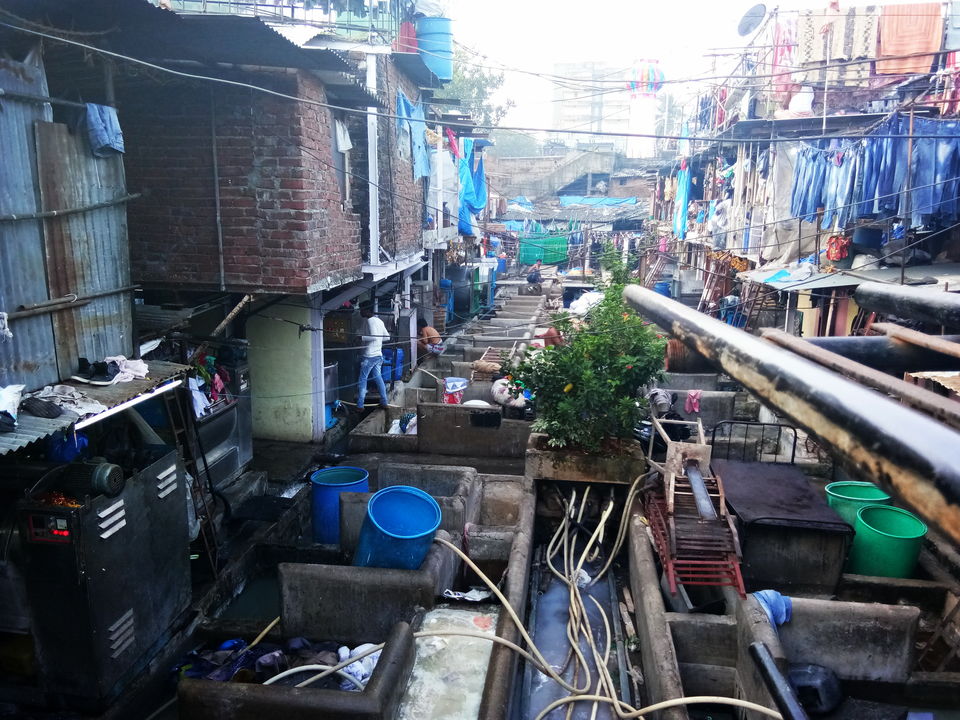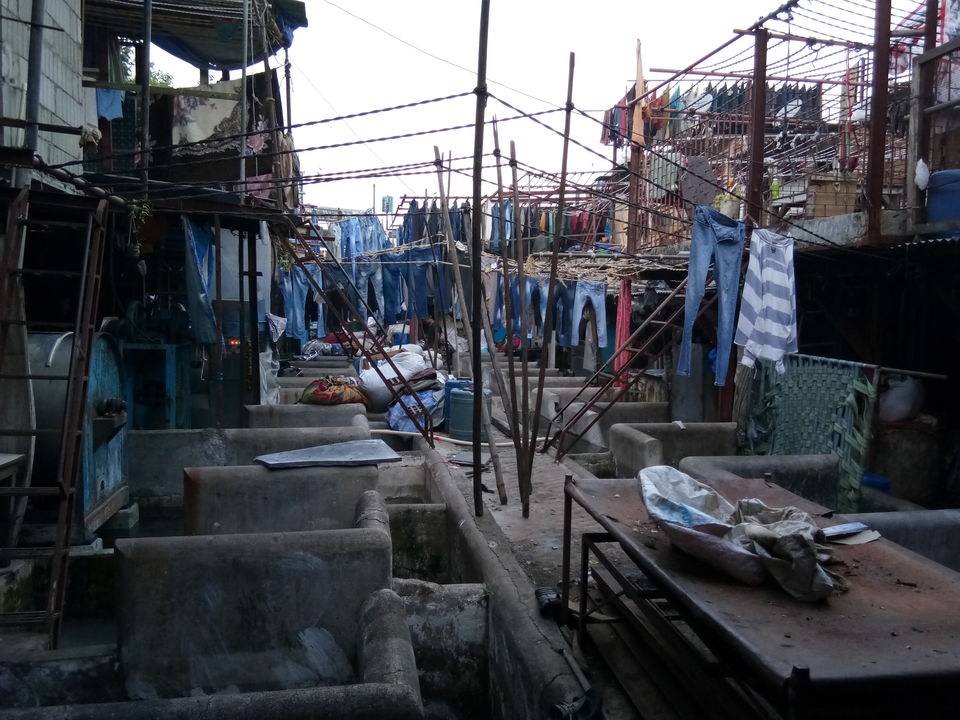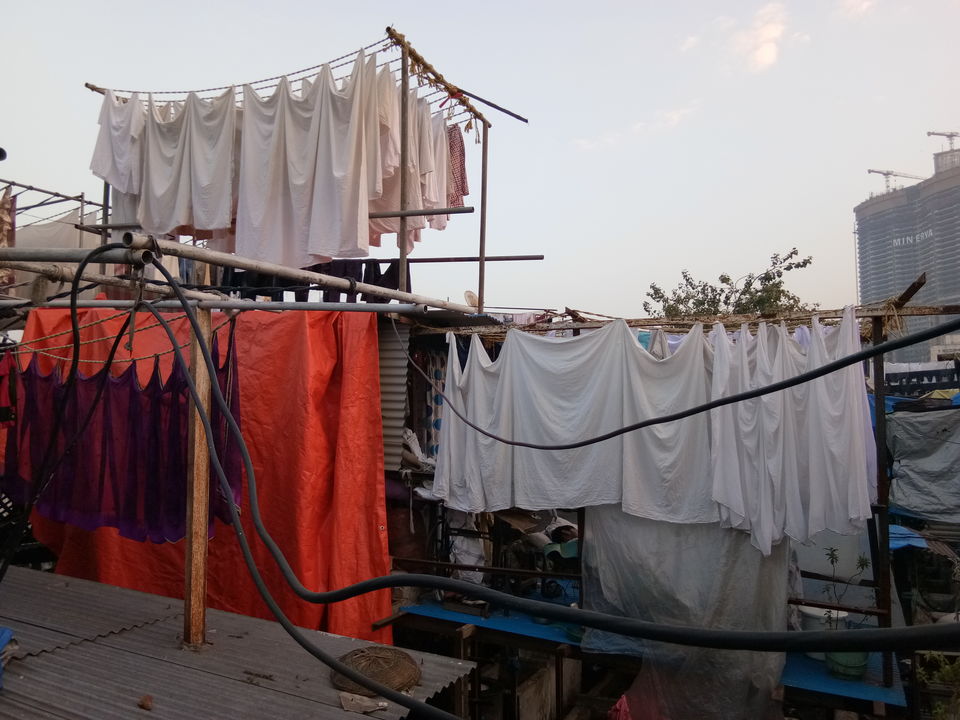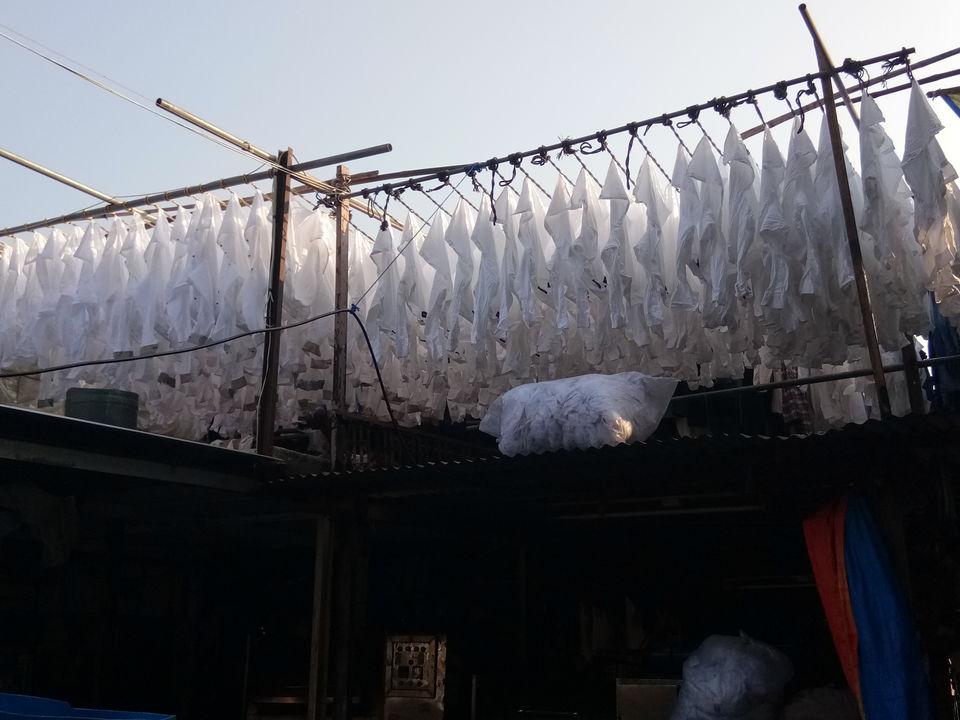 We could see the segregation with respect to colours, type of clothing, and material. Due to modernisation, now some of the people have washing machines and also dryers who could afford it as this defined the luxury for them, others who could not still work with the traditional way of washing with hands and flogging stones and caustic soda. There were rows of houses with one storey mostly with a terrace to dry their clothes and I wanted to view from one of the terraces. We asked one of the man if we could go to the terrace and we were said yes. Excitedly we climbed the stairs, and we were amazed by the view. As the sun was rising brightly, we could see the layers of different clothes till as far my eyes could reach.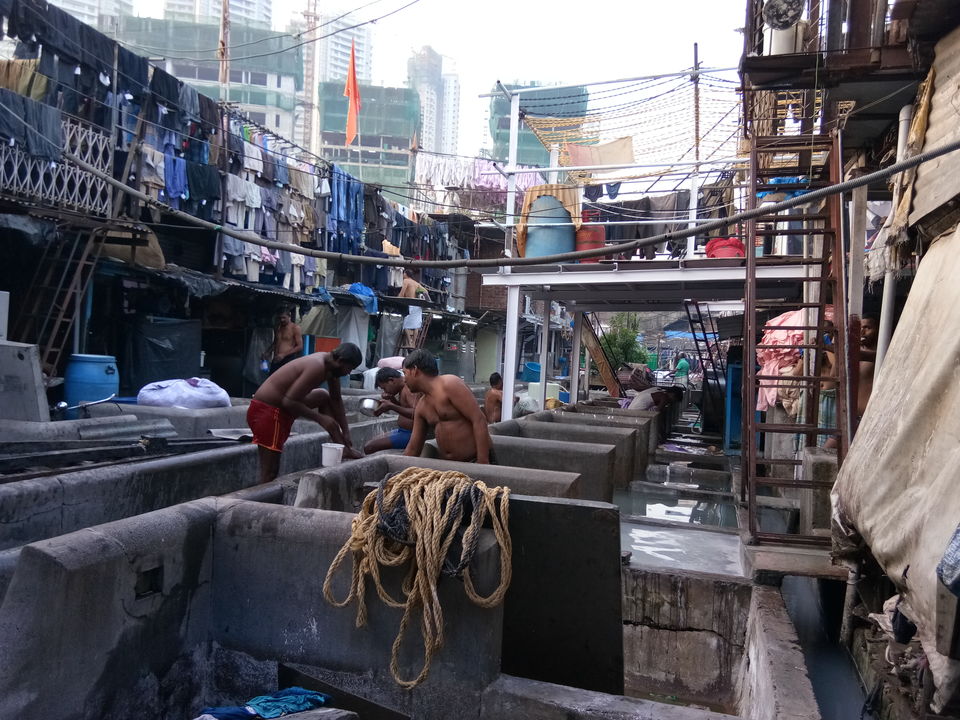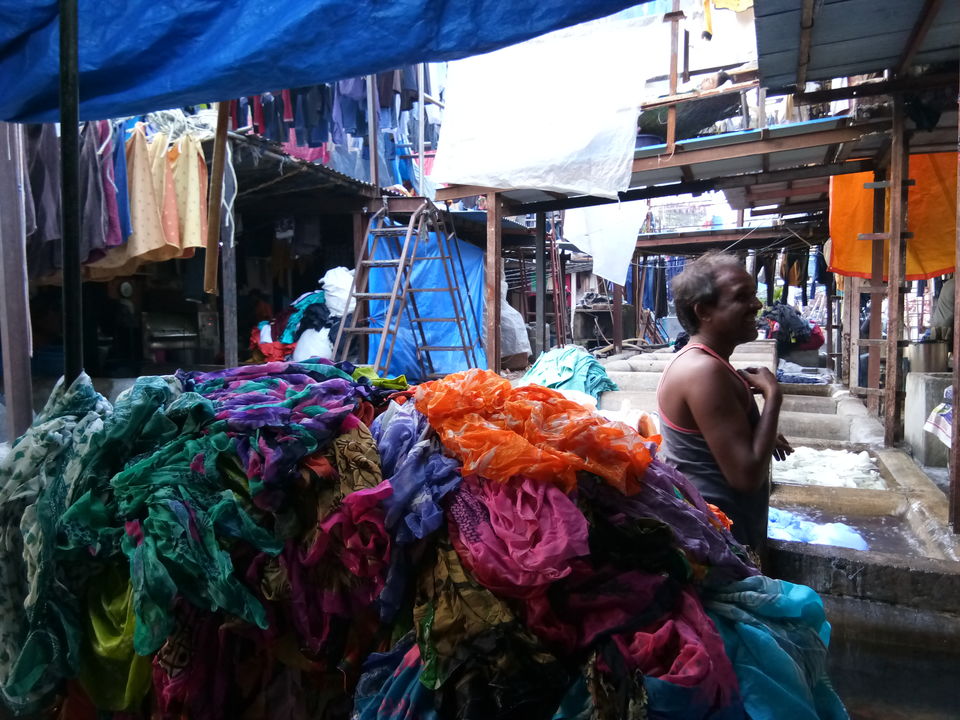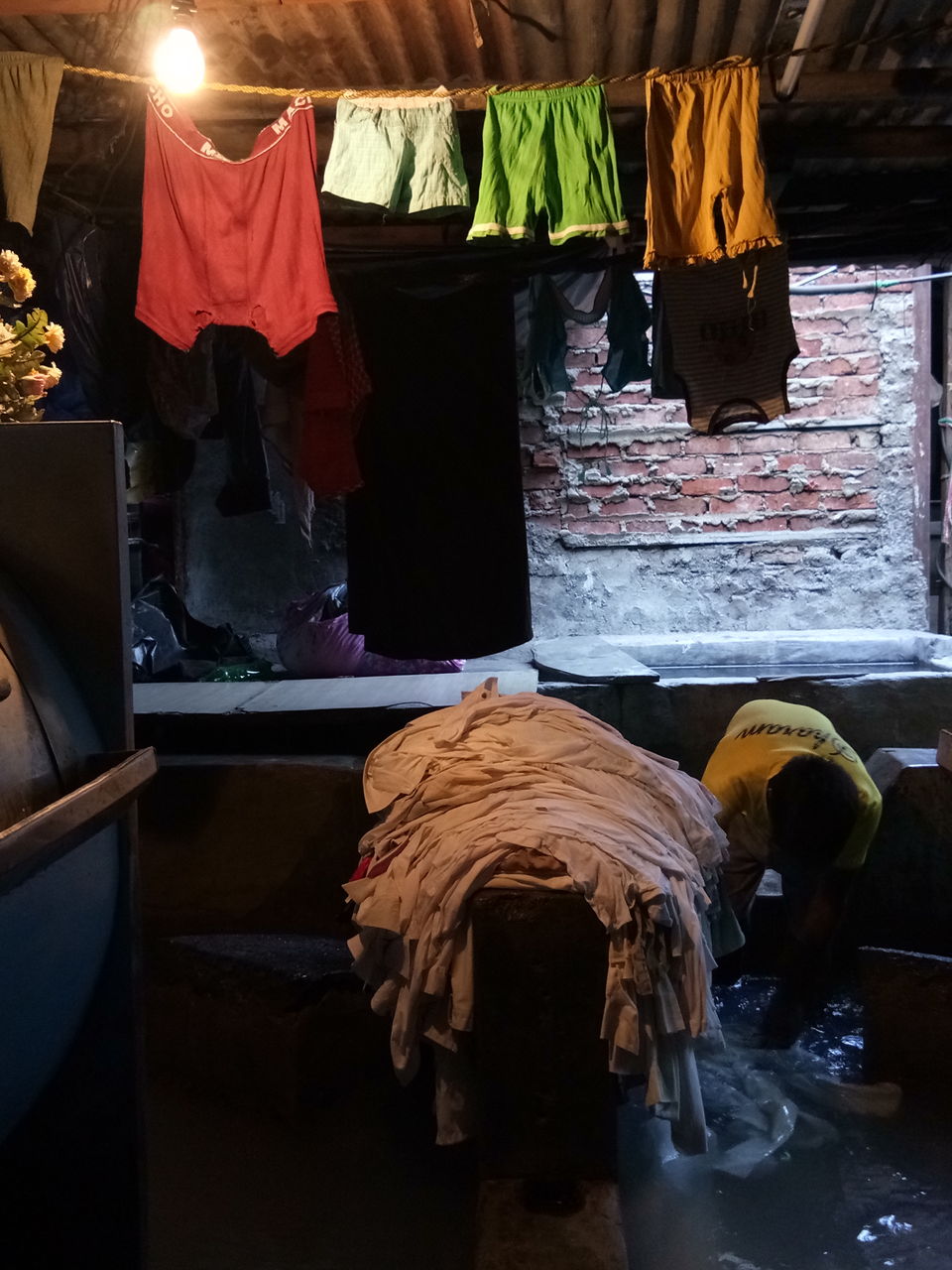 I could feel the order in the chaos, the weird smell was no more, we kind of knew people and kids by now, and strangers now became the storytellers. As we stepped up to another terrace, the person was drying clothes and started talking to us. He explained how this place has changed over the past few years, how they don't want this occupation to be passed to their kids and wanted them to be educated. Rajkumar da told us, how this place was used to be the vast area of land and slowly shanties came over and people made a settlement because it was always better to live close to the place of work. We came to know, that hospital and hotels, manufacturing companies over the Mumbai are the biggest client, and they payed extra attention to tag the clothes with specific code so that they doesn't mix. He also tried to taught us the art of drying clothes to minimize the time and space.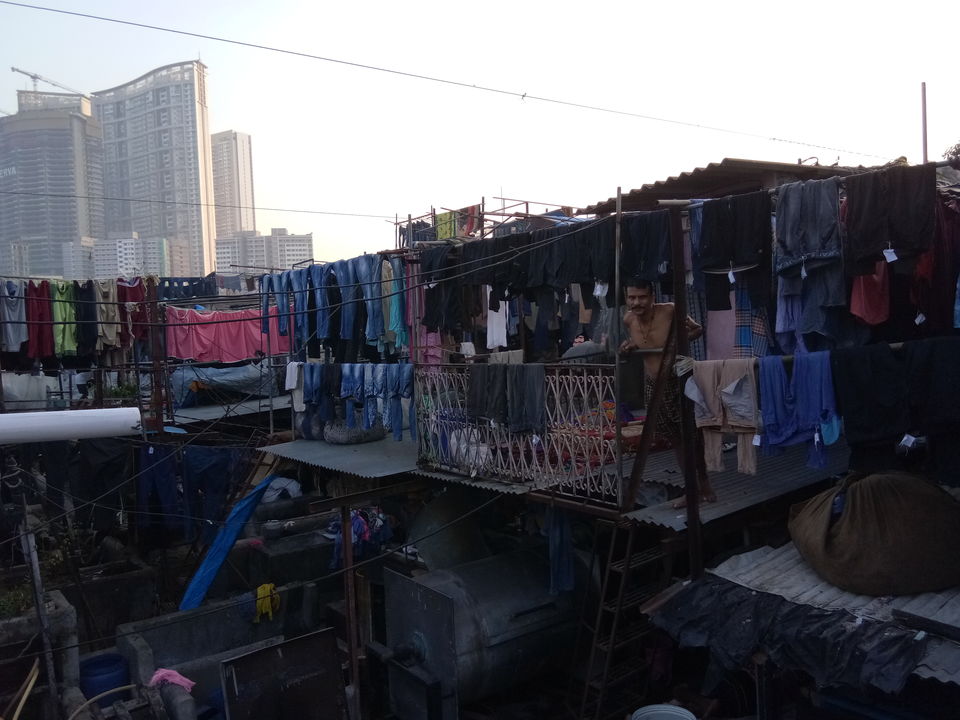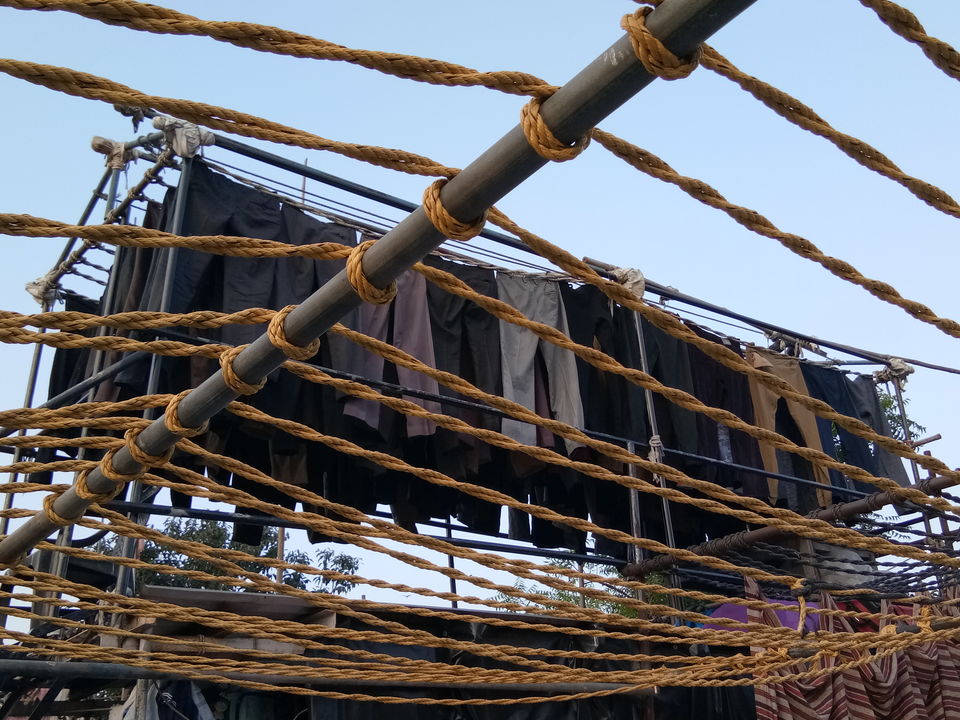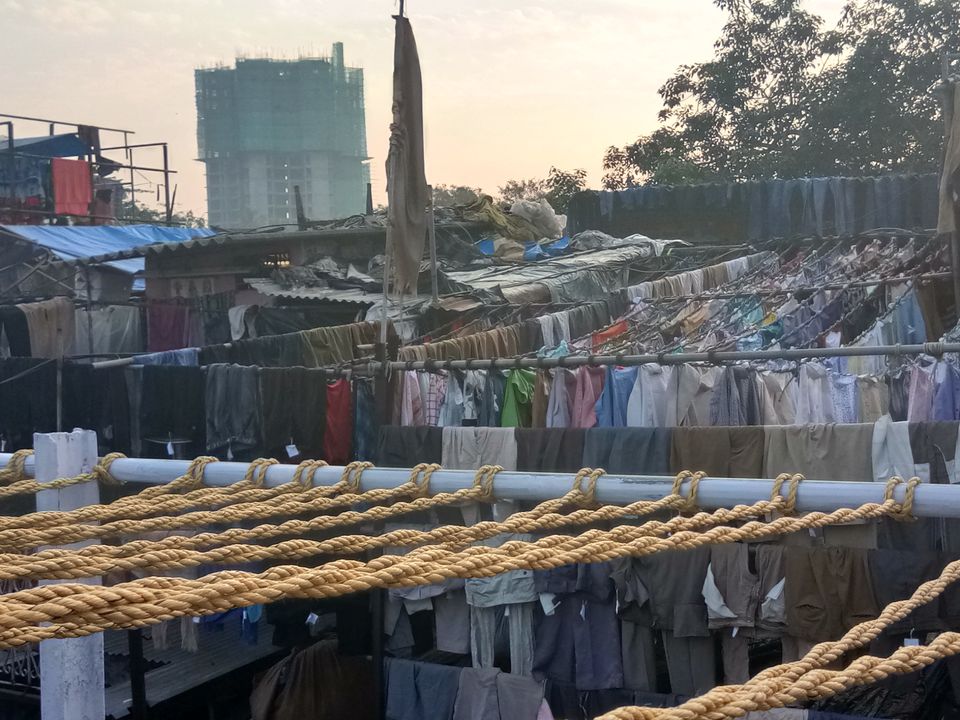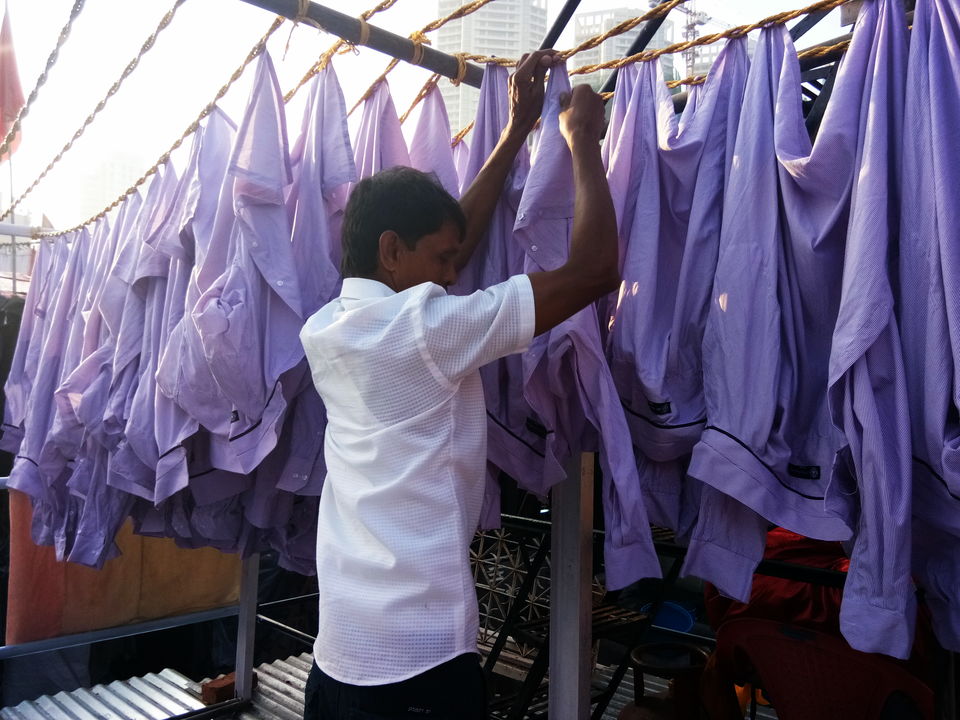 Home to the dhobis and their families (around 200 families), the Dhobi Ghat has seen this occupation passed down from one generation to the next. Also known as the Mahalaxmi Dhobi Ghat, it can be viewed easily from the Mahalaxmi Railway station. The best time to visit Dhobi Ghat is early morning and early afternoon. While the dhobis are in action in the morning to take care of the washing load, the early afternoons are an ideal time to see the clothes dry.