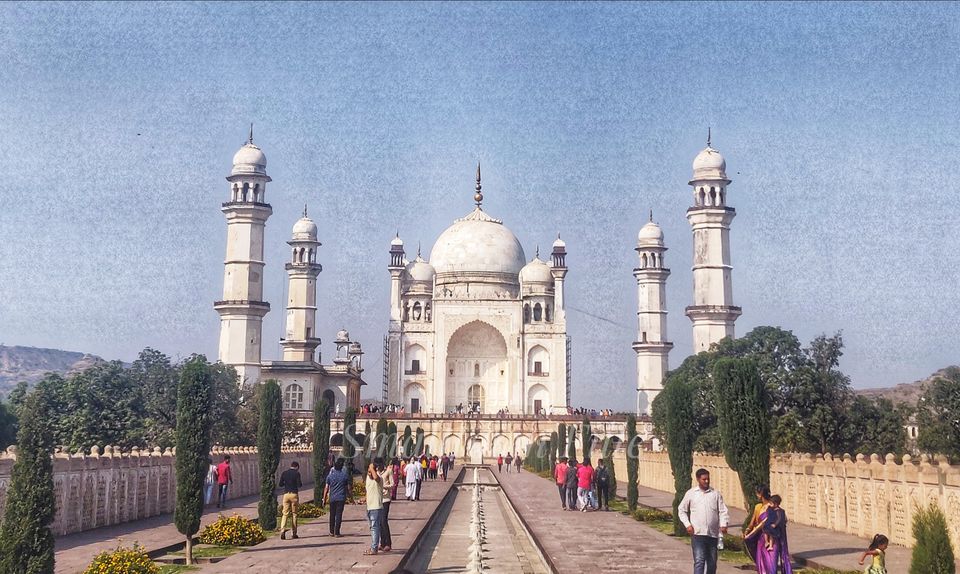 Maqbara meaning Tomb.
Bibi Ka Maqbara also known as the 'Tomb of the Lady' is located in Aurangabad, Maharashtra, India. The tomb was built in the memory of Aurangzeb's first wife Dilras Banu Begum (other name : Rabia-ud-Daurani) . She was also the princess of Iran (Persia).
I had my office collegue's wedding in Aurangabad and I just had a day, one day to travel from Pune-Aurangabad-Pune, attend the wedding and to explore Aurangabad. Me along with two of my office friends booked tickets from Red Bus and we chose Shivneri Travels (a leading Transport company in Pune and surroundings). We wanted this trip to be as affordable as it can be so we chose bus. The other means of transport are Trains, Cab, Personal vehicles.
We received the details about our bus like the bus number, pickup point, time of departure and also it had a consistent tracking. This was all provided 30 minutes prior to the time of the departure.  We left at 6:00 am and reached to our destination around 11-11:30 am with one stop in the middle where I had nothing because there was nothing except tea and biscuits as it was early morning (not so early) and I don't drink tea 🙂
After our arrival we booked an auto-rickshaw from Ola and believe me we got our auto confirmed within a blink of an eye. It was that quick. In Pune, we wait for like a minute or 2 for the confirmation. Then we headed to the hall where the marriage was being held. Changed our attires. Attended the wedding. Had mouth-watering Maharashtrian food (picture below). Then we changed to our casual clothes and booked a quick Ola auto-rickshaw to Bibi Ka Maqbara. It costed Rs 60-80 and was just 15-20 minutes away.
We had a refreshing lemonade first and then headed to the counter. It costed us Rs 25 per person for Indians and Rs 200-250 for foreigners. They provide you a token which you have to submit at the entrance without that you are not allowed to enter. As soon as you enter, you'll find a long stretched water pool with fountains dividing the pathway into two and the flowers on the other side. Like any other Mughal monument, the garden is divided into four known as Charbagh (Four Gardens) . As you get nearer to the monument, you find yourself so small and tiny (wrt height XD ) because of the hugeness of it. There are four Minarets (Minars) at each corner of the mausoleum. To reach the chamber where the grave of Dilras Banu Begum we need to climb up the stairs, remove footwear and then enter a room. Aligned at the center, beneath the dome, there lies the grave of Dilras Banu Begum in the ground level. There's octagon passage for the people to walk, stand and watch (also make a wish).
After paying visit to the chamber we took a round of the mausoleum and all we can see was green lushed gardens spread from the entrance to the exit. Then we sat and checked the nearby places to visit so we found many but the nearest one was Aurangabad. We booked the quick Ola auto-rickshaw and headed towards it but I was in opposition of visiting that because we had our return tickets booked and had only 2-3 hours with us. Its in the outskirts and I thought we'll have to trek to the cave. So we made a U-turn and returned back to the monument in the same auto-rickshaw XD . We thought of walking of the lane and buy some souvenirs. There were jewellery, Himroo fabrics, wooden and marble artworks, etc. Find what I bought below 😀
We still had 2-3 hours with us so we surfed the nearby places from our bus station. There were many places but we thought of visiting the Panchakki (Five water wheels). It was in  walking distance so we walked towards it. The entry fees is Rs 10 per person for Indians and Rs 100-150 for foreigners. So there are five water mills located at different places to draw water into a pool. There's an old and water mill at one of the corners and the largest amongst all. It's covered with fence because of the force of water but you can see through it. The water isn't clean and hence the foul smell. You can feed puffed rice to the fishes though 😀 There are shops here too so I bought… Find the pictures below :D
Souvenirs :-
1) Marble saucers a set of 6 with stand (Panchakki shop)
2) Marble candle stand with elephants carving (Bibi ka Maqbara)
We took a quick Ola auto-rickshaw and reached the bus station. There we had few snacks and slept in the bus. Overall it was an easy-going trip 🙂
Distance from Pune : 240 kms
Travel Time (one way) : 4-5 hours
Stay safe everyone! 🙂
Follow me on Instagram for more photos and updates : seep.bora