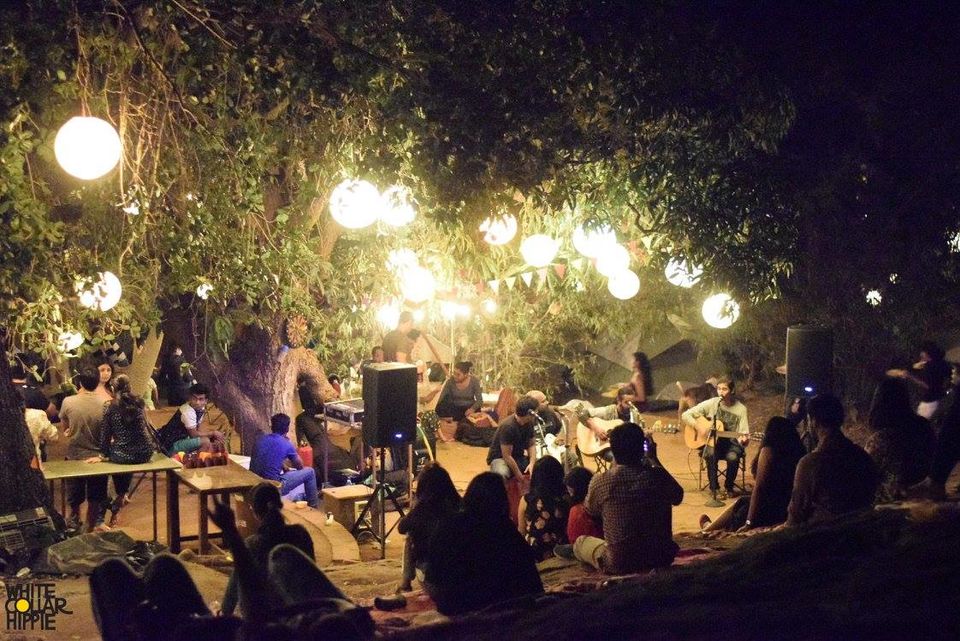 If you are looking for a complete Goan-Boho experience including sleeping under the stars, building a bonfire, listening to live indie music, steaming hot barbecues and dreamy fairy lights, Band Camp is the perfect place for you.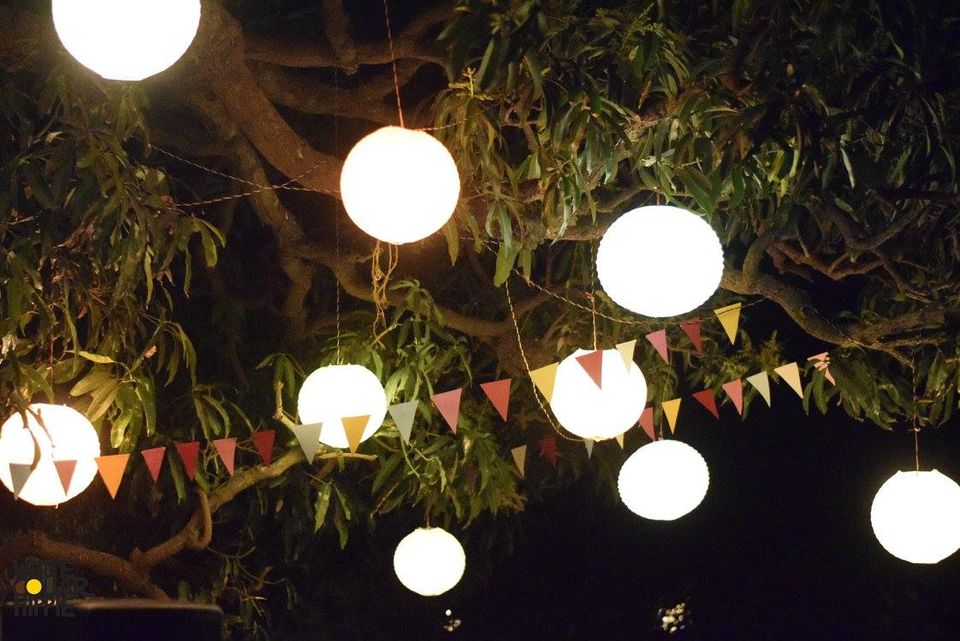 Where Is It?
Band Camp is located atop a hillock in the coastal town of Uttan in Bhayander. It is the perfect weekend getaway from Mumbai or Pune. The drive will take you less than 2 hours from Mumbai and approximately 5 hours from Pune.
Why Should You Visit?
Organized by a travel company called White Collar Hippie, the Band Camp provides authentic camping experience to its visitors. With Band Camp at a distance of less than two hours, no more do travellers need to chase remote, outlying forests to pitch that perfect tent.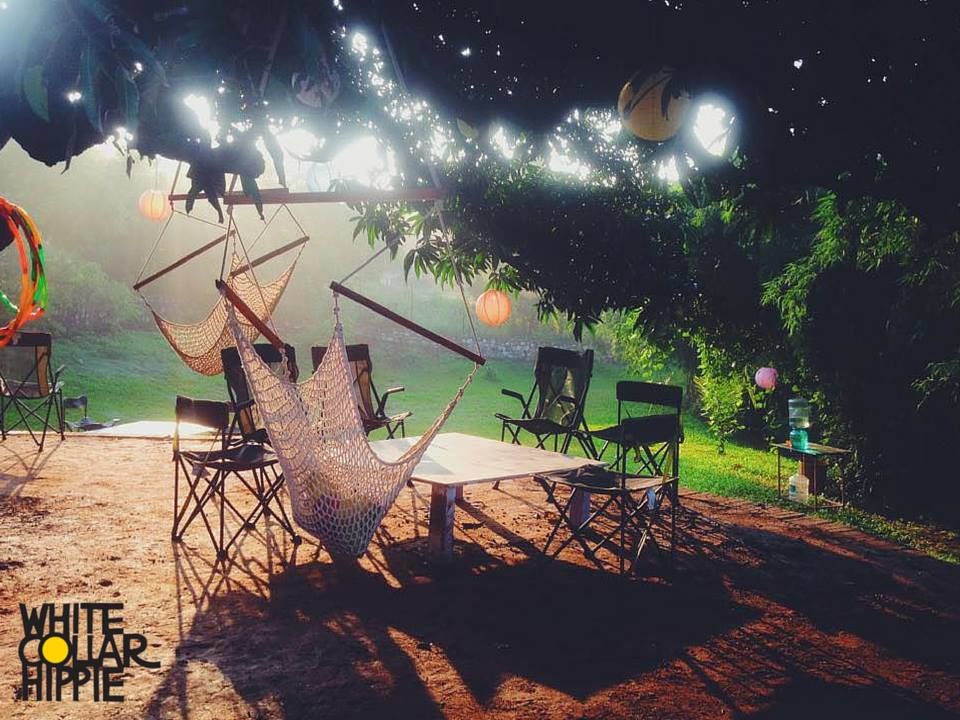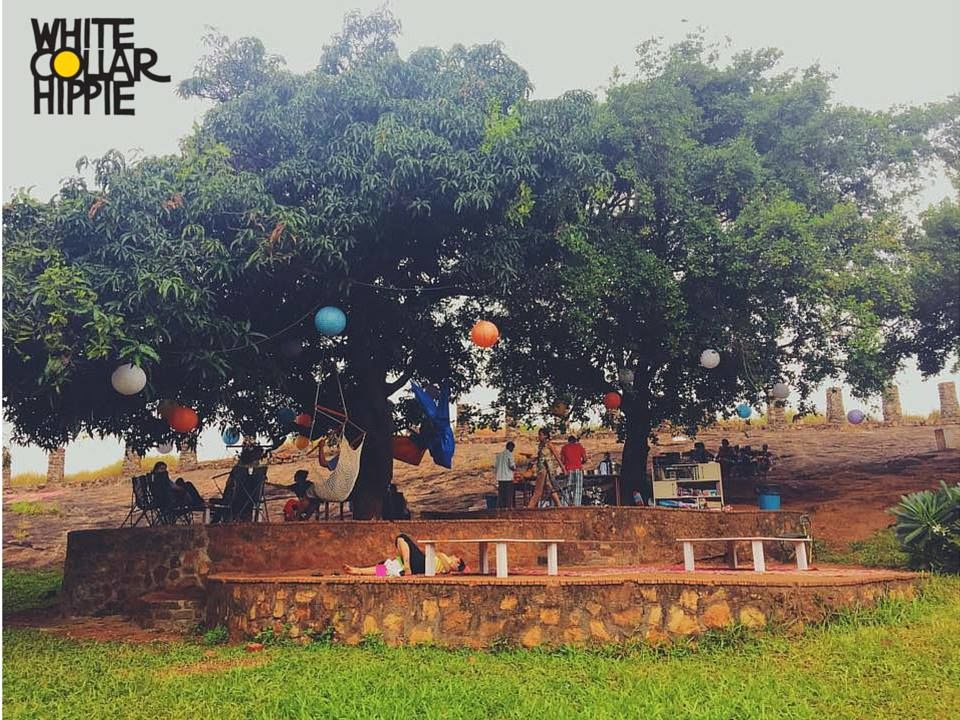 The camp site is loaded with multitudes of activities to keep everyone entertained. You can walk down the Uttan Pali Road and come across the beautiful St Andrew's Church. Once you cross the church, you will reach the Uttan fishing village. Mainly inhabited by a community of fishermen(the Kolis), Uttan lies close to the Gorai Beach and its colonies and shores resemble much those of Goa, adding to the Goan aura. If you manage to wake up early in the morning, you can go with the fishermen to the sea to catch a glimpse of the fishermen catching fish as the first light breaks.
If you are looking to laze amidst the verdant greenery and fresh breeze, there are many hammocks on the camp site along with a huge collection of books. The huge grounds also include a volleyball court apart from many other indoor games including Jenga.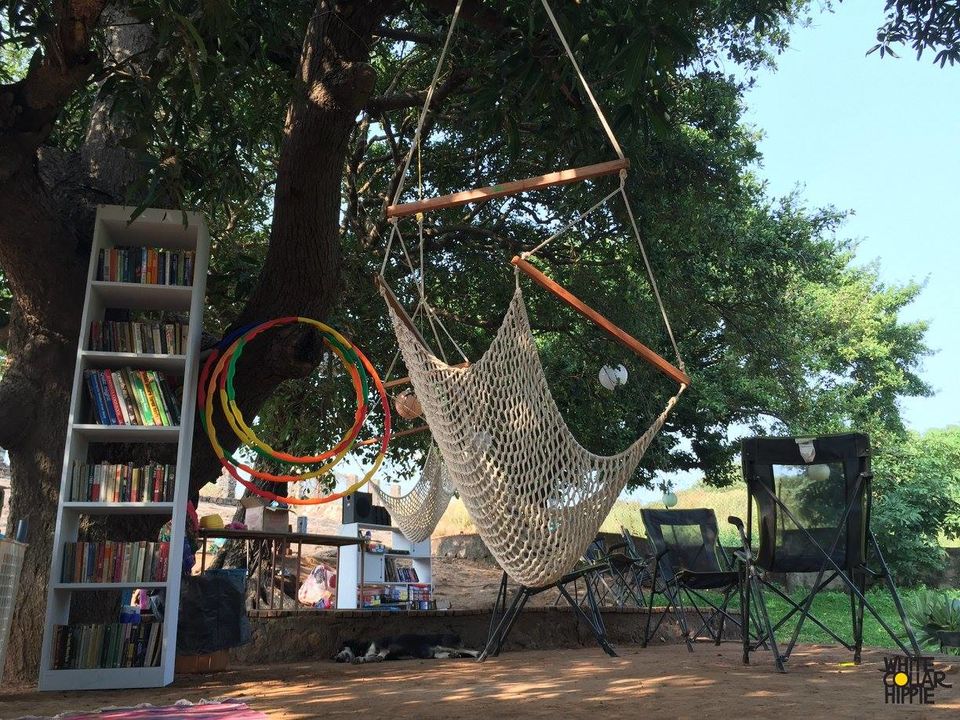 How To Reach
The site is located in the gorgeous green backyard of a resort called the U-tan Sea Resort. The GPS disconnects once you reach Uttan and there are no specific signs for Band Camp which is why you need to look for signs for U-tan Sea Resort to reach your destination.
By Car: You can easily drive down to the resort since it's only 2 hours from Mumbai and 4 from Pune.
By Rail: The closest railway station is at Bhayander which is 40 minutes from the site.
By Ferry: An even more exciting option of travel is the ferry from Gorai Ferry Point. Once you are on the creek, you will need to hail a rickshaw to U-tan Sea Resort.
You can get the exact directions on your phone or contact for any queries:
Henna/Vikrant: +91 9820644720 (White Collar Hippie Office)
Rohit: +91 9930260748 (Camp Manager available only Friday-Sunday).
How To Book:
The Band Camp for only a limited time period. Their camping season lasts from September to April. Bookings for individuals are open only on Fridays and Saturdays. It costs INR 2500 for each individual for Fridays and INR 3000 for Saturdays. You can book the camp from their Facebook page. For more details, you can check their website.
All images are credited to the Facebook page of White Collar Hippie.
Have you been to any other places which provide an amazing camping experience? Tell the Tripoto community about your experience.
Environed by unobstructed sea views and lush greenery, Band Camp serves as the perfect place for an experience amidst nature. Campers are provided with sleeping bags to sleep in their tents which adds to the camping experience. The camp site is well-thought out because of which there is ample space in each tent. Not only that, the tents are also clean and hygienic. The washrooms are also clean and proper which otherwise is a main concern in such places. The communal showers also have running hot water.
The camp is a one night event where you check in at 4:00 pm and check out the next day at 12 pm. At your check in, affable staff members greet you and give you a tour of the camp site. You are also provided with your camping kit which includes amenities like mosquito repellent, small torch and other camping essentials.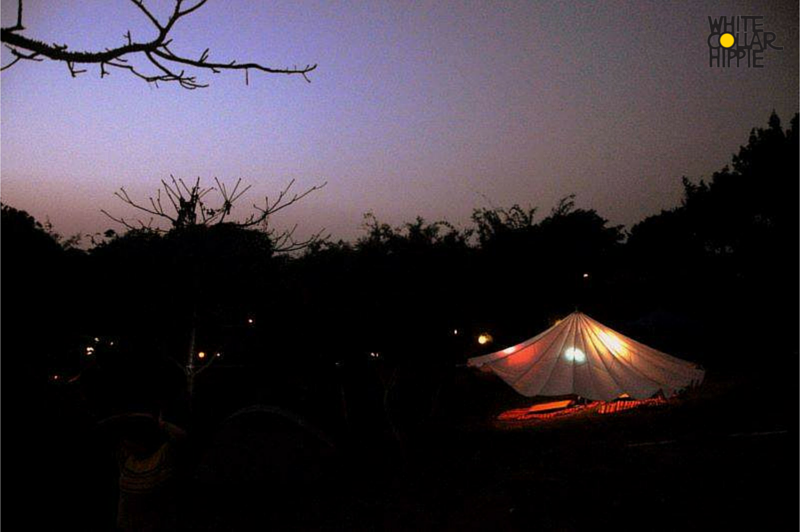 Once you have settled in at your tent, head out to explore!
Things To Do While At Band Camp
Come sunset and the place springs to life with zero-watt lanterns and the chattering of the campers. Sit around the bonfire and take the opportunity to mingle with other lost souls before the live music takes over. You can even volunteer to help build the huge bonfire. There is also a sunset walk organized by the staff members. It is a 20 minute long walk which first takes you to the top of the hill to catch the stunning sunset against the crashing waves.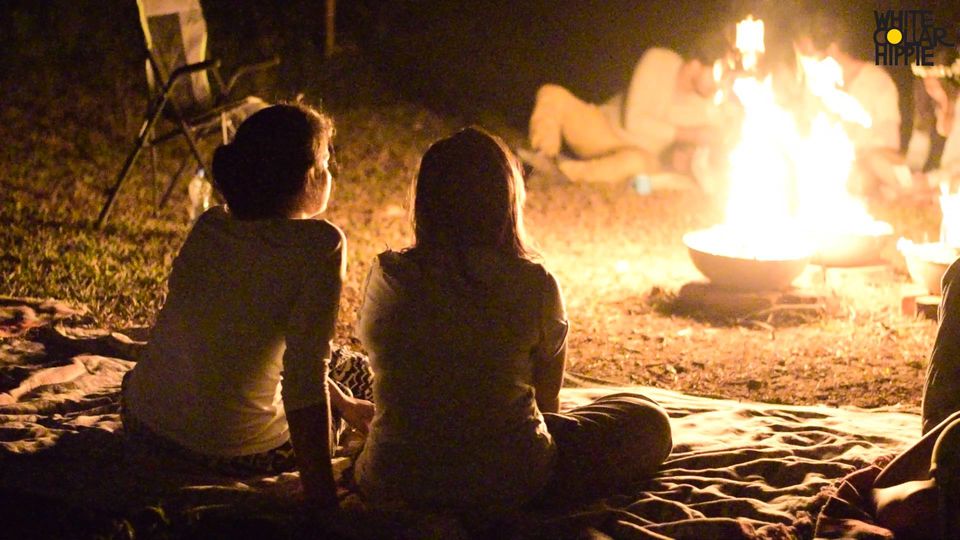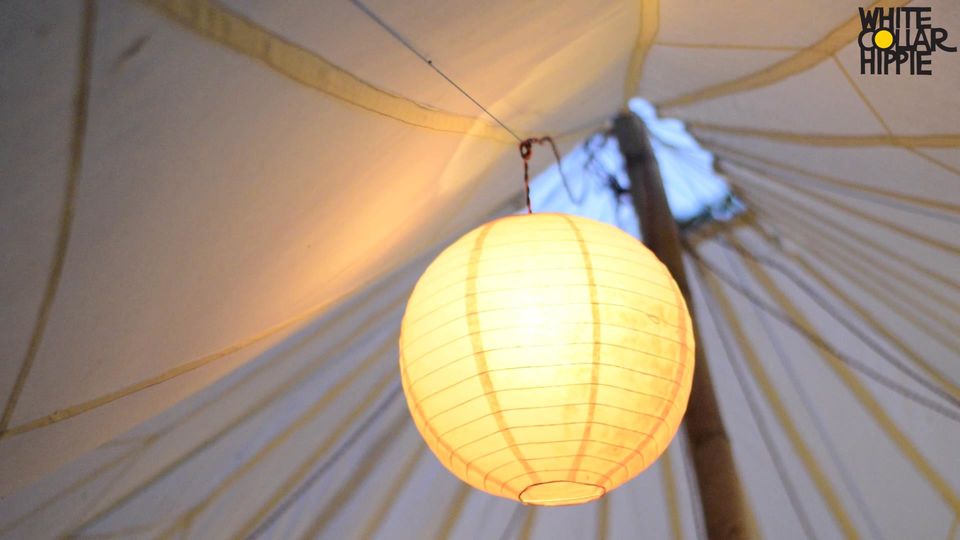 From Raheh Fateh Ali Khan to David Bowie and from old popular Bollywood songs to new indie songs, the live bands indulge in music of all sorts on Saturday evenings. Movies for Friday nights are chosen from a wide array of movie genres. The naturally sculpted amphitheater at the camp site makes for a great setting to sit under the stars and enjoy the live music or the movie screenings.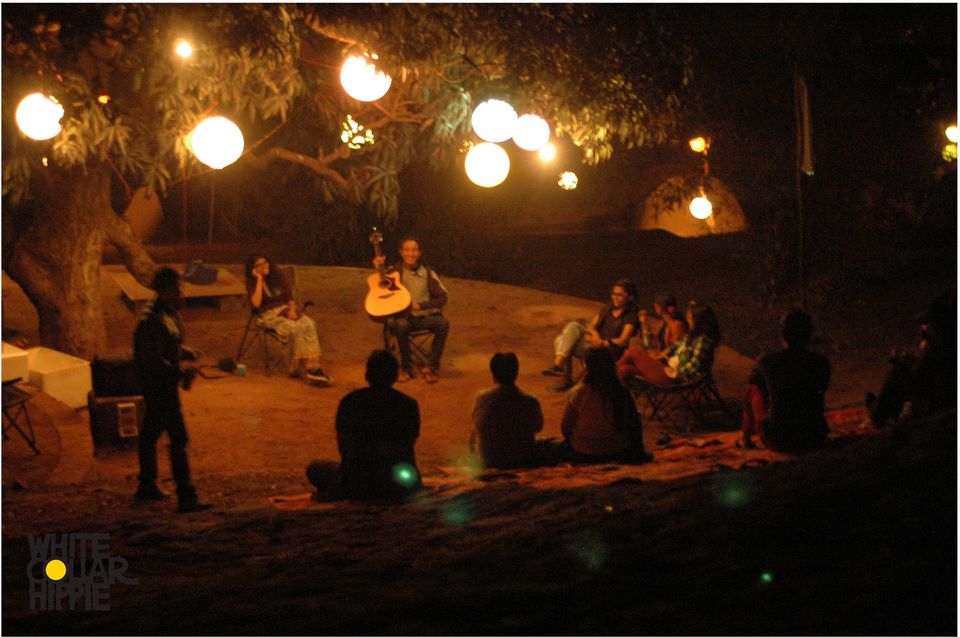 Included in your camping experience is a barbecue with options of vegetarian and non-vegetarian dishes. A delicious meal comprising Koli cuisines, cooked by a local family is served for dinner. Various options are presented to you on the breakfast table.