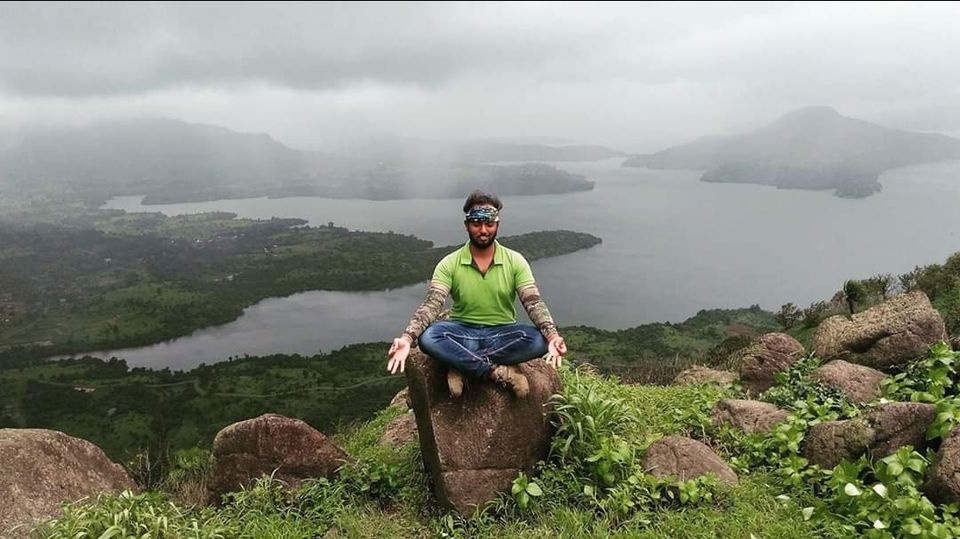 As you know monsoon is the best time for Trekking, it was monsoon and many people were Trekking around Pune, We were looking for an offbeat location to avoid the crowd and came up with the Kailasgad option.
What's there in Kailasgad Fort ??
Kailasgad fort is located in Mulshi, near backwater of Mulshi Dam. There is hardly anything to see on the fort but the trail, the Mountains and the Waterfalls on the way make a dream come true day.
How to Reach Kailasgad ?
To reach Kailasgad Fort, the route is Pune - Chandani Chowk - Pirangut - Mulashi - take Right at Nive Bus Stop  - Vaduste Village - park car at Mountain Pass (Khind)
Seeing the above route I came up with a plan in which I can cover 4 beautiful Spots, which given below.
1) Palse Waterfalls (Beautiful but Crowded place, so reach very early)
2) Andharban view Point (Amazing place)
3) Kailasgad Fort
4) Nivhe Waterfalls (Less known Place)
Pune - Kailasgad Fort (Total Distance: 150km):
To avoid the Traffic we woke by 5AM and left Pune by 6AM. It was rainy season, it was all greenary around but it was not raining, The weather was perfectly set for trekking conditions. Dark clouds, and cool breezes made our journey more refreshing.
We reached our First Destination Palse Waterfalls, there were harly any people around, we had our breakfast with sweet corn and tea, had some clicks at the Waterfall and left for Andharban view Point.
Wheres the Andharban view Point ?
Just take a first right turn from Nive Village and move on for around 6km, left side you will see beautiful mountains covered with fog, cool breez, Valley, Water streams coming down the mountain, yes that's the Andharban view Point.
We reached here within an hour, again the place was crowd free, combination of Fog, Wind and Water streams made it more amazing, we had few clicks there and left for Kailasgad.
To reach Kailasgad, move straight from Andharban view Point cross the Vadutse Village and go ahead till you see an electric DB on your left side, there you will see the small board of Kailasgad with some details. There we parked our car and started the beautiful Trek.
Trek begins with a Small hike on Hill and the same Hill is connected to Kailasgad. The route is narrow with exposed to the valley on your left side. The route was bit slippery but manageable. It takes around 1 to 1.5 hour to reach the top of Fort. If you want to enjoy the beauty of the trail rather than Fortification then this is the perfect offbeat trekking place.
The trail to Kailasgad Fort
While climbing, you will come across a small monsoon waterfall (It is only inflowed during Rainfall). Just take right side direction rather than crossing water stream to continue to reach on the top. Route marks are not clearly visible which may mislead you.
 When you reach top You can see the Swaraj flag on the fort.
View of Backwater and mountain range is simply breathtaking.
Largest or Maximum view of Mulshi backwaters is possible only from Kailasgad
The expert believes that fort was built during Saatvahan era and No fortification is available on the fort.
You can see some ruined rock structure which looks like a ruined house. There is Shivlinga carved in Stone at the end of the fort.
No signs of war found in history, but it's said the once Shivaji Maharaj had visited this Fort.
We had our packed lunch under the shadow of Swaraj Flag, spent some time in exploring the beautiful mountain which had semicircular bushes all over it and Backwaters of Mulshi Dam made it more picturesque.
We begin our returned journey and climb down in 30-40 Min. It is a short trek.
After this we routed our journey to last location, i-e Nive Waterfalls, this Waterfalls is less known so you will harldly find anyone around.
In the background you will see water stream coming from Mountain and that contributing to this Waterfall, the view is very picturesque and amazing.
We enjoyed playing in this waterfall and left back to Pune.
Kailasgad is less known, no crowd and just amazing, this is enough to make a life long memory.