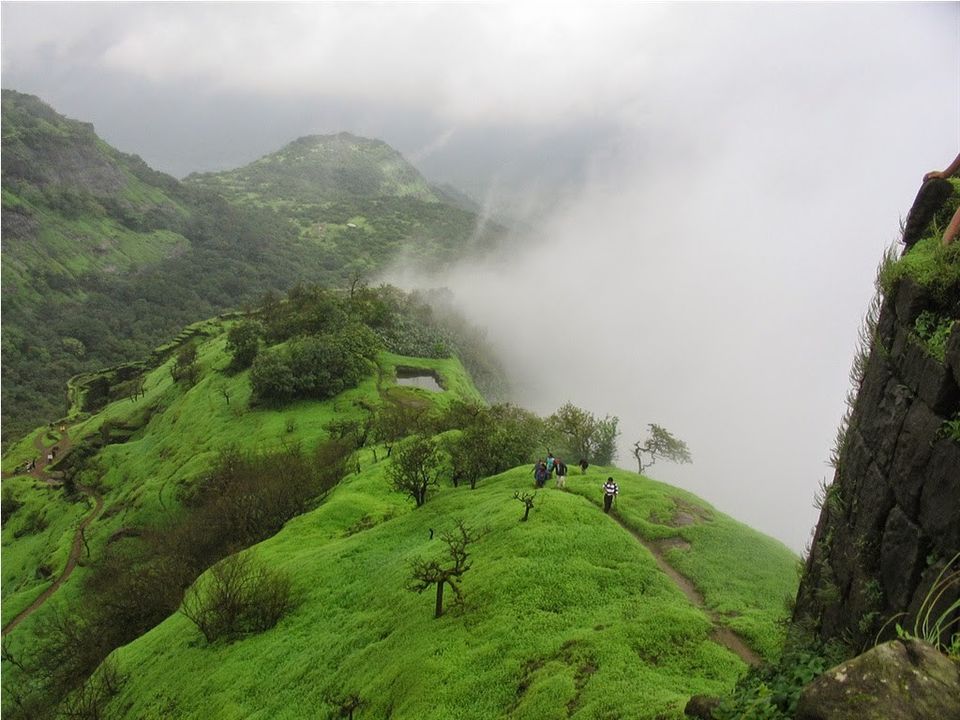 I feel envious towards those who are born and brought up near hills. I'm fond of online personality tests and whenever I'm asked if I prefer hills to beaches, I always give a positive answer. Although beaches are romantic, I find solace in less crowdy places and that is why I prefer hills. Every time I visited my boyfriend, who is now my husband, we went on bike rides to the hills near Pune. Lonavala is one such places that still fills my heart with ebullience.
It had been drizzling all day and to rejoice the generosity of the weather, we decided to go on a ride to Lonavala. The breathtaking valleys, coy mist, silvery skies transforming each second, prancing clouds, and lush green blanket of curly grass blew my mind. The road to the marvellous Tiger point was full of many hairpin curves and the mist was so dense that one could hardly say if the two headlights coming from the front were of a car or two different motorbikes. The trees on the road were bent as if they were doing it deliberately to hear the harmonious music of the wind.
We reached the Tiger point. The place got its name as it gives impression of a tiger trying to leap across the valley. There was a small waterfall formed due to rain and the notorious mist was hiding it from it after every fifteen seconds as if it was a secret treasure. Yes, there was crowd, but it didn't matter either. Thanks to the mist! We roamed around the place, the mist decreased suddenly, and I found a ravine nearby. It was so deep that most of the day it must have remained in shadow. Over it, a narrow path twisted its way down through the tress, over an open ridge where Sahyadri flora in varied hues grew wild, and then steeply down through a tangle of slender bamboo. I was about to call it heaven as the mist took the scene away from my eyes, and I was left illusioned as if I had been drugged.
Visiting Lonavala and not tasting its delicious corn pakoras is like being in Switzerland and not tasting its cheese. The tempting fragrance of yummy pakoras with onion chutney is something that amplifies one's hunger. The pakoras should be followed by a kulhad of hot coffee- so thick that if you don't wipe your mouth after having it, you will be left with a crusty, brown moustache. To dig deep into the ocean of hillside cuisines, we also tried roasted corn with green pudina chutney peppered over it.
It was around 6 o'clock when we decided to leave. The orange-purple Sun was peeping out from the grey clouds, and the city below was becoming alive with all electric lights. We could hear the leaves of the trees rustling and indicating that it was time to rest. The birds were going back to their nests with some savoury gifts in their beaks for their little ones, and we too returned with imperishable memories of the wedding of hills with clouds in Lonavala.