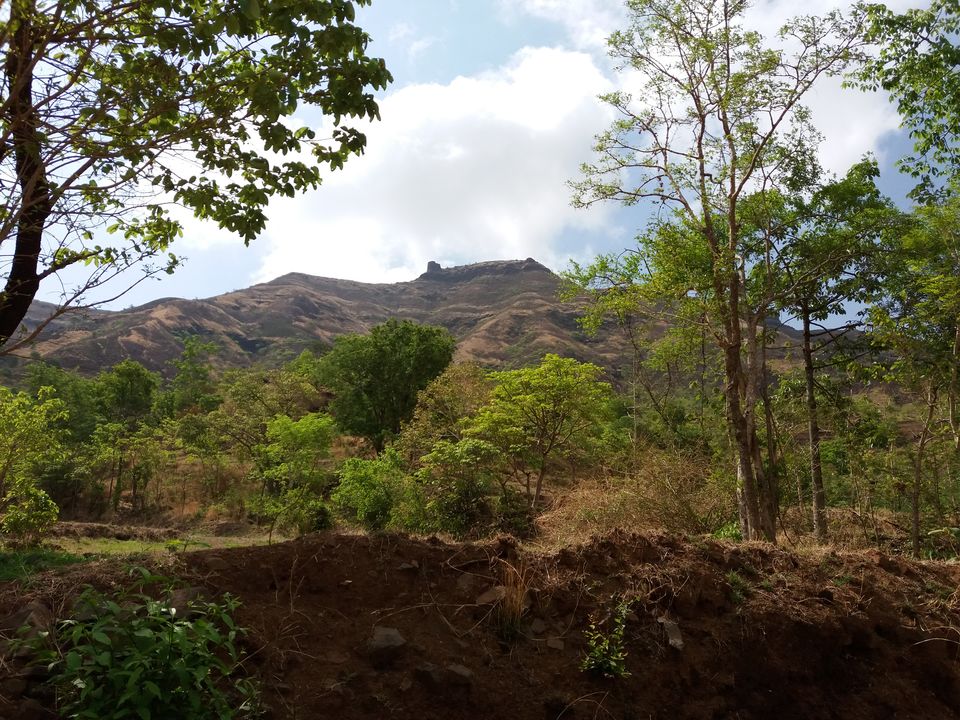 Fort State: In ruins
Base village: Bajarwadi
Difficulty: Easy from Bajarwadi, Medium from Chikhalvade side
Visiting hours: Open all days of week.
Things to carry: 2 liters water, Shoes with proper grip, some snacks.
Rohida fort is in Bhor, which is 80 KM away from Wakad Pune. This fort is famous for wind. It will literally move you. Please read on to find out more about the trip.
Five friends (I, Akash, Shashikant, Swapnil and Swarup) had gone for this trek. I and Shashikant started at 6 in the morning and we all decided to meet at Warje flyover. Waiting for others and finishing breakfast in the meantime, took away 2 hours, which meant we were late to start. I and Swapnil rode on his bike while Akash, Shahikant and Swarup rode on other two bikes.
We took a stop en route for refreshment. I was following the map on my mobile and guiding Swapnil to the way, while Swarup was also checking the map and directing Shashikant and Akash. The map somehow showed me this route where village is Chikhalwade. On the other hand, remaining friends took the route which took them to base village Bajarwadi.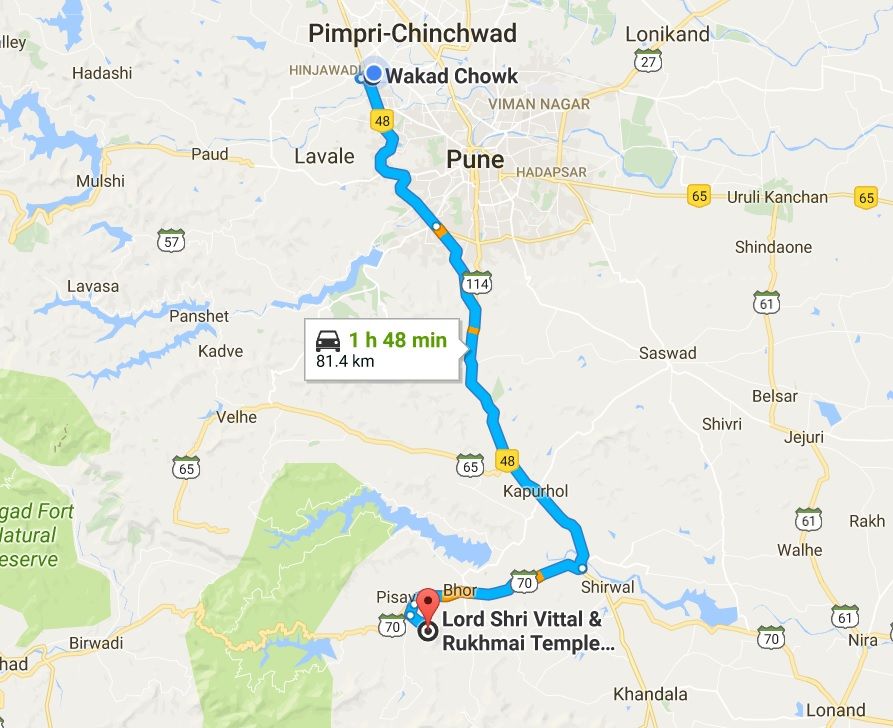 Goof-up
Now, I and Swapnil were at Chikhalwade, on the northern side of the fort while Akash, Swarup and Shashikant were at Bajarwadi which is on southern side. The path from Bajarwadi is easier. We talked to locals and they guided us to the path for the fort. Due to the bastion, it was not possible to go to the fort directly from northern side, instead we had to first go to Waghjai temple and then follow route to the path. I talked to Shashikant suggesting them to climb up from their side and that we will meet at the fort.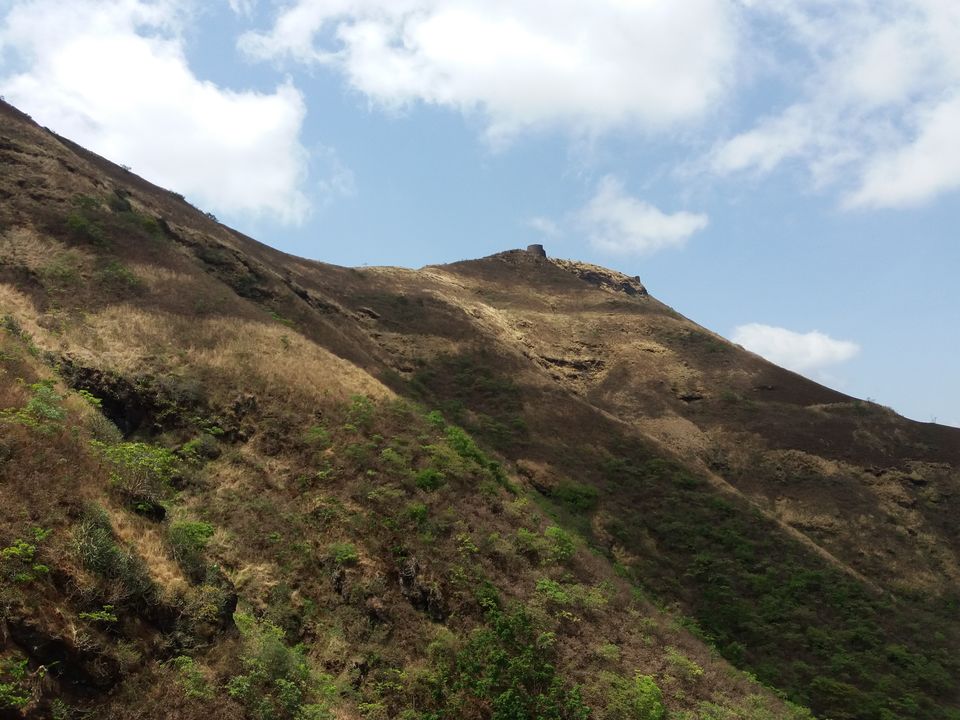 The side we chose for trek was difficult. The heat in the summer of May was also snapping our energy faster. There was almost vertical steep and couple of times we felt to gave up and get down. But the passion to climb and complete the trek kept us moving. We had to hold on to the tree branches and ground most of the times to keep our balance and move up. Many a times we had to crawl. After around 45 minutes of trek, we reached the Waghjai temple. I and Swapnil felt relieved. It was really an amazing experience and first of its kind. The feeling of accomplishment was fulfilling.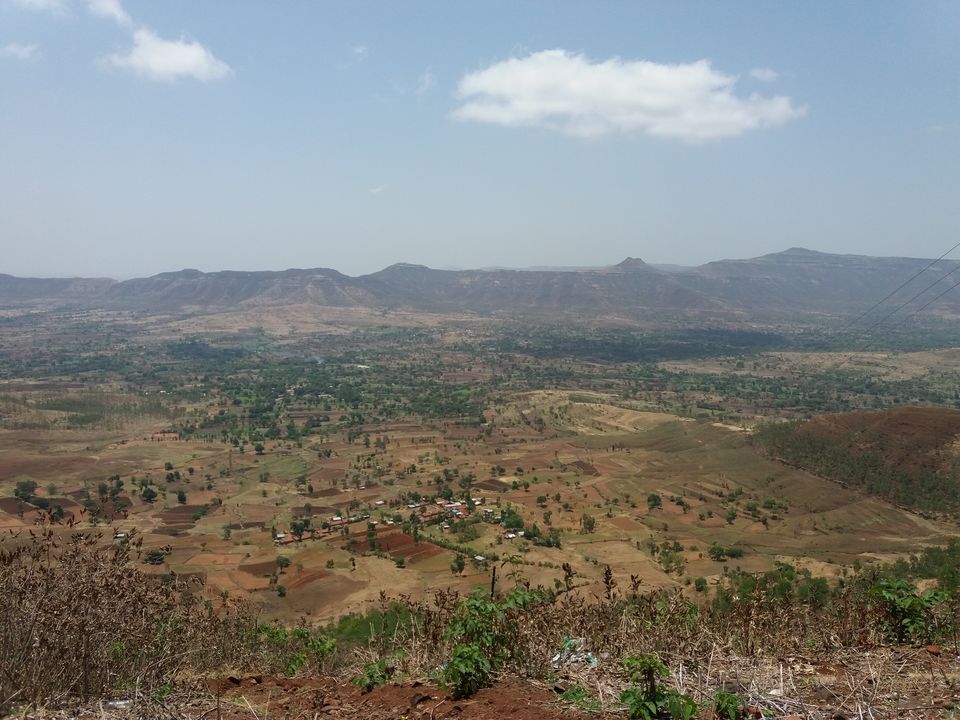 I called Shashikant to know their whereabouts. They reached the fort quite earlier than us and were busy exploring the fort and photographing. We took the blessings at the temple and proceeded towards fort. The path leading to fort from the temple is quite straightforward.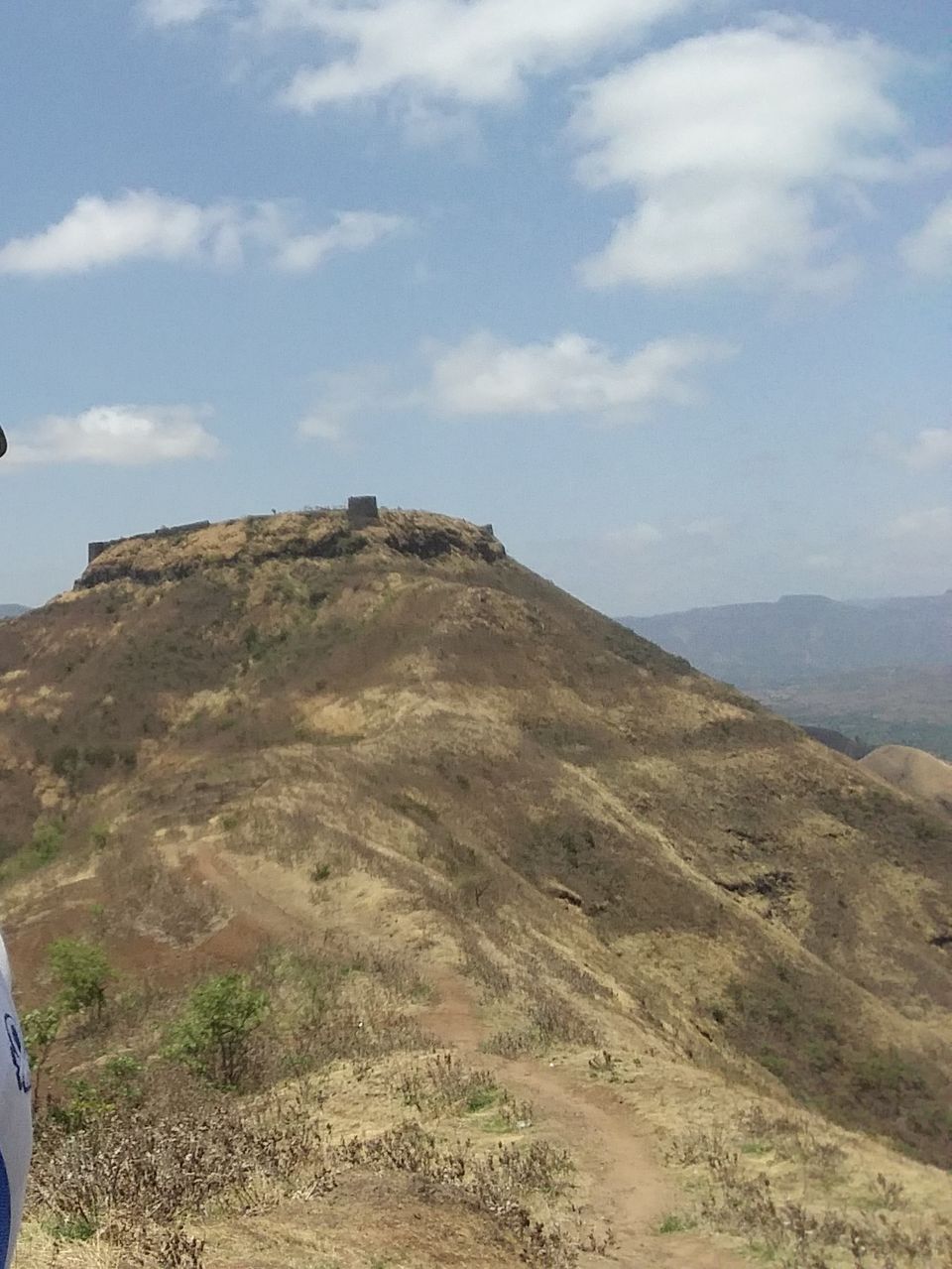 There is a gate to the fort near entrance.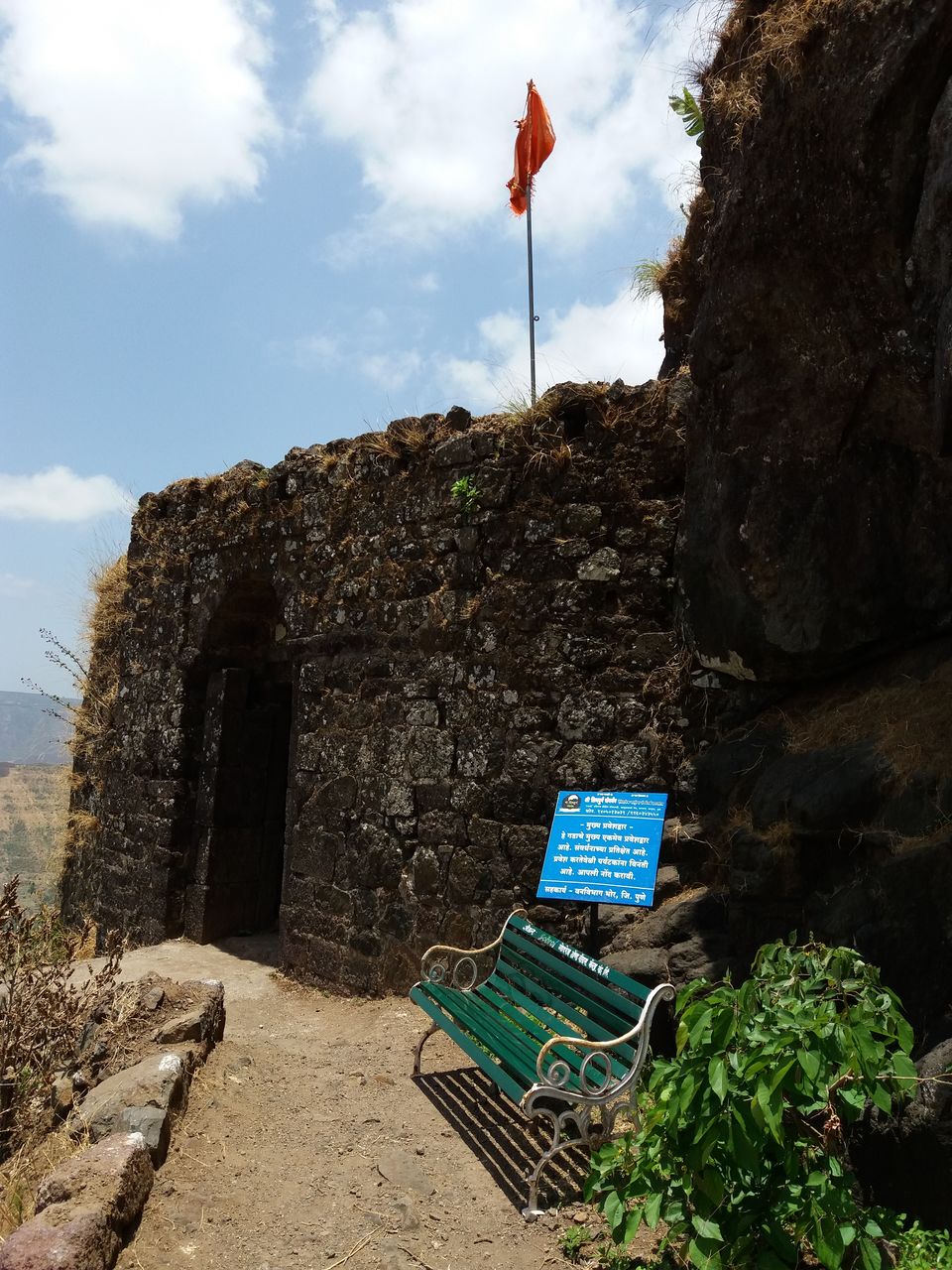 After walking further, we saw this another gate.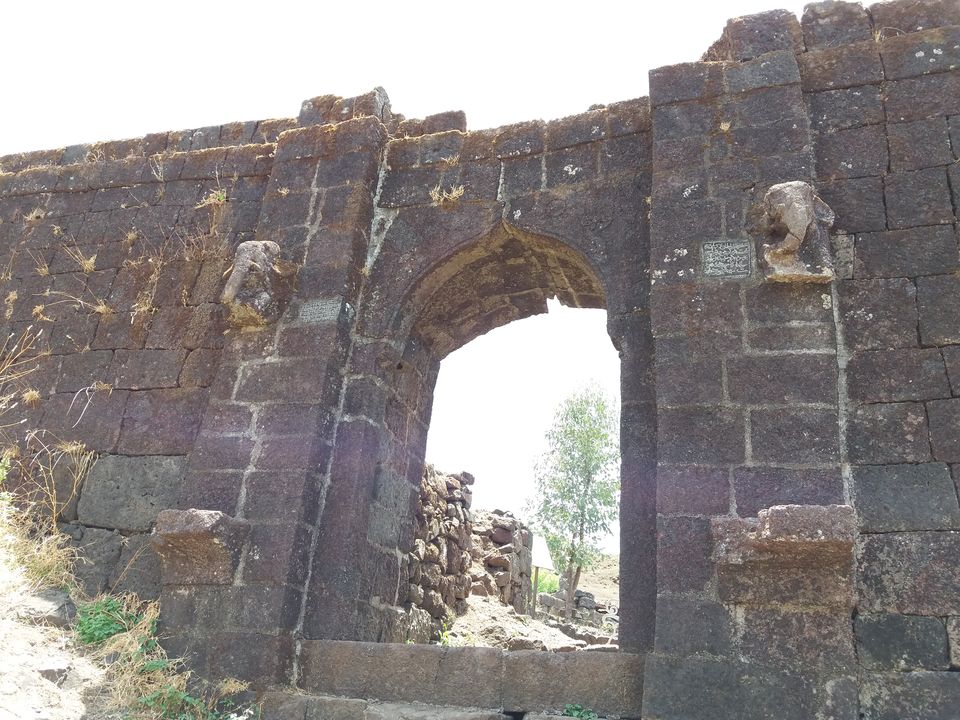 This gate has elephant heads on both sides and some script in Farsi and Marathi languages.
There is a rock cut water cistern on the fort, which still had a water in summer.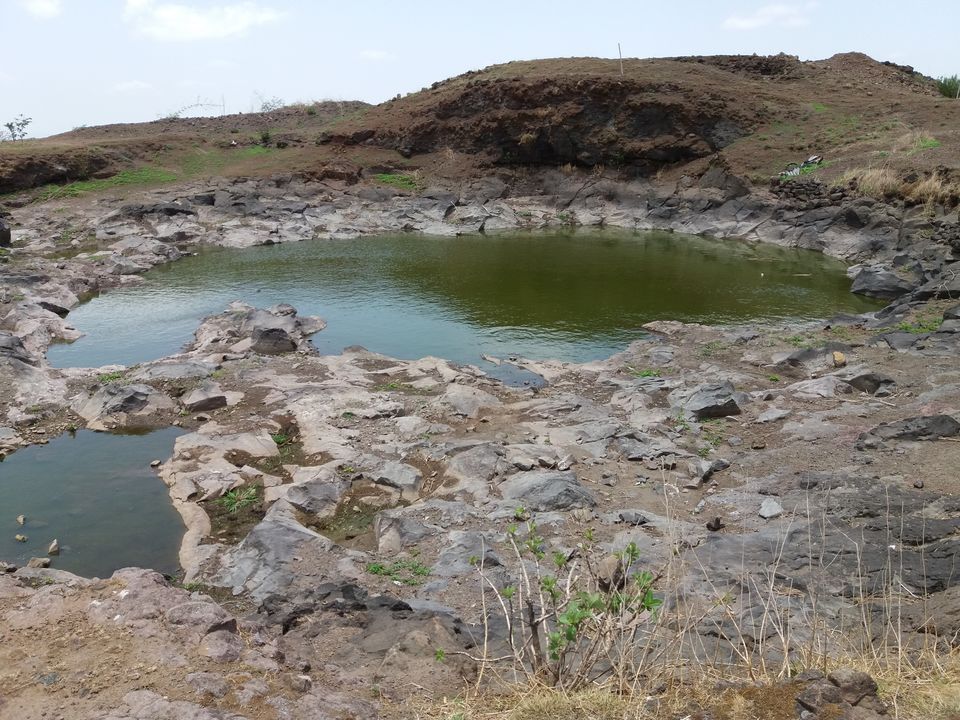 A prominent bastion on the fort with saffron flag flying high.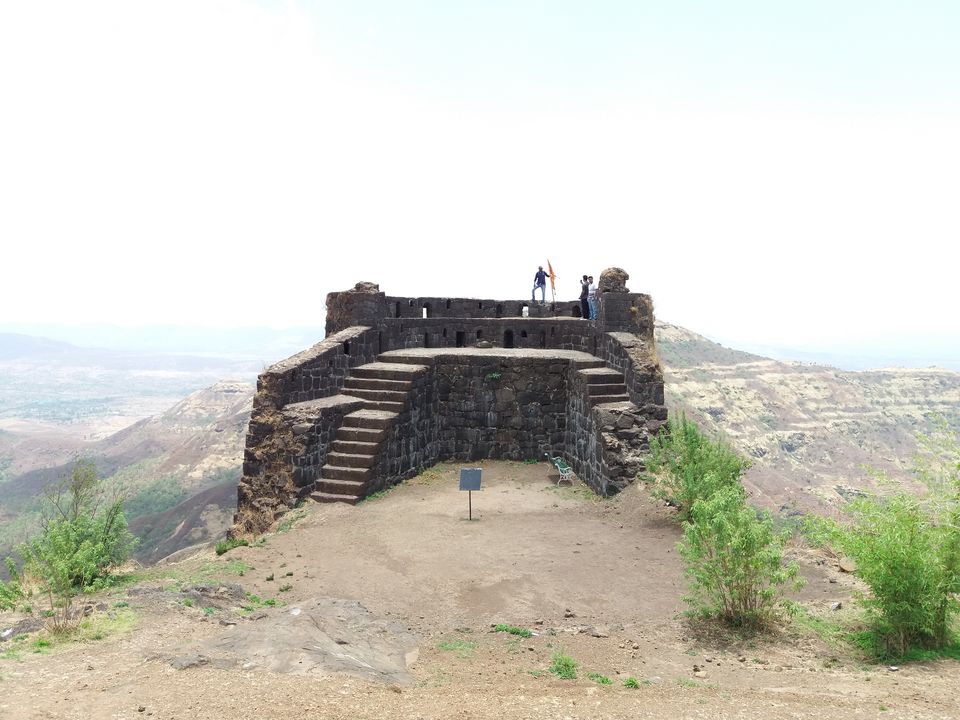 We clicked some photos here. From this place you can see the Waghjai temple ahead.
After roaming on the fort for an hour, we decided to get down from Bajarwadi side. We did not want to take any risk getting down to Chikhalvade side. There was no second thought to go via the path from which we climbed up. We still had to visit many forts and not make this one the last to visit. The descend was fairly simple and took only 20 minutes to come down.
While getting down, we experienced the wind that flows on this fort. It was strong and we never saw such wind before. At some time, we had to sit down to avoid slipping. If you plan to visit this fort, just watch out for the wind.
The fort as seen from Bajwarwadi village. Since we all got down on southern side of the fort, we had to go again to Chikhalvade village to get Swapnil's bike. After an hour, we started our return journey to Pune. For other trips, we had decided to go together and meet at some checkpoint to avoid getting lost to other directions.
Leave only your footprints, take back only pleasant memories.