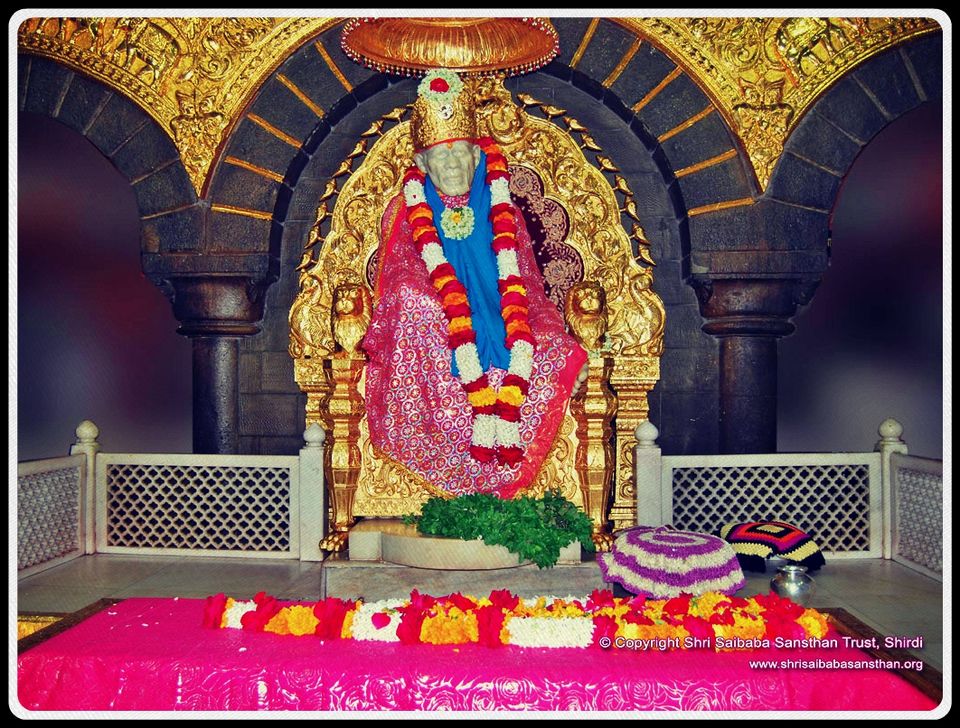 "Sabka Maalik Ek (There is only one GOD who governs all)" is one of the most popular phrases I have come across right from my childhood and I personally believe in this saying. A lot many like me must have heard this somewhere or the other, but quite a few do not know from where this got originated ??? SHIRDI SAI BABA is the answer. It was He who pushed this idea, with an intent of taking everybody on a righteous path and to eliminate / curb any differences or discrimination.
Shirdi Sai Baba, also known as Sai Baba or Sai Nath or Shirdi wale Sai Baba, is a Godly entity who is revered by his Hindu,
Muslim, Jain & Sikh followers alike as a Saint, Fakir, Yogi and Satguru. He is believed to be an incarnation of God, who preached teachings of Self Actualization, Faith, Charity, Compassion and Patience. It was in 1998 after my 10th Standard results, that I visited Shirdi Sai Baba for the first time. Thereafter, it's been one visit every 3 years on an average till date.
Brief Background
It doesn't really matter whether Sai Baba was of Hindu or Muslim religion. It is also not known when & where He was born. The legend has it that He once suddenly appeared, at the age of 16-17, in the temple in Shirdi. He never used to talk to anyone and was regularly seen sitting motionless under a Neem tree. Curious villagers of Shirdi began by offering food to Him but He never asked anyone for anything. While common people were curious on how a young boy can meditate in heat, rain or cold, some intellectuals of the village considered Him mad and even threw stones at Him. Post such instances, he again suddenly disappeared for about a year or so, before re-appearing in Khandoba Temple in Shirdi. The temple priest welcomed him by calling "Aao Sai (Come Sai)". That's how the name got derived.
The peculiar dressing style often confused people about His religion and assumed He was a Muslim. He, however, never believed in the walls of religion bifurcation and hence, named the mosque he was living in, as Dwarkamai Mosque. Gradually he grew popular in nearby villages, based on his teachings / miracles and more & more people started approaching Him with a hope that He will free them of their sorrows. Today, He is revered across the globe, even when not physically present.

Also Read:
Shirdi Sai Baba Temple
Today Shirdi town has become extremely popular, courtesy one & only Shri Sai Baba. The temple premises has grown manifold, employs about 4,800 people either directly or through contract. With a whopping 25,000 devotees visiting the temple every day (and over 40,000 on Thursdays & Public Holidays), it certainly takes a whole different level of planning to carry out operations smoothly day in & day out. Inside of the temple, Shri Sai Baba idol is situated in the main hall, often draped in exquisite royal clothing. The idol is made up of Italian marble (white). There are 4 main Aarti's are held daily, beginning at 4.30 am, 12 pm, 6 pm and 10.30 pm.
shirdi-temple 1
shirdi_guidemap 1
(Images Source: Sakhi Deshmukh)
As you can see in the above guide map, the "Samadhi" of Shri Sai Baba is kept very near to the place where we all see his white-coloured Italian marble idol. Adjacent to it are the Padukas (Footwear of those days) as well. It is believed that Sai Baba, whilst being put to rest, had said that his bones will speak from his grave and large number of people from across the world will pay Him a visit here. True that !
Facilities @ Shirdi Sai Baba Temple
The temple authorities have done a remarkable job in managing a wonderful show and have established many great facilities for the devotees. Have a look at all the facilities:
AC & Non AC Dormitories around the temple premises
(Photo Courtesy: Panoramio Tapan Mallick)
Cloak Room
Book your slot for Abhishek & Pooja here
Shopkeepers selling flowers & food stuff etc around the temple also allow you to keep your footwear, provided you buy some offerings from them
Whilst in queue inside the temple premises, tea / coffee is also served to devotees
Canteen Hall inside the temple where free food is served
Free Prasad (Laddoos) to the devotees
Drinking Water
Washroom and Toilets
Mobiles and Cameras are not allowed inside the premises
Paid Parking facility around the temple (no free parking)
Free Ambulance Service
Medical Facilities and Hospitals
Other Places of Interest Around Shirdi Sai Baba Temple
Dwarkamai
Khandoba Mandir
Lendi Garden
One Thing That Bugs Me
Apart from the overall commercialization of the place, probably the only thing that bugs me is the fact that I feel the security around the main Shirdi Sai Baba idol literally push the devotees outside, sometimes with absolute disdain, such that you don't get to even stand in front of Him for even for 30 seconds – similar to what happens now-a-days in all temples with large number of devotees coming in, be it Tirupati or Siddhivinayak or Shirdi. But then again, the same security may defend their doings by saying that you want to meditate in front of Sai Baba, devotees can do that at the backside of the same main hall (Mukh Darshan Section). They are right too !
How To Reach
Shirdi is well connected by road from Nashik (90 kms), Mumbai (270 kms), Pune (220 Kms) and Ahmednagar (90 kms). You will have to cross one of these 4 cities depending upon where you are coming from.
Nearest Railway Station is Sai Nagar Shirdi but the number of trains arriving & departing from this station is fewer in number. Alternatively, either Puntamba Railway Station (for proceeding to Southern India) and Kopargaon Railway Station (for departing to Central & Eastern India) are the best bet. They are some 17 kms away from Shirdi Temple.
All in all, it has always been a good visit each time I have visited.
Also Read:
Why Is Kashi Vishwanath Temple So Revered In India ?