So here I am finally going to give you all a glimpse of a short 2-day trip to Mini Kashmir. After visiting two years back (in 2017) during December to Jammu and Kashmir and carrying over its enlightened beauty in eyes there was still a spark to explore the places like that and I was fortunate enough to find such a place at my residing state i.e., Maharashtra.
At morning around 6 AM on 19th October we started our journey from Pune with full enthusiasm. The weather was awesome as we were expecting, rain and rain everywhere, winds passing by, feeling the fresh air on face and the wind blowing through hair. Our first stop in the journey was Necklace point. It is located in Bhor area on Pune – Satara Highway approximately one and half hour drive from Pune. It was a beautiful view with full greenery spread around and the first destination was covered , with increase in energy to proceed further on the way.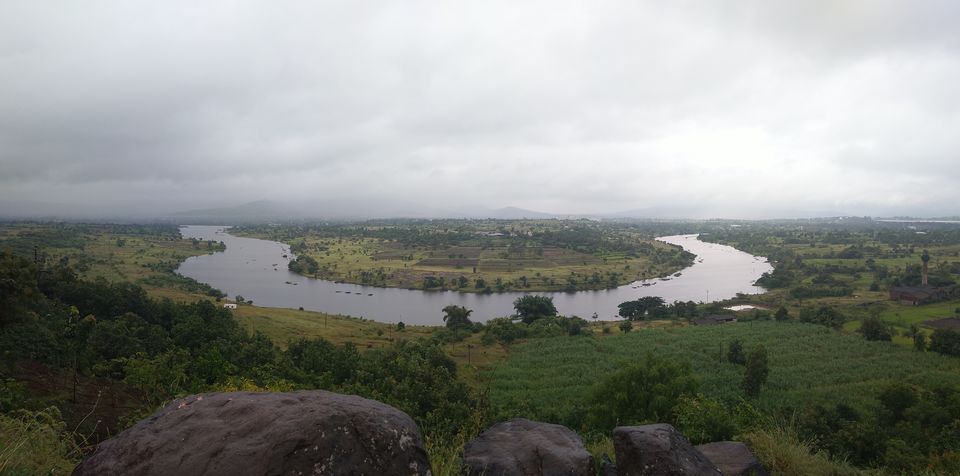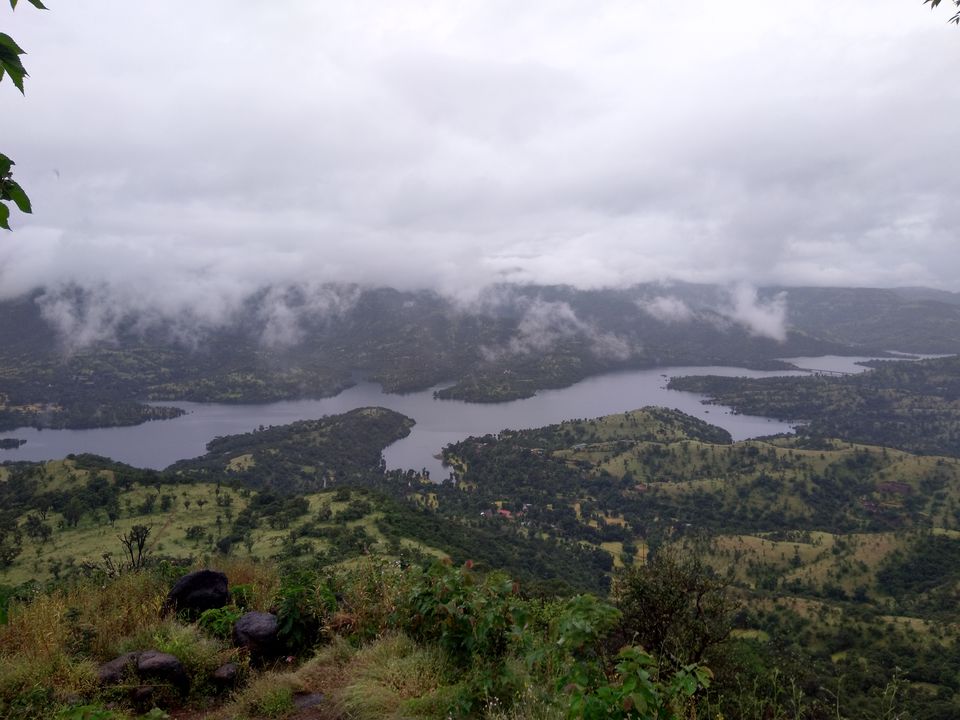 Later we proceeded towards the Mini Kashmir i.e. Tapola. It is a satellite village approx. 25 kms from Mahabaleshwar down the valley. Tapola is an ideal destination for a back to nature experience. The primary attraction in Tapola is the Shivsagar Lake - a 90 km long water body, the reservoir of the Koyna dam!! On a way the first point your eye will catch is the Shivsagar point. When we reach there it was already raining little bit with clouds floating all over the green lush mountains. After spending a peaceful time, we proceeded towards Tapola. And finally here we were at child of J&K bole tho Mini Kashmir!! Below are some of the glimpse of Tapola.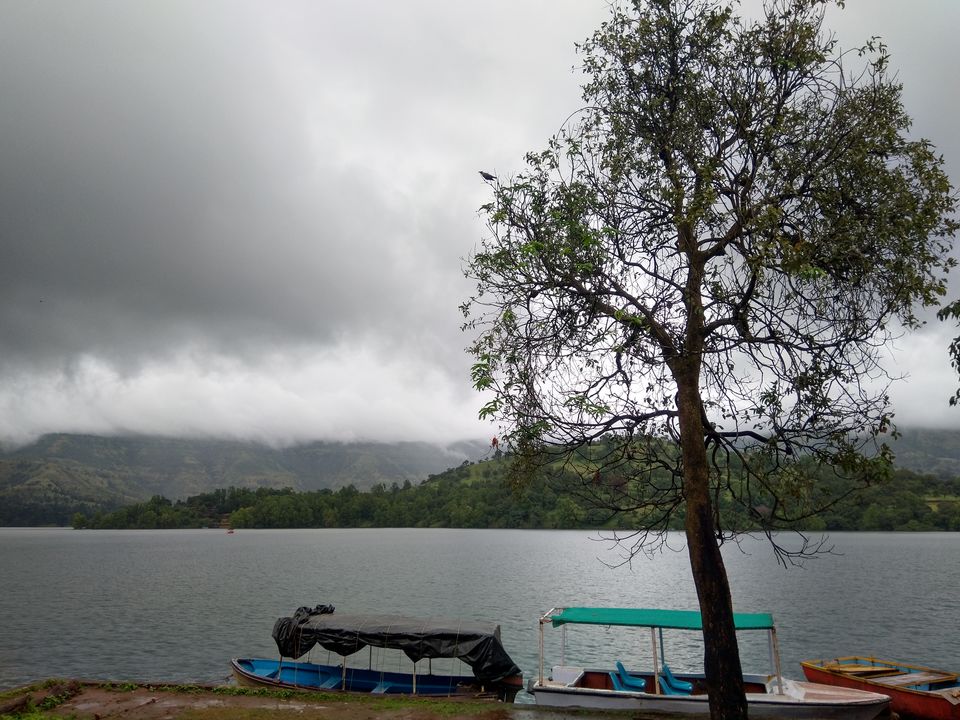 At Tapola there are various packages to visit 5 to 6 places. The major attraction are Triveni Sangam and Shivsagar island point, which are covered in one hour time. If time permits you can visit Datta Mandir, usually 2-3 hrs are required and it's a long journey to reach there during rainy weather,and also Vasota fort requires a whole day, hence we avoided that route and settled for Triveni Sangam and Shivsagar point.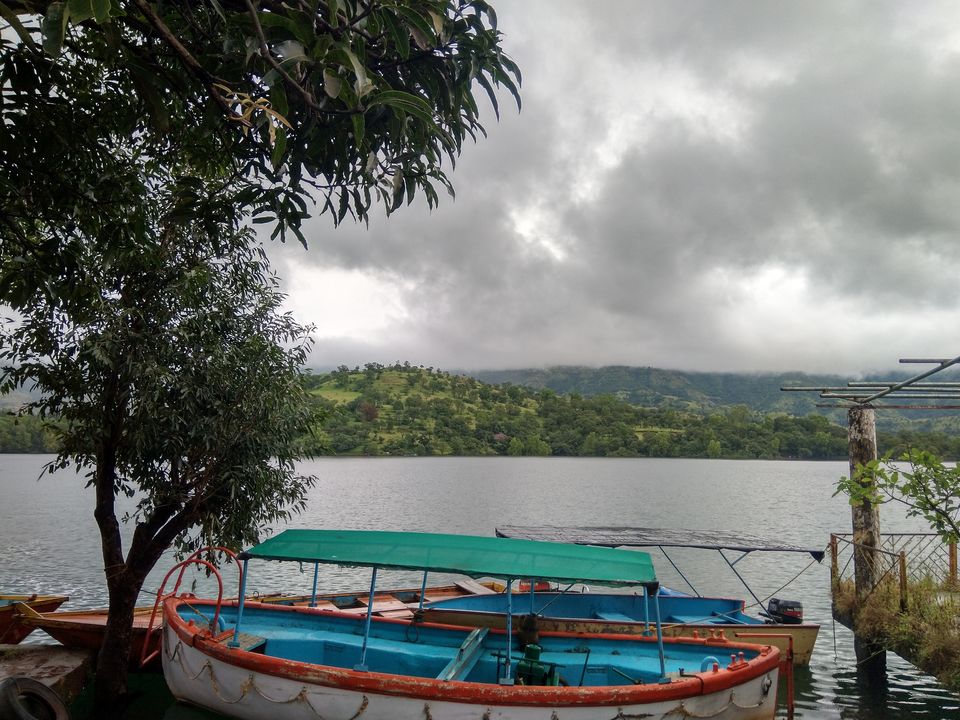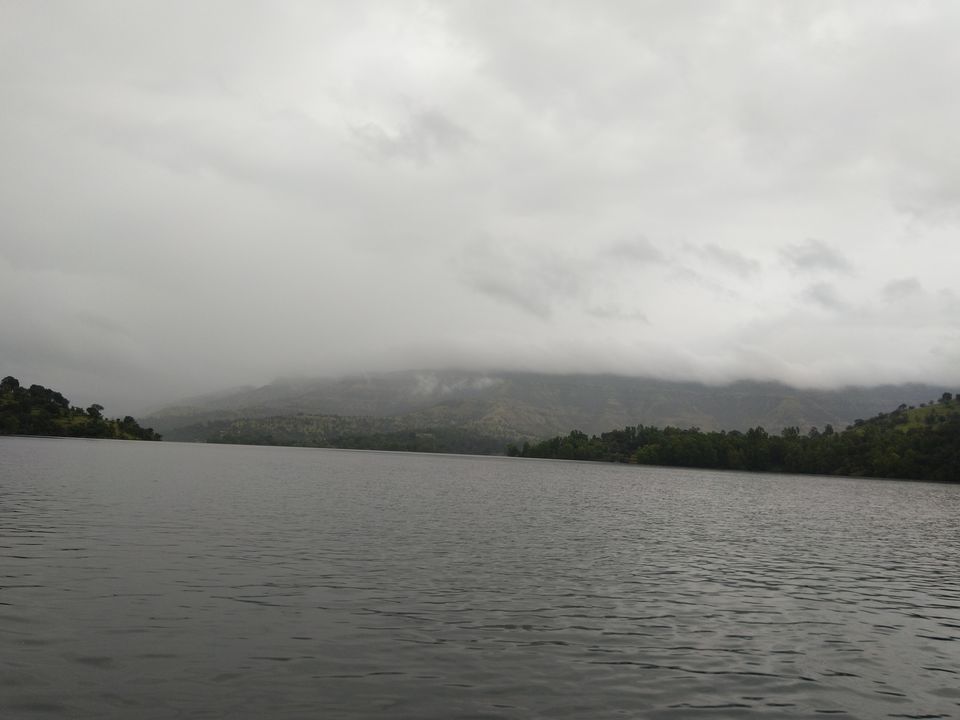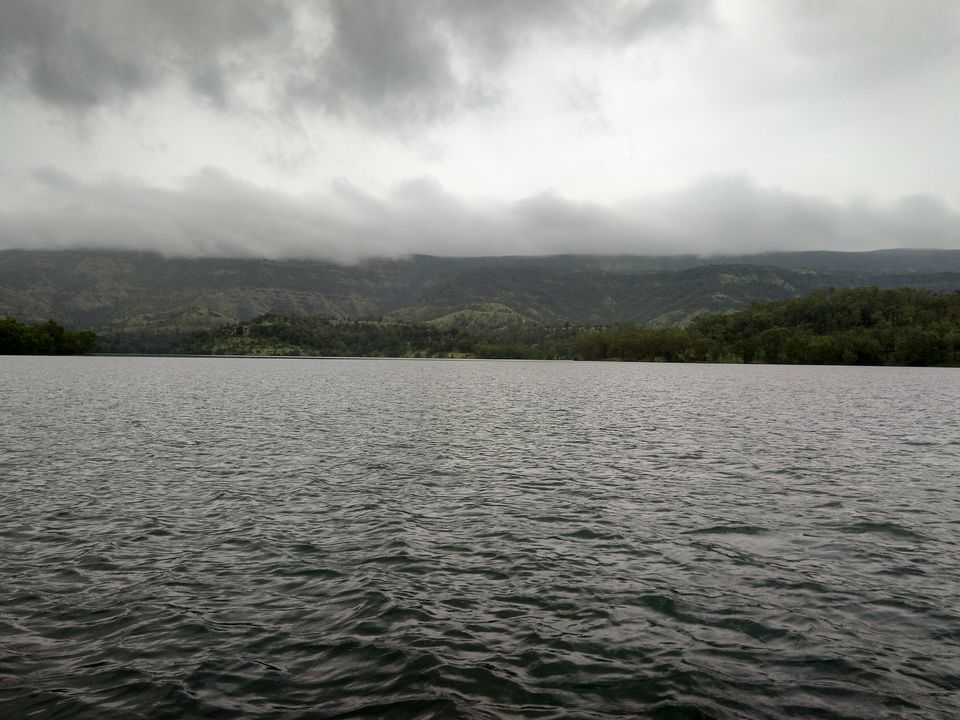 You will truly get lost in nature, the place is such an amazing to visit. Later after covering all spots at Tapola we needed to go at other side of island but that was not possible to just swim and cover!! Just kidding. The major attraction on the other day we had to cover is Kaas Pathar (valley of flowers), Tosheghar waterfall, Ajinkyatara Fort , Sajjangad Fort. But for this again we need to come back 90 kms back to Pune Satara highway and from there again 50 kms in around total of 140-150 kms back journey and after such a Wonderful Day , nobody will perform this dangerous task!!
Wait I have a good news for you, Happy!! Yeah the same way we got excited because there is a provision to transfer your car along with you to other side of Valley!! From Tapola usually a long big sized jetty runs from one end to other and vice versa which charges an amount of 500/- to safely transfer your car.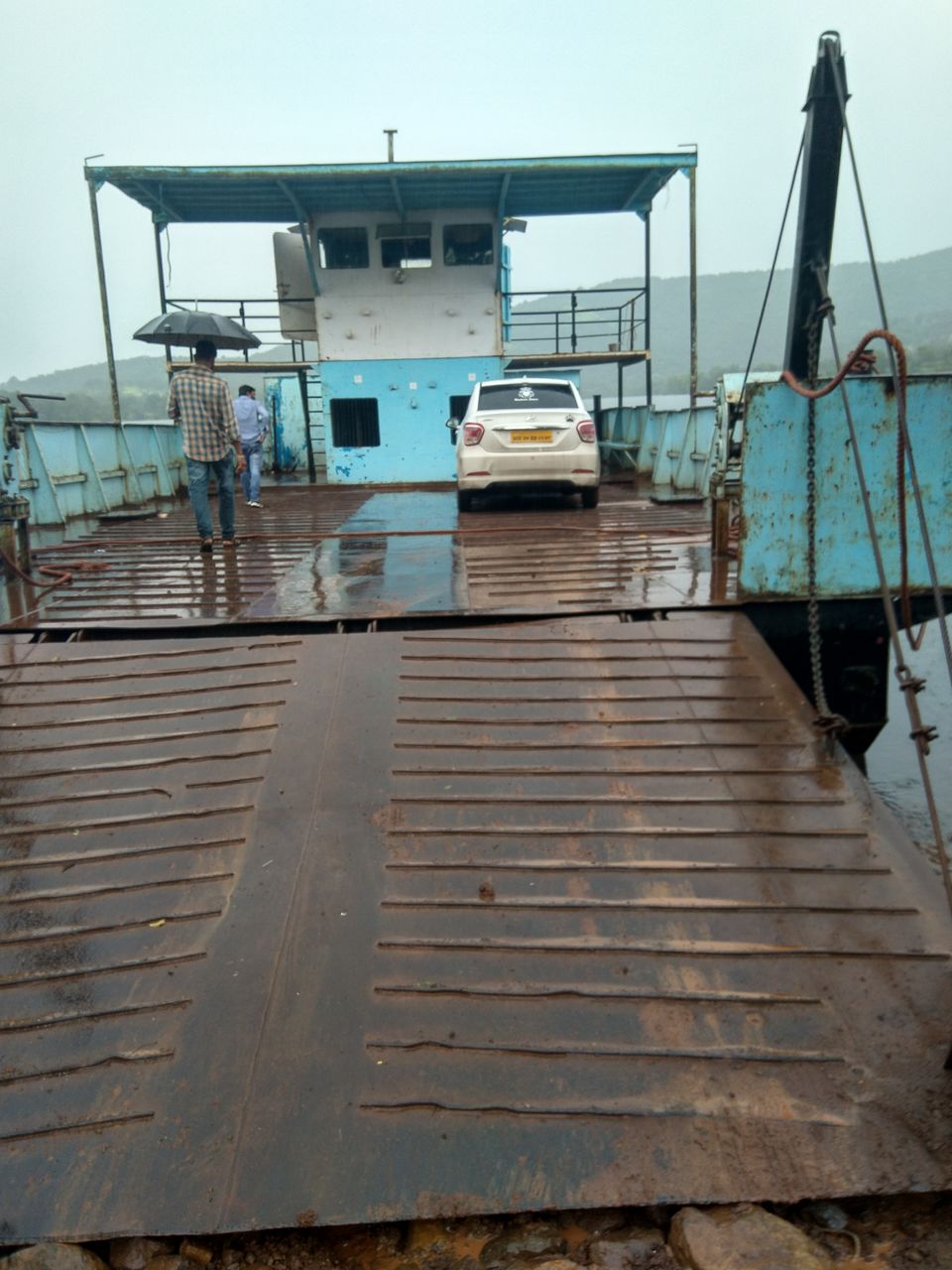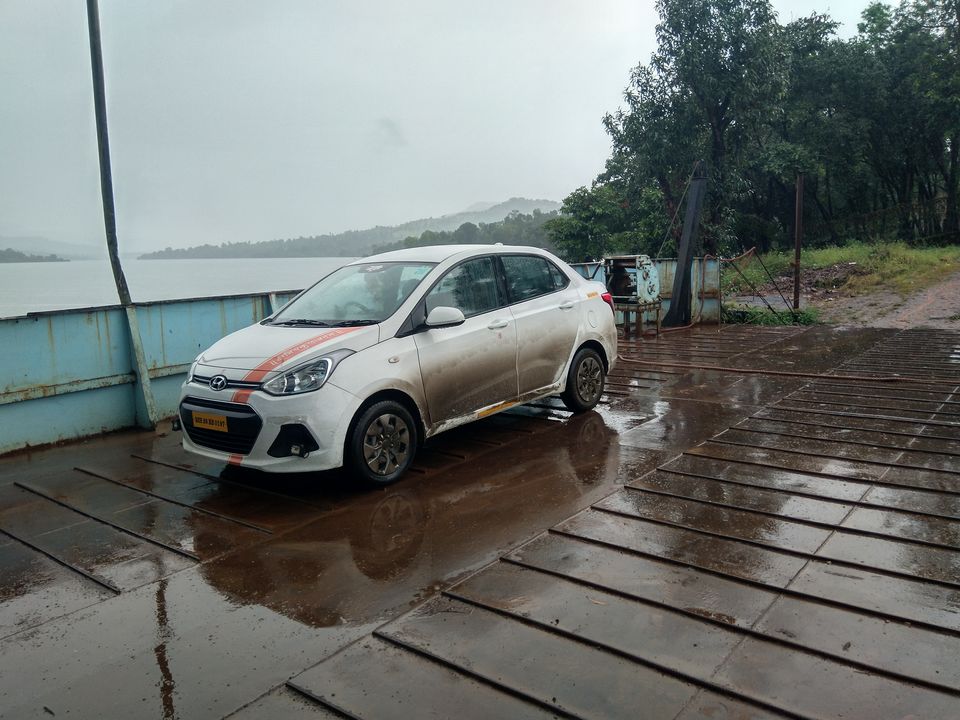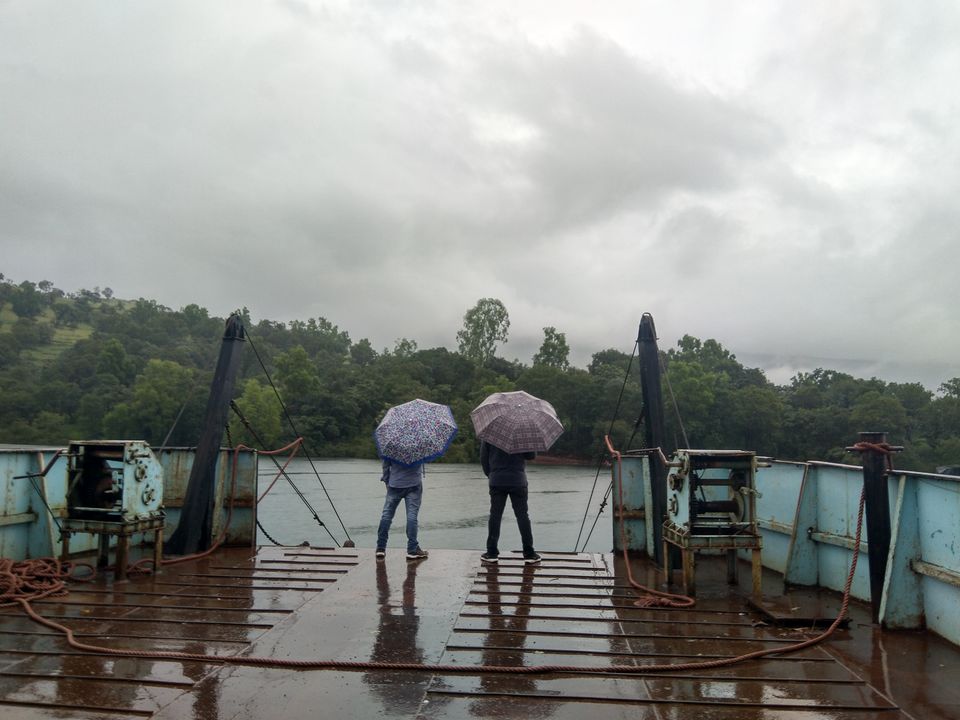 Finally after reaching at other side , do you know how much distance is the valley of flowers (Kaas Pathar)....Any guesses???? Wait don't guess I will provide you the solution , its only 20 km ....Yes,from 150 we drop down to 20.
It was already 5 p.m. and darkness was affecting the lights slowly and slowly .But do you think after such a tiring day , not tiring but peaceful and wonderful day you will go and visit another place. Why to rush?? Have a beautiful pleasant sleep and with full energy again start you next day!!
So from this other end there's a village name Bamnoli which is 5-6 kms. We had already booked our cottages which were lake facing , when rain is not there the people there arrange tents and bonfire too.If you are planning your visit i would definitely recommend this guy Mr. Santosh Pawar (9403473501,9969990925) whose cottages are way better and clean with all sort of basic amenities provided and believe me you will enjoy. He charges 1000 per night which includes veg and non veg dinner with breakfast in morning. He makes all the food on Chula and it is so tasty your all tiredness will be gone and will enjoy a good sleep!! Below are some glimpses of nature in the early morning.
Wo kehte hai na kitni bhi gehri neend se uta lo nhi utenge...par aesa yaha nahi hoga...aap jarur ut jaoge is khudrat ke karisme ko dekhne ke liye...Because the weather is so calm and silent ...like really speaking i don't have words to express!!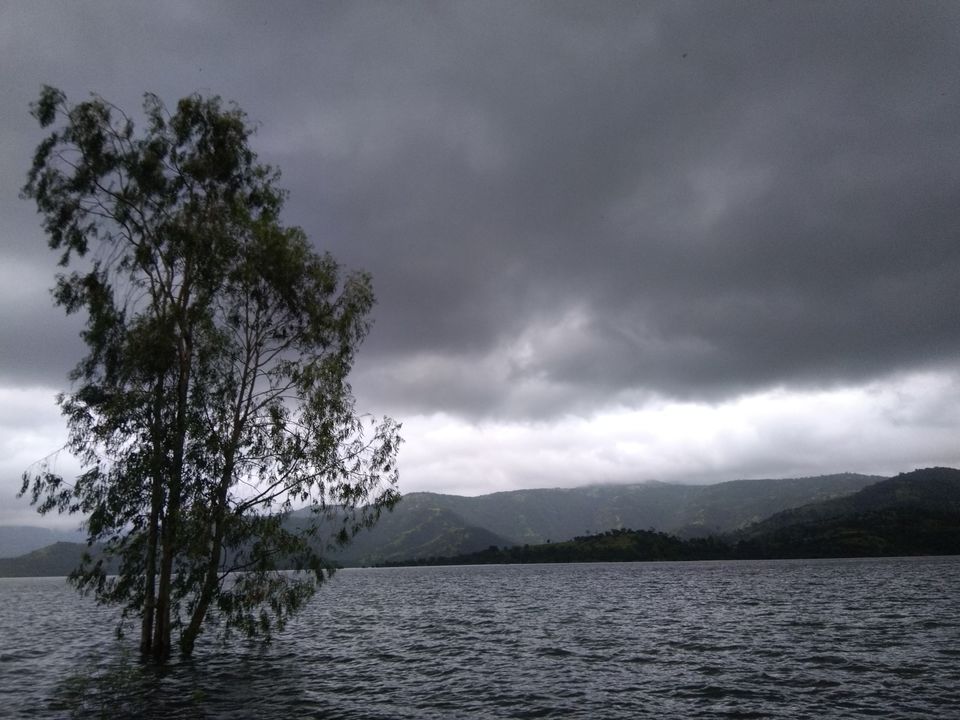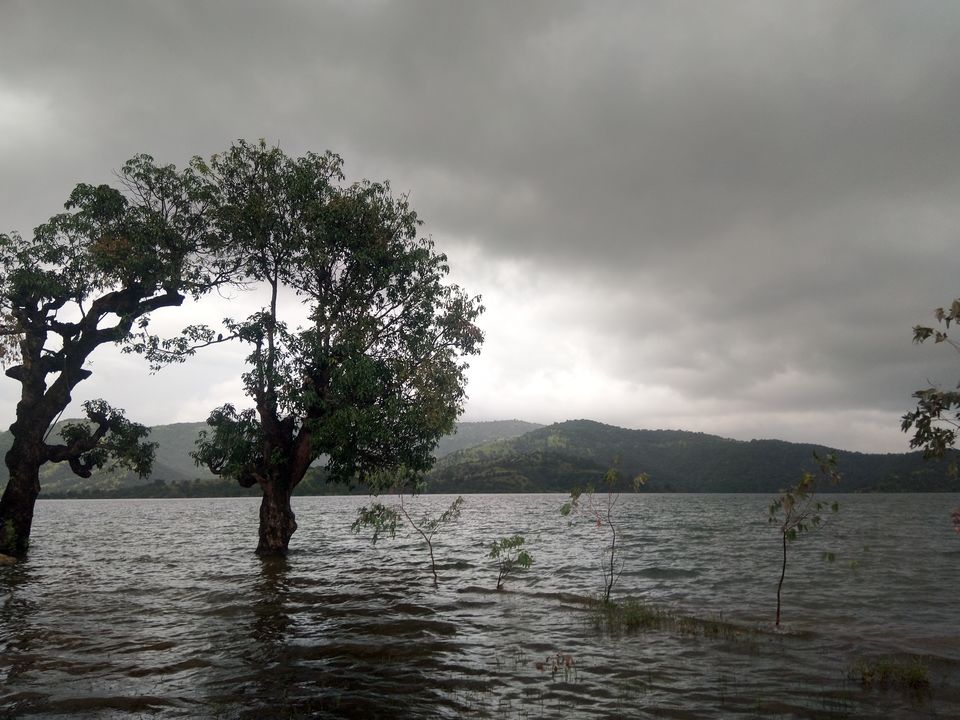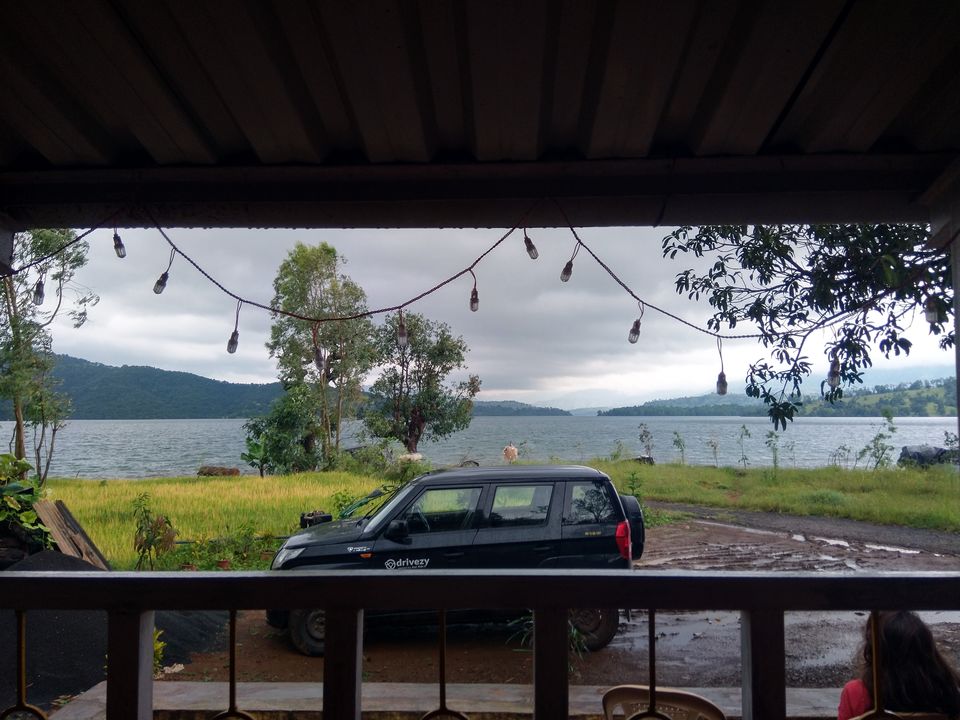 Inhi kuch yaadon ke sath hamara Tapola ka safar khatam hua,man tho nhi tha wapas aane ka par kya kare kadam hai ki rukne ka naam nhi le rahe the!!
Second Day was started, we left Bamnoli around 8 in morning our first stop was Vajrai Waterfall but due to heavy fog we could not witness it, next Kaas Pathar same was the situation here ,foggy atmosphere,rainfall, all flowers were dead and we could not witness the magical beauty of flowers. Later we proceeded towards Ajinkya Tara Fort in Satara. Here it was too smoggy atmosphere but we explored it little bit. From here our next stop was Sajjangad Fort.The weather was already challenging and continuous rain was there so could not click much photos here too. I am not posting the photos of Fort as wo kehte hai na kahi bhi jao sab fort ek jaise hi hote hai ...haha just kidding but yes worth visiting once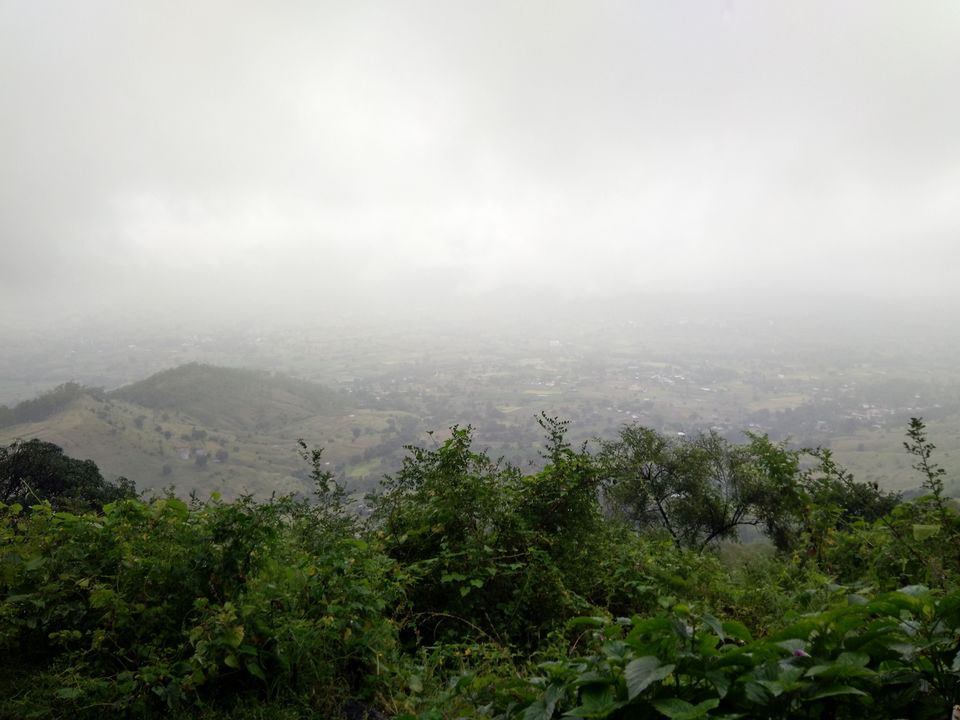 After Sajjangad we visited Thoseghar , it is a scenic spot located at the edge of the Konkan region. The waterfall is drops through a series of cascades with a total height of about 500 m. Thoseghar Falls is famous for its serenity, clam and quiet natural surroundings. It is a wonderful place where one can enjoy the beauty of the nature. There is a newly constructed platform which gives a good view of the waterfall.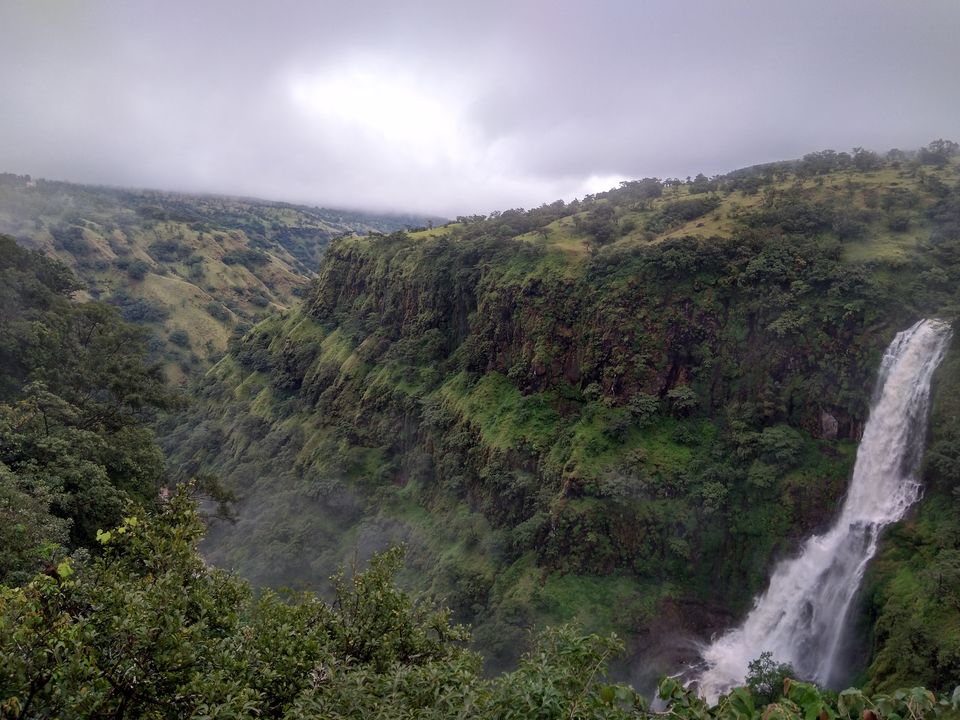 Later if you are interested you can visit big wind mills which are located at a distance of around 4-5 kms from Thoseghar.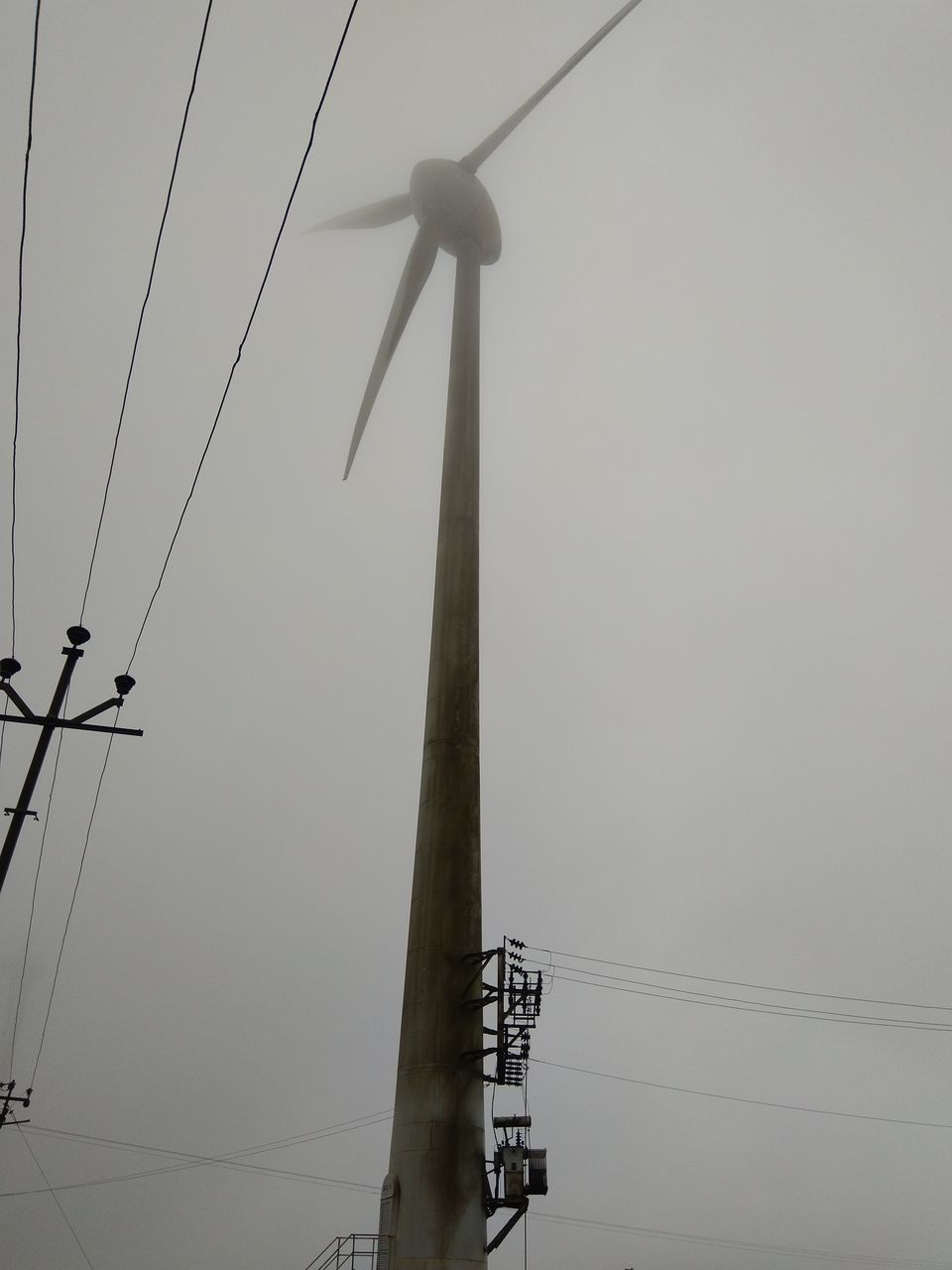 And here the trip ends and finally till around 9 p.m. on 20th Oct we were back to Pune with lots of memories to cherish for!!
But yes this place is worth visiting again and soon I will plan too.If you are planning a weekend gateway from Pune or Mumbai , this must be on your list to explore . The best months to visit is September to December!!