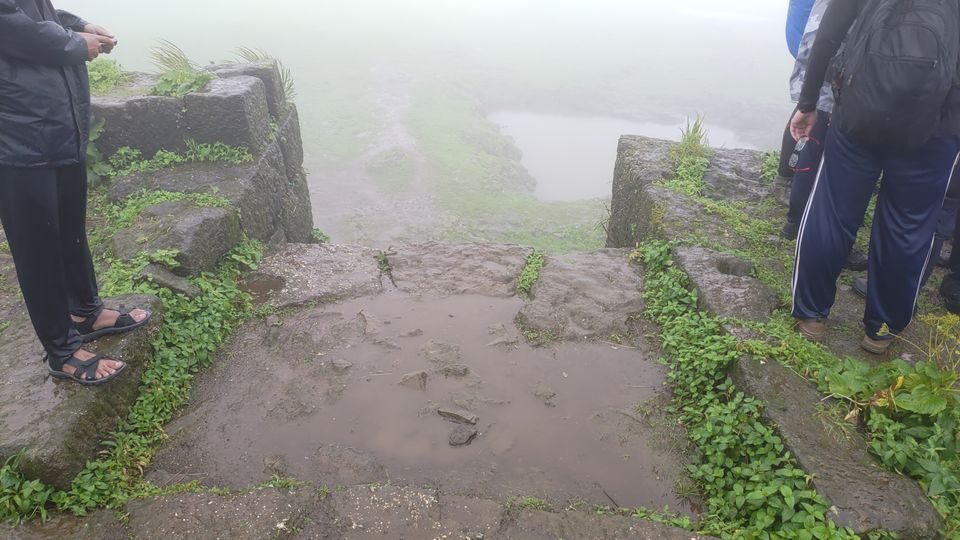 Situated approximately 3600 feet above sea level, Visapur is a famous fort located in the Pune District of Maharashtra that was built by the Peshwas in the early 1700s and was captured by the British nearly a century later. Now it is one of the famous weekend hiking destinations for both Mumbaikars and the residents of Pune.
This time the event was organized by a group called The Climbscapers who specialize in budget travel. One of the founders, Darshan Panchal, was the back lead of my trek to Bhimashankar with Tattva about a month ago and he was extremely patient with me despite my holding the group back. When I learnt that he ran a group of his own, my mind was made up that I would attend an event of theirs at the next opportunity I got.
My journey began at the god forsaken hour of 6.20 when I boarded the bus that would take us to the base village - Patan, needless to say I immediately fell asleep.
I was abruptly woken up by Darshan when he yelled at me to give me a The Climbscapers' badge. I was now officially one a Climscaper, albeit a deeply annoyed one, but a Climbscaper nonetheless.
We reached Patan, repacked our bags, taking only the essentials and leaving everything behind at Hotel Ishwari and went to have breakfast and tea.
This is where I bumped (quite literally) into one of the most friendly strays I've ever come across. I petted it while some of my group members fed it biscuits and he also posed elegantly while I put my limited photography skills to use.
After an introduction round, we were briefed that this wouldn't be as easy as we think because the route is slippery (later in the day this piece of information was painfully and embarrassingly verified).
We hiked for an hour to reach the first checkpoint. It was a generic Ariel veiw scene of the village and the distance we covered since. The takeaway for me was the view of what was to come ahead - streams, waterfalls, and a fog kissed path.
After another hour and half analysing where to keep the next step through wet grass patches, mud and rocks, we reached the entrance to the fort. A staircase at the base of which was a cave, presumably for those guarding the fort back in the day. There was a rock cut portrait of Lord Hanuman to the right of the cave.
We clicked a few pictures in the caves and went ahead. After another half hour or so we reached the fort. At the top there were several rain fed ponds that added to the aesthetic appeal of the view - cold and hard winds were blowing, the whole scenery was green and then we had the ponds to top it off. Waiting for us was another cute little stray dog which again was super nice. Visapur's dogs might have some Canadian heritage if stereotypes are to be believed.
Usually the descent is not as much interesting as the ascent or the summit. But this time the Gods had something else in store with me.
I was getting down with 7 others and we had gone quite ahead of our group. An hour into the descent we realized we were lost with no sign of how to proceed further. Thankfully I was with a bunch of professionals. We navigated our way through the woods as much as we could - laughing, joking and slipping on the way. I got to have light hearted talks with most of them which was a welcome distraction in the face of fear that I would not get the time to have evening snacks and tea when I get back to the base village.
We went back and forth in a patch that was deviously confusing and in a moment of divine intervention we came across a local who was within shouting distance of us. We yelled for directions and he gestured that we had to trek up a bit to cross a little waterfall and then it was straight downhill. On our way down we came across a 7-8 year old boy who was selling coffee. We promised to buy 2 cups per head if he guided us all the way down.
Conversations with him revealed that his dream in life was to become an IPS officer, which was remarkably different from the usual private sector(jobs and startups) dreams that I am used to hearing from people. This was a small thing that hit home the fact that it is a very big world out there.
Somehow we got back to the base village before the main group and I got to have my snacks and tea. Happy Life!
At about 6.30 we left Patan for the mainland and I got off at my destination by 9.
Waiting for me was yet another stray. This one walked with me for a while before going off to sniff around for food.
My Visapur journey is the story of how I got lost to find the opportunity to interact with 6 amazing individuals under the watchful eyes of the three stray guardians.