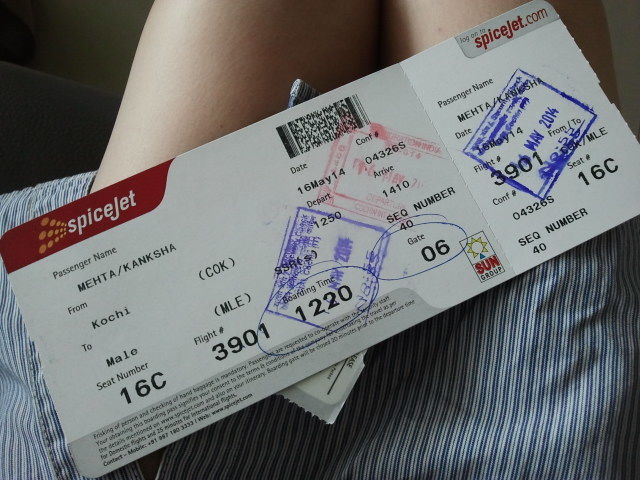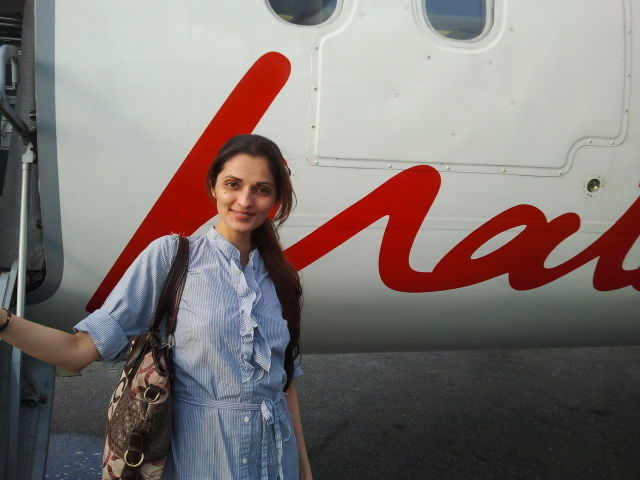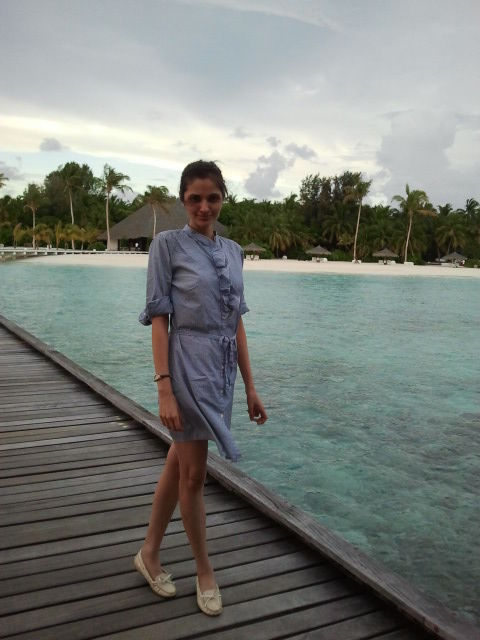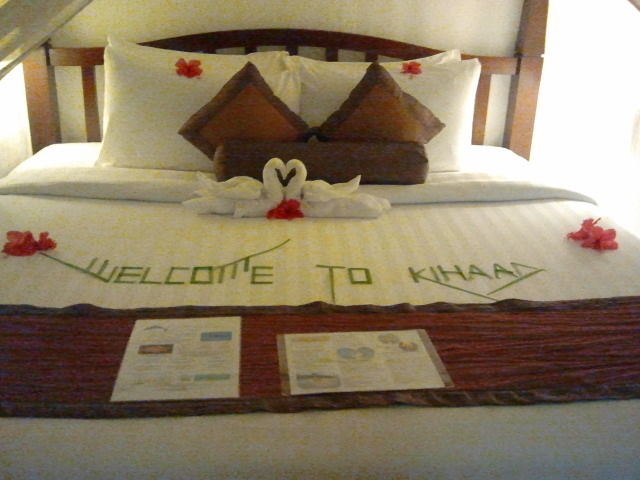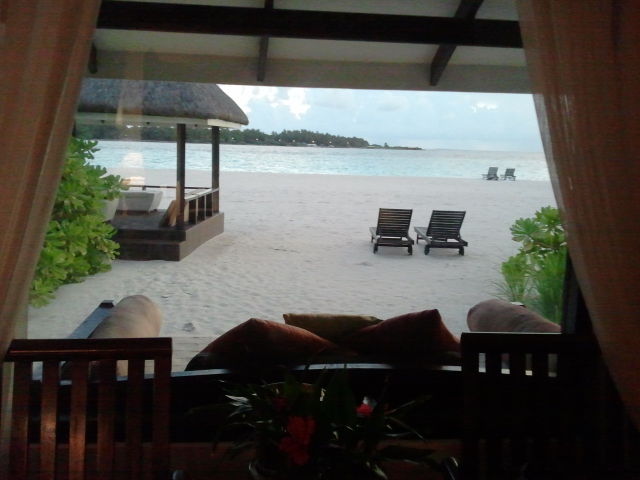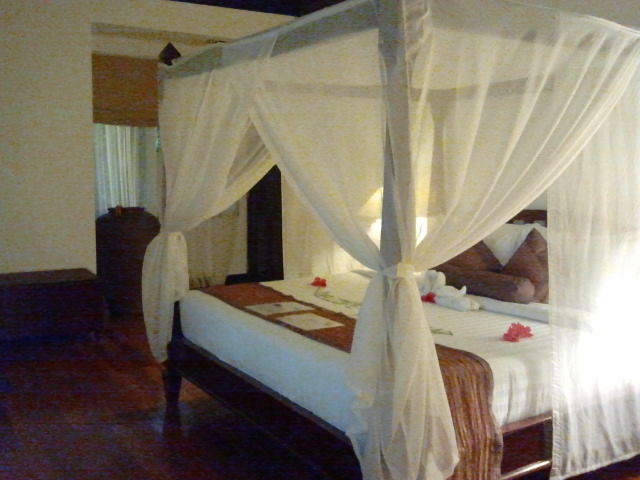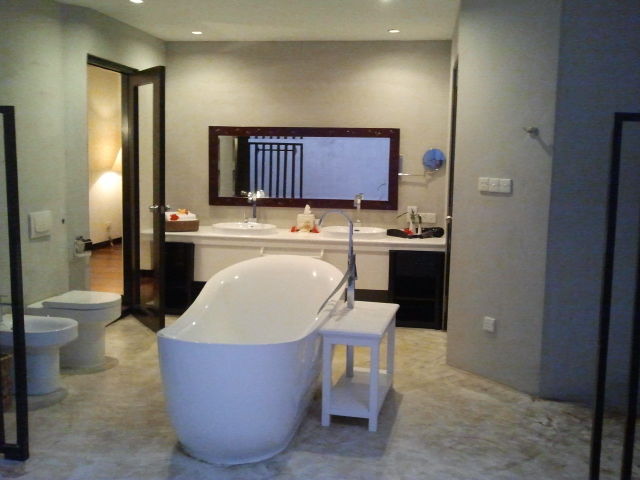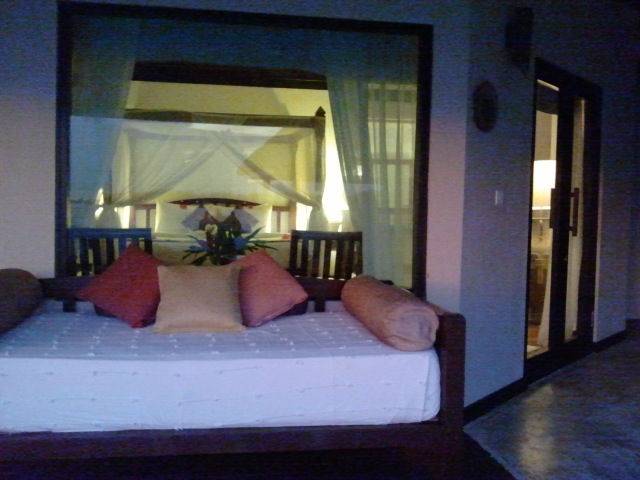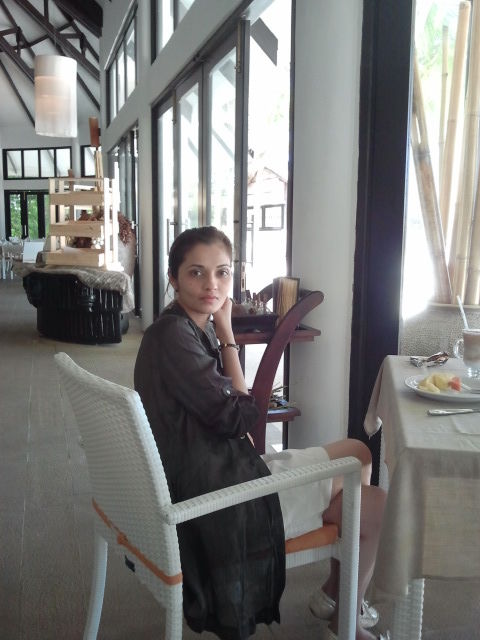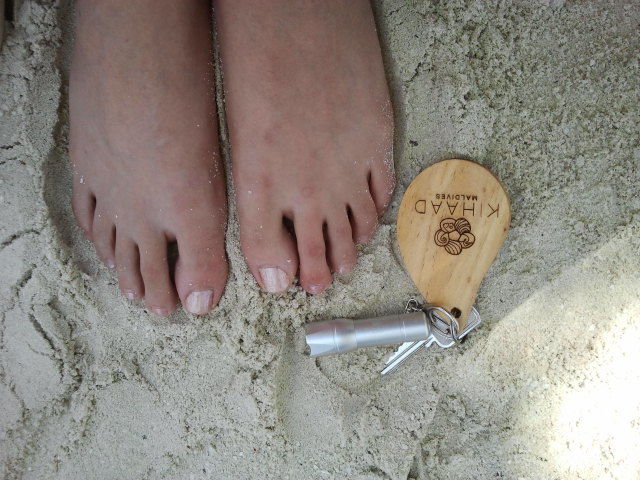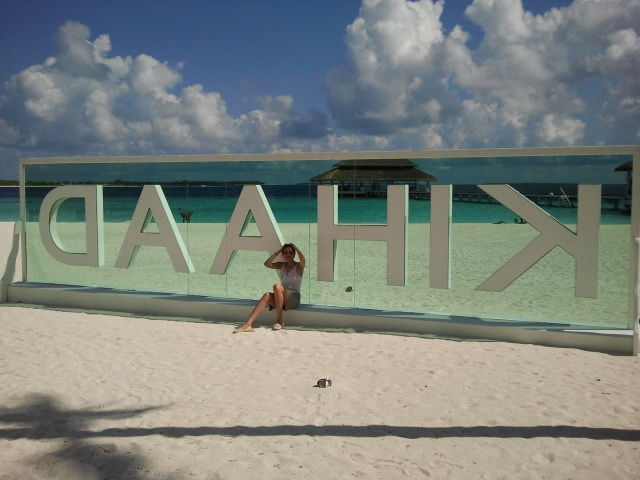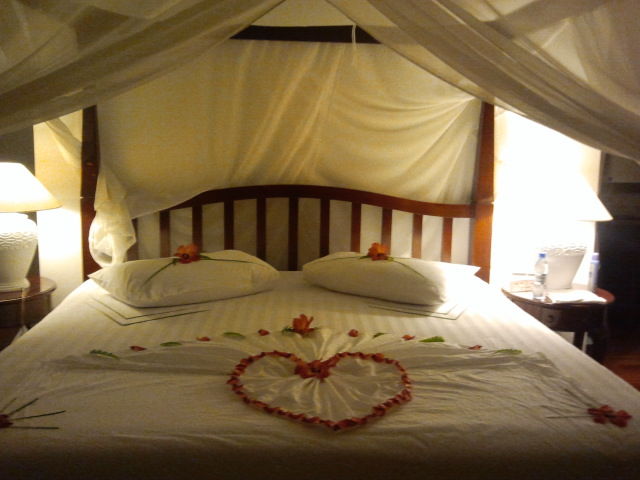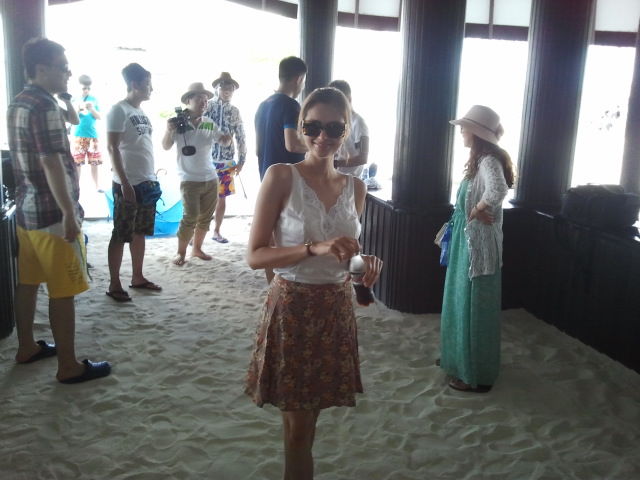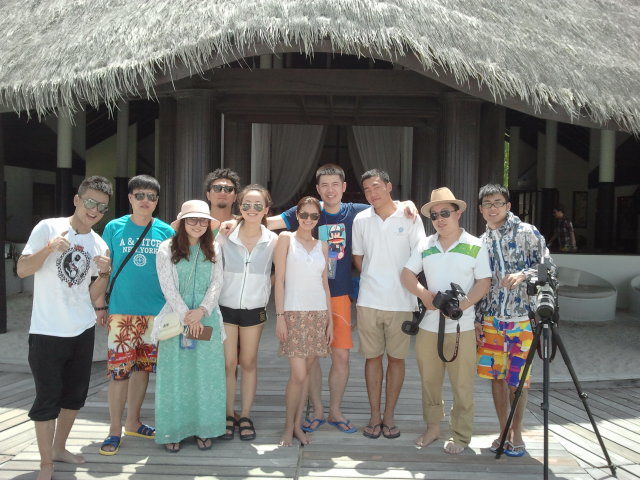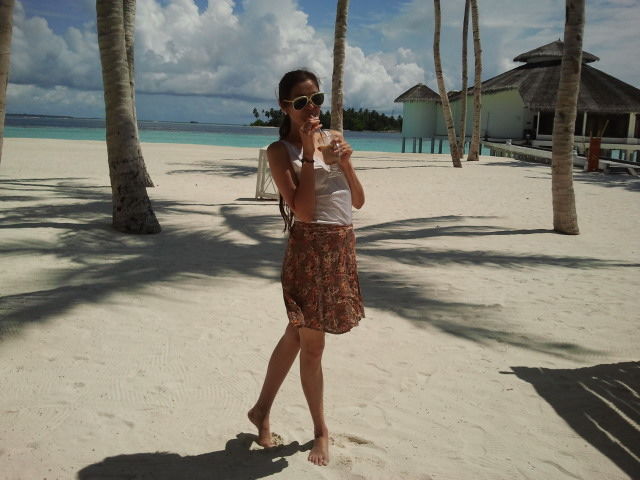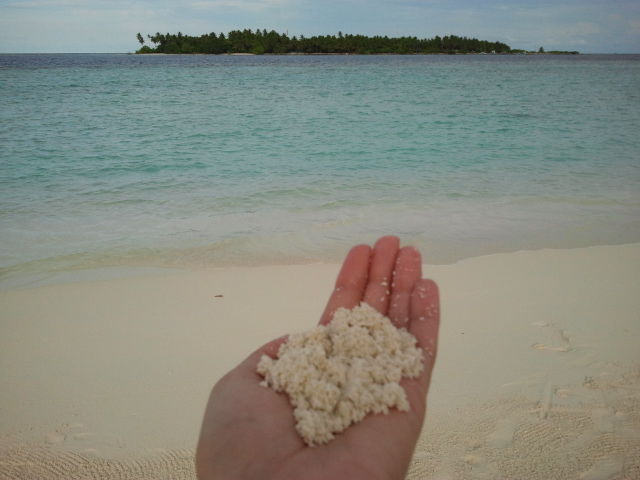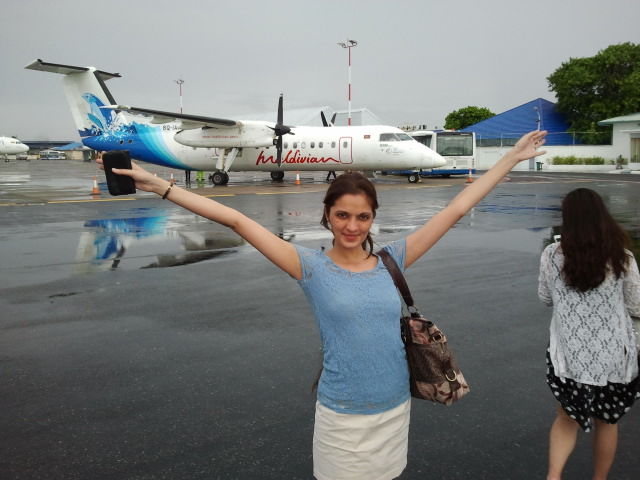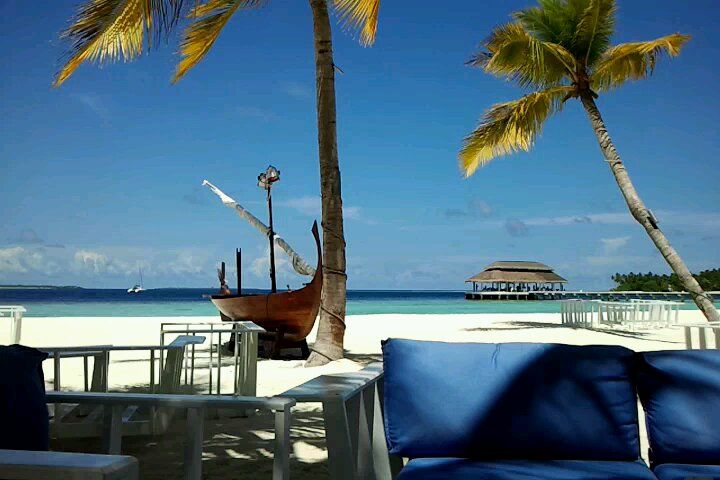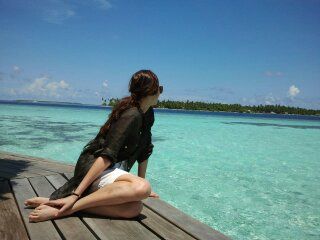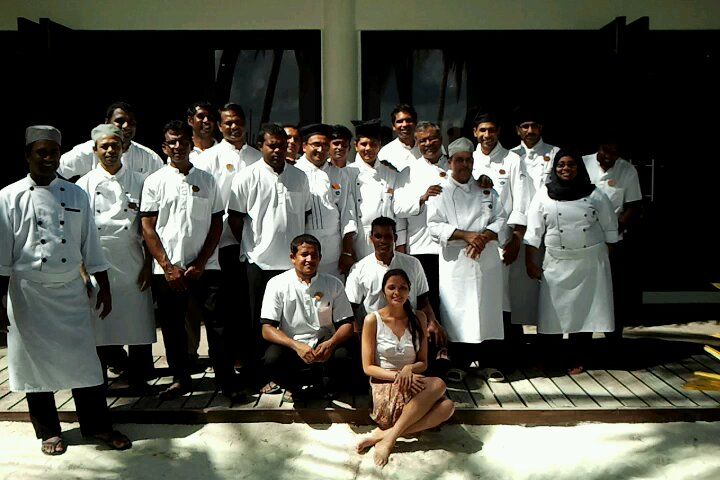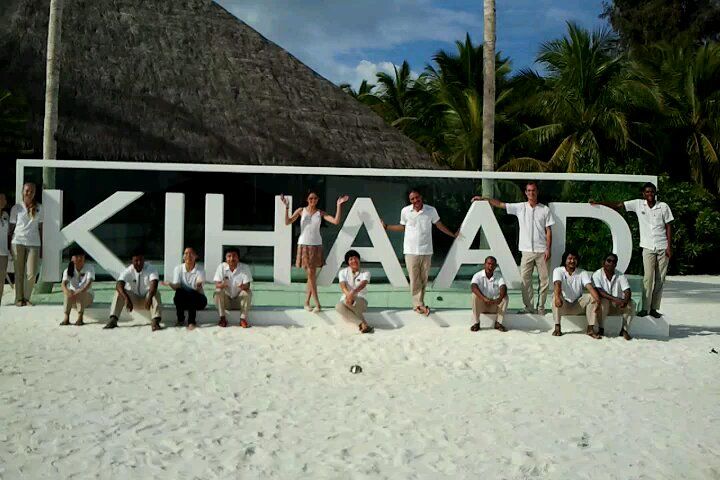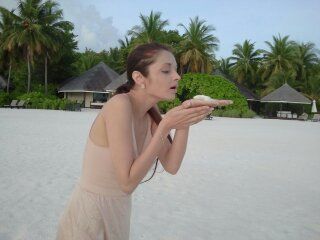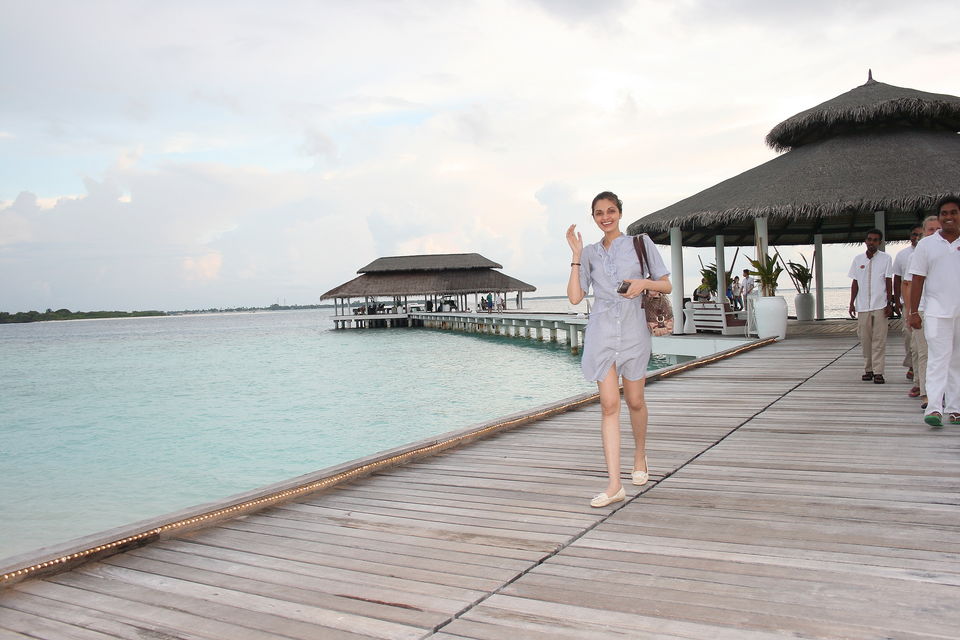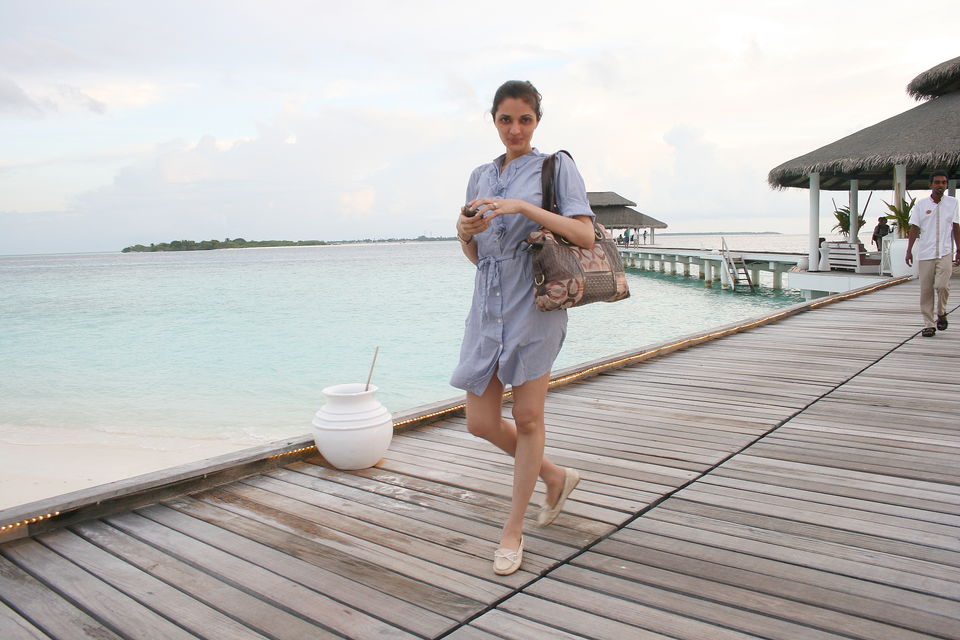 I have not unpacked yet. I have kept my bags zipped up and unruffled as if to retain the fragrance and reminiscences of my last travels to the Maldives, as if to embalm those aromas inside a closed suitcase which encapsulates the mixture of my perfume, clothes and the country from which I recently returned. The few days prior to my departure were jam packed with household chores, last minute shopping, a dozen errands, hectic city schedules and so, all the running around, had tired me out; but all the metro madness was about to melt away into serene, slow, island life as I gave in to daydreaming about my escapade to a piece heaven on earth. There it was, at last, Friday May 16th. I arose before sunrise, at 5:30 a.m., bathed leisurely, had a cup of my Masala Chai and felt a simple calm wash over me, a feeling of relaxation I rarely had before departing on an international trip. After he loaded my luggage into the rickshaw, I tipped him graciously and was off to Chattrapati Shivaji International Airport.
It is known as one of the most beautiful places in the world and to some, by definition, the last remaining paradise on earth. To visit Maldives just once, if only to have a glance at its turquoise, electric blue, sea foam green and navy lagoons, is a privilege that so many dream of but only a few can attain in one's lifetime. I have been one those fortunate few, still deeply blissful in my memories of those sultry gems, those waters where the Indian Ocean and Arabian Sea collide, those isles, which to me, are jewels in the hues of emeralds, aquamarines, sapphires and pearls. This double chain of twenty-six atolls (groups of islands and isolated reefs), lies south-west of India and Sri Lanka, two of my most beloved countries. The name, Maldives, has possibly derived from the Sanskrit words mālā (garland) and dvīpa (island) or Maala Divaina("Necklace Islands") in Sinhala. Going back over two thousand years, Maldives is believed to be originally populated by the Dravidians from South India. These coralline isles were once too dangerous to navigate but now are the most sought after tropical destination in the world, with Tahiti right there next at the top of the list.
I spent the first and final part of my stay in Male, the country's capital city, which was once the 'King's Island', home to Maldivian ancient royals. Male is a 10 minute 'dhoni' (ferry) ride from Hulhule Island, which houses the international & domestic airports as well as Hulhule Island Resort. Day 1 Friday May 16th I landed at Ibrahim Nasir International Airport, on Hulhule Island, around lunchtime from Cochin, India via SpiceJet. So at last, just as I was getting slightly bored lounging away, my Kihaad Airport Representative came to inform me that my Maldivian domestic carrier was ready to board for Dharavandhoo Island. She escorted me from the first class lounge to the Maldivian boarding gate, where I strolled out to the tiny craft and boarded for my tropical isle. By the time I arrived at the Kihaad Resort jetty, it was already 5:30 p.m. I had been up since 5:00 a.m. that morning and traveling since. Now, all I wanted to do, was retire to my Private Ocean View Beach Villa. Before I was escorted into my villa, I wanted to make a few friends with the enchanting little creatures whom Kihaadufaaru, which originally means 'Young Coconut Grove', really belongs to: the bright khaki green and red-orange island lizards which play about all day, the loveable little white shell crabs which leisurely stroll into the bushes at sunset and the birds of paradise which make themselves known with their sweet calls. It was them, that I loved most and I would rejoice with each day when I they met me wherever I was on the island. But the best was awaiting me in my villa tour that evening, I wanted to refresh with a shower, whereupon I discovered the part of my villa which I absolutely fell in love with: my outdoor bathroom. It was an oasis of two outdoor showers, a large porcelain tub and double sink counter, ideal for all my toiletries. However, of these beautiful bathing quarters, my heart belonged to the open rainforest-waterfall shower, right under the tropical foliage, with fruit bats who would chirp in the trees above during my ritualistic starlit, moonlight showers every night after dinner. It was Saturday late morning when I woke in my unbelievably plush bed, where I, the night before, had slept a dreamless sleep, knowing that I had sunk into the ever inviting down mattress of my canopy bed while the cool white cotton sheets caressed my skin and my head submerged into the softness of the large fluffy pillows which I hugged into a deep slumber. I was booked for a deep tissue massage at Kihaad's K-Spa, a much needed therapy for my torn and injured muscles. My body was literally aching for reprieve. The K-Spa rub down was Asian inspired, as most spa treatments are in this part of the world, using one of my personally most preferred oils, Eucalyptus. Walks to and from my villa, around the island, with Italian coffee concoctions flowing through my veins like a saccharine drug became pastimes of the day which I soon could not imagine living without. There was only one indulgence that surpassed these sultry barefoot strolls around the island; my moonlight waterfall bathing ritual, which became not only a habitual rite but an intoxicating way to lull myself into late night bedtimes with nothing but the lullaby of crickets and flying foxes chirping in the midnight air.
It was now halfway through my trip and island headiness had struck me full sweep. I was losing track of the days and hours, I had been warned about this. Island fever. Today, I was being accompanied by the Press Relations Team at Kihaad for my Villa Tour, where I would be filming a promotional mini advert for the best villa the resort had on offer. I toured the Palm Suite, a two bedroom bungalow, with a private beach and infinity pool on the East side of the island which boasted the promise of sunrise views. Press tours for me, are the reason I do what I do, why I worship my work. Traveling the world, going where and how few are opportune enough to go, wandering the world all by myself and enjoying the fruits of my labor through experiences of a lifetime in places afar. My work gives me a reason to live and the best of it was yet to come on my 4th & 5th days here at Kihaad Maldives.
Today was my shoot with Kihaad's in house photographer, Niyaz as well as Calvin Klein China with one of Beijing's best fashion photographer's: Jing Yong (Jeff). My make-up artist, Johnny, an institution at CK Beauty China, also from Beijing, was a superlative talent who could make a beautiful face beyond magnetic. Together, we were an A+ team, paired with the Kihaad Maldives backdrop, it was unmistakably paradise both in the foreground and background. We were shooting mid-day to sunset on the beach, in my villa, at the spa, in the Toddy Bar and at all of Kihaad's exceptional outdoor locations offered up in combination with mother nature and exceptional styling.
Each evening, after dinner, I would arrive to a room that was clean, fragrant with floral aromas, crisp linen tucked neatly into the four corners of my canopy bed, the blinds and curtains drawn, fresh water bottles placed on each of the two nightstands and the one touch I loved most, especially tonight, was a heart shaped flower arrangement on my bed composed of palm fronds, leaves and red island Hibiscus. What could be more romantic? This was the answer to why I did not need nor want a man in my life. With this kind of romance persisting, who would? Travel Channel China's team has asked me to appear as a Guest Star on their celebrity show with two Chinese stars on their production, 'Perfect Travel' and there could be no better paradise than Kihaad Maldives as a shoot location. At breakfast, I was prematurely greeted by the 'Perfect Travel' Director: Yang Ming Xu (Eve), who later became one of my biggest fans and is now a good friend. Eve and I walked to the Kihaad white sand lobby, structured with dark wood, flowing with creamy chiffon curtains, decorated with antique wicker furniture where the rest of the crew was awaiting our arrival.
At dinner, I dined in solitude, staring out at the dark ocean from the cover of my mini cabana which was lit with mellow yellow candles and surrounded by large white lanterns glowing with the soft yellow flicker of candlelight. As it is, I am no good with goodbyes, so I will spare you the details of my departure and return to the city which left me feeling dismal after coming down from the elation of a week full of endorphin saturated moments. Ancient scribes once wrote that explorers from lands afar would journey thousands of miles in search of the spices on tropical isles which were said to be aphrodisiacs; but in a place like this, who needs an aphrodisiac? "I love my 'Out of the Suitcase' life.''