Isn't it wonderful to watch the rain drops? They fall from thousands of feet and disperse into nothing. Every now and then i would run outside to the balcony of my office floor to feel the rain drops fall on me, it gives me a thrill, a strong current of excitement. I worked for 18 hours a day to sustain the beautiful life of excessive drinking and midnight outings with colleagues during the remaining 6 hours. It was the middle of August and my birthday was approaching. An yearly recurring day in my life that I dread. All my insecurities pertaining to my anti-social behavior spring up one by one and shoot me down during that day. Having never celebrated a proper birthday since the year 2000, the year my brother passed, any indication of a budding get together plan on that day gives me anxiety. I knew i was getting tired of this feeling but there was no running from it, unless of course there were active stakeholders who could drive me to a situation of total outburst. And finally, it happened this year. My boss was a bully and nobody had the guts to stand up to him and say, NO! The very few who did were shot down mercilessly in front of others as a specimen and later redeemed by him with sweet promises of perfect relations which usually lasted for couple of weeks. I had already been through two of these and this one was the last straw. Looking back upon it makes me want to go thank him for whatever happened. When he pushed me this time, it ignited something in me that had never been there; courage to fight my inner demons and let my true self out. I wanted to do something stupid and requested for a 3 days leave on the occasion of my birthday and booked a ticket to Manali the very next day with my oldest friend and neighbor Das.
We sat in our bus bound from Delhi to Manali not knowing what the plan was except that we had to do something crazy. We both were borderline broke for the trip, blame the month-end spontaneous booking by me. I booked one of the cheapest hotels i could find which I later found out was not the "cheapest". Everything about mountains fascinated me and hailing from the hills of Kerala, I couldn't feel more at home amongst them. We ended up spending a lot more than I had imagined, mainly due to lack of research and inexperience. We saw the Hadimba Temple, Van Vihar and Vashisht temple in two days. During our short stay in Manali, my eyes kept wandering towards tour-prepped Royal Enfields in the area. I could not help myself but hire one on the day of my birthday with our meager expense fund and ride all the way to Gulaban(closest to Rohtang Pass you can go without a permit) and come back. The beautiful roads that we covered that day made us realize the need of beautiful roads and places in our lives. Sadly, we had to get back to our lives in Delhi so we celebrated a rather timid yet beautiful birthday night with booze and table tennis.
Little did I know, the journey was halted not ended.
I took my life to the edge, quit my job within a week and headed back to Manali with a friend i met online. Let us call him Bob. Bob wanted to go to Kasol to smoke pot and chill but I did not have similar intentions. I wanted something different, something breathtaking that pot cannot provide. I have had several instances where multiple people suggested me to go to Kasol or Leh. I understood the beauty of these places but there was one specific destination that i had heard about on my previous trip to Manali called "Spiti Valley" which intrigued me. But I was not sure about it with my ever so limited budget although i announced everywhere that I was going there. So I left the trip in ambiguity to see what takes us where.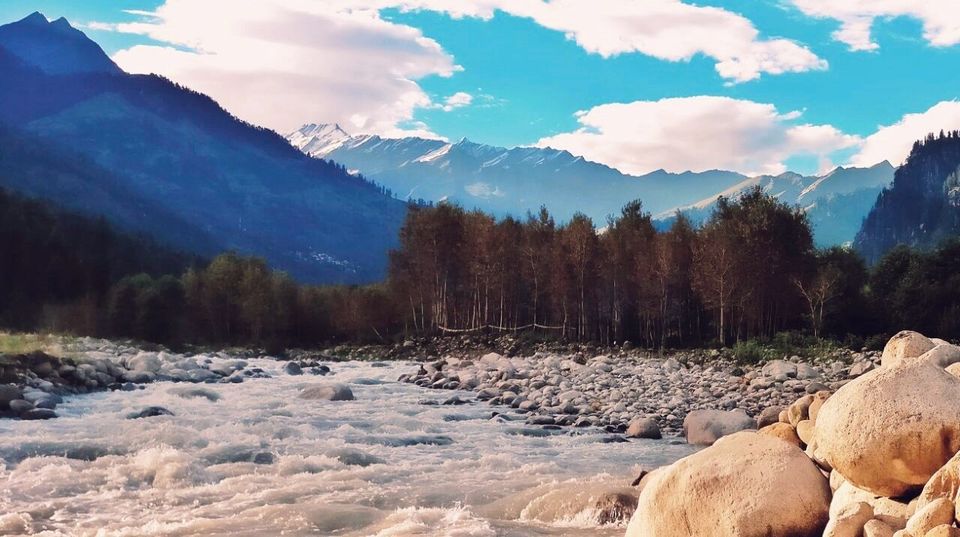 I have always had an eye for small details which enabled me to recall routes/roads/landmarks easily. I sat in the bus counting minutes and seconds since our quick breakfast at a diner earlier at 6 in the morning. The moment we reached Kullu, my heart pounded hard and my brain started thinking while the rest of the passengers were asleep.
"What is my plan?"
That is when i heard a loud shriek behind my seat. I turned back and there was a man who had woken up from a potential nightmare. What could induce a nightmare on a journey to a real paradise? I thought to myself and eventually went back to the plan i did not have.
Hiring a motorbike from Manali was a part of the plan. I was a fan and i knew the right guy to hire one from. Spiti Valley was running in my thoughts as a destination but the cost and feasibility of the journey was something I was yet to figure out. So I hoped my budget would be enough if i get correct prices from Manali and left Spiti as a blur in my mind. As we approached the bus station, i stood up and started packing my bags like a veteran Manali explorer, way before everyone else. And just like a veteran explorer would do, i wasn't about to take a taxi to my hotel right away this time. I paid Rs.200 for it the last time for walk-able distance. We tied our rucksacks tightly, well, one of us unwillingly, and started walking up towards mall road where we could hire a motorbike.
As we were moving up the road, i noticed a man catch up with us, matching our pace. It was the same man who had that nightmare in the bus. I expected a small conversation and there it was.
"Which way is mall road?"
The conversation started that way and i gave precise answers on the direction. I asked him to accompany us as we were heading the same way. He introduced himself as Hari, a travel enthusiast from south India who came for a vacation from his work. Our little talk took us to the inevitable mutual question any traveler without any destination would dread from.
"Where are you headed?"
I had no answer for it, so i dodged it plainly by saying Manali. But i told him about my strategy to hire a motorbike and offered to take him to the shop with me in case he needs one.
"Where are YOU headed?" I asked.
"I don't know, maybe Leh or Spiti, I haven't decided yet."
What a great follow through! I met him five minutes ago and found someone with the same enthusiasm I had for an ambiguous place up in the mountains. We skipped the whole Mall Road area on the way to meet Avi. He runs a motorbike lending shop called the Himalayan Hawk and was the only person i could trust in the area as he was quite honest with his trade during my previous visit. I sat down and started a conversation about Spiti Valley which intrigued all of us over a cup of tea. Even Avi, being a local resident of Himachal did not have much to say about the existence of Spiti Valley. But he seemed as excited as we were and gave us some discount on the bikes on the term of friendship. We were enthralled!
While Hari lit up a cigarette, simultaneously checking his Royal Enfield he was supposed to ride solo on, I got to know more about him and his journey in the meantime. We settled the bills for the bikes and I asked Hari to stay at the hotel room I had booked in Aleo, near Manali for the night. It usually takes me at least an year to get accustomed to people enough to stay in one room, but here i was, making quick decisions with him. I liked how changed i had become in past few weeks. He said yes and we headed on to the hotel on our new bikes. He eventually had to pay extra at the hotel for spending the night there.
Back in the hotel after doing some quick research on my beat up smartphone, i put on the hat of the guide in Manali and potentially for Spiti as I was the only one who had been all the way up till Himachal before out of all of us. Prior experience matters, I assumed. Spiti Valley costs several stops in the middle on motorbikes. The whole stretch from Manali all the way to Kaza spans around 200 kilometers. I could not find many articles or blog entries on the shape of the route which made me assume that the roads, if not mint, could be not-that-bad.
Around afternoon, we decided to ride towards Solang Valley close to Manali to get used to the mountain roads. Bob wanted to ride solo here and Hari did not mind lending his bike. I let Hari ride my bike and we spent our time going full throttle admiring the picturesque valleys.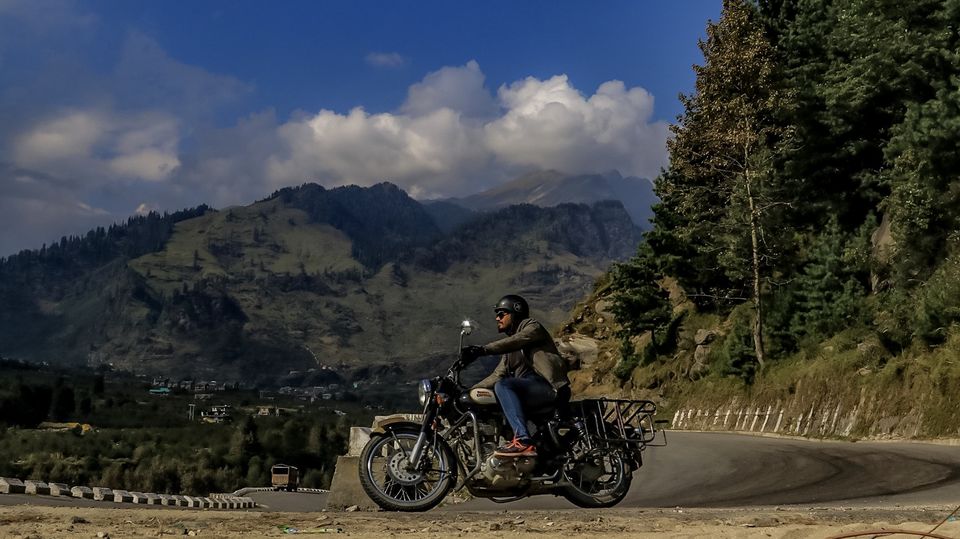 On our way back I suggested to get down to the river bank and take some shots of the sunset. Bob was cross and wanted to get back to the hotel room and smoke up. We let him go back and ended up spending some time near the river bank and eventually returned at the hotel room to find Bob sleeping without realizing the beautiful sunset he had missed. The first indication that people have their own choices to make happiness for themselves crossed our mind when we saw him sleep. We decided not to wake him up and went back to Mall Road to meet Avi. There were some minute problems with the suspension of our bikes which Avi wanted to fix before we headed off. To give Avi some space to work, we strolled towards Mall Road to shop for some essentials for the trip. We ended up buying nothing essential other than some chocolates and local food for dinner. Also, a bottle of Old Monk Rum.
We had enough money to spend through the trip but Avi told us that there were no ATMs on the way to Spiti. So, Hari offered to withdraw some cash from the bank for our expenses in Spiti, which meant we would split the expenses and pay Hari back when we return to Manali. After sorting that, we spent some more time in Avi's garage discussing about our journey.
When we reached our hotel at night, Bob was still asleep which was unacceptable at this point. We had no choice but to wake him up and make him eat. We talked about our life in the cities and our families during the dinner which led us to finish the rum we bought for the trip. The next morning was crucial. Our plan was to wake up at 8AM and set out at sharp 8:30AM. Two of us were ready by then. Bob was struggling to wake up even for breakfast. Somehow, after packing three paranthas in some aluminium foil, we set out at 10AM. Our rucksacks were roughly 15kg each. We mounted them on both sides of our 500cc bullet using bungee cords that Avi gave us. Most bikes on hire from Manali are delivered with a petrol canister and metallic frames adjusted on either side near the pillion to support any luggage that goes on the bike for longer trips. It was an ugly contraption but was sturdy and necessary for the bungee cord to snap on. Our bikes could hold 13 liters of petrol including the emergency reserve. Additionally, we filled one canister each for both bikes with 5 liters of petrol, just in case.
We set out from Aleo and reached Gulaban within forty minutes. Gulaban is the checkpost where tourists heading towards Rohtang Pass have to produce their permits which has to be procured from Manali a day before the journey. We had our permits in order, thanks to Avi. We crossed Gulaban without a hitch and continued the path that had endless hairpin turns. Rohtang Pass is 50km from Manali and roughly situated at a height of 4000m above sea level. On our way to the top, we saw the sheer height we were climbing on our bulky beasts with heavy luggage. It was a bit overwhelming but when we saw other bikers climb the spiral with us, we felt liberated. We reached Marhi half an hour before Rohtang Pass and had some tea and fresh paranthas packed. After witnessing an array of tourists wielding selfie sticks, we decided to flee the place as soon as possible. Back on the route of hairpins, within few minutes, we entered humongous clouds that enveloped the mountain top. It was probably one of the most terrifying and simultaneously one of the greatest feeling I had ever experienced. The visibility was close to 5 meters at most but we kept on following the lead of faint tail lamps of vehicles ahead. Once we reached atop Rohtang Pass, it felt like we had achieved something marvelous. The first feeling of such potency made us realize the extent of journey which we were starting off. The road thus far was straightforward and conditioned but none of us knew what lay ahead of us. We sat near Rohtang for some time admiring the beauty of endless valleys we could see from the elevation.
According to google maps and Avi, our next stop was Gramphoo which acts as a detour from the road that goes to Leh and put us back on track towards Spiti Valley. Keeping a vigil in our heads for any signboard ahead, we climbed down from Rohtang via the other side of the mountain. It was cold but nothing significant except our hands were frozen due to the wrong kind of gloves. But we had anticipated all this. Could not say the same about the immediate loose gravel we encountered just 8km downhill. Although the roads were wide, the gravel made us slow down from a steady speed of 60kmph to 30kmph. We made a few stops in the middle to take photographs of the stunning scenery we were getting into. It was bright green and red everywhere, vibrant and exquisite.
On our way we saw a lot of riders approaching from ahead. All of them waved at us and we returned the gesture. It felt refreshing. We were a part of an alliance of riders now, at least we felt that way. All the waving came to an abrupt stop when we noticed dark clouds forming above us and loose dirt forming beneath us. It did not take much time for the downpour to start. Since we were heavy with our bike, Hari and his solo self were leading the way to Gramphoo. But the heavy rain made both us miss the tiny detour and we ended up in a small restaurant 3km ahead. Being an honest fault, we decided not to gloat over it and stood there waiting for the rain to stop while sipping hot tea. Bob was not too happy with the weather and suggested we wait another hour before we took off. We ignored the plea and set off the moment the rain stopped.
Luckily we did not miss Gramphoo this time but what we saw ahead of us was treacherous. The mud on the path had turned wet and swampy and to top it off, we had to go down to a steady drop of at least 45 degrees to reach the next hairpin. To think of this situation when you have a dirt bike would be considered as a field day. But we are talking about heavy people on heavy road bikes that weigh 190kg each. It was a dreadful feeling but we had a schedule to keep. After making Bob get off the back seat and push us through the mud several times, we managed to dodge many close encounters with spiky rocks sprouting through the mud. It took us two hours to reach the end of the Gramphoo spiral where we joined a road that lay beside a seemingly calm but angry river. Our bodies were completely drained off the energy we had a few hours ago due to the grunting and pushing act we performed all the way down. I spotted a rock flat enough for our bottoms to be rested ahead on the way and decided to hog on the paranthas we packed there. We munched the food like cavemen to pump back the energy we lost. That is when Bob spotted a lady walk towards us from nowhere.
"Do you guys know if the road is better than this ahead?" She asked.
We informed her enthusiastically that its our first time. She looked genuinely concerned.
"Are you traveling alone?" I asked.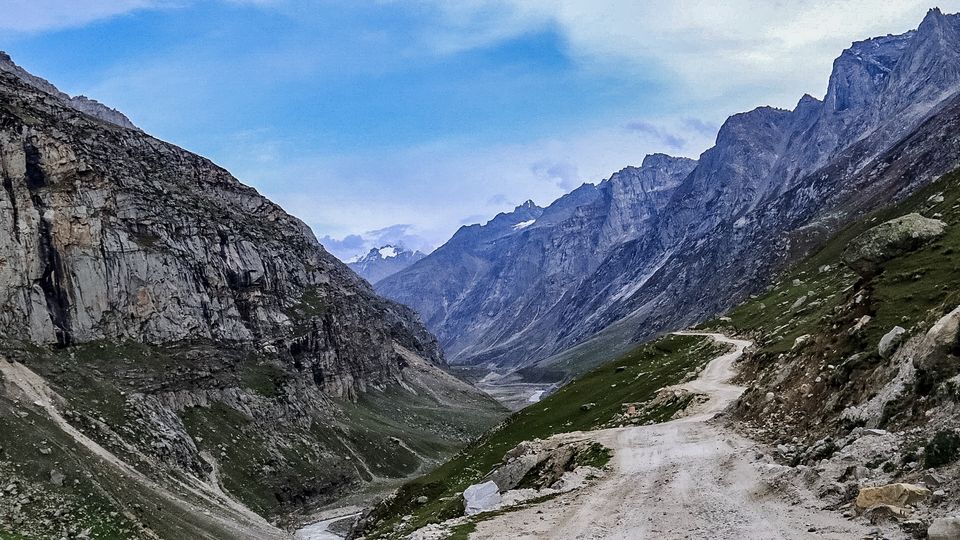 She told us that she is parked next to the river and her husband is driving. They were traveling all over India in a van that has negligible ground clearance. We could not help but feel bad for the woman. We wished her a safe journey and she wished the same when we took off on our motorbikes.
It was already 2PM and we were nowhere near Batal. It was the next destination now. Batal lay right in the middle of our complete journey on the map which made it an ideal place for overnight stay. There were no milestones nearby and it was hard to keep a track of the number of kilometers we were covering. The road was leading us to a small mountain ahead and there were no other roads. Around 4PM we spotted a small tarpaulin shack on the way. A woman was sitting outside washing dishes, she was the only human presence we saw after the woman with the van. It was peculiar to see that we did not see anyone on the route for hours. Guess everyone just goes to Leh, I thought as we pulled over to the woman and asked her if Batal was anywhere close. She told us that Batal is miles away and we wont make it there today. We showed a sane amount of disbelief towards her, started our bikes and kept going ahead. We had seen a signboard which said Batal is 30km ahead just before we saw the woman. And we surely chose to believe the sign.
The terrain was still rough and loose. We could not take any chances and by this time Bob was making orgasmic noises from behind. His back could not take much which caused my speed to go way below 30kmph. I was not infuriated but was certainly frustrated. In half an hour we spotted a dozen tents from afar and hoped it was Batal. Our motorbikes warranted some rest and we warranted some tea so we raced towards the place only to figure out that the place was indeed Chhatru, not Batal. Batal was still 20kms away which made us wonder about the sign we saw earlier. Blaming the authorities we went inside to order some tea. There were two groups of foreigners sitting outside near the porch chatting which made Bob curious. He suggested that we should camp the night in Chhatru and head towards Batal in the morning. I looked at Hari and he did not look convinced. Neither was I. Heck, we are travelers not tourists. we do not need comfort, and besides it was just 20 kms away. How hard could it be?
"Very hard to reach Batal now." a guy in shorts and a hat announced from afar. He was thin and very fair. Fairer than the woman he was with, which is not worth mentioning. He reminded us about the time which was almost 5PM and informed us that it goes completely dark after sundown at this elevation due to the huge mountains that envelop the area.
"The road from Chhatru to Batal is especially worse because of the water puddles forming nearly everywhere."
He got us by the neck with this information. There was a decision to be made. We assumed that 20km would take us at least two hours considering the condition of the road as absolute worst and assuming that the guy is just paranoid.
Speaking of paranoia, Bob sat on a chair staring at us.
"Are you seriously thinking of doing it?" Bob inquired.
We nodded.
"You guys are crazy or what? My life will be in your hands if anything happens."
Hari was up for it, so was I. We knew our bikes very well now. We summoned up our energies and sat on our bikes. That is when I realized that Hari had given me his wallet to pay for the tea. Since he was parked on the road to set off, I screamed at him.
"Dude, I have your purse!"
He nodded me to keep it, but I could not do so. Since I was on my bike, I gave the purse to Bob before he sat down with me.
"Give this to Hari while i wear my jacket and gloves."
He did not want to walk up to Hari but I insisted for which he succumbed and started walking. I turned around and went back to gearing up.
By 5:15PM we hit the road and as expected it started getting dark within an hour. Bob was scared but there was no stopping. So, I apologized in advance and revved it. Increasing our speed was the only way to beat the sunset, but the roads became worse as we progressed. In the next half hour we had to stop because there was a tiny river crossing the road we were supposed to take. Since the light was getting dim, it was hard to assume how deep it was. Hari decided to take the first plunge and we saw his motorbike drown till his knee at one point. But he made it to the other side and waved for me. I had no other choice but to make Bob get down and cross the river on foot. There were huge rocks near the stream for him to skip onto the other side. Once he was off, I put the gear on first and slowly inched towards the water. Remember when I said we went shopping for essentials in Manali? Buying waterproof boots should have been a part of it. My legs touched the water and I felt my spine freeze up. I was halfway to the other side and knee deep in water. Braking was out of the picture by this point so I kept the throttle controlled until i reached the other side. I did not dare look at my sport shoes that were completely useless in water. My legs were numb. We had no time to waste, we were running against sunlight here. After guiding Bob through the rocks, we set off again.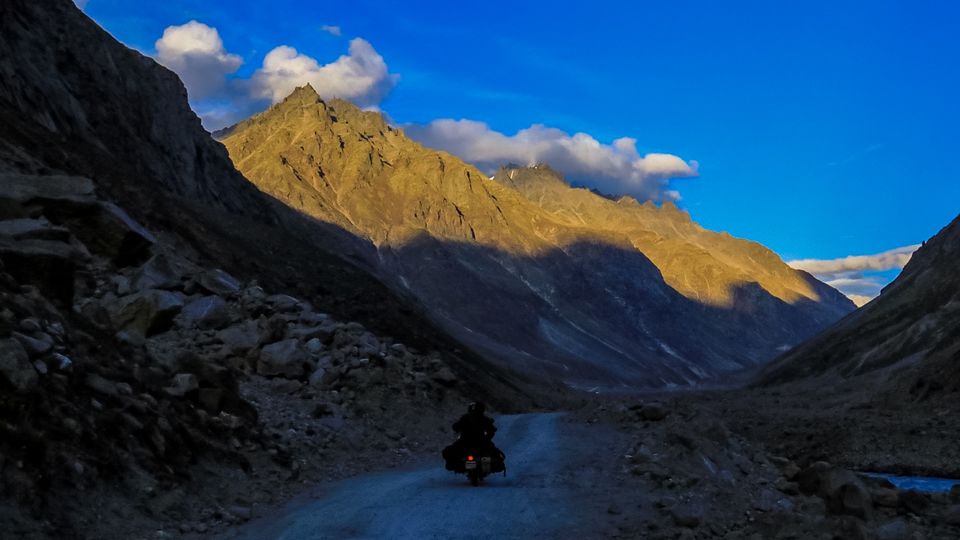 I was concerned about both our luggage all the way because of the bumpy road and our paranoia on making it to Batal on time. It was the perfect time for some mishap. My DSLR bag was clipped on to my rucksack which was not convincing enough for me so I gave Bob the task to keep a close eye on our luggage, especially the camera bag in case the clip comes off.
My heart was rushing like a maniac but watching Hari take the lead through the dark gave me a feeling of ease. We witnessed the evening rays of sunset as they slowly drifted off to the top of the snow white glaciers and eventually disappear. Within next ten minutes it got pitch dark and we soon realized that the yellow headlamps on Royal Enfields were more or less useless at night. I could feel the temperature drop and there were all kind of indications that I could fall ill any time. My legs were soaked and the wind was not helping, nor was the running nose. We encountered half a dozen more water puddles and they kept my legs soaked.
Eventually i felt a storm brewing. It was in my left leg; muscle pull. One pull was beatable but it happened four times in the next hour. But it was dark and I was not going to let us slow down because of muscle pulls. Like they say, "When the going gets tough, the tough get going". Summoning all the courage we soldiered on into the darkness.
We passed some vehicles parked at the corners of the road with headlamps on. No one was willing to take any chance, of course, sensibly. Except we met some guys from Chandigarh stuck on the way asking us if they could reach Manali overnight. Bob spoke in crystal Punjabi and discouraged them to do such a thing which luckily convinced them to turn around soon after we pushed on. We thought they were dumb but we were not any better. 20kms felt like 20 years at this point. Every now and then we saw bright headlights of parked trucks from afar and misjudged it as Batal. After three hours of almost blind riding, we climbed down to a road that looked like a dried up river bed. The cold breeze and riotous noise indicated that there was still a river nearby, maybe a huge one. But we had no way to confirm it so we kept following our headlights. The roads started to become rocky and we saw lights up ahead. Without any excitement, in case if its another headlight, we moved towards it. But soon we spotted Hari lifting up his right arm like he won something. We knew what it was.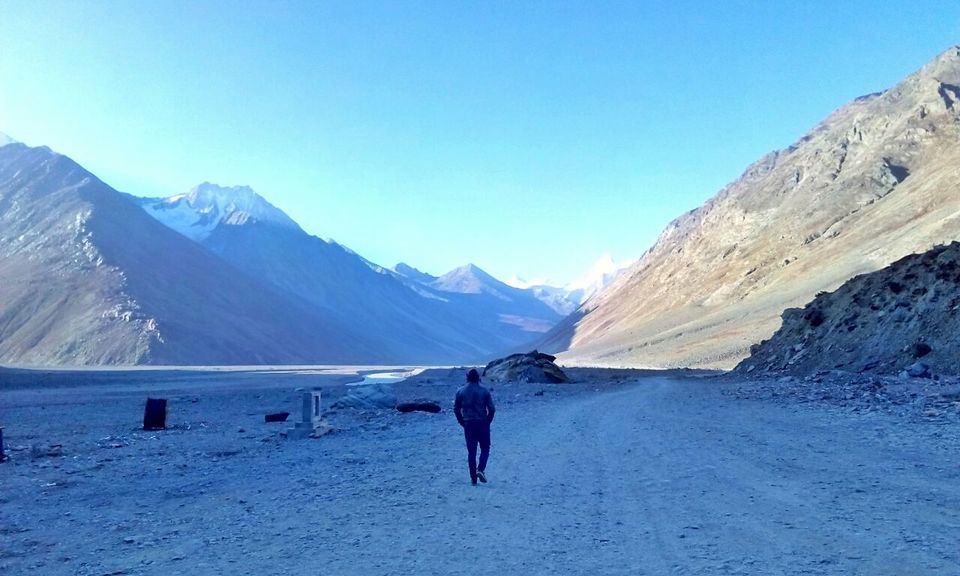 We finally made it to Batal.