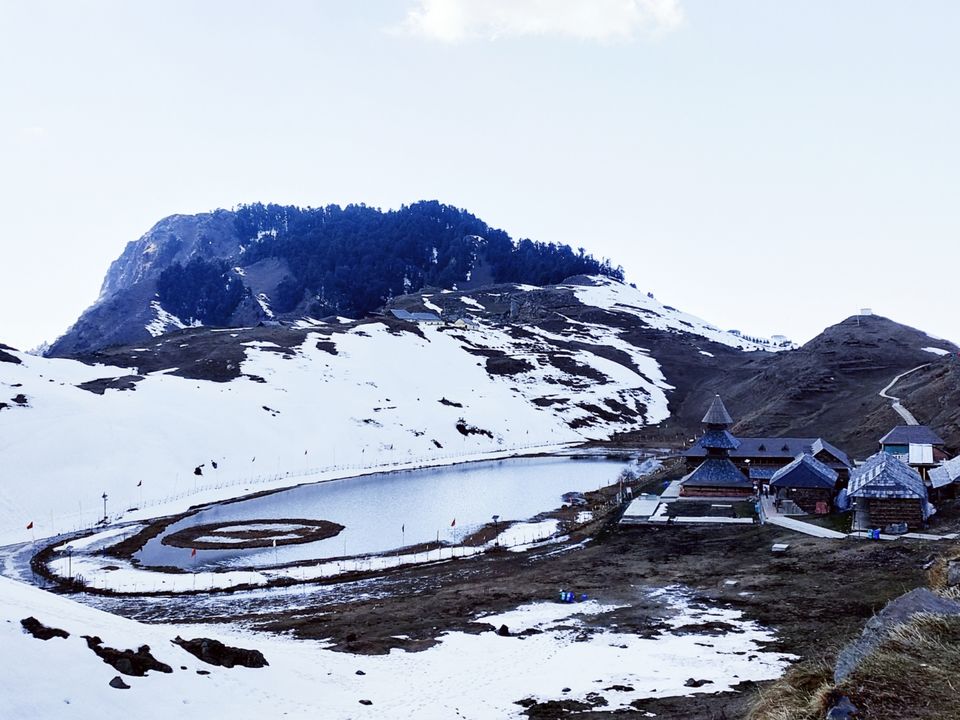 Before you start reading, please follow me on Instagram to checkout my latest activities: @gypsyonvoyage
Best Friends are those who are an integral part of your own self, those who support you and motivate you when things aren't going your way, those who are the happiest people in your achievements. I am blessed to have such friends in my life who are no less than a backbone to me, no matter how distant we are, we're always there for each other. It had been a year and a half that I met my best friends and I was craving to meet them. So, I asked them to plan a trek in the Himalayas which wouldn't be very difficult and would be very convenient for us.
We noted down all the treks and filtered out one by one to pick the most convenient one for us. After performing some analysis, we narrowed down to The Prashar Lake Trek in the Mandi Distt. in the state of Himachal Pradesh. Prashar Lake, situated at a height of 8,900 ft (2,713 m) above the sea level, is a sacred lake where the saint Prashar meditated. A three-storied pagoda-like temple has been dedicated to the sage Prashar on the banks of this lake, hence it is named as Prashar Lake.
The most important reason for choosing this trek was that one of my friends is a native of Mandi City & Prashar Lake is at a distance of 50 km from Mandi, so we could reduce our expenses staying at his home. HRTC(Himachal Road Transport Corporation) runs a bus all the way up to Prashar Lake from Mandi Bus Stand at 8:00 AM on a daily basis and the bus starts back from Prashar Lake to Mandi Bus Stand at 1:30 PM.
HRTC runs many buses(A/C and Non-A/C) from Delhi to Mandi on a daily basis. I booked a ticket in an A/C Volvo Bus which started from ISBT Kashmere Gate, Delhi in the evening and traveled nearby 430 km in about 11 hrs to reach Mandi by next day morning. As I reached Mandi Bus Stand, my friends were waiting there for me who traveled there from Chandigarh the last evening. That moment when I met them after such a long time, that was the moment of joy and emotions. We started walking to my friend's home wandering through the market. After we reached his home, I freshened up and took some rest since I was tired of my overnight journey.
After I woke up, we started planning for the next day hike to Prashar Lake. We booked a room at Bogchi Cafe in Teel village which is 7 km from Prashar Lake, we packed our bags with warm clothes and all necessary items since Prashar Lake saw a fresh snowfall two days ago.
We had half a day and I didn't want to miss the opportunity of exploring the places nearby. We took out the scooters and directly raced towards Manali Highway, there was no plan of going anywhere, but we eventually reached Pandoh Dam which is just 19 km from Mandi. The ride on Manali Highway, with River Beas on one side and rocky mountain on the other, was one of its own. We started back from Pandoh Dam in the evening to explore the night sight of Mandi city, we had Masala Soda in Indira Market and then we walked to Victoria Bridge, relaxed there listening to the sound of gushing River Beas. We slept all prepared and now we were just waiting for the morning.
We woke up early in the morning, freshened up, had breakfast and walked to the bus stand. We reached the bus stand by 7:30 AM and we easily got the seats on the bus, the bus started at sharp 8:00 AM and we were about to travel from 2,790 ft (850 m) to 8,900 ft (2,713 m) in the next 3 hours. As the bus started climbing those mountains, the road was becoming narrower and the view was getting better. We could see the snow on the top of mountains from Bagi village which is also a point to start trek from Prashar Lake.
We reached Bogchi Cafe by 10:45 AM, we checked into our room, we kept our bags there & started to trek uphill after eating some snacks. For the first 2 km, we were walking up the stairs which was a little bit tiring, but after that, we were on a straight path which was covered with snow completely. The beauty of this place was as stunning as I had never seen before. We were walking on a mountain with untouched snow and we could see the majestic Dhauladhar Hills on our right.
Each step brought a new scenic beauty in front of us and the place was so calm and so pretty that one would never want to leave this place. We started trekking ascending a few meters at the last stage of the trek with 3 ft snow and there was no trail which could save us from sinking in the snow.
We reached Prashar Lake in 2 hrs taking many breaks and clicking photos. Prashar Lake is not commercialized at all, there are 2-3 food stalls which serve hot beverage and some snacks. We just wanted to relax and feel the beauty of this place, a lake resting in the middle of snow-covered mountains. The breeze was very cool, the sun was out, we just sat down there and everything seemed complete. I could sense the moment of happiness and I could smell the odor of natural beauty.
We walked down to the Rishi Prashar temple, the floor was freezing in there, we completed Darshana quickly and put our shoes as fast as possible. Then, we sat and had some hot tea which was very helpful in that temperature. We never wanted to leave this place but we had to, so we started trekking down to Bogchi Cafe at 4 PM.
Trekking down took us about one and a half hour, we had our lunch there and took some rest. We went out at the time of sunset, I am a big fan of sunset at the beach but experiencing the sun going down behind the snow-covered mountains has its own charm.
As the night approached, the temperature started falling, we were literally freezing outside, so we went inside the room to keep us warm under the blankets and asked the worker there to arrange a Bon Fire. He called us around 9 PM, we went outside, he had put fire in the woods and we just settled there to keep ourselves warm. Then, we ordered dinner and asked that person to arrange a table for us near the fire itself. That was one of the best dinners I've ever had because the taste doesn't matter that much, all that matters is the people you are eating with and the place where you're eating with them.
People talk about living in the woods or in the mountains where there's no mobile network, no internet access. That was the time for us where we didn't have any reach to the outside world, we only had each other's company which never made us feel that void of technology. We called it night around midnight and went back to sleep.
The next morning, we woke up with a gorgeous view from the window which we can never have living in a Metropolitan or Cosmopolitan. We quickly freshened up and enjoyed hot tea with the rising sun. We had breakfast and we had plenty of time before we started back to Mandi. We found a flat ground nearby and we created a bat using a wood block, the hotel guy gave us a cricket ball. What could be the better option than playing cricket at that height? Nothing. We played cricket for around an hour & headed back to our room. We packed our bags and sat outside waiting for the bus. The bus reached there by around 1:50 PM, many travelers already boarded the bus from Prashar Lake, but we still managed to find the seats.
We reached Mandi Bus Stand by 4:30 PM & reached my friend's home in another 15 mins. We freshened up & went out for a walk in the market during the evening. We had some snacks in the market, explored some places there and went to Bus Stand to book the tickets back to Delhi & Chandigarh respectively. We got the tickets in Volvo A/C Bus which starts at 10:20 PM from Mandi Bus Stand.
We headed back home, had our dinner and sat down for quite a while with family and enjoyed the conversation. We reached the Bus Stand by around 10:00 PM & we had to wait there since the bus was running a little late from Manali. This was the time when I knew that we're gonna split again in another few hours and didn't have any idea when will we meet again, but I definitely knew that we're together even if we're living in different cities. We shared our journey till Chandigarh and bid goodbye to each other until next time. I am sure, we'll plan many more similar trips in the coming years, no matter where we are.
Cheers to such friendships!
Please follow me on Instagram to checkout my latest activities: @gypsyonvoyage