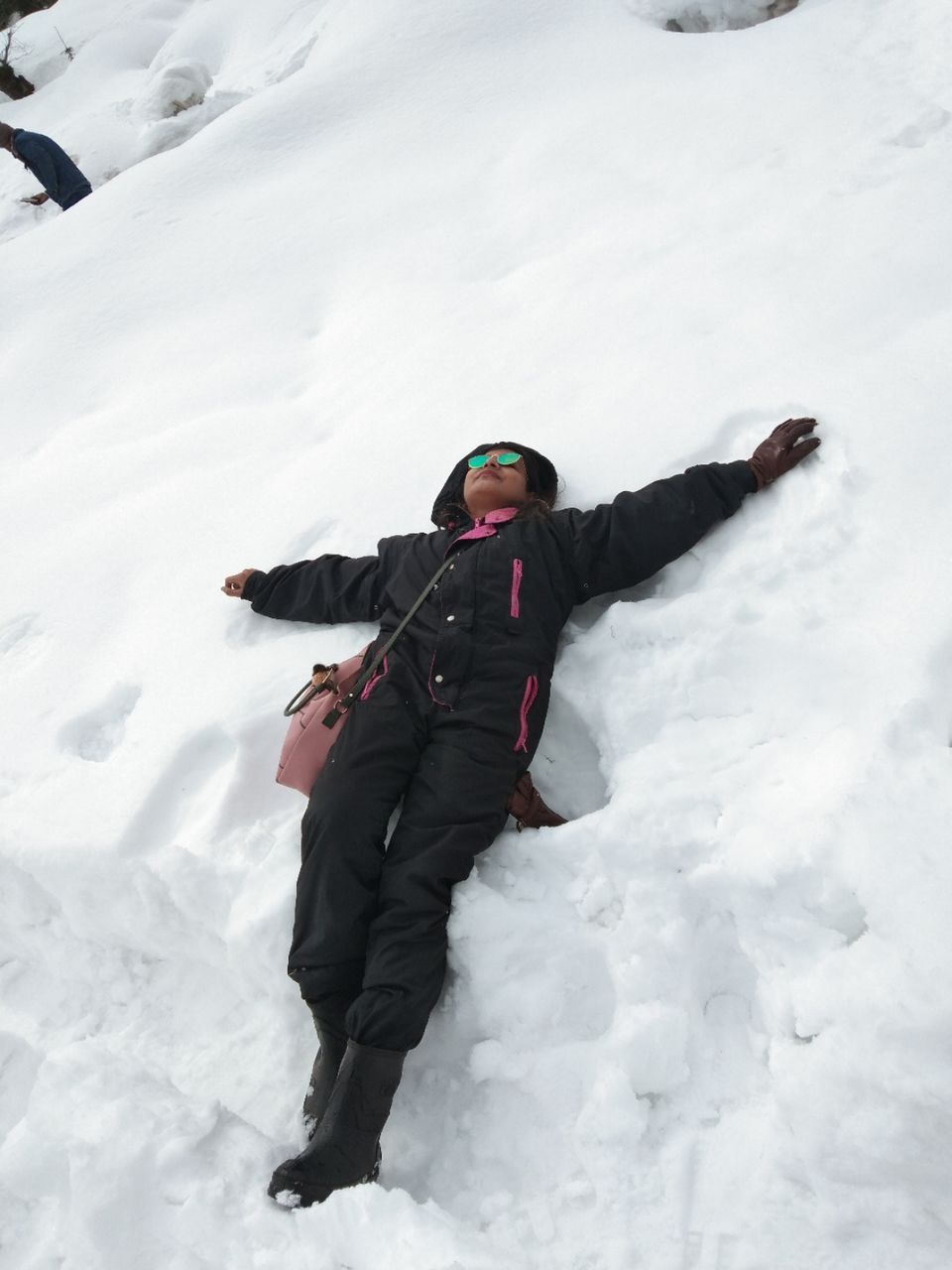 Travelling makes me feel alive. I tavel not to explore the world but also to create some beautiful memories. I am paasionate for travelling and i work hard to earn money for my passion. Here, i starts my blog of Manali trip where we have also to explore solang valley, kasol and manikaran.
I started the journey with my friends from delhi to manali at 5pm. It takes 12 hours to reach manali. That was having a li'l dewdrops on the way and also had snowfall during night in manali because it was febuary so it is usual. We reached at manali in the early morning. The day was clear but the roads were getting slippery due to the snowfall last night.
Well, we reached at the hotel and after getting fresh we took some breakfast. Today we had to explore the nearby places n market area. There, i met an old himachali women, She was wearing simply local traditional clothes and had having a cute rabbit in her lap. I got stucked after seeing the rabbit. She gave it on my lap to click some pictures with the rabbit. After capturing some picturesque moments in my camera, we went to the mall road. It is very fomous for local shops n market, here u can enjoy the shopping and local food. In the night weather was so much cold at -7° tempreture, i enjoyed the walk on mallroad and dance in the disc. But when i came back to my room the cold was unbearable and i was shiwwering, somehow i surrended to sleep.
On the next day, we had to visit at the solang valley through the cab which was already included in the package. It was 10km far from the town and the roadsides was fully covered with the snow that was makes me feel amazed. Before reaching to the solang valley, the cab driver stopped the car at a shop where we had to hire the snow suit & a pair of rubber shoes which was helpful in the snow. After that we reached at there, now we had to cover 3-4km trek to reach solang valley. But i couldn't done that due to which i had suffered from health issues. Although i enjoyed the mesmerising views of snow capped hills, played with snow and clicked a lot of pictures.
At the last day we had to go manikaran by the cab. We started moving in the morning at 10am, that was cold day and a bit raining. Anyways i continued enjoying the journey to manikaran. I felt wondered with the untouched songs in my playlist with the earphones ,an amazing view of hills and roadside stones shinning by the reflection of river as it revealing the beauty of nature.
After 2 hours journey we reached to 'Manikaran sahib gurudwara' that is situated 4km from kasol and 34km from kullu. It's a religious place which is unbeatable for its beauty & the God gifted hot water spring. Here u can also take bath or can 'darshan' of the gurudwara.
Finally it was the time to bid adieu to the amazing place. We had completed our trip with lots of fun. It was dominated in my mind for a long. Manali is a wonderful picturesque place that will makes u feel relax & peaceful. It gaves me alot of memories that still brings a smile on my face.
If u have any query about the journey or anything, so can ask me frankly !
Hope u like my blogs ...