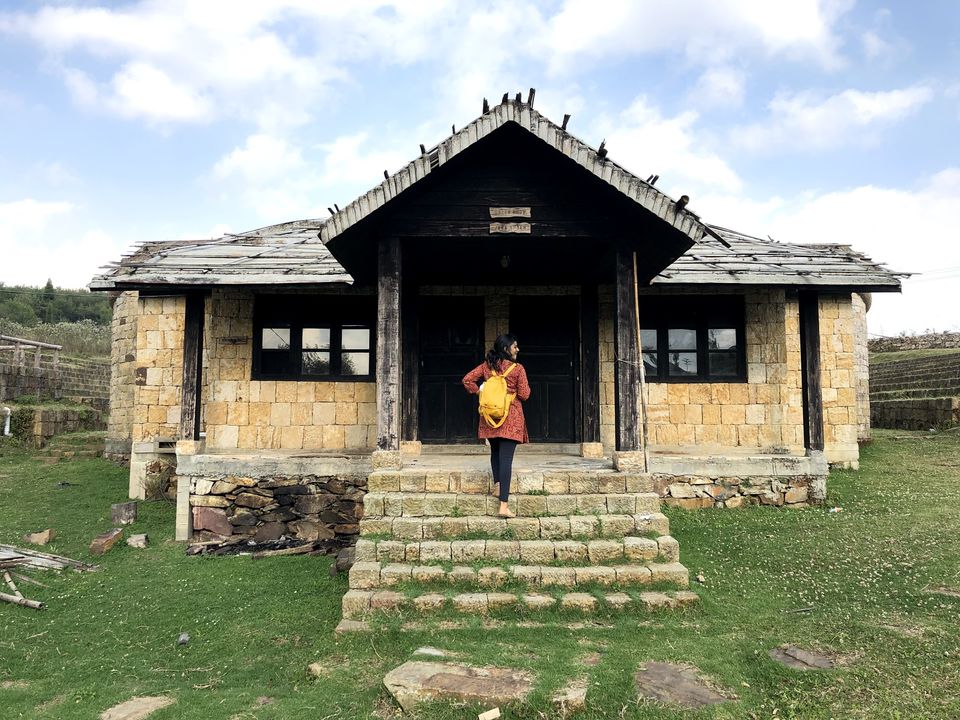 It all began with my frustration was at its peak during my medicine rotations and I just booked a flight ticket from Bhubaneswar to Guwahati for the 21st of April 2019. I really didn't think it through when I booked my return flight after 8 days. After doing a bit of research I decided on the places I wanted to go to. But I had no idea how to reach those places and what to do.
But as most plans go, fate had something else in store for me. My little sister who is all of 13 years old joined me on this trip to the "Scotland of East". Let the fun begin!
From Guwahati Airport we took a shared cab for 500 INR per person to Police Bazaar in Shillong. I'd just booked this one stay, a little away from the center of humdrum and then let life take us where it would.
Shillong
Stay Latei Ville Inn - It was a quiet little place, overlooking the forest and valleys. There was a super cute but unfriendly doggo there.
Khasi Heritage Village
Have you ever visited a tiny village and got stuck in the traffic for 4 hours straight? Well, I'd never imagined our first day in Shillong and we would experience that kind of hunger, cold and traffic. Apparently, it was a sunday AND a Khasi festival equivalent of thanksgiving and everyone was dressed in colorful traditional outfit and dancing to local music with flags having an image of a chicken struck to their vehicles. And everyone was so chilled out. Including us, but kind of literally.
Nongriat
Next day, we and our new friend ( a French girl we met at BnB) decided to head together to see the unique double decker living root bridge. It is one of a kind and to see it we had to trek roughly 4000 steps (one way).
How to reach : We took a shared cab from Bada Bazaar in Shillong for 70 INR per person to Sohra aka Cherapunjee. From there we took another cab for 300 INR to a little village called Tyrna which is basically the starting point for the trek to Nongriat Village.
Now on reaching Tyrna, you will find loads of local bugging you to take a guide with you and they can charge you anything they wish. Well, if you want to support the locals then you can hire one. But if you ask me then it really is NOT needed. We didn't take any and made it to the village pretty fine.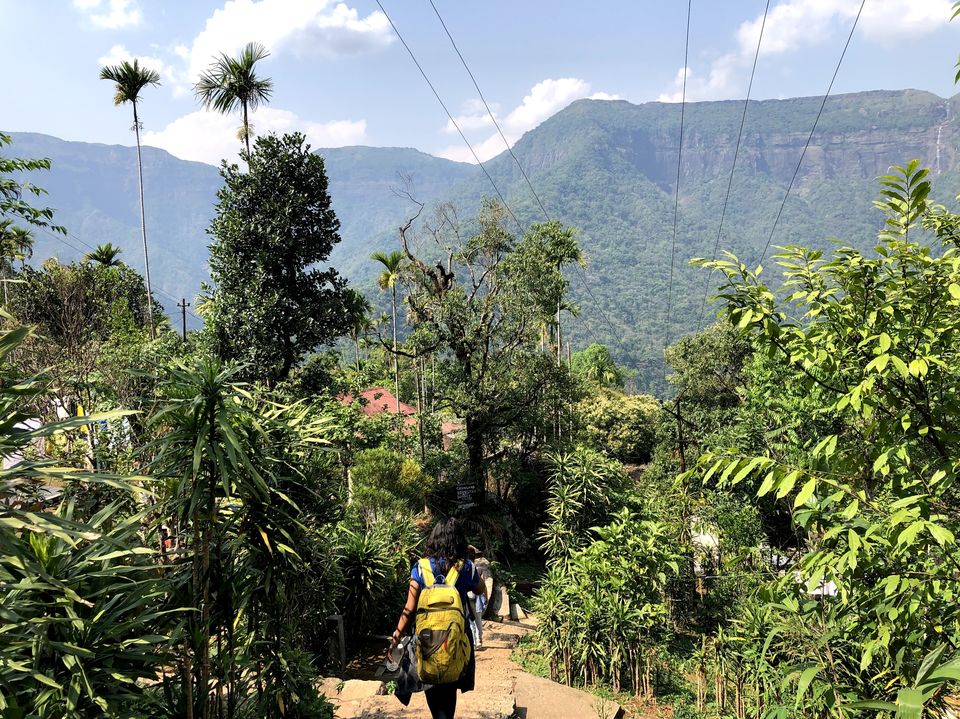 En route we took a diversion to witness the beauty of the single decker living root bridge. Which is roughly halfway between Tyrna and the double decker living root bridge. You've to pay an entrance fee of 20 INR per adult and 10 INR per child. Also, there is a nice lady there who provides fresh lime juice (for just 10 bucks a glass) and makes cute little bamboo glasses that you can buy.
The first look at the living root bridge and i was mind-blown by what the nature is capable of. With a little intervention from the villagers these bridges take 20-30 years to attain their full length after which they're strengthened using bamboos and wires. There's a beautiful stream below the bridge which can be accessed. The water is so fresh and cold, it is all the rejuvenation you need to continue to the double decker bridge.
After crossing 2 more bridges we finally reached our destination. First thing we did was find a place to stay for the night. As the village was fully packed by tourists most of the places were full. Luckily we found a tiny little hut called Santina's Homestay with just one bed on the edge of a cliff for 500 INR which the three of us shared. The hut next to ours had no door but even that was filled by the end of the day. But the best part about the homestay was it's backyard overlooking the mountains. It had a certain tranquility about it. Sort of reminded me of the book The Alchemist where one learns that the treasure is right there in ones' backyard.
The double decker living root bridge is truly a marvel! The waterfall cascades down in 3 layers and the water is very clear and an ideal place to get a natural fish pedicure. Also, if you love to read your kindle in the lap of the nature then this is the place. It is so serene and you can hear the sound of the water falling and birds chirping.
Next day we were supposed to trek to the rainbow waterfall but our legs couldn't take it anymore. Especially since we had 4000 steps to ascend and then our return journey to Shillong as well. But from what I've heard the rainbow waterfall is worth the hike, and takes about 1 hour to reach by foot from Nongriat. So ideally if you want to visit that do it on the day you arrive. We couldn't do it cause we reached very late. Although I've met people who went to Nongriat, then to Rainbow falls and back to Cherapunjee all in the same day. Hats off to them cause i couldn't walk properly for 2 days afterwards and I'd taken it really easy. Also, i hated stairs for a week after that.
Sohra
Nohkalikai waterfall is the highest waterfall in India and the story behind the name is also quite interesting. I won't say it here as I'd leave it to you to go there and read it yourself.
Also, we saw some snowfall on our way back to Shillong. The weather is very queer, from snow to rain to downright sweaty, autoclave-like heat we experienced it all.
Shnongpdeng
Next day we got really lazy and didn't want to go anywhere. Just relax. So late in the afternoon we headed out in our quest to find a shared cab to this musical village of Kongthong but ended up finding one to Shnongpden instead. "Well, let fate maneuver our journey", I thought as I climbed into the sumo.
Honestly, I was a bit disappointed cause the water was not as crystal clear as it was supposed to be. In fact it was mostly muddy cause of the rain upstream in Shillong. Added to it was the scorching summer heat (which I had wanted to escape for a while when I planned this trip to Meghalaya). But all the same we were there so might as well enjoy what we were getting.
I'd collaborated with the Encamp Adventures for my riverside camp stay and the guys there are truly amazing! The manager Frank was a really nice guy who set up a beautiful camp and bonfire for us and told us a lot about the life and culture of the Khasi and Jaintia tribes. After a peaceful dinner by the riverside, we called it a night and went off to sleep under a starry sky and listening to the soft hum of the streams flowing nearby.
There are a lot of water activities here like boating, kayaking, ziplining, snorkeling and scuba diving for additional charges. We didn't do any as the water was muddy. Winter is the best time to enjoy crystal clear water of river Umgnot.
Krangshuri Waterfall
I booked a private cab for 2000 bucks from Shnongpdeng to Krangshuri falls and then to drop us off at Mawlynnong.
The emerald water of Krangshuri fall is a sight to behold. You've to pay an entry fee and borrow a life jacket to take a dip in this refreshingly cold water. Just what you need to beat off the summer heat. You can head straight under the fall which feels like a heavy rain shower and is a very exhilarating experience. We swam our hearts out before heading out to Asia's cleanest village Mawlynnong.
You can also zipline here for 300 bucks.
Mawlynnong
This village somehow doesn't look real. It looks more like a film studio with all the pretty houses and super clean roads. You can just stroll around tasting some local pani puri, buying souvenirs from the local vendors, climbing on a tree house to get a glimpse of the neighbouring country Bangladesh and simply drown in the magnificent sights of this splendid village. There are roughly 90 households here. The more touristy hotels and lodges can charge an obnoxious price for a night's stay. Be sure to bargain or like me keep looking around until you find a cute little homestay which has a quaint vibe about it for just 500 bucks.
If you missed a trip to Nongriat, then there is a single decker living root bridge nearby in Riwai.
Early next morning at 7 AM we caught a shared sumo to Shillong for 200 INR per person.
Shillong
We spent the last 2 days strolling around Police Bazaar market, Don Bosco museum and exploring cafes and street food in Shillong. if you're a coffee lover like me then be sure to head to the Smoky falls tribe coffee which offers Meghalaya's best coffee roasted as per your preference.
Don Bosco museum is a giant structure of information. I think we took 3 hours to cover all the 7 floors learning about the culture, traditions, religion, and daily life of the people of the Northeastern states. There is a sky walk in the top that offers a dynamic view of the capital city.
That's all folks!