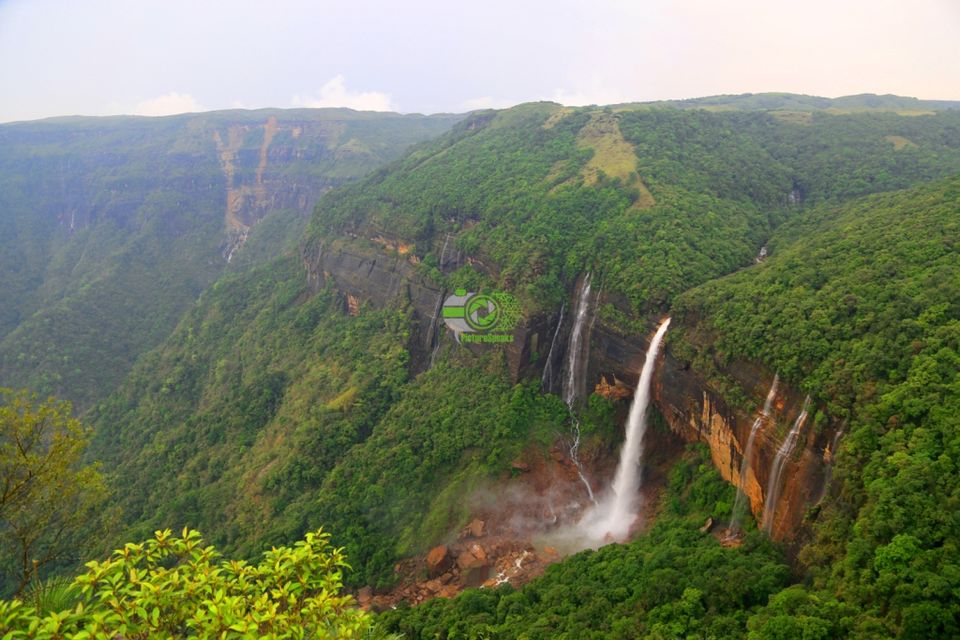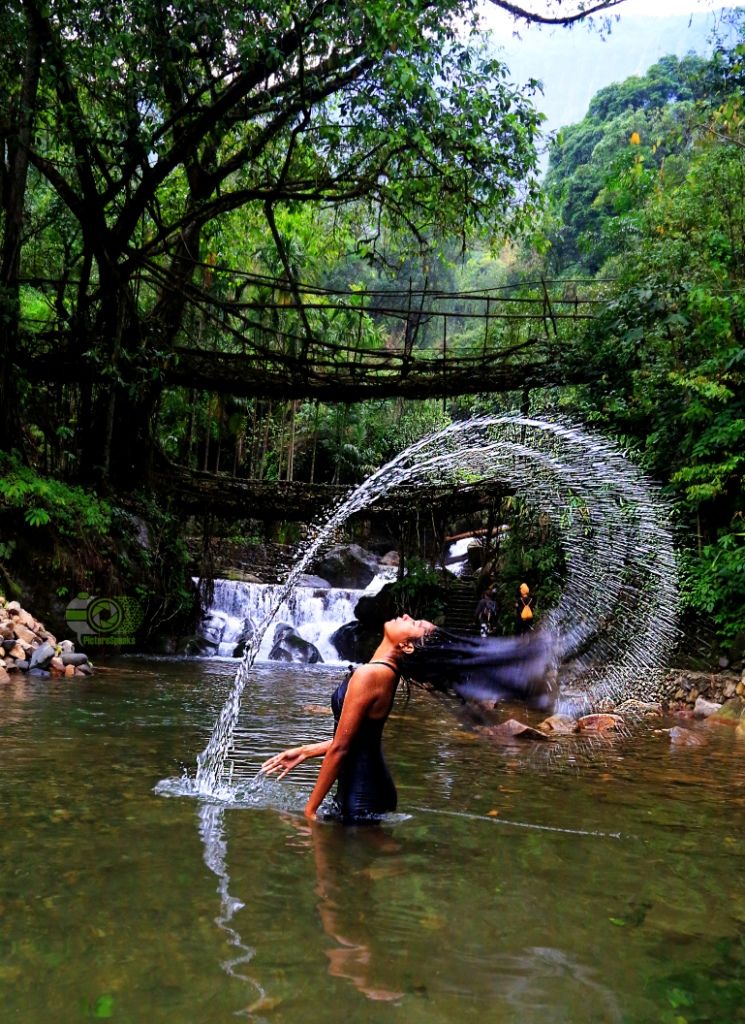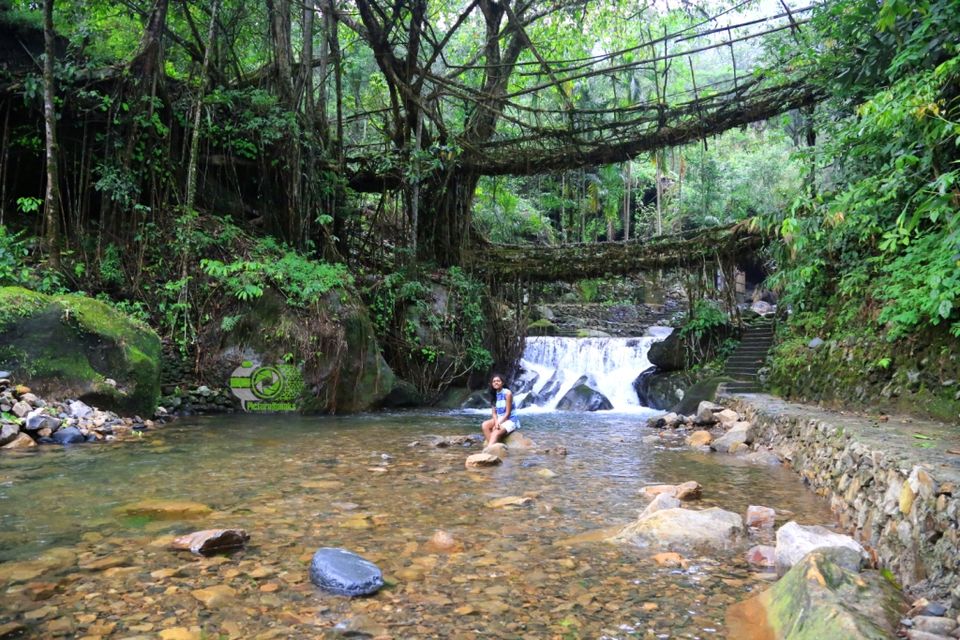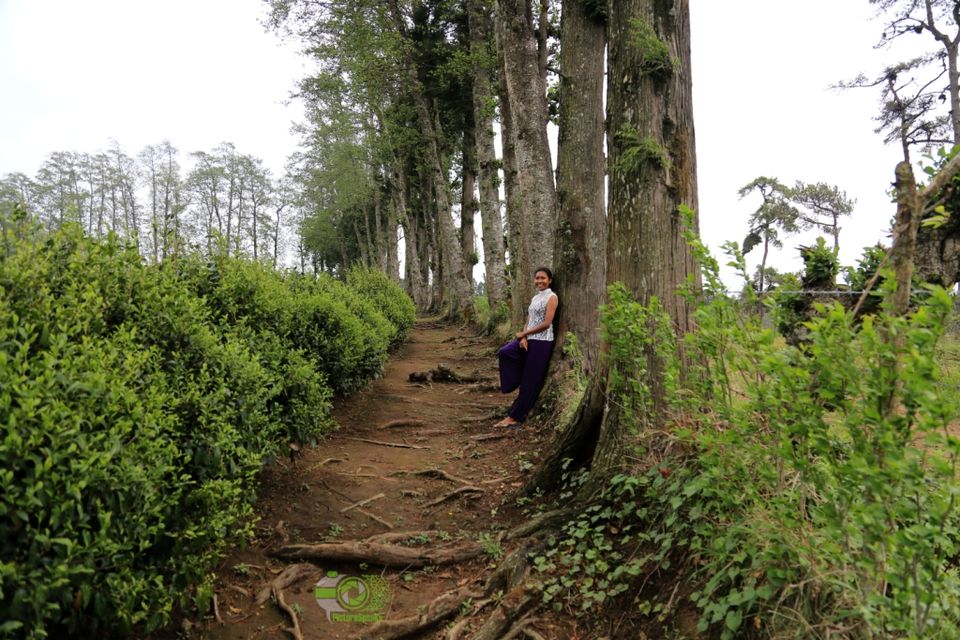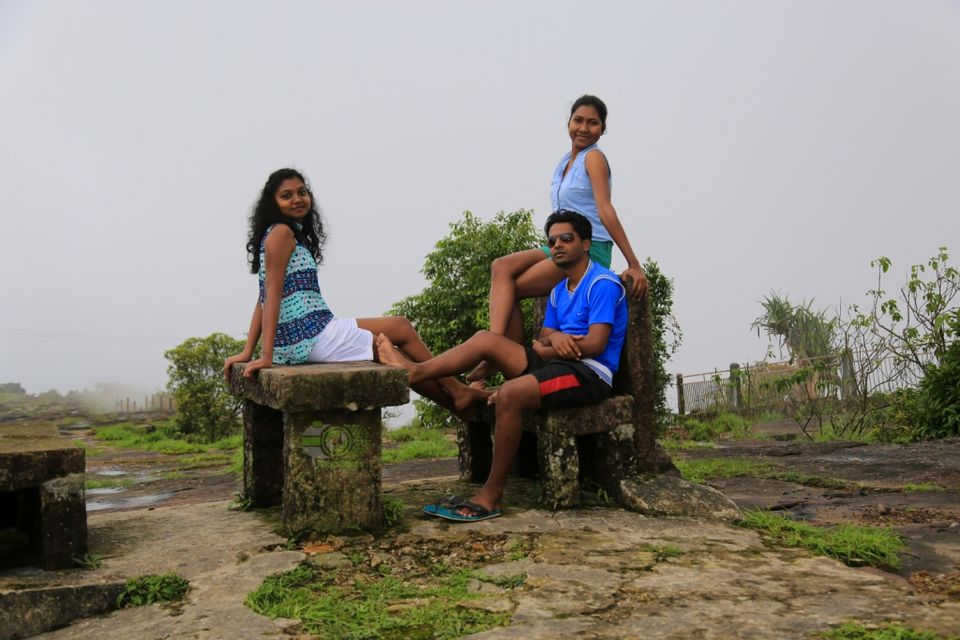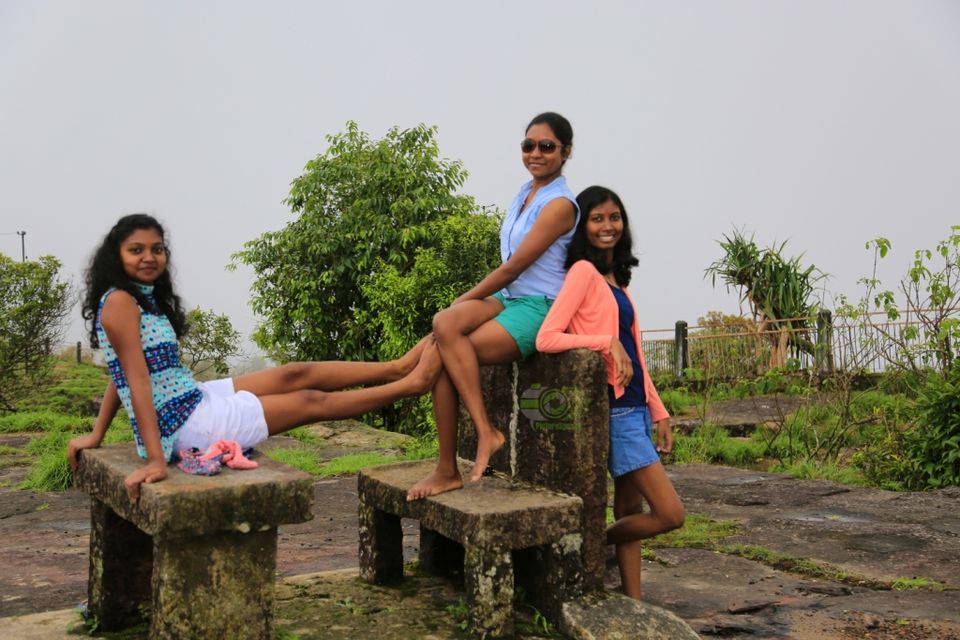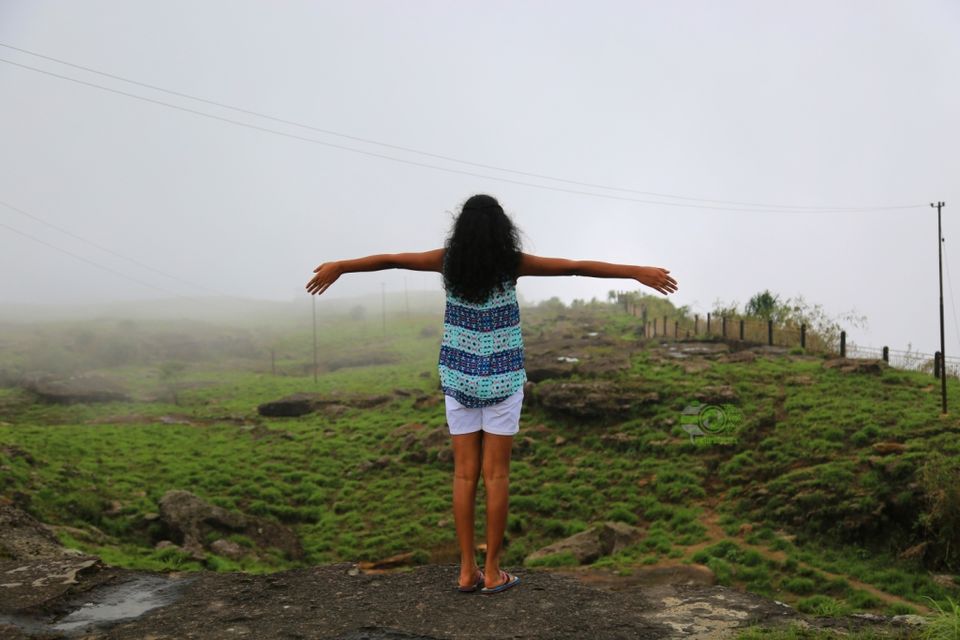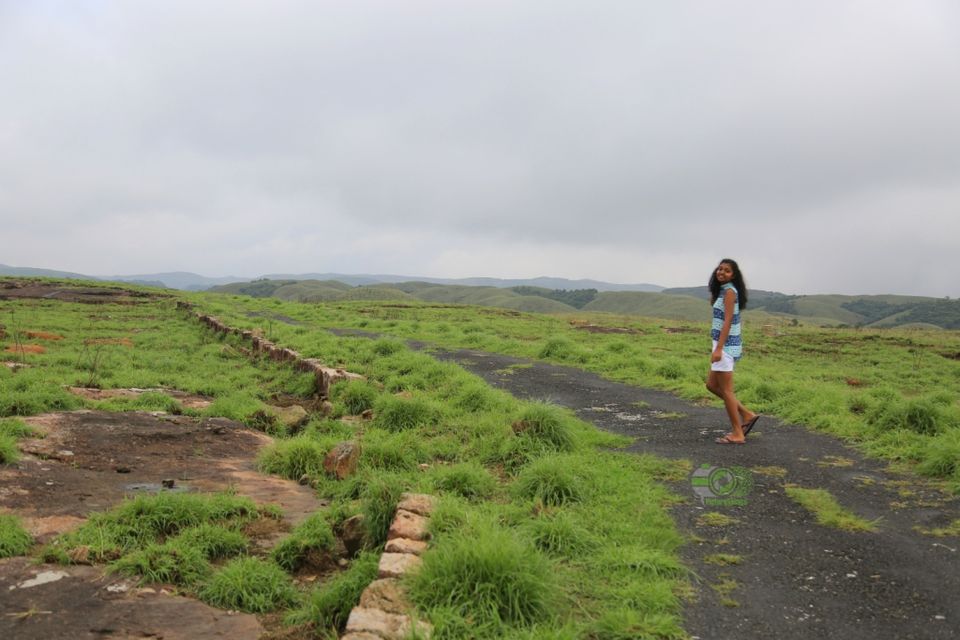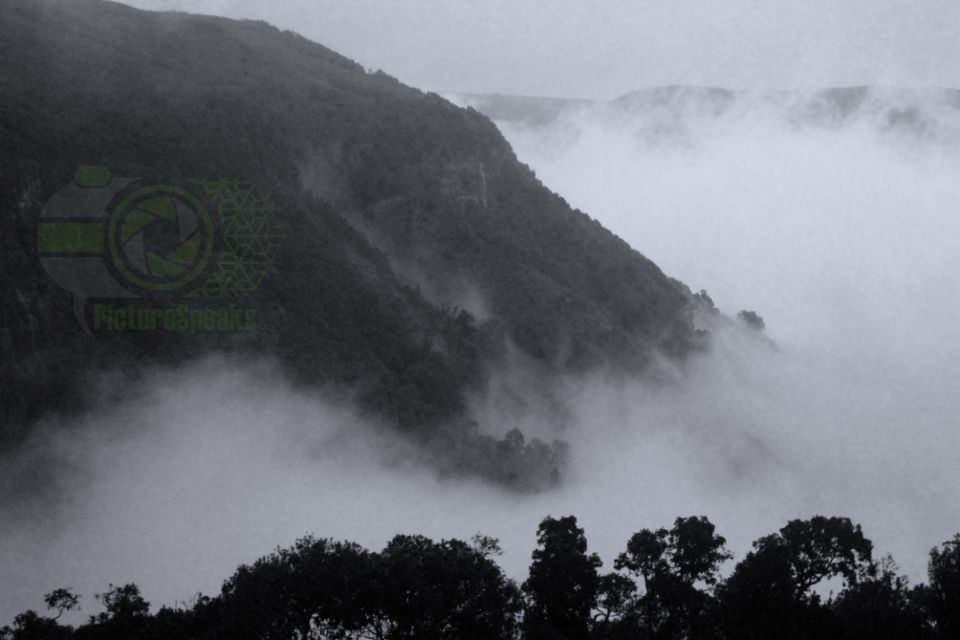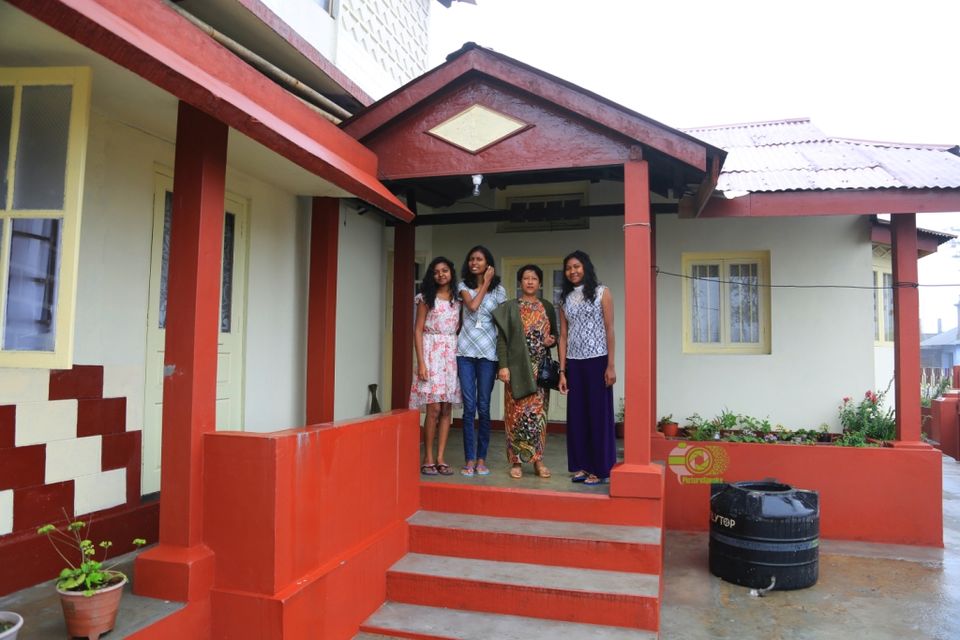 WHEN AT CHERRAPUNJI: CHAPTER 2
Day 3: Left from Mawlynnong.
We stopped at places nowhere marked in the maps and walked on paths unknown. It was 1:00 pm we reached Cherrapunji, we entered the Sohra market area and started looking for a home-stay. As we were traveling without an itenary we had no rooms booked in advance. But we were lucky enough we hardly went 100 meters uphill from the market we saw a signboard which read 'Pateng Homestay'. The place looked kind of appealing as it was all cloudy when we reached, we got down called at the number given on the board and were hoping to get a room here. Well this was the place the door opened and an old lady welcomed us with a warm smile saying 'yes, we have a room'. She told us we were the first customer after they opened in this New Year. Got a room at Rs. 1000 per night. It was a very comfortable and well furnished; it had cupboard, coat hanger, chairs and all the requirements.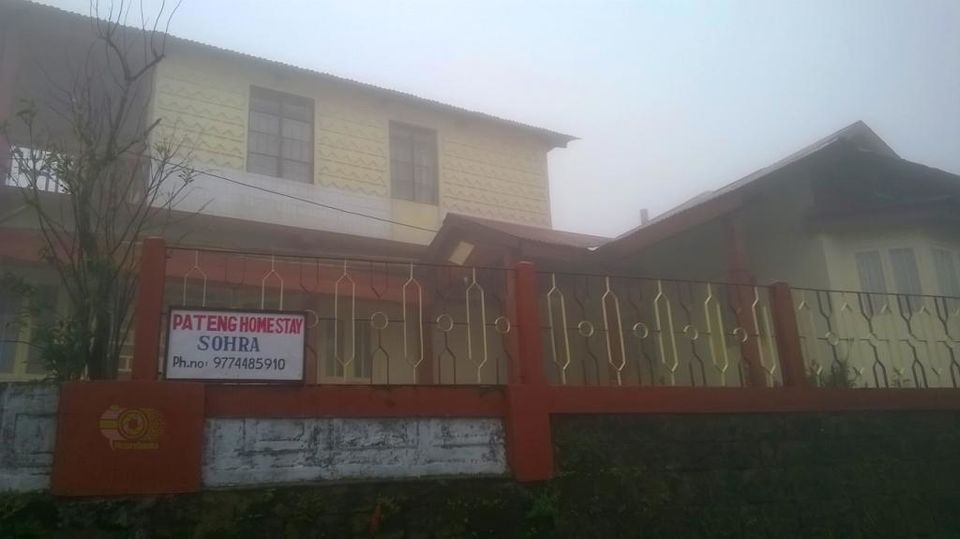 We got fresh and went to a nearby restaurant, waiting for the food to be served; as soon as I moved the curtain and peeped out of the window what I saw was again mystically magical. We had no idea there was a waterfalls amidst the clouds and it was the famous Nohsngithiang Falls also known as seven sisters' falls. With the excitement to see this falls from the viewpoint we finished our lunch and rushed to the viewpoint. The only thing we missed was the unpredictable weather. As soon as we went down to the viewpoint it started raining heavily we could hardly capture few pictures and due to wind and rain we were all wet, so we went back to our nest. It was not even an hour when the rain stopped and I could see the falls right from the window of the room, what a magnificent sight. So again we planned to go to the viewpoint which was just 10 minutes downhill. All geared up with camera and umbrella we went down. I sat down at the steps made at the viewpoint whereas my friends were all busy clicking and posing. Oh what a pleasant feeling, it seemed that my entire burden was gone and I had a blank look at the scene. I was simply praising and thanking for this day.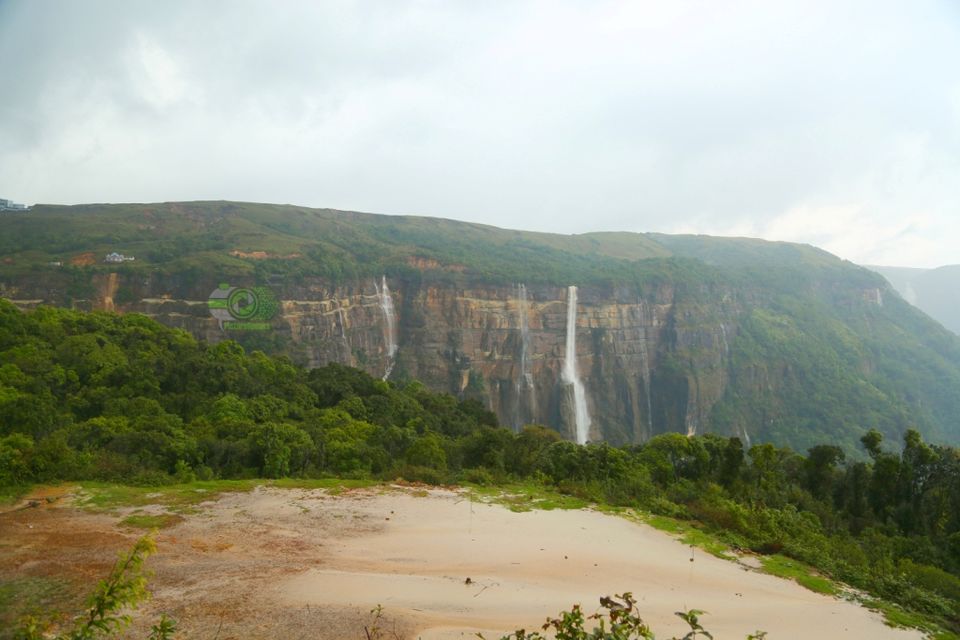 That hidden waterfall
This falls has a height of 315 meters and its considered to be one of the tallest waterfalls in India above all it was marvelous.
Time-lapse at Seven Sisters waterfalls.
It rained and the view was clear; soon we could see the white smoke like clouds coming up from the forests down and from the corners of the undulating cliffs. This was a very amusing phenomenon of rising of the clouds and pouring down. Each time it rained the water fall would be more prominent. I enjoyed watching this whole scene for me it was a movie with no editing and no cinematography and no animation. Yes this is the real movie; the real art and real game of hide and seek.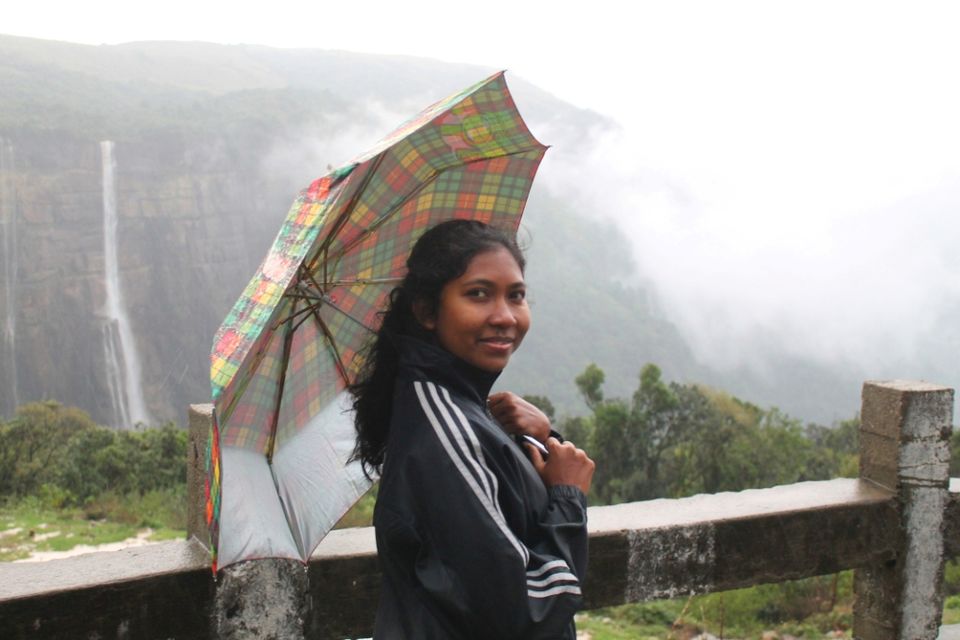 When the sun goes down and the clouds rise up, with rain to pour down and lift my heart with hope.
It started getting dark and we went back to the home-stay. Just to mention by 5:30 pm it gets dark. Back to room and heard the old lady we called 'dadi' calling us and we were all delighted to see the small 'angithi' , the traditional brazier ready for us. We sat there talking and discussing about the day and warming ourselves. The caretakers in the home-stay were all very friendly and even the owner was simply awesome. We were also provided with a room heater which was all we could wish for after this cold and wet day.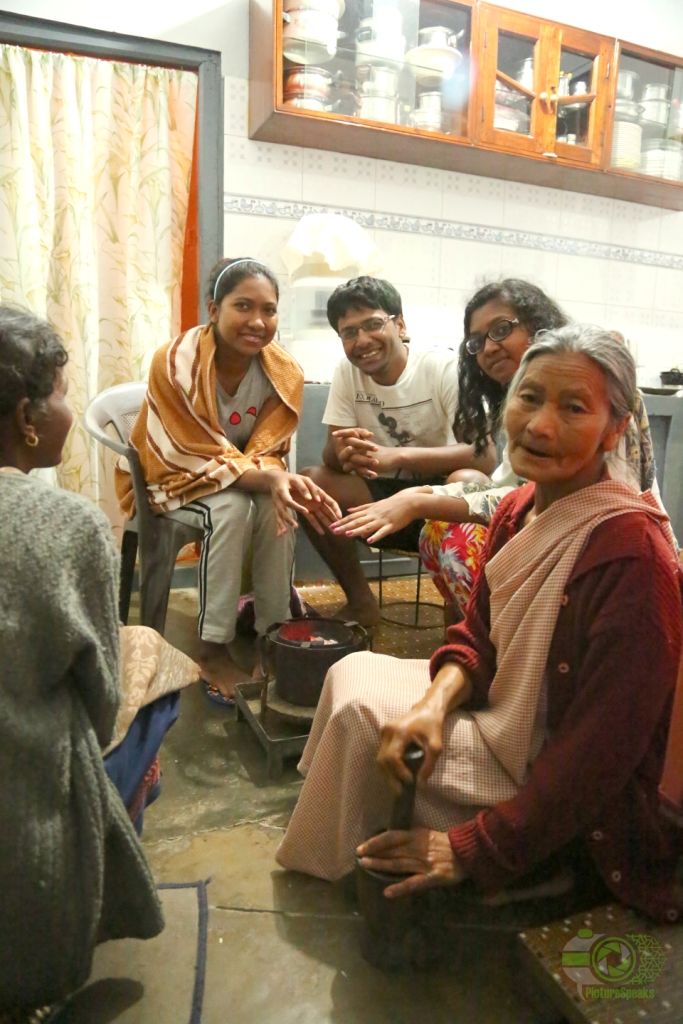 We called her 'dadi' she has been so caring.
Day 4: WHEN AT CHERRAPUNJI
Another resplendent morning full of joy. Woke up at 5:00 am and sat near the window which was covered with dew drops and I tried to replicate the scenario in front of the window. The entire town was covered with clouds as I walked on the small courtyard and soon it rained; here it was the clear sky and the mighty hills surrounding the town. I stood on the steps near the fence from here I could see the Nohsngithiang Falls, I could never dream of such a beautiful house and in such a perfect location. I enjoyed every moment there, the clouds flying by seemed like rushing for the class. I wish I could capture it all but few moments are to be lived, to be lost. My friends were still sleeping after a soaked day. By 8:30 am our driver was at the door and we were filling up in the breakfast table. We made our so called plan on the dining table; first we would go to the Nohkalikai waterfalls and then to the Double Decker Living root bridge.
So we reached Nohkalikai falls at around 10:30 -11:00 am. We again bumped into the clouds and many of the tourists were returning from the view point as it was all covered with clouds , but we stood there and could see nothing. Without losing hope we went around the place for some time and again stood near to railing with a hope to see the very famous Nohkalinai falls. Our hope was not a waste and our prayers were not unheard, soon the clouds were clear and the sun slowly peeped out of the clouds. Now what we were seeing was 340 meters high falls and beaming water and woods.
A mesmerizing sight
We stood silently and watched the entire row of hills full of lush green forests. What made these hills unique was the small and big waterfalls and streams or may be river (as we were too far to realize how big would be those water bodies)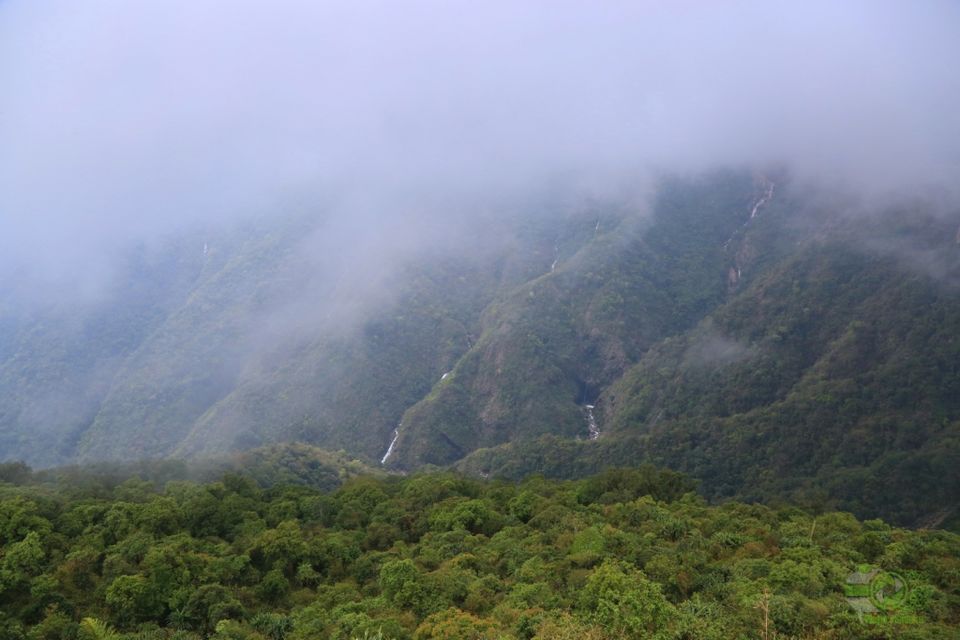 Far off and appealing
We spent a quality time here moving around as the clouds would come and go. I enjoyed the walk in the misty clouds which would come flying toward me to just give a little hug and twirl around and make me cold. Instead of just watching the falls I would suggest the travelers to go around this entire viewpoint.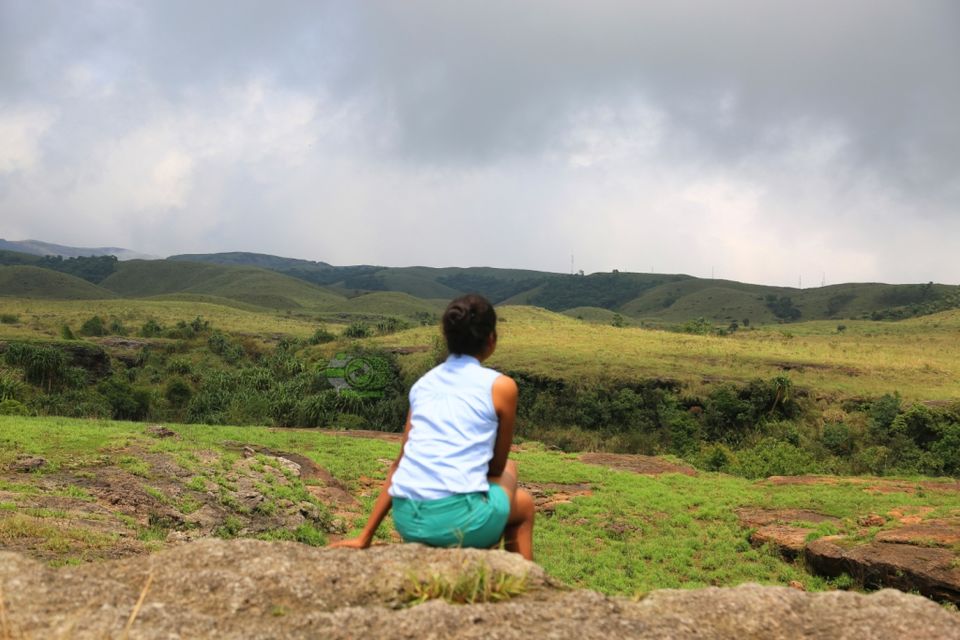 As far as I could see I saw my favorite color
A wonder of nature. The undulating hills and the lush green forest covering it. This waterfalls is a wonder of nature.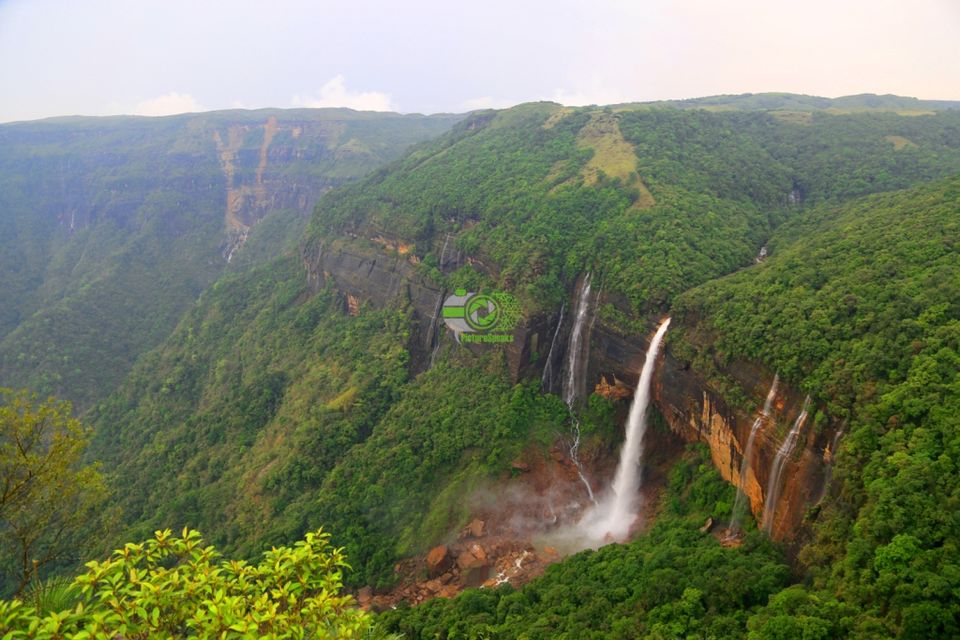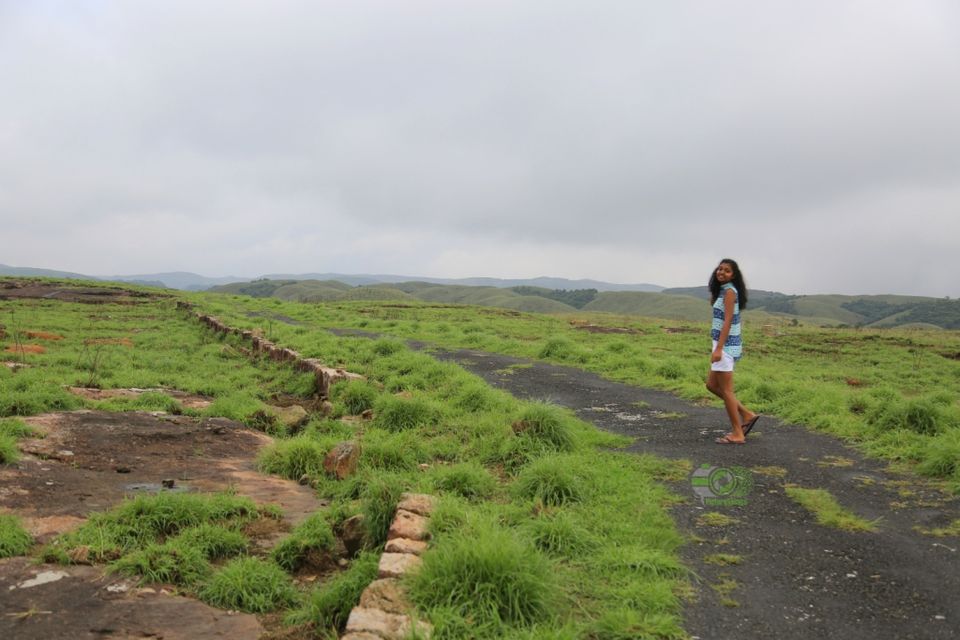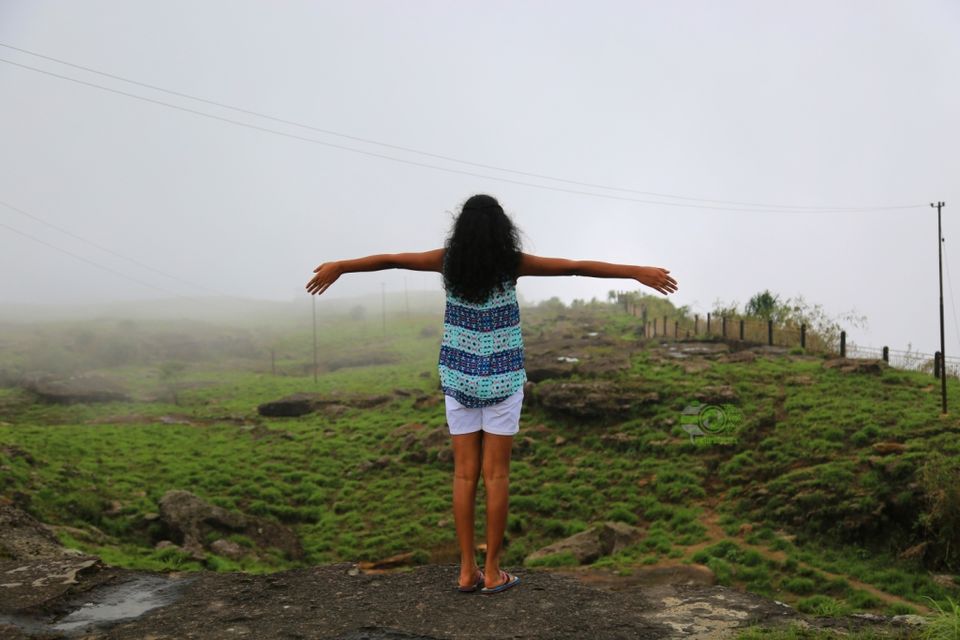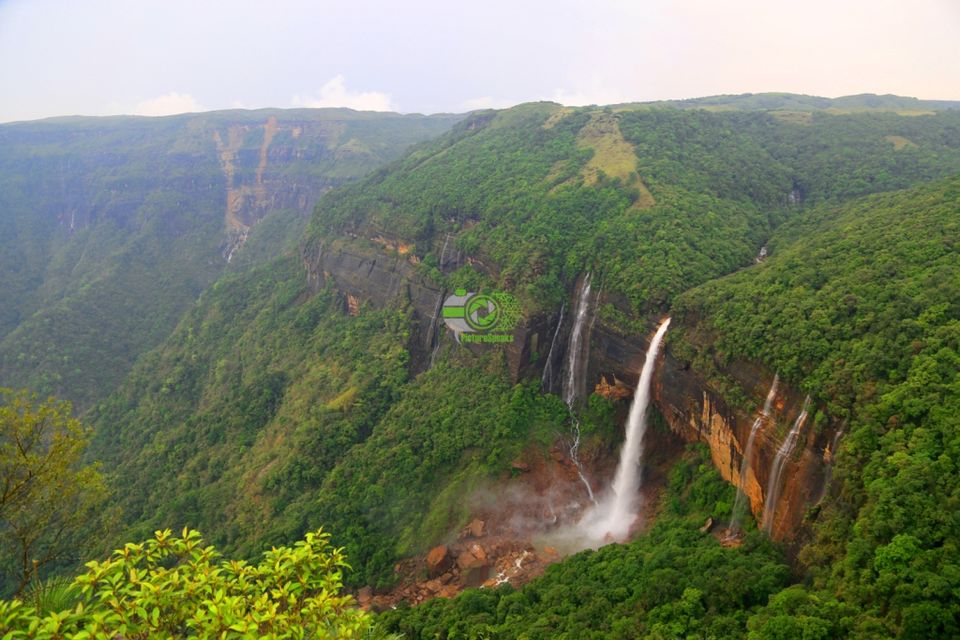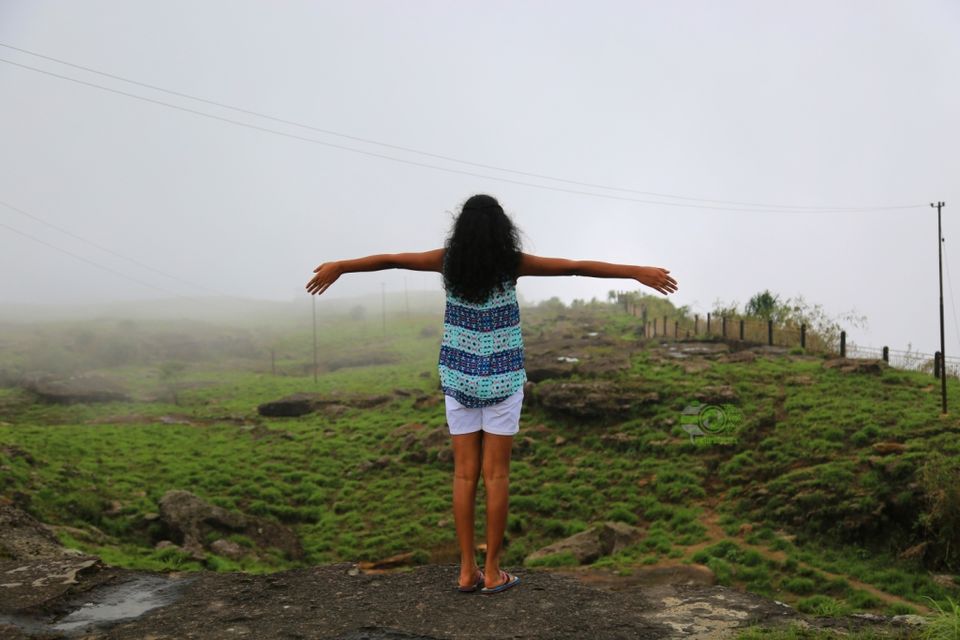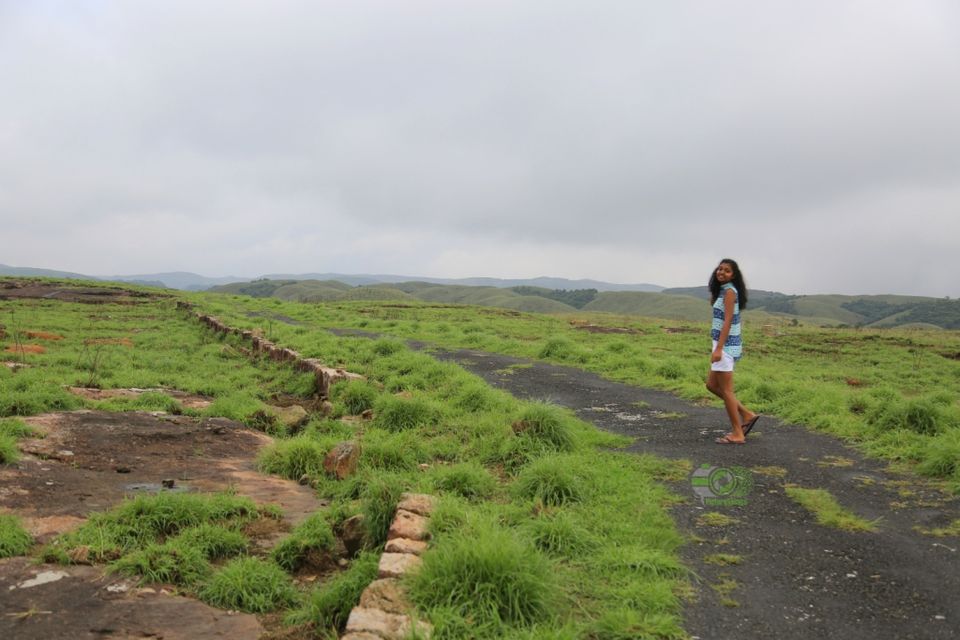 We enjoyed the stroll there in the clouds , at times it would be sunny and soon the entire place would be all misty. We enjoyed every road and every rock.
When you are with friends you cannot stop yourself of being stupid.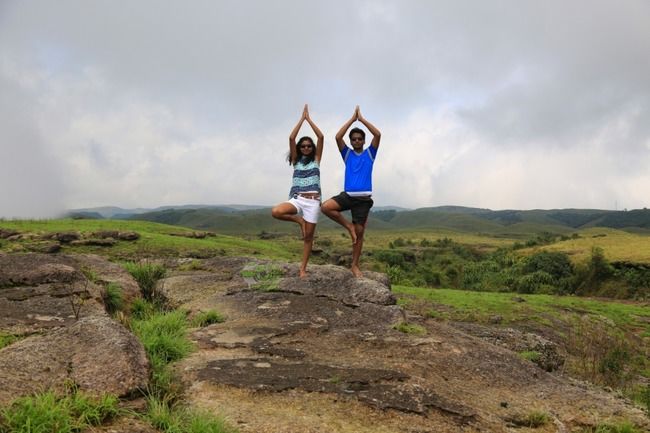 I don't know them !!!
We spent more than 2 hours here moving around and now we had to rush to the another amazing destination, the Double Decker Living Root Bridge which is 'unique in the world'.
As we went closer to the starting point of the trek on the way at every few hundred meters there were sign boards with beautiful quotations or one liners written. These lines were heart warming and prepared us for the very uniqueness and environment. It was after 2:00 pm we reached the Tyrna village the starting point of the trek. Even though our driver was reluctant to take us to this place but we were very much sure that we are not going to skip this one for any reason. So even when he said not to go we were in no mood to listen to him as he has been misguiding us many a times.
So we began the trek, on way we found all the tired men and exhausted girls still we were very enthusiastic to move on. A little tip, oil your legs well that will avoid any pull and keep your legs warm to help you walk long and take all the physical stress. The steps were small with almost no landings to relax, these steps were steep and small . Half an hour was fine and no pain or any difficulty but after that we started feeling th stress, at every 15 minutes one of us would say "just 15 minutes more". Mid way was a board which read : Living Root Bridge 3 minutes but this was not the place we had in our mind. We had skipped our lunch as we were already late , still we were full of energy when we commenced. For almost 40 minutes we walked down the steps non-stop and as we stopped our legs were shaky still we kept walking and paused when we saw the gushing water so white and a hanging bridge made of reinforcement steel.
Tied at both ends ,when I started walking I felt like the rope walker of the circus, I could see the river beneath my feet. Holding tight to the steel bars we crossed the bridge. This is definitely another thrilling experience , nothing but only the sound of nature, the gushing water, the rustling of the leaves, the birds chirping and visually it was way more magical and poetic. Hills surrounding us and clouds flying in patches, some rare small birds and the butterflies too, this is the unswayed beauty of nature. I just wanted to sit by the river, sleep on the rock with my feet in the clear water flowing by. The entire scene was just like a story , it seemed like the painting has come alive. I don't have words to describe what I was seeing then.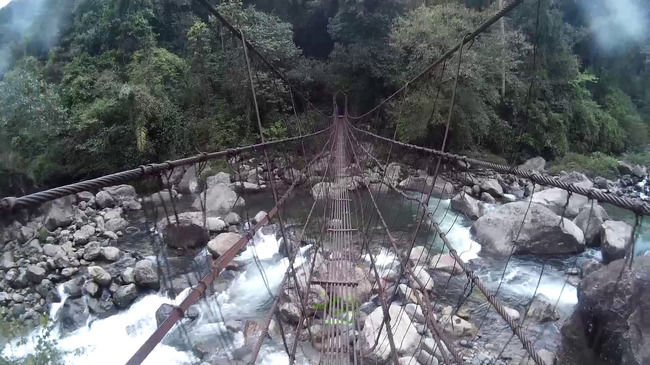 That hanging bridge of hope and thrill.
We kept walking knowing not where the narrow road would take us. We 4 kept walking and we found only a group of 4-5 people returning from the Double Decker Living Root Bridge and they were really fagged and sweaty. Our excitement level was at its peak and we knew we were way far from Tyrna village and next was another hanging bridge; this time it was in two parts with a small platform midway and first one was more of bamboo, scary yet very exciting. Crossed it, now was the uphill climb which was most tiring and BK said "more 15 minutes to go girls". And yes more 20 minutes and we were at Nongriate village, a small hut where they would serve hot Maggi and we read 'way to Double Decker Living Root Bridge'. There were few home stays and most of them sitting here were foreigners. We took exactly 1 hour and 10 minutes to reach this point. Anyways we were now hungry, thirsty and tired; we saw a lady sitting with some eateries took the banana and a bottle of lemon juice which has now fermented. Well we had no other option with one sip each we reached that mystically magical place. I stood and admired the wonder and thought 'yes this is unique'. I was now standing in front of something which has forever been at the top of my bucket list, all tiredness gone all worries flew. This was the place we had come for such a long way, this is the place we were so desperate to see and it's worthy to take a chance to see this place.
Walking on the root bridge I saw the intermingled roots of the trees and also there is railing made of the root. This is an example of extraordinary structure which has a super strength and natural awesomeness.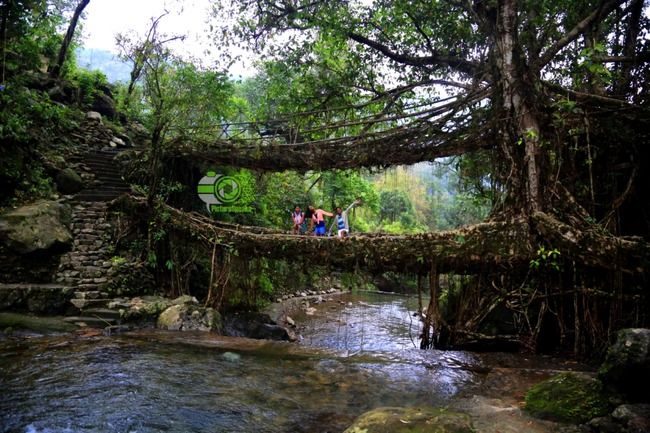 Three on the bridge
We sat near the river and felt the cool breeze and the tranquility of the place. This was not of this world away from any disturbance and any noise. A blissful place with a charming sound and heartiest delight, this place left me speechless.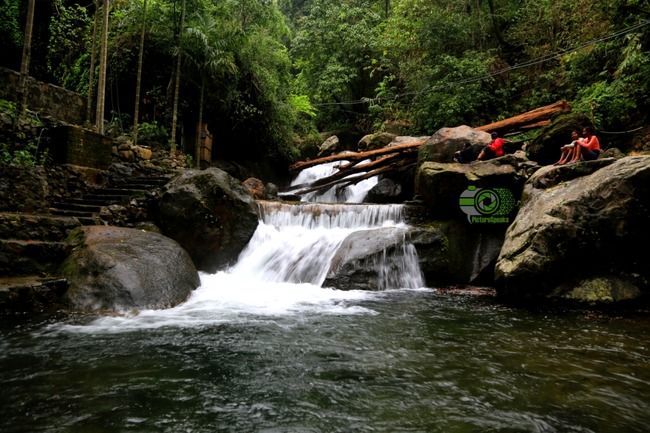 A wonderland for sure
The water was so clear and inviting, I could not resist myself to jump into it. The best thing is there is a changing room so do go with your swimming gear. I changed and even though we didn't had much time to spend as we were suppose to return before its late and dark.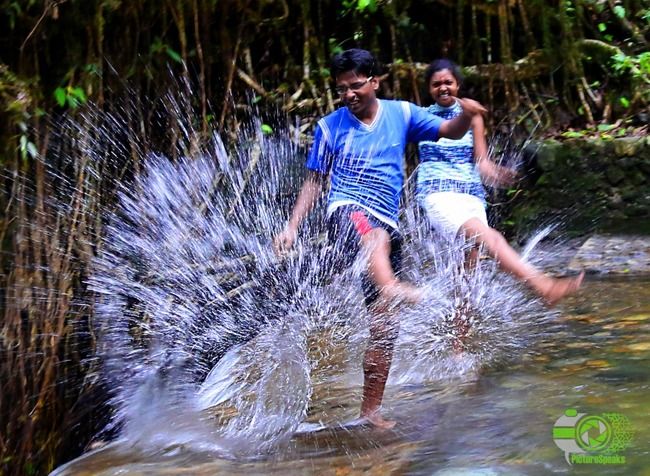 All the worries apart I was ready to get in the water, its quiet, its calm and soothingly cold.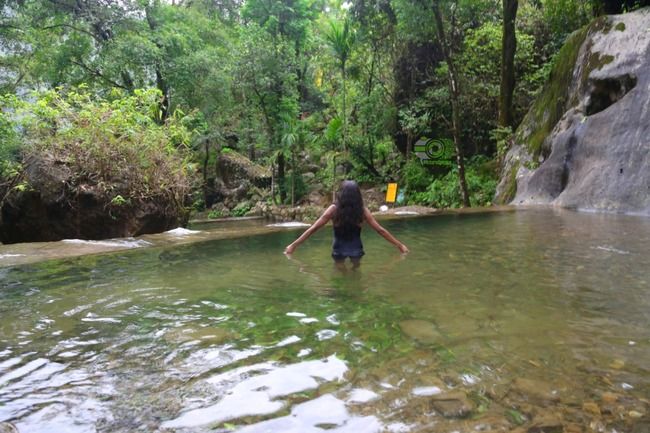 I wish I could stay back there for more but I am sure I'll come back again.
Time to go, we changed and looked for some strong stick to walk. Now we knew how far we have to walk and were mentally prepared to drain ourselves. We started at 4:50 and knew we were already late our target was to cross the hanging bridges and reach the closest village before its dark. we knew it was uphill and we will have to cross the thick woods. We kept walking , this time with more confidence and energy. On way we would sip the lemon juice though not that tasty but definitely helpful and energetic. I had been preparing for marathon since a month and this increased my endurance , without much gasping I kept climbing the steps. Somehow my energy boosted the others too, it rained a little on the way but as it was growing dark and we could not afford to stop. Holding the railing, taking the support from the stick and also the umbrella, it was too much but we knew we had a long way to go. Each time we stopped I asked my fellow trekkers to rub their thighs and calf muscles which would help them to avoid any pull and keep the muscles relaxed.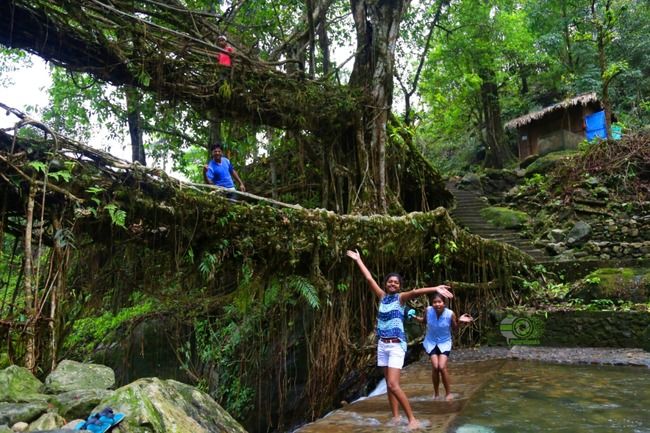 I was way up and others were exhausted I earned some time to sit and gaze at the mountains as it grew dark. The dim lights and also the smoke coming out of nowhere was the sign of existence of some settlement. The mountains are still beautiful at cloudy dusk ;its dark, its huge and yet so calm. The silhouette of these mountains and the clouds slowly covering them where a sign : 'Rush its gonna rain heavily'. We kept pushing each other, walking in two were me and Binu and behind us were the exhausted one Ankii and supporting her was BK. Now it was dark and we could follow each other with our voice it was dark it was silent and only sound we could hear was the gushing water downhill. While walking I had only one thing in my mind a little prayer of thank you and praising for this unimaginable creation and what we heard was the sweetest voice then, the church bell. Now that we could not see anything and I was leading my team , I knew we were the last ones to return, I heard the voice "didi ji, aaplog hai?",(sister, is it you?) it was our driver. Now it was sure that we were very close to the Tyrna village. What a relief and few 50 meters more and we could see the light and the huts. Full of joy and a feel of success we geared up our speed even thought we were too tired and sweating like pig we jumped like the winners.
We reached at the parking lot and saw the watch and what a timing to complete the entire trek back, it was now 6:30 pm sharp. Everyone said it taked 4-5 hours and here were , the proud lot od adventurers completing the entire trek to and fro in (1hour 10minutes +1 hour 40 minutes) 2 hours 50 minutes. Beat that! Yes it was shear enthisiasm that gave us the energy to complete this trek with such a high level of time crunch.
We were determined , we were stubborn, we were enthusiastic and yes the power packed bunch. We could not believe in what we had achieved, except for me the rest two girls have always been the lazy office people since school time but it was unbelievable to see them walking so far and completing the trek. Kudos to the team. So we left from here.
P.S.: the localite and your driver may try to mislead you regarding the parking charges. We were asked by our driver to par Rs 300 which was from nowhere logical. We handed only Rs. 40 and the villagers there took it and bid us good bye. Be aware, there is no such parking charge.
Want to visit the Double Decker Living Root Bridge, start preparing a month before, a little warm up and jogging will help to increase your endurance. Steps in the steep slope are difficult to climb while returning (uphill climb) do carry a stick.
Start your trek in first half of the day you will fetch sufficient time to spend at the destination.
Do carry your swimming gear as the place is very appealing and its difficult to resist the invitation.
This place is around 15kms from Cherrapunji town as we were driving back it started drizzling and were cold and wet as we had been sweating. We were hardly 5-7 kms away from the market place and another incident awaited. For next 10 minutes we realized we had been crossing the same junction twice or thrice. So I must say we were not the only adventure seekers and for sure even adventure seeked us always. We had a very new driver who had least idea about the roads and would not even try to cross check and this was the only bad thing in our trip. Well now that we were lost we asked people and stopped at shops on way to confirm the right path. Called on to the owner of the home stay and in next 15 minutes we were in front of the house. It had started raining heavily now and we now decided to leave the driver.
Now that we were home and angithi was ready for us, we had decided to cook chapaties ourselves. Well what a crazy lot after such a tiering trek instead of resting we were in the kitchen cooking and recalling the small incidents of the day.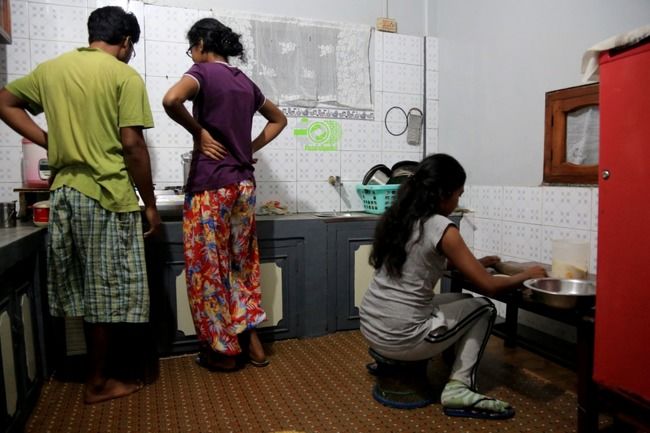 Thanks to the home stay and the lovely people to take care of us , we even experienced cooking which was again gratifying. After dinner I had a duty to put oil and give each of them a little massage to relax and have a good sleep. Thanks to my athletic time I had been trained well.
Off we went to sleep in our warm beds.
Day 5: SHILLONG
Another cloudy morning and I woke up at 6:00 am went out stood at the railing enjoying my last day at Cherrapunji. I so wanted to stay back, it was cold and cloudy. I could smell the clouds and I could feel the droplets on my cheeks. Standing there watching the hills and waterfall, I thought my trip to this dream destination is now at its end. Rain has been my love and this place is perfect, romancing with the rain will be in my heart forever. Green is my favorite color, all the way from my state this is the only state I have come across that I have fallen for the greens and the glories here. It's a wonderland, its my dream land. I'm no Cindrella or Rapenzell , its simply me a nature lover and a peace seeker.
So time to leave this lovely home away from home, a real home stay and very caring people. We are grateful to you and appreciate your hospitality. Thank you for bearing with us. :)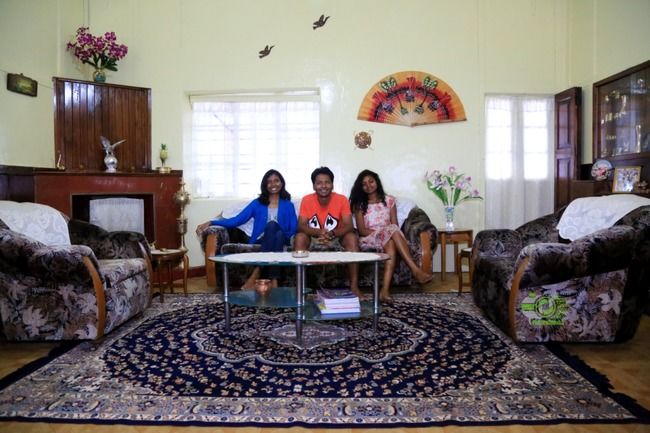 Time to head back to Shillong, we hired a cab from Sohra and had a deal to stop by at few places. Again we stopped at places un-named and made our own viewpoints.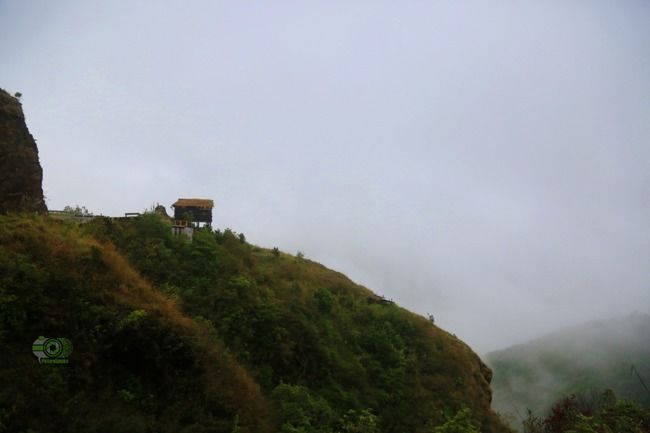 Alone I stand and I stand strong
After a very merryful journey we entered Shillong and there was a rise in temperature and it was a pleasant weather here. On way we visited Meghalaya's Organic Tea Garden. Pretty good in size and a nice place to spent some time.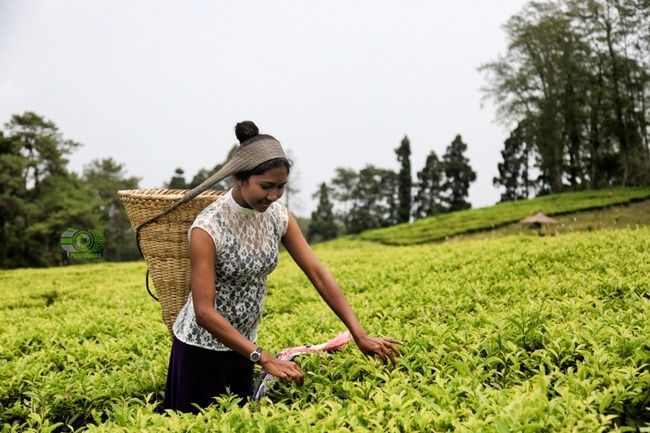 Our trip ended with shopping, eating, strolling, chatting and recalling every joyful and thrilling moments over a cup of coffee.So here we were sitting and enjoying our cappuccino with chocolate syrup and said "All's well that ends well".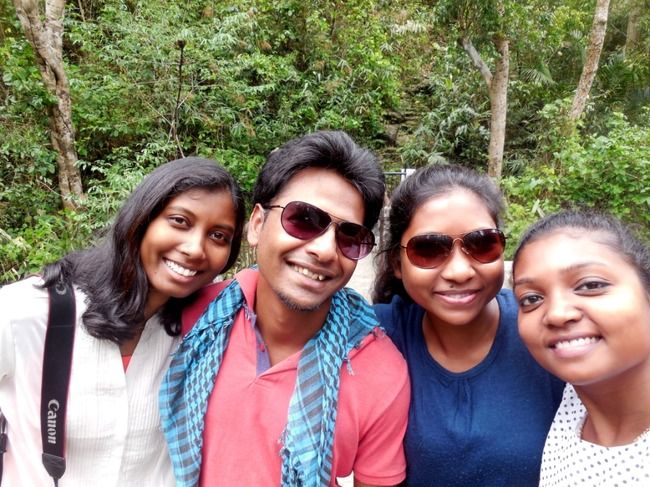 The Green Travelers
Picture Credit:Bikram Khalkho
Visit his page @ https://www.facebook.com/picturespeaks/
A perfect place to stay. Very comfortable and provides very good facilities. The care taker is way too charming and friendly .Hospitality 10/10. Location 11/10. Every morning when I peeped out of the window I would see the clouds flying by and soon it would rain, the view after that is mesmerizing I could see the Nohsngithiang Falls just in front.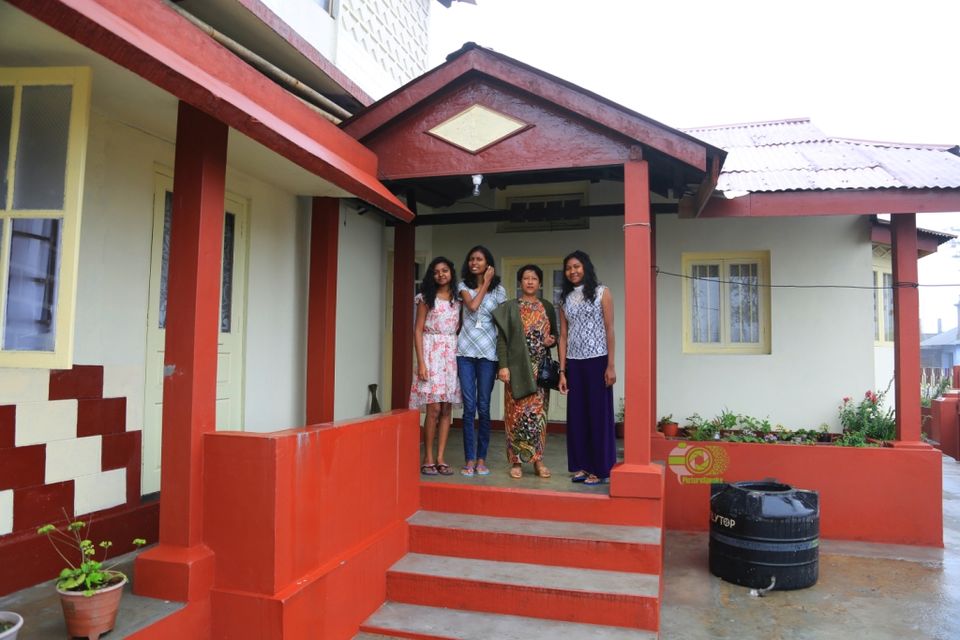 This place needs one complete day. For the adventure seekers don't miss it. A mystically magical place. Though far and tough to reach but its worth visiting.