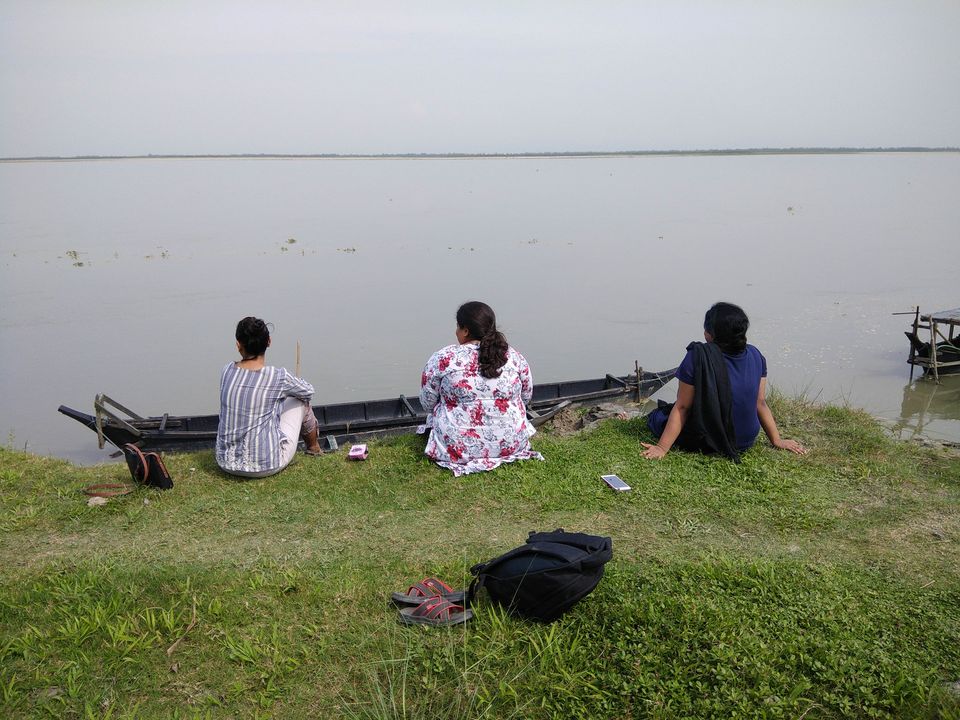 To be at a place where you don't seem to belong, is hard to live, sustain, thrive and altogether difficult to call it a 'home'. But life has its own set of gamble, surprises and chances that give you a choice and then you must grab that chance without giving a single thought. This is what exactly I did and damn, what we experienced in the next 16 days is nothing less than a dream travel that anyone can desire for :-)

It all began with a friend coming to our office, our small conversations turned directed to the places we can visit- and then for the first time I saw the pictures of Majuli- the largest river island located in Assam, the rest was simply a chain reaction. Another friend of mine had some acquaintances there, so they told us we might be interested in visiting Guwahati, Shillong and if time permits then Bhutan. In no time, our basic travel plan included three of us, with around 3 major destinations, around 12 halts over a span of 16 days was designed. I say so, because the making of basic plan took a lot of brain activity from many people but when we actually hit on the road, we were all by ourselves uninhibited, inquisitive, and explorers.
For our first destination Majuli, we boarded flight from New Delhi to Guwahati (there are direct flights to Jorhat too- but they are costly so we preferred the above option). Since our bus from Guwahati to Jorhat was in night, we thought to just relax and roam around the city. As the evening proceeded, we sat near Brahmaputra to absorb the bliss and serenity of the river. We them boarded Brahmaputra cruise, which didn't had lot of people, the weather was pleasant, river and nature brought insane peace amidst the hustle bustle of the city. The joy was enamored by the music band playing some old Bollywood melodies, local music and ending with a birthday song for me.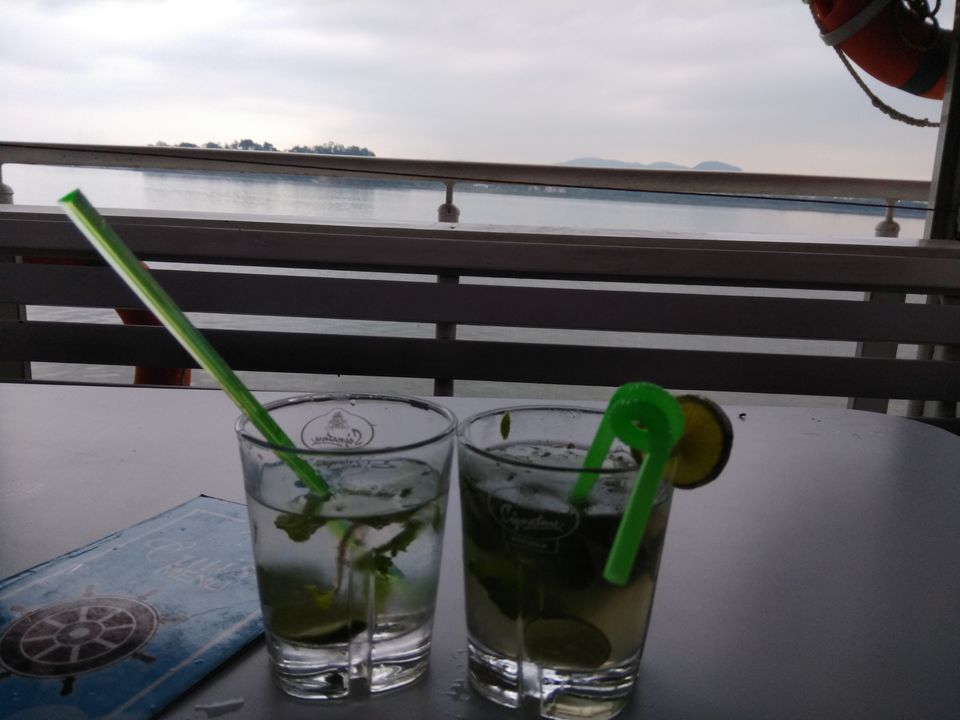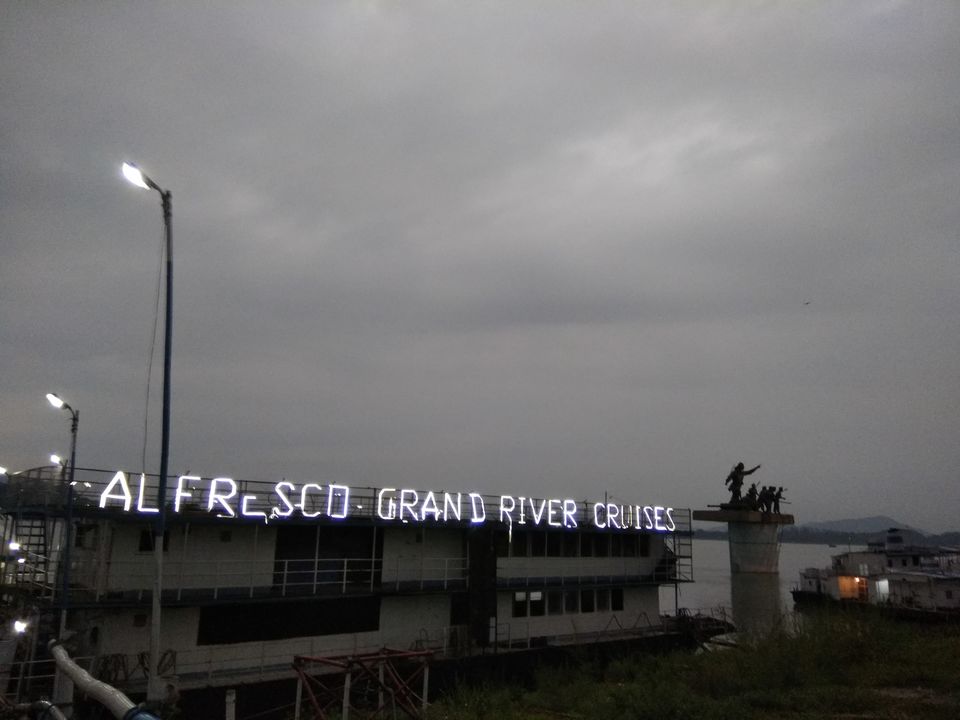 It took us almost 2 hours to reach Guwahati ISBT via Auto, since there was strike by cabs. Trust me, it's painful to travel in these autos which are ridiculously small, but are like closeted prisons guarded by both ends that can lead you to death by suffocation. Thankfully we survived. I must say the ISBT is clean and well maintained. There is an amazing canteen cum restaurant on the 1st floor which serves delicious meals, where we had a quick dinner and then boarded the bus to Jorhat (it's preferable to book beforehand).
When I woke up still in the bus, I was devoured by a view that I never imagined I could witness. It was around 5 in the morning, cool breeze was blowing, the fragrance of soil after rains sending sensations and the nature in front of my eyes was no less than a magic! I was dumbfounded, awestruck and amazed. It took us another 2 hours to reach Jorhat and I wanted to capture every moment of this journey in my soul. The only way to reach Majuli is ferry, so we sat in the shared auto (again painfully occupied by the passengers more than its capacity) to reach the shore. And if the beauty that I witnessed in early morning wasn't enough to entice me the shore left me spellbound. Oh god! If I had to die here, I would have actually no regrets- funny this is exactly what I thought at that moment.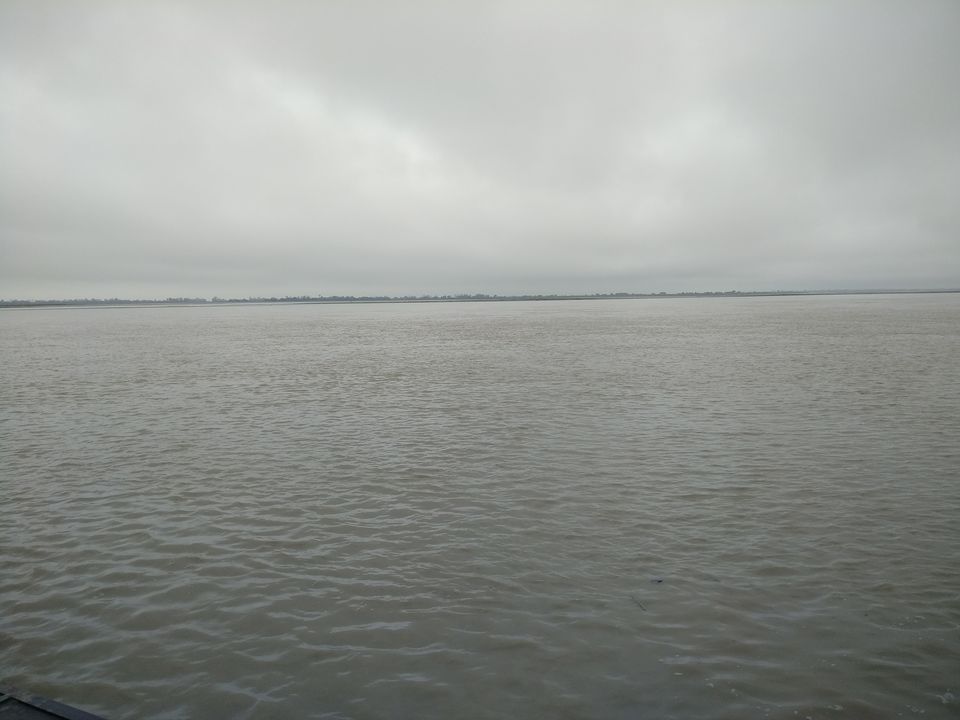 This was the first time, we were traveling by ferry, it was actually weird, because it was not only carrying passengers but cars, bikes, even tractor- there was this small canteen where you can have snacks and red tea. After about 2 hours we finally reached Majuli- the freshness, coolness and calmness of the place welcomed us with open arms. We took a car (that's the most used vehicle here) and reached our dorm in Kalamwadi (one of our friends who work here had booked a room for us- costing about 100/bed/per night). The location was needless to say very beautiful located in an isolated area with farms in front and few houses here and there. Extremely tired of traveling for 2 days- we thought to just rest and relax.
The whole idea behind this journey was to reconnect to ourselves, to the nature, to our souls which are thrashed by the harsh winds of city life, to be just away from the crowd and be with ourselves. All three of us were on the same page, we knew when one wants to talk, wants to roam or just want to enjoy being alone so it worked beautifully in giving each other the much needed space. Another aspect of the travel was not to just visit the famous places, click pictures but actually know and connect to the place in terms of the local culture, traditions and ideas of existing lives here. So, the next day, we visited a local craft house which is famous for making masks which are used for traditional, cultural and religious plays.
We learnt hand beaten pottery while visiting one of the houses in a village in Majuli. Sometimes it's soulful to hear nothing but the silent waves of water touching the stones at the shore and returning back to where they belong.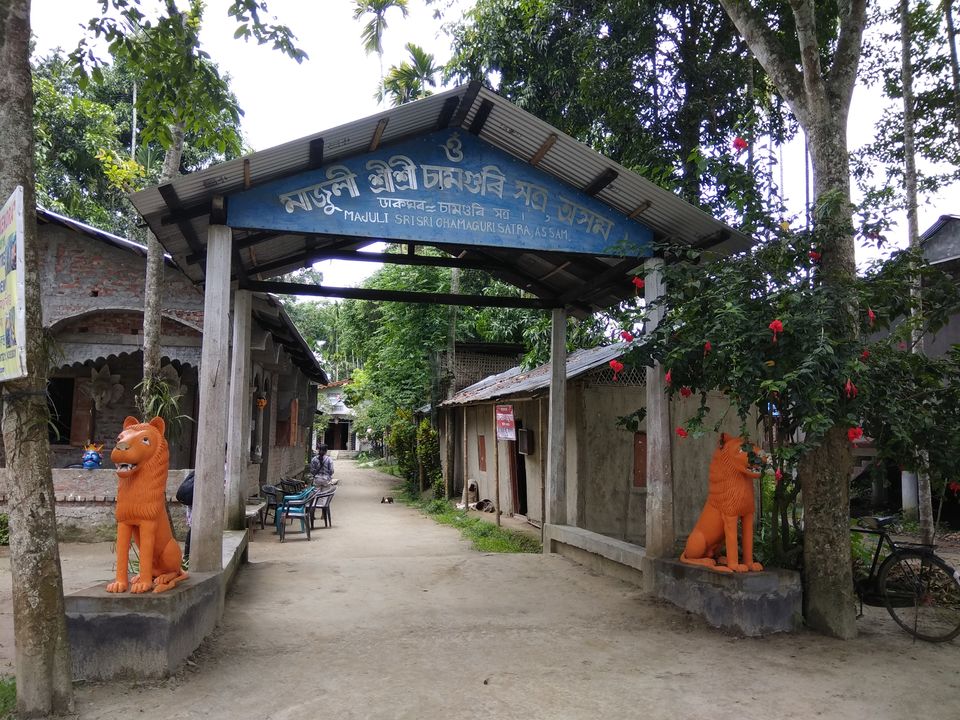 After spending the entire day exploring the different villages and river shores we eventually retired to our dorms basking in the silence and warmth of the place. After spending one and half a day in Majuli, we took ferry at 3 PM (this is the last ferry that runs to Jorhat) since we had an overnight bus to Guwahati.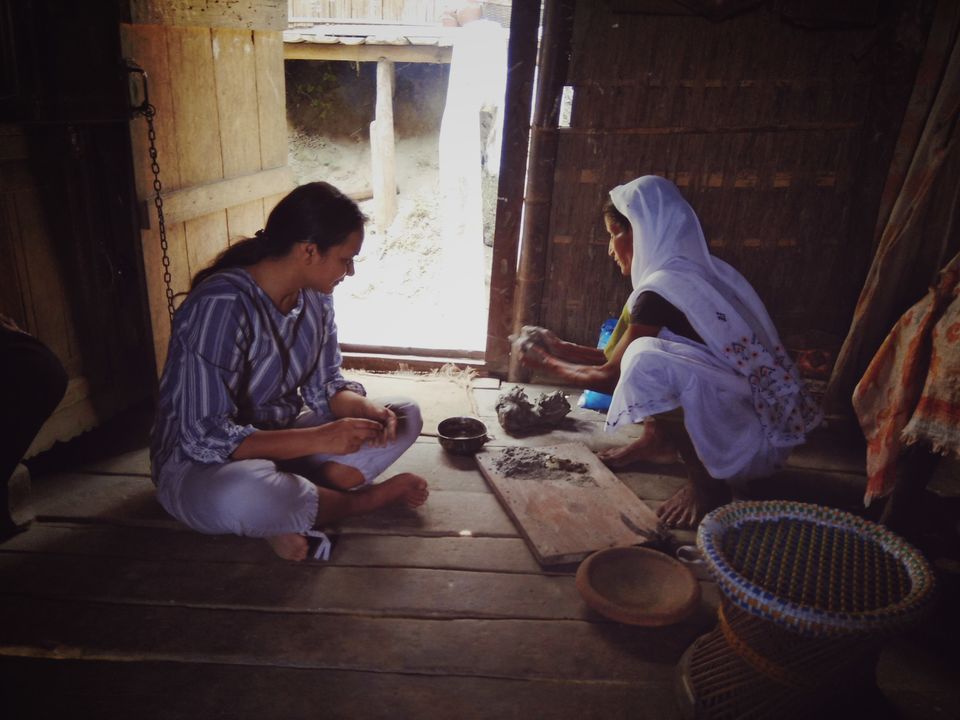 Time for our second destination: There are only 2 private buses from Guwahati ISBT to Shillong – one in early morning around 6 am and other in the afternoon, since we were waiting to meet our friend, we missed the morning Bus. So we took cab to Khanapara from where we had two options- one to take shared sumo where the cost/person was Rs. 300 and other was to hire cab to Shillong for Rs. 1200. Fortunately we hired a cab which already had one passenger hence we got the same deal with much comfort. The journey from Khanapara to Shillong Police Bazaar was beautiful with scenic delights- the road, the pleasant climate, nature followed by rains.
We stopped for a while at Umium Lake (Bara Pani) before reaching our destination. Besides being a place of great scenic beauty, the Barapani Lake is a popular water sport hub and has great adventure facilities. We didn't book a hotel for our stay, the assumption that we might get a better deal or finding a homestay bit us hard on reaching Shillong bazaar which against our expectations was hugely crowded and looked extremely touristic.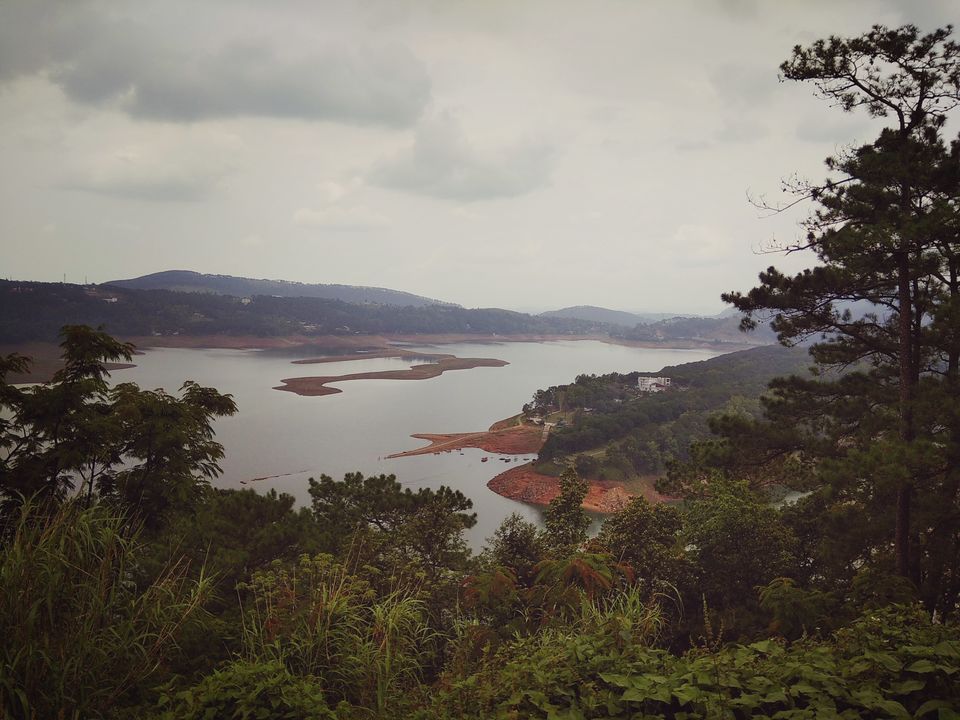 To say we were disappointed was a huge understatement. However we were extremely tired from our overnight and morning travel, so we settled for an average hotel (we had to shift our room and budget too). After relaxing for a while, we thought to explore the place and look for cab for our next day travel. It was then we saw this ever inviting and enchanting café "Grove eatery" – a soothing place indeed.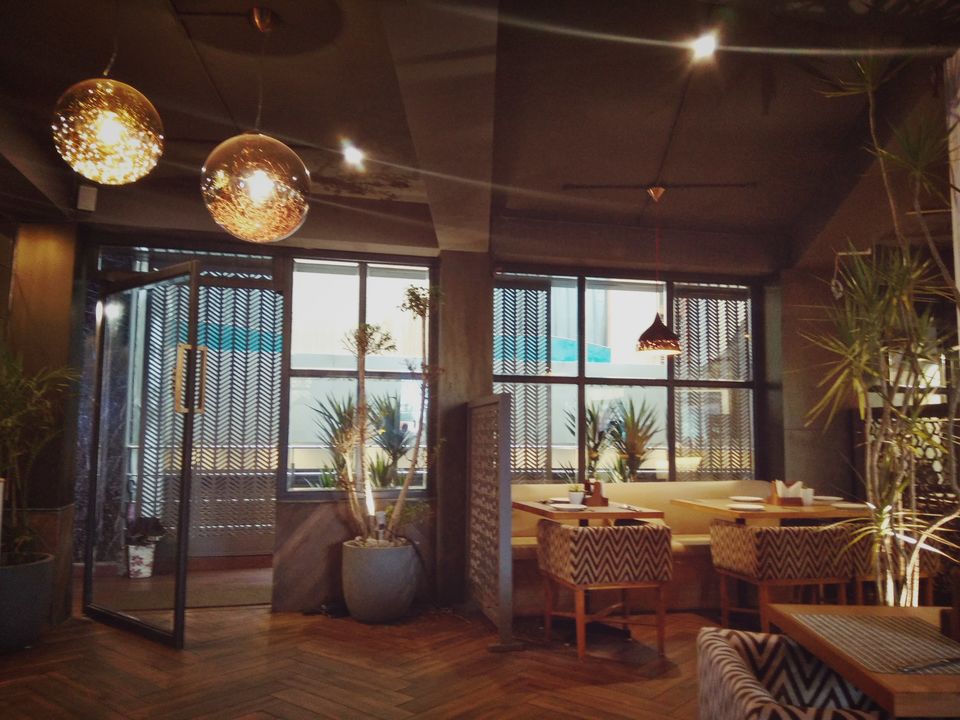 While looking for cabs, two of us went to a travel agency that was located on the main road and another one went on to enquiring the cab drivers who had parked their vehicles alongside the road (one of the most annoying part of the: Police Bazaar- you would find cabs parked on both sides of the road causing traffic jam and making it difficult for people to walk around). To our good fortune, we got a good deal with the cab driver who was native of Khasi Hills assuring us to show all the places in Shillong within our budget.
Day 1 of our journey to explore Shillong began with 'Ka Kshaid Lai Pateng Khohsiew' popularly known as Elephant Falls which is about 12 kms from the main city.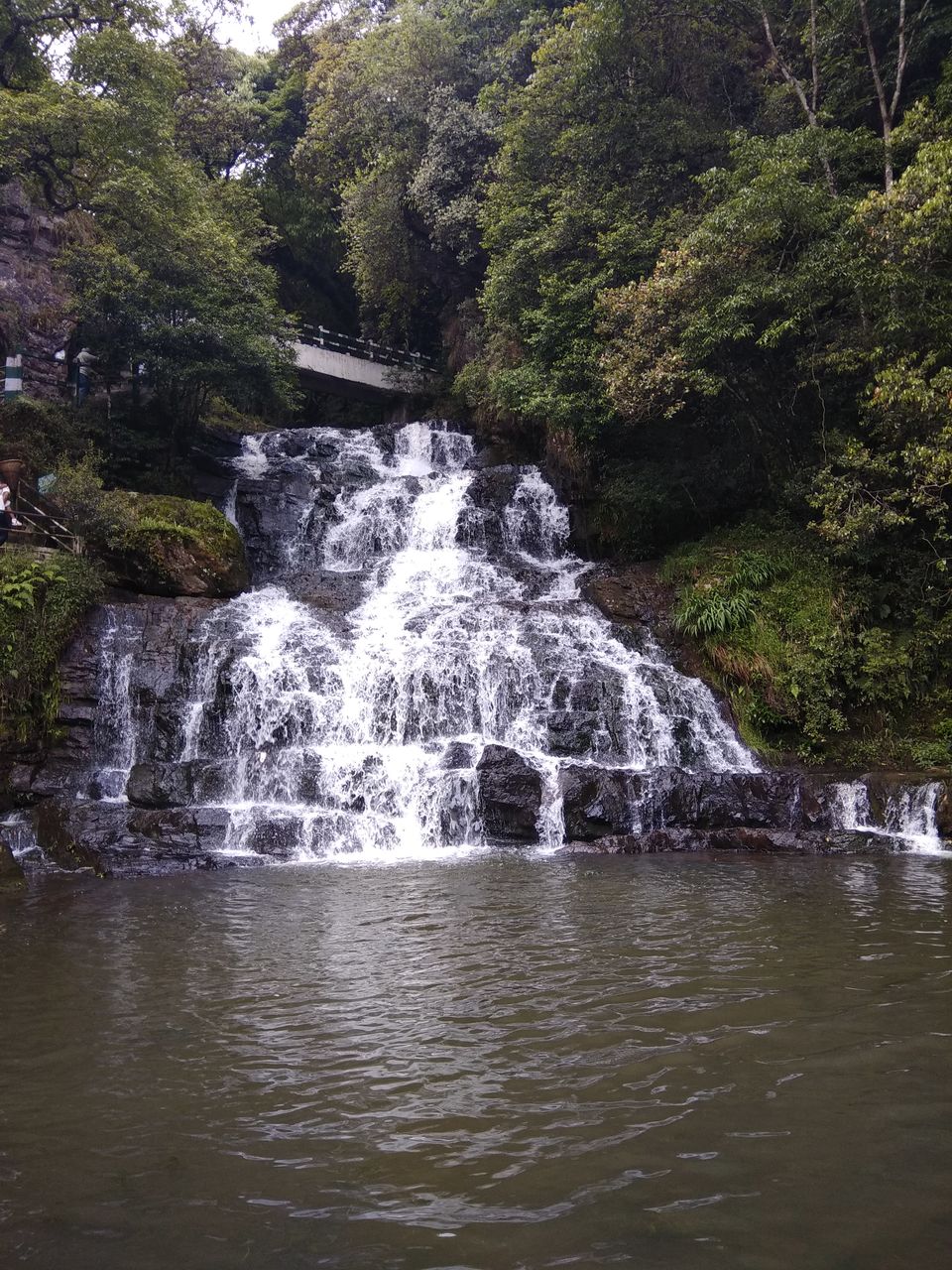 We stopped for a while to devour into the scenic beauty Mawkdok Dympep Valley View / Duwan Sing Syiem Bridge, located at the very start of Sohra tourist circuit. Here, two of my friend with nose for adventure did zip lining- trust me it's one of the best experiences of the journey and shouldn't be missed for anything.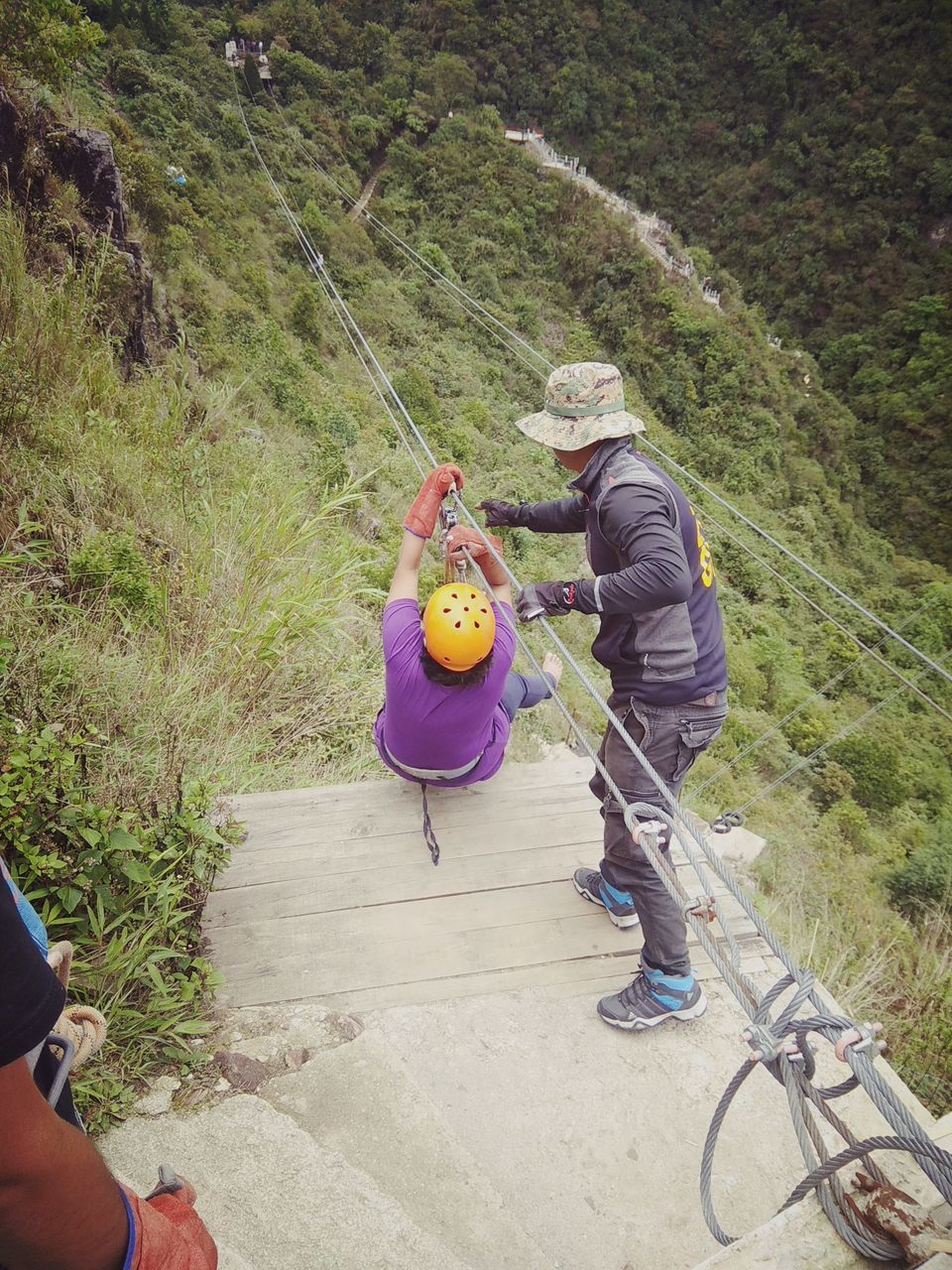 Our driver companion, native of Khasi, has been a passionate traveler since his early life with great appreciation for solitude and nature - a perfect blend that synchronized with our intentions of traveling. He designed our itinerary in such a way that we could get to see the real Shillong with peace, without the hustle bustle of people who are more interested in clicking pictures and crowding the place rather than enjoying the beauty of the place.
So, the next destination was Dain Thlen Falls which is quite famous due to an interesting legend associated with it. We sat on the hills near the fall for quite a while and had quick snacks there.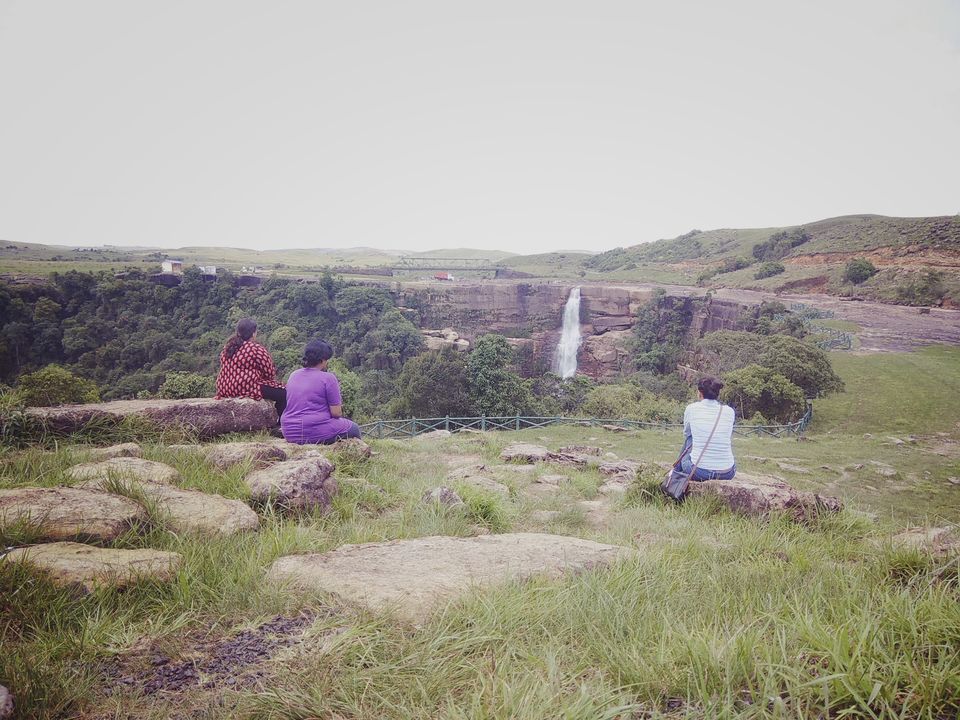 We then went to yet another famous waterfall which has a very painful story associated with it - Nohkalikai Waterfalls which is around 5 km from Cherrapunjee and is the fourth highest waterfall in the world. We walked a lot ahead from the main area flocked by tourists to the part of the hill which was separated from another part of Shillong by a deep dangerous valley. We could get a glimpse of Bangladesh from the raised hills.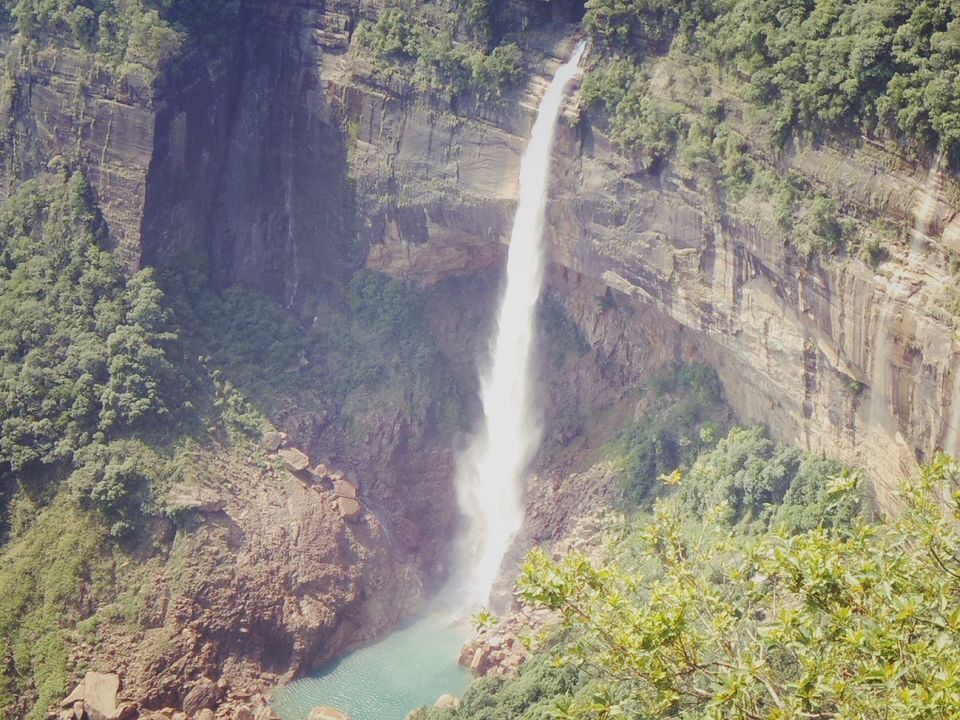 Driving through Cherrapunjee was divine- the clean roads, weather, beautiful and absolute breathe taking homes and the scenic beauty just made my heart skip a beat. We then reached the Nohsngithiang Falls which is the fourth highest waterfall in India. This waterfall is also known as Seven Sister Falls or Mawsmai Falls, the latter being the name of a village. On our way back to Shillong, we went to extremely overcrowded touristic destination 'Mawsmai Cave'. It was daring, adventurous, scary with number of narrow passages but with breath taking view that can easily intimidate anyone!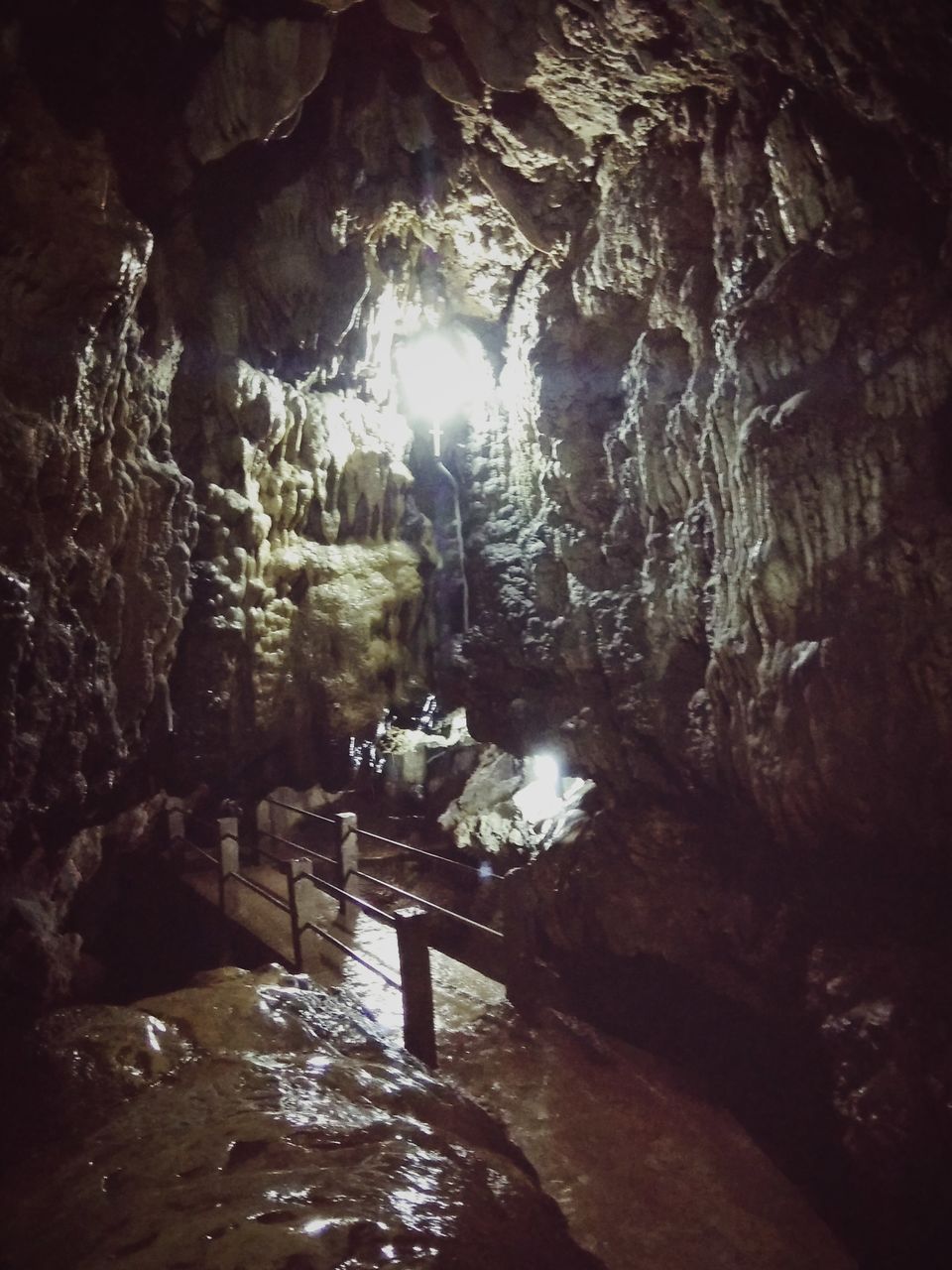 Oh and it rained on our entire journey back to Shillong making us feel that we are in heaven, because it's practically impossible for people living in metro city to experience rains in the worst hot month May. The first day was so much more fun and wonderful that we expected, so obviously we were excited for the second day where we were destined to visit cleanest river and cleanest village (Mawlynnong Village)
We started early around 7 am in the morning (if you can go earlier it will be very beneficial), on our way to Shnongpdeng village, we stopped for some time at 'Mawjngih Lapynshongdor view point' – this was astonishing because there was just fog all around, it was impossible to see things even few meters away – the view from here was just unimaginable, it seemed that someone has actually drawn his/her own fantasy that just couldn't be real.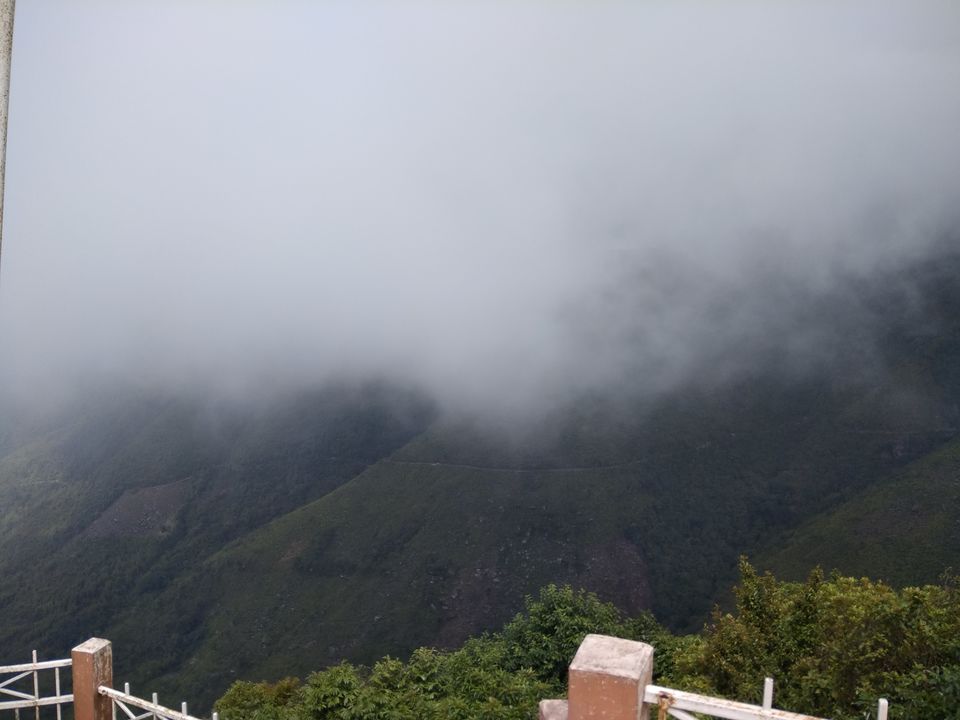 After an exhausting drive of around 4 hours passing through Dwaki River (which is absolutely close to Bangladesh Border) we reached Shnongpdeng village. We went to boating in "Umngot River" which was cleaner and hardly with tourist inflow than Dwaki. It was serene, peaceful and enchanting- I had never felt so happy than this moment, it brought halt to the overflow of my thoughts in just few seconds. It's a must to go, walk and enjoy the feeling of standing on the suspension foot bridge over Umngot River, which I might add is not easy to walk on to!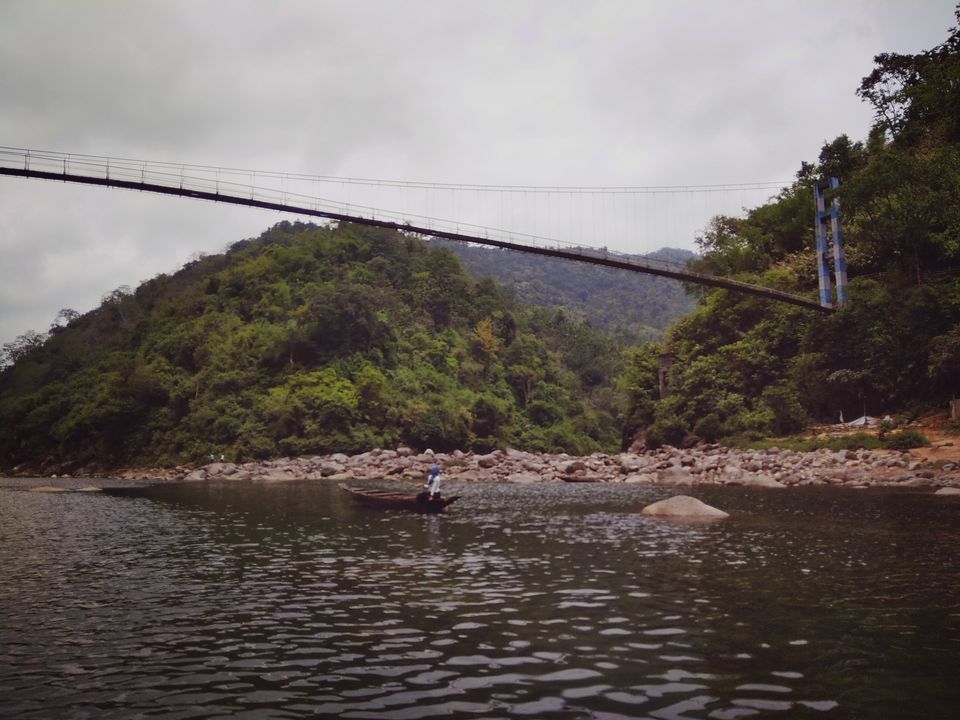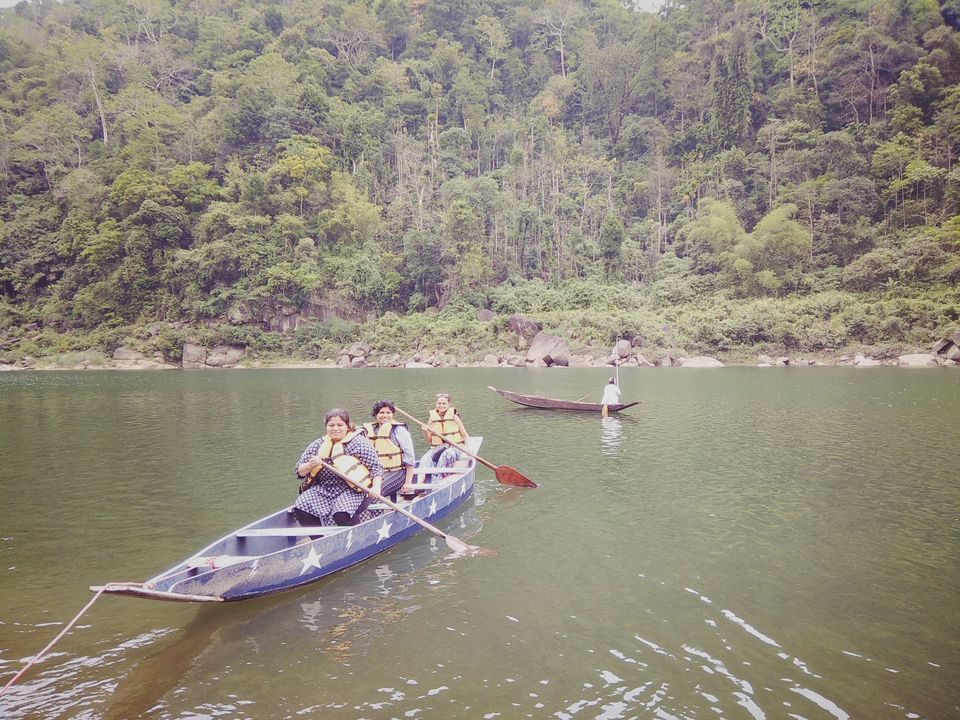 After this we visited the human constructed miracle "Nohwet IAR Tong" – rest view constructed by bamboos and nature's magic Root Bridge, we finally visited Mawlynnong village which is declared as the cleanest village. Due to this, the village has become very popular resulting in being overcrowded by tourists and unnecessary vehicles. The village is beautiful, decorated with enormous number of flowers, well-constructed homes and simplicity of human existence. And then our second day ended with rains- seriously what else can one desire for <3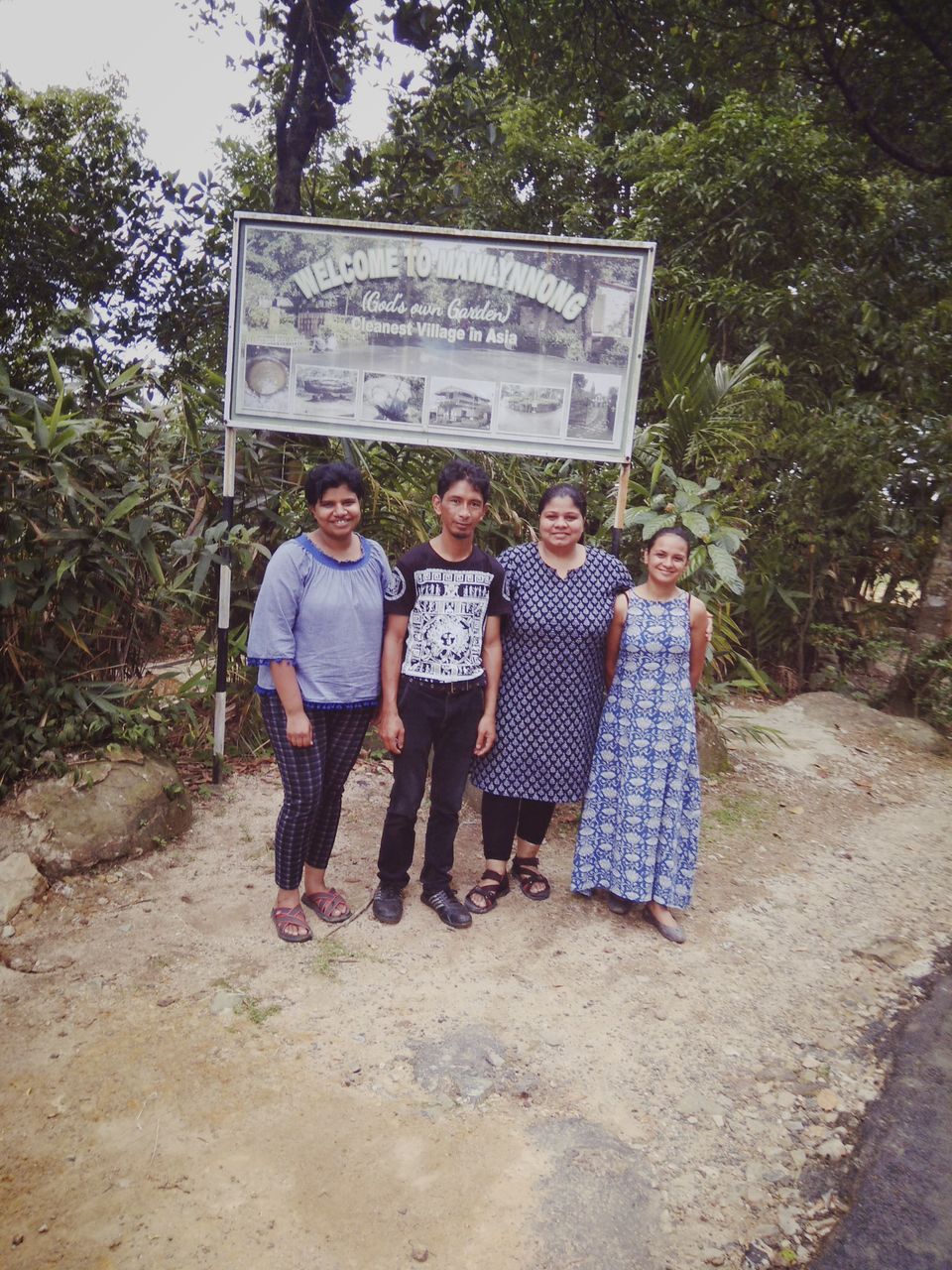 Now, was the time for our third Destination Bhutan- we took a cab early in the morning to Guwahati, and then catch a train to Bongaigaon. We had decided to stop at Bijni Village overnight with our friend who works with a NGO here. Next day we took a train from Bongaigaon to Hasimara, followed by cab to Phuentsholing. Here, we completed all the tourist formality to get a travel permit within 3 hours.
Since all the three of us were prone to motion sickness, we hired cab directly to Paro since the whole journey required 6+ hours. We had already booked 'Paro Village View Home Stay' for 3 days. We thought nothing could be more beautiful than Shillong, but drive to Paro was on another level. Extremely well-constructed roads, the up and down travel through the hills, a comparatively smaller plane gliding through furrow of two sides of mountain, waterfalls, scenic beauty, nature, rains and clouds hovering in between along with the native Bhutanese music made this 6 hour tough journey memorable. I never thought I could enjoy car drive like this.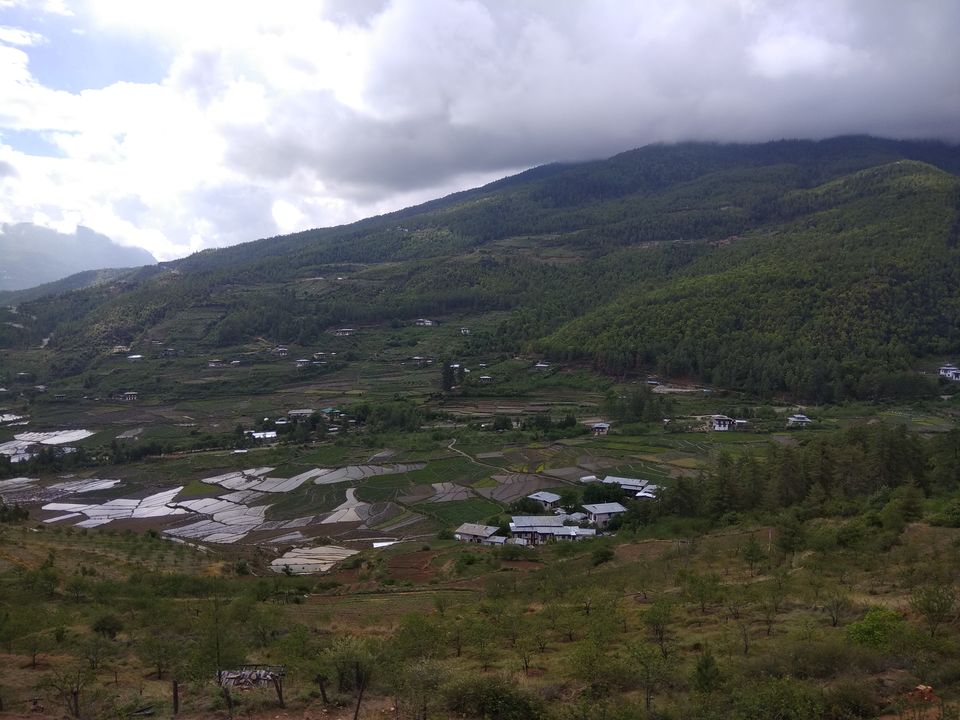 By the time we reached Homestay, it was already 10 pm (this homestay is about 1 hour away from Paro). We were welcomed by wonderful family of Nima, his wife Tsering and two most adorable sons. Every aspect from the rooms to dining hall to sitting area to the food to the surrounding spoke of the authenticity of Bhutanese culture. On the eve of my birthday, a camp fire, birthday cake along with music and a dinner outside was arranged by the very hospitable and charming family.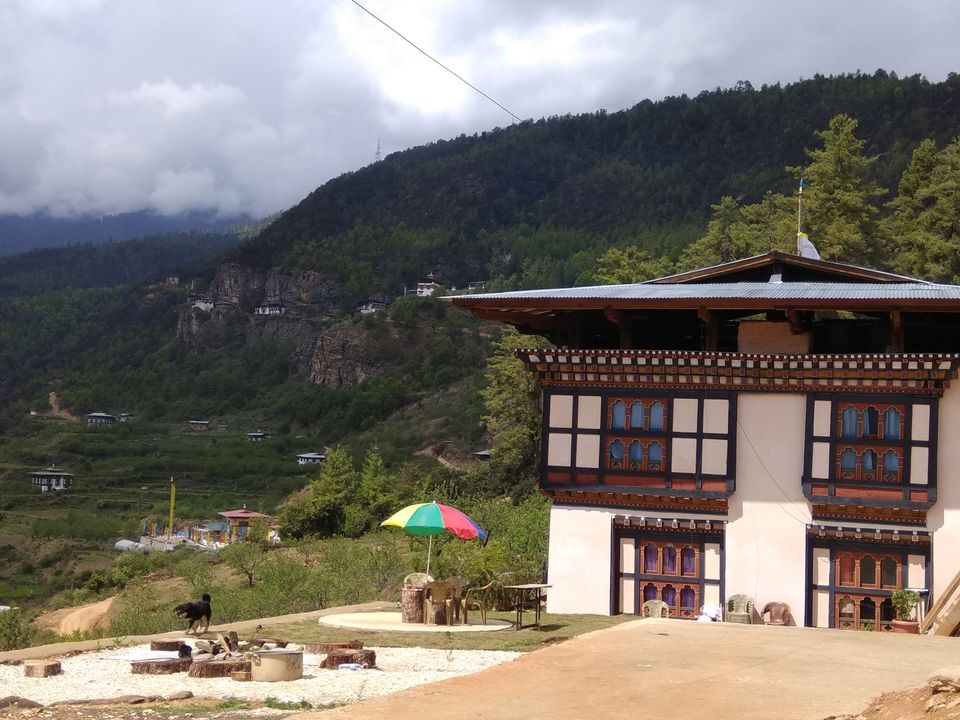 We spent the entire day soaking in the peace and warmth of the home stay, talking, playing and painting with their sons and trust me the sleep that you get here is un matchable. On 20th May, we took cab to Thimpu, where again we got a beautiful hotel with a balcony view. The rest two days were spent exploring the city, since we were located in the main part of the capital (near Clock Tower Square) we also got a good taste of cafes around.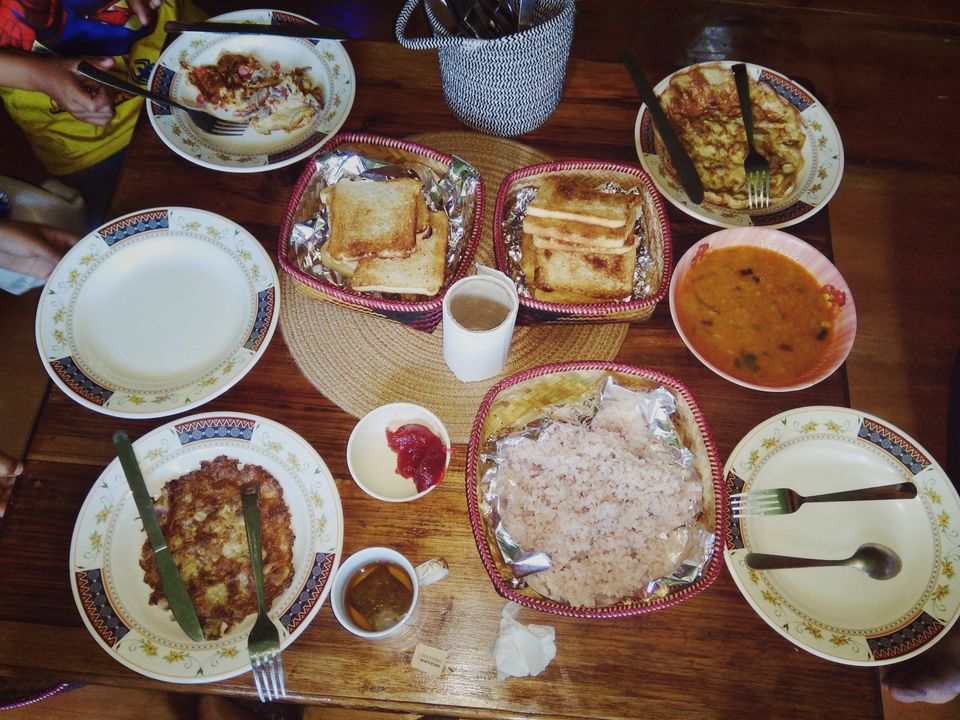 Finally it was time to go back – we took cab from Thimpu to Jaygaon which took us 6 hours - then to Allipurduar which again took 3 hours (it was very humid and hot as compared to Bhutan), here we rested overnight. Early next morning we took a passenger train to Guwahati, since our flight was late in the night- we watched Razi (starring Alia Bhatt) and devoured into authentic Assamese food!
PS: this is just the gist of 16 days, this will be followed by in detail experiences of each destinations, some thoughts, certain guidelines that we learned from our travel and many more amazing pictures <3