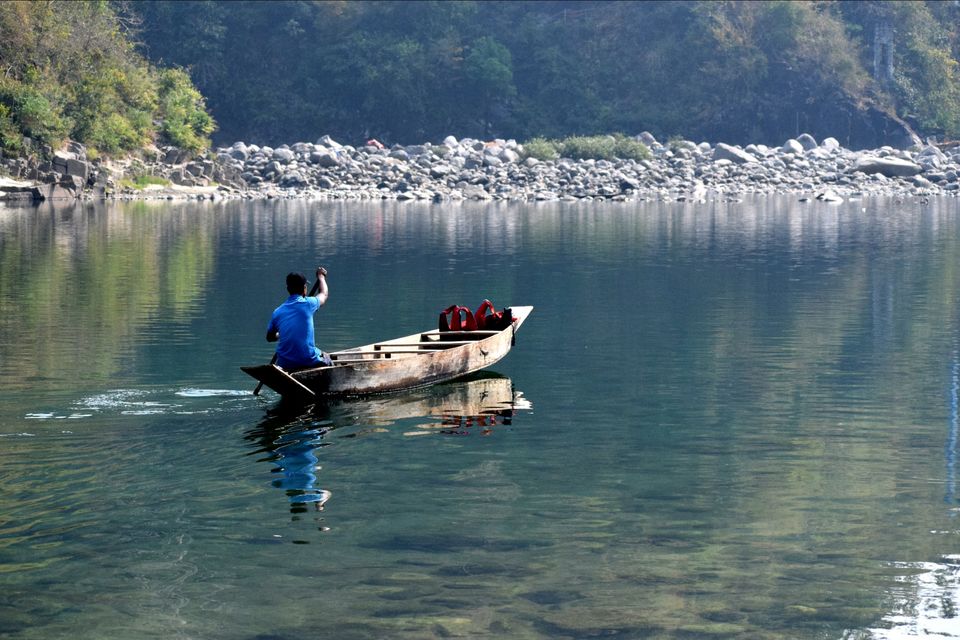 This little place, uphill the Umngot River(which flows into Bangladesh) is a wonderful camp site. Since it's yet to be "touristy", it makes sense to explore it before it becomes overcrowded and "explored".
We reached the place around 10. Its a 3-4 hour drive from Shillong. Make sure you enjoy the hills and the winding roads around it.
As we reached, this guy Full(His name is Forceful) carried us upstream to this lovely campsite with our tents all ready for us. This place also has a little hut for dining and sheds as toilets.
As we got ready for the water sports, it felt amazing to be at the foot of the hills and beside the clean calm river.
We did ziplining, kayaking, snorkelling and cliff jumping. It wasn't expensive at all. Totally worth it. Especially kayaking and ziplining.
After chilling we went to Dawki to visit the Indo-Bangladesh border.
We returned for the bonfire. It can get very windy at night. We were pretty lucky it was a full-moon night. With no one around by the hills, and the moon's reflection on this clean river, one loses oneself in the serenity and calmness of the place. Yet the wind never lets you forget the transitory nature of life.
The ideal time to visit would be Jan-April as later on the place gets flooded and closed for camping.
If you are in Shillong and wondering what to do on that "extra day", I'd say go for this place.